Three Perfectly Peachy Parfaits This Summer In Nagoya
Summer is the perfect time to enjoy Japanese peaches, which are particularly juicy and sweet around this time. Peaches go well with red bean paste, cream and a variety of other flavours, which is why you will be seeing a lot of peachy desserts this summer. You just have to try them!
Today, Instagrammer meme, who is a big fan of cute and stylish cafés, will be introducing you to peach parfaits that you absolutely must try in Aichi prefecture.
BLUE STAR CAFE(ブルースターカフェ)/Nagakute
BLUE STAR CAFE has started selling a peach parfait. The peaches are so sweet and juicy that I was moved to tears. The parfait is made up of fresh cream, vanilla ice cream, peach sherbet and frozen peach. It is simple, delicious and very satisfying. 
▼BLUE STAR CAFE
Address: 504 Tsukada, Nagakute, Aichi
TEL:0561 42 6878
Official Website: https://bluestar-cafe.com/
Halleloo Garden(ハレルゥ ガーデン)
I was just waiting and waiting for Halleloo Garden to release their peach parfait and I was far from disappointed. Just looking at the pretty pink peaches is enough to get your mouth watering. When you cut into the peach, it will explode with colourful popping boba. What a fun parfait.♡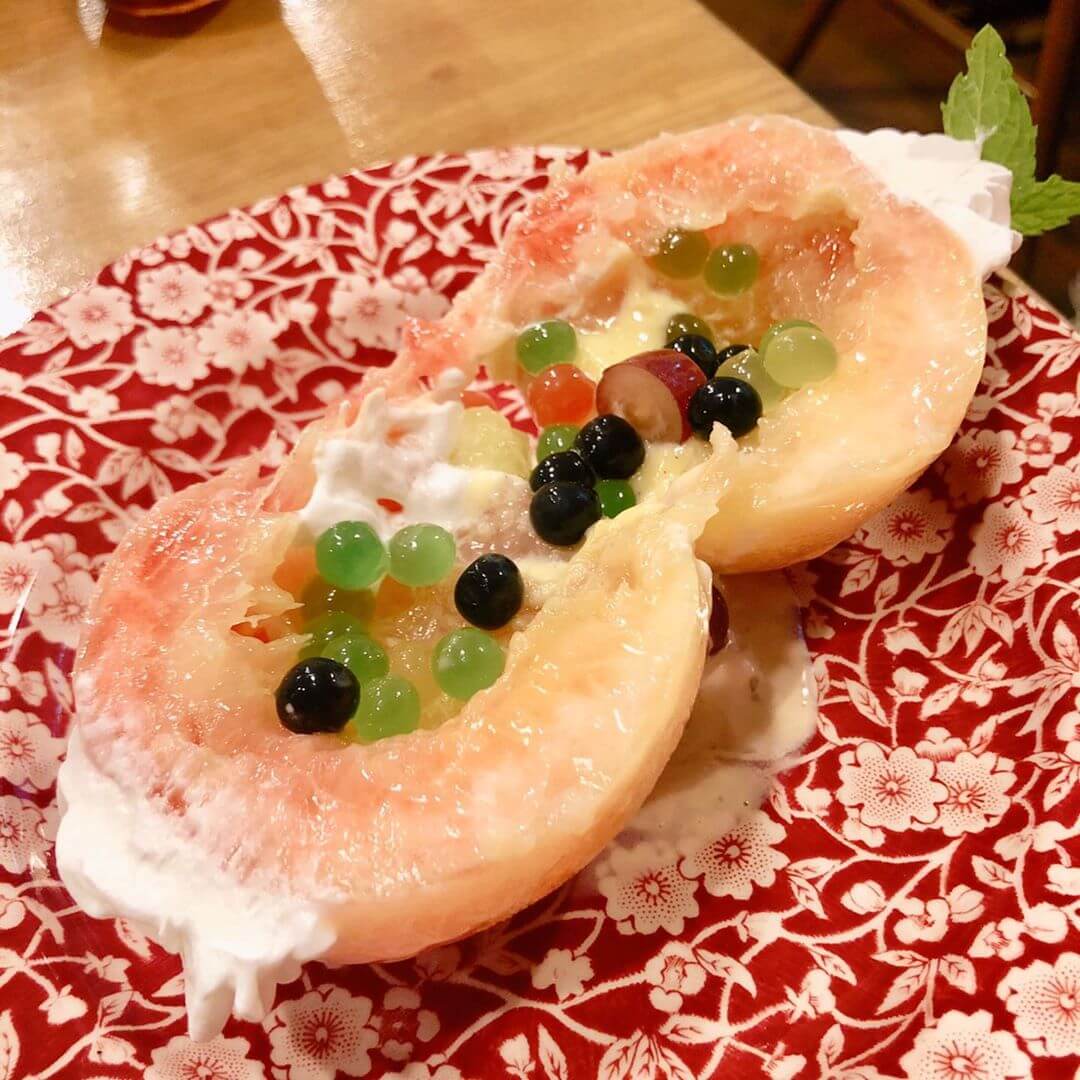 The parfait is made up of a variety of fruits including melon, blueberries, grapefruit and apple. It also contains vanilla ice cream, custard, fresh cream, and dried fruit too. Be aware that the contents of this parfait will change according to the season. 
This peach parfait also comes with peach-flavoured black tea with boba. Add this to your parfait and notice the change in flavour as your parfait becomes a milk bubble tea! This was my first experience of popping boba. It was such a fun experience to bite into the boba and feel them explode, flooding my tastebuds with a delicious juicy flavour. Whether Halleloo Garden can serve this parfait seems to be dependent on whether they can receive peaches from their supplier, so I recommend phoning up the café before you turn up to if you want to try this. 
▼Halleloo Garden
Address: Kami-222-1 Miyoshicho, Miyoshi, Aichi
TEL: 0561 56 1080
Official Website: http://www.halleloo.jp/
merry café(メリーカフェ)/Toyoake
merry café serves a beautiful peach parfait that looks just like a bouquet of flowers.
The simple peach compote allows you to enjoy the natural deliciousness of the peaches. During this season, finding peaches that are highly sweet can be a bit of a hit or miss, however there is no doubt that they will be sweet when made into a compote. It was a delicious peach parfait. ♡
▼merry café
Address: 7-18 Komochimatsu Shindencho, Toyoake,
TEL:0562-91-3230
Opening Hours: 11:00 ー 15:00, 17:30 ー 22:00
Official Facebook Page: https://ja-jp.facebook.com/merrycafe1218/
All these pink peach treats look so beautiful. This peachy season is the perfect time to wrap yourself in the wonderful fragrance of sweet peach. Please check out meme's Instagram which is full of information on cute cafés you can visit for delicious desserts. 
Author/ Photographer: meme
RECOMMENDED ENTRIES
Mogu Mogu Nippon | Convenience Store: Top 3 Refreshing Summertime Drinks

Hi, everyone! I'm Heir from MOSHI MOSHI NIPPON's editorial team.

Our office is based in Harajuku, Tokyo's hub for fashion and youth culture. When summertime rolls around and brings the sweltering weather with it, it's ubiquitous to see people walking the streets of Harajuku with bubble tea or iced coffee in their hands to cool down.

Personally, I really love the drinks sold at convenience stores and can drink them whenever. They are cheap and tasty with many new drinks stocking the shelves all the time. There were a lot of popular drinks that began sales in June.

Today, I want to recommend three of these cool beverages to you, all of which saw much attention on Japanese social media.

1. Coffee Beverage | Starbucks Iced Orange Brûlée Latte

This chilled Starbucks drink was released on June 11 and comes in a very summery flavour: Iced Orange Brûlée Latte. Lattes mixed with fruit are always my weakness. This drink is extremely tasty, mixing full-bodied coffee with velvety milk, orange and crème brûlée. Its cute packaging and refreshing flavour make it the perfect choice for the start of summer.

Released: June 11, 2019

Price: ¥200 (Before Tax)

Available: At convenience stores, supermarkets and department stores in Japan

Product Page: https://www.starbucks.co.jp/beverage/rtd/4901777338579/

2. Carbonated Beverage | Gabunomi Soda Float

From the popular Gabunomi drink series comes the new Soda Float flavour. Its packaging alone is enough to cool you down. The drink itself is a cute blue colour which is what made me want to buy it. It's soda mixed with a creamy ice cream float which has an authentic flavour. As is always the case with Gabunomi, they have the perfect balance of sweetness in their carbonated beverages. This drink just makes you want to buy one and head to the seaside!

Released: June 24, 2019

Price: ¥140 (Before Tax)

Available: At convenience stores, supermarkets and department stores in Japan

Product Page: https://www.pokkasapporo-fb.jp/products/soda/gabunomi/JE88.html

3.  Carbonated Beverage | Coca Cola Clear Lime

Clear Coca Cola became a topical drink on social media around the world when it was first released last summer. This summer, the drink is receiving a lime upgrade. By combining the colourless Coke with lime flavour, you can feel super refreshed during the hot and dry weather. Be sure to pick up a bottle if you're in Japan this summer!

Released: June 10, 2019

Price: ¥140 (Before Tax)

Available: At convenience stores, supermarkets and department stores in Japan

Product Page: https://www.cocacola.jp

Mogu Mogu Nippon | Convenience Store: 3 Seven Eleven Matcha Desserts

If you are wondering what Japan is particularly good at, matcha desserts is definitely one of them. However, you don't have to go to a shop that specialises in matcha sweets to get your fill. Matcha desserts can be easily obtained from the convenience store and once you start, it is hard to stop. 

Today, Instagrammer Yukko is going to introduce you to three delicious matcha desserts that you can get from Seven Eleven.

Dorayaki Pancakes Filled With Matcha Cream ¥278 (before tax)

Seven Eleven is always selling some kind of delicious matcha cream-filled dorayaki. This time, the name has been changed slightly. This dorayaki is just ¥3 more expensive than last time, however it looks just as good as it always has. You just will not be able to resist buying it. 

As you take your first bite of this high-quality snack, the scent of the matcha will reach you first, followed by the flavour of the matcha which spreads instantly through your mouth. The matcha is rich yet so light that it will instantly melt on your tongue. The pancakes sandwiching the large creamy matcha filling are both fluffy and thick. Cut it in half and you will not be able to resist. 

This is a wonderful snack to sink your teeth into while you walk. If you want to keep your hands clean, you could even use a spoon to scoop out the filling. Enjoy it in your own unique way as it is tasty no matter how you choose to enjoy it!

Matcha and Matcha Parfait ¥278

As the name implies, this matcha parfait is the perfect opportunity to taste a variety of matcha flavours in one single tub. From the bottom, the cup is filled with matcha jelly, followed by matcha mousse, milk mousse and matcha whipped cream. Within the layers of matcha whipped cream you will discover a goldmine of matcha jelly and a dorayaki pancake core. 

The matcha flavour of the jelly is quite weak, however its wobbly and springy texture contributes to the deliciousness of the parfait. The moderately sweet whipped cream combined with the matcha flavour is perfectly balanced. The milk mousse has a rich, milky flavour. It may be sweet, however the matcha mousse underneath it is slightly bitter, so enjoy them together for a delicious overall flavour. 

The fluffy matcha mousse and rich matcha is unbelievably delicious. The dorayaki centre is soft, fluffy and thick which accents the flavour. Overall, the parfait is not overpoweringly sweet and the matcha flavour is gentle on your tongue.  

Uji Matcha Cream Mochi: ¥110 (before tax )

Uji Matcha Cream Mochi is a soft, thin and chewy dough that is rolled out thin and then wrapped around a large spoon of uji matcha cream. This is always a popular pick. Last time, they served the uji matcha chocolate mochi. I wonder how the Uji Matcha Cream Mochi will taste!

This time, the mochi has a slightly more springy texture. The outside is chewy, yet the inside is gooey. This mochi cake is bursting with matcha so you can really enjoy the matcha flavour. The bitter matcha flavour is perfectly balanced with a touch of sweetness. This dessert even come with a fork so that you don't have to get your hands dirty. 

I know, it is hard to choose which matcha dessert to try. Convenience stores are always refreshing the varieties of goods they sell, so if you are particularly attracted to any of the desserts mentioned above, it is probably best to try them before they are replaced.

Mogu Mogu Yukko introduces lots of desserts and sweets that are easily found in convenience stores and supermarkets on her Instagram so please check out her other posts:

Photos and Text: Mogu Mogu Yukko

3 Must-Try Summertime Bubble Teas at Tokyo Disneyland & DisneySea

Bubble tea continues to be ever popular in Japan this summer, especially at Tokyo Disneyland and Tokyo DisneySea which not only is selling its much-loved classics but a selection of new refreshing beverages too. Let's take a look at three of these drinks new this July that not only enjoyable to drink but fun to look at too.

Coffee Tapioca Latte

The Coffee Tapioca Latte is appearing as part of Tokyo DisneySea's special event Disney Pirates Summer. The colour of this coffee flavoured delight is reminiscent of the Black Pearl from the 2003 Pirates of the Caribbean movie. It's not overly sweet and so is perfect for those who prefer more adult flavours. Enjoy the event with a cup of this pirate brew in hand.

Running: July 8 – September 1, 2019

Price: ¥500

Available: Mamma Biscotti's Bakery, Tokyo DisneySea

Fantastic Flight Drink (Lychee Tapioca)

Inspired by the new Soaring: Fantastic Flight attraction arriving at Tokyo DisneySea on July 23, this drink contains lemon jelly and lychee flavoured chewy tapioca pearls. Lychee flavoured tapioca pearls are for sure a rarity―have you ever seen them?

Running: July 8 – September 1, 2019

Price: ¥450

Available: Zambini Brothers' Ristorante, Tokyo DisneySea

Sparkling Tapioca Tea (Mango & Citrus)

For a limited time only, this refreshing Sparkling Tapioca Tea will be served up at Tokyo Disneyland, a black tea with mango flavoured tapioca and grapefruit jelly. A perfect summertime sip for the hot weather with its refreshing black tea taste and fruity fragrance.

Running: July 8 – September 1, 2019

Price: ¥600

Available: Tomorrowland Terrace, Tokyo Disneyland (Serving at 14:00-17:00 only)

There are plenty of other new bubble tea drinks apart from these ones too, some of which are on sale right now, such as the Tapioca Mango Drink with its foundation of tiny chewy tapioca balls, the subtly sweet Strawberry Tapioca Tea with fresh strawberries pieces in it as well as large-grained tapioca balls, and more.

If you're heading to either park be sure to order a cup of bubble tea!せ

Information

Tokyo Disney Resort
RELATED ENTRIES
Japanese Sweets Brand Minamoto Kitchoan to Open Cafe Restaurant K. MINAMOTO in Ginza

Japanese confectionery brand Minamoto Kitchoan will open a new cafe and restaurant called "K. MINAMOTO" on October 19.

K. MINAMOTO will be located on floors 2-5 at THE HOUSE, Minamoto Kitchoan's new company building which it just moved to on October 3. The cafe-restaurant's menu concept is dubbed "Ginza Sunny Fruits." It takes into consideration how daily fruit consumption has greatly decreased today by serving up a luxurious fresh fruit-packed line-up.

Minamoto Kitchoan is a company that has made full use of fruits since its establishment, including the suikanshuku, a Japanese wagashi confection made of whole dried domestic persimmons. We can trust then that K. MINAMOTO will provide us with our 5-a-day.

Roast Beef Sandwich w/ Fruit Soup – ¥2,420 (Tax Included)

Seafood Lemon Cream Fedelini w/ Fruit Soup – ¥1,650 (Tax Included)

Each and every dish on the menu has fruit, all grown in Japan to ensure the a high level of quality. Since the dishes have fruity flavours, prepping them is simple, and they enjoy the colours and textures of each fruit.

Drinks haven't been left out either. They are made with fruit purees and syrup, or are tossed in as they are, allowing for maximum fruity goodness.

Smoked Salmon, Fruit Salad & Potato Galette w/ Fruit Soup – ¥1,980 (Tax Included)

Autumn Fruit Almond Pudding – ¥1,760 (Tax Included)

All the staff at K. MINAMOTO have a wealth of knowledge about the menu and the fruits used in each dish. Their service creates a comfortable atmosphere, and though they are polite they are incredibly friendly, so you can call out to them without worry.

Get your fill of fruit from the all-new K. MINAMOTO, opening October 19.

Information

K. MINAMOTO

Grand Opening: October 19, 2019
Address: Minamoto Kitchoan Shinhonsha Bldg. "THE HOUSE" (Floors 2F-5F), 6-9-8 Ginza, Chuo Ward, Tokyo

Opening Hours: [Mon-Sat] 11:30-20:30 / [Sun & Holidays] 11:30-19:00

No Fixed Closures

Minamoto Kitchoan official website: https://www.kitchoan.co.jp

Experience Art and the Japanese Tea Ceremony Come Together at hotel koe tokyo's Private Lounge

"hotel koe tokyo" isn't your everyday normal hotel. Developed and produced by "koe," the hotel brings together fashion, music, cuisine, and a luxury accommodation experience. In line with DESIGNART TOKYO 2019, the hotel has announced it will hold a reservation-only event entitled "DESIGNART TOKYO 2019: Tea ceremony by artless+asahiyaki" at its third-floor private lounge on October 19 and 20.

Asahi ware is a type of Japanese pottery originating in Uji, Kyoto almost 400 years ago. Hosai Matsubayashi is the 16th generation master of this long-running workshop, known as Asahiyaki, and he's set to collaborate with Shun Kawakami, an artist and art director of global branding agency artless Inc. The collaboration is being held to promote Japanese culture not only to the people of Japan but those overseas too, and "hotel koe tokyo" is the perfect place to do it due to the huge number of foreign visitors that stay at the hotel.

The two of them have taken the traditional Japanese tearoom and have put a modern spin on it. Normally, this private lounge of the hotel is only usable by guests staying there, but this reservation-only event will grant exclusive access to all. It brings together Japanese tea and art in the form of a special tea-making course. Attendees will follow Hosai Matsubayashi's instructions and prepare their own tea. During the session, both Matsubayashi and Kawakami will give talks on their work while you enjoy your tea.

Take advantage of this special occasion to learn about the beauty of Japanese tea.

Information

Tea ceremony by artless + asahiyaki
Dates: Saturday October 19, 2019 / Sunday October 20, 2019
Time: 4 Slots – ①12:00 / ②13:30 / ③15:00 / ④16:30 (60 minutes each)
Capacity: 10 per slot
Location: hotel koe tokyo ("koe lounge" on Floor 3F)
Content: Tea Making + Tea Art
Price: ¥3,000 (Before Tax)
Reservations:  https://www.tablecheck.com/ja/shops/hotelkoe-tokyo-privatelounge/reserve
*This event is reservation-only

Visiting the Weathering With You Cafe Now Open in Tokyo and Osaka

LEGS COMPANY opened two cafes themed on the hit anime film Weathering with You in Tokyo and Osaka on October 8 and October 10 respectively. The cafes will run for a limited time only.

We paid a visit to the Tokyo branch which opened inside OMOTESANDO BOX CAFE & SPACE which is only a 7-minute walk from Omotesando Station.

The new blockbuster hit from internationally-acclaimed animator and film director Makoto Shinkai Weathering with You dropped back on July 19 and has since amassed over 13 billion yen (approximately US$131 million) in the box office. It was seen by 7.5 million people in the first 34 days of its release, and over 10 million after 75 days. Its huge success has cemented itself in the Japanese animated film industry as another monumental masterpieces from Shinkai. The film has also been nominated for Best International Feature Film for the upcoming 92nd Academy Awards set to take place on February 9, 2020.

While sat in the cafe you can watch scenes from the film on the giant screens while the main songs performed by RADWIMPS play.

The cafe menu features a line-up of drinks, dishes and desserts inspired by the characters and moments in the series, including the chahan set prepared by Hina for Hodaka, the Hodaka Welcome Party Set, and more.

Teru Teru Omurice – ¥1,490

This is the dish I ordered to eat. I couldn't resist how cute it was. It's inspired by the teru teru bōzu that Nagi makes, a traditional Japanese doll used to prevent rain and bring good weather. The doll's head is made of mashed potato. He's sat on a bed of ketchup rice filled with vegetables and bathed in a delicious sauce. This one's too cute it almost seems a waste to eat♡

Nagi's Teru Teru Bōzu À La Mode – ¥1,490

For dessert I ordered another teru teru bōzu treat. This one is made from gyūhi, a type of Japanese confection made from rice flour. Its head is filled with vanilla ice cream, and if you turn it over, you'll find Japanese pudding underneath, and under that granola. It's finished with a lining of bright blue lychee jelly around the outside for a hint of freshness.

The cafe offers plenty of other dishes that will leave any Weathering with You fans spoiled for choice.

Hina's Handmade Sesame Oil Infused Pea Sprout Potato Chahan Set – ¥1,490

A chahan set lovingly prepared by Hina for Hodaka. Chop up the spring onions that come on the side and add them to the soup just like Hina does in the film! This is a hearty set sure to fill you up.

Hodaka's Welcome Party Set – ¥1,590

This one-person set was made lovingly by Natsume when Hodaka comes to work at the same company as her, K&A. If you're looking for a healthy green meal packed with veggies then you'll love this one.

Clearing Up Weather Tiramisu – ¥1,490

This refreshing matcha tiramisu is inspired by the scene when Hina and Hodaka reunite, with the sauce representing the sunlight and the cotton candy the rainy clouds. Pour the sauce over the cotton candy and watch the clouds clear up.

Acai Bowl of the World's Secrets – ¥1,390

Enjoy the main key visual of the film right on top of your plate. The mild flavour of the yogurt coupled with the refreshing kiwi is a mouth-watering combination. The colours are really beautiful, too.

Swirling Snow Whipped Latte – ¥990

Inspired by the immense snow that spirals around Tokyo in the film, a cup of this whipped cream latte is perfect as a post-meal wind-down.

Left: The Fine Weather That Day (Grapefruit) – ¥1,690 / Right: The Sunset That Day (Cranberry) – ¥1,690

These two drinks are for takeout, and are based on iconic scenes in the film, specifically when the turns fine and the sunset. They are served in exclusive cafe-original bottles. Both flavours are sweet, sour and refreshing. Plus, you can reuse the bottles.

If you order one of the many drinks from the menu you'll receive one of six possible coasters chosen randomly.

The cafe has plenty of exclusive merchandise on their shelves too.

Sparkly Rain Smartphone Case (7/8 Ver. & X Ver.) – ¥3,900 Each

When you shake these iPhone cases, it looks like the rain is falling.

Raindrop Stickers (10 Designs) – ¥400

Don't you just want to collect all of these cute raindrop stickers?

If you book a seat in advance (¥650 before tax per person) you will receive one of six possible bromide pictures chosen randomly, so don't forget to reserve in advance.

Plunge yourself into the world of Weathering with You at either one of these cafes, now running until November 17.

*Photos are for illustrative purposes only. All listed prices are pre-tax prices.

©️2019 "Weathering with You" Production Committee

Information

Weathering with You Cafes

Locations/Dates:
①OMOTESANDO BOX CAFE&SPACE (Pine Under Flat B1F, 5-13-2 Jingumae, Shibuya, Tokyo) @ October 8, 2019 – November 17, 2019

②Osaka Shinsaibashi contact (1-6-24 Kitahorie, Nishi Ward, Osaka, Osaka Prefecture) @ October 10, 2019 – November 17, 2019

Table Reservations:

Price: ¥650 (Before Tax) *Includes bonus item

*Advance table reservations opened on September 24, 2019

Weathering with You Cafe Website: https://tenkinoko-cafe.jp/

Hiroo's Cafe CANVAS TOKYO Turns Into a Pure White Canvas in New Monochrome Theme

CANVAS TOKYO is a cafe and open concept store based in Hiroo, Tokyo produced and managed by BLANCA ASSOCIATION. The cafe has announced that it is taking on a new monochrome theme on October 10 where the entire cafe will be decked out in white like a blank canvas. They will also sell new products as part of the transformation.

The idea behind this concept is to make the overall look simple while putting great care and attention into the little details. Everything from the cafe exterior to its interior, cups, cutlery and so on have been dyed black and white to give a plain yet sophisticated appearance.

The cafe will also stock a new range of merchandise under the same concept, like coats and bags, allowing the cafe's stylish look to extend into the outside world too. As well as this, the cafe is introducing some new menu items, including a tea latte, bao, and more.

Black & White Sweaters – ¥12,000 (Before Tax)  *One size

Made into a loosely tailored size with wide ribbed sleeves, these sweaters have a design that makes them easy to coordinate, meaning you can pair them with countless outfits.

London Fog – ¥500 (Before Tax)

CANVAS TOKYO's original London Fog beverage is an Earl grey tea mixed with natural maple syrup from Canada, warm milk and fluffy foamed milk, effectively creating a tea latte.

Left: Fresh Salsa & BBQ Pork – ¥430 (Before Tax) / Right: Coriander & TERIYAKI Pork – ¥430 (Before Tax)

These Chinese-style steamed meat buns, known as "bao," are a popular snack item with people around the world. New York and London are known for having several stores specialising in bao.

This is just a small peek into the monochrome heaven of CANVAS TOKYO. To see it in all it's black and white glory, head to the trendy district of Hiroo in Tokyo.

Information

CANVAS TOKYO

Address: 5-19-6 Hiroo, Shibuya, Tokyo
Opening Hours:

[Weekdays] 08:45-18:00 (Last Orders 17:30) *2nd floor until 17:00

[Weekends & Holidays] 10:45-19:00 (Last Orders 18:30) *2nd floor until 18:00

No Fixed Holidays

Official Website: www.canvas-tokyo.com

Pink Ribbon Raises Breast Cancer Awareness with Pink Drinks and Pink Ribbon Smile Walk

Pink Ribbon aims to spread knowledge about breast cancer and conveys the importance of breast cancer screening. In order to reach out to more people, Pink Ribbon has released special drinks for the month of October that are dyed completely pink. This limited edition series debuted at Cafe & Dining Zelkova which is located on the first floor of THE STRINGS in Omotesando.

The White Chocolate Strawberry Cappuccino consists of hot milk blended with white chocolate and strawberry syrup. The beautiful blend creates a pure pink-coloured cappuccino. The Pink Lemonade is a cocktail which consists mainly of refreshing grapefruit juice. Both these beautiful drinks are Instagram-worthy.

Those who order a drink will receive a free book which is full of essential information about breast cancer. There are also donation boxes for the Japanese Foundation For Cancer Research which provides customers with the opportunity to contribute towards research that saves lives.

On October 5, there will be the Pink Ribbon Smile Walk Tokyo event where part of the terrace area will be lit up with pink illumination in order to raise awareness for Pink Ribbon's breast cancer campaigns. Make sure to get involved.

Information

White Chocolate Strawberry Cappuccino

Pink Lemonade

Available: October 1 ー 31, 2019

Available at Cafe & Dining Zelkova (THE STRINGS, Omotesando Floor 1)

Opening Hours: Weekdays: 11:30 – 22:00, Weekends and national holidays: 11:00 – 22:00

Prices:

White Chocolate Strawberry Cappuccino: ¥970

Pink Lemonade (with/without alcohol): ¥780

* The prices stated above do not include tax or service charge.

Enquiries: 03-5778-4566 (Cafe & Dining Zelkova)

Website: https://www.strings-hotel.jp/omotesando/restaurant/zelkova/info/zelkova-drink-special.html

GODIVA Releases New Heavenly Chocolixir Tea and Chocolate Pairing Drink

As the almighty creator of the chilled chocolate drink called the Chocolixir, GODIVA has now transcended to a whole new level with its Tea Magic Series which pairs luxurious GODIVA chocolate with a specially made tea. The fourth and final heavenly Chocolixir drink for the Tea Magic Series has now been revealed to be called the Chocolixir Uji Matcha Kiwami. This is a pairing of GODIVA white chocolate and Uji matcha. A limited number of these will be released for sale from October 1, 2019 to November 30, 2019.  

The GODIVA Tea Magic Series is made using the finest GODIVA chocolate. The chocolatier considers the most appropriate tea to enhance the flavour of the chocolate and only uses the finest tea leaves to make the drink. The result is a chilled chocolate tea which is filled with a flavour that will enlighten you. Hojicha Chocolate tea was the first tea of the series and was released on July 1st.

Chocolixir Uji Matcha Kiwami (270ml): ¥602 (before tax)

GODIVA's mildly sweet and velvety white chocolate is blended with rich uji matcha tea and then chilled to a perfectly refreshing temperature. A light cloud of whipped cream floats on the surface and is sprinkled with carefully made uji matcha powder. Matcha chocolate sticks garnishe the drink. 

From your first sip to your last, your mouth will be filled with a rich and luxurious matcha flavour. From time to time, your tongue will discover the exciting texture of small pieces of smashed white chocolate pieces.

This is the perfect opportunity to indulge in the luxurious flavour of mild white chocolate blended with rich uji matcha. 

6 Sailor Moon Cafes Opening Across Japan Including Tokyo and Osaka

LEGS COMPANY, LTD. has announced that it will open six Sailor Moon cafes for its Sailor Moon Cafe 2019 event across Japan this year. The opening dates differ from branch to branch, but the first two will open in Tokyo and Osaka on October 3. See all the opening dates in the Information section below.

LEGS held the Sailor Moon Cafe 2017 event back in September 2017 to celebrate the 25th anniversary of Sailor Moon. The event's theme focused around adulthood imbued with a hint of cuteness. The cafes were so popular that they had a second "encore" run in December of the same year.

This year, LEGS has created an entirely new concept.

The theme this year is "Girls Night Out," and the menu line-up stays true to it, featuring food and drinks all ladies are sure to enjoy on a night out.

5 Sailor Tortilla Wrap Sandwiches – ¥1,590 (Not available at the Saitama cafe)

Pretty Girl's Brunch Pancakes – ¥1,590 (Available at lunchtime only)

Girls Night Out (Chicken Steak Plate) – ¥1,990 (Available at dinnertime only)

Cosmic Heart Berry Sandwich – ¥1,690

Moon Night Parfait – ¥1,490 (Available at dinnertime only)

Girls Night Out Drinks (10 Flavours) – ¥890 Each (Usagi Tsukino/Ami Mizuno/Rei Hono/Makoto Kino/Minako Aino/Chibiusa/Haruka Tennou/Michiru Kaiou/Setsuna Meiou/Hotaru Tomoe)

This is just a select look at what's on the menu―there are many other themed foods and desserts too!

Acrylic Key Ring (12 Designs Chosen Randomly) – ¥650

Clear Bag (1 Design) – ¥1,800

Plate (1 Design) – ¥2,200

The artwork for select cafe-exclusive merchandise was done by popular creator Etoile et Griotte who makes items for girls who love cute things, and Japanese illustrator Jenny Kaori, who creates cute, fashionable and alternative works.

Every person who books a seat in advance (¥650 before tax) at the cafe will receive one of the 5 above-pictured ticket holders chosen randomly.

If you dine at the cafe, you'll get one of the 4 above-pictured lunch mats chosen randomly.

And if you order a drink, you'll get one of the 10 above-pictured coasters chosen randomly.

*All prices are pre-tax prices. Photos are for illustrative purposes only.

©Naoko Takeuchi・PNP・Toei Animation

Information

Sailor Moon Cafe 2019

Dates/Locations

▶︎Tokyo・Shibuya: SHIBUYA BOX CAFE&SPACE SHIBUYA 109

Running: October 3, 2019 – November 17, 2019

▶︎Osaka・Abeno: Abeno contact

Running: October 3, 2019 – November 17, 2019

▶︎Aichi・Nagoya: NAGOYA BOX CAFE&SPACE

Running: October 10, 2019 – November 24, 2019

▶︎Hokkaido・Sapporo: Coach & Four Shinkawa-Dori (Hokkaido Branch)

Running: October 18, 2019 – November 17, 2019

▶︎Kyushu・Fukuoka: kawara CAFE & DINNING KITTE (Hakata Branch)

Running: October 26, 2019 – December 1, 2019

▶︎Saitama・Koshigaya: BOX CAFE&SPACE

Running: November 14, 2019 – January 13, 2019

Reservations: Opened September 26, 2019

*¥650 per reservation. Up to 4 people per reservation. Includes bonus item.

Sailor Moon Cafe 2019 Official Website: https://sailor-moon-cafe2019.jp/

Hokkaido Confectionery Makers Ishiya Open New Cafe in COREDO Muromachi Terrace

COREDO Muromachi Terrace is a new shopping complex in Nihonbashi, Tokyo that opened its doors on September 27, 2019. Confectionery company Ishiya, which is known for its Shiroi Koibito cookers that are considered a souvenir and speciality of Hokkaido, opened its first ever cafe outside Hokkaido entitled ISHIYA NIHONBASHI at the shopping centre.

ISHIYA NIHONBASHI is the first cafe managed by Ishiya outside of Sapporo, Hokkaido. The cafe's concept is to treat the people of Tokyo to the wonderful flavours of Hokkaido. This includes a selection of popular sweets and desserts, including the Shime Parfait―a common accompaniment to the end of any drinking party in Sapporo.

During the day, the establishment offers a sumptuous cafe menu whipped up by the chefs, such as pancakes and parfaits. Let's take a look.

Strawberry Ishiya Pancake (Fluffy) – ¥1,400 (Tax Included)

The Ishiya Pancakes are fluffier than clouds, made lavishly with cream cheese and fresh cream. They're topped with even more fresh cream and strawberries and are finished sweetly with condensed milk and a sweet and sour raspberry sauce. The pure white cream and raspberry sauce make these pancakes look cute and tempting♡

Shiroi Koibito Blend Coffee – ¥400 (Tax Included)

This original blend of coffee was crafted so it goes perfectly with a Shiroi Koibito biscuit. When you order a cup of this coffee you get one biscuit to enjoy with it.

During the evening and late night, the cafe serves snacks made to pair with alcohol as well as exclusive parfaits drizzled in Japanese sake. They also sell the "Shime Parfait," a classic post-drinking dessert in Sapporo.

Parfait Nihonbashi – ¥1,600 (Tax Included)

This Nihonbashi-exclusive parfait is topped with alcohol which you drizzle sake over. The parfait includes rich jelly. You can create even more delicious flavours with the accompanying matcha pudding or brown sugar syrup.

The cafe also sells Saqu, colourful high-class biscuits normally only sold in Hokkaido. They make for a perfect souvenir.

Taste the flavours of Hokkaido in Tokyo at Nihonbashi's newest hot spot.

Information

ISHIYA NIHONBASHI

Address: COREDO Muromachi Terrace 1F, 3-2-1 Nihonbashimuromachi, Chuo Ward, Tokyo

Opening Hours: 11:00-23:00

TEL: 03−6265−1143

No fixed holidays except when COREDO Muromachi Terrace is closed.

Pretty, Palatable and Pleasant: A Purin Expert's Top 6 Purin Picks in Kyoto

Here at MOSHI MOSHI NIPPON, we have never failed to provide you with the essentials: updates on the best bubble teas around Kyoto. However, today we have a special sweet treat for you. After consulting expert Instagrammer kyoto cafe life tiara, we have compiled a list of Kyoto's top purin that will fill you with satisfaction and as well as nostalgia. Purin is a type of Japanese custard pudding loved by the Japanese for generations. When it comes to searching for the best desserts in the Kansai region, kyoto cafe life tiara leaves no stone unturned . 

Cafe Yamamoto, Higashiyama

Pudding (Set): ¥750

The bitter and fragrant caramel sauce of this purin is to die for. This purin has a rich eggy flavour and is stiffer than a traditional purin. Enjoy your purin served in a silver plate which will fill you with the nostalgia of the retro Showa Era.

▼Cafe Yamamoto (やまもと喫茶)

Address:307―2 Ishibashicho, Kyoto

Opening Hours: 7:00-17:00 (L.O.16:30)

Closed: Tuesdays

Kissa Zou, Imadegawa

The purin here is rich in flavour and garnished with a scrumptious biscuit. It is too cute to eat.

▼Kissa Zou (喫茶ゾウ)

Address: 440-3 Santeicho, Kamigyo Ward, Kyoto

Opening Hours: 9:00-18:00 (Last Orders: 17:00)

No regular holidays

BAR Tantei, Mototanaka

This fancy pudding is topped with seasonal fruit, ice cream or even cake. The retro atmosphere of the bar is the perfect place to enjoy a fancy moment to yourself.

▼BAR Tantei (喫茶探偵)

Address:

26 Tanaka Satonouchicho, Sakyo Ward, Kyoto

Opening Hours: 12:00-17:00,  19:00-02:00

Closed: Sundays, additional irregular holidays.

Takagi Coffee Takashiji Honten, Shijo Street

Homemade Purin Set: ¥ 800

Takagi Coffee is known for the unique shape of their purin, which looks very similar to a slice of cake. This purin is slightly stiffer than your usual purin and has a lovely accent of rum which adults love. This is best enjoyed with a cup of coffee.

▼Takagi Coffee Takashiji Honten, Shijo Street (高木珈琲店 高辻本店)

Address: 175 Honeyacho, Shimogyo Ward, Kyoto

Opening Hours: 7:00-19:00 (Closes at 18:00 on Sundays)

Closed: January 1-3

Salon de thé François, Gion Shijo

This purin is bigger than you expect it to be. Although the flavour is simple, it will send you on a trip to old traditional Kyoto. This purin is stiffer than usual and sweet with a gentle touch of bitter caramel sauce. This is topped with ice cream and garnished with tangy yet sweet strawberries. This purin is on a slightly more luxurious level which makes it perfect for adults.

▼Salon de thé François (フランソワ喫茶室)

Address: 184 Nishikiyamachi-dori-Shijo-kudaru; Shimogyo-ku, Kyoto.

Opening Hours: 11:00-22:30(L.O 22:0)

No regular holidays

NOTTA CAFE, Saiin

This deceiving purin may appear to look like a cake and avoid jiggling like a true purin would, however, once you take a bite, the rich custard flavour will flood your mouth. The flavour is perfect for those of you who cannot handle very sweet flavours and are looking for something more refined. To fully enjoy your experience, order this purin with the oiri sweets cream soda.

▼NOTTA CAFE (ノッタカフェ)

Address: 37 Saiinkitayakakecho, Ukyo Ward, Kyoto
Opening Hours:

Tuesdays-Sundays: 11:30-20:00

Wednesdays: 11:30-21:00
Closed: Mondays

So, how about it? For those of you who are in desperate need of a sweet fix in the Kansai region, Kyoto café life tiara's Instagram will swoop in to rescue you.

Research for article contents and photos provided by: @happy_pinkrose_tiara

This Week's Lunch: Peach & Yoghurt at dotcom space Tokyo in Harajuku

One thing I do at least once a week without fail is treat myself out to some delicious food or dessert. It's very important time well spent in order to live a happy life.

Today, I went and got my lunch early ahead of my morning work. I visited dotcom space Tokyo, a café in Harajuku where you can indulge in a laid-back experience.

©️photo Takumi Ota

The café is just a 4-minute walk from the Takeshita Street exit of Harajuku Station. Its atmosphere is so peaceful and related that you wouldn't believe it's right next to noisy and busy Takeshita Street. It's a spacious place with simple and stylish furniture and furnishings. I fancied something sweet this time, so I went and ordered the Peach & Yoghurt bread.

©️photo Takumi Ota

©️photo Takumi Ota

The interior decorating scheme is based on wood; you can feel how particular they were about the furniture. It's easy to wind down at this café due to its spacious interior. It's common to see workers scattered throughout too. It's a nice place to leave your desk for a little bit for lunch for a change of pace.

Peach & Yoghurt ¥680 / Iced Café Latte ¥550

The bread is piled with a generous serving of yoghurt cream and shiny peach which the light shines on.

I feel happy just looking at this delicious treat. Just spellbinding!

I sliced my first piece and popped it into my mouth. The bread is deliciously chewy, and the refreshing yogurt cream and sweet peach filled my mouth. The bread itself is a thick-cut slice and made by Pelican, a bakery in Asakusa. It has a chewy and moist texture you can't find anywhere else.

The yogurt cream isn't overly sweet, instead having a more refreshing flavour to it. When eaten together with the sweet ripened peach, the gorgeous mix blends together around your taste buds and melts in your mouth. Depending on the season, you can pick fruits other than peach too. They always have seasonal choices. I'm looking forward to their autumn and winter line-up.

The iced latte has a slight acidity to it, my favourite kind of flavour. It went really well with the Peach & Yogurt bread. The café is also particular about its coffee bean selection; one of its baristas is noted to be a past "Japan champion" when it comes to coffee. I've got to try the hot coffee the next time I visit.

A set meal, burger or the likes would have been good too, but I had my eyes set on a sweet dessert lunch. Getting a moment to chill out and enjoy something sweet made me happy today. I recommend enjoying some autumn fruit-topped bread too as the seasons change.

Today's Presents

Apple Juice ¥450

I's important to share the happiness between family and colleagues on when you get the chance to enjoy something tasty. I bought them some apple juice, which is poured into a cup with a smiling face on the side. It's made from 100% apples from Nagano. The straw is made from environmentally-friendly sugarcane.

Writer:Sayuri Mizuno(MOSHI MOSHI NIPPON)

Taste Different Japanese Teas in Wine Glasses in Fukuoka

Neworld has teamed up with Asakura, Fukuoka-based tea manufacturing company Seichajo Yamashina to offer an all-new tea-tasting course. Reservations opened on September 25 and can be made via telephone call.

Yamashina Tea Stall first opened its doors to the public back in 1947 in the city of Asakura, Fukuoka. This long-standing tea shop oversees every aspect of their original blends, from the tea leaf selection to the roasting.

The shop's representative, Koya Yamashina, is a tea professional, having worked as an instructor on Japanese tea as well as an established Japanese tea critic. He has travelled up and down Kyushu―one of the five main islands of Japan where Fukuoka sits―which has enabled him to select only the best tea for the shop, considering the taste, smell, season, place of production, and growers themselves.

Yamashina Tea Stall promises a fun and authentic experience when it comes to Japanese tea, for the very fact that it has had its hands on so many different types. That's where their new program comes in to play, where they will pair different Japanese teas into different wine glasses―provided by Tokyo glass makers Kimura Glass―for tasters to get the best out of the tea, including the flavours and fragrance.

Let's take a look at the course.

Piccolo 6oz Flute & Yama no Asatsume

This brand of tea is called Chiran Yama no Asatsume and it comes from Kagoshima Prefecture. It's grown in Ushirodake, an area in Kagoshima with a high altitude, the only place it can be grown. It has a distinct fresh and sweet fragrance. The tea is served in a 6oz Piccolo glass which is a popular glass for champagne. Its delicate rim and form makes it the perfect shape to enjoy the full taste of the tea.

Garson 3oz Grappa & Yame Gyokuro

Yame Gyokuro is known as one of the most luxury teas in Japan. Served in a Garson glass, it has a thin, long shape, making it ideal for smelling the gentle aromas of the gyokuro tea and for enjoying its smooth, sweet taste.

Pivo Orthodox 63224-210 & Sun Rouge

Sun Rouge is an extremely rare variety of tea grown on the distant island of Tokunoshima which is south of Kagoshima. It is served in a classic champagne glass, much different from the flute-type champagne glasses. The liquid is allowed to spread over a wider surface, letting you take in the distinct beautiful purple colour of the tea while enabling the fragrance to dance around the elegant glass.

This is just a snapshot of the many drinks this course has to offer. If you're looking to experience Japanese tea in style, then why not try out this course? They even sell sets of glasses and tea so you can take them home with you!

Information

Yamashina Tea Stall

Address: 1635 Amagi, Asakura, Fukuoka

Opening Hours: 10:00-18:00

Course Name: CRAFT STORE x Seichajo Yamashina Japanese Tea Course (5 Types)

Price: ¥1,800

Reservations: Telephone (Limited number of places, please enquire ASAP)

TEL: 0120-177-515

Homepage: https://www.e-ochaya.net/

Food Review: Shibuya's Stylish Sandwich Shop BUY ME STAND

Hello, readers of MMN! I'm Banako of the MOSHI MOSHI FRIENDS program.

Today, I'm here to show you a unique and stylish sandwich shop I visited in Shibuya called BUY ME STAND. Shibuya is home to countless restaurants and cafes, but if it's sandwiches you're looking for, this place is the one people are going to recommend. That's how famous it is!

You can reach it in just a brisk 5-minute stroll from the New South Exit of Shibuya Station's JR Line building. You'll know it by the big windows and green and white stripes.

The store is managed by apparel brand SON OF THE CHEESE. The entire interior is coloured in mint green, and it has a vintage American vibe to it. Both the outside and inside are nothing short of stylish-looking. It has a second floor too which has table seats.

I ordered the shop's most popular menu item: "Apple Cheeks." The sandwiches are cooked to order in an open kitchen in full view of the customers.

BUY ME STAND typically serves hot sandwiches. Most of them are filled with cheese which is grilled until melted and oozing.

This is the Apple Cheeks, which costs ¥1,200. Take a look inside, what do you see?

That's right. Just as the name of the sandwich suggests, is stuffed with apple slices. As well as apple, it also contains pork belly, onions, and Camembert cheese.

Apples and sandwiches are seemingly an unlikely combination, but by my first bite into the crunchy toast I was already hooked. The melted cheese coils itself delicious around the pork belly and onions while the apple adds a favourable sweetness to the combination of flavours. It was like happiness in my mouth.

It's quite a hearty sandwich, but it comes with a crunchy coleslaw salad which is a great palate cleanser and changes up the flavour party on your tongue, so you can get through it all no problem

Since there's a lot of ingredients packed inside their sandwiches, they are also served with a burger bag like when you eat a hamburger, so you can wrap it up to ensure nothing falls out.

Sandwiches are generally seen as a quick and light meal, but BUY ME STAND has redefined their image by making their sandwiches fat and filling.

BUY ME STAND is open from 8am, and breakfast is sold until 11am where they serve a range of food options in addition to sandwiches. I wanted to try everything.

The menus differ slightly for breakfast, lunch and dinner.

BUY ME STAND is in fact a chain sandwich shop and has branches not only in Shibuya, but Yokohama, Fukuoka, and even Okinawa too, and all of them are just as fancy as one another.

Pay a visit to BUY ME STAND yourself and find your sandwich of choice!