Three Perfectly Peachy Parfaits This Summer In Nagoya
Summer is the perfect time to enjoy Japanese peaches, which are particularly juicy and sweet around this time. Peaches go well with red bean paste, cream and a variety of other flavours, which is why you will be seeing a lot of peachy desserts this summer. You just have to try them!
Today, Instagrammer meme, who is a big fan of cute and stylish cafés, will be introducing you to peach parfaits that you absolutely must try in Aichi prefecture.
BLUE STAR CAFE(ブルースターカフェ)/Nagakute
BLUE STAR CAFE has started selling a peach parfait. The peaches are so sweet and juicy that I was moved to tears. The parfait is made up of fresh cream, vanilla ice cream, peach sherbet and frozen peach. It is simple, delicious and very satisfying. 
▼BLUE STAR CAFE
Address: 504 Tsukada, Nagakute, Aichi
TEL:0561 42 6878
Official Website: https://bluestar-cafe.com/
Halleloo Garden(ハレルゥ ガーデン)
I was just waiting and waiting for Halleloo Garden to release their peach parfait and I was far from disappointed. Just looking at the pretty pink peaches is enough to get your mouth watering. When you cut into the peach, it will explode with colourful popping boba. What a fun parfait.♡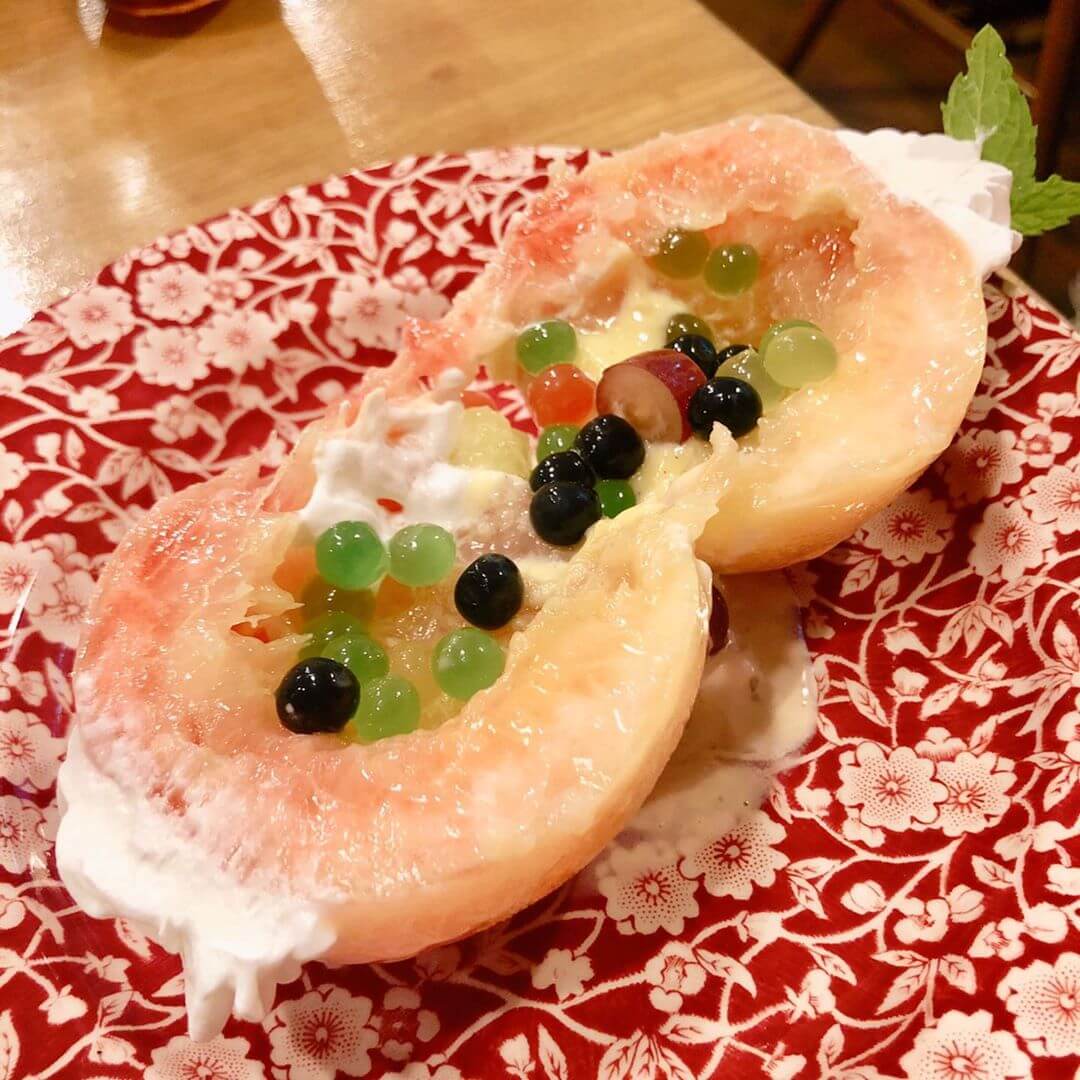 The parfait is made up of a variety of fruits including melon, blueberries, grapefruit and apple. It also contains vanilla ice cream, custard, fresh cream, and dried fruit too. Be aware that the contents of this parfait will change according to the season. 
This peach parfait also comes with peach-flavoured black tea with boba. Add this to your parfait and notice the change in flavour as your parfait becomes a milk bubble tea! This was my first experience of popping boba. It was such a fun experience to bite into the boba and feel them explode, flooding my tastebuds with a delicious juicy flavour. Whether Halleloo Garden can serve this parfait seems to be dependent on whether they can receive peaches from their supplier, so I recommend phoning up the café before you turn up to if you want to try this. 
▼Halleloo Garden
Address: Kami-222-1 Miyoshicho, Miyoshi, Aichi
TEL: 0561 56 1080
Official Website: http://www.halleloo.jp/
merry café(メリーカフェ)/Toyoake
merry café serves a beautiful peach parfait that looks just like a bouquet of flowers.
The simple peach compote allows you to enjoy the natural deliciousness of the peaches. During this season, finding peaches that are highly sweet can be a bit of a hit or miss, however there is no doubt that they will be sweet when made into a compote. It was a delicious peach parfait. ♡
▼merry café
Address: 7-18 Komochimatsu Shindencho, Toyoake,
TEL:0562-91-3230
Opening Hours: 11:00 ー 15:00, 17:30 ー 22:00
Official Facebook Page: https://ja-jp.facebook.com/merrycafe1218/
All these pink peach treats look so beautiful. This peachy season is the perfect time to wrap yourself in the wonderful fragrance of sweet peach. Please check out meme's Instagram which is full of information on cute cafés you can visit for delicious desserts. 
Author/ Photographer: meme
RECOMMENDED ENTRIES
Mogu Mogu Nippon | Convenience Store: Top 3 Refreshing Summertime Drinks

Hi, everyone! I'm Heir from MOSHI MOSHI NIPPON's editorial team.

Our office is based in Harajuku, Tokyo's hub for fashion and youth culture. When summertime rolls around and brings the sweltering weather with it, it's ubiquitous to see people walking the streets of Harajuku with bubble tea or iced coffee in their hands to cool down.

Personally, I really love the drinks sold at convenience stores and can drink them whenever. They are cheap and tasty with many new drinks stocking the shelves all the time. There were a lot of popular drinks that began sales in June.

Today, I want to recommend three of these cool beverages to you, all of which saw much attention on Japanese social media.

1. Coffee Beverage | Starbucks Iced Orange Brûlée Latte

This chilled Starbucks drink was released on June 11 and comes in a very summery flavour: Iced Orange Brûlée Latte. Lattes mixed with fruit are always my weakness. This drink is extremely tasty, mixing full-bodied coffee with velvety milk, orange and crème brûlée. Its cute packaging and refreshing flavour make it the perfect choice for the start of summer.

Released: June 11, 2019

Price: ¥200 (Before Tax)

Available: At convenience stores, supermarkets and department stores in Japan

Product Page: https://www.starbucks.co.jp/beverage/rtd/4901777338579/

2. Carbonated Beverage | Gabunomi Soda Float

From the popular Gabunomi drink series comes the new Soda Float flavour. Its packaging alone is enough to cool you down. The drink itself is a cute blue colour which is what made me want to buy it. It's soda mixed with a creamy ice cream float which has an authentic flavour. As is always the case with Gabunomi, they have the perfect balance of sweetness in their carbonated beverages. This drink just makes you want to buy one and head to the seaside!

Released: June 24, 2019

Price: ¥140 (Before Tax)

Available: At convenience stores, supermarkets and department stores in Japan

Product Page: https://www.pokkasapporo-fb.jp/products/soda/gabunomi/JE88.html

3.  Carbonated Beverage | Coca Cola Clear Lime

Clear Coca Cola became a topical drink on social media around the world when it was first released last summer. This summer, the drink is receiving a lime upgrade. By combining the colourless Coke with lime flavour, you can feel super refreshed during the hot and dry weather. Be sure to pick up a bottle if you're in Japan this summer!

Released: June 10, 2019

Price: ¥140 (Before Tax)

Available: At convenience stores, supermarkets and department stores in Japan

Product Page: https://www.cocacola.jp

Mogu Mogu Nippon | Convenience Store: 3 Seven Eleven Matcha Desserts

If you are wondering what Japan is particularly good at, matcha desserts is definitely one of them. However, you don't have to go to a shop that specialises in matcha sweets to get your fill. Matcha desserts can be easily obtained from the convenience store and once you start, it is hard to stop. 

Today, Instagrammer Yukko is going to introduce you to three delicious matcha desserts that you can get from Seven Eleven.

Dorayaki Pancakes Filled With Matcha Cream ¥278 (before tax)

Seven Eleven is always selling some kind of delicious matcha cream-filled dorayaki. This time, the name has been changed slightly. This dorayaki is just ¥3 more expensive than last time, however it looks just as good as it always has. You just will not be able to resist buying it. 

As you take your first bite of this high-quality snack, the scent of the matcha will reach you first, followed by the flavour of the matcha which spreads instantly through your mouth. The matcha is rich yet so light that it will instantly melt on your tongue. The pancakes sandwiching the large creamy matcha filling are both fluffy and thick. Cut it in half and you will not be able to resist. 

This is a wonderful snack to sink your teeth into while you walk. If you want to keep your hands clean, you could even use a spoon to scoop out the filling. Enjoy it in your own unique way as it is tasty no matter how you choose to enjoy it!

Matcha and Matcha Parfait ¥278

As the name implies, this matcha parfait is the perfect opportunity to taste a variety of matcha flavours in one single tub. From the bottom, the cup is filled with matcha jelly, followed by matcha mousse, milk mousse and matcha whipped cream. Within the layers of matcha whipped cream you will discover a goldmine of matcha jelly and a dorayaki pancake core. 

The matcha flavour of the jelly is quite weak, however its wobbly and springy texture contributes to the deliciousness of the parfait. The moderately sweet whipped cream combined with the matcha flavour is perfectly balanced. The milk mousse has a rich, milky flavour. It may be sweet, however the matcha mousse underneath it is slightly bitter, so enjoy them together for a delicious overall flavour. 

The fluffy matcha mousse and rich matcha is unbelievably delicious. The dorayaki centre is soft, fluffy and thick which accents the flavour. Overall, the parfait is not overpoweringly sweet and the matcha flavour is gentle on your tongue.  

Uji Matcha Cream Mochi: ¥110 (before tax )

Uji Matcha Cream Mochi is a soft, thin and chewy dough that is rolled out thin and then wrapped around a large spoon of uji matcha cream. This is always a popular pick. Last time, they served the uji matcha chocolate mochi. I wonder how the Uji Matcha Cream Mochi will taste!

This time, the mochi has a slightly more springy texture. The outside is chewy, yet the inside is gooey. This mochi cake is bursting with matcha so you can really enjoy the matcha flavour. The bitter matcha flavour is perfectly balanced with a touch of sweetness. This dessert even come with a fork so that you don't have to get your hands dirty. 

I know, it is hard to choose which matcha dessert to try. Convenience stores are always refreshing the varieties of goods they sell, so if you are particularly attracted to any of the desserts mentioned above, it is probably best to try them before they are replaced.

Mogu Mogu Yukko introduces lots of desserts and sweets that are easily found in convenience stores and supermarkets on her Instagram so please check out her other posts:

Photos and Text: Mogu Mogu Yukko

3 Must-Try Summertime Bubble Teas at Tokyo Disneyland & DisneySea

Bubble tea continues to be ever popular in Japan this summer, especially at Tokyo Disneyland and Tokyo DisneySea which not only is selling its much-loved classics but a selection of new refreshing beverages too. Let's take a look at three of these drinks new this July that not only enjoyable to drink but fun to look at too.

Coffee Tapioca Latte

The Coffee Tapioca Latte is appearing as part of Tokyo DisneySea's special event Disney Pirates Summer. The colour of this coffee flavoured delight is reminiscent of the Black Pearl from the 2003 Pirates of the Caribbean movie. It's not overly sweet and so is perfect for those who prefer more adult flavours. Enjoy the event with a cup of this pirate brew in hand.

Running: July 8 – September 1, 2019

Price: ¥500

Available: Mamma Biscotti's Bakery, Tokyo DisneySea

Fantastic Flight Drink (Lychee Tapioca)

Inspired by the new Soaring: Fantastic Flight attraction arriving at Tokyo DisneySea on July 23, this drink contains lemon jelly and lychee flavoured chewy tapioca pearls. Lychee flavoured tapioca pearls are for sure a rarity―have you ever seen them?

Running: July 8 – September 1, 2019

Price: ¥450

Available: Zambini Brothers' Ristorante, Tokyo DisneySea

Sparkling Tapioca Tea (Mango & Citrus)

For a limited time only, this refreshing Sparkling Tapioca Tea will be served up at Tokyo Disneyland, a black tea with mango flavoured tapioca and grapefruit jelly. A perfect summertime sip for the hot weather with its refreshing black tea taste and fruity fragrance.

Running: July 8 – September 1, 2019

Price: ¥600

Available: Tomorrowland Terrace, Tokyo Disneyland (Serving at 14:00-17:00 only)

There are plenty of other new bubble tea drinks apart from these ones too, some of which are on sale right now, such as the Tapioca Mango Drink with its foundation of tiny chewy tapioca balls, the subtly sweet Strawberry Tapioca Tea with fresh strawberries pieces in it as well as large-grained tapioca balls, and more.

If you're heading to either park be sure to order a cup of bubble tea!せ

Information

Tokyo Disney Resort
RELATED ENTRIES
3 New Limited-Edition Botanical Drinks to Arrive This Summer at BOTANIST Tokyo

BOTANIST Tokyo, the flagship shop of BOTANIST in Omotesando, has announced a new collection of limited-edition drinks will be served on the second floor BOTANIST Cafe from July 12, 2020. BOTANIST Tokyo is currently closed but it scheduled to reopen on June 1.

There are three new refreshing drinks to choose from, all of which can be ordered for takeout. From apple mint to grapefruit, each beverage us the perfect accompaniment for cooling you down in Japan this summer.

REFRESH MENU


Refresh Soda: ¥600 (Tax Included)

A combination of grapefruit jelly and fizzy soda water make this one of those drinks that you go "Ahh!" afterwards on a hot summer's day. There's also a hint of sweet green apple.

Botanical Melon Soda: ¥800 (Tax Included)

This is a smoothie which blends together two types of melon soda and adds melon jelly and a dollop of ice cream. It's like a dessert in a cup!

Banana & Avocado Refresh Smoothie: ¥720 (Tax Included)

Enjoy the sweetness of banana and sugar beet together with the smoothness texture of the avocado in this smoothie which has apple and mint mixed into it for that refreshing summertime kick.

The cafe's regular menu has also been revised to add three new desserts.

REGULAR MENU


Vegan Waffles w/Drink: ¥800 (Tax Included)

These vegan waffles are healthier for the body if you're looking for some guilt-free indulgence. It's topped with soy whipped cream, maple syrup, and fruits of your choice.

Lemon Cheesecake w/Drink: ¥1,000 (Tax Included)

A crunchy cookie base, a creamy cheese top, and a lemon to top it all off. The combination of the salty flavour with the sour hit is a match made in heaven.

Homemade Rich Pudding: ¥500 (Tax Included)

An in-house made purin, which is a type of Japanese custard pudding. It's a delightful mix of rich egg and subtly sweet soy whipped cream.

Customers who spend over ¥4,000 (tax included) on items in the Refresh Series will also be entered in for a chance to win a "Refresh Soda." The soda is available while supplies last.

Information

REFRESH MENU
Serving: June 1, 2020 – July 12, 2020

REGULAR MENU
Serving: From June 1, 2020

BOTANIST Tokyo
Address: 6-29-2 Jingumae, Shibuya, Tokyo (1st Floor – Shop / 2nd Floor – Cafe)
TEL: 1st Floor: 03-5766-3777 / 2nd Floor: 03-5766-3778
Opening Hours: 11:00-20:00
Official Website: https://shop.botanistofficial.com/

HARIO has created a completely new way of serving tea with its new clear lidless teapot.

The teapot substitutes a lid for a filter, allowing for you to place your tea leaves directly into the pot and not have to worry about any pieces falling into your cup. The spout is made from PCT resin which caters to high temperatures and gives it impact strength, heat resistance, and makes it transparent.

Clear Lidless Teapot: ¥2,000 (450ml) / ¥2,500 (700ml) (Before Tax)

As you pour the pot, the scent of the tea rises together with the steam. The pot is made from heat-resistant glass which means you can see the tea leaves as well as watch the colour of the water change. It's made so you can enjoy every sip of your tea's delicious flavour, right down to the last golden drop. Not only that, it's also smart and stylish, so is sure to elicit a comment or two when you're pouring tea for people.

Since you don't have to worry about any leaves pouring out, you can try out all kinds of different teas, whether it be Japanese tea, herb tea, and so on. It's great for iced tea too, especially with the weather warming up.

The teapot benefits from not being made up of many parts, so it's super easy to clean—you can get right down into the corners.

Make teatime even more fun while you're at home with this clever new invention!

Stay Home: 5 Simple and Kawaii Fruit Sandwiches to Try Making During the Lockdown

Here at MOSHI MOSHI NIPPON, we post news and information about Japan in six languages. Our aim is to deliver a variety of content related to Japan for those who love and enjoy Japanese culture.

Right now, people across the globe are in self-isolation as a result of the coronavirus pandemic. The same goes for Japan too, so we've taken this opportunity to create a new series on the website to show how we're spending time at home here in Japan. The future is yet uncertain, and we hope for normality to return for all of us soon. We created a new articles series called Stay Home with which we hope to take your mind off the situation, even for just a little bit, to help you feel calmer. It might give you some tips on what you can do while spending time at home.

In this edition of Stay Home, we're taking a look at five simple and kawaii fruit sandwiches that have been featured with the trending Japanese hashtag #おうちカフェ ("Cafe at Home"). Stuck for ideas for breakfast, lunch, or snacks? Then try making one of these super simple yet mouth-watering recipes.

1: Fruit Sandwich @tgm___n

naho's fruit sandwich is layered in a specific way to make the fruit look like flowers. You can add an artistic touch to your sandwiches with just a bit of prep.

Ingredients
・Bread ・Yogurt ・Strawberries ・Grapes

Method
1: Add Greek yogurt to the sandwich.
2: Cut the strawberries and grapes in a cross-section and stuff into the bread.
3: Wrap and leave in the refrigerator for one hour. Slice down the middle and you're done!

Mari's has served their fruit sandwich open-style and with plenty of fruit. The fresh cream and cream cheese adds a richness to the sandwich.

Ingredients
・Bread ・Fresh cream ・Cream cheese ・Fruits of your choice

Method
1: Layer cream cheese over the bread slices and then the fresh cream.
2: Top with your assorted fruit.
3: Cut into bite-size slices and tuck in!

3: Strawberry Cake Style Fruit Sandwich @_ll_rire_ll_

riE.'s fruit sandwich is just like a cake! By arranging it correctly, she has transformed her sandwich into a strawberry dessert.

Ingredients
・Bread ・Strawberries ・Fresh Cream ・Honey ・Cinnamon

Method
1: Slice a thick cut of bread in half and fill with fresh cream and strawberries.
2: Spread fresh cream on the outside and top with strawberries
3: Drizzle with honey, sprinkle with a little lemon, and enjoy!

4: Cocoa Bagel Fruit Sandwich @chiezzz8

chie's fruit sandwich is made using homemade cocoa bagels and ponkan orange, creating a sweet and sour flavour combination.

Ingredients
・Cocoa bagels ・Ponkan orange ・Greek yogurt ・Cream cheese

Method
1: Mix Greek yogurt and cream cheese to a ratio of 1:1.
2: Cut the bagels in half and add your yogurt and cream cheese mix.
3: Add the ponkan orange and enjoy!

5: Hot Banana & Oreo Crispy Tiramisu Sandwich @ks.daidokoro

Kancho makes lots of different hot sandwich recipes. This is a simple one you can make using a frying pan.

Ingredients
・2 slices of bread ・5 Oreo Crispy Tiramisu ・Greek yogurt to taste ・1 banana ・30g shredded cheese ・Cinnamon powder to taste ・Honey to taste

Method

1: Top one slice of bread with Greek yogurt and add half the shredded cheese.
2: Add the Oreos (and fill the empty spaces with smashed Oreos).
3: Top with sliced banana, the cinnamon powder, and honey.
4: Add Greek yogurt and the rest of the shredded cheese to your other slice of bread.
5: Toast in a frying pan and press. Fry until both sides are a light brown and enjoy!

Bring the cafe experience into your own home with one of these 5 simple recipes.

nana's green tea Releases Luxurious Gyokuro Tea Drink and Parfait You Can Take Out

Modern tea hosue nana's green tea has 81 branches across Japan. Alongside café-style food, their specialty is traditional desserts and drinks made from traditional teas such as matcha and hojicha. They are now selling a new parfait and chilled drink made from fresh gyokuro green tea for a limited time.

As the days grow gradually closer to summer, the menu blooms to life with the season's fresh green colours. The desserts at nana's green tea never fail to boast their own unique and unbeatable flavours. The new parfait and drink are made with a generous serving of  gyokuro, which is a fine and luxurious type of green tea recognised by its signature bright green appearance. The rich green tea is sourced from the long-established Kyoto tea-producer YAMAMASA KOYAMAEN.

YAMAMASA KOYAMAEN: Kyoto's Long-Established Uji Matcha Tea Producers

YAMAMASA KOYAMAEN are the owners of a tea plantation in Kyoto's renowned matcha region called Uji. With their passion for selling only the best flavour of tea above all else, they have contributed to the growth of Uji-grown tea since the end of the Edo period.

Gyokuro tea is produced with the same careful attention and care as matcha but with a different procedure. nana's green tea grind the leaves to a fine powder to fully extract its refined essence. From the flavour to the aroma, gyokuro tea provides a completely different experience to matcha. If you love Japanese tea, this is the perfect opportunity for you to explore the wonderful flavours of Uji tea.

Gyokuro Warabimochi Parfait

Gyokuro jelly made from 100% gyokuro Uji tea and white bean paste dusted in gyokuro powder dress this parfait in rich flavours. The warabimochi is also dusted in gyokuro powder to balance its sweetness. The sweetness of the warabimochi and the gentle and refined flavour of gyokuro tea will spread through your mouth. Finally, the parfait is laced in black sugar syrup for a refined accent. 

Gyokuro Jelly Frozen

Gyokuro tea and milk are mixed together to create an aromatic and vivid drink mixture. Chunks of soft gyokuro jelly can be seen at the bottom of the drink. Suck them up through your straw for a refreshing and fun texture. As the process of roasting gyokuro leaves is very difficult, it is a flavour that can be difficult to come across. This is the perfect way to enjoy a refined flavour in a casual way.

You can also order the parfait and drink to take out, making it the perfect luxurious treat to enjoy at home. If you love exploring tea, this is an unmissable opportunity.

Information

nana's green tea

Shop Locator: http://www.nanasgreentea.com/shop/

*Takeout availability varies from shop to shop and may be unavailable in certain regions. Please confirm this with the shop staff.

Harajuku's Rilakkuma Fruits Cafe Entertains Customers With Projection Mapping

"HARAJUKU AR BOX -table projection mapping cafe-," a cafe in Harajuku whose name speaks for itself, has announced its second collaboration with Rilakkuma to bring the new Rilakkuma Fruits Cafe which will open for a limited time from April 3, 2020 to June 28, 2020.

The cafe's first collaboration with Rilakkuma was in December last year. It was called "Korilakkuma Cafe: another me in the mirror" and earned itself many fans for its cute food and decor, but especially for its interactive tables which used projection mapping technology to have Rilakkuma and friends running around people's tables.

Harajuku's Korilakkuma Cafe: another me in the mirror | Food Review: https://www.moshimoshi-nippon.jp/284456

Fruit is the theme of the new Rilakkuma Fruits Cafe, which follows that Chairoikoguma and the other characters have gathered lots of nutritious fruit to fill up the belly of hungry Rilakkuma.

Food

Rilakkuma's Fruit Salad – ¥1,590

Get your fill of refreshing fruit from this fruit salad plate which has Rilakkuma poking his cute face out from behind it all. When you order this dish, you'll need to touch the fruits that appear on the table to give them to Rilakkuma.

Korilakkuma's Apple Cheese Gratin – ¥1,690

A combination of hot apple and melted cheese, you'll find yourself addicted to the sweet and sour mix of flavours. Pick lots of apples with Rilakkuma and company with the projection mapping game. (*Serving April 3, 2020 – May 17, 2020 only)

Chairoikoguma's Orange Burger – ¥1,690

The bun of this hearty burger is branded with Chairokoguma's cute bear face. But what happens when you squeeze Rilakkuma's orange? (*Serving May 20, 2020 – June 28, 2020 only)

Desserts

Rilakkuma's Maku Maku Fruit Tree Parfait – ¥1,590

Korilakkuma's Maku Maku Strawberry Tree Parfait – ¥1,590 (Serving April 3, 2020 – May 17, 2020 only)

Kiiroitori's Maku Maku Peach Tree Parfait – ¥1,590 (Serving May 20, 2020 – June 28, 2020 only)

For dessert, you have a selection of fruit-topped parfaits to choose from featuring Rilakkuma, Korilakkuma, and Kiiroitori.

Drinks

Rilakkuma & Friends Maku Maku Drinks – ¥790 / With Glass – ¥1,990

Warm & Fluffy With Everyone Cafe Latte – ¥890

Pick between one of the cold beverages, or if it's a cold day, warm up with a hot drink. Feel warm and fluffy like Rilakkuma and his friends with a warm beverage after your parfait.

Exclusive Merchandise & Bonus Items

Pin Badges (9 Designs/Chosen Randomly) – ¥400

Acrylic Key Rings (8 Designs/Chosen Randomly) – ¥500

Get your hands on a selection of original merchandise too, including pin badges, acrylic key rings, and more.

Stickers (4 Designs/Chosen Randomly)

Coasters (4 Designs/Chosen Randomly)

Book a table online in advance and receive one of four possible stickers. Order a drink at the cafe and get one of the four coasters!

You're sure to get your five-a-day when you dine at the Rilakkuma Fruits Cafe, opening for spring on April 3, 2020 in Harajuku.

©2020San-X Co., Ltd. All Rights Reserved.

Information

Rilakkuma Fruits Cafe

Running: April 3, 2020 – June 28, 2020

Location: HARAJUKU AR BOX-table projection mapping cafe- (Lucessimo Bldg. Floor 2F, 4-28-28 Jingumae, Shibuya, Tokyo)

Table Bookings: Now Open

*Table Projection Mapping seats for two people are ¥2,960 (before Tax)

Official Website: https://rilakkuma-fruits-cafe.jp/

Pompompurin Celebrates 24th Anniversary With Birthday Menu at the Pompompurin Cafe

Sanrio's popular character Pompompurin is celebrating his 24th anniversary at three branches of the Pompompurin Cafe in Harajuku, Yokohama, and Umeda with a special birthday menu that will be served for the whole month of April.

A special celebratory menu for the floppy-eared golden retriever

The official date for Pompompurin's birthday is April 16. The birthday menu line-up includes two food items, a drink made in collaboration with popular Japanese picture book author Yukako Ohde, and some novelty gifts.

Birthday Menu

Happy Birthday Flower Bouquet Bisque – ¥1,590 (Before Tax)

This cute bisque soup has Pompompurin and Muffin holding a colourful boquet made from broccoli and mashed potatoes made to look like roses. It has a rich but mild flavour, and is both adorable and filling.

Happy Birthday Strawberry Mousse – ¥790 (Before Tax)

The strawberry mousse has a fluffy texture and refreshing, sweet taste. It can be eaten as it is or drizzled with the accompanying raspberry sauce.

Yukako Ohde x Pompompurin Lemonade – ¥550 (Before Tax)

Take a sip from this delicious lemonade from a straw adorned with a cute, warm illustration of Pompompurin by Yukako Ohde.

Exclusive Anniversary Novelty Gifts

Lunch Mat Design

Customers who dine at any of the three cafes during the anniversary celebration will receive a free lunch mat.

Coaster Designs

And those who order the lemonade will receive a coaster with designs illustrated by Yukako Ohde. The designs are different at each branch of the Pompompurin Cafe. You can also receive another special coaster if you spend over ¥1,000 each (tax included) at Pompompurin Cafe Umeda and KIDDY LAND Osaka Umeda. Simply show your receipts at the cafe.

©1996,2020 SANRIO CO., LTD. APPROVAL NO.S605291

Information

■Pompompurin Cafe Harajuku

Address: CUTE CUBE HARAJUKU 3F, 1-7-1 Jingumae, Shibuya, Tokyo

Opening Hours: 11:00-21:00 (Food Last Orders 20:00 / Drinks Last Orders 20:30)

Access: 3-minutes on foot from the Takeshita Exit at Harajuku Station

TEL: 03-5786-0770

■Pompompurin Cafe Yokohama

Address: Yokohama Sotetsu Square, 2-1-5 Minamisaiwai, Nishi-ku, Yokohama-shi

Opening Hours: 10:00-21:00 (Last Orders 20:30)

Access: 5-minutes on foot from West Exit at Yokohama Station via JR Line

TEL: 045-311-6750

■Pompompurin Cafe Umeda
Address: Hankyu Sanbangai South Wing B2F, 1-1-3 Shibata, Kita-ku, Osaka-shi
Opening Hours: Weekdays 11:00-22:00 (Last Orders 21:30) / Weekends & Holidays 10:00-22:00 (Last Orders 21:30)
Access: 3-minutes from Osaka Station via JR Line
TEL: 06-6292-7140

Pompompurin Cafe

Official Website: http://pompom.createrestaurants.com

mūya: Tokyo's New Cafe Opening by 'Bread, Espresso &' Serving Fluffy Mū Bread

Bread, Espresso & is a cafe chain with 17 branches in Japan, including Omotesando. The company is set to open an entirely new cafeーspecialising in Bread, Espresso &'s popular mū breadーcalled mūya on April 17, 2020 in Asakusa Mizumachi.

Bread, Espresso &: https://www.moshimoshi-nippon.jp/254815

Mizumachi is a new shopping centre also opening on April 17, 2020. It's near Solamachi in Tokyo Skytree Town, and sits betwixt Kaminarimon and Tokyo Skytree.

mū

Mū is an original bread recipe baked up by Bread, Espresso & that's made with lots of butter, giving it a rich taste. The word means "soft" in French. When you break a piece off the fluffy loaf, that rich buttery smell fills your nose.

inside the cafe

The mū loaf is a cube shape, and the interior of the shop has cube designs all over it.

Customers sit at tables with chairs that stack up like cubes – a unique and original design.

French toast

Mū is the main dish at mūya, which can be served as it is, as a sandwich, as French toast, or even in a parfait.

When you're passing through Asakusa, be sure to pop into mūya to try the famous mū bread of Bread, Espresso &.

Information

mūya

Address: 1-2-12 Mukojima, Sumida City, Tokyo 131-0033
Opening Hours: 8:00-20:00
No Fixed Holidays

TEL: 03-6240-4880
Homepage: http://www.bread-espresso.jp/

Succulent Strawberry Drinks & Desserts Served Up at GELATO PIQUE CAFE

GELATO PIQUE CAFE branches in Japan began their "Strawberry Fair" on Wednesday serving up drinks and desserts made using seasonal strawberries.

What is GELATO PIQUE CAFE all about?
"Desserts for adults" is the concept at GELATO PIQUE CAFE, a cafe brand developed by GELATO PIQUE which specialises is comfy loungewear. The cafe, which has branches in Tokyo, Osaka, Nagoya, and elsewhere in Japan, serves comfort food and is interested in the health and happiness of its guests. Their menu is overflowing with ideas, with all options made using only the best selected ingredients.

The enticing line-up is nothing short of kawaii, and screams springtimeーfitting for the season as Japan celebrated Vernal Equinox Day yesterday, the first day of springーwith sweet and sour strawberries adorning their crepes, smoothies, gelatos, soft serve ice creams, and more.

Strawberry Mille Feuille Crepe – ¥830 (Before Tax)

Topped with a whole strawberry, this mille feuille-inspired seasonal crepe is made with an in-house crafted strawberry cream, mille feuille puff pastry, and vanilla gelato. The strawberries used are a mix, all grown in Kumamoto Prefecture, including yuubeni, koinozomi, koiminori, and others. Much love and care is put into growing strawberries in Kumamoto, making them sweet and delicious.

White Strawberry & Red Strawberry Gelato – ¥460 (Before Tax)

This two-coloured serving of gelato ice cream is made with sweet-smelling white strawberries and a brand of red strawberry from Fukuoka called amaou. No strawberry lover will be able to resist this pick.

Strawberry Smoothie – ¥590 (Before Tax)

Enjoy a cold strawberry smoothie made from seasonal strawbs, milk, and honey. Indulge in the refreshing sweetness of the strawberries, and enjoy the cute pink flavour of the beverage.

Strawberry Milk Soft Serve Ice Cream – ¥450 (Before Tax)

Or grab yourself a cone of soft serve ice cream to enjoy the combination of flavours: sweet and sour strawbs and sweet, creamy milk.You can also get a mix together with the light blue vanilla flavour.

Information

Strawberry Fair

Running: March 18, 2020 – May 31, 2020

Location: GELATO PIQUE CAFE (Participating Branches: atré EBISU, LUMINE Ikebukuro, Mitsui Outlet Park Makuhari, Mitsui Outlet Park Kisarazu, Mitsui Outlet Park Jazz Dream Nagashima, Gotemba Premium Outlets, Nagoya LACHIC, Mozo Wonder City, Namba Marui, Mitsui Outlet Park Hokuriku Oyabe)

Official Website: https://pique-cafe.com/

*Strawberry variety is subject to change depending on production conditions

5 Must-Visit Cherry Blossom Spots in Toyota City in Aichi Prefecture For Hanami 2020

Toyota in Aichi Prefecture is a city abundant with nature and one home to countless famous flower spots. Tourism Toyota has outlined a list of the perfect places to visit there this spring to enjoy viewing the cherry blossoms for this year's Hanami.

Asian Fawnlily | Korankei

Korankei is a valley created by the Yodo River in Toyota, Aichi, and is said to be one of the best places in Japan to enjoy the autumn colours. In spring, an area covering 5,000m² blooms with beautiful Asian fawnlilies, dyeing the grass as a light purple carpet.

Best Time To See: Mid March – Late March

Location: Korankei, Iimori Asukecho, Toyota, Aichi

Access: Board the Meitetsu Bus bound for Yamani (矢並線) at Toyotashi Station's East Exit, get off at Korankei (香嵐渓), and walk for 10-minutes

Official Website: https://www.tourismtoyota.jp/spots/detail/272/

Cherry Blossoms & Spiraea Thunbergii | Aichi Greenery Center

 

Every year at Aichi Greenery Center from late March to early April, the Spiraea Thunbergii, also known as Thunberg's meadowsweet, blossom their white flowers in full along a path stretching 200 meters, which makes it look like the area is covered in snow. When the cherry blossoms bloom, their light pink flowers offer a beautiful contrast with the snowbound meadowsweet.

Best Time To See: Late March – Early April

Address: Saruta-21-1 Nishinakayamachō, Toyota, Aichi

Access: Board the Oiden Bus bound for Fujioka/Toyota Via Nishinakayama (藤岡・豊田線(西中山経由)) and get off at the Greenery Center (緑化センター)

Official Website: https://www.tourismtoyota.jp/spots/detail/277/

Weeping Cherry Blossoms | Kaminaka

Kaminaka is home to some incredible weeping cherry sights. Around 3,000 weeping cherry trees stretch 1km from the car park, dyeing the mountainous landscape white, red, and pink.

Best Time To See: Early to Mid April

Address: Makigahora Kaminakacho, Toyota, Aichi

Access: 27km from Shidare Interchange (枝下IC) via Sarugata Green Road (猿投グリーンロード)

Official Website: https://www.tourismtoyota.jp/spots/detail/225/

Weeping Cherry Blossoms | Zuiryuji Temple & Daian-ji Temple

Zuiryuji Temple is home to a weeping cherry tree that is said to be 400 years old. It is officially listed as a Natural Treasure of Aichi Prefecture. Its flowers are best enjoyed in early April when it offers a spectacular sight next to the temple gate.

Daian-ji Temple also has an ancient weeping cherry tree that is 260 years old and listed as a National Treasure of Toyota. Another row of cherry trees are located next to it, wrapping the area in gorgeous pink hues. Both of these temple trees are also lit up in the evenings, offering a different kind of beautiful atmosphere from a daytime viewing.

Best Time To See: Early April

Address: Terayama-3 Inabuchō, Toyota, Aichi

Access: Board the Oiden Bus [Kaisoku Inabu] at Toyotashi Station's East Exit, get off at Dongurinoyu Mae (どんぐりの湯前), and walk for 10-minutes

Official Websites:

https://www.tourismtoyota.jp/spots/detail/39/ (Zuiryuji Temple)

https://www.tourismtoyota.jp/spots/detail/697/ (Daian-ji Temple)

Wisterias | Fuji no Kairo

This 370-meter long path is known as Fuji no Kairo, or "Wisteria Corridor," which is home to four different species of wisteria that bloom fully in the spring to the delight of those passing under it.

Best Time To See: Late April – Early May

Address: Mitsukuricho, Toyota, Aichi

Access: Board the Oiden Bus bound for Fujioka/Toyota Via Kanocho (藤岡・豊田線(加納経由)) and get off at Toyota City Hall (藤岡支所). Change onto the Fuji Bus bound for Kawaguchi/Ino (川口・飯野線), then get off at Fuji no Kairo (ふじの回廊口).

Official Website: https://www.tourismtoyota.jp/spots/detail/191/

Shirasagi Coffee: Ehime Prefecture's Cafe Releases Springtime Cherry Blossom Menu

Shirasagi Coffee, a cafe in Ehime Prefecture, has released a new seasonal menu full of strawberries and cherry blossoms to commemorate the spring season.

Shirasagi Coffee's logo features a heron, a reference to a legend that says the locals of Matsuyama in Ehime noticed that a white heron healed its injured leg by bathing in the hot springs of Dōgo Onsen, one of the oldest hot springs in  Japan. The cafe was renovated using furniture made from scrap wood from when Dōgo Onsen was built. It's an artistic cafe that has garnered much attention from both locals and tourists.

Thick-Cut Natural Yeast Toast

This thick-sliced bread is provided by Panya Uzu, a bread shop also in Matsuyama, Ehime. Perfect for breakfast or lunch, it's topped with a cherry blossom jam and mascarpone cheese cream.

Top: Cream Soda / Right: Cherry Blossom Tea Latte / Left: Cherry Blossom & Strawberry Mint Sour

This line-up of three drinks are made using seasonal strawberries grown in Ehime Prefecture.

Sweet Bavarois

Bavarois is a classic dessert at Shirasagi Coffee, and this one is made using matcha grown in the village of Shingu in Ehime and is coated in a cherry blossom cream.

Spring Madonna Parfait

This limited-time parfait is stacked with 12 different ingredients of varying textures and flavours, including cherry blossom, as well as Ehime strawberries, chestnuts, and matcha. It's the culmination of Ehime's springtime ingredients.

Takeout Drinks

Mini Parfait

The cafe also serves mini parfaits, drinks and other items for takeout. Pick something out and go and observe the cherry blossoms for Hanami at Dōgo Park.

Information

Shirasagi Coffee

Address: 2F, 12-1 Dōgoyunomachi, Matsuyama, Ehime Prefecture

Opening Hours: 08:00-18:00 (from 07:00 on weekends and public holidays)

No Fixed Holidays

Closest Station: Dogo Station via Iyotetsu

Official Website: https://shirasagicoffee.com/

*Open everyday until 22:30 from March 23, 2020

*Table reservations available on weekdays

*Breakfast-only until 11:00

Gluten-Free Vietnamese Bánh Mi Baguettes Sold at the New Bánh mi Tokyo

In Vietnamese cuisine, a Bánh mi is a baguette stuffed with various ingredients and served as a sandwich. It's a popular meal in Vietnam, and in recent years has seen an appearance in Japan.

Bánh mi Tokyo opened in Gaiemmae, Tokyo on March 16, 2020. They serve bánh mi with a Japanese taste, and their bread is made from 100% rice flour with no artificial flavourings or purified sugar.

Bánh mi are generally made with lard or margarine, but at Bánh mi Tokyo, they are made with with ingredients with good-quality oil content like rice koji sweet sake and nuts, which give them a richness and creaminess and remove things like trans-fats that are a burden on the body. This also greatly cuts calories and other fats too.

Mackerel Curry Bánh Mi

All bánh mi overflow with original flavours, from the chicken-filled "Standard Bánh Mi" to the "Mackerel Curry Bánh Mi" which is made with curry flavoured grilled mackerel, "Five Spice Char Siu Bánh Mi" stuffed with juicy pork belly, and more.

Bánh mi Tokyo also serves high-quality original coffees which are a must-try together with your bánh mi

Information

Bánh mi Tokyo

Address: 1F, 3-1-25 Jingumae, Shibuya, Tokyo)

Opening Hours

[Weekdays] Morning 8:30-9:30 / Lunch 11:00-15:00 (Last Orders 14:30) / Cafe 15:00-17:30 (Last Orders 17:00)

[Weekends & Holidays] Lunch 11:00-15:00 (Last Orders 14:30) / Cafe 15:00-18:30 (Last Orders 18:00)

*Please note that opening hours are subject to change as a result of the coronavirus. Check the cafe's official website for the latest information.

TEL: 070-4142-0868

Official Website: https://banhmi-tokyo.com/

MUUN SEOUL: Harajuku's Korean Cafe Serving Instagrammable 'Fatcaron' Macarons

MUUN SEOUL is a cafe located along Tonchan-dori Street in Harajuku that serves Instagram-worthy South Korean food.

Photo by Nagisa Kobayashi @popo_318

Photo by Nagisa Kobayashi @popo_318

The cafe sells "fatcarons," a South Korean-style macaron which have proven very popular with young women in Japan.

Photo by Taeco @taecostagram

Fatcarons are larger than the standard macaron. They are topped with things like strawberries, given marble textures, and more to give them a cute appearance. MOON SEOUL serves many different varieties, all of which are standout compared to normal macarons.

Photo by Sara @__sar310

But the fatcaron experience at MOON SEOUL isn't complete without ordering the drink above. It's strawberry milk flavoured, but the milk is whipped until it's fluffy, giving it a taste like no other strawberry milk you've tried. It also has sliced strawberries inside and on top, so if you love strawberries, you'll love this.

Photo by Yuina @popochan726

You can order your fatcarons for takeout too in a clear takeaway box so you can go have a dessert picnic with your friends, and get a great photo of them all together too.