Tour de Tohoku is an annual cycling event held to support the restoration efforts after the Great East Japan Earthquake. In promotion of this year's event, special posters have been created in collaboration with Japanese figure skater Yuzuru Hanyu and 15 characters from the hit cycling anime series Yowamushi Pedal. The event collaborated with the series last year too.
The posters will begin rolling out at the Tokyo Metro Yowamushi Line section of Shinjuku Station, the Tokyo Metro Hanzomon Line section of Shibuya Station, and the Sendai Subway at Sendai Station from August 26. Yuzuru Hanyu has been appointed as part of Tour de Tohoku Friends this year, an initiative where notable people aid in various activities in support of the event.
The collaborative posters illustrations of Yuzuru Hanyu as a character in Yowamushi Pedal alongside the series protagonist Sakamichi Onoda. Both of them are wearing the official cycling jersey of the event designed by Paul Smith.
There are nine of these special posters in total, five of which feature Hanyu, and six of which showcase backgrounds of actual courses in the event.
Speaking about his part in the event, Yuzuru Hanyu commented: "This is the first time I have appeared on a Tour de Tohoku poster to support the event as a Tour de Tohoku Friend, and it's alongside everyone in the world of Yowamushi Pedal. I loved Yowamushi Pedal, it always gives me the strength to take a step forward, and gives me the power to head towards a single goal. I'm overjoyed to be able to support [those cyclists] going above and beyond as well as the people of Tohoku alongside Onoda [Sakamichi] and [Akira] Midousuji! By feeling the 'strength' of the cyclists and supporting them we can become one. We will become the 'strength of Tohoku.' That's the kind of Tour de Tohoko I am supporting! I pray that Tohoku will gather lots of strength. Let Onoda and the others, myself, and all of the people supporting [this event] lend their strength to Tohoku!'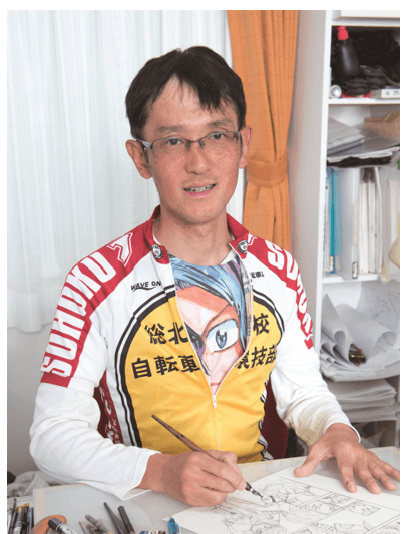 Wataru Watanabe, the author of Yowamushi Pedal, also commented: "Congratulations once again this year on Tour de Tohoko 2019. I'm also supporting Yowamushi Pedal again this year with illustrations at the exhibition at Ishinomori Manga Museum in Ishinomaki. I'm also collaborating with figure skater Yuzuru Hanyu too so it's sure to go down a storm! Every year since the year of the earthquake I have made bags for charity and donated all of the proceedings. I pray that it will help with the restoration efforts even if only a little. Get out there on your bicycles and feel the town, nature, air, and people's warmth on your skin!"
Information
Yuzuru Hanyu x Yowamushi Pedal Posters
Locations/Times
①August 26, 2019 – September 1, 2019
Metro Promenade at Tokyo Metro Marunouchi Line in Shinjuku Station (4 posters, 2 with Yuzuru Hanyu)
②September 2, 2019 – September 8, 2019
Metro Promenade at Tokyo Metro Marunouchi Line in Shinjuku Station (4 posters, 3 with Yuzuru Hanyu)
③September 9, 2019 – September 15, 2019
Metro Promenade at Tokyo Metro Marunouchi Line in Shinjuku Station (All posters in ① and ②, 5 with Yuzuru Hanyu)
Tokyo Metro Hanzomon Line in Shibuya Station (5 posters from ① and ②, 4 with Yuzuru Hanyu)
④September 11, 2019 – September 17, 2019
Sendai Subway at Sendai Station (1 design from ①, 1 with Yuzuru Hanyu)
Official Website: https://tourdetohoku.yahoo.co.jp/2019/info/en/