Creepy-Cute Halloween Menu Spooks This October at Hotel Chinzanso Tokyo
The Bistro is a restaurant at Hotel Chinzanso Tokyo which offers casual dining in a warm and welcoming spacious environment. This October, the restaurant is set to serve up at "creepy-cute" Halloween menu with bone-chilling designs and delicious flavours.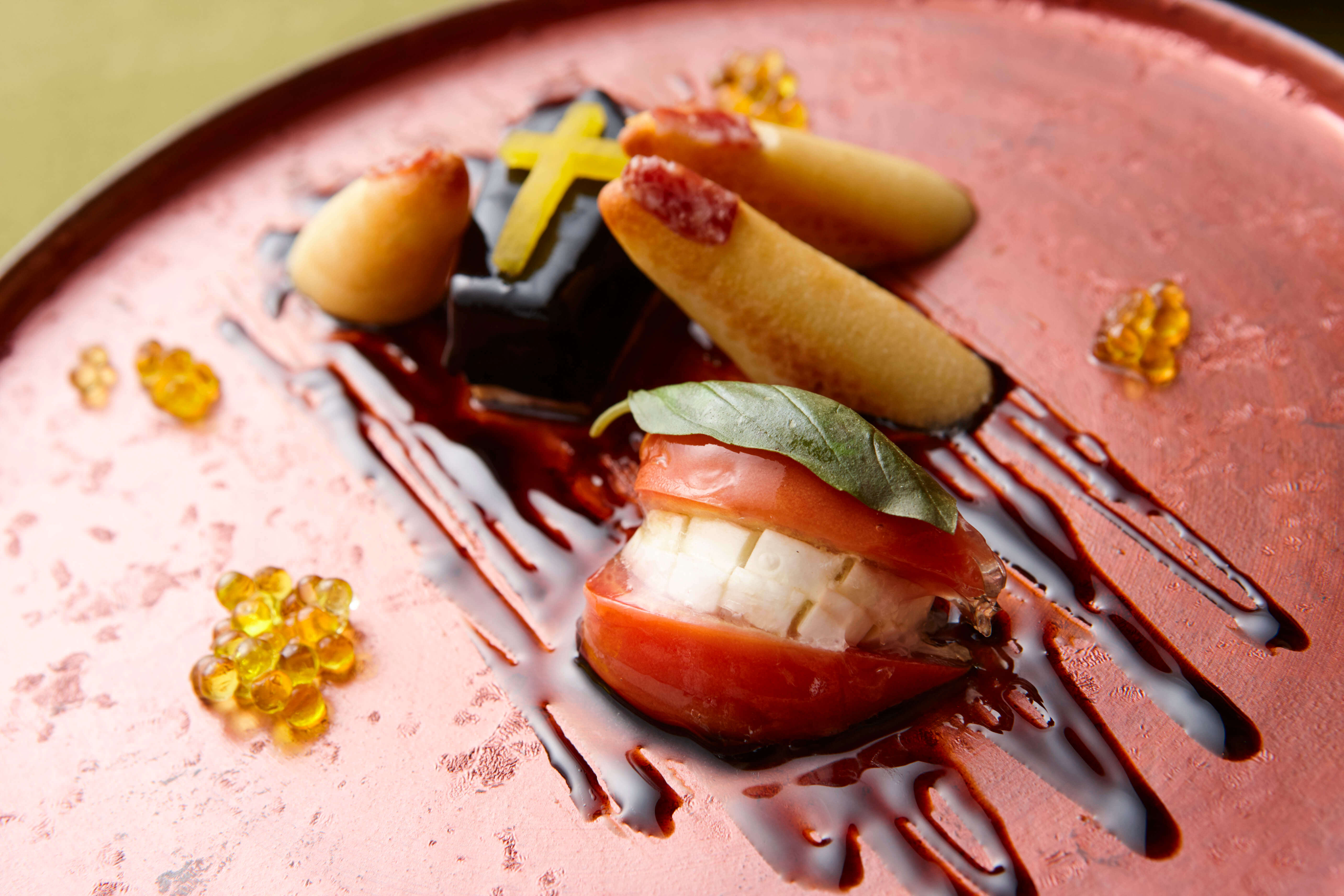 The first dreadful dish is the pain de campagne which is made to look like real lips and fingers. The pork and foie gras pâté fingers are complete with a balsamic jelly coffin while the caprese lips are a mix of tomato and mozzarella cheese.
Next on the menu is a meaty meal made to look like squashed eyeballs. The eyeballs are made from small onions and are filled with blueberries to give them a very creepy and realistic look. They are served with beef cheek which has been marinated in red wine for three days before being cooked.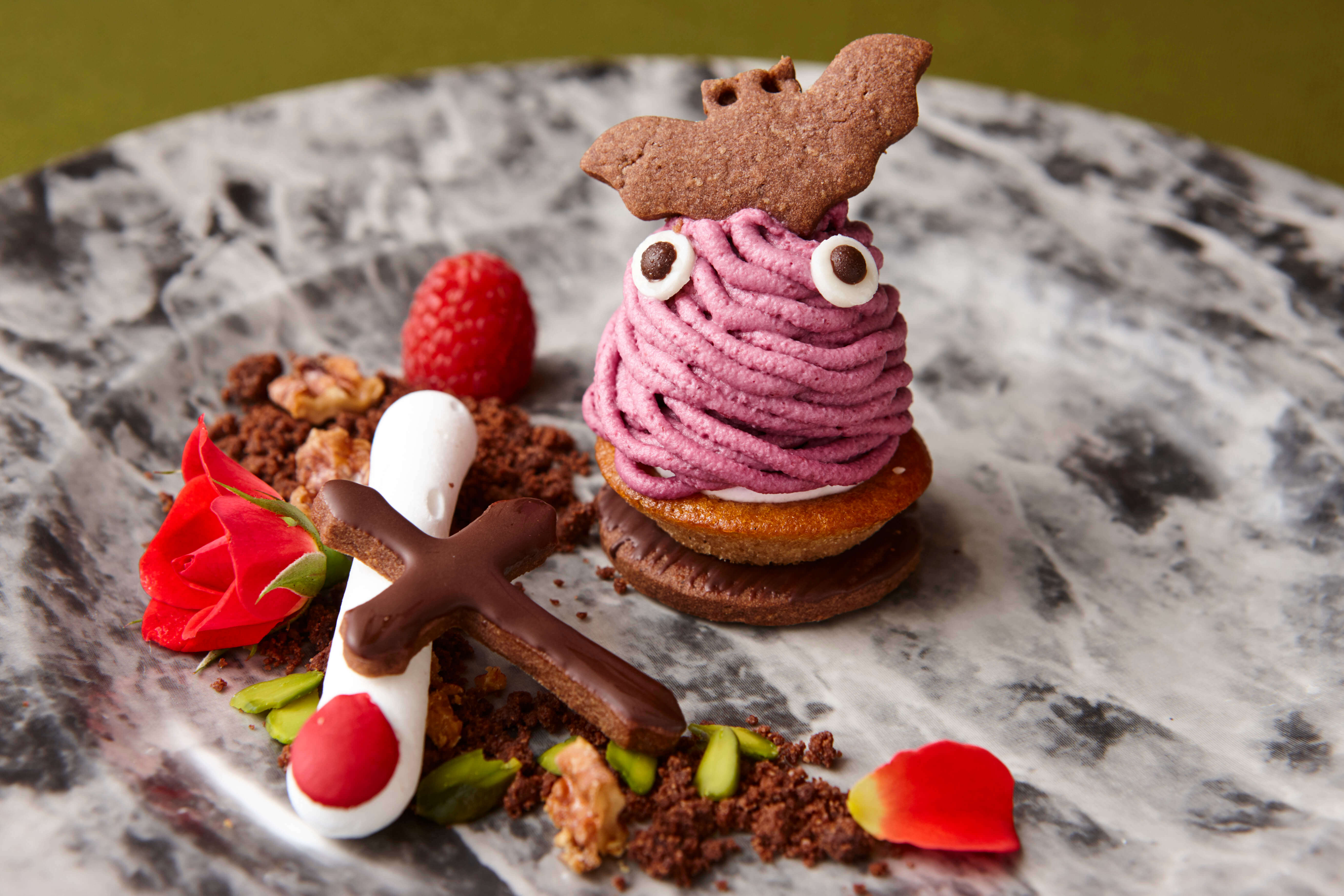 For dessert, look forward to meeting a seriously cute purple sweet potato mont blanc monster.
Making a return this year is a cooking lesson where a chef will teach you how to make a Halloween themed afternoon tea made up of sweets, scones and more. This is a rare chance to ask questions to a professional chef.
There will also be a children's event which is held every year and welcomes more than 200 kids. They can dress up and join in the stamp rally where they will be given a map to find all the stamp locations dotted around the hotel while gathering snacks. After the rally ends they can enjoy some Halloween desserts in the hotel's cafe Foresta.
Information
The Bistro Halloween ~Grown-Up's Halloween Dinner~
Running: October 1, 2019 – October 31, 2019
Time: 17:00-22:00
Location: The Bistro at Hotel Chinzanso Tokyo
Price: ¥6,390 (Tax and service charge excluded from price)
Event Page (Japanese): https://hotel-chinzanso-tokyo.jp/restaurant/plan/725d0986cd17bf2.html
Halloween Afternoon Tea Cooking Lesson
Date: October 16, 2019
Location: Camellia (Banquet Building Floor 3F)
Times:
[Slot 1] Sign-up from 11:00 / Lesson 11:30 / Dining 12:45-14:15
[Slot 2] Sign-up from 15:00 / Lesson 15:30 / Dining 16:45-18:15
Price: ¥6,800 (Tax and service charge included in price)
Bookings: Open from September 2, 2019
Capacity: 30 people per slot (Bookings done via online payment)
Bookings (Japanese): https://hotel-chinzanso-tokyo.jp/restaurant/plan/615d09977613e3e.html
Children's Halloween Stamp Rally & Cafe 2019
Date: October 30, 2019 – October 31, 2019
Times:
[Slot 1] Stamp Rally from 11:30 / Cafe Desserts 12:00-13:30
[Slot 2] Stamp Rally from 14:30 / Cafe Desserts 15:00-16:30
Price: Parent & Child Dessert Set ¥2,500 (Tax and service charge included in price)
*The stamp rally is free to participate in. Up to 3 children per adult. It costs ¥500 for an additional single children's dessert.
*For children aged 0 to preschool age. Costumes can be full outfits or part outfits.
*Stamp rally participation only is not permitted.
Location: Foresta at Hotel Chinzanso Tokyo
Bookings: Open from September 2, 2019
Capacity: 90 people per slot (Includes children) *Please book 3 days in advance
Bookings (Japanese): https://hotel-chinzanso-tokyo.jp/restaurant/plan/655ca72f362a69c.html
RECOMMENDED ENTRIES
Spooky Halloween Doughnuts Float Into Krispy Kreme Japan

Krispy Kreme Doughnuts Japan (KKDJ) is carving its jack-o-lanterns out early this year in time for Halloween as it reveals its new series of holiday-themed doughnuts titled "MONSTER HARVEST in Monster DINER."

This pumpkin, chestnut and apple flavoured selection will be available at most Krispy Kreme branches across Japan from September 11 to October 31.

Pumpkin Custard Jack

Price: ¥230

The jack-o-lantern is the centrepiece of Halloween, and now you can much on one in doughnut form! Its face is coated in dark chocolate and filled with a velvety pumpkin custard cream. It also contains some pumpkin seeds for a crunch.

Black Cat Chestnut

Price: ¥250

The black cat's dark chocolate covered face includes crunchy cracker ears, giant white chocolate button eyes, and caramel chocolate nose and whiskers. Inside it's filled with a rich chestnut cream made from domestic chestnuts. The bottom part of the face is also sprinkled with tasty poppy seeds.

Apple Caramel Monster

Price: ¥230

This cute apple monster is a new addition to the KKDJ Halloween range. It's made from a juicy, sweet and sour apple nappage made from the juice of apples grown in Aomori Prefecture. The single eyeball is made from a mix of white and dark chocolate and is what makes this doughnut so cute. The single pumpkin seed at the top completes the monster's apple disguise.

Halloween Sprinkle

Price: ¥190

Covered in rainbow sprinkles, this custard pudding (purin) flavoured doughnut is subtly sweet and satisfyingly crunchy.

Halloween Dozen (Box of 12)

Price: ¥2,000

If you're having a Halloween party with family or friends then this box of dozen doughnuts is the perfect treat, containing all of the above doughnuts as well as some of KKDJ's classic doughnuts. You save ¥440 by picking up this box.

Don't miss this year's seasonal delights from Krispy Kreme.

Information

MONSTER HARVEST in Monster DINER

Running: September 11, 2019 – October 31, 2019
Krispy Kreme Doughnuts Japan Website: https://krispykreme.jp/

Cute Halloween Sweets Spook Their Way Into Tokyo's The Capitol Hotel Tokyu

For this year's Halloween season, The Capitol Hotel Tokyu in Tokyo has announced that it will serve up its Halloween Sweets Selection again this year at the hotel's pastry boutique ORIGAMI located on floor B2F. The confectionery chefs have spun some spooky fun into this collection of 10 cute treats.

Frankenstein – ¥1,760 / Phantom – ¥1,760 / Cyclops – ¥1,760

The Phantom is a popular confection every year at the hotel, but this year he's had two new freaky friends carved out for him: Frankenstein's monster and a Cyclops. These white chocolate monsters are filled with chocolate-covered almonds, macadamia nuts and other hidden delights.

Witch Hat – ¥715

Dressed in a milk chocolate mousse is ganache and a rich and bitter crème brûlée made with bitter orange. It also contains a mandarin orange liqueur for deeper flavours. The mix of orange notes is refreshing on the palate.

Cross – ¥715

The orange and black Cross is a mousse cake made from pumpkin puree beneath which lies a cinnamon flavoured crème brûlée and coffee flavoured ganache. The bitter coffee elevates the exquisite sweetness of the pumpkin for a delicious combination.

Evil Eye – ¥715

Enter at your own risk with the grotesque-looking (but delicious tasting) Evil Eye mousse cake. It's made with fragrant biscuit and caramel as well as blonde chocolate from France and inside is a smooth pear jelly.

There are lots of other Halloween treats besides these coming to the hotel too, so if you're in Tokyo this October then be sure to stop by for a Happy Halloween.

*All listed prices include tax

Q-pot CAFE. Omotesando Unveils Halloween Menu & Accessories For 2019

Q-pot. is known for its accessory brand, which features jewellery made to look like sweets and desserts. It is also known for the Q-pot CAFE. which flips that concept, instead making sweets and desserts that look just like real accessories.

For Halloween this year, the Q-pot CAFE. has whipped up a spooky menu with the theme "DEVIL NIGHT" featuring appearances of all things Halloween from pumpkins to ghosts.

Devil Obake-chan Plate (w/Drink) – ¥2,060 (Contains milk, eggs and wheat)

This kawaii dessert plate features a ghost made from a chewy vanilla gyūhi mousse filled with berry sauce. It comes with crunchy black bat cookies made with rich black cocoa cream and a pumpkin flavoured jack-o-lantern macaron.

Black Cat Plate (w/Drink) – ¥2,060 (Contains milk, eggs and wheat)

Steer clear from black cats this Halloween, except for this one which is a dark Graham cracker made from bitter caramel and chocolate mousse and is filled with almonds and dried cranberries. Flying around the kitty are the same crunchy black bat cookies made with rich black cocoa cream and the pumpkin flavoured jack-o-lantern macaron.

Vampire Chocolate Latte – ¥750 / +¥100 as Set (Contains milk and wheat)

Don't fear―you won't turn into a vampire if you take a sip from this chocolate latte topped with latte art of a flying bat. This frothy rich dark chocolate delight includes smashed Oreos.

Strawberry Cheese Tea – ¥750 / +¥100 as Set (Contains milk)

The strawberry cheese tea is a unique mix of the cafe's high quality black tea and salty cream cheese. It's smooth to taste and is surprisingly light to drink. Add a fruity strawberry punch to the cheese tea by pouring in the accompanying strawberry sauce.

Vampire Afternoon Tea Set For One – ¥2,400 (Contains milk, eggs and wheat)

They even have a gorgeously spooky afternoon tea set.

The top plate comes with sponge and cream cheese cake pops coated in chocolate, salty breadsticks, homemade scones made from butter cream and sweet and sour berry sauce, devil heart macaron-topped cupcakes, and pumpkin macarons.

The bottom plate features savoury foods including croissants filled with egg, basil and dried tomatoes, as well as olives, mini tomatoes, pickles, and a soup.

As well as Halloween food, the cafe also has a line-up of "DEVIL NIGHT" themed accessories for sale.

[From Top Left Clockwise] Vampire Bat Piercings (Pair) ¥8,000 / Mini Devil Ghost Sheet Necklace (Set/Special Packaging) ¥21,000 / Vampire Bat Brooch ¥7,000 / Vampire Bar Ring ¥12,000 / Vampire Spider Ring ¥13,000

Black Cat Necklace ¥16,000 / Silk Hat Charm ¥4,500

The black cat jewellery is a new addition to this year's line-up.

Enjoy a very cute and special Halloween in Japan this year at Q-pot CAFE.

*All listed prices are pre-tax

Information

2019 HALLOWEEN MENU

Running: September 10, 2019 – October 31, 2019

Address: Q-pot CAFE. Omotesando (3-4-8 Jingumae, Shibuya, Tokyo)

*The Halloween menu price will increase in line with the Japan's increase in consumption tax from 8% to 10% from October 1, 2019

Reservations: https://www.q-pot.jp/cafe.php

Q-pot. 2019 HALLOWEEN "DEVIL NIGHT" Jewellery

Release Date: September 7, 2019

Available: At Q-pot. (3-4-8 Jingumae, Shibuya, Tokyo) / Q-pot. Pop-Up Shop at IKSPIARI / Q-pot. ONLINE SHOP (from noon)/ Q-pot. INTERNATIONAL ONLINE SHOP
RELATED ENTRIES
Terrifying Halloween Night Yokai Tour to be Held at Kokuminshukusha Shodoshima in Kagawa Prefecture

In conjunction with the autumn segment of Setouchi Triennale 2022, the Yokai Halloween 2022 event will be held for the first time at the Yokai Art Museum in Shodoshima in Kagawa. During the event, guests can take part in the Halloween Night Yokai Tour on Saturdays, which will invite them to transform into terrifying ghouls! Each guest will receive a yokai mask and will be tasked to test their courage in this unique Halloween event. Those visiting the museum in costume will receive a discount, and visitors can also enjoy some spooky treats at the Yokai Bar. This is one museum horror fans won't want to miss!

Visit the Yokai Art Museum at Night 

Unlike daytime, the Yokai Art Museum is filled with a mysterious energy at night. With a flashlight in hand, staff members will lead guests on a tour through the museum, which exhibits more than 800 yokai sculptures. Visitors can wear yokai masks and costumes, and unlike a haunted house, you won't need to worry about yokai jumping out at you. However, the staff may ask you to keep an eye out for anything mysterious. Guests are permitted to take as many photos as they like inside the museum, so be sure to share your experience on social media!

Too Realistic! Enjoy Finger Cookies at the Yokai Bar

At the Yokai Bar attached to the museum, guests can find these terrifying finger cookies! These were made in collaboration with FUJI, a popular snack shop in Shidoshima. While tasty, they might be a little too realistic for some people. These will be available in two flavors: spicy and sweet. 

Rent a Halloween Lantern for Free

A Night Walk through the Shidoshima Maze will invite visitors to carry a Halloween-themed lantern through the town. This event is being held to promote tourism in the town at night, and lanterns will be free to rent! These will be available in different colors from the first floor of the nearby Shodoshima International Hotel. Shodoshima, known as the City of Mazes, has over 60 streets with three-way intersections and many mysterious alleys. Walking through the town at night will be an experience you'll never forget, especially during the spookiest time of the year!

Information

Halloween Night Yokai Tour

Dates: October 1, 8, 15, 22, 29 / November 5

Time: 20:00 at the Yokai Art Museum (Please reserve your spot by 20:00.) 

Venue: Yokai Art Museum (298 Kou, Tonosho, Shozu District, Kagawa)

Price: Adults ¥3400 / Middle/High School Students ¥1,950 / Elementary Students and Under are free (Must be accompanied by a parent or guardian.)
*Fee includes admission, yokai masks, and the tour. 

Details/Reserve Tickets: https://www.asoview.com/channel/tickets/eZLNyX5SzG/

*The tour will feature parts of buildings 1-4 and will be led by staff members. Fee includes admission to the museum. Guests can enjoy the museum both before and after the tour, and may re-enter the museum only on the same day. 

NAKED's Halloween Event Coming to Tokyo Tower for a Limited Time

Digital art collective NAKED will hold a special Halloween projection mapping show at Tokyo Tower! The Tokyo Tower City Light Fantasia ~Halloween Party 2022~ event will run from September 16 until October 31 on the 2nd floor of the tower's main deck. 

NAKED has collaborated with Tokyo Tower in the past to create shows inspired by the seasons. These incredible illuminations captivate audiences at night, and this fall, visitors will be captivated by autumn leaves dancing in the breeze along with silvergrass swaying and the sound of chirping insects. The scene will eventually change into something more spooky–a ghost will appear alongside witches, bats, and pumpkins! The main deck will be enveloped in Halloween colors perfect for a fall photoshoot!

Information

TOKYO TOWER CITY LIGHT FANTASIA ~Halloween Party 2022~

Venue: Tokyo Tower Main Deck (150m), 2F North Side Floor
Running: September 16 – October 31, 2022
Hours:
September 16 – September 30 / 18:00-Close
October 1 – October 31 / 17:30-Close
Entry: Guests can enjoy the main deck for only the price of entry to the observation deck.

Sanrio Puroland Begins Autumn's Puro Halloween Event

From September 9 until November 1, Sanrio Puroland is celebrating the spookiest season of the year with the Puro Halloween event. On the first day of the event, guests immediately showed up to enjoy the new additions to the park, including the light show, Halloween photo spot, and an exclusive food menu filled with autumn flavors. 

The theme of this year's event is the popular Halloween phrase "Trick or Treat!" Popular Sanrio characters are all dressed up in spooky costumes, with each joining Team Trick or Team Treat!

First Set of Seasonal Goods (Costume ver.)

Light Show

 

At Puro Village, guests can see the incredible Trick or Treat light show, perfect for getting into the Halloween mood!

Fairyland Theater will present the new 'Let's Trick or Treat' stage show as well, with Hello Kitty and Dear Daniel dressed in new costumes as they dance and play games with each other.

Special Greeting

'Vampire Butler Cafe ~Broken Rules~' Immersive Horror Experience


Along with these new shows, those looking for a fright can visit the Vampire Butler Cafe, Puroland's first immersive horror show featuring handsome actors dressed as vampires. This will only be open after Puroland closes, and only on select dates. Younger children can also enjoy a special candy-catching event sure to excite!



Starting October 1, a Halloween version of the Mewkledreamy March stage show will wow audiences. Everyone's favorite characters Mew, Peko, and Su will appear in new costumes, so don't miss it!

Limited Time Food Menu

Limited Time Photo Spot


In the Rainbow Hall on the third floor, guests can take pictures a bright orange and purple photo spot. In the Character Food Court on the first floor, new menu items are available, served on decorated tables. The limited food menu offers everything from Meatball Curry to a Luxurious Sweet Potato Parfait. If you like autumn treats, be sure to enjoy while taking some pictures to post on social media!

Come enjoy the Halloween season with your favorite Sanrio characters, and don't forget to say "Trick or Treat!" 

© 2022 SANRIO CO., LTD. TOKYO, JAPAN MMP,TX 著作 株式会社サンリオ

Yokohama Royal Park Hotel to Hold Halloween Sweets Fair in October

From October 1 until October 31, Yokohama Royal Park Hotel will hold a special Halloween Fair at its delicatessen and lounge Coffret. In addition to six playful sweets from the Halloween Frankenstein to the Halloween Mummy, two types of autumn bread featuring pumpkin and purple sweet potato will be available, allowing guests to enjoy the taste of the season!


Halloween Frankenstein

Halloween Cat

Halloween Mont Blanc

Halloween Mummy

Halloween Pudding

Halloween Pound Cake

Pumpkin Cream Fondue / Halloween Anpan

  

Come enjoy this Halloween with some cute and silly sweets!

Information

Halloween Fair

Running: October 1 – October 31, 2022
Venue: Coffret Delicatessen and Lounge, 1F
Hours: Lounge 10:00-20:00 (*Cakes served starting at 11:00) /
Delicatessen 11:00-20:00
Reservations: 045-221-1111 (Representatives available 11:00-20:00)

Anime 'The Vampire Dies in No Time' Inspires Concept Room in Shin-Yokohama

Shin Yokohama Prince Hotel will be offering a special room and collaboration menu inspired by the popular anime series The Vampire Dies in No Time from September 22 until November 30, 2022. Reservations will open on the hotel's official website starting September 12 at 1:00 PM. 

The Vampire Dies in No Time follows the hilarious adventures of the vampire Draluc and the vampire hunter Ronaldo. Set in the city of Shin-Yokohama, it makes sense that this collaboration would be taking place!

Original Goods

Collaboration Menu

Guests and fans of the series will be able to enjoy a fully-decorated room and collaboration menu inspired by characters from the popular anime series.

The concept room, located on an upper floor overlooking the Shin-Yokohama cityscape, is decorated with illustrations of Draluc, Ronaldo, and other characters. The guest-only goods feature newly-drawn illustrations. 

Sweets plates and drinks will be served at the restaurant on the top floor of the hotel. Guests can enjoy desserts shaped like Ronaldo's red hat and Draluc's ashes, so don't miss it!

©盆ノ木至(秋田書店)/製作委員会すぐ死ぬ

Information

Shin-Yokohama Prince Hotel x The Vampire Dies in No Time
Available: September 22 – November 30, 2022

Collaboration Menu

Available: September 22 – November 30, 2022
Venue: Top of Yokohama Bar & Lounge (42F)
Hours: Weekdays 4:00-7:00 PM / Weekends & Holidays 2:00-5:00 PM
Reservations Open: September 12, 1:00 PM
https://www.princehotels.co.jp/shinyokohama/plan/contents/94

HOTEL SHE, KYOTO Invites Guests to Stay in a Gallery for a Limited Time

Art subscription service Casie is collaborating with HOTEL SHE, KYOTO! A special art exhibition titled GALLERY HOTEL SHE, will be held from September 17 until October 16, inviting guests to enjoy the once-in-a-lifetime experience of staying in a gallery overnight!

During the event period, guests of HOTEL SHE, KYOTO will be able to select their favorite piece of artwork from an on-site gallery. The piece will then be hung in their guestroom, and visitors can spend the night appreciating it at their own pace. This is a great way to learn more about art appreciation, and guests can enjoy discussing the art world with their friends and family. 

 

"Although we may view art in museums and other venues, it is rare to have the opportunity to select and display a work of art of our own choice," the project description reads. "Through this unique experience, we aim to provide guests the chance to actively engage with art and inspire them to make art a part of their daily life going forward."

Q-pot CAFE to Offer Cute Halloween Sweets to Celebrate 10th Anniversary

Q-pot CAFE in Omotesando will be offering up some Halloween treats to celebrate the location's 10th anniversary! Guests will be able to sample these special sweets from September 3 until October 31, 2022.

Happy Halloween! Afternoon Tea Set

The festive Happy Halloween afternoon tea features pink Jack-o'-lantern macarons and other Halloween-inspired sweets.

Fluffy Floating Ghost Plate (Drink Included)

The adorable ghost is made from fluffy milk mousse covered with gyuhi, a typical ingredient in Japanese sweets made from rice flour. Inside is blackcurrant and redcurrant jelly with an incredibly sweet and sour flavor.

Black Devil Tea Mocha

Featuring large devil wings, this tasty and eye-catching beverage is a mix of black tea, chocolate, and milk. When the cocoa cream melts, the taste changes to something creamy and cozy, perfect for the autumn months.

Shimmering Blueberry & Grapefruit Soda

This refreshing sweet and sour drink combines blueberries and pink grapefruit along with soda and pearl powder.

Come enjoy Halloween while celebrating the cafe's 10th anniversary!

Information

Q-pot CAFE 10th Halloween Menu

Location: Q-pot CAFE Omotesando

Running: September 3 – October 31, 2022

Hours: 11:00-19:00 (Last Order at 18:30)

Details/Reservations: http://www.Q-pot.jp/news/2022/08/1746.html

Sanrio Characters to Celebrate Halloween with Special Campaign

Namco will be releasing some exclusive Halloween prizes featuring everyone's favorite Sanrio characters! The Halloween event will run from September 9 until October 31 at around 200 Namco Amusement Centers nationwide and on the Torumo online crane game mall.

 

During the campaign, exclusive prizes featuring brand-new designs of popular Sanrio characters will be available in crane game machines!

When ¥500 is inserted into select crane games using the link function of the Namco Point app, an original sticker will be gifted to players! Starting September 16, those collecting three of these original stickers will receive an original pin that looks just like candy! All guests need to do is show their stickers to the staff. 

Collaboration Goods

Exclusive Clear Shopping Bag (3 varieties)

Original Sticker (5 varieties)

Original Candy Pin (5 varieties)

Blanket

Prizes will also be available from Torumo, an online crane game mall. In addition, a present campaign will be held to select winners to receive a special blanket! To enter, all you need to do is play the target machine three times. During the campaign period, by following a participating store on the Namco Point app, customers will receive a limited edition shopping bag!

Come grab some of these Halloween goods and show off your Sanrio love!

ⓒ '22 SANRIO CO., LTD. APPR. NO. L633490
©Bandai Namco Amusement Inc.

Halloween Afternoon Tea with Black Cat Motif Coming to Tokyo's Grand Prince Hotel New Takanawa

During the month of October, Grand Prince Hotel New Takanawa in Tokyo will be offering a special Autumn Afternoon Tea. Inspired by Halloween–and particularly black cats–Lounge Momiji on the first floor will invite guests to devour some tasty treats. 

This year's Halloween theme is 'black cats,' which are said to be the messengers of witches. Guests will be able to enjoy Halloween-specific sweets and afternoon tea to fully enjoy the flavors of autumn.

 

In addition to sweet and sour macaroons filled with blackcurrant with a black cat motif, visitors can enjoy a bat-themed purple sweet potato Mont Blanc and cream puffs made with pumpkin. The black cat cookies are also perfect for posting to Instagram, so come enjoy lots of sweet and savory goods made with autumn fruits and vegetables such as grapes, persimmons, and figs.



Come enjoy afternoon tea and get into the Halloween spirit this October!

Halloween Afternoon Tea with a Ghost Theme Coming to Kyoto for a Limited Time

Art Grace Wedding Hills, a wedding venue in Kyoto, will be offering a ghostly Halloween Afternoon Tea experience in September and October!

Mischievous Ghost Halloween Parfait *Sample Image

Sweets *Sample Image

Savory Dishes *Sample Image

Adorable ghosts and Halloween-inspired sweets made with autumn flavors such as pears, apples, chestnuts, pumpkins, and sweet potatoes will be on the menu. The Mischievous Ghost Halloween Parfait has a refreshing finish with blackcurrant mousse and blood orange jelly. The marshmallows, made to look like ghosts wearing witch hats, are perfect for posting on social media.

 

How would you like to spend a sweet time in Kyoto this Halloween season?

Information

~Trick or Treat~ Halloween Autumn Afternoon Tea

Dates:
September 4, 9, 16, 18, 25, 30
October 2, 7, 14, 15, 16, 21, 23, 30

Times: Seating 1, 13:00-14:30 / Seating 2, 15:15~16:45 (90 minute seatings)
*Must make a reservation a minimum of 15 minutes before seating.
*Only 1 seating on weekdays.

Venue: Kyoto Art Grace Wedding Hills
Details/Reservations: https://www.bestbridal.co.jp/guestparty/kyoto/artgrace_kyoto/2022event-37/


GARNiDELiA to Host Halloween Party Featuring luz, Syounen T, Shoose

Music duo GARNiDELiA will hold its annual Halloween party on October 21, 2022 at Toyosu PIT. The lineup now includes a number of popular acts, including luz, Syounen T, and Shoose. Titled 'GARNiDELiA Presents HALLOWEEN MiRACLE WONDER PARTY 2022,' the live performance will invite participating artists to dress up in costumes for one festive autumn night.

Previously, luz appeared on MARiA's 2nd solo album Moments, performing with the singer on the track Cafe Latte no Uta feat. luz. This will be the first time the pair performs the song live, so expectations are high.

Along with the singers performing at the event, Miume and 217 will participate as dancers for the fourth time. The two previously announced that they would retire from dancing this year. Together with MARiA, the two created the globally popular video series Odocchatte Mita (I Tried Dancing), which has drawn in over 200 million views on YouTube, along with Gokuraku Jodo with 85 million views.

MARiA gave a comment regarding the exciting announcement.


"It's that time of year again, and it's time to spend time with GARNiDELiA! Some entertaining and unique friends are coming to play this year, and as we all know, one of the most fun parts of Halloween is dressing up! What costumes will our friends choose? On October 21, come party with us! We'll be waiting!"

toku also gave his thoughts. "It's our fourth annual Halloween event. As hosts, we can't wait to see the artists taking the stage this year. We'll be waiting for you with collaborations you can only see on October 21! Come out, get dressed up, and have some fun!"


Presale lottery tickets went on sale on August 22 at 19:00 at each artist's fan club, so be sure to enter if you'd like to party at this incredible event!

Information

GARNiDELiA Presents HALLOWEEN MiRACLE WONDER PARTY 2022
Date: October 21, 2022 / Doors Open at 17:30, Show Starts at 18:00
Venue: Toyosu PIT by Team Smile

GARNiDELiA Official Site: https://www.garnidelia.com/

Halloween Afternoon Tea Featuring AR Technology Coming to Shinjuku

From September 1 until October 31, the District Brasserie, Bar, and Lounge at the Kimpton Shinjuku Tokyo will be offering a spooky Halloween-themed afternoon tea set. The tasty treats won't be the only scary thing on the plate–the event will incorporate AR technology! By holding up your phone, you'll be able to see monsters moving around on your plate.

The goodies will also be available for take-out, making them perfect for souvenirs or at-home Halloween parties! Nine types of Halloween sweets, six small dishes, and two tea sachets will be included. Why not spend Halloween in a more elegant way in 2022?

Information

Kimpton Halloween MONSBLANC Afternoon Tea
Running: September 1 – October 31, 2022
Hours: 11:30-17:00 (Last Order at 15:00), 2-hour seatings
*Reservations must be made by 16:00 on the previous day.
Venue: Kimpton Shinjuku Tokyo, District Brasserie, Bar, and Lounge
Reservations/Details: https://bit.ly/3Qi5d3K

Official Site: https://www.kimptonshinjuku.com/jp/