Six Scrumptious and Satisfying Sodas in Kyoto You Have To Try
At MOSHI MOSHI NIPPON, we have introduced a lot of kawaii bubble tea drinks you can in enjoy in Kyoto. However, we have much more to offer you than just bubble tea news! Today we have summarised the top soda drinks you can enjoy in Kyoto which both look and taste amazing. With the help of kyoto cafe life tiara 's phenomenal photos, we will be introducing you our top six picks.
SHIN-SETSU /Nakagyō-ku
Blood Orange (left)  Blue Curaçao (right): ¥690
With a variety of 24 colourful cream sodas on the menu, this café offers a rainbow of flavours to enjoy. Your aesthetic soda is best enjoyed within the the picturesque American-style interior of the café, which is filled with antiques and cute pink decorations.
▼SHIN-SETSU
Address: 277 Enpukujimaecho, Nakagyo Ward, Kyoto
Opening Hours:
Weekdays: 12:00-19:00(L.O)
Saturdays 13:00-19:00(L.O)
Sundays 12:00-19:00(L.O)
No fixed holidays
Official Instagram: @shinsetsu.kyoto
Rhône(ローヌ)
On top of the refreshing blue ocean of soda floats a scoop of ice cream ー what a nostalgic image. The bright red cherry accents the flavour. Rhône serves not only delicious sodas but also homemade pudding and many other delicious desserts which are sure to leave your stomach satisfied. 
▼Rhône
Address: 645-1, Sanjoinokumacho, 
Nakagyo Ward, Kyoto
Opening Hours: 12:00-22:00
Closed: Wednesdays and Thursdays
Kissa Zou (喫茶ゾウ)
After becoming a big hit in Nagoya, Kissa Zou opened a new branch in Kyoto earlier this year in April. An adorable elephant (zou) can be seen riding the very top of your scrumptious soda. It is just too cute to eat!
▼ Kizza Zou 
Address:440-3 Santeicho, Kamigyo Ward, Kyoto,
Opening Hours: 9:00-18:00(L.O 17:00)
No fixed holidays
NOTTA CAFE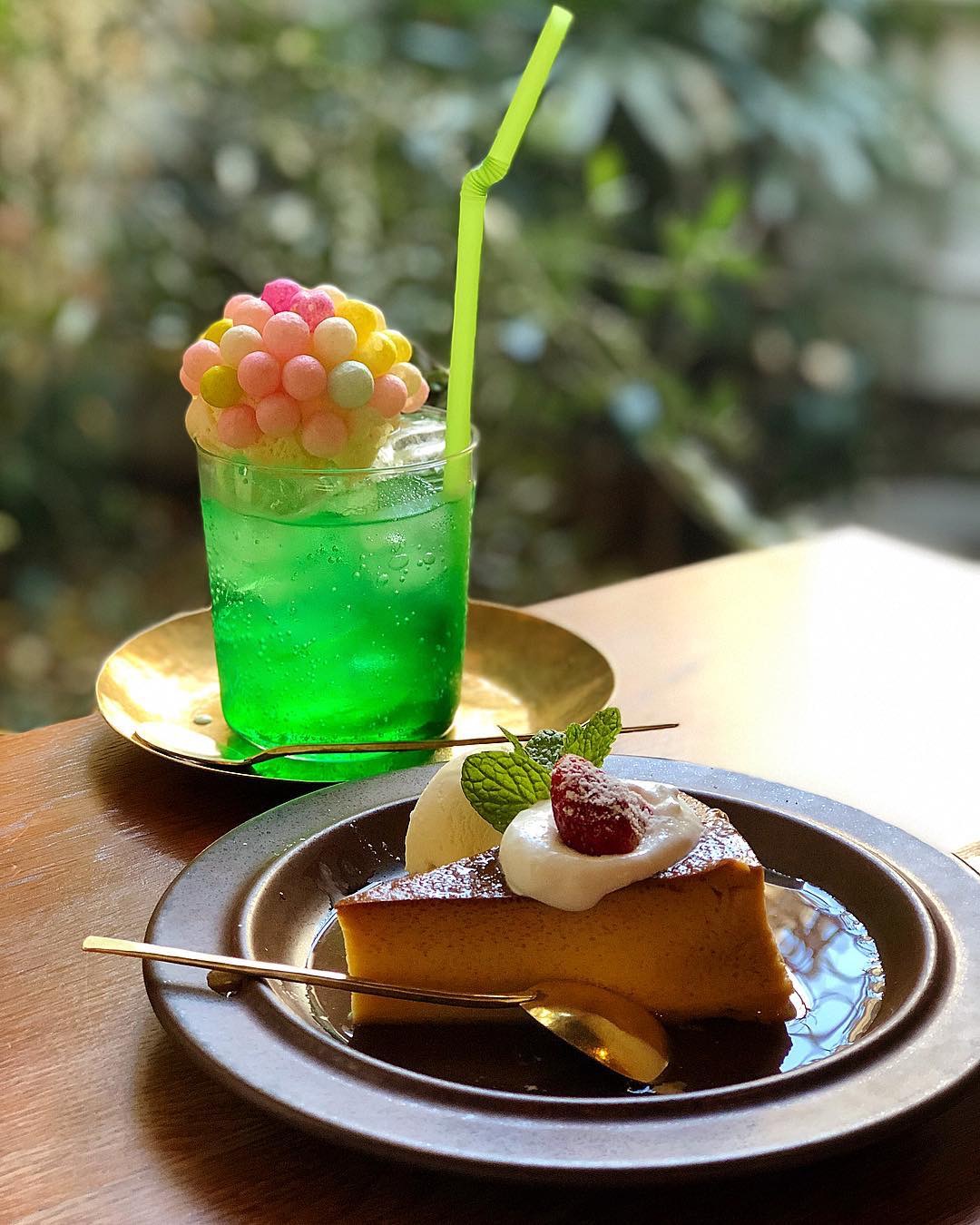 Cream Soda with Oiri Sweets (left) :  ¥600 Custard Pudding (right): ¥500
NOTTA CAFE's cream sodas have decorated the front pages of magazines before. A large crowd of oiri (Japanese-style round sweets) of a variety of colours can be seen huddled together riding the ice cream float on top of this cream soda. This ice cream soda is one of a kind and full of a variety of textures and flavours so you must try it.
▼NOTTA CAFE
Address: 37 Saiinkitayakakecho, Ukyo Ward, Kyoto
Opening Hours: 11:30-20:00 (Wednesdays: 11:30-21:00)
Closed: Mondays (additional irregular holidays)
Kissa Soirée (喫茶ソワレ)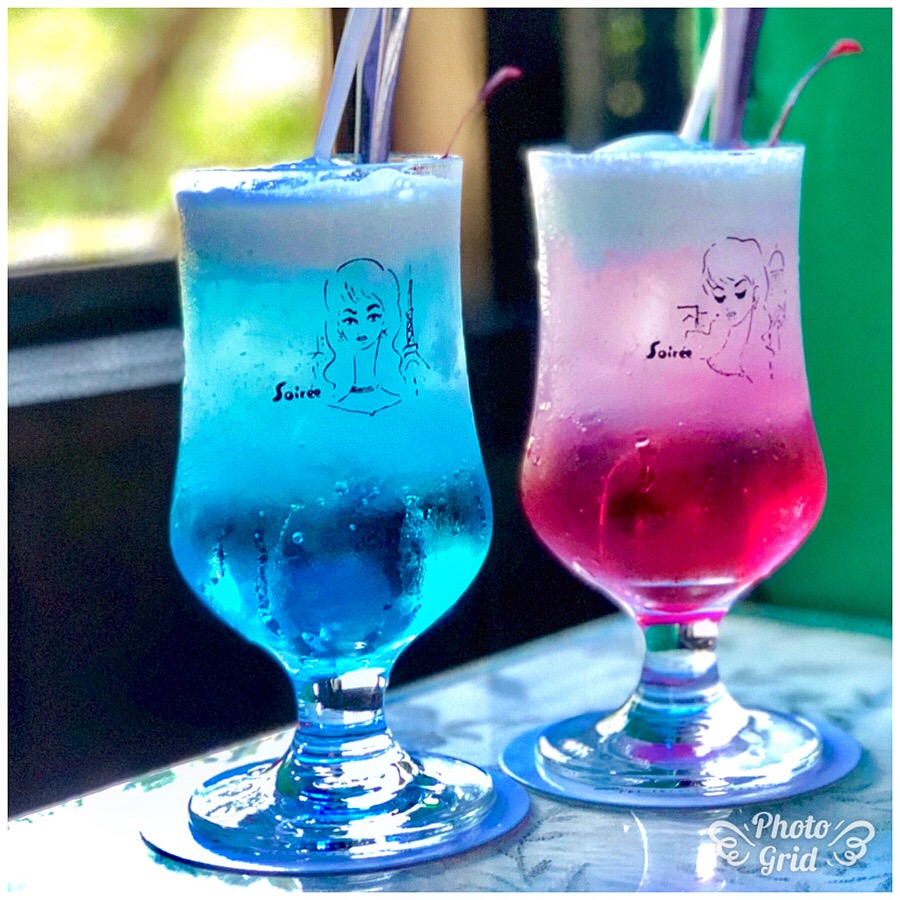 Blue Sky Cream Soda (left) Strawberry Cream Soda (right): ¥700 each
This soda is topped with vanilla ice cream and a sakuranbo cherry. When the ice cream mixes with the soda, it becomes creamy. The interesting interior of this café is the perfect place to enjoy your luxurious sparkly cream soda.
▼Kissa Soirée
Address: 95, Nishikiyamachidori Shijo Agaru Shincho, Shimogyo-ku, Kyoto
Opening Hours
1st floor: 13:00-19:00 (L.O.18:00)
2nd floor: 14:00-19:30 (L.O.18:45)
Closed:Mondays
Maeda Coffee (前田珈琲)
This butterfly pea herb tea has minty aroma and a refreshing taste.  When you mix it, it gradually turns pink so you can enjoy the flavour as well as the changing appearance of your drink.
▼Maeda Coffee
Address:  236 Takoyakushi Dori Karasuma Nishi Iru Hashibenkeicho, Nakagyo- ku, Kyoto
Opening Hours: 7:00-19:00
Open all year round.
If you are ever in Kyoto, make sure to check out these cafés. If you are looking for more inspiration, look no further than kyoto cafe life tiara's Instagram, which is full of delicious desserts in the Kansai region.
Text and photos: @happy_pinkrose_tiara
RECOMMENDED ENTRIES
Explore Japanese Hojicha Tea-Flavoured Desserts in Kyoto

Kyoto is the homeland of Japan's tea. Tea shop Itohkyuemon was first established in Kyoto towards the end of the Edo period of Japan in 1832. It has since become a well-established tea shop that has gained popularity for its high quality tea and tea-based desserts. The shop will be holding a special event called Itohkyuemon X Uji Hojicha Tea Fair from September 2, 2019. This is the perfect opportunity to explore the wonderful flavours of Japan's famous hojicha tea from the homeland of Japan's tea. 

Hojicha tea is deeply rooted in Kyoto's daily culture. At Itohkyuemon, the tea leaves are roasted at a high temperature, creating a wonderful and comforting aroma. The fair will see the release of a wide range of hojicha-infused desserts such as parfaits, a dessert plate, ice cream, chocolate, daifuku, cheesecake, kitkats, chocolate cake, tiramisu and much more.  This is the perfect opportunity to immerse yourself in a range of sweet hojicha flavours. 

The brand new Uji Hojicha Parfait consists of homemade hojicha jelly layered with refreshing hojicha ice cream. This is garnished with a hochicha senbei wafer and drizzled with hojicha syrup. This parfait allows you to taste the variety of wonders of hojicha all in one glass.

Want to tantalize your tongue with more tea? The Hojicha Tea Ceremony set comes with a hojicha daifuku and a drink to complete your parfait experience. 

The Uji Hojicha Chocolate Cake which was previously sold at the Gion-Shijo store has now returned. However, this is in limited supply. The Uji Hoji Dessert Plate includes a slice of Uji Hojicha Chocolate Cake, a Hojicha Mini Parfait, Hojicha Chocolate Ganache, a slice of Hojicha Cheesecake and a Hojicha Daifuku. This is the perfect way to explore hojicha in a variety of dessert forms. 

This is the perfect opportunity to explore the wonderful flavours of one of Japan's most beloved teas. 

Information

Itohkyuemon X Uji Hojicha Fair 2019 

Running: September 2 ー 30, 2019

Available at: Uji Main Store, JR Uji Ekimae Store (in front of Uji Station), Gion Shijo Store, Byodoin Store, Kyoto Ekimae Store (in front of Kyoto Station), Online Shop.

*The desserts sold can differ from shop to shop. 

Website: https://www.itohkyuemon.co.jp/site/houjicha/ (scheduled to open on September 2) 

Uji Hojicha Parfait

Available from: September 2, 2019 

Price: ¥1,080 (on its own, after tax)

¥1,480  (drink set included, after tax) 

Hojicha Tea Ceremony: ¥1,780 (after tax)  

Uji Hojicha Dessert Plate

Available from: September 2, 2019 

Price: ¥1,680 (on its own, after tax)

¥1,980 (drink set included, after tax)

Colourful New Agar & Mango Jelly Drink Released at Kyo Yakasa Pudding in Kyoto

Kyo Yakasa Pudding opened its doors to the world back in April, and since then they have whipped up many different kinds of Japanese custard pudding, known as purin. Earlier this month they released their all new "Yasaka Cider," a jelly-like drink which became a hit on Japanese Instagram (search with #京八坂プリン).

The shop's most popular product since launching is the Kyo Yasaka Pudding―named just like the shop. It has a honey and lemon flavoured jelly which is full of agar and mango jelly balls, giving it a cute appearance and very refreshing flavour and completely new kind of texture.

Now, the shop has released its new Yasaka Cider. The word "Cider" in Japanese doesn't actually refer to the alcoholic drink, but instead is usually a carbonated mixture of lemon and/or lime.

Available this summer only, the Yasaka Cider is the perfect accompaniment for cooling yourself down while strolling the streets of Kyoto, filled with Kyo Yasaka Pudding jelly, agar balls, mango jelly balls, and an in-house made lemon slice and honey mix. The beverage is made fresh to order and comes in a cute bag which you can carry around easily with you.

There are lots of great photo opportunities for Instagram in the store too! If you're in or travelling to Kyoto this summer then be sure to stop.

Information

Kyo Yakasa Pudding

Address: 87-4 Hoshinocho, Higashiyama, Kyoto, Kyoto Prefecture

Opening Hours: 10:00-17:30

No Fixed Holidays

Website: http://www.kyo-yasaka-pudding.co.jp

Delicious and Instagrammable: 7 Bubble Tea Drinks Unique to Sapporo, Hokkaido

Bubble tea is a national sensation in Japan. Until now, MOSHI MOSHI NIPPON has been introducing quite a lot of bubble tea shops in Harajuku, however today, we are going to introduce you to some special bubble teas that you can only get in Sapporo, Hokkaido.

When it comes to cafés, desserts and drinks in Sapporo, you can always count on Instagrammer Kei to pick out the most unique and cute places.  Check out his Instagram (@607keih) which is home to a precious collection of mouthwatering and delicious pictures.

And with that let's get started:

Club China/Tanukikoji 

Almond Jelly Coconut Milk and Bubble Tea ¥600 (strawberry sauce topping: +¥50)

(Chinese almond jelly is sometimes made with apricot kernels.)


Club China is a Chinese restaurant where you can enjoy authentic Chinese food in a classy atmosphere. This rare bubble tea is the perfect way to discover authentic Chinese flavours. You can change the sweetness of your drink by adding gomme syrup, brown sugar sauce or strawberry sauce.

▶︎ Club China (クラブチャイナ)

Address: SYOKUSAN 35 Building 3rd Floor

3-chōme-5 Minami 3 Jōnishi, Chūō-ku, Sapporo, Hokkaido

Opening Hours

・Lunch: 11:00 ー 15:00(Last orders: 14:30)

・Tea 14:30 ー 17:00

・Dinner: 17:00 ー 22:00(Last orders: 21:00)

Closed: Wednesdays (Open on national holidays)

Website: http://www.clubchina.jp/index.html

Oukacha (Located inside Izakaya Chorotto)/Higashi Ward

Strawberry Milk Cream: ¥580

There is a famous Izakaya (Japanese-style pub) in the Higashi-ku area. However, during the daytime, it is sometimes taken over by a bubble tea shop called Oukacha. The drink to look out for is their homemade brown sugar syrup bubble tea, which you can order with topping of whipped cream. This is the way to treat anyone with a sweet tooth! 

▶︎ Oukacha (Located inside Izakaya Chorotto 桜華茶)

Address: 7-1-24, Kita 15 Johigashi, Higashi Ward, Sapporo, Hokkaido

As the opening and closing days/times are irregular, please check them on the shop's official Instagram or Twitter. 

o.cha.bar/Tanukikoji

Ritz Cream Cheese Churros: ¥550, Okinawa Brown Sugar Bubble Milk: ¥650

MESSE Building is a mall full of interesting restaurants including a Bikkuri Donkey. Head to the 5th floor to discover a Taiwanese and Korean restaurant called o.cha.bar. This is where you will come across the Okinawa Bubble Milk. This is a bubble tea which is topped with a generous serving of cream made using salt sourced from Okinawa. The tapioca is imported directly from Taiwan and has a very springy texture. Maximise your experience by dipping the churros in the cream cheese. 

▶︎ o.cha.bar(オチャバー)

Address: N.MESSE Building 5th floor, Minami 3-jo Nishi 3, Chuo-ku, Sapporo-shi, Hokkaido 

Opening Hours: 11:30 ー 21:00

Closed: No regular holidays 

Official Twitter: https://twitter.com/ochabar1

cafe & kitchen unique/Higashi Ward

Strawberry Milk: ¥480 , Matcha: ¥480, Served in a bottle: +¥80

cafe&kitchen unique is famous for their delicious fluffy pancakes that are made in a deep pot and topped with beautiful toppings. However, their bubble teas which are sold in cute bottles are also something you do not want to miss. The Strawberry Milk contains fruity pieces which perfectly compliment the milk. The Matcha Milk has a gentle sweet flavour that adults would love.  

▶︎ cafe&kitchen unique (cafe&kitchen ユニック)

Address: 3 Chome-2-6 Kita 10 Johigashi, Higashi Ward, Sapporo, Hokkaido 

Opening Hours

Lunch : 11:00 ー 14:00

Coffee Time: 14:00 ー 17:00

Dinner: 17:00 ー 22:00

Closed: The 1st and 3rd Thursday of every month. 

Official Website: https://cafekitchen-unique.com/

MY TAPIOCA KOUTA/Higashi Ward

Brown Sugar Bubble Tea Latte 

Ramen restaurant Ore no Ramen Kouta also runs the bubble tea shop MY TAPIOCA KOUTA, where it is possible to order just a bubble tea. The brown sugar adds a strong accent to the flavour. The tapioca pearls are large and although this is filling drink, it is also cheap which makes it a good deal. The shop is open late into the night which is perfect for those late night cravings. 

▶︎ MY TAPIOCA KOUTA

Address: 4-5-26, Honcho 1 jo, Higashi Ward, Sapporo

Opening Hours: 11:00 ー 23:30

Official Twitter: https://twitter.com/tapiocamy

Milk san Asabu Branch/Asabu

Strawberry Milk: ¥650, Brown Sugar Milk: ¥570, Tapioca Topping: ¥70 (served in a bottle) 

Milk san serves delicious drinks made using milk which is specially produced by dairy farmers, contributing to the delicious Hokkaido goodness of the drink. The small tapioca pearls and the rich milky flavour are the perfect combination. The brown sugar flavour is only available at the Asabu branch, so we recommend you try it. As these drinks are served in cute bottles, you just have to post a picture on Instagram. 

▶︎ Milk san Asabu

みるくsan麻生店

Address: Karumu Asabu 1st floor, 5-2-8, Kita 39 Jonishi, Kita Ward, Sapporo 

Opening Hours: 10:00 ー 19:30

Official Website: https://www.milk-san.com/

Iced Biscuit Shop SHONPY/Susukino

Chocolate Mint Frappé: ¥690, Strawberry Milk Bubble Tea with a Tapioca Float: ¥690 

One by one, this shop makes iced biscuits that are original down to their shape. SHONPY also delivers countrywide. The Strawberry Milk Bubble Tea comes with a tapioca float that is too cute to consume. It is filled with fruit such as strawberries and bananas that are a perfect match with the tapioca. The Chocolate Mint Frappé comes in a very cute bottle. This shop opened in Harajuku too.

▶︎SHONPY

Address: SUSUKINO LAFILER 2nd floor, 4 Chome, Minami 4 Jonishi, Chuo Ward, Sapporo, Hokkaido 

Opening Hours: 10:00 ー 21:00

No fixed holidays

Official Website: http://shon-py.jp/

So, how about it? If you ever find yourself in Hokkaido, Kei's recommended Hokkaido-limited bubble teas are bound to make your trip special. 

Kei's Instagram is full of delicious desserts and mouthwatering meals. When in doubt of where to eat out, Kei's Instagram is bound to save your day so please check it out.

 

Photos & Text: Kei(@607keih)
RELATED ENTRIES
Banana Fish Anime Series Gets Themed Cafe in Ikebukuro This Winter

Japanese company LEGS is opening up 'BANANA FISH Cafe and Bar – galleries -' in Ikebukuro, Tokyo for a limited time from December 17, 2020 to January 24, 2021. The cafe will serve up food, drink, desserts, and merchandise based on New York, which is the setting of the Banana Fish series, and the series characters.

Banana Fish is a manga series written and illustrated by Akimi Yoshida. It was serialised in Bessatsu Shojo Comic from 1985 to 1994. An anime series aired in 2018 on Fuji TV's Noitamina programming block and other channels which garnered the series many fans of all ages.

The cafe comes as a follow up to the 2018 and 2019 limited-time Banana Fish cafes which were also opened by LEGS. This year takes on an 'art gallery' theme, in which diners can immerse themselves in with a line-up of artwork to decorate the cafe.

The Menu (Excerpt/Pre-Tax Prices)

Food

Ohashinokuni Breakfast | ¥1,399

A stylish assortment of individual foods such as natto garnished with olives and salt, zakkoku millet, fried mackerel, and more.

N.Y. HOTDOG STAND | ¥1,499

A hot dog set menu with two different hot dogs to choose from, served with a choice of a side such as fries and a drink. Comes with one of two Banana Fish paper napkins.

Desserts

N.Y. Style Pancakes | ¥1,299

Classic New York-style buttermilk pancakes loaded with ice cream and banana, finished with a squirt of whipped cream, and drizzled in maple syrup.

N.Y. Style Doughnut Set | ¥999

Choose from three different doughnuts topped with pistachios and nuts together with a drink such as coffee for a classic American cafe-stop break. Comes with one of two Banana Fish paper napkins.

nori² Christmas Set ¥1,099 | nori² New Year Set ¥1,099

The nori² Christmas Set is a parfait made like a Christmas cake with sponge and strawberries. Available December 17, 2020-December 25, 2020 only.

The nori² New Year Set is a Japanese-style parfait filled with anko red bean paste, rice flour dumplings, and peach. Drizzling the mitarashi sauce over the parfait is a must! Available January 5, 2021-January 11, 2021 only.

Drinks


From Left: Ash / Eiji / Shorter / Shin / Lee | ¥799 Each


Fruity and colourful drinks inspired by four characters from Banana Fish.

Bonus Items


Customers who book a visit to the cafe in advance (¥650 per person before tax) will receive one of six possible face mask cases. Visitors will also get one of 15 replica tickets.

Additionally, for every drink ordered, they can get a free coaster from 7 possible designs.

Original Merchandise (Pre-Tax Prices)

Character Acrylic Badge (7 Designs) ¥650 Each / Memory Acrylic Badge (10 Designs) ¥650 Each



Clear Multi Case (3 Designs) ¥1,000 Each / Towel Handkerchief Set (Contains 2) ¥1,550 Each


The cafe will sell a range of original and exclusive merchandise both at the cafe and via their online shop too, so don't miss out.

Availability Period: December 17, 2020 at 10:00 – January 24, 2021 at 23:59
Early Bird Bonus Item: One replica ticket (15 designs) *Available until December 31, 2020

Lose yourself in the world of Banana Fish at this very special limited-time cafe.

©Akimi Yoshida・Shogakukan / Project BANANA FISH


Information

BANANA FISH Cafe and Bar – galleries –
Running: December 17, 2020 – January 24, 2021
Location: IKEBUKURO BOX cafe&space
Address: Matsumotokiyoshi Ikebukuro Part2 Floor 4F, 1-22-8 Higashi-Ikebukuro, Toshima-ku, Tokyo
Closed: December 30, 2020 – January 4, 2021
Bookings: Open from November 30, 2020 at 18:00 (JST)
Booking Price: ¥650 (Before Tax) *Comes with free novelty
Cafe Official Website: https://bananafish-cafebar.jp/

Sarutahiko Coffee Releases Pistachio and Mixed Berry Coffee Beverage For Christmas

Sarutahiko Coffee released a Christmas-exclusive seasonal flavour of its popular Jellatte dessert drink on Tuesday (December 1) which it's calling the "Maroron Merry Pudding Jellatte."

Maroron Merry Pudding Jellatte | ¥750 (Before Tax)

The beverage is the second in this year's Christmas themed drinks to be released by Sarutahiko Coffee. It uses a coffee jelly base made from Ethiopian coffee beans and contains layers of mascarpone cheese from Italy, a chocolate sauce made from Cacao Hunters chocolate, milk pudding, four kinds of mixed berry jellies, pistachio milk pudding, milk foam, and to top it all off, chocolate pieces and pistachios.

The pistachio and mascarpone bring a richness to the dessert drink which blends deliciously with the freshness of the berries and full-bodied coffee for a combination that's like a warm and cosy Christmas hug.

Information

Maroron Merry Pudding Jellatte
Serving: December 1, 2020 – December 25, 2020
Available: Sarutahiko Coffee in Japan
Official Website: https://sarutahiko.co

Kyoto's New Cafe YOJIYA CAFE Ocha no Crepe Serves Tasty Takeout Matcha Crepes

YOJIYA CAFE opened up a new cafe called YOJIYA CAFE Ocha no Crepe in Kyoto on November 30, 2020, serving a selection of crepes made with Uji matcha and specially-selected ingredients.


YOJIYA is a Kyoto-based company that first opened 116 years ago specialising in aburatorigami blotting paper. Today, the company has expanded its range of cosmetic and beauty items, and it even operates two cafes in Kyoto. On Monday (November 30), it opened YOJIYA CAFE Ocha no Crepe in Nijo Fuyacho, Kyoto, an all-new cafe serving takeout crepes.

Ocha no Crepe Matcha | ¥750 (Tax Included)


The cafe's signature matcha crepe is filled with cream, rice flour dumplings, and matcha from Uji. The crepe pastry itself is made from an original blend of two types of wheat flour. The cream is a delicious blend of three types of cream plus matcha cream. It's also filled with crunchy pie which is cooked fresh every morning. The crepe is finished with an illustration of a matcha teacup and whisk made from matcha.

The high quality matcha crepes are made the perfect size and with the perfect combinations so they can be enjoyed even after a meal.

Be sure to pay a visit to YOJIYA CAFE Ocha no Crepe when visiting Kyoto.

Information

YOJIYA CAFE Ocha no Crepe
Grand Opening: November 30, 2020
Address: Nijo dori & Fuyacho-dori, Hoteiyachō, Nakagyo Ward, Kyoto
Opening Hours: 11:00-18:00
No Fixed Holidays
TEL: 075-255-9292

YOJIYA CAFE Official Website: http://www.yojiyacafe.com

Japan's Moomin Cafe Releases Christmas Takeout Food For the 2020 Holiday Season

Moomin Cafe branches around Japan, which are themed on the Swedish fairy-tale Moomin books, released their Christmas menu on November 20.


Moomin Cafe Winter Season Menu | ¥4,800 (Before Tax) *Photo is a portion for 2


The seasonal menu is a very special set containing a burger, chicken, salmon milk soup, raspberry juice (which is adored by the Moomin family), and more, so you can eat heartily like the Moomins this winter.

Souvenir Cup (2 Designs)

Visitors can also order a dessert and choose from two different mugs. Takeout is available at each of the cafes so you enjoy a Moomin Christmas at home.

Table reservations are available via the Moomin Cafe website so customers can ensure they can get booked in during the busy holiday season.

If you're in Japan for Christmas then don't miss out on a visit to the Moomin cafe.

©Moomin Characters TM

KINGDOM HEARTS Melody of Memory Themed Cafes to Open in Japan This Holiday Season

Japanese company LEGS has announced the opening of two limited-time cafes themed on the video game KINGDOM HEARTS Melody of Memory which will run from December 11, 2020 to January 31, 2021.

KINGDOM HEARTS Melody of Memory is a rhythm action game developed by Square Enix. Released on November 11 in Japan and November 13 everyone else, it is the latest instalment to Square Enix and Disney's video game series Kingdom Hearts.

The cafe menu features a line-up of dishes, drinks, and desserts inspired by characters and worlds found throughout the internationally-beloved video game series. The items all adhere to Disney's nutrient guidelines and so are low in salt and sugar, offering fans a healthier option. The cafe will also sell a range of original merchandise.

The Menu

Food (Excerpt)

<Sora> Power of Waking Tomato Pasta | ¥1,599

A red tomato pasta inspired by Sora that comes with a potato salad shaped like King Mickey.


<Riku> Daybreak Chicken Burger | ¥1,599

A black chicken burger based on Riku becoming enveloped by the Power of Darkness. This dish also comes with a potato salad shaped like King Mickey.


<King Mickey> King's Tuna Sandwich | ¥1,399, with plate +¥2,000

A tuna sandwich branded with a King Mickey symbol that comes with a side of fruit.


<Neverland> Island Seafood Curry | ¥1,699

A squid and shrimp seafood curry inspired by Peter Pan's Neverland which you can travel to in Kingdom Hearts.

Drinks (Excerpt)


<Sora, Riku & Kairi> Fate's Pineapple Herb Soda | ¥899, with acrylic coaster +¥1,000

A pineapple herb soda based on the Paopu Fruit from the series.


<Roxas, Xion, Axel> Sea Salt Ice Cream & Milk | ¥1,199, with acrylic coaster +¥1,000

Based on the sea salt ice cream that Roxas, Xion, and Axel all eat together. It's served with hot milk that can be poured over the ice cream for a tasty treat.


<Hundred Acre Wood> Honey Latte | ¥799, with mug +¥1,650

A latte sweetened with Winnie the Pooh's favourite thing in the world: honey.

Merchandise (Excerpt)

Folder ¥500 / Acrylic Magnet ¥700


Tote Bags (3 Designs) | ¥3,500 Each (Timeless River/Keyblade A/Keyblade B)

Bonus Items

Customers who book a table in advance (¥650 before tax) and order from the menu will receive one of two folders, and if they order a drink, one of four coasters. Available while supplies last.

© Disney. © Disney/Pixar.

*All prices listed are pre-tax

Information

KINGDOM HEARTS Melody of Memory Cafe
・Tokyo (Shibuya): SHIBUYA BOX cafe&space
Running: December 11, 2020 – January 31, 2021
Address: LOFT (Floor 2F), 21-1 Udagawacho, Shibuya, Tokyo

・Osaka (Umeda): UMEDA BOX cafe&space
Running: December 11, 2020 – January 31, 2021
Address: Umeda LOFT (Floor 1F), 16-7 Chayamachi, Kita-ku, Osaka-shi, Osaka

KINGDOM HEARTS Melody of Memory Cafe Official Website: https://khmom.ohmycafe.jp/

Cheese Tea Shop machi machi Showcases Christmas 2020 Beverage

Taiwanese cheese tea shop machi machi is releasing a new drink in Japan this holiday season on December 1: the 'Flurry Strawberry Milk With Crème Brûlée.'

machi machi is an extremely popular cheese tea chain in Taiwan that has been called the 'king of cheese tea' by Taiwanese news outlets. Each and every cup poured is made fresh with tea from Taiwan to which rich cream cheese is added for a salty kick, creating a new kind of dessert drink.

Flurry Strawberry Milk With Crème Brûlée | ¥750 (Before Tax)


The new Christmas beverage being served in Japan uses fresh strawberries which adds a delightful sweetness to the milk. It's topped with crushed Oreos and combined with crème brûlée for a variety of layered flavours. The Oreos add crunch to the dessert drink so that it's a delicious experience down to the last sip.

If you've never had Taiwanese cheese tea, and are in Japan this Christmas, don't miss out on this seasonal drink, available for the whole month of December.

Information

Flurry Strawberry Milk With Crème Brûlée
Serving: December 1, 2020 – December 31, 2020
Available: machi machi stores in Japan
Official Website: https://machimachi.baycrews.co.jp

Sanrio's Little Twin Stars Get Themed Cafe in Osaka This Holiday Season

Sanrio's popular characters Kiki & Lala, also known as the Little Twin Stars, are getting their own themed cafe which will open for a limited time at the Fruits Parlor & Bakery Season & Co. in LINKS UMEDA in Osaka From December 3, 2020 to January 24, 2021.

The cafe will serve up a variety of menu items inspired by the Little Twin Stars as well as sell related merchandise. There will also be a photo spot for taking cute pictures, and a special dessert assortment made in collaboration with the popular artist Dream Ami which includes a parfait made up of their favourite sweet treats.

Cafe Menu (Prices Listed Before Tax)

Menu ①: December 3, 2020 – December 25, 2020


Little Twin Stars Shortcake (X'mas Ver.) | ¥1,900


Kiki's Shooting Star Sweets Parfait | ¥1,600

Menu ②: December 26, 2020 – January 24, 2021


Little Twin Stars Tart | ¥1,700


Lala's Shooting Stat Sweets Parfait | ¥1,700

Drinks Menu (Excerpt) (Available Throughout Collaboration)

Little Twin Stars Strawberry Tea Latte | ¥1,000

Dream Ami's Special Collaborative Menu (Available Throughout Collaboration)

Dream Ami×Little Twin Stars Star Sweets 2020 2,100円

Customers who spend more than ¥1,000 (before tax) on merchandise at the cafe will also receive a free A4 folder. These are available while supplies last.

Dream Ami's collaborative dessert looks both cute and delicious and definitely worthy of being on a Little Twin Stars menu!

Information

Little Twin Stars Collaborative Cafe
Running: December 3, 2020 – January 24, 2021
Location: Fruits Parlor & Bakery Season & Co.
Address: LINKS UMEDA (Floor 1F), 1-1 Ofukacho, Kita-ku, Osaka-shi, Osaka
Opening Hours: 9:30-22:00 (Last Orders 21:30)
TEL: 06-6743-4212

Official Website: https://season-co.shop

Enjoy the Beautiful Taste of Kyoto at Isetan Shinjuku in Tokyo

Isetan Shinjuku has announced a special event dedicated to promoting the beautiful taste of Tokyo. Set to begin on December 2, the event will see both traditional and newer restaurants from Kyoto come together to serve up Kyoto-style cuisine to the people of Tokyo from oldies like sushi to dango to more modern dishes like okonomiyaki and katsu sandwiches. Visitors will also be able to watch real chefs from Kyoto at work.

Hi-Lite Shokudo's "Hi-Lite Katsu Sandwich" | ¥850

Since first opening in 1960, Hi-Lite Shokudo has continued to treasure the taste of home cooking and has continued to evolve that taste over the years to cater to each generation. Its famous katsu sandwich is made with a secret sauce that has kept it unbeaten against other popular eateries in Kyoto, and they've upped the taste for this event.

Kotoka's "Mitarashi-dango" | ¥864 (6 Sticks) 

These dango are made fresh in front of customers and are doused in a rich secret sauce. Their chewy texture is irresistible.

Izuu's Mackerel and Tilefish Assortment | ¥4,455 (3 of each per person)

Izuu is an iconic sushi restaurant in Kyoto that was first established in 1781. This assortment is made with chub mackerel from coastal waters, esumai rice from Shiga Prefecture, and kombu from Hokkaido.。

Yumeya's Fuwafuwa Okonomiyaki | ¥801 (1 portion)

Many people living outside of Kyoto search for the okonomiyaki flavour served by Yumeya. It's made fresh, fluffy, and is topped with lots of ingredients.

Daitokuji Saiki-ya's "Dashimaki Tamago" | ¥648 (1 portion)

Daitokuji Saiki-ya is a specialty store in Kyoto catered food in business for 1933 years. It serves Kyoto-style dashimaki tamago as well as lots of other delicious food that captures the taste of Kyoto.

Sailor Moon Opens Its Third Petit Store at KIDDYLAND Kyoto Shijo Kawaramachi

To celebrate the upcoming release of the two-part Sailor Moon Eternal movie, a third branch of Sailor Moon store -petit- is set to open at KIDDYLAND Kyoto Shijo Kawaramachi on December 5, 2020.


Sailor Moon fans can look forward to getting their hands on a magical menagerie of original merchandise originally only available at the Sailor Moon store in Harajuku as well as a super soft, exclusive store-original Climax Moon Compact cushion.

Other items include candy charms, acrylic Christmas 2020 stands, pins, and more. Customers who spend over ¥3,000 (tax included) will also receive a free folder. These are available on a first-come, first-served basis and feature a cute design drawn by one of the store owners.

Information

Sailor Moon store -petit-
Grand Opening: December 5, 2020

Location: KIDDYLAND Kyoto Shijo Kawaramachi

Address: 344 Takoyakushi Sagaru Shioyacho, Kawaramachidori, Nakagyo-ku, Kyoto-shi, Kyoto

Opening Hours: 11:00-21:00 (Subject to change without notice)
Official Website: http://sailormoon-official.com/store/

Sailor Moon Eternal
Animated film releasing in two parts in 2021.
Part One: January 8, 2021
Part Two: February 11, 2021
Official Website: https://sailormoon-movie.jp/ 

Snoopy's PEANUTS Cafe in Japan Collaborates With Pake On Leopard Print Zipper Bags

Four branches of the Snoopy-themed PEANUTS Cafe, as well as its online shop, launched a collaboration with the Japanese zipper bag brand Pake® on Friday (November 27) to release a collection of leopard print zipper bags.

PEANUTS Cafe Nagoya Gets New Interior Design Artwork

As part of the collaboration, PEANUTS Cafe Nagoya has put up a colourful piece of framed artwork on the first floor. At first glance, it looks like simple leopard print, but if you look closely, you can see Snoopy floating around in that colourful world.

PEANUTS Cafe x Pake Zipper Bag "The Clandestine" | ¥1,100 (Before Tax)

PEANUTS Cafe and Pake's collaborative zipper bags come in blue and pink, both with leopard print backgrounds visible thanks to the clear bag allowing you to also see the items you put inside.

Snoopy art from an old-time Peanuts comic

The artwork used on the zipper bag is taken from a Peppermint Patty story published in January 1975 over several days. It's the scene when Patty's dad is late arriving home and can't sleep so is invited to Snoopy's room. She jumps onto his waterbed and he goes flying up and down.

© 2020 Peanuts Worldwide LLC

Information

PEANUTS Cafe x Pake
Participating Branches: PEANUTS Cafe Nakameguro / PEANUTS DINER Yokohama / PEANUTS Cafe Kobe / PEANUTS Cafe Snoopy Museum / PEANUTS Cafe Nagoya
PEANUTS Cafe Online Shop: https://www.peanutscafe.jp/online/

Pikachu Caramel Frappes Zap Their Way to Pikachu Sweets by Pokémon Cafe This Holiday Season

Pikachu Sweets by Pokémon Cafe in Ikebukuro, Tokyo, is adding the new "Caramel Pika Pika Frappe" to its menu this holiday season from December 5, 2020 to January 15, 2021.

Caramel Pika Pika Frappe | ¥700 (Before Tax)

The adorable beverage is based on the Japanese custard pudding known as purin. It's laced with caramel sauce, closed off with a squirt of whipped cream, and finished with a sprinkling of chocolate chips for accent.

Pikachu Sleeves

The drink also comes with one of four possible Pikachu sleeves which feature designs in promotion of the upcoming animated film Pokémon the Movie: Secrets of the Jungle (also known as Pokémon the Movie: Coco) which will be released in Japan on December 25, 2020 and in the US in 2021.

© 2020 Pokémon.©1995-2020 Nintendo/Creatures Inc./GAME FREAK inc.
Pokémon, ポケットモンスター, and ポケモン are registered trademarks of Nintendo, Creatures Inc., and GAME FREAK inc.
© Nintendo・Creatures・GAME FREAK・TV Tokyo・ShoPro・JR Kikaku
© Pokémon © 2020 Pikachu Project

Starbucks Japan Reveals Matcha x Matcha White Chocolate Frappuccino®

Starbucks Coffee Japan has revealed that its second instalment of its limited-edition holiday season 2020 beverages will be the "Matcha x Matcha White Chocolate" and "Matcha x Matcha White Chocolate Frappuccino®" which customers can order from November 24. A new batch of festive Starbucks merch will also hit Japanese branches on November 30.

A harmonious fusion of matcha and sweet white chocolate

Matcha x Matcha White Chocolate Frappuccino® Tall ¥590 (Tall-size only)

Matcha x Matcha White Chocolate: Short ¥450 / Tall ¥490 / Grande ¥530 / Venti® ¥570 (Hot option only)

Matcha is one of Starbucks Japan's signature flavours and just to happens to have been in the spotlight in last year's holiday season drinks. This year sees marbling mixture of of rich matcha sauce and sweet white chocolate syrup with the Frappuccino®, finished with a squirt of whipped cream, brownie bits, and snowy powdered sugar. The hot version comes as a marriage of matcha and white mocha mixed together with steamed milk to warm the cockles of hearts during the cold months.

New holiday season merchandise

The theme of the second batch of merchandise is "Brilliant Season" which capture the bright and sparkly vibe of winter like with the snowflake-covered stainless steel bottle, a glass mug with beads in it that move around when shaken, a snow globe, and more. The perfect line-up for capturing the holiday season mood during your coffee break.

Starbucks Japan is currently serving the Berry x Berry No-Bake Cheesecake Frappuccino® and Berry x Berry White Mocha holiday season drinks for the holiday season until November 24 when they will be replaced by the Matcha x Matcha White Chocolate and Matcha x Matcha White Chocolate Frappuccino®. It is also serving the Starbucks® Christmas Blend, Gingerbread Latte, and Macadamia Toffee Latte until Christmas Day.

Information

Matcha x Matcha White Chocolate and Matcha

Matcha White Chocolate Frappuccino®

Running: November 1, 2020 – December 25, 2020

Available: Starbucks in Japan
Starbucks Japan Official Website: https://www.starbucks.co.jp/