Explore Japanese Hojicha Tea-Flavoured Desserts in Kyoto
Kyoto is the homeland of Japan's tea. Tea shop Itohkyuemon was first established in Kyoto towards the end of the Edo period of Japan in 1832. It has since become a well-established tea shop that has gained popularity for its high quality tea and tea-based desserts. The shop will be holding a special event called Itohkyuemon X Uji Hojicha Tea Fair from September 2, 2019. This is the perfect opportunity to explore the wonderful flavours of Japan's famous hojicha tea from the homeland of Japan's tea. 
Hojicha tea is deeply rooted in Kyoto's daily culture. At Itohkyuemon, the tea leaves are roasted at a high temperature, creating a wonderful and comforting aroma. The fair will see the release of a wide range of hojicha-infused desserts such as parfaits, a dessert plate, ice cream, chocolate, daifuku, cheesecake, kitkats, chocolate cake, tiramisu and much more.  This is the perfect opportunity to immerse yourself in a range of sweet hojicha flavours.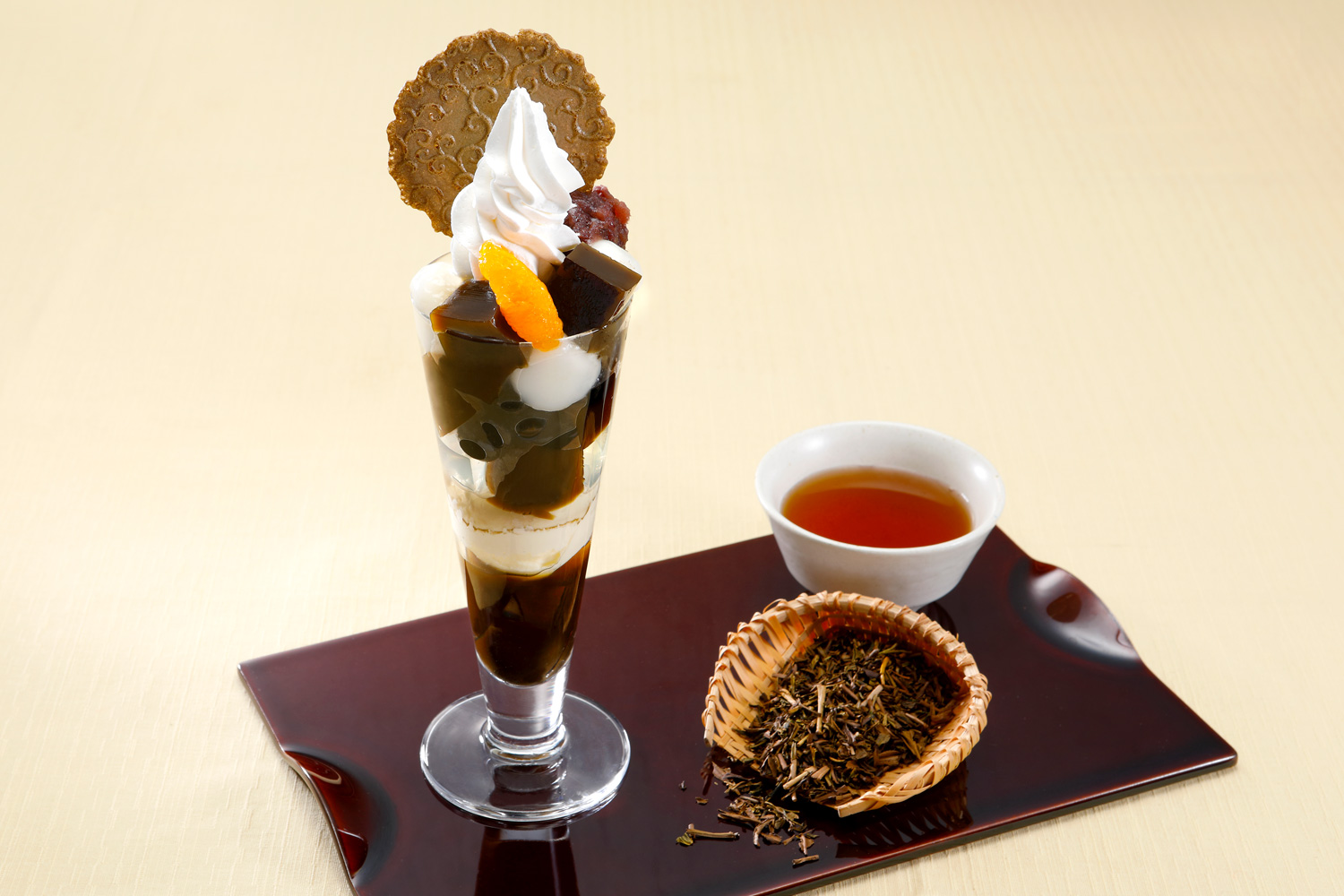 The brand new Uji Hojicha Parfait consists of homemade hojicha jelly layered with refreshing hojicha ice cream. This is garnished with a hochicha senbei wafer and drizzled with hojicha syrup. This parfait allows you to taste the variety of wonders of hojicha all in one glass.
Want to tantalize your tongue with more tea? The Hojicha Tea Ceremony set comes with a hojicha daifuku and a drink to complete your parfait experience. 
The Uji Hojicha Chocolate Cake which was previously sold at the Gion-Shijo store has now returned. However, this is in limited supply. The Uji Hoji Dessert Plate includes a slice of Uji Hojicha Chocolate Cake, a Hojicha Mini Parfait, Hojicha Chocolate Ganache, a slice of Hojicha Cheesecake and a Hojicha Daifuku. This is the perfect way to explore hojicha in a variety of dessert forms. 
This is the perfect opportunity to explore the wonderful flavours of one of Japan's most beloved teas. 
Information
Itohkyuemon X Uji Hojicha Fair 2019 
Running: September 2 ー 30, 2019
Available at: Uji Main Store, JR Uji Ekimae Store (in front of Uji Station), Gion Shijo Store, Byodoin Store, Kyoto Ekimae Store (in front of Kyoto Station), Online Shop.
*The desserts sold can differ from shop to shop. 
Website: https://www.itohkyuemon.co.jp/site/houjicha/ (scheduled to open on September 2) 
Uji Hojicha Parfait
Available from: September 2, 2019 
Price: ¥1,080 (on its own, after tax)
¥1,480  (drink set included, after tax) 
Hojicha Tea Ceremony: ¥1,780 (after tax)  
Uji Hojicha Dessert Plate
Available from: September 2, 2019 
Price: ¥1,680 (on its own, after tax)
¥1,980 (drink set included, after tax)
RECOMMENDED ENTRIES
Kyo no Ondokoro Nishijin Bettei: A Traditional Kyoto Townhouse Transformed Into a New Hotel

Wacoal Corp, the owners of Kyo no Ondokoro―a chain of traditional townhouses turned into hotels―are opening a new branch in the Nishijin area of Kyoto on October 1, 2019.

Kyo no Ondokoro Nishijin Bettei will be the fifth branch of their hotel chain. It was designed by Akira Minagawa―the owner of Japanese clothing label Minä Perhonen―and architect Yoshifumi Nakamura.

The Nishijin area is located a little distance away from the city centre meaning one can avoid the hustle and bustle of the busy streets. The hotel is renovated from a luxurious 95 year old townhouse which was originally set up by merchants in Nishijin silk fabrics to house guests.

It has been renovated to make it feel as if guests are living there and thus feel like they are living in Kyoto.

The first floor features a fully-equipped kitchen with wine cellar as well as a spacious dining area where one can cook up and feast on meals made with ingredients and produce from Kyoto.

Dotted throughout are various art pieces selected by Minagawa to elevate that at-home feeling.

The townhouse also offers lots of convenient services including bagging storage, transport service, guidebooks catered to each season, and more. Staff can also offer information about shops and restaurants in the surrounding areas, and they can also sign you up to food plans packed with Kyoto flavours, and more.

If you want to feel like you're living in Kyoto then book now with Kyo no Ondokoro Nishijin Bettei.

Information

Kyo no Ondokoro Nishijin Bettei

Address: 265-1 Tatekameyacho, Kamigyo Ward, Kyoto, Kyoto Prefecture

Grand Opening: October 1, 2019

Price: ¥150,000 per night (Before Tax)

Capacity: 8 people

Bookings: Open from September 2, 2019 (*Open now on select websites)

Check-In: From 16:00 (Wacoal Shin-Kyoto Building front desk open 10:00-17:00)

Check-Out: By 11:00

Kyo no Ondokoro Official Website: https://www.kyo-ondokoro.kyoto/

4 Must-Try Kawaii Bubble Teas & Desserts in Kyoto

Japan is a haven for bubble tea and tapioca-based beverages. Here on MOSHI MOSHI NIPPON we have covered many shops selling these tasty drinks in Harajuku―the town which started the tapioca boom in Japan―but today we will be heading to the ancient city of Kyoto.

We are joined by Kyoto café life tiara who posts photos of the best drinks and desserts they have tried around the Kansai region of Japan. They have provided us with photos of two must-try bubble teas and two must-try desserts in Kyoto.

ROCCA & FRIENDS PAPIER KYOTO in Shijo

ROCCA & FRIENDS PAPIER KYOTO is just a 5-minute walk from Shijo Station. The cafe is made from a traditional townhouse along an old-fashioned Kyoto-esque street.

It takes a little while for your drink to arrive placing your order, but that's because each beverage is carefully handmade from fresh. I ordered the mango smoothie soda and the strawberry smooth soda. Both are fruity and super refreshing and full of chewy tapioca pearls.

▼ROCCA & FRIENDS PAPIER KYOTO

Address: 735-2 Shinkamanzacho, Shimogyo Ward, Kyoto, Kyoto Prefecture

Opening Hours: 10:00-18:00

Closed: Mondays

Official Instagram Page: https://www.instagram.com/rocca.papier/

&Hana in Shijo

&Hana is located at the back of Kyoto Daimaru. The cheese rose tapioca milk tea I bought is a cute pink colour. It's a mix of rose which is good for skin and relaxation, sweet brown sugar tapioca, and sour cheese.

Draped at the back of the cafe are bunches of dried flowers which provide an Instagrammable background for your drinks.

▼&hana

Address: 619 Nishiuoyacho, Shimogyo Ward, Kyoto, Kyoto Prefecture

Opening Hours: Weekdays 11:00-22:00 / Weekends & Holidays 10:00-22:0

No Fixed Holidays

Official Instagram Page: https://www.instagram.com/and_hana_/

KISSHOKARYO KYOTO in Gion

This honey and tea parfait is special because they only serve 20 of them a day. Tapioca pearls go well not just in drinks but in desserts like this one too♡

The fluffy shaved ice is a perfect match with the homemade Earl Grey tea syrup. The rest of the parfait is made up of milk tea flavoured jelly, tapioca pearls, tea ganache, and other delightful surprises.

I enjoyed mine with lots of syrup and roasted soybean flour!

▼KISSHOKARYO KYOTO Gion Honten

Address: 306 Ishibashicho, Higashiyama Ward, Kyoto

Opening Hours: 10:00-19:00 (Last Orders 18:30)

No Fixed Holidays

Official Website: https://kisshokaryo.jp/

MASHOLA in Kawaramachi

MASHOLA is a South Korean-style cafe which of course sells tapioca pearl drinks, but also this delicious capo egg brulee tart as well. As soon as you put the order in their fire up the tarts fresh along with hot tapioca pearls for a heavenly melt-in-the-mouth experience.

They also sell bottled strawberry milk packed full of fresh strawberries, and for an extra ¥80 you can top if off with tapioca.

▼MASHOLA

Address: 406 Sakuranocho, Nakagyo Ward, Kyoto, Kyoto Prefecture

Opening Hours: 11:00-20:00

No Fixed Holidays

Official Website:  https://mashola.business.site/

Did you enjoy this list? Kyoto café life tiara has lots of other tempting recommendations of drinks and desserts on their Instagram page too, so if you're looking for something to try while in the Kansai region of Japan be sure to give them a follow.

Text & Photos: @happy_pinkrose_tiara

Translation: Joshua Kitosi-Isanga

Kyoto's Kurodani Temple Autumntime Illuminations Begin on November 4

Konkaikōmyō-ji, also known as Kurodani Temple, is set to open its doors to the public from November 4 for its autumn illuminations.

Kurodani Temple has a long history, best known as serving as the Kyoto Shugoshoku―the office of the Tokugawa shogunate―during the Bakumatsu period. It has relations to the Shinseigumi, a military force which was active during this time which was dedicated to suppressing anti-shogunate activities. It is also the first place that Hōnen, the founder of Japanese Pure Land Buddhism, spread his teachings.

For the special opening, you will be able to see the famous chicken painting Tori-zu Oshiebari Byobu by Itō Jakuchū as well as treasures associated with Hōnen and more.

The number of tigers on the famous tiger doors of the temple changes as you slide them.

From the temple grounds you can enjoy a breathtaking scene of the gardens where the autumnal colours of the trees reflect from the surface of the pond.

Kurodani Temple is also home to the Gokōshiyui Amidabutu Statue, which became the talk of the town in the media when it was dubbed the "Afro Buddha," and looks deep in contemplation.

There will also be performances three times a day in the evening using traditional Japanese instruments like the koto and shinobue.

If you pay for the premium entry plan you can enter 30 minutes earlier and will be guided by one of the official gardeners or expert of the gardens.

Information

Autumnal Light-Up

Running: November 4, 2019 – December 8, 2019

Time: 17:30-21:00 (Last Entries 20:30)

Price: Adults ¥800 / Children ¥400 / Infants – Free

*Groups of over 20 people – ¥700

Music Performances: Everyday at 18:00/18:45/19:30

Premium Plan

Running: Fridays & Weekends

Time: From 17:00

Price: Adults ¥1,200 / Children ¥600

Kurodani Temple

Address: 121 Kurodanicho, Sakyo Ward, Kyoto, Kyoto Prefecture

Event Page: https://www.kurodani.jp/lightup_aut/
RELATED ENTRIES
FUKUCHA to Offer Limited-Time Strawberry Desserts with Uji Tea Pairings

FUKUCHA Teahouse, a Fukujen cafe in Kyoto, will start a limited-time Strawberries and Uji Tea Fair on January 8, 2022. Last year's Matcha fair was incredibly popular, and certain items will also be available again in 2022. The new menu includes a strawberry version of the popular Herbal Tea Pairing Set, making it even more fun and elegant! Guests can enjoy flavorful Uji green tea along with a number of tasty strawberry treats. 

Mont Fraise: ¥1,150

Mont Fraise means 'mountain of strawberries' in French. This dessert is made with thin white chocolate and sponge cake soaked in matcha syrup with matcha cream and strawberries covering every inch. It is also served with a green tea chocolate sauce. 

Strawberry Pairing Set: ¥1650

The strawberry version of the popular Herbal Tea Pairing Set on the regular FUKUCHA menu.
・Ginger Blend Genmaicha and Strawberry Cheese Tart
・Hibiscus Blend Hojicha and Strawberry Chocolate Bonbons
・Cinnamon Blend Twig Tea with Strawberry Cream
・Peppermint Blend Twig Tea with Large Strawberry

Marscapone Strawberries: ¥1450

Using 10 strawberries, this parfait is designed to look like a herbarium. Putting a spoon into the light mascarpone cream will reveal the bright green color of the matcha chocolate sauce.

Information

Strawberry and Uji Tea Fair

Running: January 8 – May 15, 2022
*Limited to 10 Servings per day.

Official Site: https://www.fukujuen.com/

Weston Miyako Hotel Kyoto and Okuratouen Release Strawberry & Blue Rose Afternoon Tea

From February 1 until February 28, 2022, visitors to the Weston Miyako Hotel Kyoto can enjoy a leisurely Strawberry & Blue Rose Afternoon Tea courtesy of a new partnership with Okuratouen. 

Top Row

Middle Row

Bottom Row

Okura Pottery is known for its exquisite Blue Rose tableware which features heavily in this collaboration. 


The menu features the special Blue Rose Macaroon with its distinctive high-quality taste along with a variety of sweets and savory dishes surrounded by strawberries and roses. Guests can enjoy this three-tiered selection of goodies from 12:00-16:00 during the event period at the hotel's Mayfair Tea Lounge. 

Information

Strawberry & Blue Rose Afternoon Tea

Running: February 1 – February 28, 2022

Address: Weston Miyako Hotel Kyoto 2F, Mayfair Tea Lounge

Hours: 12:00-16:00 (2-hour block) *Reservations required by previous day at 17:00

Wakura Onsen in Ishikawa Prefecture to Hold Special Illumination, Luxurious Tea Time

The Wakura Onsen Tourist Association is sponsoring a new project to illuminate Seirinji Temple, a nationally registered cultural property. Along with this light show, guests can enjoy a luxurious tea time starting on January 8, 2022. This year, the pavilion and garden will be lit up again, and the entrance will be decorated with traditional local paper lanterns. 

The historic property was built in 1909 as a resting place for Emperor Taisho. Only two such buildings exist in Japan: one in Hamada City, Shimane Prefecture, and the other at Wakura Onsen. Both were registered as Tangible Cultural Properties of Japan in 2017. 

 

Last year, the area was photographed for posters and pamphlets as part of the 'Japanese Beauty Hokuriku' campaign organized by JR East, JR West, and the Central JR Railway.

Each Saturday evening through February 26, guests will be invited to enjoy a different kind of atmosphere while enjoying a very fancy tea time. The program has been very well received by visitors, so it shouldn't be missed!


The light-up of the temple and garden, with its slowly changing colors, will transport guests to another world. The entrance to Seirinji Temple will be redecorated and lit up, and a pathway of lights will be created from the gate to the entrance of the pavilion using paper lanterns.

Information

Seirinji Temple Illuminations & Luxury Tea Time

Running: Saturdays from January 8 – February 26, 2022 

First Seating: 17:00  

Second Seating: 18:00

Address: Seirinji Temple, Wakura Onsen (61 Wakuramachi, Nanao, Ishikawa)

*Available for guests of Wakura Onsen

Official Site: https://www.wakura.or.jp

Starbucks Japan Introduces New Hojicha meets Caramel Cream Frappuccino

Starting December 26, 2021, participating Starbucks locations in Japan began selling the 'Hojicha meets Caramel Cream Frappuccino,' the 'Hojicha meets Caramel Cream Tea Latte,' and the 'Oolong meets Citrus Tea Latte.' Each beverage is available in hot or cold versions. 

The Hojicha meets Caramel Cream Frappuccino combines roasted green tea (hojicha) with a sweet caramel sauce.

Hojicha meets Caramel Cream Frappuccino / Hojicha meets Caramel Cream Tea Latte

The Frappupccino contains a base made with hojicha and black tea, mixed with a hojicha-infused caramel sauce that contains roasted hojicha powder. The flavor is deep and rich, without too much sweetness. 

The Hojicha meets Caramel Cream Tea Latte mixes in fresh cream and white mocha syrup to bring out the flavor of the tea. Perfect for a dreary winter day, the drink is topped with whipped cream and caramel sauce. 

Oolong meets Citrus Tea Latte / Hojicha meets Caramel Cream Tea Latte /Caramel Apple Redbush Tea

The Oolong meets Citrus Tea Latte combines TEAVANA Zen Clouds Oolong tea, with its refreshing scent and flavor, with steamed milk. Topped with a freeze-dried blend of Satsuma mandarin and yuzu peels, it tastes just like the winter season. Oolong tea pairs well with slightly tart fruits, with the milk and whipped cream cutting the acidity of the citrus. The Caramel Apple Redbush Tea combines classic South African Redbush tea with apple cinnamon pulp, topped with fresh whipped cream and caramel sauce.

These limited-edition drinks will be on the menu until January 18, 2022. 

Information

Hojicha meets Caramel Cream Frappuccino

Hojicha meets Caramel Cream Tea Latte

Oolong meets Citrus Tea Latte

Available: December 26, 2021 – January 18, 2022

Caramel Apple Redbush Tea Latte

Available: Starting October 6, 2021 ~

Where to Purchase: Participating Starbucks Locations Nationwide

Official Site: https://www.starbucks.co.jp/

English Dessert Strawberry Eton Mess Available at koe lobby During the Holiday Season

The koe lobby on the first floor of hotel koe Tokyo is now selling the traditional English dessert Strawberry Eton Mess for a limited time. 

Eton Mess is made with a mixture of strawberries, meringue, and whipped cream, and is popular during the holiday season!

koe lobby's Eton Mess features a baked meringue with a crispy texture, homemade sweet and sour strawberry sauce, and fluffy cream and fresh strawberries. If you're in the area, be sure to order one before they're gone!

Information

Available: Starting December 21, 2021 

Available Hours: 12:00-18:00 (Last Order at 17:30)

*While supplies last. 

Price: ¥850 (Tax Included) 

*Drink Set: ¥1,290 (Tax Included)

Address: koe lobby (3-7 Udagawacho, Shibuya, Tokyo)

Hours: 7:30-12:00 (Breakfast, Last Order at 11:30) / 12:00-15:00 (Lunch, Last Order at 14:30) / 15:00-20:00 (Tea Time, Last Order at 19:30)

*After 18:00 only drinks and bread are served. 

Official Site: https://hotelkoe.com/food/ 


Tokyo Revengers Collaboration Event to be Held at Toei Kyoto Studio Park

Toei Kyoto Studio Park will hold a special collaboration event with Tokyo Revengers from December 25, 2021 until February 13, 2022. Exclusive illustrations of the main cast will appear around the park, and a stamp rally will be set up around the entire city of Kyoto. Collaborative merchandise and food will also be available during the event period. 

Walking Rally

Photo Spot #1

Photo Spot #2

Target Shooting Game Prizes


First Prize: Background Panel (6 varieties)
Second Prize: Acrylic Coaster (6 varieties)
Third Prize: Sticker (12 varieties, random)

Collaboration Menu


Coaster (Random)

Baji and Chifuyu's' Yakisoba (Includes a Baji or Chifuku Card): ¥800 (Tax Included)


Takemichi and HIna's Parfait: ¥950 (Tax Included) 

Tokyo Revengers Meetup Drink (Coffee Float): ¥700 (Tax Included)

Collaboration Merchandise

Business Card Style Cards (Featuring Original Illustrations, Life-size)

Business Card Style Cards (Featuring Original Illustrations, Mini)

Stamp Rally Special Postcard

Special Gift: Towel with Purchase of Ticket to Toei Kyoto Studio Park

STORY


Manjiro Sano announces a meetup in Kyoto, but Mikey and  takemichi have their own agenda. After a number of hijinks, can visitors solve the slapstick happenings going on around Kyoto?

Ⓒ和久井健・講談社/アニメ「東京リベンジャーズ」製作委員会

Information

Tokyo Revengers Tokyo Meetup ~I Wanna Eat Dorayaki~

Running: December 25, 2021 – February 13, 2022

Location: Toei Kyoto Studio Park

Stamp Locations: 

Movie Village Padios 2F Event Exhibition Hall / Animate Kyoto / Kyoto Tower Observatory (Free area on 11F) / Sanjo Station on Keihan Electric Railway / Shugakuin Station on Eizan Electric Railway / Arashiyama Station on Randen Railway

Event Details: https://www.toei-eigamura.com/tokyo-revengers/

Official Site: https://www.toei-eigamura.com/

Rihga Royal Hotel Kyoto to Hold Strawberry Fair in 2022

From January 4 until April 30, 2022, Rihga Royal Hotel Kyoto will hold a special Strawberry Fair at its cozy lounge.

Those who love strawberries enough to want to drown in them won't want to miss this limited-time event featuring four unique desserts and an afternoon tea set.

Strawberry Parfait 'Drowning Strawberries' 

 

Guests can enjoy pouring warm homemade confiture made from Kyoto strawberries from Uesugi Farm in Yawata City over thin chocolate hidden beneath strawberry ice cream. This is recommended by the patisserie.

'Strawberry Shortcake ~Buried in the Glass~'

 

This limited-edition version of the hotel's strawberry shortcake is filled with white meringue and soft sponge, with cherry brandy flavoring making it light and easy to eat.

'Strawberry Afternoon Tea Set' 

Strawberry Stack Option

The popular 'Afternoon Tea Set' is served in a bamboo box made by Kochousai Kosuga, a bamboo craft manufacturer in Kyoto. This special strawberry version features nine sweet and nine savory items, including strawberry shortcakes and cream puffs. For a limited time until March, guests can add a pile of strawberries to the third tier. Using the special scoop spoon, you'll feel as though you're harvesting strawberries of your own! Be sure to take pictures.

Overflowing Strawberry Gift Box

Although it looks like a present, this dessert is meant to be enjoyed on-site! Overflowing with strawberry mousse, strawberry jelly, and pistachio brulee, raspberry sorbet, and streusel are hidden beneath the white chocolate box. Now that's luxury!

Adorable Hamster-shaped Cakes from Kyoto Now on Sale

Aoki Koetsudo, a 129-year-old confectionery shop in Kyoto, and 2:00, a Kyoto-based company specializing in unique products, have come together to create some incredibly cute hamster-shaped cakes. These pastries are called monaka, and feature azuki bean jam filling sandwiched between two crisp wafers made from mochi. Each set includes 6 wafers, six helpings of bean jam, and a bag of nuts, so customers can enjoy creating the pastries themselves! 

How to Enjoy Hamster Monaka

Fill the Hamster-shaped monaka with as much azuki jam as you like. 

Cover the monaka with the wafer and add one of the nuts provided. 

Paint the eyes and ears with chocolate to give each pastry some personality!

NAKED to Open Immersive Night Experience at Heian Jingu in Kyoto

Creative company NAKED has released the details of an upcoming immersive night experience at Kyoto's Heian Jingu, one of the most well-known temples in Japan. The event will take place from December 15 until December 30, and will fill the temple grounds with colorful lights and new experiences as the new year approaches. The first of these Yoru Mo-de experiences took place at Toyokawa Inari, and the event attracted over 20,000 people in its 10-day run. 

Given the state of the world and the current pandemic, NAKED has found a way to attract people to a new kind of night worship that provides a safe and secure way to visit shrines and temples. By using their projection mapping technology and art installations to highlight the beauty of these Japanese locales, guests can experience something truly special in the midst of these difficult times. 

The popular NAKED Flower Cleansing, which broadcasts realistic flower projections into guests' hands, will have a Heian Jingu update for the event. Guests will also be able to hold the NAKED Distanced Lanterns, which will illumate the ground as people explore the grounds. Sounds and light will combine to create an entirely new world, and visitors will also be shown the history of Heian Jingu through a new projection mapping show. NAKED's DANDELION PROJECT will also be installed at the site, inviting visitors to send wishes of love and peace to other installations around the world. 

Selected Works

The Illuminated Outenmon Gate, an Important Cultural Property

NAKED Flower Cleansing

NAKED Distanced Lanterns

Illuminated Grounds -Echoes of Light-

Projection Mapping –Hanamusubi–

Taiheikaku -Corridor of Light-

DANDELION PROJECT Heian Jingu

13th Kyoto Historica International Film Festival to Screen All 5 Rurouni Kenshin Films

The 13th Kyoto Historica International Film Festival has announced its screening lineup and will be held both in-person and online. In addition to all five live-action Rurouni Kenshin films being screened, five carefully-selected historical films from around the world have been chosen from over 200 applicants. These will be screened at the Japanese event and can only be seen during the festival. 

Italian film Inferno, produced in 1911 and shown at Il Cinema Ritrovato in Bologna in 2021, will make its Japanese premiere along with a piano accompaniment. Oshuraga: Land of Souls will also be screened in commemoration of the fifth anniversary of the Kyoto-Quebec Friendship and Collaboration Agreement. 

41 films will also be available to stream on the MIRAIL streaming service, with tickets going on sale on January 22, 2022. 

Information

13th Kyoto Historica International Film Festival

Running: January 22 – January 30, 2022

Theater Screenings

Location: The Museum of Kyoto 3F Film Theater

Pre-order Tickets Starting December 25, 2021 at Ticket Pia

*Advance Tickets are available for Historica Special only. All other tickets will be sold at the door.

Watch Online

Available on MIRAIL Video Streaming Service

How to Watch: Purchase tickets from MIRAIL on or after January 22, 2022

Official Site: https://historica-kyoto.com/ 

Canada Goose×CONCEPTS×BAPE® Release Collaboration Collection

Long-time partners CONCEPTS and BAPE® have launched collaboration collection which is now available at Canada Goose Sendagaya branch and Ron Herman Kyoto 'Canada Goose' shop in shop.

Line-up

CROFTON HOODY 

CHILLIWACK BOMBER 

EXPEDITION PARKA 

KNIT TOQUE 

DOWN SCARF 

DOWN BLANKET

The collection includes 6 pieces inspired by the heritage of Canada Goose featuring the iconic BAPE® ABE Camo and Snow Camo to take streetwear to the next level.

Nijo Castle Light-Up Event Streaming Tickets Now Available

One of seventeen Historic Monuments of Ancient Kyoto is currently being illuminated in a sea of otherworldly lights. Nijo Castle in Kyoto is the location for the One to Ten: Evening Party, using projection mapping to bring out the beauty of this magnificent locale. For those who can't visit in person, an event on December 7 is inviting people to watch the lights online, including the illumination of the Karamon Gate and the Ninomaru Garden. Tickets for the online event go on sale on December 3, 2021. 

To capture the feeling of being on-site and to convey the incredible atmosphere, a camera will guide viewers along the normal route through the castle grounds with audio commentary. The popular 'Special Performance,' which only allows a limited number of people each day due to space constraints, will be available to view in its entirety during the stream. 

The live event will air on December 7 at 10:00 PM JST, and will be archived until December 26 at midnight. Tickets to watch are available from December 3 until December 26. 

Information

One to Ten: Evening Party at Nijo Castle

Running: November 5 – December 12, 2021 *Closed December 8

Hours: 18:00-21:20 (Grounds close at 22:00)

*The event may be canceled due to inclement weather. Content may be changed at the discretion of the organizer.

Official Site: https://yakai.1-10.com/nijojo/