TOKYO CACAO: 20,000 Bars Of Tokyo-Made Chocolate to be Released
Hiratsuka Confectionery Co., Ltd. began the Tokyo Cacao Project in 2003, where it began planting cacao beans on the island of Hahajima, the second largest of the Ogasawara Islands in Tokyo. The project's aim was to produce chocolate made in Tokyo.
That chocolate is finally ready for consumption, as the first-ever batch of chocolate using the beans will be released on November 1. The chocolate is called "TOKYO CACAO," and a limited stock of just 20,000 will be sold.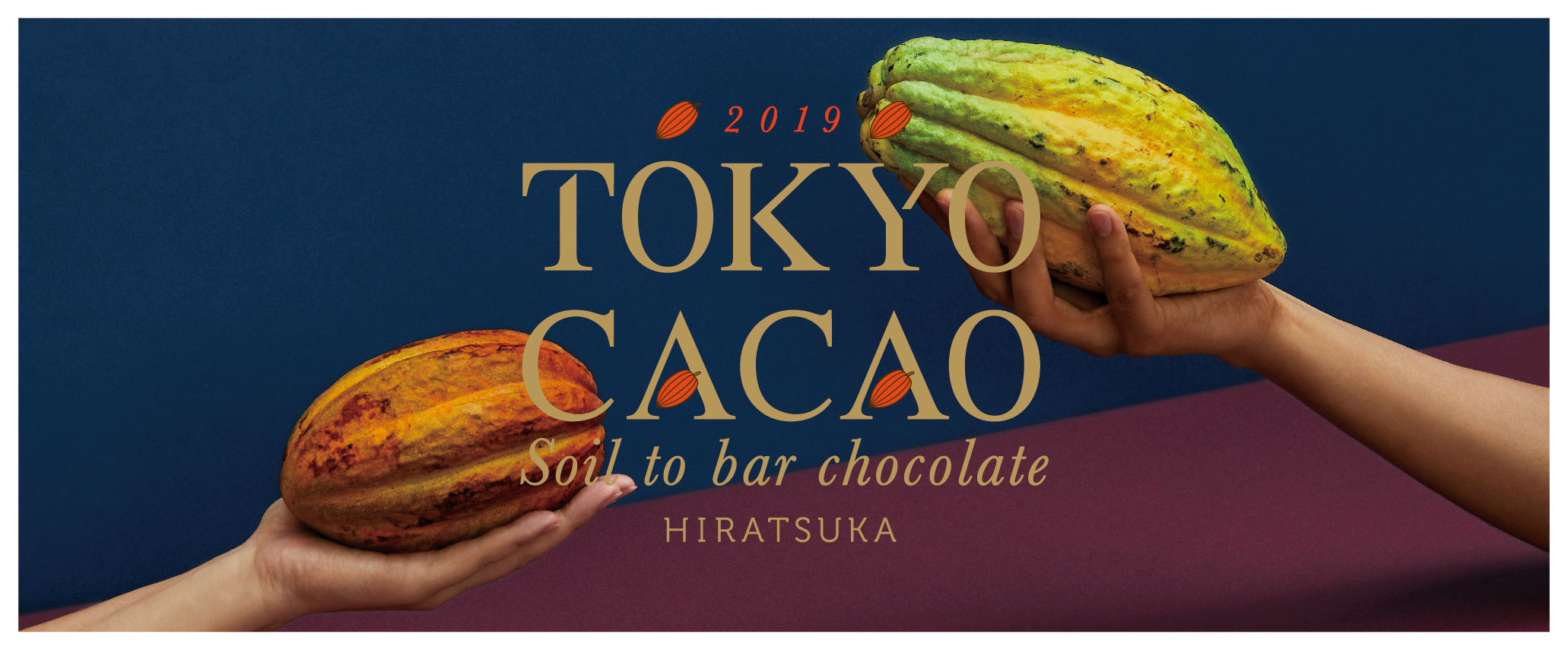 These plentiful domestic cacao beans are described as having a gentle flavour. The harvested raw cacao beans are fermented and then dried, creating a rich aroma and mild taste. A bite of this chocolate promises the deep, original taste of the cacao beans.
The chocolate design takes on an Edo Kiriko glass style so it can be a chocolate that symbolises Tokyo. Its carefully-crafted shapely design elevates the delicate flavour of the cacao beans and the chocolate's smooth texture. Hiratsuka Confectionery's facility has its own "TOKYO CACAO LAB" so that the chocolate is made "from bean to bar" within Tokyo. This is where the fermentation and drying process takes place and subsequent bar production. It has taken over 10 years to create this authentic Tokyo-made chocolate.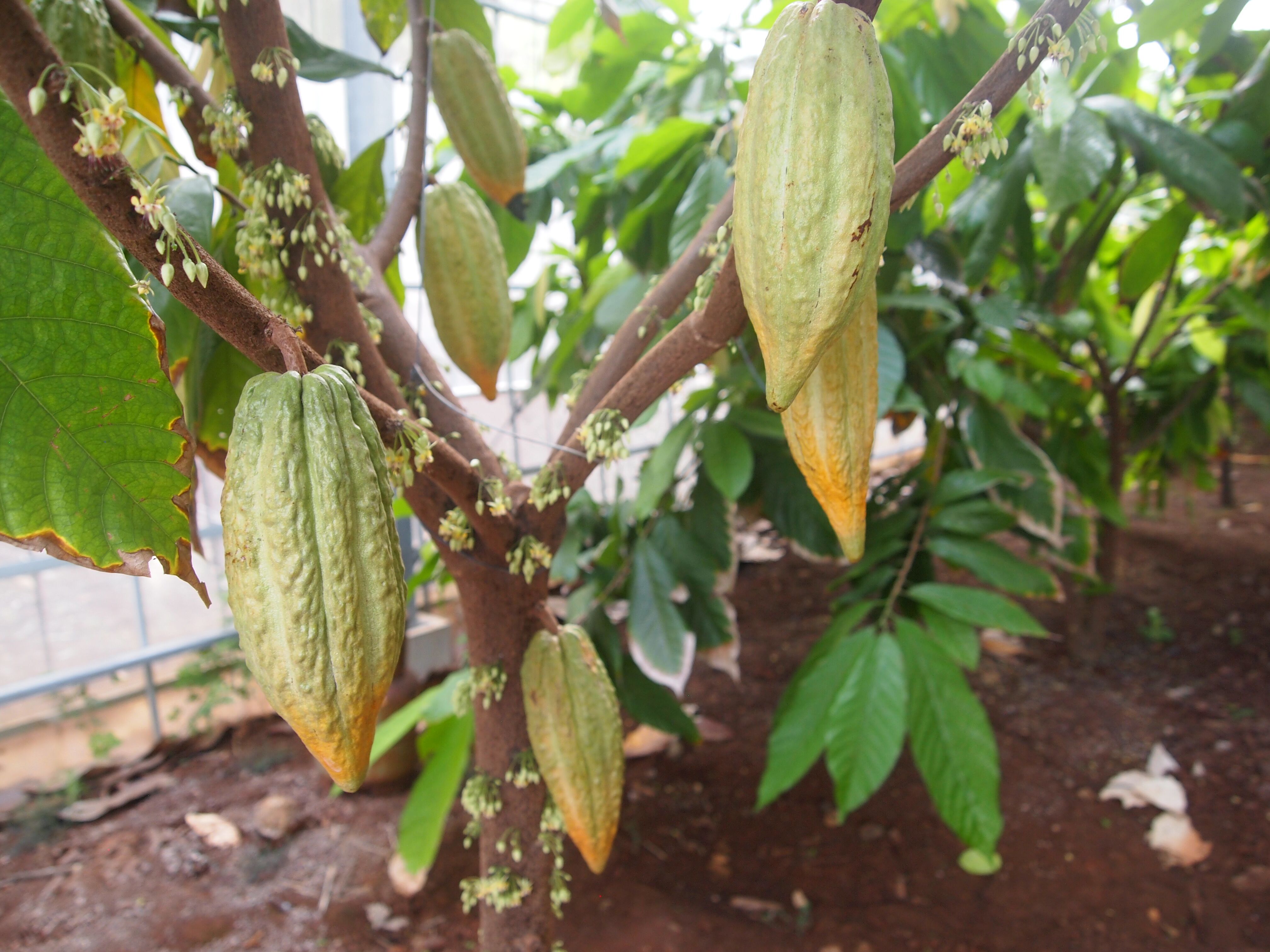 To ensure this chocolate can be treasured and enjoyed, it is carefully packaged and sleeved in a tin like a jewel. This exclusive, limited-edition chocolate from Tokyo is sure to be a welcomed gift to someone special.
Hiratsuka Confectionery is planning to release some TOKYO CACAO at select stores ahead of the November release. If you're in Tokyo this November, make sure you get your hands on some of this very special chocolate.
Information
TOKYO CACAO
Contains: 2 Chocolates (70% Cocoa)
Price: ¥3,000 (Before Tax)
Stock: 20,000
Release Date: November 1, 2019 (*Orders now being taken on the online store)
Available At: The TOKYO CACAO website and a planned list of select stores which is yet to be announced (as of September 19, 2019)
Official Website: http://www.tokyo-cacao.com/
RECOMMENDED ENTRIES
Häagen-Dazs Release New Soybean Flour Brown Sugar Syrup and Zunda Mochi Ice Creams

Häagen-Dazs Japan has announced that it will release two new flavours from its popular hanamochi ice cream series on September 17: "Soybean Flour Brown Sugar Syrup" and "Zunda."

Soybean Flour Brown Sugar Syrup Hanamochi

The soybean flour brown sugar syrup hanamochi was released back in 2015 and returned again in 2017. This year, Häagen-Dazs is bringing is back even more delicious than before. They have blended together a variety of soybean flours to elevate the ingredient's original flavour.

The top of the mochi is sprinkled with a blend of lightly roasted black and yellow soybeans. By roasting them, the original taste and fragrance of the soybean comes through tenfold. Dark roasted soybean has also been combined with milk for a velvety texture, and the entire thing is drizzled in a rich original brown sugar syrup sauce which further enrichens the soybean flavour.

Zunda Hanamochi

Zunda is sweet soybean paste made from mashed edamame beans and a flavour that has been gaining popularity in Japan in recent years. Häagen-Dazs is incorporating the flavour for the first time in their hanamochi series.

The lumpy texture of the crushed edamame goes deliciously well with the chewy mochi, taking the original authentic taste and texture of edamame to a whole new level. Mixing it with soybeans and rich milk turns it into a smooth ice cream in your mouth. The sauce also contains a sprinkle of salt to bring out the flavour of the zunda.

The packaging has also been updated, inspired by their flavours and topped with a golden lid, giving it a modern-Japanese appeal. Don't miss out on these two new flavours.

Information

Soybean Flour Brown Sugar Syrup Hanamochi (Limited Edition)

Price: ¥319 (Tax Included)

Release Date: September 17, 2019

Available: At supermarkets, convenience stores, and department stores across Japa

Product Page: https://www.haagen-dazs.co.jp/hanamochi_1909/

Zunda Hanamochi (Limited Edition)

Price: ¥319 (Tax Included)

Release Date: September 17, 2019

Available: At supermarkets, convenience stores, and department stores across Japa

Product Page: https://www.haagen-dazs.co.jp/hanamochi_1909/

Winter is Coming But Hotel Chinzanso Tokyo's Yuzu Lemon Afternoon Tea Will Warm You Up

Hotel Chinzanso Tokyo will begin serving its new citrus fruit-packed Yuzu Lemon Afternoon Tea on November 1 at the Le Jardin, the hotel's lobby lounge which offers a view of the beautiful garden.

You'll see yuzu and lemons throughout the year, but it is said that winter is the best season to enjoy them. Both lemons and yuzu are said to have a relaxation effect, and so Hotel Chinzanso Tokyo will beckon guests through its cosy doors with the afternoon tea set's refreshing citrus fragrance, inviting them to an early wonderful winter at the beginning of November.

The set includes an assortment of sweets including a yuzu and lemon flavoured savarin, a lemon cheesecake that squeezes out all the juicy nectar of the citrus fruit, and more. The lemons and yuzu are the citrus kingpins of this afternoon tea.

The seasonal scones are a mix of yuzu and vanilla scones and silky white chocolate scones to relieve some of the sourness. Enjoy together with a mix of dips including salted clotted cream for even more flavour.

On the savoury side of things there is a tempting mix of bites and nibbles, including the use of spicy ginger to warm up your cold body.

Welcome the winter early this year and do it in style with Hotel Chinzanso Tokyo's new afternoon tea set.

Information

Yuzu Lemon Afternoon Tea

Running: November 1, 2019 – November 30, 2019 (*Reservations available only on weekdays)

Time: 12:00-18:00
Location: Le Jardin, Hotel Chinzanso Tokyo

Price: Yuzu Lemon Afternoon Tea ¥4,000 / With Welcome Drink ¥4,500 (Tax and service charge not included in price)

Le Jardin Webpage: https://www.hotel-chinzanso-tokyo.com/dining/le-jardin/

Hotel Chinzanso Tokyo

Address: 2-10-8 Sekiguchi, Bunkyo Ward, Tokyo

Official Website: https://www.hotel-chinzanso-tokyo.com/

Kusatsu Onsen's Emerald Green Pudding is a Must-Try After a Dip in the Hot Springs

Kusatsu Onsen is a hot spring resort in Gunma Prefecture that is one of Japan's three principle hot spring locations. The site opened its new Japanese custard dessert (known as 'purin') shop, Kusatsu Onsen Pudding, on August 24, which serves the most incredibly smooth purin you have ever tried, each inspired by the hot springs.

Once you've stepped out of the nice warm hot springs of Kusatsu Onsen you can refresh yourself with a delicious purin packed full of love from the shop which has created a flavour you can only try by travelling to Gunma and going there. Each and every dessert is made fresh in the shop to further elevate its exclusivity as a local speciality.

Kusatsu Onsen Pudding also makes sure to use local and regional ingredients where it can to help support manufacturers and producers. Their purin is also made with a special type of milk sourced from in Gunma known as Haruna milk. The milk is made as delicious as can be by ensuring cows are raised on a healthy natural diet of grass on green pastures in Gunma bathed in plenty of sunlight.

Yuhata Purin

The Yuhata purin is inspired by the hot spring areas where mineral deposits are harvested, its jelly taking on a gorgeous emerald green colour. It's lemon and lime flavoured, the perfect flavour to enjoy when stepping out of the hot water, and one which goes surprisingly well with purin.

Yumomi Purin

The staple purin of the store, this purin is based on yumomi, a method used for cooling the hot water with paddles from which cold water gushes forth. This velvety delight is made with lots of fresh cream and high-quality vanilla beans from Madagascar for added punch.

Furomage

A pun on the word fromage, with furo in Japanese meaning "bath," the Furomage purin uses a rich cream cheese base which has a seriously smooth texture. It's topped off with strawberry jelly for the perfect combination, packing a perfect balance between sweet and sour.

Yuhata Soft (Milk/Yuhata/Mixed)

Choose from the Yuhata soft serve ice cream which is ramune flavoured and inspired by the flowing water of the hot springs or the Haruna milk-mixed vanilla flavoured Milk soft serve. If you can't pick, then choose mixed for a bit of both. A satisfyingly refreshing pick for when you're done in the hot springs.

The shop has plans to sell purin made using bamboo steamers in the near future, so you're pudding can be steamed like yourself after a dip in the water! The wooden spoons used to eat the desserts are also made in the image of the paddles used in yumomi too.
RELATED ENTRIES
NAKED SAKURA AQUARIUM: Cherry Blossoms and the Sea Come Together at Tokyo's Maxell Aqua Park

Maxell Aqua Park Shinagawa has announced the holding of a new exhibition entitled "NAKED SAKURA AQUARIUM" which will run at the Tokyo-based aquarium from March 1, 2020 to April 19, 2020.

Offering "cutting-edge Tokyo entertainment," the exhibition is combined music, lighting, and visuals with living beings. Using the latest in leading edge tech, visitors will be treated to a visual treat of animals living harmoniously with the season. The exhibition promises you will notice something new with each visit. Enter a world of spring like never before as cherry blossoms and the ocean come together through digital art.

Cherry Blossom Tayori

The entrance to the aquarium will be in full bloom with cherry blossoms. The water tanks in the centre will be perfectly pink and house madai snapper, a type of fish also nicknamed "sakura-dai" around this season.

Spilling Cherry Blossoms

This area will be like an atrium, with water tanks and showcases lined up beautifully next to each other and decorated with cherry blossom art flowers. The water tanks, which bring to mind the image of a "banquet," will house sakura-dai, sea goldie, and other fishes.

Dancing Cherry Blossom Garden

In the immersive Patterns area, you can see the "possibilities" of the four seasons as digital art works to combine a seasonal landscape with the sea creatures on display.

Also in the Dancing Cherry Blossom Garden will be Cape penguins who will put on a performance using their physical abilities. The performance, which is split into two parts, will make use of projection mapping. The first part will see the bloom of yaezakura cherry trees, while the second part will have jacaranda, also called the "purple cherry blossom," a flower that blooms in South Africa where Cape penguins originate.

Dolphin Performance Day Version – Cherry Blossom Dance

The daytime dolphin performance sees visitors gathering in the amphitheatre. This interactive performance is inspired by springtime banquets and Hanami flower-viewing. Enjoy seeing the dolphins dance high-speed to the rhythm of Japanese rock music.

Dolphin Performance Night Version – Cherry Blossom Story

The nighttime dolphin performance uses the water, lighting, visuals, and music to celebrate cherry blossoms in the evening. Enjoy a more delicate, but powerful performance from the dolphins, and see the flowers in all their beauty.

Jewellery Fish Rumble

The ceiling and walls of the spacious Jewellery Fish Rumble area all have reflective mirror surfaces. Countless pink and blue illuminations light up this evening cherry blossom-themed area, where you can enjoy a digital Hanami experience together with the jellyfish.

Katou Flower Lantern

The NAKED SAKURA AQUARIUM cafe and bar is adorned with a cylindrical water tank with illuminated coral. The cafe/bar is inspired by Katou, which is when the evening light feels like it is being lit up by fully bloomed cherry blossom flowers. The menu includes a selection of cherry blossom and matcha drinks, as well as a selection of sweet treats perfect for the Hanami season.

3 Dango & Mini Taiyaki – ¥500 (Red Bean Paste/Cream)

Sakura Mizu-warabi Rice Cake – ¥500

Enjoy a completely different kind of Hanami experience at Maxwell Aqua Park.

*Photos are for illustrative purposes only

Information

NAKED SAKURA AQUARIUM at Maxell Aqua Park Shinagawa

Running: March 1, 2020 – April 19, 2020
Address: Shinagawa Prince Hotel, 4-10-30 Takanawa, Minato Ward, Tokyo
Opening Hours: 10:00-22:00
Prices: General (High School Students and Older) ¥2,300 / Elementary-Middle School Students ¥1,200 / Children (4+ Years) ¥700
Exhibition Page: http://www.aqua-park.jp/special/snowaquarium2019/en_index.html

Maxell Aqua Park Shinagawa Official Website: http://www.aqua-park.jp/aqua/en/

URBAN SENTO: The New Brand Making Japanese Bath House Clothing Stylish

"JAPAN MADE PROJECT" is a project launched by Japanese apparel shop URBAN RESEARCH which aims to revitalise regions around Japan by building local communities with businesses and creators around the country while also looking to take a step back to reconsider what is appealing about each of those regions.

As part of this new project, URBAN RESEARCH has announced its plans to establish "JAPAN MADE PROJECT TOKYO" on March 20, 2020. Focusing on Tokyo, this branch of the project will see the launch of "URBAN SENTO." This will focus on the potential of sento, or "bath houses," in the city, which will also include a new line of bath house clothing made in collaboration with Kosugi-yu a sento located in the Tokyo district of Koenji.

Public bath houses play an important part in Japanese culture by contributing to people's mental health and creating communities. This is especially so in a city as busy as Tokyo. That's where URBAN SENTO comes in, which will encourage the rediscovery of the city's appealing culture through sento.

Pre-sales for the new clothing line opened on the URBAN RESEARCH online store on February 14, 2020. It features a collection of must-have items for the bath house, whose message is to spread the bath house lifestyle.

Apparel

To ensure the clothing is comfortable as bath-wear, the collection is made from high quality cotton provided in collaboration with HAAG, a brand managed by Smile Cotton. This cotton is nice and soft and does not rub against the skin. Smile Cotton's materials are even endorsed by the Japan Atopic Dermatitis Patients Association.

Crew Neck T-Shirt – ¥7,700 (Tax Included) | Sizes: Small/Medium/Large | Colours: White/Light Grey/Black

One Piece – ¥13,200 (Tax Included) | Sizes: Small/Medium | Colours: White/Light Grey/Black

Short Pants – ¥12,100 (Tax Included) | Sizes: Small/Medium/Large | Colours: White/Light Grey/Black

ZIP Parker Hoodie – ¥16,500 (Tax Included) | Sizes: Small/Medium/Large | Colours: White/Light Grey/Black

Pouch (Medium Size) – ¥3,080 (Tax Included) | Colours: White/Navy/Orange

The mesh pouch can be taken into the bath with you. Put your shampoo or other bath products in with you and take a dip.

Miscellaneous Items: IKEUCHI ORGANIC x URBAN SENTO
The bath towels you can use at Kosugi-yu are made by IKEUCHI ORGANIC. They come in two sizes and are incredibly soft on the skin.

Oragnic 120 Bath Towel – ¥5,060 (Tax Included) | Colours: White/Grey

Oragnic 120 Face Towel – ¥1,980 (Tax Included) | Colours: White/Grey

Kimura Soap x URBAN SENTO
The products used for cleaning yourself at Kosugi-yu, as well as what's used for washing the towels, is soap provided by Kimura Soap. This pure soap, crafted by artisans by cooking in kettles, is friendly to the environment and the skin. It can be used at the bath house, in the bath at home, or even for your laundry.

Body Soap (Hinoki Cypress/Lavender) – ¥1,980 (Tax Included)

This body soap gently lathers your skin in bubbles and leaves your skin filling refreshed. Both the hand soap and body soap feel good to use.

The a video and main visual were released for URBAN SENTO, which feature Japanese music artists Yusuke Emoto and Aoi Nogi as the models.

Information

JAPAN MADE PROJECT TOKYO "URBAN SENTO"
Pre-sales: Opened February 14, 2020
Available: URBAN RESEARCH online store
*Only a select number of items are available in the pre-sale

General Sale: March 20, 2020

Available: URBAN RESEARCH online store / URBAN RESEARCH Jinnan / URBAN RESEARCH Namba CITY / URBAN Famima!! Toranomon Hills Business Tower
*Store list subject to change

Official Website: https://media.urban-research.jp/news/61847/

'SAKURA Romantic Tea Party' is Q-pot CAFE. Omotesando's Newest Afternoon Tea Experience

Q-pot. has revealed its new "SAKURA Romantic Tea Party" line-up which is set to be served at Q-pot CAFE. in Omotesando, Tokyo from March 1, 2020 for a limited time.

The cherry blossom pink coloured and flavoured line-up includes a glamorous afternoon tea set, limited-edition parfaits, plated goodies, drinks, and more. "Romantic" is the key word for this beautiful Japanese springtime assortment.

Romantic SAKURA Parfait w/ Drink – ¥1,850 (Tax Included)

The tall Romantic SAKURA Parfait is layered with a mix of both Japanese and Wesrern flavours, built up delicious with cherry blossom cream cherry blossom petal-laced jelly, houjicha tea sauce and more, all of which is topped off with cherry blossom cookies and meringue.

Romantic SAKURA Mont Blanc Plate w/ Drink – ¥2,060 (Tax Included)

This plate of delight features a soft mont blanc made with cherry blossom bean paste cream, rich matcha chocolate, Japanese waguri chestnut, and chestnut cream. Q-pot. CAFE offers a selection of original macarons too which you can pick from including strawberry, chocolate, lemon, and melon. Feel the call of Japanese spring with this romantic cherry blossom mont blanc.

Romantic SAKURA Afternoon Tea Set w/ Drink – ¥2,400 (Serves 1) (Tax Included) *Photo shows tea set for two

Simply put: a colourful pink and romantic afternoon tea set.

The top tier is decorated with cherry blossom St. Honoré cakes made with gorgeous cherry blossom cream, peach bavarois, strawberry cookies, and rich cream ganache-filled biscuits.

The bottom tier includes fat croissants filled with duck pastrami and cucumber that has been dressed with white wine vinegar. They're served together with a white asparagus cream potage soup and skewered olives, mini tomatoes and pickles, creating a truly gourmet addition to your afternoon tea experience.

Romantic SAKURA Berry Blossom Tea (Hot/Iced) – ¥750 Each (Tax Included)

There's also a cute pink cherry blossom tea that can be served hot or iced. It's made using Q-pot CAFE.'s popular "Flower Garden" flavour which has a refreshing after taste as well as a floral and fruity sweet scent. Added to it is cherry blossom and raspberry flavouring which mixes deliciously with the milk.

Hanami Party Plan – ¥3,000 Per Person (Tax Included) *Reservation-only

You can also book a special hanami party plan which adds a sparkling beverage to the afternoon tea set together with a a cherry blossom card and a crunchy meringue. You must reserve for 2+ people, making it perfect for enjoying together with a friend or special someone.

It's not long until March now, meaning springtime, cherry blossoms, and Hanami flower-viewing is just around the corner in Japan. Why not celebrate romantically at Q-pot CAFE.?

Information

SAKURA Romantic Tea Party

Running: March 1, 2020 – April 26, 2020

Online Reservations: Now Open

*Afternoon tea set and hanami plan to be served until March 29, 2020

Q-pot. Omotesando

Address: 3-4-8 Jingumae, Shibuya, Tokyo

Opening Hours: 11:00-20:00 (Last Orders 19:30)

Closed: New Year's Holidays

Official Website: https://www.q-pot.jp/eng/

Tokyo Cherry Blossoms 2020: Hotel Gajoen Tokyo Reveals Cherry Blossom Food Menu

Hotel Gajoen Tokyoーwhich is both a museum and hotelーhas announced its plans to serve up cherry blossom themed food at its numerous restaurants this spring beginning in March.

Hotel Gajoen Tokyo is situated along Meguro River, which is one of the most famous cherry blossom spots in Tokyo during springtime and Hanami season. To chime in this year's sakura season, the hotel's restaurants are preparing a selection of gourmet cherry blossom food and desserts.

Sakura Dining – From ¥7,000 (Before Tax/Service Charge) @ RISTORANTE "CANOVIANO" / Serving: March 20, 2020 – April 5, 2020


Dine in style at RISTORANTE "CANOVIANO" where they're serving up their 'Sakura Dining' course. Based on the idea of a cherry blossom bento meal, the heapfuls of veggies conjure up the image of the budding flowers of springtime.

Sakura Lunch – ¥5,000 (Before Tax/Service Charge) @ RISTORANTE "CANOVIANO" / Serving: March 16, 2020 – April 10, 2020


An assortment of hors d'oeuvres such as the "Cherry Blossom Carpaccio," "Sakura Ebi Pasta," and other spring-inspired delights.

Sakura Afternoon Tea – ¥4,000 (Before Tax/Service Charge) @ New American Grill "KANADE TERRACE" / Serving: March 14, 2020 – April 12, 2020


Treat yourself to a luxurious afternoon tea with cherry blossom bon bon chocolates, panna cotta, and moreーand wash it all down with a cup of floral cherry blossom tea. Available this spring only.

SAKURA LADY – ¥1,200/ Shizuku Sakura drops – ¥1,000

KANADE TERRACE also has two cherry blossom cocktails: the "SAKURA LADY" (¥1,200) and "Sakura Drops" (¥1,000). These drinks are inspired by blooming cherry blossoms and dancing cherry blossom petals. The "SAKURA LADY" is a gin-based White Lady cocktail.

Sakura – ¥600 (Tax Included) @ PATISSERIE Lien 1928 / Serving: From March 1, 2020

This luxurious dessert is surrounded by white chocolate and is made up of strawberry biscuit topped with strawberry jam and cherry blossom cream, creating a tempting and extravagant fragrance of strawberries and cherry blossom flowers. It also contains a bit of jelly with Japanese sake in it which adds a full-bodied flavour to the overall dessert.

Experience Japanese spring in luxury this year at Hotel Gajoen Tokyo.

Hanami in Japan 2020: Bite-Size Sushi Hanami Bento Lunch Box Releasing in Ginza

SHARI and SHARI THE TOKYO SUSHI BAR in Ginza, as well as CRAFT in Ariake, are releasing the perfect accompaniment to your hanami flower-viewing experience in Japan this spring: the "Hanami Roll Sushi Bento" lunch box, which consists of 36 bite-size sushi pieces made up of 12 different kinds of sushi. It will be available February 18 to April 30.

Hanami Roll Sushi Bento (36 Pieces/Serves 3-4): ¥4,500 (Tax Included)

As soon as your take the lid off this colourful assortment of rolled sushi, you'll find yourself reaching for your camera to snap a photo for Instagram. Each piece is 3cm in diameter and so is deliciously bite-sized. The line-up includes four new kinds of sushi rolls conceived for this release which use seasonal spring ingredients, like sakuradai cherry blossom sea bream, sakura ebi, rape blossoms, fuki giant butterbur, green beans, and moreーas well as eight other types of sushi that are popular classics at each of the three restaurants.

Shrimp Roll

From the four new rolls, we have the sakura ebi shrimp roll, which is served with a gorgeous cherry blossom colour. It's made with shibazuke pickles and vinegared rice, which gives it its colour, and contains, rape blossoms, okra, Chinese yam, and egg. The rape blossoms add a springtime bitterness to the sweetness of the sakura ebi, creating a wonderful combination of flavours.

Beef Butterbur Miso Roll

Then there's the sakuradai roll is wrapped with vinegared tobiko flying fish roe, okra, and cucumber, which is topped with sashimi-style sakuradai cherry blossom seam bream and salty cherry blossom leaves. The spring vegetable and tempura roll has shrimp and green bean tempura mixed with yuzu kosho paste; and finally, the beef butterbur miso roll, which contains beef rib seasoned in a sukiyaki style, finished with sesame seeds, and seasoned with butterbur miso.

The eight popular classics include the wagyu roll sushi seasoned with luxurious truffle oil, Italian roll, duck roll, salmon roll, spider roll (soft shell crab), and more. All of these varied picks go great with wine or champagne.

Hanami Roll Sushi Bento (9 Pieces): ¥1,200 (Tax Included)

The "Hanami Roll Sushi Bento" comes in various sizes. As well as the 36 pieces of 12 sushi types, there's also 18 pieces of 9 types (serves 1-2), and the 9 pieces of 9 types (serves 1).

Reservations are available until 15:00 the previous day. Order yours for your Hanami cherry blossom flower-viewing this year in Japan.

Information

Hanami Roll Sushi Bento

Available:

SHARI (TEL: 050-5357-5354) (Address: Mitsui Garden Hotel Ginza Gochome Floor 2F, 5-13-15 Ginza, Chuo Ward, Tokyo)

SHARI THE TOKYO SUSHI BAR (TEL: 050-5212-7574) (Address: ALBORE GINZA Floor 8F, 2-4-18 Ginza, Chuo Ward, Tokyo)

CRAFT (TEL: 050-5357-5353) (Address: CRAFT Floor 2F, 3-7-2 Ariake, Koto Ward, Kyoto)

Prices:

36 Pieces/12 Types (Serves 3-4 People): ¥4,500

18 Pieces/9 Types (Serves 1-2 People): ¥2,400

9 Pieces/9 Types (Serves 1 Person): ¥1,200

Reservations

Reservations can be made via telephone or in-store until 15:00 the previous day.

*Reservation Window: Telephone 10:00-20:00 / In-Store 12:00-22:30

*Depending on the ingredient stock, reservations may be made on the same day

*The Hanami Roll Sushi Bento is for takeaway only and cannot be eaten in the restaurant

Yellow Coloured Minnie Mouse Cafes to Open in Tokyo, Osaka, Nagoya & Fukuoka

A new line of Minnie Mouse cafes are set to open in Tokyo and Osaka from February 28, 2020 and Nagoya and Fukuoka from February 29, 2020 for a limited time. Named "OH MY! MINNIE MOUSE," the cafes are an official collaboration between Disney and the Japanese cafe chain OH MY CAFÉ.

The cafe takes on the theme of Minnie Mouse being a living, breathing icon of today with a positive lifestyle. This is represented through the yellow colouring of the cafe, which features her iconic polka dots as well as ribbon taking on a yellow colour. Tuck into a cute menu line-up and get your hands on some cafe-exclusive Minnie Mouse merchandise.

Original Menu

Cheerful Burger – ¥1,990

This healthy burger is packed full of vegetables with a black bun made in the image of Minnie's silhouette. Feel as energised as Minnie with one bite of this tasty burger.

Beef Hash Ribbon Rice – ¥1,390

Inspired by Minnie Mouse's iconic ribbon, this hearty dish is a beef stroganoff plated with rice and veg. The ribbon is so cute it almost seems a waste to eat!

Fruit Sandwich – Single ¥990/ With Plate ¥2,790

An absolute must-order if you're wanting a dessert. This sandwich is piled with fresh fruits creamy yoghurt, sprinkled with poppy seeds, and doused in lemon juice.

Fizzy Lemon Squash – Single ¥690 / With Coaster ¥1,390

Charge yourself up with this fizzy lemonade and its refreshing aftertaste.

Relaxing Chamomile Tea – Single ¥490 / With Mug ¥2,090

Kick back and relax after your meal with a cup of chamomile tea♡

Original Merchandise

Heart Badge (8 Designs/Chosen Randomly) – ¥500

Folder – ¥350

Lunch Mat (6 Designs/Chosen Randomly) – ¥650 (*Table reservation required)

Those who book a table in advance will be given one of six possible lunch mats chosen randomly.

If you're in Japan for the spring, then why not stop by the OH MY! MINNIE MOUSE cafe for a Disney treat?

©Disney

Information

OH MY!MINNIE MOUSE

Locations/Dates

Tokyo: OH MY CAFE TOKYO (Tokyu Plaza Omotesando Harajuku Floor 3F, 4-30-3 Jingumae, Shibuya, Tokyo)

Running: February 28, 2020 – April 12, 2020

Osaka: kawara CAFE&DINER Shinsaibashi (Shinsaibashi OPA Floor 9F, 1-4-3 Nishi-Shinsaibashi, Chuo Ward, Osaka, Osaka Prefecture)

Running: February 28, 2020 – April 19, 2020

Nagoya: kawara CAFE&KITCHEN Nagoya PARCO (Nagoya PARCO South Building Floor 5F, 3-29-1 Sakae, Naka Ward, Nagoya, Aichi Prefecture)

Running: February 29, 2020 – April 26, 2020

Fukuoka: Kawara CAFE & KITCHEN KITTE Hakata (KITTE Hakata Floor 9F, 9-1 Hakataekichuogai, Hakata Ward, Fukuoka)

Running: February 29, 2020 – March 28, 2020

"OH MY! MINNIE MOUSE" OH MY CAFE Booking Website: https://mm.ohmycafe.jp/

J-Pop Group Perfume to Open Fashion Pop-Up Shop 'Perfume Closet' at Laforet Harajuku

Worldwide famous Japanese pop group Perfume are taking their fashion project "Perfume Closet" to Laforet Harajuku where it will run in a pop-up shop from February 20-26 this year.

Perfume Closet is a fashion project helmed by Perfume which aims to connect with fans through Perfume's music by making outfits. This is the fourth time Perfume Closet has opened, and will feature a line-up entitled "Perfume Closet 2020SS" which is part of what Perfume are calling "Phase 2," which started in January this year and centres on clothing. It follows on from "Phase 1" which featured a line-up of miscellaneous items.

SATIN COMBI TRENCH COAT – ¥49,500 (Tax Included) / FLOWER PLEATS DRESS – ¥44,000 (Tax Included)

SHEER COMBI KNIT ¥17,600 (Tax Included) / 2 WAY PLEATS SKIRT ¥35,200 (Tax Included)

RELAX WEAR (LADIES) – ¥16,500 (Tax Included) / PLEATS SLEEVE TEE (WHITE) – ¥9,900 (Tax Included) / SHEER COMBI RELAX PANTS – ¥22,000 (Tax Included)

The pop-up shop will stock a plethora of items made by the Perfume members, who worked on the designs, chose the materials, and crafted the silhouettes. It includes everything from coats to one pieces, blouses, bottoms, as well as unisex items men can wear too like pants, shirts, and more.

Fans of Perfume and fans of Japanese fashion aren't going to want to miss out on the new Perfume Closet, open for one week only starting next Thursday!

Information

Perfume Closet

Running: February 20, 2020 – February 26, 2020

Location: Laforet Harajuku (Floor 2F CONTAINER)

Laforet Harajuku Official Website: https://www.laforet.ne.jp/

Taro Okamoto's Prints Exhibition to Run at Taro Okamoto Memorial Museum in Tokyo

The Taro Okamoto Memorial Museum has announced a new exhibition entitled "Taro Okamoto's Prints" which will run at the Tokyo-based museum from February 26 to June 28 this year.

Taro Okamoto employed many channels to try and bring art into the lives of the people. His range of expression was diverse, made up of countless genres, including the Tower of the Sun.

One form of media that Taro poured his talents and energy into was prints, ranging from lithography to etching, silkscreen, woodblock, and so on.

For Taro, art was synonymous with life and living, which he expressed over his lifetime, and which will be shown in the first ever print exhibition of his work.

Information

Taro Okamoto's Prints

Running: February 26, 2020 – June 28, 2020

Opening Hours: 10:00-18:00

LOcation: Taro Okamoto Memorial Museum (6-1-19 Minamiaoyama, Minato City, Tokyo)

Access: 8-minutes on foot from Omotesando Station (via the Ginza Line, Chiyoda Line, or Hanzomon Line)

Price: General ¥650 / Elementary School Children ¥300

Official Website: http://www.taro-okamoto.or.jp/en/

Exhibition Page: http://www.taro-okamoto.or.jp/en/exhibition/next.html

Starbucks Reserve®︎ Roastery Tokyo to Release Cherry Blossom Spring Drinks and Merchandise

Starbucks Reserve®︎ Roastery Tokyo boasts the most incredible location, sitting by the side of Nakameguro, one of Tokyo's most famous spots for seeing the cherry blossoms in spring.

This year, the coffee roastery's "Sakura Season" is set to begin on February 15, when its cherry blossom-inspired merchandise collection is released, along with a line-up of pink beverages and food.

The official Starbucks sakura merchandise ranges from tumblers and mugs to a key ring, handkerchief, and more, for a total of 10 items.

Strawberry Chia Oolong – ¥900

Poppun Sakura Jasmine Tea – ¥950

Floating Blossom – ¥900

Six beautiful beverages from last year's Sakura Season at Starbucks are also making a return from the Teavana™️ brand, made with delicate and soft cherries, hibiscus, and tea leaves as refreshing as green grass.

Clockwise From Left: Gianchetti & Sakura – ¥880 / Mini Panettone Sakura – ¥680 / Cornetti Sakura – ¥380 / Maritozzo Sakura – ¥540

Italian bakery Princi®︎ is also heading to Japan for the first time to serve up Italian food culture to people at Starbucks Reserve®︎ Roastery Tokyo. Enjoy the floral taste of cherry blossoms done in a Princi®︎ way.

Heading to Tokyo for Hanami and the cherry blossoms? Then make a stop at Starbucks Reserve®︎ Roastery Tokyo for this year's Sakura Season.

Information

Starbucks Reserve®︎ Roastery Tokyo Sakura Season

Release Date: February 15, 2020

Location: Starbucks Reserve®︎ Roastery Tokyo

*The Princi®︎ products will also be served at the Starbucks Reserve®︎ Store at Ginza Maronie-dori

Official Website: https://www.starbucks.co.jp/press_release/pr2020-3360.php

IKEA Harajuku to Open in April 2020 as IKEA Japan's First Central Tokyo Branch

IKEA Japan has announced the opening of its first central Tokyo branch. Located inside WITH HARAJUKU, and just a 1-minute walk from Harajuku Station, the store will officially open its doors on April 25, 2020.

Harajuku is the hub of Japanese youth fashion culture, and is known the world over as one of the main tourist spots for those travelling to Tokyo. IKEA is taking its Swedish roots and planting them in the ground of central Tokyo with its spacious new storeーwhich will also have its own cafe.

If you're travelling to Tokyo, make sure to pay IKEA Harajuku a visit during your inevitable Harajuku shopping spree.

Information

IKEA Harajuku

Address: WITH HARAJUKU, 1-14-30 Jingumae, Shibuya, Tokyo

Grand Opening: April 25, 2020

Access: 1-minute on foot from Harajuku Station via JR Line / 1-minute on foot from Meiji-Jingumae Station via Tokyo Metro

IKEA Japan Official Website: https://www.ikea.com/jp/en/

5 Must-Eat Cherry Blossom Foods & Desserts at Hotels in Tokyo

We're keeping the cherry blossom theme running here on MOSHI MOSHI NIPPON as we approach spring. Today, we're showcasing something for those planning a trip to Tokyo for the cherry blossom and Hanami season: 5 must-try cherry blossom foods and desserts served at hotels across Tokyo.

Sakura Strawberry Afternoon Tea at InterContinental Tokyo Strings


Sakura Strawberry Afternoon Tea – ¥4,800

The fraisier is a strawberry cake said to represent the coming of spring in France. At Rhythmos, a cafe and bar at InterContinental Tokyo Strings, it's served in a glass so you can see all the delicious insides, from the round-sliced strawberries to the beautiful green pistachio mousseline cream. The pure white crémet d'Anjou has a fluffy texture and is mixed with refreshing and sour strawberry and raspberry sauce which elevates the flavour of the fromage blanc.

Other treats to pick from include the cherry blossom ganache tart which has a faint cherry blossom fragrance, cherry blossom and strawberry cream-stuffed macarons, strawberry daifuku, and more―all with spring flavours and colours.

The savoury line-up too offers some elegant and unique items. There's the sandwich wraps which include cherry blossom leaf-topped grilled chicken with a lining of shredded dried plum, strawberry ceviche with grilled scallops, and much more.

▶︎Sakura Strawberry Afternoon Tea

Running: March 1, 2020 to April 30, 2020

Location: Rhythmos Café and Bar (InterContinental Tokyo Strings)

Time: 14:00-18:00 (Last Orders 16:30)

Price: ¥4,800 per person

Official Website: https://intercontinental-strings.jp/?updatelang=yes

InterContinental Tokyo Strings

Address: 2-16-1 Konan, Minato Ward, Tokyo

Official Website: https://intercontinental-strings.jp/?updatelang=yes

For more details, check out our previous article here: Cherry Blossom Themed Menu to be Served at InterContinental Tokyo Strings in Spring 2020

Cherry Blossom Afternoon Tea at Hotel Chinzaso Tokyo


Cherry Blossom Afternoon Tea

On the top plate is a collection of four pink and white desserts. This includes some tempting macarons which are filled with a cherry blossom ganache. The macarons themselves are vanilla flavoured, packed with cherry blossom cream, and have prints of delicate cherry blossom flowers on them.

On the lower tier are crunchy pie sandwiches filled with a cream cheese that is laced with cherry blossom leaves, while the bottom tier is an assortment that includes refreshing shrimp, grapefruit and asparagus sandwiches, and more.

▼Cherry Blossom Afternoon Tea

Running: February 17, 2020 – April 12, 2020
Time: 12:00-18:00
*On weekdays between January 6, 2020 to February 28, 2020, the afternoon tea will be served from 14:30-18:00 due to the holding of the sweets buffet
Location: Le Jardin at Hotel Chinzaso Tokyo
Prices: Cherry Blossom Afternoon Tea ¥4,000 / With Welcome Drink ¥4,500

Hotel Chinzaso Tokyo

Address: 2-10-8 Sekiguchi, Bunkyo Ward, Tokyo

Official Website (English): https://www.hotel-chinzanso-tokyo.com/

For more details, check out our previous article here: Cherry Blossom Afternoon Tea in Japan: Hotel Chinzaso Tokyo's Beautiful Floral Menu

Sakura Picnic Basket at Grand Hyatt Tokyo's Steak House "The Oak Door"


Sakura Picnic Basket – ¥5,500

The Oak Door is noted for its use of high quality ingredients prepared in a dynamic way. This spring, they have the perfect pick to give you that feeling that the Japanese Hanami season is here with a cherry blossom picnic basket. This stylish selection has the lot: food, dessert, glasses, and cutlery. The burgers bear pink buns which are stuffed with prime beef patties, pastrami beef, and veg. They also have skewered vegetables too like radishes. Seeking that springtime sensation? Then order your very own Sakura Picnic Basket!

▼Sakura Picnic Basket at Grand Hyatt Tokyo's Steak House "The Oak Door"

Running: March 1, 2020 – Mid April 2020
Time: 9:00〜22:00

Price: ¥5,500

Location: The Oak Door (Grand Hyatt Tokyo Floor 6F)

Grand Hyatt Tokyo

Address: 6-10-3 Roppongi, Minato, Tokyo

Official Website (English): https://www.hyatt.com/en-US/hotel/japan/grand-hyatt-tokyo/tyogh/offers

Gorgeous Springtime Cherry Blossom Set at Keio Plaza Hotel

At eight of Keio Plaza Hotel's restaurantsーwhose menus span traditional Japanese dishes, French food, Chinese cuisineーthey are cooking up their own unique cherry blossom servings.


"Kadode" Lunch & Dinner – ¥15,500 @ Soujuan

A traditional kaiseki-style Japanese course consisting of a bounty of luxury ingredients like Japanese Black wagyu beef, caviar, and more.


"contente" French Lunch – ¥9,000 @ Duo Fourchettes

You need only look at the dishes served at Duo Fourchettes to understand the level of quality and beauty that goes into their dishes. This French lunch line-up is packed with plenty of seasonal spring ingredients, and there's even a succulent strawberry-packed dessert to indulge in.

▼Gorgeous Springtime Cherry Blossom Set at Keio Plaza Hotel

Running: March 1, 2020 – April 30, 2020
Prices:
"Kadode" Lunch & Dinner – ¥15,500 @ Soujuan
"contente" French Lunch – ¥9,000 @ Duo Fourchettes

Keio Plaza Hotel
Address: 2-2-1 Nishi-Shinjuku, Shinjuku, Tokyo

Official Website (English): https://www.keioplaza.com/

Spring Sakura Sweets & Pastries at Grand Nikko Tokyo Daiba

At the "Bakery & Pastry Shop," which is managed directly by the hotel, they have a beautiful choice of desserts perfect for Hanami flower-viewing.


Sakura Opera – ¥610

This three-layered cake is made up of matcha joconde biscuit, adzuki and cherry blossom butter cream, and strawberry jelly. It's also topped with white chocolate by French premium chocolate company Valrhona.


Spring Milk Cream – ¥320

The pastry of these eclairs are made with plenty of milk and are filled with a homemade cherry blossom milk cream. The cherry blossom petals on top are pickled in salt to give a slight salty bite, contrasting deliciously with the sweetness of the cream.

▼Spring Sakura Sweets & Pastries at Grand Nikko Tokyo Daiba

Running: March 1, 2020 – April 30, 2020
Time: 10:00-20:00
Location: Bakery & Pastry Shop at Grand Nikko Tokyo Daiba
Prices:
Sakura Opera – ¥610
Spring Milk Cream – ¥320

Grand Nikko Tokyo Daiba
Address: 2-6-1 Daiba, Minato Ward, Tokyo
Official Website (English): https://www.tokyo.grandnikko.com/eng/

Which of these picks has your mouth watering the most? If you're travelling to Tokyo for the springtime cherry blossoms, why not book at one of these hotels and start your trip with a delicious sakura treat?

Take a Plunge at Natural Hot Spring Heiwajima Near Haneda Airport

When it comes to recommending things to do when travelling to Japan, one of the biggest attractions for tourists is the country's "onsen," or hot springs. If you're landing into Haneda Airport, or happen to be around that area when exploring Tokyo, then we can't recommend Natural Hot Spring Heiwajima enough.

Located inside BIG FUN Heiwajima, this hot spring facility commemorated its 30th anniversary last year, and underwent a revamp before reopening on March 28, 2019. There actually aren't that many large-scale hot spring spots in Tokyo, so to have one so close to Haneda Airport makes it the perfect location for your sightseeing and must-visit agenda.

Direct shuttle bus from Haneda Airport and equipped with suitcase lockers

A shuttle bus runs directly from Haneda Airport to Natural Hot Spring Heiwajima which takes just 15-minutes and can be boarded in the early morning and late at night. Additionally, the hot spring facility is also equipped with suitcase lockers if you have heavy luggage with you. It also has a lounge you can relax in, and the entire building has free Wi-Fi. Hotel check-ins are generally from 15:00. If you arrive early in the morning, you can take a dip and relax in a nice warm onsen to unwind before heading to your hotel.

Bus Details: https://www.heiwajima-onsen.jp/en/bus/

You can enter the hot springs with a tattoo seal

When going to an onsen in Japan, many places forbid entering if you have a tattoo, no matter how small. Some places let you cover them up before entering, and Natural Hot Spring Heiwajima is one of those places. You can purchase a tattoo seal for ¥200 (10cm x 15cm) to cover your tattoo, and then you're free to enter and enjoy your toasty bathe.

One of Tokyo's best natural hot springs

Heiwajima Hot Springs is one of the largest hot spring facilities in Tokyo, with 150 tons of hot spring water bubbling up from 2000 meters underground every day. The water leaves your skin smooth and moisturised.

Experience the spacious Viewing Spa (6:00 am – 2:30 am the following day)

The Viewing Spa is open late until 2:30am everyday, where guests can plunge themselves into the thermal water bath or sit in the hot stone bath. We recommend the stone bath for those who aren't good with super hot saunas as it's set at a comfortable temperature. There is also a highly-carbonated bath which helps open small blood vessels and promotes good blood flow which helps boost metabolism. Carbonated water is also said to beauty the skin and restore moisture.

Enjoy a variety of baths at the Shining Spa (9:30 am – 6:00 am the following day)

The Shining Spa is home to a variety of different baths including a hydro-jet Jacuzzi-style, reclining-style, and more. The one I personally enjoyed the most was the Micro Bubble Togoal Bath which wraps your body in delicate bubbles and smooth-like hot water. You feel really refreshed afterwards.

Get comfy in one of the relaxation areas

Natural Hot Spring Heiwajima offers plenty of relaxation spaces after your bath, including a restaurant, a lounge with a TV and reclining chairs, and more. They even give you a towel blanket in the lounge, so I ended up dozing off. There's a female-only lounge space too.

This is just a small look at the many services offered at Natural Hot Spring Heiwajima. Visit their website for more information, and be sure to pay it a visit when travelling via Haneda Airport to relax after your long flight.

Information

Natural Hot Spring Heiwajima

Address: BIG FUN Heiwajima (Floor 2F), 1-1-1- Heiwajima, Ota Ward, Tokyo

Open: 24 hours a day all year

Bathing Hours:

Hot Springs @ 9:30 am – 6:00 am the following day

Viewing Spa @ 6:00 am – 2:30 am the following day

Hot Stone Bath @ 10:00-23:00

Full Relaxation Price Plan

Adults: Weekdays ¥2,000 / Weekends & Holidays ¥2,300

Children: Everyday ¥1,000 (From 3 years old to elementary school-age) 

Infants: Everyday ¥300 (Under 3 years old)

*Covers 7 hours allotted time and includes spa wear and towel

Additional Fees

Midnight Fee: ¥1,500 (Adults/Children) from 2:00 am – 5:00 am

Hot Stone Spa Fee: ¥500 (Adults) *Includes towel, spa wear, and hot drink

Full Price List: https://www.heiwajima-onsen.jp/en/price/

Access – By ¥100 Shuttle Bus

①Take the bus for Heiwajima Natural Hot Springs departing from the #6 bus stop at the East Exit of JR Omori Station. (about a 10-minute ride)

②Take the bus for Heiwajima Natural Hot Springs departing from Keikyu Heiwajima Station. (about a 3-minute ride)

Additional Methods: https://www.heiwajima-onsen.jp/en/access/

Official Website: https://www.heiwajima-onsen.jp/en/