KAWAII MONSTER CAFE Halloween 2019: Vampires, Werewolves, Frankenstein's Monster & More On the Menu
Harajuku hot spot the KAWAII MONSTER CAFE will hold a Halloween event entitled "KAWAII HARAJUKU Halloween PARTY 2019" for the entire month of October.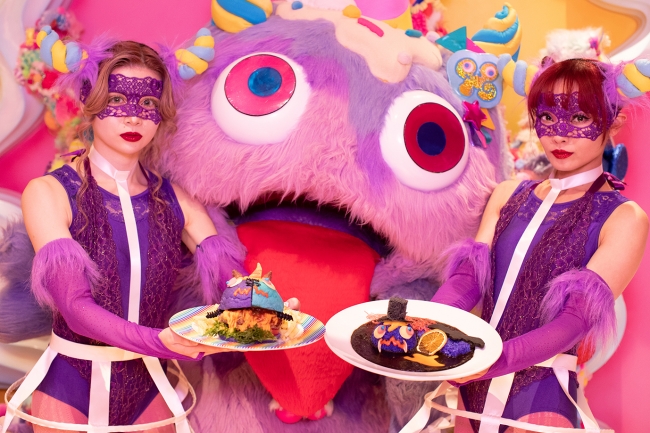 The Halloween season is almost upon us in Japan, where the spooky season's festivities often begin a little earlier in October as cafes, restaurants and shops start serving up their own unique Halloween-themed menus.
This year at the KAWAII MONSTER CAFE, the Monster Girls are inviting you to their kaleidoscopic Halloween party. From vampires to werewolves, Frankenstein's monster and beyond, prepare to encounter a Halloween like no other with a line-up of colourful dishes.
Colourful Pop Burger: Frankenstein's Monster – ¥1,580 (Before Tax)
The cafe's mascot character Mr. Choppy has been turned into Frankenstein's monster! This fat and juicy burger is filled with salsa sauce and melted cheese. Even the bun is cute and colourful too!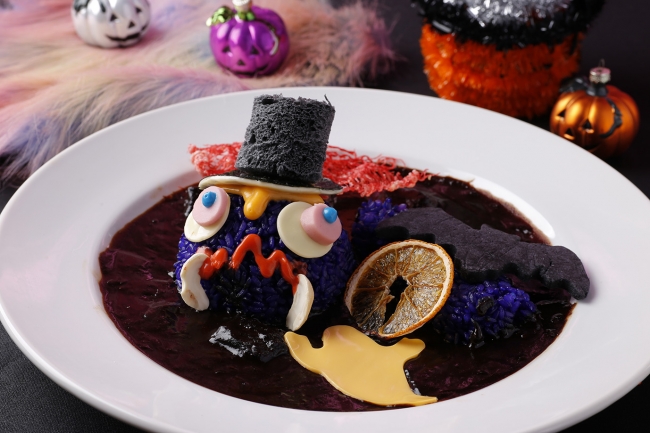 Choppy Baron's Dark Curry – ¥1,400 (Before Tax)
This time, Mr. Choppy has turned into a vampire for this pitch-black curry, laced with other Halloween colours too like purple and orange. This vivid plate isn't just tasty, its appearance has life to it too.
Nameless Cemetery Cheese Glutton – ¥3,200 (Before Tax) *Recommended for 3+ people
This surreal dish is a giant breaded coffin filled with gratin, rainbow-coloured cheese, and white sauce. Surrounding it are bats, eyeballs, and gravestones.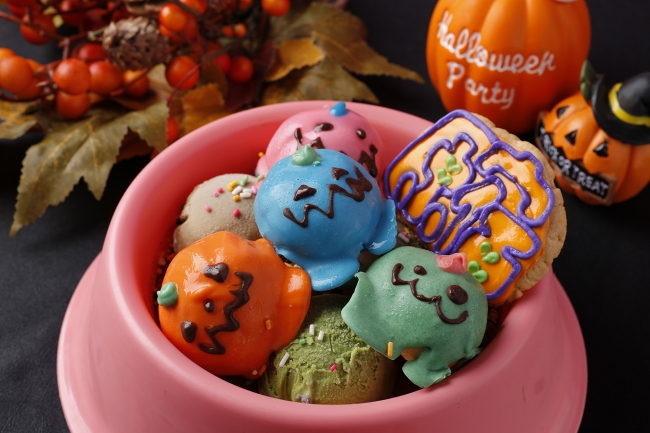 Monster Bongo Bongo Tiramisu – ¥1,080 (Before Tax)
An assortment of ice creams like matcha and houjicha all coated in Halloween-coloured chocolate. Hidden underneath the ghoulish pile is colourful cereal.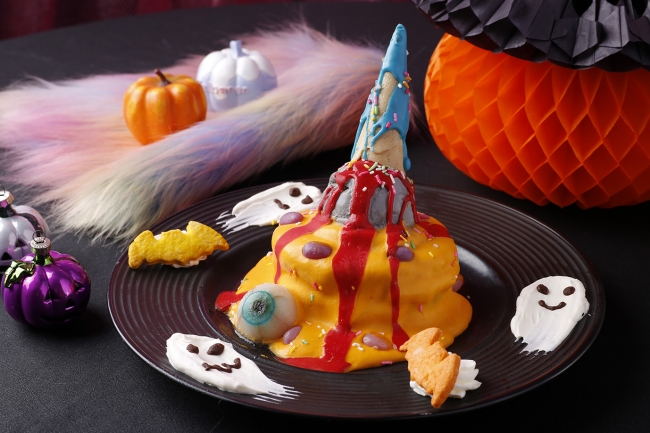 Midnight Pumpkin Chiffon Cake – ¥1,580 (Before Tax)
A fluffy chiffon cake topped with black sesame ice cream and a pumpkin lathered in pumpkin-flavoured fresh cream. The trickling bloody chocolate completes that Halloween look.
Bark At The Moon – ¥980 (Before Tax)
This adorable wolf dessert appeared during a full moon. It includes a crunchy doughnut on top of which is sat a sweet black sesame mousse werewolf.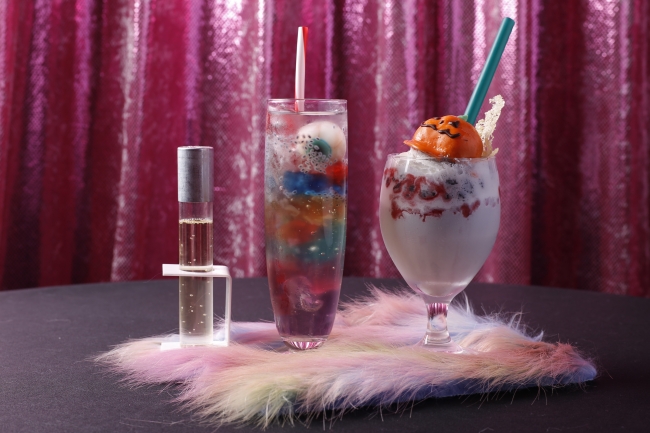 Non-Alcoholic Basil Seed Jelly Cocktail – ¥900 (Before Tax) / Shake Hip Shake Chocolate – ¥950 (Before Tax)
There are two drinks to pick from this Halloween: a dark chocolate shake with a pumpkin floating on top and a cocktail filled with basil seed and jelly for an enjoyable texture. The cocktail can be served non-alcoholic or alcoholic.
There's plenty to look forward to at the KAWAII MONSTER CAFE this Halloween, so if you're in Harajuku this October, don't miss out!
*The food menu is limited to lunch time hours
*The drinks menu is available at all times
Information
KAWAII HARAJUKU Halloween PARTY 2019
Running: October 1, 2019 – October 31, 2019
Address: YM Square Bldg. 4F, 4-31-10 Jingumae, Shibuya, Tokyo
Access: 5-minutes on foot Harajuku Station via JR / 1-minutes on foot from Meiji-Jigumae Station via Chiyoda Line and Fukutoshin Line
TEL/FAX: 03-5413-6142/03-5413-6143
Business Hours
Weekdays & Saturday:
[Lunch] 11:30-16:30 (last entry 15:30 / last orders 16:00 – 90 min stay max)
[Dinner] 18:00-22:30 (last orders 22:00)
Sundays & Holidays:
11:00-20:00 (last orders 19:30)
*During busy times, a max stay time of 2 hours may be implemented.
Official Website: http://kawaiimonster.jp
RELATED ENTRIES
Starbucks Japan Unveils Halloween Dark Night Frappuccino®

Starbucks Coffee Japan has announced a new beverage called the Halloween Dark Night Frappuccino® which will be released at Starbucks branches (*1) across Japan from 17:22 (*2)―the time of sunset when night begins―on October 18, 2019. The coffee chain is also releasing its new "Halloween Masquerade" filter on Instagram (*3).

*1. Select branches not participating.
*2. Roll out time may differ at select branches.
*3. Instagram is a service owned by Facebook, Inc. The above-mentioned filter is not backed or managed by Instagram in any way nor is it affiliated with the service.

The Halloween Dark Night Frappuccino® is themed on an evening masquerade party. It will go on sale when the sun sets at 17:22 on October 18. As the name suggests, the drink itself is black and mysterious like the night, blending together black cocoa powder with white chocolate brownie.

The jet black beverage also has a red hue to it which comes from a sweet and sour red berry sauce made from raspberries, cranberries and strawberries. It's topped with a squirt of fluffy whipped cream, sprinkled with black cocoa powder, and drizzled with more of that red berry sauce to create that Halloween aesthetic. The black cocoa adds a delicious bitterness to the sweetness of the brownie and the sweet and sour mixed berries, creating a mouth-watering flavour combination.

The Halloween Masquerade filter was developed by Starbucks for people's Instagram stories this Halloween. There are four masks to choose from which can be changed by just tapping on the screen. There are other cool Halloween effects on the filter to find too. Something might even pop out of your mouth if you open wide…

Starbucks Japan will also sell the above-pictured Halloween cup stands when the drinks go on sale. Limited in stock, the stands come in black and white, titled Halloween Red Night Frappuccino® or the Halloween Dark Night Frappuccino® respectively. You can buy them separately or as a set.

Experience a spooky masquerade party at Starbucks this Halloween.

Information

Halloween Dark Night Frappuccino®

Price: Tall Size Only – ¥590 (Before Tax)

Running: October 18, 2019 at 17:22 to October 31, 2019 (While supplies last)

Available: At most Starbucks Japan branches

 

Starbucks "Halloween Masquerade" AR Filter

Available: From October 16, 2019 at 10:30 (JST)

How to Use:
・Available from Starbucks Japan's official Instagram profile @starbucks_j

・Download the Instagram app on your phone and access via https://sbux.jp/masq

*The filter will be removed without notice on November 1, 2019

Cup Stands


Running: October 18, 2019 – October 31, 2019 (While supplies last)

Halloween Red Night Frappuccino® / Halloween Dark Night Frappuccino®

Price: ¥990 Each (Before Tax) *Fits Tall size drinks only, Frappuccino® drink sold separately at ¥590

Available: At most Starbucks Japan branches

Starbucks Coffee Japan Official Website: https://www.starbucks.co.jp/

Wear Plain Clothes This Halloween at Shibuya's Jimi Halloween 2019 Event

Worried about what to wear for Halloween this year? No need to panic. If you're spending your Halloween in Shibuya this year, which is known the world over for its incredible Halloween festivities, then head to Tokyo Culture Culture on October 27 where a very unique event is taking place.

Jimi Halloween is an event that takes out the stress of having to go all out for Halloween as people go dressed as ordinary people. It has been held annually since 2014, with the number of attendees growing each year. Over 800 people took part last year, all clad in their plain clothes.

This year's event will be split into three slots, with a capacity of 200 people per slot. Sign-ups begin on October 15 at 12:00pm (JST).

Past Examples

①Situational attire

Beauty salon client

Dressing up as someone doing something has been a popular choice at the event recently. You can come up with some creative ideas that'll make people say, "You came as that?!"

②"I've seen people like that!" attire

Flea market woman

There's always certain types of people that everyone sees, and in Japan this is one of them!

③"I get it, but I don't get it" attire

Hawaii vibe  uncle

You've heard all about them, but have you seen them?

④Work attire

Handing out tissues with pachinko ads on them

Work attire is a go-to at the plain clothes event. It wouldn't be an exaggeration to say that this is the one that started the entire movement.

⑤Miscellaneous attire

Maslow's hierarchy of needs

The final entry is those which are hard to categorise. They serve whatever vibes they are feeling.

Attend this year's event and show off your own unique ideas!

Information

Jimi Halloween

Date: October 27, 2019 (3 Slots / 200 People Per Slot)

 Slot ①: 11:00-14:00 

 Slot ②: 15:00-18:00 

 Slot ③: 19:00-22:00 

★Places are available on a first-come, first-served basis at the website below

Venue: Tokyo Culture Culture (cocoti SHIBUYA 4F, 1-23-16 Shibuya, Tokyo)

Entry: Free (Apply at the link below)

Royal Park Hotel Tokyo Transforms For Halloween 2019

Royal Park Hotel Tokyo in Nihonbashi has begun its Halloween festivities for 2019, including a bone-chilling black and orange food and dessert menu, spooky decorations, a photo spot in the first floor main lobby, and more.

Check out their mouth-watering sweets assortment! Their Halloween Afternoon Tea set is packed full of autumntime flavours, from the glass desserts, to the apple chiboust, chocolate pocket watches with bats on them, adorable monster burgers, and more.

The hotel is also offering a Halloween Dinner Buffet on weekends and holidays decorated in Halloween colours. Pile your tray with figs and blackcurrants, chestnut mousse, pumpkin tarts, and plenty of other tasty treats, all prepared fresh in the kitchen.

This is just a peek into the hair-raising fun happening right now at Royal Park Hotel Tokyo. There's also the Halloween Cocktail Fair, Halloween Sweets & Bread event, and much more.

Spend your Halloween here, or even use it as an opportunity to try wearing your Halloween costume out so you're ready for October 31!

Information

Halloween Afternoon Tea

Running: October 1, 2019 – October 31, 2019

Location: Fontaine (Floor 1F Lobby Lounge)

Price: ¥4,840 Per Person (Tax Included)

Halloween Dinner Buffet (Weekends & Holidays Only)

Running: October 5, 2019 – October 27, 2019

Location: Symphony (Floor 1F Lobby Lounge)

Price: ¥7,260 Per Person (Tax Included) / Seniors ¥6,050 Per Person (Tax Included)

*¥4,235 Per Person (Tax Included) for those aged 4-12 years and 65+

Halloween Cocktail Fair

Running: October 1, 2019 – October 31, 2019

Location: Fontaine (Floor 1F Lobby Lounge) / Royal Scots (Floor B1F Main Bar)

Price: ¥1,936 Per Person (Tax Included)

Halloween Sweets & Bread

Running: October 1, 2019 – October 31, 2019

Location IKI (Floor 1F Sweets & Bakery)

Royal Park Hotel Tokyo

Address: 2-1-1 Nihonbashikakigarachō, Chuo Ward, Tokyo

Official Website: https://www.rph.co.jp/

10 Things You Can Do at the MOSHI MOSHI ROOMS Hotel in Harajuku | Girls' Night In Edition

MOSHI MOSHI ROOMS is a hotel accommodation service run by MOSHI MOSHI NIPPON located in Harajuku and bookable via Airbnb. Our hotel isn't just popular for sleep, however: it has become a hot spot with stylish girls who get together and use it as a party space.

This is our Top 10 list of things you can do in SAKURAーone of the hotel roomsーso you can discover the best way to enjoy your stay in Harajuku.

①Take advantage of the room decor and decorations to snap all the photos you can!

MOSHI MOSHI ROOMS opened its first room SAKURA in December last year, and more recently ORIGAMI in August. From the walls to the furnishing, SAKURA is cherry blossom pink throughout, decked out with countless gorgeous Instagram-worthy spots popular with our female guests.

You can always get a beautiful photo together with the cherry blossom flower monument in the background, located behind the bed and bloomed right up to the ceiling.

The enormous and comfy pink bed is piled full of lots of fluffy cushions. You can take some pretty romantic pictures too when snuggled on top or in the bed.

Photographer: Kayo Sekiguchi

Don't forget about the neon sign either, a symbol of the room and the Japanese kanji character for cherry blossom (桜 sakura). Sit on the sofa in front of it and make use of the sign's lighting to get a more dreamy and fantastical shot.

②Popular Harajuku takeout food perfect for a night at MOSHI MOSHI ROOMS SAKURA

MOSHI MOSHI ROOMS is located in Tokyo's fashion and culture hub of Harajuku, and that means it's within walking distance of some quintessential kawaii and Instagrammable food shops. We've picked out three we think are perfect for ordering takeout to enjoy back in your room at SAKURA.

GOOD TOWN DOUGHNUTS

Smile Mango ¥420 / Raspberry Pistachio ¥400 / Sea Salt Caramel ¥390 (All Tax Inclusive)

GOOD TOWN DOUGHNUTS is a really popular doughnut shop in Harajuku. Their big size doughnuts not only look cute, they're the real deal taste-wise, and are also made with natural yeast, wheat flour from Hokkaido, sea salt sourced in Okinawa, sugar from Tanegashima, and organic oils. They are high-quality doughnuts full of flavour and plenty filling.

GOOD TOWN DOUGHNUTS

Address: J-cube B1F, 6-12-6 Jingumae, Shibuya, Tokyo)

TEL: 03-5485-8827

Opening Hours: 10:00-20:00

No Fixed Holidays

Official Website: http://good-town.com/

AND THE FRIET

Box (2 Friet Types) w/ Dip – From ¥800 (Before Tax)

This French fry shop makes their fries from a variety of carefully selected in-season potatoes, including potatoes from Belgium. They are crunchy on the outside and fluffy in the centre. They're also delicious even when eaten cold, making them a great takeout option. You can pick two types from six varieties for one box, plus a dip of your choice. A perfect party accompaniment.

AND THE FRIET Laforet Harajuku

Address: Laforet Harajuku 2F, 1-11-6 Jingumae, Shibuya, Tokyo
TEL: 03-6434-7568

Opening Hours: 11:00-21:00

No Fixed Holidays (Except when Laforet Harajuku is closed)

Official Website: http://andthefriet.com/

TOAST LUCK

<Macarons> From Left: Soybean Flour / Crunky / Cheese – ¥371 Each (Before Tax)

At TOAST LUCK, you can enjoy a whole range of different South Korean foods, including toast which is their main menu item. They also sell these marble-coloured macarons which are a little bigger than Japanese macarons. There's lots of flavours to choose from, all of which give you a different take on your regular macaron!

TOAST LUCK

Address: 3-27-15 Jingumae, Shibuya, Tokyo

TEL: 03-6812-9499

Opening Hours: 11:00-20:00

No Fixed Holidays

Official Website: https://www.toast-luck.com/

③Line up all your food in your hotel room for a girls' night in

Gather all of your takeout goodies from around Harajuku for a girls' night in at MOSHI MOSHI ROOMS SAKURA! The room has its own kitchen equipped with utensils, a microwave and refrigerator, so you can even prep your own food too.

The living room is nice and spacious so you can really let your hair down and relax. There's a limited number of beds but there's no limit to the amount of people that can stay over, so invite all of your friends along!

④Watch movies on the projector

The room is equipped with an Android TV mobile projector which has Netflix, Hulu, YouTube and other services on it as well as games. There's endless amounts of fun to be had, so grab your snacks and put on a movie or compete together in a game. The screen projects onto the white walls, so you can pick the best spot for viewing.

Projecting it on the wall beside the bed means you can relax while watching films or music videos together.

The cherry blossom pink MOSHI MOSHI ROOMS SAKURA offers a memorable accommodation experience like no other. We will continue the Top 10 list in the next article entitled Birthday Edition.

Remember, if you're looking to stay in Harajuku, be sure to book with MOSHI MOSHI ROOMS.

Models: Aiko / Ringo
Photographer: Haruka Yamamoto
Writer: Sayoko Ishii

Translator: Joshua Kitosi-Isanga

Tokyo's Poop Museum Announces Halloween Event 'MAX UNKO HALLOWEEN'

Unko Museum Tokyo, a poop-themed (unko in Japanese) museum located on the second floor of DiverCity Tokyo Plaza in Odaiba, opened its Halloween event "MAX UNKO HALLOWEEN ~Unko & Dancing Halloween~" last Friday which will run all the way up to October 31. They are serving "max unko kawaii-ness" in this all-new Halloween event.

Unflushed Poop Resurrects For a Poop Monster Parade

At the Unko Museum this Halloween, expect to see nnko idol monsters, unko mummies, and lots of other cute and fashionable unko critters. All of them will be part of a spooky parade together with the museum's mascot character Umberto. Join in as they show the audience how to do the unko dance which the museum created themselves!

Candy Rains From the Unko Volcano

You'll find Halloween decorations all around the Unko Museum for the duration of the event. If you've visited before, you'll be familiar with the Unko Volcano which normally spurts out poop. Well, for Halloween, it will instead offer up candy. Its design has also changed so it's more fitting for the spooky season.

By the way, if you go up to one of the museum staff members and say, "Trick or Unko?" you'll receive a special present. Don't miss out―pluck up the courage and just say those words!

Exclusive Unko Museum Halloween Merchandise

The museum's popular "My Unko Maker" feature, where you sit on a toilet and colourful poop appears at the bottom, will also take on a Halloween theme. Halloween items will also be sold including the above-pictured unko headbands.

Visit the quirky Unko Museum for a Halloween event like no other.

Information

MAX UNKO HALLOWEEN ~Unko & Dancing Halloween~

Location: Unko Museum Tokyo

Address: DiverCity Tokyo Plaza Floor 2F, 1-1-10 Aomi, Koto Ward, Tokyo

Opening Hours: 10:00-21:00 (Last Entries 20:00)

No Fixed Holidays (Except when DiverCity Tokyo Plaza is closed)

Ticket Reservations: https://reserve.ale-box.com/reserve/169

Official Website: https://unkomuseum.com/tokyo

Starbucks Brews The Perfect Potions to Possess Your Heart This Halloween

Starbucks Japan is opening the portal to a whole new realm of flavour from October 11, 2019. Premonitions reveal that two devilishly delicious masquerade-themed drinks are to emerge for the Halloween season and infiltrate the menus of Starbucks branches across Japan. The two drinks called Halloween Red Night Frappuccino® and Halloween Masquerade Raspberry Mocha, are sure to give you an out-of-body experience. 

Just one sip of the Halloween Red Night Frappuccino® will pull you into a masquerade party world. The mysterious full red appearance of this devilish drink is tinged red with a tangy sauce which is a blend of raspberries, cranberries and strawberries. White chocolate brownies have been blended to make the frappuccino base. This is topped with a ghostly cloud of whipped cream sprinkled with dark cocoa powder. Red sauce can be seen trickling down the sides of the cup, tainting the white whipped cream. You will immediately be tricked into treating yourself to this irresistible drink. 

Like a luxury dessert, not only do the colours of the frappuccino contrast, but the sweet fruity tang makes for the perfect contrast with the white chocolate brownie

If your regular Starbucks order is the White Mocha, then make way for your new Hallow-queen: The Halloween Masquerade Raspberry Mocha. This is made with a startling shot of espresso which has a sweet yet tangy mixed berry flavour. This is masked with a white mocha flavour. 

Starbucks has brewed the perfect potions to steal your heart this Halloween. Dare you try one?

* The above image is an illustration.

Information

Halloween Red Night Frappuccino®

Price: (Tall only) ¥590


Halloween Masquerade Raspberry Mocha

* Contains less than 5% raspberry juice

Price: Short ¥450/ Tall ¥490 / Grande ¥530 / Venti® ¥570 

*All prices stated before tax

Available: October 11, 2019 – October 31, 2019

*Sales will end once stock has been depleted.

Available at most Starbucks Cafes across the country 

Website: https://www.starbucks.co.jp/

Top 5 Halloween Treats to Pick Up at Japanese Convenience Stores This Year

October is here, meaning Halloween is right around the corner. If you're not up for dressing up in a costume or going out this year, then you can still get in the Halloween spirit by picking up one of the many Halloween exclusive goodies now being sold at Japanese convenience stores. We've picked out our top 5 favourite for you.

Starbucks® Sweet Caramel Pudding Latte

Starbucks Japan is now stocking its sweet caramel pudding latte across most convenience stores in Japan. The golden-capped cup features a spooky Halloween design, decorated with ghosts, pumpkins and bats. Enjoy Halloween in a cup with the beverage's rich and sweet caramel pudding flavour.

▼Starbucks® Sweet Caramel Pudding Latte

Price: ¥200
Available: Most convenience stores across Japan. Select branches not stocking.

Calbee Jagabee Black Consomme

These crunchy potato sticks are a popular savour snack in Japan. This Halloween, Calbee has coloured their sumptuous sticks black, and made them taste like delicious consomme. This is a 7-Eleven and Ai Group-exclusive. Its cute pot design will have you grabbing one off the shelf without even thinking.

▼Calbee Jagabee Black Consomme

Price: ¥138 (Before Tax)
Available: 7-Eleven and Ai Group

KOIKE-YA Karamucho Hot Chili Flavour

The classic thick-cut Karamucho potato chips have been sprinkled with extra spiciness for that heated kick. The packet features all the familiar faces of Halloween, from a witch to a pumpkin, bats, a graveyard and more. If you're a spice-seeker then this one's for you. Also a 7-Eleven and Ai Group exclusive product.

▼KOIKE-YA Karamucho Hot Chili Flavour

Price: ¥128 (Before Tax)
Available: 7-Eleven and Ai Group

7-Eleven Marshmallow Chocolate Ganache Daifuku

7-Eleven is also releasing a range of its own original Halloween treats, including this sweet white daifuku which looks like a marshmallow and is filled with rich chocolate ganache. A Japanese and Western-combined confection you can enjoy with one hand.

▼7-Eleven Marshmallow Raw Chocolate Daifuku

Price: ¥118 (Before Tax)
Available: 7-Eleven (Except in Okinawa)

7-Eleven Black Cat Sachertorte

Black cats are a popular symbol of Halloween, particularly in Japan. This cake is made with chocolate cream and vanilla cream and is coated in a crunchy chocolate coating for even more tasty texture. This is a seriously cute choice you're sure to love!

▼7-Eleven Black Cat Sachertorte

Price: ¥308 (Before Tax)
Release Date: October 15, 2019
Available: 7-Eleven

Did you enjoy our picks? There are plenty of Halloween-themed foods, confections and sweets to look forward to this year at convenience stores in Japan. Head to your closest one and see what they have in stock.

Embark on An Aquatic Adventure to The Little Mermaid OH MY CAFE in Tokyo

It has been 30 years since Disney's The Little Mermaid came to theatres. To celebrate, The Little Mermaid cafe has dropped its anchor in Tokyo, Osaka, Nagoya and Hokkaido and will be around for a limited time only.  Curious travellers are sure to fall in love with this world filled with Disney magic.

As a big Disney fan, curious model Kanako just could not miss the opportunity to visit, so we headed over to Tokyu Plaza, Omotesando (Tokyo) to create a tongue-tantalizing report just for you. 

The entrance was a treasure trove of exciting 30th anniversary celebratory designs.

Venturing deeper, we came across illustrations of the exciting underwater world. 

Seeing all the images of the characters, memories of the film will come floating into your mind. Just how many wonders can one cafe hold?

There are five delicious meals and five delicious drinks on the menu. Everything was so cute that it was difficult to decide what to order. Time to dive in!

Ariel Vegetable Pasta with Genovese Sauce: ¥1990

This dish particularly caught Kanako's eye. A graceful print made of powdered spices and sauce depicts Ariel gliding through the sea. It went perfectly with the salad. Feel free to take the beautiful paper mat home with you as a souvenir. 

Cream Beach Risotto: ¥1,990

This creamy risotto depicts a beautiful beach. Look closely and you will spot Ariel's most prized treasure: a dinglehopper.  Feel free to take the dinglehopper home with you and add it to your collection of treasure. A layer of shrimp sauce lies hidden between the rice and mountain of salad. Can you spot Sebastian keeping a careful eye on Ariel? 

Seven Princesses of Atlantica Colourful Tartine Plate: ¥2,290

 This plate of tasty tartines depicts the seven sisters and will send you on an exciting flavour journey. The fruity tartine will fill your mouth with a fresh fruity burst of blueberries and strawberries. Next on the plate is a luxurious cream cheese tartine, followed by a chunky vegetable tartine and finally, a filling boiled egg and potato salad tartine. The tartines are surrounded by colourful sauces such as blueberry sauce, pumpkin sauce and carrot sauce. 

 Sebastian's Strawberry Smoothie: ¥890 (with themed drink coaster: ¥1,790)

This yoghurt smoothie is dedicated to King Triton's royal court composer Sebastian. Mix in the strawberry sauce before tucking in to enhance the flavour. You can also take the decoration on the glass back home with you. 

Upon noticing the coaster that came with her drink, Kanako's eyes were sparkling with desire. The drink coaster is a sure way to add some magic to all your drinks at home. Unfortunately, they are in limited supply, so make sure to get one before they are all sold out.

Next, the curious Kanako explored the merchandise corner. The illustrations on the merchandise have been specifically designed for this special cafe.

Canvas Art A/B  (two designs): ¥3,500

Now you can decorate your room with your own collection of whose-its, whats-its, and thingamabobs.

Letter Writing Set with Case (1 design): ¥800

BIC Ballpoint Pen (2 designs): ¥500 each (Flounder/Seahorse)

The pink-themed gadgets and gizmos are very cute too.

Spend over ¥1000 (before tax) in the merchandise corner and you will receive a special Little Mermaid 30th anniversary shopping bag. There are a limited number of these and they are available on a first-come-first-serve basis, so we recommend you go to the cafe as soon as possible if you want one.

This cafe is a whole world waiting to be discovered. Reservations cost ¥500 per person (before tax). Just ordering from the menu will grant you the special gift of an A5 clear file and you can even pick your favourite from 30 designs. Make sure to reserve your spot in advance and get ready to plunge straight into the fun!

©️Disney

Information

The Little Mermaid OH MY CAFE

Tokyo: OH MY CAFE TOKYO Tokyu Plaza Omotesando Harajuku (September 21 – November 9

Osaka: kawara CAFE & DINING Shinsaibashi (September 21 – November 10)

Nagoya: kawara CAFE & KITCHEN Nagoya PARCO (September 27 – November 10)

Hokkaido: Cafe Interlude (September 22, 2019 – October 14)

The Little Mermaid OH MY CAFE Official Website: https://mermaid.ohmycafe.jp/

This Week's Lunch: Peach & Yoghurt at dotcom space Tokyo in Harajuku

One thing I do at least once a week without fail is treat myself out to some delicious food or dessert. It's very important time well spent in order to live a happy life.

Today, I went and got my lunch early ahead of my morning work. I visited dotcom space Tokyo, a café in Harajuku where you can indulge in a laid-back experience.

©️photo Takumi Ota

The café is just a 4-minute walk from the Takeshita Street exit of Harajuku Station. Its atmosphere is so peaceful and related that you wouldn't believe it's right next to noisy and busy Takeshita Street. It's a spacious place with simple and stylish furniture and furnishings. I fancied something sweet this time, so I went and ordered the Peach & Yoghurt bread.

©️photo Takumi Ota

©️photo Takumi Ota

The interior decorating scheme is based on wood; you can feel how particular they were about the furniture. It's easy to wind down at this café due to its spacious interior. It's common to see workers scattered throughout too. It's a nice place to leave your desk for a little bit for lunch for a change of pace.

Peach & Yoghurt ¥680 / Iced Café Latte ¥550

The bread is piled with a generous serving of yoghurt cream and shiny peach which the light shines on.

I feel happy just looking at this delicious treat. Just spellbinding!

I sliced my first piece and popped it into my mouth. The bread is deliciously chewy, and the refreshing yogurt cream and sweet peach filled my mouth. The bread itself is a thick-cut slice and made by Pelican, a bakery in Asakusa. It has a chewy and moist texture you can't find anywhere else.

The yogurt cream isn't overly sweet, instead having a more refreshing flavour to it. When eaten together with the sweet ripened peach, the gorgeous mix blends together around your taste buds and melts in your mouth. Depending on the season, you can pick fruits other than peach too. They always have seasonal choices. I'm looking forward to their autumn and winter line-up.

The iced latte has a slight acidity to it, my favourite kind of flavour. It went really well with the Peach & Yogurt bread. The café is also particular about its coffee bean selection; one of its baristas is noted to be a past "Japan champion" when it comes to coffee. I've got to try the hot coffee the next time I visit.

A set meal, burger or the likes would have been good too, but I had my eyes set on a sweet dessert lunch. Getting a moment to chill out and enjoy something sweet made me happy today. I recommend enjoying some autumn fruit-topped bread too as the seasons change.

Today's Presents

Apple Juice ¥450

I's important to share the happiness between family and colleagues on when you get the chance to enjoy something tasty. I bought them some apple juice, which is poured into a cup with a smiling face on the side. It's made from 100% apples from Nagano. The straw is made from environmentally-friendly sugarcane.

Writer:Sayuri Mizuno(MOSHI MOSHI NIPPON)

Dark and Delicious Halloween Spirit Possesses Crunchy and Creamy Pastries

Every year choux pastry shop CROQUANTCHOU ZAKUZAKU sells 2 million of their unique, crunchy and creamy choux pastries. This Halloween, these white angelic sticks of heaven have been possessed by the Halloween spirit and will be sold from October 1 – 31.

The devilishly delicious Black Zaku and Black Zaku Soft Serve Ice Cream were overwhelmingly popular when they were first sighted last year. Now they are being revived again for the Halloween season and will be haunting practically all CROQUANTCHOU ZAKUZAKU branches across Japan. 

Black cocoa powder is infused into the crunchy choux pastry. The empty shell is then filled with a molten custard core which is made using Hokkaido milk and purple sweet potato paste. Once you take your first crunchy bite, you will be completely possessed by the Halloween spirit.

This Halloween, the original pure white ice cream has been inverted. From the ice cream to the wafer cone, the Black Zaku Soft Serve is completely black. The ice cream is incredibly soft and creamy and full of flavour. The black colour comes from white chocolate dyed with bamboo charcoal. This chilling ice cream is only around for the Halloween season and tastes wicked!

 There is more than just Halloween treats at the shop. The regular Croquant Chou Zaku Zaku and regular Zaku Zaku Soft® are also being served. Head to a store with an adjoining kitchen to sink your teeth into freshly made delicious treats. 

There is no better trick to treating yourself this Halloween than to indulge in a beautiful, black, crunchy and creamy sweet treat!

Information

CROQUANTCHOU ZAKUZAKU

Available: October 1, 2019 – October 31, 2019

Available at all CROQUANTCHOU ZAKUZAKU shops across Japan excluding Kumamoto  Sakuramachi branch. Website: https://zakuzaku.co.jp/

Disney Ambassador®️ Hotel Now Serving Adorable Cake & Drink For Halloween

Disney Halloween 2019 is in full force at both Tokyo Disneyland and Tokyo DisneySea where "ghosts" are this year's theme. The spooky festivities are set to continue until October 31.

Disney Ambassador®️ Hotel is also getting in on the Halloween action, with a bone-chilling food and drinks line-up at the Hyperion Lounge.

Disney Halloween Cake Set – ¥1,700 (Available until October 31, 2019)

The eye-catching blueberry mont blanc is served with either tea or coffee. The sweet and sourness of the blueberry combined with the cream cheese is spot on.

It's also filled with blueberry jam for even more of a blueberry kick. Mix together with the powdered mango for extra flavour.

This cake set is serve from 12:00-22:00, but there is a limited number of servings per day so be sure to get in there quick!

Disney Halloween Special Drink – ¥1,300 (Available until October 31, 2019)

The Instagram-worthy drink is serving autumn vibes with its chestnut syrup and orange colour. It's also topped with whipped cream and a cute chocolate bat. The drink has a refreshing mix of range juice and grape juice which balance deliciously with the purple sweet potato whipped cream and sweet syrup. There's also grape jelly hidden underneath the cream.

This is also served from 12:00-22:00, and gets you an original coaster. These are limited in availability.

©️Disney

ROPPONGI HILLS HAPPY HALLOWEEN 2019: Monster Desserts, Horror Film Parade & More

Roppongi Hills has announced this year's Halloween festival. Titled "ROPPONGI HILLS HAPPY HALLOWEEN 2019," it will take place from October 1 to 31, packed full of spooky fun from a Halloween costume parade to a ghoulish gourmet menu line-up, featuring an always-unique array of food and drink.

Halloween Cupcakes – ¥638 Each @ LOLA'S Cupcakes Tokyo (Available from October 5)

LOLA'S Cupcakes has baked up an assortment of cute monster motif cupcakes, with flavours including pumpkin, purple sweet potato and more. Whichever one you pick, it's sure to give you a smile and delight your taste buds.

Halloween Mixed Berry Cake – ¥530 @ Roasted coffee laboratory

Creepy eyeballs adorn this cake, which is topped with blackberries and blueberries while drizzled in bloody blackcurrant jam. The cake is layered with sponge, fresh cream and a sweet and sour strawberry jelly.

Happy Monster – ¥980 @ Cafe Crepe

Delight in this cute pumpkin and fresh cream crepe, filled with pumpkin ice cream and snug in an orange crepe wrap. Housed inside is an adorable purple sweet potato mont blanc monster wearing a witch's hat.

A movie-themed parade will take place on Saturday October 26 at the event in line with the 2019 Tokyo International Film Festival. Children and adults can take part in the parade if they dress up. The 1km parade will last 25 minutes.

Gift bags will be given to all kids who get involved!

▼Halloween Parade

Date: October 26, 2019

Time: 10:30-13:30 (subject to change)

Location: Roppongi Hills Arena

Participation Conditions: Anybody who dressed up can join (the theme is "Movies")

Participation: Free

Enquiries: 03-6406-6000 (Roppongi Hills Information)

Halloween will hit Roppongi Hills for the entire month of October. Be sure to visit if you're in Japan next month!