New Website Launched for Foreigners to Learn About the Wonders of Kyoto
The Kyoto by the Sea Destination Management/Marketing Organization (DMO) is a general incorporated association that works over 7 cities in the northern region of Kyoto Prefecture. Aiming to increase the amount of information about Kyoto in English for foreigners, they recently opened a brand new website which was created and is managed by their International Promotions Manager Jesse Efron.  
Jesse Efon is an American who moved to Japan to work as an Assistant Language Teacher in Kyoto. Jesse worked at a local elementary and middle school for four years in Kyotango. After training as a local guide and advisor, Jesse rose to Promotion Manager for the DMO. Standing by his motto of "follow your curiosity," Jesse created the Kyoto by the Sea English website to spread news about Kyoto to foreigners.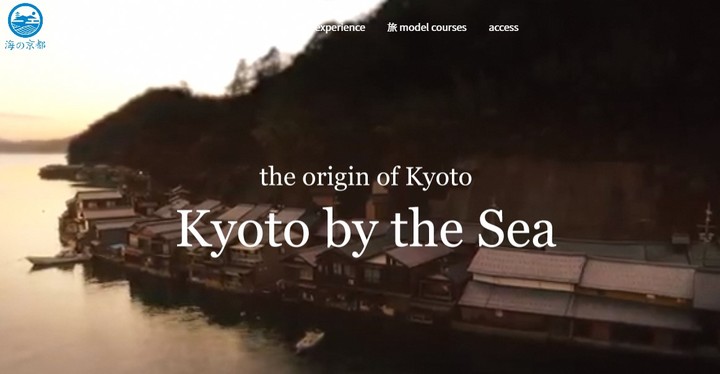 The English version of the website contains articles and information on what to do in Kyoto and is split into five categories: Sea Nature, Sea Heritage, Sea Food, Sea Stay and Sea Yourself. Within these categories, Jesse has uploaded a series of articles which focus on a specific location or area of culture in Kyoto and provides an in-depth explanation along with photographs. From culture and nature to food, Jesse explains the wonders of his home for other foreigners to learn more.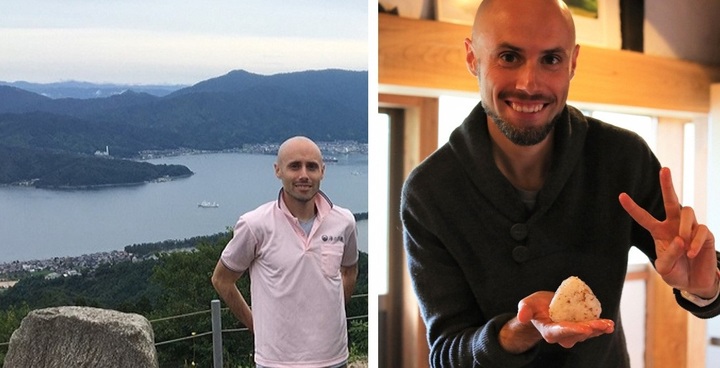 A Statement by Jesse Efron
Hello everyone, it is nice to meet you!
I assumed the position of International Promotions Manager in April. This puts me in charge of relaying Kyoto by the Sea news to our foreign audience. Before joining Kyoto by the Sea DMO, I worked as an Assistant Language Teacher for four years. I have lived in Taiza, Tangocho for five years. It is a great pleasure to be engaged in this work. Kyoto by the Sea works all over Kyoto so I strive to do my absolute best. My motto is "follow your curiosity" and this is what my articles are all about. Please check out the Kyoto by the Sea website.  
Information
Kyoto by the Sea
RECOMMENDED ENTRIES
Kyoto's Capsule Hotel Anshin-Oyado Now Offering Plan to Take Guests to Sacred Sword Locations

Capsule hotel Anshin-Oyado Premiere Kyoto Shijo Karasuma introduced a new plan on September 6 which gives guests the chance to go and see sacred places across Kyoto associated with Japanese swords.

October 4th is known as "Japanese Sword Day" in Japan. In Kyoto alone, the number of people visiting from distant places to see sacred sword places, as well as collect goshuin stamps from shrines and temples, is on the increase-as is the number of people staying at Anshin-Oyado Premiere Kyoto Shijo Karasuma. That's where this new guest plan comes into play.

The plan will take guests around different parts of Kyoto, so the hotel as prepared three options to cater to all guests' needs: one that offers a rental bicycle, a ticket to use the subway or bus, or the normal plan. You will receive a map which shows you the most efficient way to get around all the locations. There is also a QR code on the map which not only shows where you can park your bicycle if you go for that option, but also where to collect goshuin stamps.

Moreover, to really slash home those sword memories, guests will be lent a free selfie-stick which also acts as a tripod. There is also a separate powder room for guests wanting to dress up in full sword cosplay gear too which can be used until checkout.

Guests can also rent a portable power bank for their phone so they don't have to worry about their battery running out when snapping photos amongst other amenities, and have free use of the massage chairs, foot baths, open-air baths, and more to rest up after their long pilgrimage around Kyoto seeing the different swords.

Information

Sacred Sword Site Plan

Running: September 6, 2019 – Late December 2019 (subject to change)

Target: Guests staying at Anshin-Oyado Premiere Kyoto Shijo Karasuma

Information (Japanese): http://ur0.work/UmQa

 

Anshin-Oyado Premiere Kyoto Shijo Karasuma

Soak in the Hot Springs and Enjoy the Luxurious Local Cuisine at Hoshino Resorts in Yamaguchi Prefecture

On March 12, 2020, Hoshino Resorts will open a brand new resort around Yumoto Hot Spring (Nagato, Yamaguchi prefecture). Following plans for a new hot spring district in Nagato that were created in January 2020, Hoshino's hot spring resort brand KAI will be opening a resort in Nagato with numerous spa facilities. With the cooperation of the local government and community, this plan has been put into action. 

As part of the masterplan, Hoshino KAI Nagato will include a cafe called Agebono Cafe. This will be the first KAI resort to extend their cafe services to non-guests. The cafe will sell sweet dorayaki pancakes that guests can enjoy while strolling the streets of the hot spring district. 

KAI is a hot spring ryokan brand owned by Hoshino Resorts and can be found all over Japan. The theme of KAI resorts is traditional yet new. Although the room designs are inspired by nature and old and traditional Japanese culture, they cater to the needs of modern guests.

Exterior Appearance

KAI Nagato is the 16th hot spring resort of Hoshino KAI. It is located in the north of Yamaguchi prefecture and is surrounded by grand mountains. The resort sits by the peaceful Otozure River which is the main source of hot spring water for Yumoto Hot Spring. KAI Nagato is located where Agebono bridge stretches across the river. The resort aims to provide guests with an enriching experience of Yamaguchi's traditional old tea house residences (Ochaya Yashiki) as well as the opportunity to indulge in the regions finest traditional culture, food and experiences.  From the lobby to the guest rooms, the resort is full of Yamaguchi's samurai culture.

KAI Guest Room

The designs for the guest rooms were inspired by Yamaguchi's samurai. Each room is fit for a Feudal Lord. The beds are located on flooring which is slightly higher than the rest of the room. The surrounding wooden pillars create a luxurious private atmosphere.

Patterned Wall Decoration

The wall behind the bed is decorated with Tokujihori washi paper which is a type of Japanese paper unique to Yamaguchi prefecture and has a history dating back to the Muromachi period over 800 years ago. This special paper has even been acknowledged as an Intangible Cultural Asset to Japan. The beautiful dainty paper has been dyed a variety of bright and elegant colours to create this beautiful masterpiece. 

Hagi Ware *This is currently still in production so the appearance may vary.

 The room even has a Tokonoma, which is a small alcove where artistic pieces are displayed. Old Hagi ware, which was traditionally used for tea-making, is displayed here. 

Luxury Banquet for One

Enjoy a luxurious banquet for one made with locally sourced seasonal ingredients in a semi-private dining space. Each meal is served on a dainty dish. As Yamaguchi Prefecture is the second largest squid producer in the country, KAI Nagato serves the region's highly-praised Yamaguchi squid as an appetizer and as sashimi. The sweet, soft and chunky squid will leave your mouth watering for more. The dinner set also includes a range of pickled vegetables and a luxurious plate of seasonal sushi and sashimi. All dishes are served in special Hagi ware. 

KAI Nagato was created to fulfil the goal of creating a relaxing hot spring district where visitors can stroll for a relaxing break. KAI has taken one more step towards achieving this goal by creating the Agebono Cafe, which is the first ever KAI cafe to extend its services to non-guests . 

The cafe serves Japanese dorayaki pancakes with sweet jam fillings made using Yamaguchi's original citrus fruits such as Yamaguchi's original Nagato Yuzukichi and the Natsu Mikan. The Natsu Mikan was introduced to Japan from overseas and is now cultivated in Yamaguchi prefecture. Enjoy the refreshing tangy citrus flavour of Yamaguchi prefecture as it perfectly balances with the sweet jam flavour. This is best enjoyed with a cafe latte. 

Hoshino Resorts KAI Nagato is packed with the cultural wonders and flavours of the region. Take a moment to relax in the Yumoto Hot Spring and explore the culture of Japan.

Information

Hoshino Resorts KAI Nagato 

Address: 2229-1 Fukagawayumoto, Nagato, Yamaguchi 759-4103

Open: March 12, 2020

Reservations Open: November 12, 2019

Telephone Number: 0570-073-022 (Hoshino Resorts Reservations Centre)

Price: From ¥22,000 per night (Based on the price per person for one room with two guests. Includes service fee, dinner and breakfast. Tax not included.)

Access: 60-minute drive from JR Shinyamaguchi Station, 90-minute drive from Yamaguchi Ube Airport. 

URL:https://kai-ryokan.jp/en/nagato/ 

Pretty, Palatable and Pleasant: A Purin Expert's Top 6 Purin Picks in Kyoto

Here at MOSHI MOSHI NIPPON, we have never failed to provide you with the essentials: updates on the best bubble teas around Kyoto. However, today we have a special sweet treat for you. After consulting expert Instagrammer kyoto cafe life tiara, we have compiled a list of Kyoto's top purin that will fill you with satisfaction and as well as nostalgia. Purin is a type of Japanese custard pudding loved by the Japanese for generations. When it comes to searching for the best desserts in the Kansai region, kyoto cafe life tiara leaves no stone unturned . 

Cafe Yamamoto, Higashiyama

Pudding (Set): ¥750

The bitter and fragrant caramel sauce of this purin is to die for. This purin has a rich eggy flavour and is stiffer than a traditional purin. Enjoy your purin served in a silver plate which will fill you with the nostalgia of the retro Showa Era.

▼Cafe Yamamoto (やまもと喫茶)

Address:307―2 Ishibashicho, Kyoto

Opening Hours: 7:00-17:00 (L.O.16:30)

Closed: Tuesdays

Kissa Zou, Imadegawa

The purin here is rich in flavour and garnished with a scrumptious biscuit. It is too cute to eat.

▼Kissa Zou (喫茶ゾウ)

Address: 440-3 Santeicho, Kamigyo Ward, Kyoto

Opening Hours: 9:00-18:00 (Last Orders: 17:00)

No regular holidays

BAR Tantei, Mototanaka

This fancy pudding is topped with seasonal fruit, ice cream or even cake. The retro atmosphere of the bar is the perfect place to enjoy a fancy moment to yourself.

▼BAR Tantei (喫茶探偵)

Address:

26 Tanaka Satonouchicho, Sakyo Ward, Kyoto

Opening Hours: 12:00-17:00,  19:00-02:00

Closed: Sundays, additional irregular holidays.

Takagi Coffee Takashiji Honten, Shijo Street

Homemade Purin Set: ¥ 800

Takagi Coffee is known for the unique shape of their purin, which looks very similar to a slice of cake. This purin is slightly stiffer than your usual purin and has a lovely accent of rum which adults love. This is best enjoyed with a cup of coffee.

▼Takagi Coffee Takashiji Honten, Shijo Street (高木珈琲店 高辻本店)

Address: 175 Honeyacho, Shimogyo Ward, Kyoto

Opening Hours: 7:00-19:00 (Closes at 18:00 on Sundays)

Closed: January 1-3

Salon de thé François, Gion Shijo

This purin is bigger than you expect it to be. Although the flavour is simple, it will send you on a trip to old traditional Kyoto. This purin is stiffer than usual and sweet with a gentle touch of bitter caramel sauce. This is topped with ice cream and garnished with tangy yet sweet strawberries. This purin is on a slightly more luxurious level which makes it perfect for adults.

▼Salon de thé François (フランソワ喫茶室)

Address: 184 Nishikiyamachi-dori-Shijo-kudaru; Shimogyo-ku, Kyoto.

Opening Hours: 11:00-22:30(L.O 22:0)

No regular holidays

NOTTA CAFE, Saiin

This deceiving purin may appear to look like a cake and avoid jiggling like a true purin would, however, once you take a bite, the rich custard flavour will flood your mouth. The flavour is perfect for those of you who cannot handle very sweet flavours and are looking for something more refined. To fully enjoy your experience, order this purin with the oiri sweets cream soda.

▼NOTTA CAFE (ノッタカフェ)

Address: 37 Saiinkitayakakecho, Ukyo Ward, Kyoto
Opening Hours:

Tuesdays-Sundays: 11:30-20:00

Wednesdays: 11:30-21:00
Closed: Mondays

So, how about it? For those of you who are in desperate need of a sweet fix in the Kansai region, Kyoto café life tiara's Instagram will swoop in to rescue you.

Research for article contents and photos provided by: @happy_pinkrose_tiara
RELATED ENTRIES
Sanrio Gift's New Shop in Ueno Welcomes Hello Kitty Panda Merchandise & More

Sanrio opened a new gift shop called Sanrio Gift Gate in Ueno on January 24, 2020. This is the 107th branch of the gift shop to open in Japan, following the openning of the Asakusa branch which opened in Asakusa last year. Aimed at tourists both Japanese and foreign, it sells merchandise of Sanrio's popular cast of characters.

You can't miss the shop as a giant Pompompurin embracing a panda suit-clad Hello Kitty are waiting to greet you at the entrance. The panda is a symbol of Ueno due to Ueno Zoo housing giant pandas.

The souvenir shop features a range of Ueno exclusives, including a line-up of six popular Sanrio characters wearing panda outfits.

Plush Toys (6 Designs) – ¥2,200 Each / Small Plush Toys (6 Designs) – ¥1,760 Each

Who could resist one of these cute toys? The bigger ones at 16cm tall and the small ones 11cm. The line-up includes fan favourites Hello Kitty, Pompompurin, Cinnamoroll, My Melody, Kuromi, and Pochacco.

There's also pop-up cards with a variety of designs, including one that opens up into Ameya-Yokochō open-air market, another that turns into Hello Kitty and a panda sat down, and more.

Edo-Tamagawaya x Hello Kitty Pink Tonkotsu Ramen – ¥390

Budoonoki Sanrio Character Baumkuchen – ¥594 Each (Hello Kitty/My Melody/Pompompurin/Cinnamoroll)

The Salt Industry Center of Japan x Hello Kitty Table Salt – ¥248

There's also food and snacks amongst a whole range of other goodies, all perfect as gifts and souvenirs.

Be sure to stop by Sanrio Gift Plaza the next time you're in Ueno.

ⓒ 1976, 1996, 2020 SANRIO CO.,LTD. TOKYO, JAPAN  Original Text: SANRIO CO.,LTD.

*All listed prices include tax. Sold items receive stock turnovers.

Information

Sanrio Gift Gate Ueno
Address: Plaza U Bldg. 1F, 4-8-6 Ueno, Taito Ward, Tokyo

Business Hours: 11:00-20:00 (subject to change – please check website for latest info))

Other: Duty-Free/Payment possible with Alipay and WechatPay.
Shop Information: https://www.sanrio.co.jp/shop/sh8122100/

ASIAN KUNG-FU GENERATION Announce Annual 'SUI CUP' Tour & Release Live YouTube Video

ASIAN KUNG-FU GENERATION has announced that its annual "SUI CUP" live tour, which has been held every year since 2015, will be held for the fifth time this year. The title of the tour is "SUI CUP 2 ~The Song of Apple~" and it will begin in Sapporo on May 21 and finish in Hiroshima on June 12 for a total of seven shows, with supporting bands at each of them.

Masafumi Gotoh, the lead singer, songwriter, and guitarist of ASIAN KUNG-FU GENERATION, released a statement about the support acts.

———————————–

Masafumi Gotoh Comment

"Kiyomaru Togo and YeYe both have their own individual and unique directions. NOT WONK are hope for the indie rock genre, as are Shinsei Jusrassic Boys. Ohzora Kimishima sounds nostalgic and has burning talent. totsuzensyonen have a clumsy but honest passion. the chef cooks me give love and blessing to their the tumultuous music. I'm excited to have all of them on board, and I'm excited for the near future where I get to rewrite cliched words such as the ones I've used here. I'm confident this is going to be an amazing tour. To everyone in Japan: hop on board!"

———————————–

Pre-sale tickets are now live on ASIAN KUNG-FU GENERATION's official website. Further information will be posted there in the near future.

ASIAN KUNG-FU GENERATION – "Kaihouku"【LIVE】Tour 2019 "Hometown"

The band also posted a live video of their newest song Kaihouku taken from the concert at Pacifico Yokohama during their "Hometown" tour.

Kaihouku was released as a double A-side single along with the song Dororoーthe opening theme for the anime series of the same nameーlast year on May 15.

Information

ASIAN KUNG-FU GENERATION Tour 2020 SUI CUP 2  ~The Song of Apple~

2020/5/21 @ Zepp Sapporo (Support Act: NOT WONK)

2020/5/25 @ KT Zepp Yokohama (Support Act: Kiyomaru Togo)

2020/5/27 @ Zepp Nagoya (Support Act: Jurassic Boys)

2020/5/28 @ Zepp Osaka Bayside (Support Act: YeYe)

2020/6/9 @ Zepp Tokyo (Support Act: the chef cooks me)

2020/6/11 @ Zepp Fukuoka (Support Act: totsuzensyonen)

2020/6/12 @ Hiroshima CLUB QUATTRO (Support Act: ohzora kimishima)

*All shows have standing and reserved seating except Hiroshima CLUB QUATTRO which is all standing

Times: OPEN 18:00/START 18:45

Price: Standing ¥5,800 / Seating ¥6,300 (Tax Included)

*Standing tickets are numbered and so attendees must enter in order

*Separate mandatory drink fee charged upon entry

*Everyone aged 3+ years must hold their own valid ticket

*Student discount is available for high schoolers and below, they need simply show their student ID

*Elementary to high school students can get ¥1,500 cashback at the venues

*Elementary school students must show something that proves their age; junior high and high schoolers must take their student IDs

Pre-sale Tickets

Running: January 24, 2020 at 15:00 (JST) to February 2, 2020 at 23:59 (JST)

Purchase: Via the band's official website

Standard Tickets

On Sale: April 19, 2020 at 10:00AM (JST)

ASIAN KUNG-FU GENERATION Official Website: www.asiankung-fu.com/

SUI CUP 2 Tour 2020 Official Website: www.akglive.com/tour2020/

Star Wars Theme Cafe Opens in Tokyo, Osaka, Nagoya, Hokkaido & Fukuoka

With The Rise of Skywalker concluding the Skywalker saga of the Star Wars film franchise, fans are left craving more from the galaxy far far away.

If you're one of those people, and need a fix before season two of The Mandalorian, which is coming in late 2020, then you'll want to hit up the all-new Star Wars-themed cafes now open for a limited time at branches of OH MY CAFE across Japan in Tokyo, Osaka, Nagoya, Hokkaido, and Fukuoka.

We visited the Tokyo branch of the cafe which is located inside Tokyu Plaza Omotesando Harajuku. Here's our report of this must-see cafe for Star Wars fans, a museum-like space chock-full of concept art.

Ready to greet you as you walk into the cafe is none other than Darth Vader. This life-size recreation of the Sith Lord is really striking, but don't worryーthough he is realistic, he won't use his Force choke on you, he only wishes for you to have a nice meal.

Plastered across the cafe walls are pieces of concept art used during the production of the Star Wars film series.

Here's a galactic showcasing of the cafe's menu. There are 7 food items and 5 drinks to choose from, all inspired by the franchise and its characters.

<STAR WARS> Far Far Away Galaxy Black Curry – ¥1,590

A signature dish of the cafe, this black curry features the Star Wars logo which is actually an edible wafer. The space design is bamboo charcoal-cooked rice which is mixed with spicy sauce and topped with peanuts for stars.

<BB-8> Seafood BB-8 Gratin – ¥1,690

Fans of BB-8 won't be able to resist this delicious gratin, served with salad and French bread for a full belly.

<Yoda> Root Leaf Stew – ¥1,590

This stew is inspired by Yoda living his final years in his little shack in Dagobah during Star Wars: Episode V – The Empire Strikes Back. It's packed full of vegetables and will no doubt be enjoyed by both kids and adults alike.

<R2-D2 & C-3PO> Buddy Burger Plate – ¥1,990

This set of two chicken burgers comes with an R2-D2 seasoned with béchamel sauce and a C-3PO burger seasoned with meat sauce. You can take the flags home with you too. We recommend sharing this between two people.

Portion Bread – ¥500

This is the one I was most interested in personally, because I was curious to know from its appearance how it would taste. It's the portion bread that Rey tries eating in the film. At first glance it looks crunchy, but to my surprise it was soft with a subtle sweet flavour.

Lightsaber Drinks – ¥600 Each (w/ Coaster ¥1,300)

From the left, the flavours are Darth Vader blood orange, Luke Skywalker ramune, and Yoda melon. When you draw your straw from the paper wrapping, it turns into a lightsaber!

<STAR WARS > Jet Black Coffee – ¥600 (w/Bottle ¥1,750)

These limited edition bottles of black coffee feature the famous Star Wars opening crawl credits. Which one you get is randomーa must-have for all fans!

After enjoying some Star Wars food and drink, it's time to check out the cafe's exclusive merchandise. There are 13 types of merch in total all bearing artwork from across the film series.

Folder – ¥350

I recommend picking up one of these folders made in collaboration with the cafe. It has illustrations of the food and drinks being sold there.

Tote Bag – ¥3,500

This tote bag has illustrations of characters from Star Wars and how they are all connected.

There's plenty of other must-grab merch too, from music to stationery and more.

Customers who spend over ¥1,000 (excluding tax) on any of these exclusive items will receive the above-pictured limited edition bag. These are limited in stock so are available while supplies last.

There's plenty of places inside for fans to take great photos, so make sure you snap lots.

Also, if you book a table in advance and order something from the menu, you'll receive one of these 25 possible A5 folders, so be sure to book before you go!

© & TM Lucasfilm Ltd.

*All listed prices are pre-tax. Photos are for illustrative purposes only.

Information

"Star Wars" at OH MY CAFE

Locations/Dates:

■Tokyo: OH MY CAFE TOKYO (Tokyu Plaza Omotesando Harajuku) / January 18, 2020 – February 23, 2020

■Osaka: kawara CAFE&DINING Shinsaibashi / January 17, 2020 – February 23, 2020
■Nagoya: kawara CAFE&KITCHEN Nagoya PARCO / January 23, 2020 – February 25, 2020

■Hokkaido: Cafe Interlude, Coach & Four Shinkawa-dori / January 24, 2020 – February 24, 2020

■Fukuoka: kawara CAFE & DINING KITTE Hakata / January 24, 2020 – February 26, 2020

"Star Wars" OH MY CAFE Official Website: https://sw.ohmycafe.jp/

3 Breathtaking New Rooms to Open at Hoshino Resorts OMO7 Asahikawa

Hoshino Resorts OMO7 Asahikawa, a branch of Hoshino Resorts' hotels for tourists and travellers, has announced that it is opening three new room types to guests from April 1 to make their stay and travels that much better. They are the "Double Room," "Superior Room," and "Family Room."

OMO7 Asahikawa opened in Hokkaido April 2018 as the first branch of Hoshino Resorts's "OMO" brand of city tourism hotels. The hotel offers not only a great sleep, but enjoys the benefit of its location with must-see sights surrounding it, and all of this to make guests' stay the best it can be.


The hotel's Studio Rooms, formerly named the DANRAN Room before the renovation, have received praise from guests that have stayed there for offering everything they needed while being compact, as well as it being easy to kick back and relax in them. It was revealed that in 2019, the average number of people staying in a single room at Hoshino Resorts OMO7 Asahikawa was higher than the average of that in other city hotels in Asahikawa, as well as the hotel being popular for catering to tourist and sightseers' needs.

The hotel has now renovated 111 of its rooms in response to it being used by a lot of people because of its catering towards tourists' needs. It has also added the three new types of roomsーDouble, Superior, and Familyーwhich incorporate the well-received functionality of the Studio Rooms. That's 226 room renovations out of the hotel's 237 rooms.

All beds have storage space underneath them. Those travelling in big groups like families will especially benefit from this if they have a lot of luggage as they can save on plenty of space in rooms.

New rooms are furnished with new sofas and tables for maximum comfort amongst friends and family where they can talk about their trip while enjoying local drinks and snacks.

Also, in the Superior Rooms and Family Rooms, where there is a small amount of guests, beds can be folded and turned into spacious sofas.

The OMO brand promises "a reasonable price for your travels," and this rings true: the new Family Rooms start at ¥5,500, allowing an affordable stay so you can spend more on the local sights.

Room bookings will open on February 3, 2020, so if you're visiting Hokkaido, be sure to check out Hoshino Resorts OMO7 Asahikawa.

Win Original Somali and the Forest Spirit Prints With Naotaro Moriyama's Opening Theme Campaign

The opening theme Arogatou wa Kocchi no Kotoba by Naotaro Moriyama for the ongoing TV anime series Somali and the Forest Spirit is garnering much attention right now. The "TV version" of the songーthat's the version edited for the anime seriesーwas released digitally in Japan yesterday.

To promote the song, a campaign is being held for fans of the anime series to sign up and receive some original Somali and the Forest Spirit prints.

To apply, you need to purchase and download the TV version of the song from iTunes Japan or Recochoku. 5 prints will be given to everyone that downloads the song, and they're different depending on which of the two music platforms you download from.

Episode 3 of the anime series aired on January 24. Both the series and the opening theme have received much love and praise, with the latter having won over the hearts of Japanese fans on social media, who have described it as making them tear up and being a perfect fit for the anime

Arogatou wa Kocchi no Kotoba (TV version) is now available on all major download and streaming platforms, including Spotify, iTunes, Apple Music, Recochoku, LINE MUSIC, and elsewhere.

Information

Arogatou wa Kocchi no Kotoba (TV version)

Somali and the Forest Spirit Opening Theme

Released: January 24, 2020

Download/Stream Here: https://lnk.to/AKKTVver

Naotaro Moriyama Official Website: http://naotaro.com/

Somali and the Forest Spirit

Initial Broadcast: January 9, 2020 on AbemaTV, TOKYO MX, and BS Nippon TV

Official Website: https://somali-anime.com/

Celebrate Tokyo Midtown's Cherry Blossoms at MIDTOWN BLOSSOM 2020 Event

MIDTOWN BLOSSOM 2020 is set to take place in Tokyo Midtown from March 20 to April 19 to celebrate and welcome the spring and the cherry blossoms.

This marks the 13th year of the event, which will take place both in Tokyo Midtown's garden area which is home to rows of gorgeous cherry trees, as well as around the building where they have sparkling wine, sweets, flower displays, and many other exciting things planned.

CHANDON Blossom Lounge

Enjoy a luxurious cherry blossom experience this year with a glass of premium Chandon sparkling wine available at the outdoor limited-time CHANDON Blossom Lounge. This vibrant sparkling rosé wine is the perfect accompaniment to your springtime banquet and to say "Cheers!" to this year's hanami flower-viewing in Japan.

There will also be food prepared by Nagase Mitsunao, head banquet chef at the 5-star Ritz-Carlton Tokyo Hotel, as well as incredibly decorative-looking sweets to adorn the able. There are two new types of seats available this year with Japanese twists to them, including seats in the roofed lounge where you can enjoy the cool spring weather in the evening.

Running: March 20, 2020 – April 19, 2020 (Closed in the case of stormy weather)

Time: 12:00-20:00 (Last Orders 19:30) *Extended to 21:00 (Last Orders 20:30) on Fridays, Saturdays and during cherry blossom full bloom

Location: Midtown Garden, Sakura-dori area

*Select seats require a reservation – full details to be released in mid-February

Spring Flower Display ~Flower Art Award pre~

 

Za Sogetsu is a performance unit specialising in ikebana, or flower arrangement. One of the most recognised groups in the industry, their work will displayed around various locations at Tokyo Midtown, including large-scale pieces as well as never-before-scene ones. One look at this breathtaking flower art will be enough to fill you with spring vibes.

Running: March 20, 2020 – April 19, 2020

Time: 9:30-24:00 (Galleria Floor 1F) / 11:00-21:00 (Galleria Floors 2F-3F)

Location: Galleria 1F's Tree Shower & various locations at Galleria 2F-3F

Nighttime Cherry Blossom Light-Up

The entire 200-meter length of cherry trees in Tokyo Midtown's garden area will be lit up with beautiful illuminations at night-a sight that never fails to drawn in countless people. Before the flowers are in full bloom, pink lights will be used to get people ready for the main show. When the cherry blossoms are at their height, white lights will be used every night.

Running: March 20, 2020 – April 19, 2020

Time: 17:00-23:00

Location: Midtown Garden, Sakura-dori area/In front of Garden Terrace

Tokyo Midtown has many other events planned for spring 2020, so don't miss out this year.

Information

MIDTOWN BLOSSOM 2020

Running: March 20, 2020 – April 19, 2020

Location: Tokyo Midtown (9-7-1 Akasaka, Minato Ward, Tokyo)

Official Website: https://www.tokyo-midtown.com

Capy Neko Cafe: Japan's First Cat and Capybara Cafe Opens in Tokyo

Capy Neko Cafe is the newest animal cafe to hit Tokyo. Located in the neighbourhood of Kichijoji, right by the station, customers are able to interact with both cats and capybara at the same time.

Japan is famous for its host of animal cafes, from the ubiquitous cat cafes to more unique ones like the owl cafe. But Capy Neko Cafe stands out from the rest as being the first cafe in Japan to combine cats and capybara.

You might wonder whether it's actually safe to pet a capybara. They may be the largest rodent in the world, but they in fact loved to be pet by people. They are gentle creatures that get on with and can live alongside cats. At the cafe, you can take photos of the capybara who are sure to be chilling on the sofas as well as feed them. The comfy environment also means that they'll feel like your very own pet capybara at home.

▶︎Tawashi (Male)

Tawashi is a sensitive, affectionate, and gentle guy. He loves snacks, and he's sure to flop down if you start petting him on the butt. Part of his daily routine is having an afternoon nap on the sofa together with the cats.

▶︎Dan (Male)

The vice store manager of Capy Neko Cafe. He adores humans. He's the kind of guy who'll probably jump up onto you if you cover your lap with a blanket and sit on the sofa.

▶︎Emma (Female)

Another member with a soft spot for humans, Emma is reserved kitty who lets everybody eat their food first. She's a needy and spoiled girlーif she's on your lap, you're not getting up. She's siblings with Dan.

▶︎Cream (Male)

Cream is everybody's idol. He's unapologetically spoiled and a handsome guy with perfectly round black pupils.

This list is just a small taste of the many cute residents to meet at Capy Neko Cafe. The cafe is also active in finding families for their rescued cats. The number of people who want to own a cat in Japan are looking to rescues now instead of pet shops. At Capy Neko Cafe, you get the best of both worlds: you can meet and interact with a cat and see if they're a good match for you.

If you're interested in visiting Capy Neko Cafe, keep in mind that priority goes to those who have booked in advance. This can be done via their official website, so book first and look forward to kicking back and enjoying a cup of tea, coffee or soft drink before interacting with the cats and capybara!

Information

Capy Neko Cafe

Address: PLATANO Floor 2F, 1-5-10 Kichijōji Minamichō, Musashino, Tokyo

Business Hours: 12:00-18:00

Closed: Wednesdays

Official Website: https://capyneko.cafe/

amazarashi To Release Their First Original Full Album in 2 Years

 Japanese rock band amazarashi, which includes Aomori prefecture's Hiromu Akita as lead vocalist, is set to release their new album boycott on March 11, 2020, which will be their first original full album release in two years. They have also dropped a sneak preview of their artist photo. 

 

amazarashi are pushing full steam ahead, constantly producing new and exciting content. Since the release of Chihou Toshi No Memento Mori in December 2017, amazarashi followed up with their first ever live performance at the Nippon Budokan under the concert title Rodoku Enso Jikken Kukan Shin Gengo Chitsujo, subsequently releasing the Dororo anime ending theme song Sayonara Gokko and the music video for their song Miraininarenakatta Anoyoruni, which worked up a sensation for featuring famous actor Ryusei Yokohama among other big names. 

 

The upcoming album will come in three formats including two first press limited editions and one regular edition. Each format contains 14 songs. The two first press editions will also include original video contents, music videos, the live video of their performance that took place at the end of the year and a short story detailing the early years of Hiromu Akita in the form of a special booklet.  

If you are a fan, keep your eyes peeled for more updates.

Information

NEW FULL ALBUM 'boycott'

2020.03.11 Release.

 

First Press Limited Edition A

2CDs+ Blu-ray + Special Edition Package, Short Story

Price: ¥4,800 + Tax 

Catalog Number: AICL-3850〜3853

 

First Press Limited Edition B

2CDs + DVD +Special Edition Package, Short Story

Price:¥4,300 + Tax

 Catalog Number: 3854〜3857

 

Regular Edition

(CD)

Price: ¥3,000 + Tax 

Catalog Number: ICL-3858

 

amazarashi Official web: http://www.amazarashi.com/

Explore Kyoto With a Hot Pudding Latte From Kyo Yasaka Pudding

Kyo Yasaka Pudding is a shop with a new vision. Located in Kyoto's tourist hot spot of Higashiyama ward, it's home to a team of people who love and are well-versed when it comes to food. Their incredible purin, or Japanese custard puddings, are made carefully one by one to make people happy. These puddings are tried and tested: much trial and error was done to ensure the ingredients, flavours, technique, and appearance were perfect.

On January 24, they're set to release a new product to the menu: the Kyo Yasaka Hot Pudding Latte.

This hot beverage combines a pudding latte, made from incredible Kyoto milk, with super rich caramel cream. It's then topped with a mix of tempting decorations. The caramel and cream are of a high quality, with the caramel cream itself having a unique and irresistible bitter bite you won't find anywhere else.

This is the perfect accompaniment to a winter walk through Kyoto while sightseeing.

Information

Kyo Yasaka Hot Pudding Latte

Release Date: January 24, 2020

Price: ¥700 (Tax Included)

Kyo Yasaka Purin

Address: 87-4 Hoshinochō, Higashiyama Ward, Kyoto, Kyoto Prefecture

Official Website: https://www.kyo-yasaka-pudding.co.jp/

Fujifabric Reveal Artwork For Music Video and Live DVD & Blu-ray Releases

Fujifabric have unveiled the artwork for their upcoming music video collection FAB CLIPS 4 and live concert Fujifabric 15th anniversary SPECIAL LIVE at Osaka-jo Hall 2019 – "IN MY TOWN", both of which will be released on DVD and Blu-ray on January 29 and February 26 respectively.

Hokkaido-born, Tokyo-based illustrator Jose Franky is credited with having designed the artwork for FAB CLIPS 4. The quirky design has a traditional Japanese touch to it with the addition of the 12 zodiac animals.

The cover design for the live DVD and Blu-ray pays homage to the concert itself held lat Osaka-jo Hall last year to commemorate the band's 15th anniversary. Its design takes inspiration from kagami biraki, a traditional ceremony in Japan performed at special celebrations and events where people open a "kagami mochi," a rice cake and Japanese New Year decoration.

A special site has also gone live with information on the two releases. Both are packaged with exclusive goodies with the above-pictured designs at Tower Records or Amazon Japan.

FAB CLIPS 4 is the first music video collection from the band in almost 5 years since FAB CLIPS 3. It includes 14 music videos from Green Bird to their newest single Golden Time. It also features the making-of footage for six of the videos.

The live concert DVD and Blu-ray release at Osaka-jo hall features the full set including the encore. First press copies are coupled with a 40-page booklet.

150 lucky fans who purchase both of these releases will be selected randomly to win one of two prizes: the A-Prize is an invitation to a special talk event hosted by the band, and the B-Prize is a specially-made masu box with the 15th anniversary logo on it.

Information

FAB CLIPS 4

Release Date: January 29, 2020

DVD: ¥4,300 (Before Tax) [AIBL-9419]

Blu-ray: ¥5,300 (Before Tax) [AIXL-132]

*First press editions of DVDs and Blu-rays come in special packaging

*First press packaging available while supplies last – copies will revert to normal tall size packaging after stock runs out

In-Store Bonuses

・TOWER RECORDS "FAB CLIPS 4" CD Cover Sticker

DVD: https://tower.jp/item/4993054

Blu-ray: https://tower.jp/item/4993051

・Amazon.co.jp: Fujifabric Photo Set (2 Photos)

DVD: https://ux.nu/Aenpa

Blu-ray: https://ux.nu/99nax

Fujifabric 15th anniversary SPECIAL LIVE at Osaka-jo Hall 2019 – "IN MY TOWN"

Release Date: February 26, 2020

DVD: ¥4,800 (Before Tax) [AIBL-9445~9446]

Blu-ray: ¥5,800 (Before Tax) [AIXL-132]

*First press editions of DVDs and Blu-rays come with 40-page photo booklet

*First press packaging available while supplies last – copies will revert to normal tall size packaging after stock runs out

In-Store Bonuses

TOWER RECORDS: 15th Anniversary Logo Sticker Sheet

DVD: https://tower.jp/item/5004530

Blu-ray: https://tower.jp/item/5004528

・Amazon.co.jp: 15th Anniversary Mini Tote Bag (A4 Size)

DVD: https://ux.nu/kI1o5

Blu-ray: https://ux.nu/WtwN0

Fujifabric Official Website: http://www.fujifabric.com/

Wave, Listen to Me! Anime Ending Theme 'Pride' to be Performed by Harumi

It has been announced that Japanese singer Harumiーwho is lauded for her incredibly powerful singing abilityーwill perform the ending theme for the upcoming TV anime series Wave, Listen to Me! which is set to premiere on MBS/TBS/BS-TBS and HBC in Japan in April 2020.

The song is entitled Pride, and Harumi will promote it with a live show in Shibuya. tacica will perform the opening theme.

Haruma said: "I identify with Minare Koda, the protagonist. There was a lot I could relate to. I also work as a radio personality. I admire her, she's able to use her imagination when she talks. She showed me a completely different world without me realising."

She continues: "I took Minare's spirit to heart when writing the ending song 'Pride' so I could properly convey how important it is to be able to stand up and keep trying no matter how many times you fall, and to not fear pain or failure."

The series is an anime adaptation of Hiroaki Samura's manga of the same name, serialised in Monthly Afternoon. Manga legend Samura is known in the West for writing and illustrating Blade of the Immortal.

Wave, Listen to Me! is set in Sapporo, Hokkaido where tacica formed their band. The series tells the story of Minare Koda, who one day spills her woes to a radio station worker. The next day, she hears her conversation with him over the radio. An angry Minare storms into the station to complain, only to be pulled into doing a talk show on the radio. Thus begins her adventure into delving deeper into the world of radio.

©沙村広明・講談社/藻岩山ラジオ編成局

Information

Wave, Listen to Me!

Initial Broadcast: April 2020

Official Website: https://namiyo-anime.com/

HARUMI LIVE 2020 "Pride" 

Venue: Shibuya WWW

Date: February 10, 2020

Time: Doors 18:30 / Start 19:00

Seating: No seating – numbered tickets given for entry

Price: ¥3,800 (Tax Included) *Separate mandatory drink fee charged upon entry

*An extra fee of ¥500 charged on the day for those under the age of 25

Buy Tickets:

Ticket Pia / eplus / Lawson

Harumi Official Website: http://harumikusagaya.com/

Luxury Kyoto Jewellery Brand NIWAKA Brings its Beautiful Collection to Ginza in Tokyo

NIWAKA is a Japanese jewellery brand that first launched in the city and ancient capital of Kyoto. The company has announced it is set to open a special concept store in Tokyo's district of Ginza, home to luxury shops, restaurants and outlets.

The new jewellery shop will boast the biggest collection in the country, housing five floors of fashion, bridal, and high jewellery.

NIWAKA's jewellery is renowned the world over, even being used by Hollywood actresses at the US Acadamy Awards for four years in a row.

The new concept store in Ginza aims to deliver everything about the NIWAKA brand, with its modern interior littered with traditional Japanese motifs. They hope to grow their name even more with stores overseas in the future.

The outside of the store is adorned with gorgeous and sparkling wisteria installations. Their abstract design makes them look like light bunches that sway gracefully.

Inside the store, each floor has its own theme, with traditional elements like lattice and paper sliding doors combined effortlessly with the modern design.

Los Angeles was the first to try NIWAKA's new collection which was used by famous red carpet actress, and it will now be sold in Japan at the new concept store. The first floor will include a range of fashion jewellery in the company's "Kyo no Matsuri" range as well as all-new accessories.

Floors 2-4 will house gorgeous bridal jewellery with centre showpieces and tables and chairs on both sides.

Up on the 5th floor will be the high jewellery, accessed via an elevator, which brings you to an incredible sparkling bamboo thicket-like space.

If you're looking to indulge in some expensive jewellery, worn by the famous actresses of Hollywood, then be sure to check out NIWAKA and visit their new Ginza store. Be on the lookout for future branches opening up in Japan and overseas.フ

Information

NIWAKA Ginza

Grand Opening: February 6, 2020

Address: 2-8-3 Ginza, Chuo Ward, Tokyo

Opening Hours: 11:00-20:00

Closed: Wednesdays (Except Public Holidays)/New Year Holidays

Official Website (English): https://www.niwaka-en.com/

Official Website (Japanese): https://www.niwaka.com/