See the Ten Million Dollar Night View of Rokko Arima While Staying at Hot Spring Town
The Mt.ROKKO CABLE CAR & TOURISM COMPANY has announced a 25-day bus tour which will run on weekends and holidays only from October 12 to December 22 offering a bus tour to see the amazing nightscape of Rokko Arima in Kobe.
Arima Onsen is known as one of Japan's leading hot spring locations. In order for more people to catch a glimpse of Rokko Arima's incredible nighttime scenery, a new tour service has been created in collaboration with hotels and accommodation services throughout Arima for guests staying in the town to see what has been dubbed the "ten million dollar night view" from Mount Rokko.
The tour will last two hours and will take guests on an enchanting journey to several locations. They will get to see the night view from Rokko Garden Terrace, gain entry to Rokko Shidare Observatory, and visit the East Rokko Observatory which is only accessible by car. The entire thing costs just ¥2,800 per person.
Schedule
20:00 Depart Arima Onsen
20:30 Nighttime view from Rokko Garden Terrace and Rokko Shidare Observatory with tour guide
21:30 Nighttime view from East Rokko Observatory
22:00 Arrive back at Arima Onsen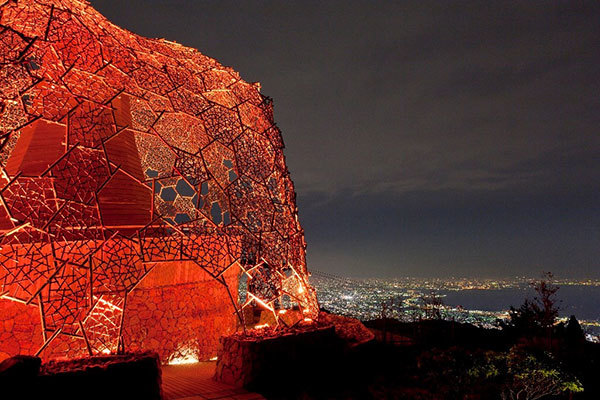 Discover the tranquillity of Japan's winter nights and gaze up at the starry sky using the Rokko Arima Night View Bus Tour.
Information
Rokko Arima Night View Bus Tour
Running: Weekends & Holidays from October 12, 2019 – December 22, 2019
Price: ¥2,800 (Tax Included)
Capacity: 22 (Will set off with 1+ people)
Website: https://www.rokkosan.com/tabi/
RECOMMENDED ENTRIES
Gaze Over a Sea of Clouds at Hoshino Resorts Tomamu's New Cloud Bar in Hokkaido

This year's winter season program at Hoshino Resorts Tomamu―Hokkaido's leading snow resort hotel―is set to begin on December 1. As part of the program, the Muhyou Terrace will open on the same day and run until April 5, 2020. The terrace offers a snow-covered picturesque view from atop the mountain where you can see a sea of clouds and the snow-tipped trees at the bottom.

Muhyou Terrace sits on Mount Tomamu up 1,088 meters high. When you picture snowy mountains, especially those in Hokkaido, you imagine people skiing and snowboarding. But for Hoshino Resorts Tomamu, this is only part of their goal. They also want guests to enjoy the beauty of the mountain's natural landscape including the breathtaking view of the scenery below. That's why they decided to open Muhyou Terrace. As well as the daytime scenery, the terrace has also been turning on illuminations every winter night since 2017, offering a new perspective on the surrounding splendour.

The Cloud Bar which opened just up the slope of the Muhyou Terrace this summer features a 13 meter-long counter with chairs from which customers can soak up an incredible view. The bar has options of one or two-seat areas and can seat up to 7 people at once. There is a ladder attached to the chairs. Once you've climbed up and plopped yourself down you get a front row seat to the sights below. And since the bar is attached to the slope of the mountain and there's nothing to obstruct your view, it will feel like you're floating on the clouds as your feet kick the emptiness below.

Muhyou Terrace will offer its own original cocktail called the Snow Cocktail which is inspired by the snowy landscapes at Tomamu. This drink is a margarita made with lime juice and cointreau. Inside is a sprig of rosemary made to look like the Ezo spruce trees at the site. The snowman is in fact made of chocolate. Enjoy the best of both worlds when it comes to flavour and finesse!

Frosted Coffee – ¥500 / Frosted Fondant Chocolate – ¥600

They also have specially-made chocolate fondant and coffee to warm you up. The chocolate fondant is a warm cake topped with a white chocolate snowflake and is coupled with snow-frosted chocolate branches. The coffee is covered with pure white frosty amezaiku candy. The coffee sweetens as the candy melts into your cup.

The terrace's observation points, including the Cloud Walk and Cloud Bar, will be lit up with sparkling illuminations in the cool evenings.

Illumination Dates: December 15, 2019 – December 25, 2019

Times: Please check the official website

Information

Unkai Terrace

Running: December 1, 2019 – April 5, 2020

*Last entries to the gondola from the foot of the mountain at 15:00

*Last entries to the gondola from the top of the mountain at 15:3

Price: Gondola Return Ticket – General ¥2,200 / Elementary School Children ¥1,300 (Tax Included)

*Free for guests at Hoshino Resorts Tomamu The Tower and Hoshino Resorts RISONARE Tomamu

Entry: Available to guests and non-guests

*Select services and programs subject to change

*Site may close in the case of bad weather

Soak in the Hot Springs and Enjoy the Luxurious Local Cuisine at Hoshino Resorts in Yamaguchi Prefecture

On March 12, 2020, Hoshino Resorts will open a brand new resort around Yumoto Hot Spring (Nagato, Yamaguchi prefecture). Following plans for a new hot spring district in Nagato that were created in January 2020, Hoshino's hot spring resort brand KAI will be opening a resort in Nagato with numerous spa facilities. With the cooperation of the local government and community, this plan has been put into action. 

As part of the masterplan, Hoshino KAI Nagato will include a cafe called Agebono Cafe. This will be the first KAI resort to extend their cafe services to non-guests. The cafe will sell sweet dorayaki pancakes that guests can enjoy while strolling the streets of the hot spring district. 

KAI is a hot spring ryokan brand owned by Hoshino Resorts and can be found all over Japan. The theme of KAI resorts is traditional yet new. Although the room designs are inspired by nature and old and traditional Japanese culture, they cater to the needs of modern guests.

Exterior Appearance

KAI Nagato is the 16th hot spring resort of Hoshino KAI. It is located in the north of Yamaguchi prefecture and is surrounded by grand mountains. The resort sits by the peaceful Otozure River which is the main source of hot spring water for Yumoto Hot Spring. KAI Nagato is located where Agebono bridge stretches across the river. The resort aims to provide guests with an enriching experience of Yamaguchi's traditional old tea house residences (Ochaya Yashiki) as well as the opportunity to indulge in the regions finest traditional culture, food and experiences.  From the lobby to the guest rooms, the resort is full of Yamaguchi's samurai culture.

KAI Guest Room

The designs for the guest rooms were inspired by Yamaguchi's samurai. Each room is fit for a Feudal Lord. The beds are located on flooring which is slightly higher than the rest of the room. The surrounding wooden pillars create a luxurious private atmosphere.

Patterned Wall Decoration

The wall behind the bed is decorated with Tokujihori washi paper which is a type of Japanese paper unique to Yamaguchi prefecture and has a history dating back to the Muromachi period over 800 years ago. This special paper has even been acknowledged as an Intangible Cultural Asset to Japan. The beautiful dainty paper has been dyed a variety of bright and elegant colours to create this beautiful masterpiece. 

Hagi Ware *This is currently still in production so the appearance may vary.

 The room even has a Tokonoma, which is a small alcove where artistic pieces are displayed. Old Hagi ware, which was traditionally used for tea-making, is displayed here. 

Luxury Banquet for One

Enjoy a luxurious banquet for one made with locally sourced seasonal ingredients in a semi-private dining space. Each meal is served on a dainty dish. As Yamaguchi Prefecture is the second largest squid producer in the country, KAI Nagato serves the region's highly-praised Yamaguchi squid as an appetizer and as sashimi. The sweet, soft and chunky squid will leave your mouth watering for more. The dinner set also includes a range of pickled vegetables and a luxurious plate of seasonal sushi and sashimi. All dishes are served in special Hagi ware. 

KAI Nagato was created to fulfil the goal of creating a relaxing hot spring district where visitors can stroll for a relaxing break. KAI has taken one more step towards achieving this goal by creating the Agebono Cafe, which is the first ever KAI cafe to extend its services to non-guests . 

The cafe serves Japanese dorayaki pancakes with sweet jam fillings made using Yamaguchi's original citrus fruits such as Yamaguchi's original Nagato Yuzukichi and the Natsu Mikan. The Natsu Mikan was introduced to Japan from overseas and is now cultivated in Yamaguchi prefecture. Enjoy the refreshing tangy citrus flavour of Yamaguchi prefecture as it perfectly balances with the sweet jam flavour. This is best enjoyed with a cafe latte. 

Hoshino Resorts KAI Nagato is packed with the cultural wonders and flavours of the region. Take a moment to relax in the Yumoto Hot Spring and explore the culture of Japan.

Information

Hoshino Resorts KAI Nagato 

Address: 2229-1 Fukagawayumoto, Nagato, Yamaguchi 759-4103

Open: March 12, 2020

Reservations Open: November 12, 2019

Telephone Number: 0570-073-022 (Hoshino Resorts Reservations Centre)

Price: From ¥22,000 per night (Based on the price per person for one room with two guests. Includes service fee, dinner and breakfast. Tax not included.)

Access: 60-minute drive from JR Shinyamaguchi Station, 90-minute drive from Yamaguchi Ube Airport. 

URL:https://kai-ryokan.jp/en/nagato/ 

New Website Launched for Foreigners to Learn About the Wonders of Kyoto

The Kyoto by the Sea Destination Management/Marketing Organization (DMO) is a general incorporated association that works over 7 cities in the northern region of Kyoto Prefecture. Aiming to increase the amount of information about Kyoto in English for foreigners, they recently opened a brand new website which was created and is managed by their International Promotions Manager Jesse Efron.  

Jesse Efon is an American who moved to Japan to work as an Assistant Language Teacher in Kyoto. Jesse worked at a local elementary and middle school for four years in Kyotango. After training as a local guide and advisor, Jesse rose to Promotion Manager for the DMO. Standing by his motto of "follow your curiosity," Jesse created the Kyoto by the Sea English website to spread news about Kyoto to foreigners. 

The English version of the website contains articles and information on what to do in Kyoto and is split into five categories: Sea Nature, Sea Heritage, Sea Food, Sea Stay and Sea Yourself. Within these categories, Jesse has uploaded a series of articles which focus on a specific location or area of culture in Kyoto and provides an in-depth explanation along with photographs. From culture and nature to food, Jesse explains the wonders of his home for other foreigners to learn more.  

A Statement by Jesse Efron

Hello everyone, it is nice to meet you!

I assumed the position of International Promotions Manager in April. This puts me in charge of relaying Kyoto by the Sea news to our foreign audience. Before joining Kyoto by the Sea DMO, I worked as an Assistant Language Teacher for four years. I have lived in Taiza, Tangocho for five years. It is a great pleasure to be engaged in this work. Kyoto by the Sea works all over Kyoto so I strive to do my absolute best. My motto is "follow your curiosity" and this is what my articles are all about. Please check out the Kyoto by the Sea website.  

Information

Kyoto by the Sea
RELATED ENTRIES
Enjoy Contemporary Art in Nature with the 'Rokko Meets Art -Art Walk 2021-'

The Kobe Tourism Bureau will be opening the limited time 'Rokko Meets Art -Art Walk 2021-' tour on Kobe City's Rokko Sanjo between September 11 and November 24 2021.

Rokko Mountain was developed as a leisure spot by foreign residents during the Meiji Era, and is still beloved to this day for its magnificent views and abundant nature.

The 'Rokko Meets Art -Art Walk-' tour opened in 2010 in order to convey the charms of Mt. Rokko to as many people as possible while introducing them to contemporary art. Over 400 artist groups have exhibited since its opening, with visitors being able to enjoy the innovative works and scenery which changes with the art.

The 'Rokko Meets Art -Art Walk-' is not only for art fans but also for those who wish to visit Mt. Rokko for sightseeing and leisure, allowing each visitor to experience art with their five senses as the seasons change.

Some pieces are modified by the artist throughout the exhibition period, allowing you to feel the changes of the works each time you visit. Due to the Covid-19 travel restrictions, opportunities to come into contact with nature and art have greatly decreased. In response, the 'Rokko Meets Art -Art Walk-' has started a variety of projects, including online exhibitions and workshops.

Experience this fun combination of nature and contemporary art for yourself at the 'Rokko Meets Art -Art Walk 2021-!'

Information

Rokko Meets Art -Art Walk 2021-

Duration: September 11 ~ November 23 2021

Opening Hours: 10:00 ~ 17:00

Location: 12 spots throughout Rokko Sanjo

Satellite Venue: Arima Onsen Area

JR Sannomiya Station Square Special Exhibition: 'Rokko Meets Art -Art Walk-' Selection

Tickets・Official Site:  https://www.rokkosan.com/art2021/

'átoa,' Part Art Museum and Part Aquarium, Opening in Kobe

Blending living creatures with art, átoa, a new urban aquarium, will open in Kobe's Shinkocho on October 29, 2021. New images have just been revealed, and we now have an idea of what the interior will look like!

'átoa' comes from a combination of the words 'aquarium' and 'art,' and as the name suggests, the space will blend over 100 pieces of digital and performance art with 3,000 ocean creatures to provide a never-before-seen experience.  

The exterior of the Kobe Port Museum looks like a contemporary art gallery

The stairway leads guests to a cave entrance, making the visit feel more like an adventure

'MARIN NOTE – The Movement of Life' embodies underwater life 

'ELEMENTS – The Forest of Spirits' welcomes you to a foggy sea of trees

Light cutout show by famed cutout artist Atsumi Sakai

A mysterious walk through a traditional Japanese garden

'PLANETS,' a journey through the darkness of outer space and the deep sea

Food & drink offerings worthy of posting on social media

A spectacular view of the Kobe Bay area
イント

átoa original products on sale

Rokko, the land on which Kobe City sits, is said to have been formed over one million years ago by the upheaval of the Earth and consistent water erosion. The Kobe Port Museum (KPM), where átoa is located, has long attracted visitors with its unique exterior, embodying the ancient origins of the surrounding lands.

átoa will be divided into eight different zones, each with its own theme and distinctive presentation. Visitors will first enter the 'Cave of Beginnings,' where fish-shaped lights reflected on the walls and floor lead you deeper into the space, as if through a kaleidoscope. 

After emerging, 'MARIN NOTE – The Movement of Life,' a visual embodiment of underwater life, will greet you. The sound and scents of the sea will surround guests, with a cylindrical water tank at the center of the room filled with zebra sharks, spotted garden eels, and many more underwater creatures. 

On the second floor, enter 'ELEMENTS – The Forest of Spirits,' a foggy sea of trees straight out of a fairy tale. This is where you can find freshwater fish, amphibians, and adorable tree-dwelling animals not typically found in aquariums, like woodchucks! This is another highlight of átoa: you might find more animals you wouldn't expect!

The third floor houses both 'MIYABI' and 'PLANETS,' where guests can enjoy a 'theatrical aquarium experience.' Discover Atsumi Sakai's famed cutout art in the 'MIYABI' area, meant to simulate a Japanese garden. Enjoy the magical experience of fish swimming just beneath your feet as you stroll along a glass-covered floor. 

The 'PLANETS' area houses AQUA TERRA, one of Japan's largest spherical water tanks, with a diameter of 3 meters. Guests are welcome to ponder the vastness of both outer space and the deepest stretches of the sea. The area is bathed in the light of countless stars thanks to optical fibers embedded in the floor, while mist will continuously pour from above. 

Housed on the fourth floor, an outdoor exhibit, the 'SKYSHORE Sky Garden,' will soothe your soul as you play with only the most adorable marine life, from penguins to otters. This is also where visitors can enjoy the átoa cafe, offering a lineup of Instagram-worthy food and drink. 

The observation deck 'ROOF TOP' also provides a breathtaking view of Kobe. Whether you visit during day or night, take in the views of Kobe Harborland and Meriken Park to your heart's content. A full museum shop will be stocked with adorable plushies and other original products. 

 

Information

átoa
Address: 7-2, Shinkocho, Chuo-ku, Kobe, Hyogo
Open Date: October 29, 2021
Hours: 10:00-21:00 (Open Every Day)
Official Site: https://atoa-kobe.jp

Pâtissier-Inspired Shaved Ice Flavors Available at Kobe Minato Onsen Ren for Limited Time

There's no better way to combat a heat wave than enjoying a cool bowl of shaved ice! Natural hot spring resort Kobe Minato Onsen Ren, overlooking Kobe Port, is releasing a gorgeous new style of this popular summer treat. Called Fluffed Ice, it offers a slightly more sophisticated flavor, and serves as the perfect way to cool off for adults escaping the hustle and bustle of the sweltering city. 

Fluffed Ice, uniquely designed by a pastry chef: ¥900 each (Tax Included)


Setouchi Lemon

Fukuju (Nada's Famous Sake)

Strawberry

Uji Green Tea and Hokkaido Azuki

By filtering the water and freezing it at a slower rate, the shaved ice is completely pure and free of any and all impurities. Visitors can enjoy four different flavors: Setouchi Lemon, a refreshing blend of acidity and white chocolate; Fujuku, which contains locally-sourced sake and sweet syrup; Strawberry, offering a mix of sweet and sour; and, finally, Uji Matcha and Hokkaido Azuki, elegantly mixing flavors from both northern and southern Japan. The syrup used is made from scratch, and was developed by the pâtissier of Le Pan Kobe Kitano, a bakery and sweets shop nearby.

During this incredibly hot summer, give this new Fluffed Ice a try!

Heidi, Girl of the Alps Anime Fair to Open at Rokko Garden Terrace in Kobe

Rokko Garden Terrace has announced an event set to take place this summer. Titled "Mount Rokkō Swiss Fair ~Surrounded by Heidi, Girl of the Alps~," is set to run from July 16 to August 31.

Heidi, Girl of the Alps Decorations / Themed Stamp Rally / Merchandise

Heidi, Girl of the Alps themed food

Swiss-Style Cordon Bleu Alpen Macaroni | ¥2,200 (Tax Included)

Zuger Kirschtorte Gateau | ¥900 (Tax Included)

Roast Beef Lunch With Alpen Macaroni | ¥1,600 (Tax Included)

Yōichi Kotabe Art Exhibits / Cheese Plate / Illustrations

Mount Rokkō and Switzerland have a lot in common, especially when it comes to both locations being home to towering mountains with cable cars that run up them. At the top of Mount Rokkō, visitors can get a real feel for Switzerland. Rokko Garden Terrace sits up the mountains and has its own observation deck which offers a panoramic view of the Rokkō mountains. It's here that the event themed on the anime series Heidi, Girl of the Alps will take place, with decorations, art exhibits, photo spots, themed food, merchandise, and more. Fans can also win a plush toy of Josef of the anime series. There will also be an art exhibition of works from the series character designer Yōichi Kotabe and more.

Information

Mount Rokkō Swiss Fair ~Surrounded by Heidi, Girl of the Alps~

Running: July 16, 2021 – August 31, 2021

Location: Rokko Garden Terrace

Opening Hours: 9:30-21:00

*Opening hours subject to change depending on weather

*Subject to closure depending on COVID-19

Entry: Free

Heidi, Girl of the Alps Official Website: http://www.heidi.ne.jp

Japanese patisserie ANTENOR, whose roots begin in Kobe, began its summer Lemon Festa on Thursday which is set to run until August 31 for the season of warm weather, serving up a special lemon-themed menu.

The Refreshing Line-Up


Lemon Cream Sandwich | ¥864 (Tax Included)


A refreshing lemon cream sandwich biscuit stuffed with sweet and sour lemon cream and dacquoise. Lemon peel is added for a slightly bitter bite.

Lemon Cream Sandwich Assortment | ¥1,620 (Tax Included)

An assortment containing the lemon cream sandwich as well as a lemon-flavoured white chocolate sandwich biscuit.

 Summer Baked Goods Set | ¥2,268 (Tax Included)


This set includes the two above-mentioned desserts along with another chocolatey type of lemon sandwich biscuit.

Lemon Tarts | Small ¥519 – Whole ¥2,106 (Tax Included)


The lemon tarts are all handmade with lemon cream and lemon peel. The tarts are topped with a flower for a touch of elegance. This dessert is refreshing and satisfying like fresh lemon so is perfect for the summer season.

Setonai Lemon Cheesecake | ¥540 (Tax Included)

This cheesecake is made with cream cheese from Hokkaido and a jam made from lemons from the Seto Inland Sea. Moist, fluffy, and delicious.

Don't miss ANTENOR's Lemon Festa in Japan.

Information

ANTENOR Lemon Festa

Running: May 20, 2021 – August 31, 2021

ANTENOR Official Website: https://www.antenor.jp

Snoopy Town Shop to Open in Kobe

Peanuts fans will be excited to know that KIDDYLAND is set to open the new Snoopy Town Shop in Kobe on April 29, 2021.

The theme of the new shop is "Happiness is…a warm puppy" which will be echoed in its cute decor and line-up of merchandise. The shop is incorporating a farmhouse style which combines traditional Kobe designs with a contemporary taste that elicits a sense of nostalgia. Inside, shoppers will find the Peanuts gang relaxed and chilling around the shop along the shelves and up the official gallery wall where scenes from the comics trip will be depicted.

This Japan-official shop will also sell an exclusive line-up of items with the theme "Welcome Home" which features Snoopy and his friends relaxing at home.

Freebie for fans

The first 1,000 people to spend over ¥3,000 (tax included) in the shop will receive a free face towel.

A small look at some of the limited-edition line-up

The following items will be sold on the opening day only and will be limited to one piece per customer, per transaction.

Pin Set | ¥1,518 (Tax Included)

Bandana | ¥1,100 (Tax Included)

Glasses | ¥1,650 (Tax Included)

Tote Bag | ¥2,530 (Tax Included)

The following items will be sold on the opening day only and will be limited to two pieces per customer, per transaction.

From Left: Buffer Knife ¥660 / Small Spoon ¥660 / Small Fork ¥660 / Medium Spoon ¥770 / Medium Form ¥770 (Tax Included)

Left: Folder ¥308 / Right: Set of 2 Art Cards ¥330 (Tax Included)

Left: Wash Towel ¥1,100 / Right: Flat Pouch ¥1,100 (Tax Included)

T-Shirt | ¥2,420 (Tax Included)

© 2021 Peanuts Worldwide LLC

Chibi Maruko-chan x Coji-Coji Pop-Up Shop to Open in Tokyo and Hyogo

Nippon Animation has announced the Maruko & Coji-Coji Fest, two pop-up shops that will open at Kita-Senju Marui in Tokyo and Kobe Harborland umie in Hyogo on April 20 and 29 respectively.

Inside the Kita-Senju Marui store

New merchandise

Acrylic Key Rings | ¥880 Each (Tax Included)

Sticker | ¥385 (Tax Included)

Postcard | ¥275 (Tax Included)

Mugs | ¥2,200 Each (Tax Included)

Bonus Item: Wrapping paper bag

The Maruko & Coji-Coji Happy Fest welcomes an all new series of original artwork themed around snacks and sweets. Fans will be able to enjoy pre-sales of new merchandise, and all who spend over ¥2,000 (tax included) will be given a free wrapping paper bag.

Information

Maruko & Coji-Coji Happy Fest

Tokyo
Running: April 20, 2021 – May 6, 2021

Where: Kita-Senju Marui Floor 2F

Opening Hours: 10:00-20:00

TEL: 03-6876-8600


Hyogo
Running: April 29, 2021 – July 18, 2021

Where: Kobe Mosaic Floor 2F

Opening Hours: 11:00-19:00

TEL: 078-381-5125

Official Website: https://www.nippon-animation.co.jp/

Snoopy Time Capsule Exhibition in Kobe Celebrates Peanuts Comic's 70th Anniversary

In celebration of the 70th anniversary of the Peanuts comic strip, the "Snoopy Time Capsule Exhibition" will be held from March 24 to April 5 at the Daimaru Museum on the 9th floor of Daimaru Kobe.

The exhibition will pay homage to the beloved characters and story of the comic series with merchandise, events, photo ops, and more.

 

All Visitors Get a Free Secret Key

All tickets bought for the exhibition are coupled with a special key. Visitors must find 5 illustrations dotted around the exhibition venue which have keyholes that the key fits. This will give them a comic illustration that can be taken home at the end of the exhibition.

The Exhibition

Entrance

Waiting to greet visitors at the exhibition entrance is the Peanuts Gang all with their own keys.

Time Leap

Towering panels detail the history of Peanuts and author Charles M. Schulz in a timeline format.

Peanuts Through the Ages

Featured throughout the exhibition is artwork, photo spots, and interactive gimmicks divided by the years Peanuts was drawn and theme.

There is a section that pays love to the unrequited infatuation Lucy has for Schroeder.

As well as an area dedicated to all the different outfits and occupations Snoop finds himself in.

 

Visitors can also become Charlie Brown's Peggy Jean, his girlfriend in the comic strip, at this special photo spot where you can sit beside him and Snoopy at the lake shore.

Time Capsule Movie

A special, event-original video is available to watch at the exhibition that looks back over Peanuts like a time capsule.

An Homage to Charles M. Schulz

Learn all about Charles M. Schulz, the author of Peanuts. There's a display detailing his background as well as Peanuts merchandise, books, and more.

 

Snoopy Time Capsule Exhibition Original Merchandise

The exhibition will be home to the "Peanuts 70th Anniversary Market" where around 100 original and exclusive pieces of merchandise will be sold amongst other related Peanuts items.

The Merchandise

Snoopy Plushie | ¥3,850 (Tax Included)

A4 Folder | ¥440 (Tax Included)

 

Alphabet Key RIngs | ¥1,320 Each (Tax Included)

 

Snoopy Face Masks (Washable 100 Times) | ¥1,320 (Tax Included)

© 2021 Peanuts Worldwide LLC( 短縮形 © 2021 Peanuts )

Information

Snoopy Time Capsule Exhibition

Running: March 24, 2021 – April 5, 2021

Location: Daimaru Museum at Daimaru Kobe (Floor 9F)

Opening Hours: 10:00-19:30 (Until 15:30 on April 5)

Snoopy Japan Official Website: https://www.snoopy.co.jp/

TV Anime Romeo and the Black Brothers Opens Pop-Up Shops in Japan

Nippon Animation's 1995 anime series Romeo and the Black Brothers is opening four pop-up shops in Japan selling a variety of themed merchandise. And for every ¥3,000 spent at the shops, customers will receive a special shopping bag with a design from the series.

商品一覧

Original Shopping Bag

Epos Card Holders Exclusive Items

A-Prize: Canvas Board

B-Prize: Complete Postcard Set

C-Prize: One Postcard (6 Designs)

The Marui City Yokohama branch pop-up shop will also feature a special exhibition of illustrations, photos, and artwork that take a look back over scenes from the series.

Information

Romeo and the Black Brothers Pop-Up Shop

Japanese Pop-Up Shop Name: ロミオの青い空「ボルゴ横丁雑貨店」

Marui City Yokohama

Running: March 5, 2021 – March 14, 2021

Location: Marui City Yokohama Floor 7F

Hakata Marui

Running: March 27, 2021 – April 4, 2021

Location: Hakata Marui Floor 5F

Kokubunji Marui

Running: April 9, 2021 – April 25, 2021

Location: Kokubunji Marui Floor 4F

Kobe Marui

Running: April 16, 2021 – April 26, 2021

Location: Kobe Marui Floor 5F

Romeo and the Black Brothers Exhibition

Running: March 5, 2021 – March 14, 2021

Location: Marui City Yokohama Floor 7F

Opening Hours: 11:00-20:00 (Until 19:00 on March 14)

Entry: Free

Epos Card Members Prizes

Running: Until March 5, 2021 @ 23:59 (JST)

Winners to be Chosen: 3

Official Website: https://www.sekaimeisaku-nostalgia.com/

Japan's Snoopy Themed PEANUTS Cafe Reveals Charlie Brown Inspired Dessert

Six branches of the hugely-popular PEANUTS Cafe in Japan are welcoming a collection of tasty new seasonal menu items this Saturday which are set to be served until March 14.

The Limited-Time Line-Up

Brownie Charles's Brownie Chocolat | ¥950 (Before Tax)

Strawberry Whipped Hot Chocolate | Eat In ¥750 – Takeout ¥700 (Before Tax)

The collection includes a chocolate brownie inspired by the scene when Charlie Brown meets Peggy Jean for the first time. He is very nervous and mistakenly introduces himself as "Brownie Charlies." There's also a sweet strawberry hot chocolate topped with a squirt of whipped cream and drizzle of strawberry sauce.

(C) 2021 Peanuts Worldwide LLC

Information

PEANUTS Cafe Limited-Time Menu
Running: February 13, 2021 – March 14, 2021
Participating Branches: PEANUTS Cafe Nakameguro, PEANUTS DINER Yokohama, PEANUTS DINER Kobe, PEANUTS Cafe Kobe, PEANUTS Cafe Snoopy Museum, PEANUTS Cafe Nagoya
PEANUTS Cafe: http://www.peanutscafe.jp/
PEANUTS DINER: http://www.peanutsdiner.jp/
Snoopy Japan Official Website: http://www.snoopy.co.jp/

Tokyo Banana x Disney Sweets Shop to Open in Kobe Hankyu This Holiday Season

Disney SWEETS COLLECTION by Tokyo Banana is a sweets shop by Tokyo Banana in collaboration with Disney. A pop-up version will open in Kobe Hankyu from December 16 to 22 with a selection of sweets including two special treats releasing to commemorate the 80th anniversary of the Disney film Fantasia.

Fantasia 80th Anniversary Sweets

Disney Fantasia/Tokyo Banana

Disney Fantasia/Tokyo Banana (8 Included) | ¥1,300 (Tax Included)

The packaging features Mickey Mouse's iconic look as the Sorcerer's Apprentice.


The chocolate sponge cakes are filled with chocolate banana custard cream and are decorated with a moon, stars, and Mickey's head.


All boxes of these sweets come with a set of two random postcards too.

Disney Fantasia/Chocolate Sandwich


Disney Fantasia/Chocolate Sandwich (28 Included) | ¥3,024 (Tax Included)

This beautiful box of chocolate biscuit sandwiches will be limited to 80 tins per day.

The light and crunchy cookies are banana milkshake and chocolate flavoured and feature memorable scenes and references to the Sorcerer's Apprentice part of Fantasia.

The pop-up shop will be selling a variety of other collaborative treats too as part of the Disney SWEETS COLLECTION by Tokyo Banana.

Experience a Stylish Picnic at Kobe Nunobiki Herb Gardens

Kobe Nunobiki Herb Gardens is now taking bookings for its upcoming "Garden Picnic 2020 -Autumn Season-" event which is set to run from September 26 to November 23.

The Gaden Picnic event began in spring last year, and this time around, they're hosting a special autumn themed picnic. Visitors can expect to tuck into a seasonal food lineup while enjoying the cooling autumn weather.

Garden Picnic 2020 offers a range of picnic rental necessities from food to drinks, desserts, picnic sheets, chopping boards, cutlery sets, dried flowers, garlands, alphabet letters, blackboards, bubbles, and more, so visitors can enjoy a proper and memorable picnic experience—one that will definitely be Instagram worthy—amongst the autumnal verdure of the Kobe Nunobiki Herb Gardens.

The garden paths, flower beds, and the Rokko mountains offer a beautiful outdoor experience throughout all four seasons. Autumn in particular, as the colours of the mountains transition into vibrant red and yellow hues and sway underneath the clear sky. From cosmos to gorgeous globe amaranth, colourful sage, and other autumnal flowers, it's the perfect setting for an autumn aesthetic picnic.

Information

Garden Picnic 2020
Running: September 26, 2020 – November 23, 2020

Price: Picnic set for two – ¥7,000 (Tax Included)

Includes: Food, Japanese sweets, mini wine bottle (comes with 2 glasses), mineral water, picnic blanket, chopping board, cutlery set, dried flowers (can be taken home), garlands, alphabet letters, blackboard, and bubbles

Booking: Must be booked by telephone called two days prior by 15:00

*Cancellations must be made by 12:00 the previous day, otherwise you will be charged

*10 bookings available per day, first-come, first-served

*Bookings available 10:30-14:00 (JST)

Official Website: https://www.kobeherb.com/event_experience/garden_picnic/