Indulge in a Strawberry Heaven at Hoshino Resorts KAI in Tochigi Prefecture
A new hotel plan has arrived at three branches of Hoshino Resort's hot spring hotel brand KAI in Tochigi Prefecture where guests can enjoy the luxury of strawberries together with their stay. Tochigi is famous for growing strawberries, and so all three hotels will serve up their own unique succulent strawberry experiences. The branches in question are KAI Kawaji, KAI Kinugawa, and KAI Nikko.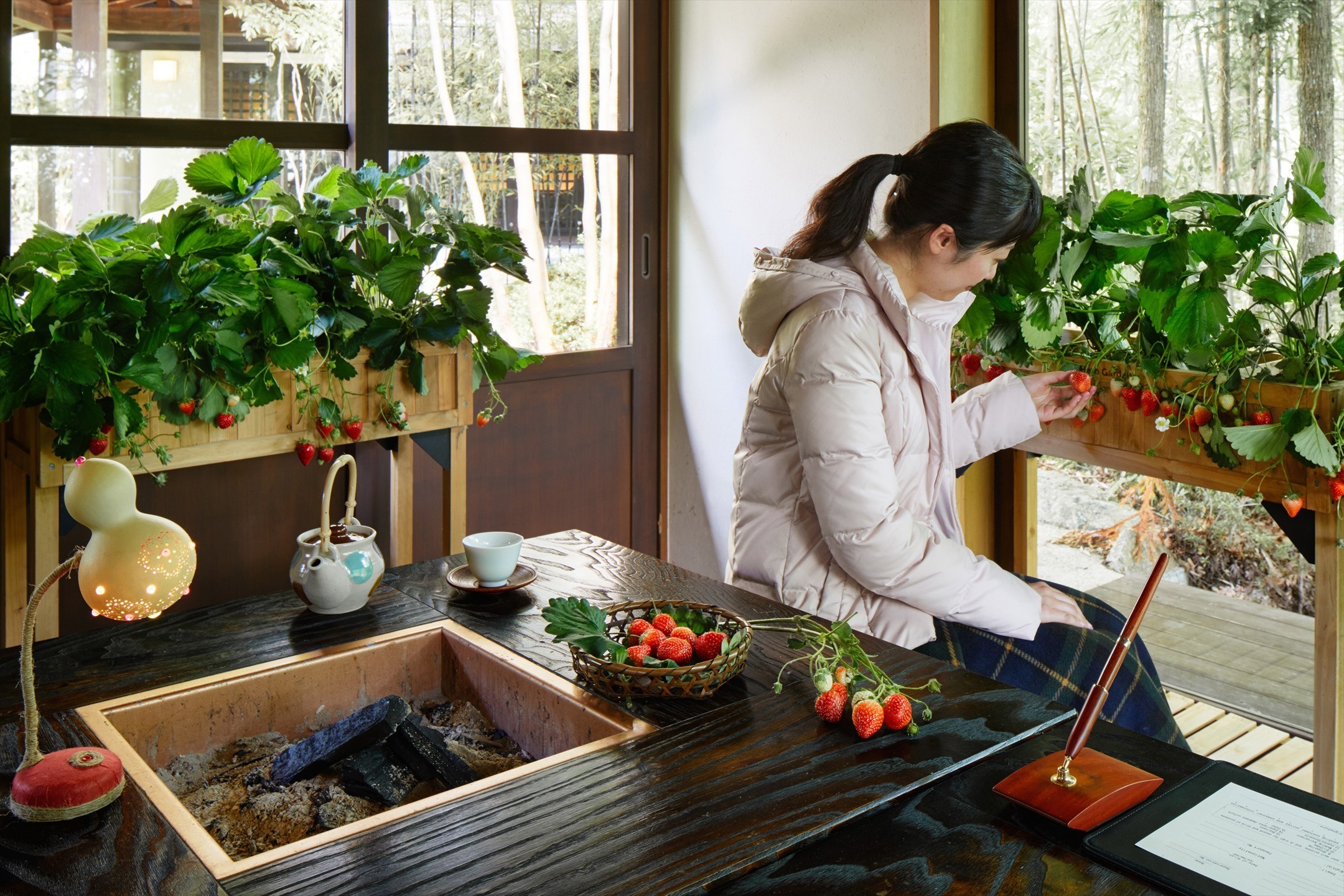 For roughly the past 50 years, Tochigi has enjoyed the largest cultivation of strawberries in the whole of Japan. Hoshino Resorts KAI is taking advantage of this milestone by presenting guests with a strawberry experience they won't forget, with the delicious fruit comprising the whole of their stay from checking in to checking out. Each hotel branch will have different varieties of strawberries in stock, and guests will discover new ways to enjoy them. They will also be presented a map highlighting different locations to indulge in strawberry desserts, so they can carry on their fruitful after checking out on the road home too.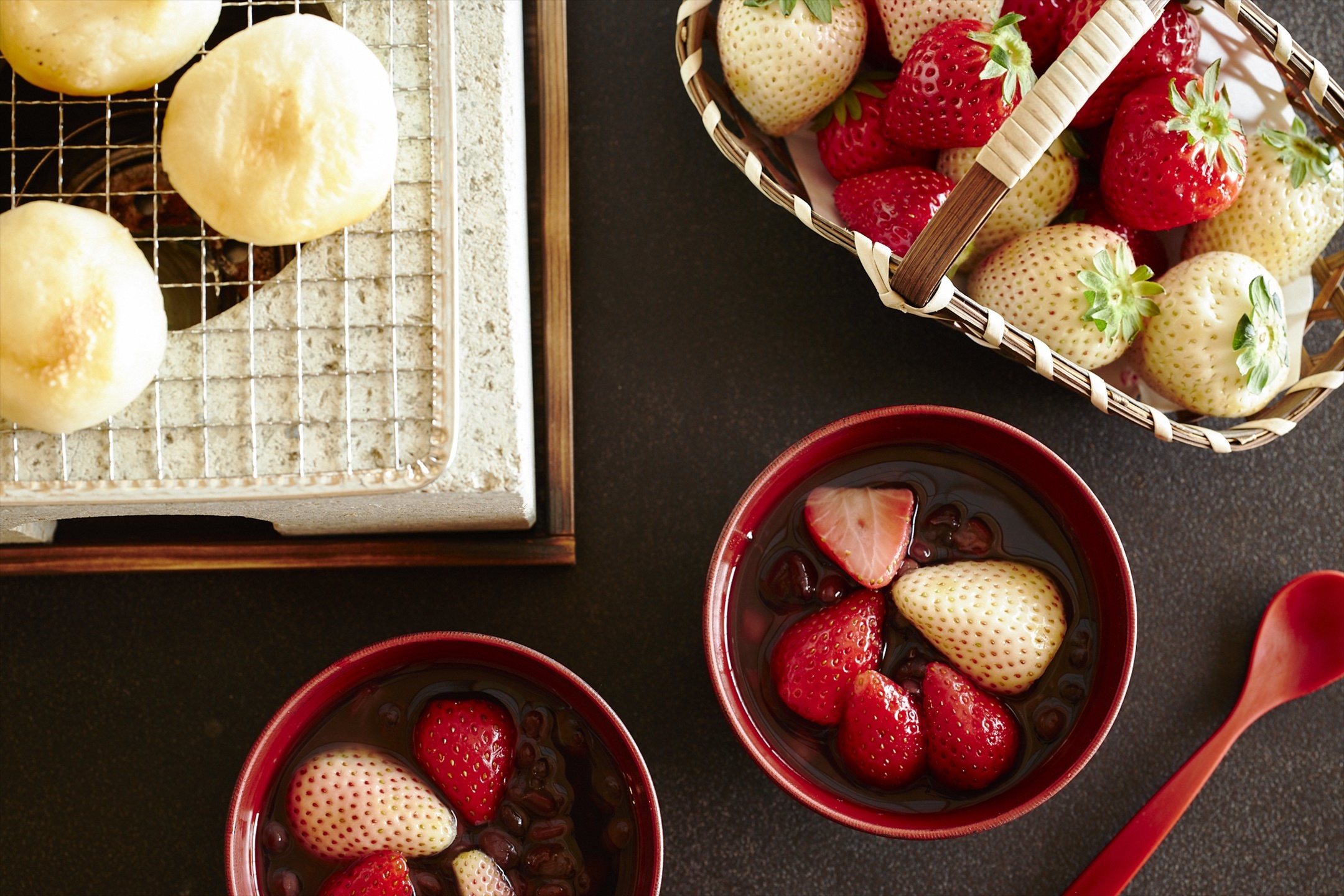 KAI Kawaji: Strawberry Picking at a Japanese-Style Hot Spring Inn
KAI Kawaji's "Satoyama Ichigo Taizai" (Satoyama Strawberry Stay) plan offers a one-night stay with a strawberry picking session by the watermill in the hotel grounds. The strawberries there are juicy and sweet and ripen on the stalks. During your stay, you can go and pick them at your leisure. The strawberries grown there are a variety called tochiotome which have a full-bodied aroma are sweet with the perfect amount of sourness. In the evenings, a sunken hearth will be lit at the watermill so you can stay warm in the fresh winter outdoors while you pick your strawberries. Guests can also enjoy a strawberry sweet red-bean soup made with rare white strawberries which came out as a new variety of Tochigi Prefecture strawberry in 2018. They have less sourness and are super sweet with a smooth texture.
Running: January 15, 2020 – February 29, 2020 (Check In)
Price: From ¥25,000 (1 room for up to 2 people / Service charge included / Tax not included)
Reservations/Official Website: https://kai-ryokan.jp/kawaji/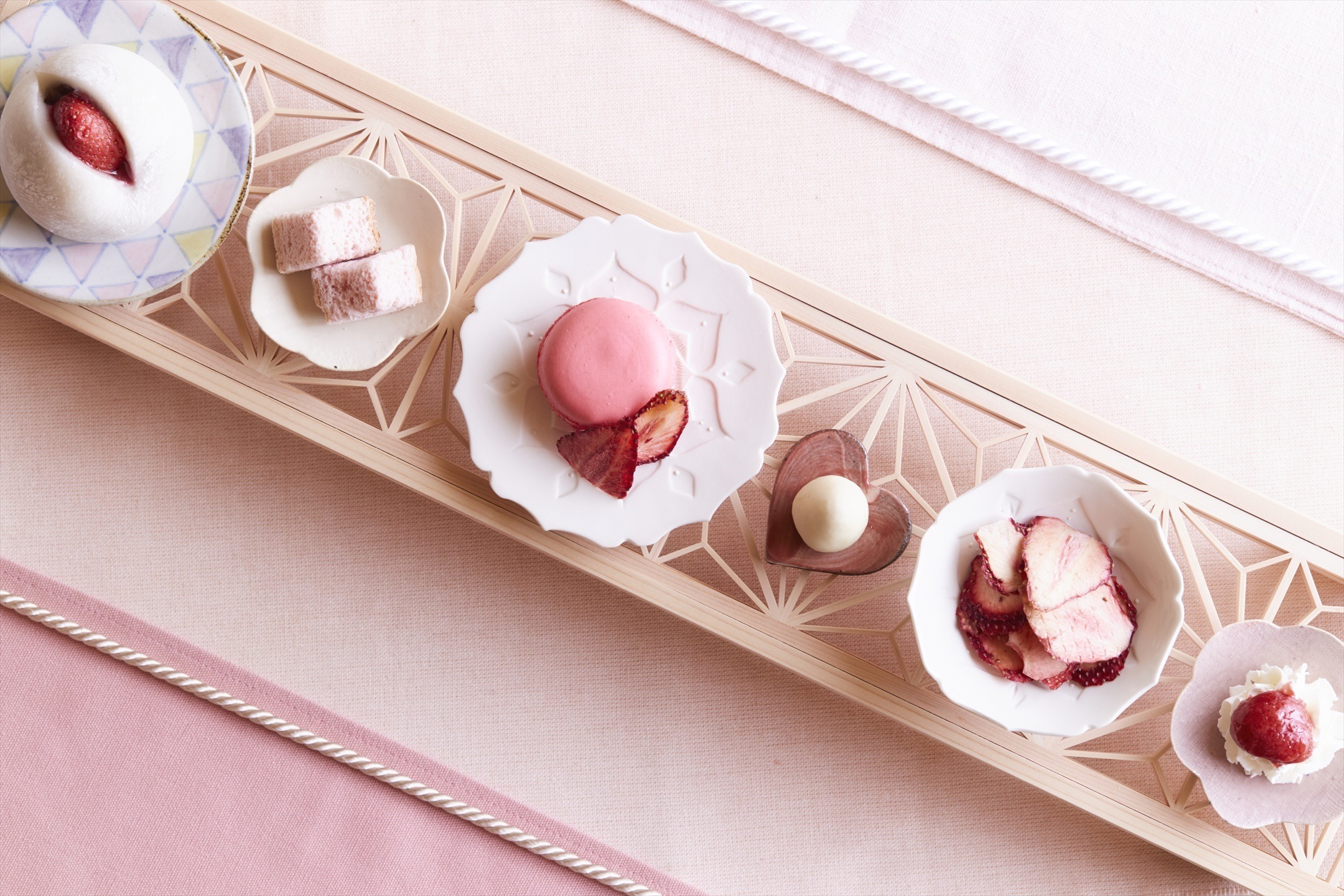 KAI Kinugawa: Taste and compare seasonal strawberries
KAI Kinugawa's "Mingei Ichigo Taizai" (Folk Craft Strawberry Stay) plan will see the appearance of the tochihime strawberry which has been dubbed the "phantom strawberry." This sweet variety is large and has a soft flesh and is exclusive to Tochigi. Guests will be able to taste and compare this and a handful of other types, as well as tuck into various strawberry confections. They will pick from 300 cute different bowls from the bowl gallery and pile inside them strawberries and assorted confections. In the evenings, strawberries will also be served boiled in white wine. A two-day and one-night experience you'd expect from the place that boasts the biggest strawberry haul in Japan.
Running: December 10, 2019 – February 29, 2020 (Check In)
Price: From ¥29,000 (1 room for up to 2 people / Service charge included / Tax not included)
Reservations/Official Website: https://kai-ryokan.jp/kinugawa/
Note: Limited to 5 separate bookings per day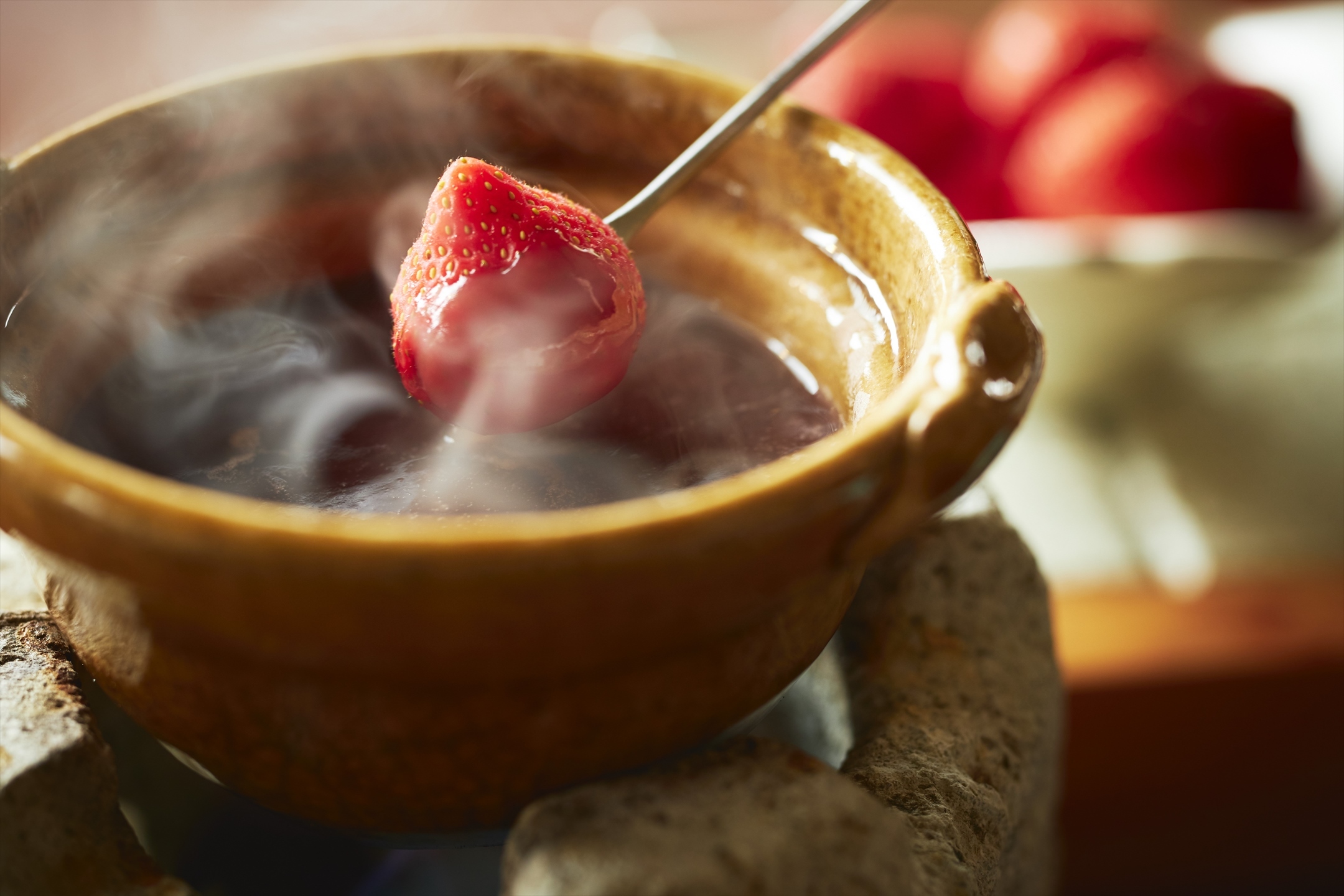 KAI Nikko: Revel in wintertime Okunikko
KAI Nikko is located beside the grand Lake Chūzenji. Their "Zekkei Ichigo Taizai" (Spectacular View Strawberry Stay) plan will see their lobby, which offers a panoramic view of Mount Nantai, turn into a tearoom inspired by the rest stops of Nikkomou, an event that took place during the Edo Period when the Tokugawa Shogunate made their pilgrimage to Nikko. Guests can enjoy the contrast between the setting sun and the snow, as well as the pink-coloured sky when morning breaks. Taking place between sunset and sunrise, guests can tuck into rare white strawberries and warm confections made with yōkan―a Japanese jellied dessert made from red bean paste, agar, and sugar―which is a local specialty of Nikko.
Running: December 1, 2019 – February 29, 2020 (Check In)
Price: From ¥28,000 (1 room for up to 2 people / Service charge included / Tax not included)
Reservations/Official Website: https://kai-ryokan.jp/nikko/
Note: Limited to 2 separate bookings per day
Enjoy you're a seasonal strawberry fill like never before at Hoshino Resorts KAI.
RECOMMENDED ENTRIES
10 Things You Can Do at the MOSHI MOSHI ROOMS Hotel in Harajuku | Girls' Night In Edition

MOSHI MOSHI ROOMS is a hotel accommodation service run by MOSHI MOSHI NIPPON located in Harajuku and bookable via Airbnb. Our hotel isn't just popular for sleep, however: it has become a hot spot with stylish girls who get together and use it as a party space.

This is our Top 10 list of things you can do in SAKURAーone of the hotel roomsーso you can discover the best way to enjoy your stay in Harajuku.

①Take advantage of the room decor and decorations to snap all the photos you can!

MOSHI MOSHI ROOMS opened its first room SAKURA in December last year, and more recently ORIGAMI in August. From the walls to the furnishing, SAKURA is cherry blossom pink throughout, decked out with countless gorgeous Instagram-worthy spots popular with our female guests.

You can always get a beautiful photo together with the cherry blossom flower monument in the background, located behind the bed and bloomed right up to the ceiling.

The enormous and comfy pink bed is piled full of lots of fluffy cushions. You can take some pretty romantic pictures too when snuggled on top or in the bed.

Photographer: Kayo Sekiguchi

Don't forget about the neon sign either, a symbol of the room and the Japanese kanji character for cherry blossom (桜 sakura). Sit on the sofa in front of it and make use of the sign's lighting to get a more dreamy and fantastical shot.

②Popular Harajuku takeout food perfect for a night at MOSHI MOSHI ROOMS SAKURA

MOSHI MOSHI ROOMS is located in Tokyo's fashion and culture hub of Harajuku, and that means it's within walking distance of some quintessential kawaii and Instagrammable food shops. We've picked out three we think are perfect for ordering takeout to enjoy back in your room at SAKURA.

GOOD TOWN DOUGHNUTS

Smile Mango ¥420 / Raspberry Pistachio ¥400 / Sea Salt Caramel ¥390 (All Tax Inclusive)

GOOD TOWN DOUGHNUTS is a really popular doughnut shop in Harajuku. Their big size doughnuts not only look cute, they're the real deal taste-wise, and are also made with natural yeast, wheat flour from Hokkaido, sea salt sourced in Okinawa, sugar from Tanegashima, and organic oils. They are high-quality doughnuts full of flavour and plenty filling.

GOOD TOWN DOUGHNUTS

Address: J-cube B1F, 6-12-6 Jingumae, Shibuya, Tokyo)

TEL: 03-5485-8827

Opening Hours: 10:00-20:00

No Fixed Holidays

Official Website: http://good-town.com/

AND THE FRIET

Box (2 Friet Types) w/ Dip – From ¥800 (Before Tax)

This French fry shop makes their fries from a variety of carefully selected in-season potatoes, including potatoes from Belgium. They are crunchy on the outside and fluffy in the centre. They're also delicious even when eaten cold, making them a great takeout option. You can pick two types from six varieties for one box, plus a dip of your choice. A perfect party accompaniment.

AND THE FRIET Laforet Harajuku

Address: Laforet Harajuku 2F, 1-11-6 Jingumae, Shibuya, Tokyo
TEL: 03-6434-7568

Opening Hours: 11:00-21:00

No Fixed Holidays (Except when Laforet Harajuku is closed)

Official Website: http://andthefriet.com/

TOAST LUCK

<Macarons> From Left: Soybean Flour / Crunky / Cheese – ¥371 Each (Before Tax)

At TOAST LUCK, you can enjoy a whole range of different South Korean foods, including toast which is their main menu item. They also sell these marble-coloured macarons which are a little bigger than Japanese macarons. There's lots of flavours to choose from, all of which give you a different take on your regular macaron!

TOAST LUCK

Address: 3-27-15 Jingumae, Shibuya, Tokyo

TEL: 03-6812-9499

Opening Hours: 11:00-20:00

No Fixed Holidays

Official Website: https://www.toast-luck.com/

③Line up all your food in your hotel room for a girls' night in

Gather all of your takeout goodies from around Harajuku for a girls' night in at MOSHI MOSHI ROOMS SAKURA! The room has its own kitchen equipped with utensils, a microwave and refrigerator, so you can even prep your own food too.

The living room is nice and spacious so you can really let your hair down and relax. There's a limited number of beds but there's no limit to the amount of people that can stay over, so invite all of your friends along!

④Watch movies on the projector

The room is equipped with an Android TV mobile projector which has Netflix, Hulu, YouTube and other services on it as well as games. There's endless amounts of fun to be had, so grab your snacks and put on a movie or compete together in a game. The screen projects onto the white walls, so you can pick the best spot for viewing.

Projecting it on the wall beside the bed means you can relax while watching films or music videos together.

The cherry blossom pink MOSHI MOSHI ROOMS SAKURA offers a memorable accommodation experience like no other. We will continue the Top 10 list in the next article entitled Birthday Edition.

Remember, if you're looking to stay in Harajuku, be sure to book with MOSHI MOSHI ROOMS.

Models: Aiko / Ringo
Photographer: Haruka Yamamoto
Writer: Sayoko Ishii

Translator: Joshua Kitosi-Isanga

Suiran Ranks as Japan's Best Hotel in Condé Nast Traveler For Second Year in a Row

"Suiran, a Luxury Collection Hotel, Kyoto" has ranked as the number one hotel in Japan for the second year in a row in the Japan's Top Hotels category of Readers' Choice Awards 2019 in Condé Nast Traveler.

The Condé Nast Traveler Readers' Choice Awards lists the world's best travel experiences as ranked by international travellers. Over 600,000 people voted Suiran as Japan's best hotel for the second time.

Suiran is located in Arashiyama, Kyoto and first opened in March 2015 under a brand of luxury hotels known as The Luxury Collection®. The hotel's concept is to make full use of Arashiyama's appeal, lauded for its deep culture and history, while paving the way to the future. It houses guests from around the world who can enjoy a view of Arashiyama's lush natural landscape which changes beautifully with the seasons, and who can experience a fusion of the traditional and the modern while being served classic Kyoto hospitality.

Speaking about the award, the hotel's general manager Hiroyuki Hatori said the following: "I am greatly honoured that we have been given the number one spot two years in a row in this internationally-recognised poll. To all the people in the region who continue to support Suiran, and to all our guests who use the hotel, I thank you from the bottom of my heart. These results are an incentive to further work hard with our associates to ensure this is a hotel that people will love even more."

If you are travelling to Kyoto and looking for a place to stay, why not consider the city's best: Suiran, a hotel which continues to pass down tradition while embracing the modern?

Information

Suiran, a Luxury Collection Hotel, Kyoto

Address: 12 Sagatenryūji Susukinobabachō, Ukyo Ward, Kyoto

Access: 15-minutes on foot from Saga-Arashiyama Station / 6-minutes on foot from Arashiyama Station via Keifuku Electric Railroad / 15-minutes on foot from Arashiyama Station via the Hankyu Arashiyama Line

Official Website: https://www.marriott.com/hotels/travel/ukylc-suiran-a-luxury-collection-hotel-kyoto/

Gaze Over a Sea of Clouds at Hoshino Resorts Tomamu's New Cloud Bar in Hokkaido

This year's winter season program at Hoshino Resorts Tomamu―Hokkaido's leading snow resort hotel―is set to begin on December 1. As part of the program, the Muhyou Terrace will open on the same day and run until April 5, 2020. The terrace offers a snow-covered picturesque view from atop the mountain where you can see a sea of clouds and the snow-tipped trees at the bottom.

Muhyou Terrace sits on Mount Tomamu up 1,088 meters high. When you picture snowy mountains, especially those in Hokkaido, you imagine people skiing and snowboarding. But for Hoshino Resorts Tomamu, this is only part of their goal. They also want guests to enjoy the beauty of the mountain's natural landscape including the breathtaking view of the scenery below. That's why they decided to open Muhyou Terrace. As well as the daytime scenery, the terrace has also been turning on illuminations every winter night since 2017, offering a new perspective on the surrounding splendour.

The Cloud Bar which opened just up the slope of the Muhyou Terrace this summer features a 13 meter-long counter with chairs from which customers can soak up an incredible view. The bar has options of one or two-seat areas and can seat up to 7 people at once. There is a ladder attached to the chairs. Once you've climbed up and plopped yourself down you get a front row seat to the sights below. And since the bar is attached to the slope of the mountain and there's nothing to obstruct your view, it will feel like you're floating on the clouds as your feet kick the emptiness below.

Muhyou Terrace will offer its own original cocktail called the Snow Cocktail which is inspired by the snowy landscapes at Tomamu. This drink is a margarita made with lime juice and cointreau. Inside is a sprig of rosemary made to look like the Ezo spruce trees at the site. The snowman is in fact made of chocolate. Enjoy the best of both worlds when it comes to flavour and finesse!

Frosted Coffee – ¥500 / Frosted Fondant Chocolate – ¥600

They also have specially-made chocolate fondant and coffee to warm you up. The chocolate fondant is a warm cake topped with a white chocolate snowflake and is coupled with snow-frosted chocolate branches. The coffee is covered with pure white frosty amezaiku candy. The coffee sweetens as the candy melts into your cup.

The terrace's observation points, including the Cloud Walk and Cloud Bar, will be lit up with sparkling illuminations in the cool evenings.

Illumination Dates: December 15, 2019 – December 25, 2019

Times: Please check the official website

Information

Unkai Terrace

Running: December 1, 2019 – April 5, 2020

*Last entries to the gondola from the foot of the mountain at 15:00

*Last entries to the gondola from the top of the mountain at 15:3

Price: Gondola Return Ticket – General ¥2,200 / Elementary School Children ¥1,300 (Tax Included)

*Free for guests at Hoshino Resorts Tomamu The Tower and Hoshino Resorts RISONARE Tomamu

Entry: Available to guests and non-guests

*Select services and programs subject to change

*Site may close in the case of bad weather
RELATED ENTRIES
Doremo LeTAO: Strawberry Pancakes Whipped Up For Spring at Popular Cafe Near New Chitose Airport

Doremo LeTAO has released a new pancake flavour called "Very Berry" for the spring season which tops the cafe's popular pancakes with strawberries and raspberries.

What is Doremo LeTAO?

Doremo LeTAO is about 7-minutes by car from New Chitose Airport in Hokkaido. This desserts cafe makes use of its almost 5,300m² space to pack in all the charm of the brand. Its concept is "Sweets Resort" with which it whips up everything from authentic homemade pastries made using Japanese white birch yeast, cakes and cheesecakes to eat in or take away, soft-serve ice cream which is served all year round and is made with milk from Jersey cattle and cheese, and more.

It also serves melt-in-the-mouth pancakes and seasonal parfaits, as well as meals too like their original Beef Stroganoff which is made with beef fillet and local Hokkaido ingredients. They even serve pasta which is made from 100% "yumechikara" Hokkaido wheat.

Very Berry Pancakes – ¥1,600 (Before Tax) / With Drink – ¥1,930 (Before Tax)

Doremo LeTAO's pancakes have been a hit with customers ever since they entered the menu line-up and never fail to boast the true cookery craftsmanship of their chefs. Each pancake takes about 20 minutes to make, and flavours range from classics to exclusive ones each month. At Doremo LeTAO, it feels like they drop a tasty new strawberry pancake on us every year, and this year it's the rich berry-topped "Very Berry" which combines strawberries with raspberries, and it's thanks to the cheese flavour in their pancakes that it all comes together so well.

Topped with sliced strawberries, sorbet, and a drizzle of sauce, these really are the pancakes of the gods, and they're available this spring only.

Information

Doremo LeTAO

Address: 6-1-1 Asahicho, Chitose, Hokkaido

Opening Hours: 10:00-18:00

No Fixed Holidays

Official Website: https://www.letao.jp/global/en/

Feel Like You're Living On Okinawa's Taketomi Island With HOSHINOYA's New 'Workation' Hotel Plan

HOSHINOYA Taketomi Island in Okinawa rolled out a new hotel plan on March 18 that's set to run until June 30 this year.

Taketomi Island can be said to be home to landscape of what Okinawa used to be, with the Ryukyuan red roof tiles of its buildings, stone walls, and alleys spread with coral sand. Someone plucks away at a three-stringed sanshinーthe Okinawan precursor to the mainland shamisenーas time flows with gentle ease on the island. Taketomi Island is rich in traditional culture which can be felt throughout.

The guest rooms at HOSHINOYA Taketomi Island emulate the island's traditional architecture. All guest rooms have south-facing windows that can be opened to let in the southern winds, which the local islanders say are lucky. HOSHINOYA Taketomi Island developed its new workation plan in response to the current situation when more people are having to do remote work and work from home. It enables people a private abode where they can work and relax simultaneously. And all the necessary amenities have been prepared for a workation.

The guest rooms at HOSHINOYA Taketomi Island are known as guest pavilions, which allow for you feel like you're living like a real islander. They are equipped with Wi-Fi, printers, pand photocopiers too, making it the perfect work environment. And you don't have to worry about hay fever as there are no Japanese cedar or cypress trees around.

The pavilions offer a beautiful view of the bright blue sky and sea. The beaches are also open from March, so you can take a dip in the springtime sea too while basking in the warm climate.

Information

Paikaji Workation

Running: March 18, 2020 – June 30, 2020
Price: From ¥278,460 (Before tax/service charge)

People: Up to 2 people per room

*70% off from the normal price. The above-listed price is calculated for 30 days of stay.

HOSHINOYA Taketomi Island

Address: Taketomi, Yaeyama District, Okinawa 907-1101

TEL: 0570-073-066

Official Website: https://hoshinoya.com/taketomijima/en/
*You must select the meal option if you require food

Witness Mount Fuji and Fully Bloomed Cherry Blossoms at HOSHINOYA Fuji

HOSHINOYA Fuji is offering a very special Hanami flower-viewing experience for guests from April 7 to 21 this year where they can observe the springtime cherry blossoms against the backdrop of Mount Fuji. Offers include cherry blossom desserts, a glamping experience inside a cabin eating curry while enjoying the scenery of the outdoors, a private outdoor dining dinner, and more.

HOSHINOYA Fuji hails as Japan's first luxury camping resort. Located on the hill overlooking Lake Kawaguchi near Mount Fuji. It offers the ultimate glamping experience, with a large outdoor terrace surrounded by nature, cabins that can be enjoyed throughout the year, and more. It's difficult to go out and enjoy the cherry blossoms on the streets right now, but if you'd still like to enjoy spring safely with your special someone, then HOSHINOYA Fuji has created a special springtime experience.

Sakura Apéro: Witness the cherry blossoms during sunset with desserts in hand

"Sakura Apéro" is a chance to take a breather and enjoy all the beauties nature has to offer. It is held in the cabin area of HOSHINOYA Fuji under the towering cherry blossom trees. Sit back, relax, and enjoy an evening treat of cherry blossom flavoured bean paste rice cake, a cup of matcha milk or a matcha cocktail, and a front row seat of the cherry blossoms as the sun sets.

Hanami on the terrace

HOSHINOYA Fuji's cabina area is built in such a way so that guests can enjoy an outdoor experience. One third of the cabin has a terrace area with an enormous window that looks out into the natural landscape. A fireplace and kotatsu is available so you can still enjoy the outdoors even inside while relaxing with a comfortable stay into the late nights. Some of the cabins offer a view of the surrounding cherry blossom trees, inviting spring into your room.

Curry made on one of Mount Fuji's lava plates

At HOSHINOYA Fuji, guests can enjoy outdoor cooking in luxury be it in one of the cabins or the dining restaurant in the forest. Those who want to relax in a cabin are recommended the "Glamping Curry" at the terrace. You grill beef and vegetables yourself on a Mount Fuji lava plate and can combine five spices of your choice to create your own original flavour. In the outdoor dining area, which is exclusive to groups of guests, game meat is also served, such as boar and deer, as well as seasonal vegetables prepared in a dutch oven. For dessert, there's cherry blossom flavoured ice cream. You can also make your own strawberry sauce using fresh strawberries over a fire to pour over your ice cream before topping it with matcha crumbles.

Due to the ongoing situation surrounding the coronavirus, all guest rooms and public areas at all HOSHINOYA facilities are being thoroughly cleaned in line with the recommended guidelines to ensure the health and safety of guests and staff. Alcohol gel is available at all HOSHINOYA facilities, and staff's health and hygiene are being consistently examined.

Information

HOSHINOYA Fuji

Address: 1408 Ōishi, Fujikawaguchiko, Minamitsuru-gun, Yamanashi

Official Website: https://www.hoshinoya.com/

Succulent Strawberry Drinks & Desserts Served Up at GELATO PIQUE CAFE

GELATO PIQUE CAFE branches in Japan began their "Strawberry Fair" on Wednesday serving up drinks and desserts made using seasonal strawberries.

What is GELATO PIQUE CAFE all about?
"Desserts for adults" is the concept at GELATO PIQUE CAFE, a cafe brand developed by GELATO PIQUE which specialises is comfy loungewear. The cafe, which has branches in Tokyo, Osaka, Nagoya, and elsewhere in Japan, serves comfort food and is interested in the health and happiness of its guests. Their menu is overflowing with ideas, with all options made using only the best selected ingredients.

The enticing line-up is nothing short of kawaii, and screams springtimeーfitting for the season as Japan celebrated Vernal Equinox Day yesterday, the first day of springーwith sweet and sour strawberries adorning their crepes, smoothies, gelatos, soft serve ice creams, and more.

Strawberry Mille Feuille Crepe – ¥830 (Before Tax)

Topped with a whole strawberry, this mille feuille-inspired seasonal crepe is made with an in-house crafted strawberry cream, mille feuille puff pastry, and vanilla gelato. The strawberries used are a mix, all grown in Kumamoto Prefecture, including yuubeni, koinozomi, koiminori, and others. Much love and care is put into growing strawberries in Kumamoto, making them sweet and delicious.

White Strawberry & Red Strawberry Gelato – ¥460 (Before Tax)

This two-coloured serving of gelato ice cream is made with sweet-smelling white strawberries and a brand of red strawberry from Fukuoka called amaou. No strawberry lover will be able to resist this pick.

Strawberry Smoothie – ¥590 (Before Tax)

Enjoy a cold strawberry smoothie made from seasonal strawbs, milk, and honey. Indulge in the refreshing sweetness of the strawberries, and enjoy the cute pink flavour of the beverage.

Strawberry Milk Soft Serve Ice Cream – ¥450 (Before Tax)

Or grab yourself a cone of soft serve ice cream to enjoy the combination of flavours: sweet and sour strawbs and sweet, creamy milk.You can also get a mix together with the light blue vanilla flavour.

Information

Strawberry Fair

Running: March 18, 2020 – May 31, 2020

Location: GELATO PIQUE CAFE (Participating Branches: atré EBISU, LUMINE Ikebukuro, Mitsui Outlet Park Makuhari, Mitsui Outlet Park Kisarazu, Mitsui Outlet Park Jazz Dream Nagashima, Gotemba Premium Outlets, Nagoya LACHIC, Mozo Wonder City, Namba Marui, Mitsui Outlet Park Hokuriku Oyabe)

Official Website: https://pique-cafe.com/

*Strawberry variety is subject to change depending on production conditions

Hoshino Resorts to Open New KAI Poroto Ryokan in Hokkaido in Winter 2021

Hoshino Resorts, which manages 42 ryokan inside and outside Japan serving Japanese tradition and culture, signed a partnership agreement with the town of Shiraoi in Hokkaido on June 28, 2018, which would have them open a hot spring ryokan there. It has been revealed that the new facility will be named Hoshino Resorts KAI Poroto.

Hoshino Resorts KAI Poroto. Built by Japanese architect Hiroshi Nakamura, the site will open its doors in winter 2021 as the 19th branch of Hoshino Resorts's hot spring ryokan brand KAI, of which it operates 16 in Japan. It will be the third branch of KAI in Hokkaido, following from Hoshino Resorts RISONARE Tomamu in Shimukappu village and Hoshino Resorts OMO7 Asahikawa.

Hot springs in Shiraoi, Hokkaido include moor springs, a type of organic spring water that is rare globally. KAI Poroto faces Poroto Lake, which is enveloped in nature and home to creatures such as wild birds. All rooms at the ryokan enjoy a view of the lake, as well as a chance to see the trees and flowers bloom and change in different colours throughout the seasons.


KAI's aim is to offer Japanese hospitality that can only be experienced in that town or city, and during that season, as well as to give guests a comfortable experience in a Japanese-style accommodation. At KAI Poroto, they are set to offer a completely new experience tied to Ainu culture in collaboration with the Upopoy National Ainu Museum and Park currently in development in Shiraoi.

Upopoy is scheduled to open at Lake Poroto on April 24, 2020. "Upopoy" is a word in the Ainu language that means "singing in a large group." The museum is the first national museum in Japan to be dedicated to the indigenous Ainu people. It will serve as the national center for the revival and development of Ainu culture, something which is on the verge of extinction, and it will do this by showcasing Ainu culture and history through exhibitions, hands-on programmes, performances, and more.

Hiroshi Nakamura is the architects that designed Hoshino Resorts KAI Poroto. "Poroto" is also a word in Ainu to mean "large lake." The ryokan's lobby, which is decorated with Japanese white birch, offers a view of the lake and Mount Tarumae. There are also small bath houses called kashi which have been made using Ainu architectural methods, as well as open-air baths that have you feeling like you're taking a dip in the lake.

Information

Hoshino Resorts KAI Poroto

Address: 1-1018-1 Wakakusacho, Shiraoi, Shiraoi District, Hokkaido

Construction Work Start: Mid-May 2020 (subject to change)
Grand Opening: Winter 2021 (subject to change)

Official Website: https://kai-ryokan.jp/

Goldfish Bar to Open at HOSHINOYA Kyoto For a Limited Time This Summer

HOSHINOYA Kyoto's Salon & Bar KURA is being transformed into the new Kingyo Bar ("Goldfish Bar") for a limited time from July 1, 2020 to August 31, 2020. HOSHINOYA is a chain of luxury ryokan managed by Hoshino Resorts with the Kyoto branch located in Arashiyama, Kyoto.

The gorgeous new Kingyo Bar submerges guests amongst schools of fish, and takes on the Japanese custom of "cooling off," with goldfish bowls hanging gracefully from the ceiling. Customers will be able to feel cooled off as they observe the goldfish during the summer evenings deep in Arashiyama.

Enjoy the cool evenings of Arashiyama

HOSHINOYA Kyoto's goal is for people to fully enjoy the ancient capital's summertime, hence the revamp of Salon & Bar KURA into Kingyo Bar. Fish bowls will dangle from the ceiling, which will swim elegantly, their forms illuminated by the warm light of the lamps. Customers can enjoy watching the goldfish dance while sipping on one of the bar's original cocktails.

Arashiyama is known for its history as a summer resort for the Imperial Household during the Heian Period. Since ancient times, watching goldfish has long been a creative way of cooling down from the heat of summer amongst the people of Kyoto, and you'll get to do just that at Kingyo Bar.

See traditional crafts come to life as you admire the fish

The goldfish suspended on long string in their fishbowls are strung in such a way to meet your gaze. Enjoy the twinkling light reflecting from the bowls while the goldfish, with their cute round bodies and long fins, swim around in their cool water.

Sip on cocktails

Two original cocktails will be served: the Ukikusa ("Floating Weed") and the Kyo-kago ("Kyoto Fawn"). The Ukikusa includes a crushed jelly made from Japanese pepper tree buds and mint and is topped off with a lemon liqueur and sparkling wine. The flavour and fragrance of the wine comes through after the refreshing notes of citrus fruits and herbs. The Kyo-kago includes a yoghurt granita and a strawberry and red shiso liqueur. This is combined with Bikkuri Gyoten, a foamed junmaishu.

Catch shadow goldfish to take home

Try your hand at catching goldfish with this fun game. Japanese paper is layered over the top of a fish tank to create a shadow effect. Goldfish scooping is a staple of Japanese summer festivals, and this version puts a spin on the game.

Information

Kingyo Bar

Running: July 1, 2020 – August 31, 2020
Price: Free Entry / Drinks from ¥1,000 (tax and service charge charged separately)
Reservations: Not required
Location: Salon & Bar KURA (HOSHINOYA Kyoto)
Opening Hours: 21:00-23:30
For: Guests of HOSHINOYA Kyoto only

Official Website (English): https://hoshinoya.com/en/

Japanese Hanami 2020: Soak Up the Pink Springtime Cherry Blossoms at Hoshino Resorts KAI

KAI, a hot spring ryokan brand managed by Hoshino Resorts, has announced an exciting new experience at 14 of its branches called "Otsu na Hanami Tabi" (A Chic Flower-Viewing Trip) which will run from March 15, 2020 to May 31, 2020.

The service offers a new kind of Hanami, or flower-viewing, experience for guests that doesn't stop at just admiring the cherry blossoms, but enables them to enjoy both local history and customs too. Guests will be provided with a wicker basket of delicious Hanami goodies to enjoy, just like they did in the past.

We've picked five of the Hoshino Resorts KAI hot spring inns that we think our readers will be most interested in. Let's take a look!

Hoshino Resorts KAI Tsugaru | Aomori

Hoshino Resorts KAI Tsugaru is located in the town of Owani, which sits in southern Tsugaru in Aomori Prefecture. They are offering an exciting experience this May: "Shidare-zakura Hitorijime Taizai," which lets a single group have exclusive access to an area of seven shidare-zakura weeping cherry trees blooming in the inn's spacious garden, which sit far away from guest rooms. Those lucky enough to experience this service can sip on cider and tuck into some delicious apple pie while listening to a Tsugaru-style shamisen performance, known as tsugaru-jamisen.

Shidare-zakura Hitorijime Taizai

Running: May 1, 2020 – May 7, 2020

Price: ¥5,000 per person

No. of People: 1 group per day (2-4 people per group)

Booking: 0570-073-011 (KAI Reservation Centre)

Note: The tsugaru-jamisen performance will take place 15:30-16:30

Hoshino Resorts KAI Kawaji | Tochigi


Feel what it's like to live the life of someone living in a satoyamaーa village centred around an agricultural lifestyleーby waking up with the sunrise to start work early. Your morning job will be making tea at the watermill. You will use traditional and ancient tools like the suribachi mortar and the houroku pan to make tea grown from tea leaves in the area which you can enjoy a cup of to start your Hanami. As well as making tea, you'll be able to enjoy a quiet breakfast while gazing at the Yoshino cherry trees, so you can get that real satoyama spring experience.

Running: April 18, 2020 – April 25, 2020

Hoshino Resorts KAI Izumo | Shimane

Hoshino Resorts KAI Izumo is located in Tamatsukuri Onsen in Shimane Prefecture, where all guest rooms have their own open-air bath. The hot spring ryokan's "Sakura Koraku" experience gives you a chance to try wariko sobaーa style of soba noodles originating in Shimane's city of Matsueーunder the cherry blossom trees.

Sakura Koraku

Running: April 1, 2020 – April 20, 2020

Time: 15:00-19:00

Price: ¥500 for one Hanami picnic set for two people (5 sets prepared per day)

Booking: Hoshino Resorts KAI Izumo front reception

Notes: Rickshaw will run from April 1, 2020 to April 7, 2020 costing ¥1,300 per person. 30 minute ride. 5 groups per day (2 people per group).

Hoshino Resorts KAI Kaga | Ishikawa

Head to one of Kaga's famous weeping cherry blossom tree spots to enjoy a cup of Japanese tea prepared yourself. This plan offers the chance to experience Ishikawa culture in a spot that has been loved by locals for decades.

Running: April 1, 2020 – April 30, 2020

Hoshino Resorts KAI Aso | Kumamoto

Hoshino Resorts KAI Aso stands in Aso-Kuju National Park. Gaze at the five peaks of Mount Asoーthe largest active volcano in Japanーwhile sipping on water drawn from one of Japan's 100 famous water sources. Change up the water of the water to your liking: carbonate it, add syrup, and so on. You'll also get some refreshing fruits that have sat in carbonated water. Sit amongst the colourful flowers, like tulips and baby blue eyes, while soaking up the beautiful sights of Aso.

Tansan Ohanami

Running: April 20, 2020 – May 31, 2020

Price: ¥3,000 per person

No. of People: 3 groups per day (two people per group)

Booking: 0570-073-011 (KAI Booking Centre)

Note: In the case of rain, Tansan Ohanami will not run on that day

This is just 5 of the 14 Hoshino Resorts KAI branches offering a chic Hanami experience. If you're travelling to Japan this spring, be sure to check out what they're offering.

Spring's Arrived Early in Chiba as the Strawberry Picking Season Begins

Chiba Prefecture is one of the leading places in Japan for growing strawberries. Thanks to its warm climate, the prefecture enjoys hearty a strawberry harvest, which it celebrates with strawberry-picking events and markets across the prefecture. The true fun in strawberry picking in Chiba is that you get to taste a variety of different types, all ripe, there and then, so you can compare flavours.

To further promote the wonderful world of its succulent strawberries, Chiba Prefecture has set up a special website, and is also hosting a photo campaign entitled "Chiba Strawberry Fair 2020." This is also the season to try an original type of strawberry grown in Chiba Prefecture called the "Chi-Ba Berry."

Check out Strawberry Fields Chiba's special website

The Strawberry Fields Chiba website has a wealth of information on strawberry varietiesーincluding the "Chi-Ba Berry"ーas well as places to pick strawberries in the prefecture, places selling strawberries, and more. If you're interested in finding out more about strawberries in Chiba, then check out their website below.

Strawberry Fields Chiba Official Website: https://chiba-ichigo.jp

Chiba Strawberry Fair 2020

People who post a photo on Instagram of their time in Chiba enjoying the strawberries with the hashtag #ちばいちごフェア2020 ("Chiba Strawberry Fair 2020") have the chance to win the above-pictured Chi-Ba Berry-kun plush toy. The campaign is running until February 29, 2020.

Strawberry picking season in Chiba runs until May, so if you're planning a trip there this year, make sure you don't leave without trying the prefecture's famous strawberries.

McDonald's Japan Reveals White Chocolate Strawberry Latte and Frappe

McCafé by Barista branches of McDonald's in Japan are set to release three new drinks on February 26, 2020, for a limited time: the "White Chocolate Strawberry Frappe," "White Chocolate Strawberry Latte," and "Iced White Chocolate Strawberry Latte."

White Chocolate Strawberry Frappe – ¥490

The White Chocolate Strawberry Frappe is built up of a sauce made using fresh slices on strawberry and whipped cream, on top of which rests a refreshing milk base also mixed with strawberry sauce. Topping it all off is a squirt of fluffy whipped cream, a drizzle of strawberry sauce, and a sprinkling of white chocolate nibs. The aftertaste of this tasty dessert beverage leaves you feeling refreshed while satisfying your taste buds with its sweet flavour.

Iced White Chocolate Strawberry Latte – ¥390

White Chocolate Strawberry Latte – ¥390

The strawberry sauce and strawberry syrup used in the hot and iced versions of the White Chocolate Strawberry Latte are mixed together with fluffy foamed milk and cold milk to create a succulent strawberry milk. This is finished with whipped cream, more strawberry sauce, and plenty of white chocolate bits. Containing no coffee, these drinks enjoy the subtle sweetness of the white chocolate and the tangy-ness of the strawberry milk.

Refresh yourself this spring in Japan with a cup of McDonald's new White Chocolate Strawberry drinks.

Garrett Popcorn Reveals Cherry Blossom Pink Strawberry & White Chocolate Popcorn Flavour

American gourmet popcorn brand Garrett Popcorn Shops® has revealed its new cherry blossom pink coloured, strawberry and white chocolate flavoured popcorn "Very Berry White Chocolate," along with the new "Garrett Sakura Tin"ーboth of which will be released tomorrow on February 15 in limited quantities.

Very Berry White Chocolate: Small ¥580/Medium ¥1,030/Large ¥1,670/Jumbo ¥3,300/Quarter Tin ¥1,700/1 Gallon Tin ¥4,300/2 Gallon Tin ¥8,250

Also released for spring last year to overwhelming popularity, the "Very Berry White Chocolate" popcorn takes Garrett Popcorn's fruity, sweet and sour "Strawberry Caramel Crisp™" flavour, coats it in sweet white chocolate, and sprinkles it with strawberry flakes to create a truly succulent strawberry treat, which is made even more delicious with the milk white chocolate. Its pink colour also brings to mind images of Japan's cherry blossoms.

Garrett Sakura Tin/Quarter Tin: From ¥1,130

The Garrett Sakura Tin has been sold every spring since 2014, and makes a return once again for 2020, covered in beautiful cherry blossoms in full bloom.

The pink-on-pink combination is a great Valentine's Day present, for a springtime movie nightーwhatever takes your fancy!

Information

Garrett Sakura Tin

Running: February 15, 2020 – April 15, 2020 (Available while supplies last)

Available: At all Garrett Popcorn Shops® branches in Japan

*Limited quantities sold per day. Available while supplies last.

*Jumbo and 2 Gallon sizes available at Shisui Premium Outlets and LaLaport Expo City branches only.

Official Website: http://jpgarrettpopcorn.com/

5 Must Try Strawberry Desserts in Fukuoka – MOSHI MOSHI NIPPON

If you thought we hadn't covered enough desserts and food from Fukuoka already here on MOSHI MOSHI NIPPON, never fearーwe've got you covered with another tasty line-up for you. This time we're looking at a list of 5 must-try strawberry desserts from Kyushu's northern island, and we're joined by Instagrammer moe who has provided us with some mouth-watering photos of each pick.

COFFEE COUNTY | Kurume

COFFEE COUNTY is a famous coffee shop in the city of Kurume. It has a chill and relaxing atmosphere which is wrapped with the delicious smell of freshly-brewed coffee and desserts. Their strawberry pie, which is made with amaou strawberries from Fukuoka, blends together harmoniously the sourness of the strawberries with the sweetness of the cake.

Also, if you love coffee and happen to buy some coffee beans from the cafe, you'll receive a free cup of coffeeーwhich goes great with the pie.

▼COFFEE COUNTY

Address: 1-21-21 Takasago, Chuo Ward, Fukuoka, Fukuoka Prefecture

Opening Hours: 11:00-19:00

Closed: Wednesdays

Kurasukoto | Hirao

Kurasukoto is another relaxing cafe, decked out with wooden tables and shelves. They also sell a range of miscellaneous items in addition to the food menu too, like clothes and accessories. Their strawberry parfait was incredibly popular last year, and is back again this year. It's loaded with handmade fresh cream and custard which sits on a pile juicy jam made from fresh strawberries. The top layer is subtly sweet while the bottom is sweet and sour. Combined, they make the ultimate balance of flavours.

▼Kurasukoto

Address: 1-11-21 Hirao, Chuo Ward, Fukuoka, Fukuoka Prefecture

Opening Hours: 11:30-18:00

Closed: Mondays & Sundays

DAIMYO SOFT CREAM | Hakata

Strawberry x Strawberry Ice Cream

DAIMYO SOFT CREAM is an incredibly popular ice cream shop which sells around 10,000 ice creams a day. During the daytime, there are lines of people waiting outside for a scoop. It's close to Hakata Station so is easy to get to.

Their ice cream is really soft and rich, and the flavours change with each passing season. They have an eat-in space too if you want to sit and relax to enjoy your cone.

▼DAIMYO SOFT CREAM

Address: 1-11-4 Daimyo, Chuo Ward, Fukuoka, Fukuoka Prefecture

Opening Hours: 11:00-22:00

Pinsirio | Kuromon

Pinsirio's parfaits get you excited by just looking at them. Their parfaits are made with fresh in-season fruits. The cafe has an open kitchen, so you can enjoy watching your parfait being made.

The "Strawberry Forest" is served in a glass and absolutely overflows with strawberries. Every mouthful down to the last bite is strawberry flavoured. The rich taste of the salted butter sable cookies and the light sourness of the cheesecake are to die for too.

▼Pinsirio

Address: 8-15 Kuromon, Chuo Ward, Fukuoka, Fukuoka Prefecture

Opening Hours: 11:00-18:00

Closed: Tuesdays

yorimichi | Kasuya

Shrimp & Egg / Strawberry Chocolate Chip

yorimichi is famous for being a bakery with a unique custom where customers must take their shoes off to enter. It's customary in Japan to take your shoes off when entering someone's home, as well as in certain restaurants and izakaya, but it's pretty much unheard of for a bakery.

The bakery makes a limited batch of 600 breads a day, meaning that most of the time they sell out their stock by evening time. The strawberry chocolate chip bread is filled with a homemade chocolate chip cream which is a match made in heaven when paired with the sweet strawberries. Try eating it together with one of the savoury sandwiches for a real treat.

▼yorimichi

Address: 1-10-43 Chōjabaruhigashi, Kasuya District, Fukuoka Prefecture

Opening Hours: 7:30-15:00

Closed: Tuesdays

Did you enjoy this list? If you're in need of more cafe recommendations in Fukuoka, then be sure to follow moe on Instagram.

Original Text & Photos: moe

Translation: Joshua Kitosi-Isanga

*Information written in this article is correct at the time of publishing. For more details on each shop, please visit their official websites and social media pages.

9 Must Try Desserts and Sweets in Hokkaido & at New Chitose Airport – MOSHI MOSHI NIPPON

We at MOSHI MOSHI NIPPON know our readers love desserts and sweets as much as we do, and that's why we make sure to never go too long without writing about the latest must-try treats in Japan, like our recent article on

matcha desserts in Sapporo

.

We return to you once more with the 9 must-try delectable delights at New Chitose Airport in Hokkaido, and at various locations across Hokkaido. If you're heading to Japan's northernmost prefecture, and are using this airport, or are travelling throughout Hokkaido, then you can't miss out on these irresistible picks.

Today, we are joined by Kei, a Japanese Instagrammer who posts enticing pictures of the delicious desserts and drinks he has tried at cafes around Hokkaido. He has kindly provided us with his incredible pictures along with a descriptions, which we have translated into English. Enjoy!

GINRYU・BonBon BERRY | New Chitose Airport

GINRYU・BonBon BERRY is a revamp of the original shop, GINRYU. Located on the second floor of New Chitose Airport Terminal, the new shop has teamed up with BonBonBERRY, another store right next to Atami Station in Shizuoka Prefecture.

The shop specialises in Tokachi Ginryu strawberries, a variety of strawberry produced in the town of Otofuke. They have a distinct appearance and taste, with their beautiful white inside, low acidity, and high sugar content.

Omocchiizu Strawberry Skewer – ¥432

This skewered dessert is made up of strawberries, cheese-filled sticky rice cake, and strawberry baumkuchen. This is the ultimate strawberry indulgence!

Strawberry Bavarois – ¥740

The Strawberry Bavarois and soft serve ice cream look super cute too. The high sugar content of the Ginryu strawberry makes them perfect for any kind of dessert.

The shop is stocked full of other great sweet treats too, so be sure to check out their strawberry range.

▼GINRYU・BonBon BERRY

Address: New Chitose Airport Terminal – Floor 2F

Opening Hours: 8:00-20:00

No Fixed Holidays

Enquiries: 0123-29-4480

Chocolatier Masale | New Chitose Airport

Chocolatier Masale is a standout name in Hokkaido. This leading chocolate company have multiple branches – in addition to the Sapporo shops, they have sites in both the lobby and gate lounge of New Chitose Airport.

Mousse Glacee White Chocolate & Hokkaido Milk – ¥410

Exclusive to the departure lobby branch of Chocolatier Malase, this chocolatey dessert is an ensemble of ice cream made from mousse-packed Hokkaido milk and covered in chocolate. It's finished with cracked freeze-dried strawberries which give a fruity kick to the smooth taste of the ice cream and delightful chocolate.

▼Chocolatier Masale – New Chitose Airport Departure Lobby (ショコラティエマサール 新千歳空港出発ロビー店)


Address: New Chitose Airport Terminal – Floor 2F

Opening Hours: 8:00-20:00

No Fixed Holidays

Enquiries: 0123-29-4115

siretoco sky sweets | New Chitose Airport

siretoco doughnuts were created in the town of Nakashibetsu in Hokkaido. The New Chitose Airport Terminal branch is immensely popular for its cute mini animal doughnuts which are steamed instead of being dropped into hot oil, making them a healthier doughnut option.

Happy New Year Lucky Rat – ¥420 / Rich★Cream Cheese – ¥390

The doughnut on the left celebrates 2020 and the Year of the Rat in the Chinese Zodiac. It's white chocolate and strawberry chocolate flavoured. It's also not too sweet and has a soft and fluffy texture. The cheese doughnut has a very cheesy flavour indeed. All the animal faces are also made by hand, so each and every one is unique. Both are really cute looking.

▼siretoco sky sweets (シレトコ スカイ スイーツ)

Address: New Chitose Airport Terminal – Floor 2F

Opening Hours: 8:00-20:00

No Fixed Holidays

Enquiries: 0123-46-2109

Cafe Owl | Lake Shikotsu

Handmade Baked Purin – ¥500

Cafe Owl is situated in Shikotsuko Onsen, a popular tourist spot about a 55-minute transit bus ride from New Chitose Airport. It has a warm atmosphere to it with its log house-like appearance. Their food menu has just two things on it: pizza and purin (Japanese custard pudding). I ordered a purin and cup of coffee as a set.

The photo doesn't show how big the purin actually is – it's like a cake slice. It has a refreshing taste and isn't overly-sweet so can be chowed down easily.

▼Cafe Owl (カフェアウル)

Address: Shikotsuko Onsen, Chitose, Hokkaido

Opening Hours: 9:00-17:00

Closed: Wednesdays

Enquiries: 0123-25-2590

Pennennolde | Lake Shikotsu

Atsuma Honeysuckle Rare Cheese & Cocoa – ¥380 / Walnut Chocolate Ganache – ¥380

This cafe is also located in Shikotsuko Onsen. Their main meal is muffins, which are served warm inside their very relaxed space. The honeysuckle cheese muffin is thick and sticky, and doesn't have an unpleasant smell from the cheese. It's simply delicious. The chocolate ganache too is melted which only adds to the nice texture of the walnuts.

The muffins can be ordered for takeout too, so you can take them with you to enjoy the local sights.

▼Pennennolde (ペンネンノルデ)

Address: Bangaichi, Shikotsuko Onsen, Chitose, Hokkaido

Opening Hours: 10:00-17:00

No Fixed Holidays

Enquiries: 0123-25-4115

Kita no Umaimonten Hekisui | Lake Shikotsu

Raspberry Chocolate Soft Cream – ¥500

This cafe is close to Lake Shikotsu. They sell soft serve ice cream from the famous Iwase Farm located in the city of Sunagawa. This flavour is made with rich chocolate ice cream and is topped with freeze-dried raspberries, creating a great balance between the two.

This small place has its own eat-in area too, so you can kick back and relax while you enjoy the taste of some Hokkaido soft serve ice cream.

▼Kita no Umaimonten Hekisui (北のうまいもん店碧水)

Address: Shikotsuko Onsen, Chitose, Hokkaido

Opening Hours: Not known

Closed Days: Not known

Enquiries: 0123-25-4115

Official Website: Not known

Doremo LeTAO | Chitose

Chocolate Noisette Berry – ¥1,540

Doremo LeTAO is just a 15-minute walk from Chitose Station. Their "Chocolate Noisette Berry" is packed fully of rich chocolate, nuts, and berries.

Berry Mascarpone – ¥1,650

The "Berry Mascarpone" comes with four pancakes drizzled in berry sauce, mascarpone, custard, strawberries, and vanilla ice cream. The pancakes have soft meringue inside them, but are still light to eat, so you can rest assured you won't have a heavy stomach afterwards.

▼Doremo LeTAO (ドレモルタオ)

Address: 6-1-1 Asahinochi, Chitose, Hokkaido

Opening Hours: 11:00-18:00

No Fixed Holidays

Enquiries: 050-5570-2975

Mirtillo | Osatsu

Mirtillo is a gelato shop on the outskirts of Osatsu in Chitose. It's a tricky place to reach without a car, but it still stands as an incredibly popular gelato store. They have 16 flavours of gelato including several limited-time options.

I tried their "Waffle Parfait," which lets you pick from two gelato of your choice along with toppings. The combination of the crunchy waffles with the gelato is delicious. Added together with the blueberry sauce and fruits, you get a variety of tastes and textures.

The blueberries are actually all grown on site.

▼Mirtillo (ミルティーロ)

Address: 2 Osatsu, Chitose, Hokkaido

Opening Hours: 11:00-18:00

No Fixed Holidays

Enquiries: 0123-23-5323

Donut Chaya Honwaka | Eniwa

Honwaka Cocoa – ¥140 / Autumn Chestnut – ¥220

Honwaka is a doughnut shop about 1.5km from Eniwa Station. I got to try some of their seasonal autumn flavours: the fluffy and flavourful "Honwaka Cocoa," and the chestnut and chestnut cream-loaded "Autumn Chestnut." The chestnut cream is just the right amount of sweetness and has a really delightful chestnut flavour.

The store offers limited-time seasonal flavours with each passing season, so be sure to check out my Instagram to see more.

▼Donut Chaya Honwaka (ドーナツ茶屋 ほんわか)

Address: 7-18-4 Koganeminami, Eniwa, Hokkaido

Opening Hours: 11:00-17:00

No Fixed Holidays

Enquiries: 0123-25-5346

Did you enjoy these dessert picks? We hope you get to try some of them, and if you want even more dessert recommendations from Hokkaido, be sure to follow

Kei

on Instagram.

Photos & Original Text: Kei / 敬 (@607keih)

Translation: Joshua Kitosi-Isanga

*Information written in this article is correct at the time of publishing. For more details on each shop, please visit their official websites and social media pages.

*Food names are translated from Japanese into English where appropriate.