Kaori's Easy Recipe: Learn to Make Mickey Mouse Pancakes
With just a small bit of ingenuity, turn everyday food into something cute using Kaori's easy recipe! With a few simple ideas, an ordinary recipe magically transforms into a cute dish.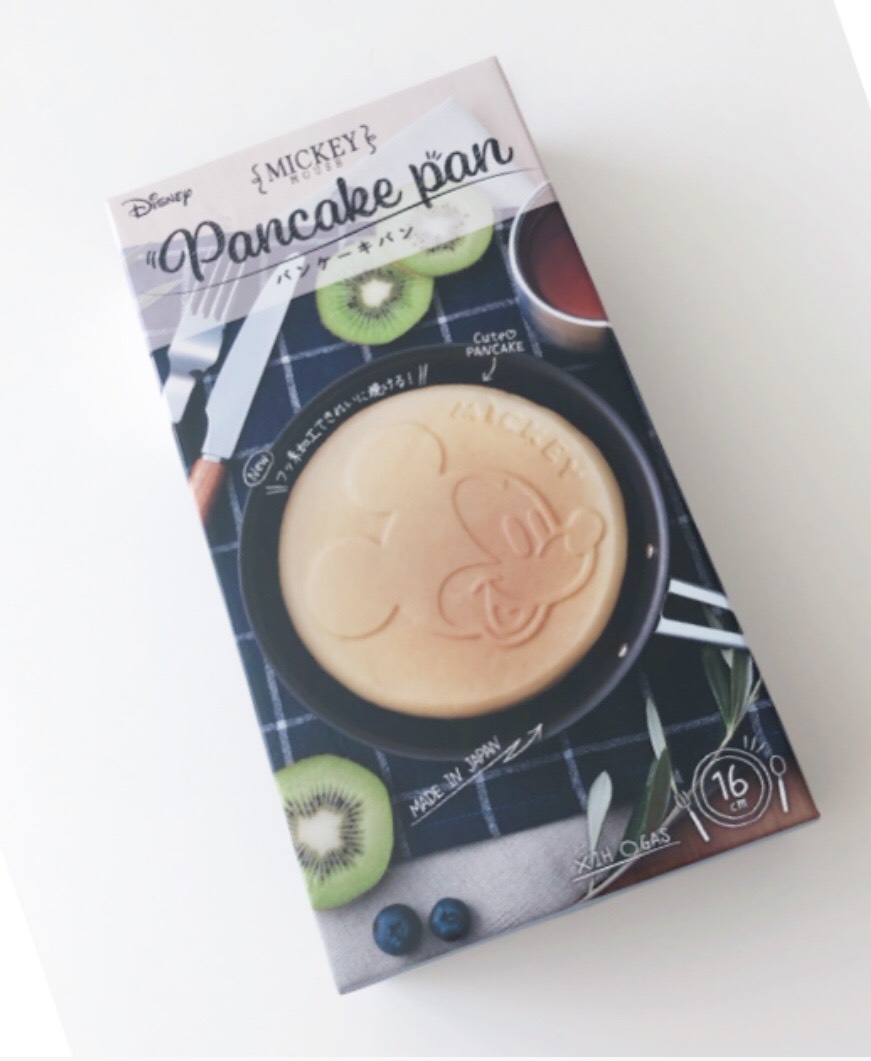 In this recipe, I made Mickey Mouse pancakes from the Face Art ga Kawaii Pancake Pan Mickey Mouse set you can buy on Belle Maison. You hear a lot of different tips and tricks on how to make the perfect pancake with your batter, so I'll show you a combined recipe to make yours as beautiful as possible♡
1. Ingredients (Makes 7-8 pancakes)
400g hot cake mix
300ml milk
1 large egg (approx. 52g)
15g honey
2. Mix the egg and milk together well. Add the hot cake mix slowly to ensure it does not become lumpy. Next, add the honey and mix. If you have time, leave to stand for 30 minutes on the side.
3. For the next step, please see the video I made below.
Heat the pan well without any oil.
Once heated, place the pan on a wet cloth once to remove the residual heat, turn the flame down to a medium, and pour in your mix.
Once your mix is in the pan, reduce to a low heat, put the lid on and leave to cook.
Once the surface is dry, cook the back side of the mix in another pan which you have already heated.
Done!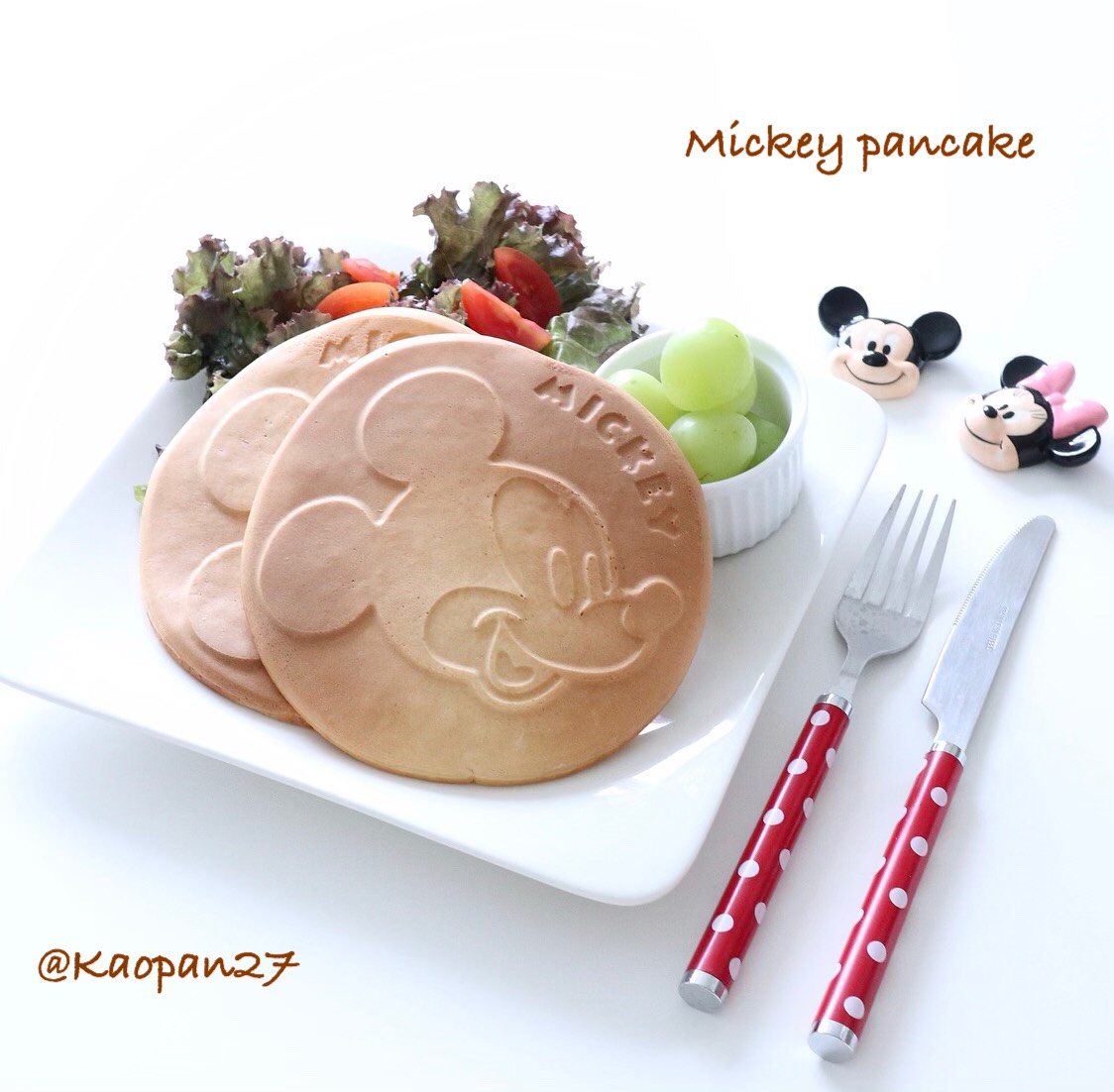 Belle Maison sells Minnie Mouse and Winnie the Pooh versions too. Try making your own Disney pancakes!
Kaori invites you into her world of character-themed food dishes in her recipe series. Be sure to check out her Instagram where she has uploaded many pictures of her character dishes!
Profile
Kaori Kubota (@kaopan27)
I live in Hokkaido and I love to make character themed foods, desserts and pastries♡
I want to see my family smile, so I enjoy putting in a bit of effort to make character foods and changing food into something cute♡
You can see more of my character foods and character bento boxes on my Instagram page→@kaopan27
©️Disney
RECOMMENDED ENTRIES
Kaori's Easy Recipe: Learn to Make Pumpkin and Cream Cheese Pound Cake For Halloween

With just a small bit of ingenuity, turn everyday food into something cute using Kaori's easy recipe! With a few simple ideas, an ordinary recipe magically transforms into a cute dish.

In this recipe, I will show you how to make the perfect treat for Halloween: a pumpkin and cream cheese pound cake, finished with cute bats and a ghost. This is a super easy recipe that can be made by simply putting everything into a blender and baking it in the oven. By the end of you you will have yourself a Halloween-themed rich pound cake as soft as Japanese pudding.

1: Ingredients (Makes one 22cm pound cake)

150g cream cheese

250g cooked pumpkin (skin and seeds removed)

50g-60g sugar

1 egg

150ml fresh cream

20g soft wheat flour

2: Blend all of the ingredients together in a blender

3: Once the mix takes on a smooth texture, pour into a cake tin and bake at 180℃ for 40 minutes. Once cooked, remove from the oven and leave to cool, then leave in the fridge overnight.

4: Once the cake has set, slice a piece and add your dollop of fresh cream for your ghost and decorate.

To see how I did the toppings, check the video I made above. Once your cute toppings are done, your cake is ready to enjoy!

Kaori invites you into her world of character-themed food dishes in her recipe series. Be sure to check out her Instagram where she has uploaded many pictures of her character dishes!

Profile

Kaori Kubota (@kaopan27)
I live in Hokkaido and I love to make character themed foods, desserts and pastries♡

I want to see my family smile, so I enjoy putting in a bit of effort to make character foods and changing food into something cute♡

You can see more of my character foods and character bento boxes on my Instagram page→@kaopan27

Kaori's Easy Recipe: Learn to Make Mickey Mouse Ice Box Cookies

With just a small bit of ingenuity, turn everyday food into something cute using Kaori's easy recipe! With a few simple ideas, an ordinary recipe magically transforms into a cute dish.

For this edition of Kaori's Easy Recipe, I used a recipe from the Disney dessert cookbook Oishii Disney Sweets Recipes to make cute Mickey Mouse-shaped ice box cookies. Ice box cookies are made by forming the dough into a cylindrical shape, leaving it to set in the fridge, and cutting into slices. This means you can make cookies even if you don't have a specific cookie cutter, for example one in the shape of Mickey. You can create lots of different kinds of cookies using this method. They're light, crunchy and best of all, delicious.

1. Ingredients (Makes: Approx. 30)

100g unsalted butter

80g powdered sugar

180g sieved weak flour

20g egg yolk (1 medium size egg)

A pinch of salt

10g pure cocoa

2. Bring the unsalted butter to room temperature until it's soft. Break into small pieces until it turns creamy then add the powdered sugar and salt. Mix well until everything is blended together.

3. Add the egg yolk into the mixture and mix well with a whisk.

4. Slowly add the sieved flour. Add about a quarter at a time and mix well before adding the rest to avoid clumps. After all the flour is mixed in, divide in half and mix one of the halves with cocoa powder.

5. Shape both halves into a rectangular shape at 12cm x 6cm. Wrap in cling film and refrigerate for 30 minutes.

6. Divide each half like in the picture below.

7. Put ⅞ of the plain dough to one side, and roll the rest of the plain dough and all of the cocoa dough into 15cm rods.

8. Roll the ⅞ of plain dough you put to one side into a 17cm x 15cm square. Referencing the pictures above and below, place plain "C" dough in the middle between the cocoa "B" dough. Ensure there are no gaps when pushing them together.

9. Place the cocoa "A" dough on top of the "C" dough. Take both sides of your rolled out square dough and bring together ensuring there are no gaps. Wrap in cling film and leave in the fridge for 20 minutes.

10. Take out of the fridge and cut about 5mm off the ends. Make sure to handle with care – if handled too roughly the dough will collapse.

11. Slice into single cookies and bake at 160℃ for 20-25 minutes.

Your cookies are done!

Kaori invites you into her world of character-themed food dishes in her recipe series. Be sure to check out her Instagram where she has uploaded many pictures of her character dishes!

There are many other cute Disney recipes available in the book that Kaori used too, so if you're in Japan then why not pick up a copy?

©️Disney

Profile

Kaori Kubota (@kaopan27)
I live in Hokkaido and I love to make character themed foods, desserts and pastries♡

I want to see my family smile, so I enjoy putting in a bit of effort to make character foods and changing food into something cute♡

You can see more of my character foods and character bento boxes on my Instagram page→@kaopan27

Information

Oishii Disney Sweets Recipes (Japanese Title: おいしい ディズニー スイーツ レシピ)

Price: ¥1,200 (Tax Included)

Available: Amazon Japan, Rakuten, and elsewhere

Kaori's Easy Recipe: Learn to Make Steamed Minnie Mouse Cocoa Cakes

With just a small bit of ingenuity, turn everyday food into something cute using Kaori's easy recipe! With a few simple ideas, an ordinary recipe magically transforms into a cute dish.

Today, I will show you the perfect recipe for making chocolate Minnie Mouse cakes using the Mickey Mouse Tezukuri Okazu Maker kit which you can buy on Belle Maison.

1. Ingredients

About 3-4 prep bowls

1 large egg

40g sugar

Oil or 10g melted unsalted butter

15ml milk

50g weak flour (sifted)

10g cocoa

5g baking powder

2.

①Crack the egg into a mixing bowl, add the sugar and whisk well.

②Add a drizzle of oil or melted butter and milk and whisk again.

③Add the sifted flour and stir in gently with a rubber spatula.

3.

Oil the silicone cake moulds and spoon in your mix.

4.

Steam on a high heat for about 10 minutes.

5.

Now it's time to make Minnie's ribbon. I got this ribbon mould from Daiso. Place it onto some baking paper and outline the shape with a pen. Fill the outline with red-coloured chocolate and leave to set in the fridge. Once it has completely set, add the polkadots.

6.

Once the cake has finished steaming, stick her onto a lollipop stick so it the cake be eaten like a lollipop, and fix the ribbon onto the top of Minnie's head.

And she's finished! It looks cute when you put a Mickey and Minnie one together side by side. You can make a lot of cute recipes using the Okazu Maker, so get your hands on one and try making your own!

Kaori invites you into her world of character-themed food dishes in her recipe series. Be sure to check out her Instagram where she has uploaded many pictures of her character dishes!

©️Disney

Profile

Kaori Kubota (@kaopan27)
I live in Hokkaido and I love to make character themed foods, desserts and pastries♡

I want to see my family smile, so I enjoy putting in a bit of effort to make character foods and changing food into something cute♡

You can see more of my character foods and character bento boxes on my Instagram page→@kaopan27
RELATED ENTRIES
'Kyoto Yura Hotel M Gallery' New Halloween Menu Features Adorable Monster Motifs

The '1F Lounge & Bar 1867' at the Kyoto Yura Hotel M Gallery will be hosting a Halloween themed afternoon tea from October 1 2021, with tea sets and cocktails available. The premium hotel is owned by Accor, a Paris, France based group that owns over 5,000 hotels and resorts in 110 countries.

The Halloween-themed afternoon tea has been made by Jennie Chiu, a pastry chef who grew up in America, the home of Halloween. The afternoon tea features cute and playful monster motifs, including a witch-hat Mont Blanc, a Cassis and Chestnut Cake topped with a small ghost, and a spider-web topped Raspberry and Chocolate Mousse. For savory treats, Chef Nishimura Niki has prepared Foie Gras soaked in Salted Koji, plus two luxurious lobster dishes.

The creative Halloween cocktails were brainstormed by Yamazaki Sousei, who ranked in the Japan Top 10 category of bartending competition 'WORLD CLASS 2021.' The Halloween and apple pie inspired lineup was inspired by Scotland and the Celtic people, looking back to when Halloween was first celebrated. 

Enjoy some adult-only time in this retro-modern "family mansion" themed space. 

Information

Halloween Afternoon Tea Set

Availability: October 1 ~ October 31 2021

Location: Lounge & Bar 1867 

Serving Hours: 12:00 and 15:00 *Please reserve your table by 17:00 on the day prior to your arrival

Halloween Cocktails

Availability: October 1 ~ October 31 2021 

Price: ¥1,900
Location: Lounge & Bar 1867

Serving Hours/Opening Hours: 11:30 ~ 21:00 (L.O. 20:30) 

Official Site:  https://kyotoyurahotel-mgallery.com/ja

Eggs'n Things Popular Halloween Menu Returns for Limited Time

EGGS'N THINGS JAPAN have announced that between October 15 and October 31, their most popular Halloween item ever – the 2018 Halloween Trick Pancakes – will be returning to Eggs'n Things and Eggs'n Things Coffee stores nationwide. 

 

 

The black pancake batter is kneaded with cocoa and is topped with subtly sweet pumpkin cream shaped in a cute spider pattern, finished with a swirl of purple taro whipped cream. Eggs'n Things have even hidden a colorful, popping trick inside the pancake. 

 

Have some fun this Halloween at Eggs' Things!

Information

Halloween Trick Pancake

Cost: ¥1,730 (Tax Incl.)

Availability: October 15 ~ October 31 2021 

Participating Stores: Eggs'n Things, Eggs'n Things Coffee stores nationwide 

※This item is not available to take out.

Patisserie Antenor in Kobe Releases Limited-Time Halloween Cakes

Antenor, a beloved patisserie located in Kobe, began selling limited-time Halloween-themed cakes on October 1, 2021. The exciting lineup will have guests ready for the scariest day of the year, offering sweets made with purple sweet potato, Mont Blanc, and pumpkin. 

Halloween Petit Four – Available from October 16 until October 31

Pumpkin Mont Blanc – Available from October 1 until October 31

Halloween Cheesecake – Available from October 1 until October 31

Gateau Chocolat Classic Cake – Available from October 1 until October 31

Halloween Assortment (M) – Available from September 1 until October 31

The Halloween Assortment (M) includes three types of popular cookies and is available now ahead of the October holiday. It would make a perfect gift, so snag one of these festive boxes before they're gone!

Halloween Sweets Buffet Coming to Haneda Excel Hotel Tokyu for Two Days Only

Moshi Moshi Nippon has delivered news on tons of Halloween treats this holiday season, but can there ever really be enough? Haneda Excel Hotel Tokyo has announced a special two-day-only Halloween Sweets Buffet on October 30 and 31 at the location's Flyer's Table restaurant on the second floor. 

Pumpkin Cheese Tart

Ghost Mousse

Black Cream Puff

 

Guests can enjoy a variety of spooky treats all incorporating fall flavors like chestnut, pumpkin, sweet potato, pear, and apple. Offerings include the Pumpkin Cheese Tart, a mildly-sweet cheese tart made with sour cream, cottage cheese, and cream cheese, and topped with pumpkin cream; the Ghost Mousse, a chestnut mousse made to look like a ghoul; and the Black Cream Puff, made with black cocoa and a cassis cream filling. 

 

At the demonstration corner, guests can see the Sweet Potato Mont Blanc being made. Those wanting something besides sweets can enjoy a selection of sandwiches decorated in Halloween style!

Mickey Mouse Professional Baseball Collection Available During Fall/Winter 2021

Are you a fan of Japanese professional baseball? 12 of these teams are teaming up with the globally beloved character Mickey Mouse for a new fall/winter collection, with preorders open now! This year's items include long-sleeve T-shirts, pullover hoodies, jackets, iPhone cases, and cushions, all featuring these sporty designs. You might not be able to stop yourself from ordering everything! Head over to the official website and take a peek. 

© Disney
NTRL
©YOMIURI GIANTS ©ヤクルト球団 ©YOKOHAMA DeNA BAYSTARS ©中日ドラゴンズ
©HANSHIN TIGERS ©HIROSHIMA TOYO CARP ©H.N.F. ©Rakuten Eagles ©SEIBU Lions
©CHIBA LOTTE MARINES ©ORIX Buffaloes ©SoftBankHAWKS

KEYUCA Celebrates Halloween with Limited-Edition Autumn Sweets

Dolce Felice and Keyuca Sweets, two sweets brands produced by lifestyle shop KEYUCA, have come together to sell some new treats inspired by the autumn season, along with the Halloween vibe. The autumn-inspired sweets will be on sale starting October 1 at participating shops and online, while the Halloween sweets will be sold for three days only, from October 29 to 31. Preorders are open now. These delicious delicacies will be filled with fall ingredients, including Hokkaido-grown Ebisu pumpkin cream and chestnut. 

Limited-Time Halloween Sweets

Petit Halloween Pound Cake, 2 pieces

On sale: October 1 – October 31 *While supplies last. 

Monster Shortcake / On sale: October 29 – October 31

*Available to preorder at all stores starting October 1

Monster Eclaire / On sale: October 29 – October 31

*Available to preorder at all stores starting October 1

Monster Mont Blanc / On sale: October 29 – October 31

*Available to preorder at all stores starting October 1

Limited-Time Autumn Sweets

Ebisu Pumpkin Eclaire

Chestnut Mont Blanc Shortcake

Various limited-edition treats signify the coming of Halloween, with monster, black cat, and jack-o-lantern motifs. How would you like to bring home some of these ghoulish delights?

2021 Halloween Sweets Collection Coming Soon to Cerulean Tower Tokyu Hotel

The pastry shop at Cerulean Tower Tokyu Hotel will start selling an absolutely gorgeous selection of Halloween sweets starting October 1, 2021. 

Purple Sweet Potato Mont-Blanc (S, pictured left and right): ¥630 (Tax Included) / (M, pictured center): ¥2,700 (Tax Included)

Chatnoir: ¥745 (Tax Included) 

Pumpkin Pudding: ¥626 (Tax Included) 





The sweets included in this year's lineup are meant to bring some joy to those who have struggled during the past year of lockdown, and those who might not be able to attend their favorite seasonal events this year. In this lineup of three beautifully decorated treats, guests can bring the spirit of Halloween home. Which of these would you want to add some spooky flair to your kitchen?

New Specialty Shop in Shinjuku Selling Edible Jewels for a Limited Time

Mahou no Kohakutou, a shop specializing in sweets that look exactly like sparkling jewels, will be open for a limited time from October 1 to October 10, 2021, inside the Shinjuku Marui Main Building. These unique treats are actual amber candy, but it's hard to want to eat something that looks so expensive. 

Each piece is cut by hand

Pieces from the Magical Vial Series

Finished amber candy

Amber candy before the drying process

Amber sugar is often appropriately called rock candy due to its mineral-like appearance. Despite their hard appearance, these treats have a much more complex texture than you'd think, crunchy on the outside but chewy on the inside. It takes about one week to crystallize each piece to get the right texture, and chefs must constantly keep an eye on the process by turning the sweets when needed and adjusting the humidity. 

Rather than using a machine or mold, each of these jewels is formed by hand, one by one. This means each one is completely different!

All coloring is accomplished with natural food-derived dye, and the sweets contain no synthetic coloring or flavoring. All it takes is a few simple ingredients to create something scrumptious! 

Villain-Themed Halloween Sweets Buffet Opens for One Day Only in Saitama

The Omiya ART GRACE Wedding Chateau in Saitama will hold an all-you-can-eat Halloween buffet on October 31, 2021. Guests can enjoy as many villain-themed treats as they like, all prepared and decorated by the skilled on-site wedding patissier.

In addition to sweets–like the sorcerer's macaroon, pirate pudding, and cold-hearted chocolate mint ice cream–guests can also treat themselves to all-you-can-eat savory meals, including pirate's seafood pizza and devil black curry. A photo spot will also be available in the main dining room, which will be entirely decorated for the occasion. This is the perfect event for a girl's night out or for families with children, so be sure to make your reservation now!

Information

Mischievous Villains Dessert Time ~Art Grace of Terror~

Open: October 31, 2021, *Reservations required. 

First Seating: 11:00-12:30   Second Seating: 13:15-14:45

Address: Omiya ART GRACE Wedding Chateau/Guest House (1-816-7 Uetake-cho, Kita-ku, Saitama)

Access: 9-minute walk from JR Toro Station

Phone: 048-614-0811

Reservations: https://www.bestbridal.co.jp/guestparty/saitama/artgrace_chateaux_omiya/2021event-73/

Sheraton Grande Tokyo Bay Hotel Offering Halloween Sweets Throughout October

Cafe Toastina, located inside the Sheraton Grande Tokyo Bay Hotel, will be serving up some Halloween-themed sweets throughout the month of October! While it's possible to simply stop by and snag one of these monstrous treats, each Friday, a special Halloween edition of the popular Friday Sweets Buffet has also opened reservations. 

Jack-o'-lantern Tart: ¥800

 

How can you have Halloween without a carved pumpkin? Featuring dough filled with pumpkin and a topping of maple jelly and mousse, this cream-covered treat is sure to satisfy even the biggest sweet tooth. Atop the smiling pumpkin sits a cookie, chestnuts, pistachio cream, and a ghost made of chocolate. (Actually, it might be too cute to eat.) 

Monster Cream Puff: ¥800

This puff pastry is filled to the brim with custard cream and apple compote, then topped with sweet potato vanilla mousse. The monster's face is made with purple sweet potato cream and chocolate, which makes this the perfect treat for autumn. 

Pistachio Frankenstein: ¥800

Crunchy chocolate sits atop this ghoulish mix of pistachio mousse, chocolate, and cherry jelly. Decorated to resemble one of the most recognizable Halloween monsters, each eyeball is made of white chocolate. The result? He might be more cute than scary. 

Mummy Bread (pictured left): ¥400

 

Each one of these fluffy treats is made with a mix of cocoa-flavored dough and cookie dough and filled with chocolate custard, fresh cream, and raspberry jam. 

 


Jack-o'-lantern Meat Danish (pictured right): ¥500

Each crispy pastry is filled with beef bolognese, three types of mushrooms, and bechamel sauce, before being baked to perfection. 

The #SheratonSweetsBox (October Edition)

Each month, a new collection of eight mini-sweets is released by the hotel. The limited-edition October box is packed with a jack-o'-lantern, a one-eyed monster, and Frankenstein peeking out from the lid. 

Along with all of these tasty snacks, the hotel itself will be decorated in line with the theme of 'Halloween Laboratory.' Staff members will be dressed in white lab coats, and guests may feel like some scary monsters have escaped–so don't miss out on this full Halloween experience!

Information

Halloween Sweets & Bakery

Running: October 1 – October 31, 2021

Friday Sweets Buffet

Running: Each Friday from October 1 – October 29, 2021

Times: 1st Seating, 13:00-14:40 / 2nd Seating, 15:00-16:40

Price: Adults ¥3,200 / Children 4-12 ¥1,600

Reservations: https://toastina.sheratontokyobay.com/ 

Location: Sheraton Grande Tokyo Bay Hotel, Cafe Toastina

Hours: 10:00-22:00

Phone: 047-355-5555

"Katanukiya" opens in Fukuoka, Selling Kumamon Katanuki Baum for Limited Time Only

Ginza-based Katanukiya, a store that specializes in shaped Baum, will be opening a limited-time shop in Daimaru Fukuoka Tenjin between October 1 and October 31. The store will stock both the 'Panda Series' and panda sable. 

Kumamoto Panda Baum: ¥594 (Tax Incl.)

Kumamon Shaped Katanuki Baum: ¥540 (Tax Incl.)

Ghost Panda Baum: ¥540 (Tax Incl.)

Panda Baum: ¥540 (Tax Incl.)

Amabie Baum: ¥540 (Tax Incl.)

 

The new 'Kumamoto Panda Baum' will be debuting at the Daimaru Fukuoka Tenjin store, along with the 'Kumamon Shape Katanuki Baum.' A new baum featuring the Amabie, a creature which is said to have appeared in Kumamoto during the Edo period and represents a bright, hopeful future, will also be available. Why not enjoy some cute character Baum this Autumn?

 

Information

Katanukiya Limited-time Shop

Shop Duration: October 1 ~ October 31 2021

Location: Daimaru Fukuoka Tenjin, Main Building 2F Confectionery Exhibition Hall

Official Site: https://www.daimaru.co.jp/fukuoka/ 

The Best Halloween Sweets to Pick Up Before They're Gone

Fall is already here, and it's time for some seasonal treats! Here on Moshi Moshi Nippon, we've brought you plenty of timely info on some of the best cute and spooky sweets Japan has to offer. Admittedly, some of them look too beautiful to eat, but at least they'll liven up your living space! 

This Halloween comes during another tough year, so why not treat yourself? Here are some of the best sweets to bring home during this spooktacular season. 

Hotel W Osaka x PIERRE HERMÉ PARIS

Japan's luxury lifestyle hotel W OSAKA is offering themed sweets at the 'MIXup' Art & Pastry Bar. The recipes and baking techniques are based on the methods of PIERRE HERMÉ PARIS, and the desert course features eight different treats filled with seasonal ingredients like pumpkin and pear. 

Release Date: September 15, 2021

Reservations Required

Details: https://www.moshimoshi-nippon.jp/498595

Hyatt Centric Kanazawa

A series of monochromatic Halloween-inspired treats will be on sale at Hyatt Centric Kanazawa starting October 1, including cakes, muffins, and more. Be sure to check out the absolutely massive Halloween parfait, which will both fill you up and freak you out. 

Release Date: October 1, 2021

Details: https://www.moshimoshi-nippon.jp/498001

Q-pot CAFE.

Located in Tokyo's Omotesando area, Q-pot CAFE is offering cake and macaron sets, each of which are made to order. The Eye-Patch Ghost cake is adorable, but we don't know if we could stomach that Brain Cake…

Release Date: September 1, 2021

Details: https://www.moshimoshi-nippon.jp/492398

Hotel Conrad Osaka x Sebastian Masuda 

Sebastian Masuda, known as the Godfather of Kawaii, is teaming up with Hotel Conrad in Osaka for some bright and colorful Halloween treats. If you're looking for something less dreary, this buffet is definitely the event for you. 

Running: September 2, 2021 – October 31, 2021

Details: https://www.moshimoshi-nippon.jp/492605

Mister Donut Ouchi de MISDO HALLOWEEN

Five new Halloween donuts are now available at participating Mister Donut shops nationwide! Each sweet and spooky creature is available with ten different eye expressions, so you'll just have to try to get them all. 

Available: September 3, 2021 until sold out. 

Details: https://www.moshimoshi-nippon.jp/491918

TEXT: Natalie(MOSHI MOSHI NIPPON)