Tokyo Disney Resort Gives a Peek at its New Year's Merchandise
Tokyo Disney Resort is set to celebrate the coming new year with a string of events that will run from January 1 to 5 next year. In anticipation of the forthcoming celebrations, it has given guests a special snippet into a new range of Disney official New Year's merchandise which will be released ahead of 2020 on December 2, 2019 at Tokyo Disneyland and Tokyo DisneySea.
Win Wonderful Prizes With the New 'Tin of Dreams'
Tin of Dreams – ¥2,020
For the first time ever, Tokyo Disney Resort is bringing out its new 'Tin of Dreams' filled with a lucky assortment of goodies to bring happiness and love to the new year. These golden tins include an original and New Year's-exclusive towel and card. The soft towel has embroidered on it Mickey and Minnie as Japanese 'daruma' which is a traditional Japanese doll that symbolises good luck.
Each tin also has a ticket inside which will have a different kind of dream written on it from small to special. Depending on which dream you get, you'll receive one of the following prizes:
・Special Dream: One night in the Special Room on the Standard Floor at the Disney Ambassador® Hotel. The date of the stay is January 30, 2020 – January 31, 2020. The room type or date cannot be changed.
・Big Dream: Ticket to exchange for Tokyo Disney Resort park merchandise
・Middle Dream: Ticket to exchange for popcorn (Regular box)
・Small Dream: Original seal (with Mickey Mouse daruma design)
*Exchange tickets can be used at select locations around the park and are valid until March 31, 2020
Penmanship Set & Daruma Memo Pad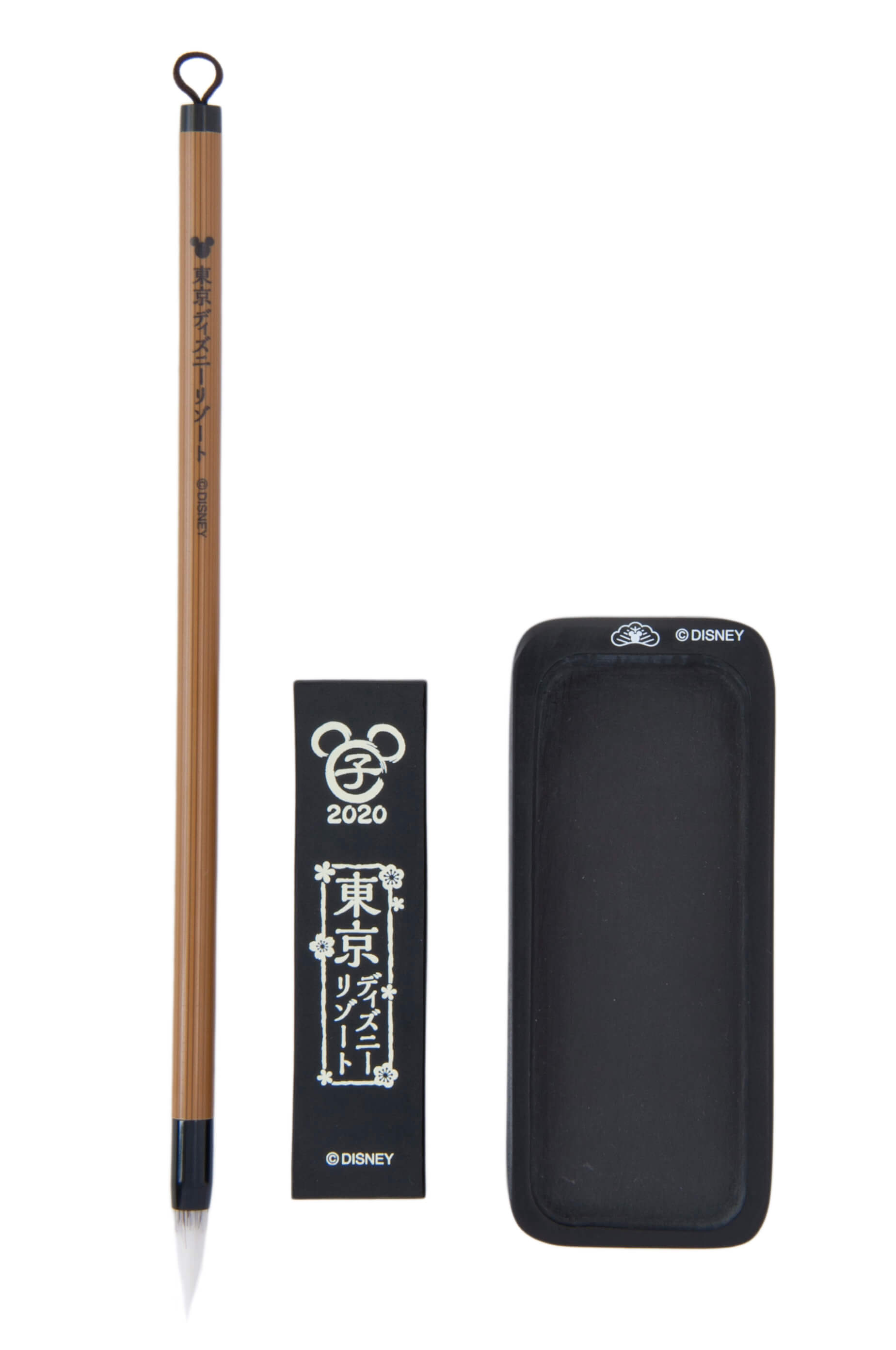 Penmanship Set – ¥12,000
Get your hands on this special penmanship set for writing your New Year's cards and letters to people. It comes with a brush and ink.
Daruma Memo Pad – ¥20,000
This memo pad features a special design which reveals a daruma Mickey and Minnie once you've used all the sticky notes. This means you don't have to throw the pad itself awayーit can be used as an ornament! *This is available to purchase on the Tokyo Disney Resort app only.
New Year's Goods Aplenty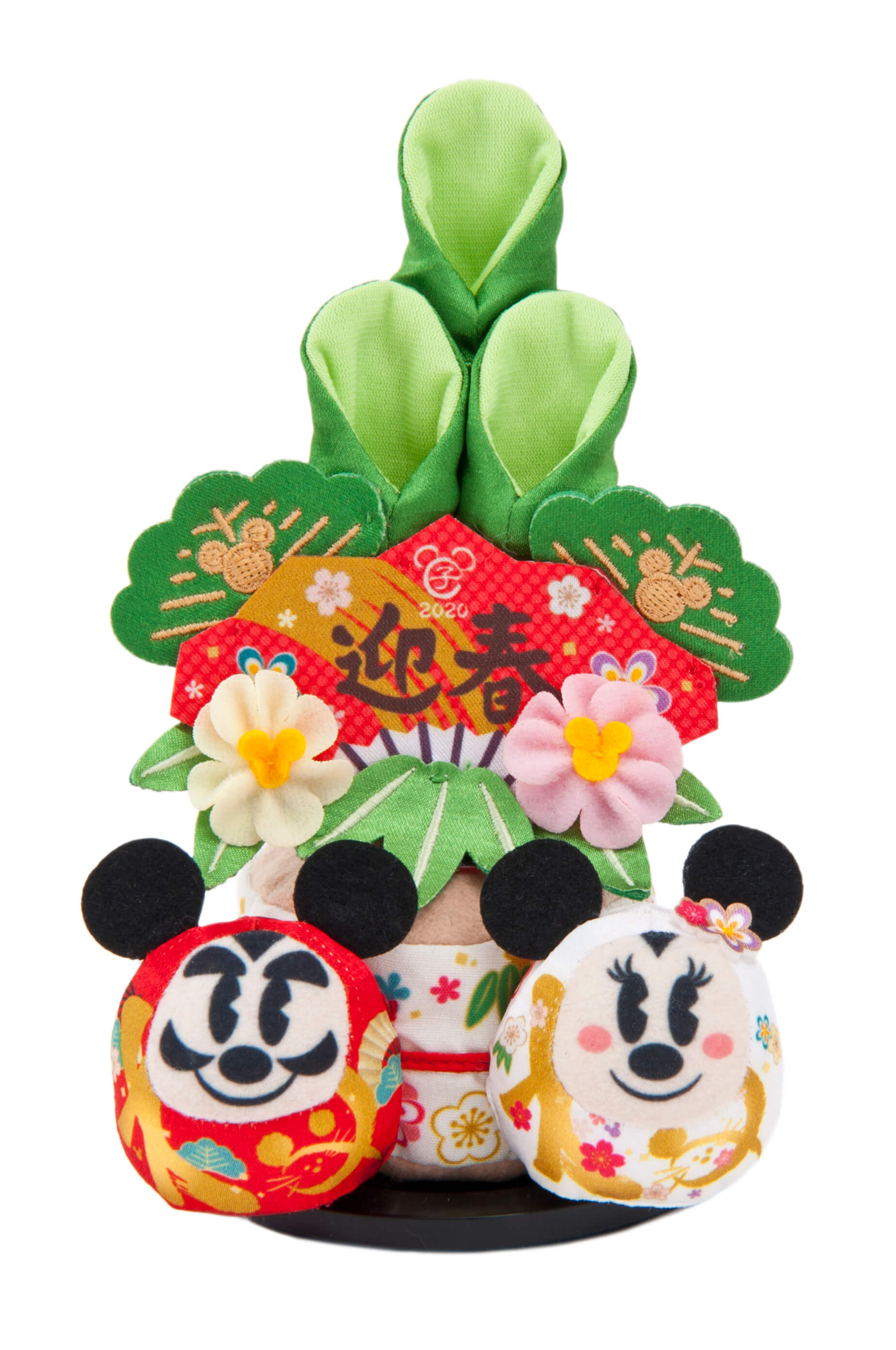 New Year's Pine Decoration – ¥1,900
Figure (Dream Daruma w/ New Year's Message) – ¥800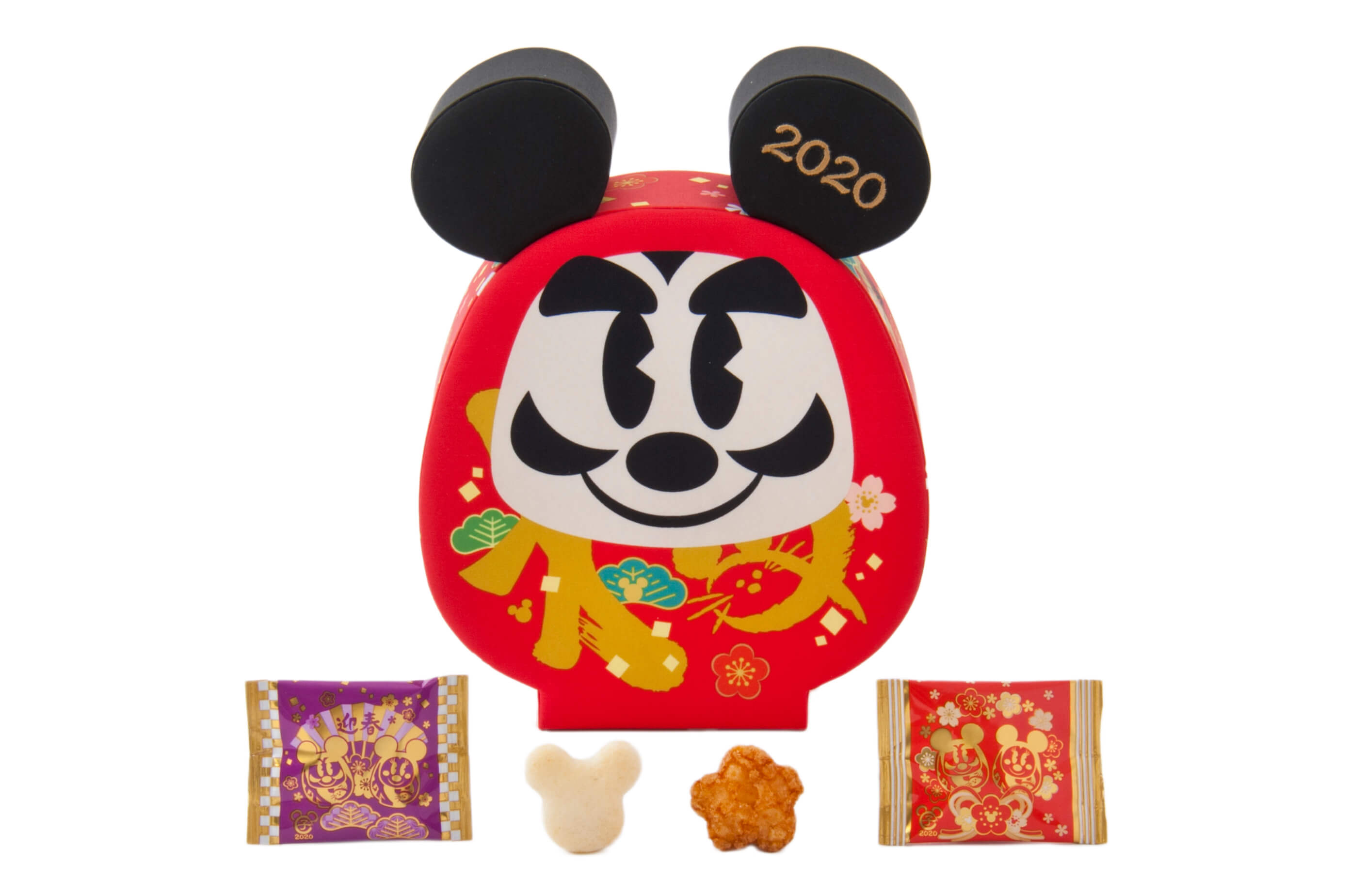 Osenbei – ¥1,600
There are countless other celebratory items to grab this year at Tokyo Disney Resort too, including a pine decoration (which is indispensable during the New Year in Japan), a figure containing a New Year's message in it, snacks, and more.。
What are your dreams for 2020? Set them in stone by celebrating at Tokyo Disney Resort.
*Photos are for illustrative purposes only
©Disney
Information
Tokyo Disney Resort New Year's Merchandise
Available: Grand Emporium at Tokyo Disneyland® / Emporio at Tokyo DisneySea®
Official Website: https://www.tokyodisneyresort.jp/en/index.html
*Product designs and prices subject to change without notice
*Products available while supplies last
RELATED ENTRIES
Tokyo DisneySea Celebrates Christmas With Spectacular Show & Evening Illuminations

This year heralds another heart-warming Christmas celebration at Tokyo Disney Resort® with the official Disney Christmas event, which kicked off at Tokyo Disneyland and Tokyo DisneySea on November 8 and will run up to Christmas Day.

Today, we're reporting on Tokyo DisneySea's entertainment programme "It's Christmas Time!" as well as the park's photo spots which can be enjoyed in the evenings.

It's Christmas Time!

Returning again to Mediterranean Harbor this year is It's Christmas Time!, a show which brings together the Disney character cast for a performance of Christmas song and dance.

The show begins with the performers stepping out in their bright-red Christmas outfits and singing with beautiful voices.

Lots of Disney friends were gathered together, including Mickey Mouse, Minnie Mouse, Donald Duck, Pluto, Goofy, and Chip & Dale.

"Let's have all have a wonderful Christmas together," announced Mickey, who danced the waltz with everyone.

That's when the snow began to fall, and the colourfully-clad performers began the real dance show, consisting of tap dancing, line dancing, and more. They played lots of classic Christmas songs, and we found ourselves naturally singing along too.

Duffy the Disney Bear, ShellieMay, Santa Claus and many more made an appearance too to join in the festivities.

Speaking of which, Pluto was there too, but he seemed kind of lonely… I wonder what happened?

When visiting Tokyo DisneySea this year, be sure to go all-out when celebrating with the Disney characters and performers too!

Romantic Photo Spots♡

If you head down to American Waterfront, you'll see a 15 meter high Christmas tree in front of the S.S. Columbia. And if you continue from there towards Cape Cod Cook-Off, you can get a really beautiful photo from the bridge.

Reds, yellows, greens and other colours decorate the surrounding area of Cape Cod Cook-Off, where Duffy & Friends are celebrating their Christmas.

There's also photo spots where you can take some cute photos in front of the Christmas tree.

Be sure to find the characters dressed in their winter clothes riding a sled too, you can snap a picture with them as well.

At each themed port in the park they have spectacular illuminations at night too, which are sure to warm you with that Christmas spirit.

Writer: Ellie(MOSHI MOSHI NIPPON)

Translator: Joshua Kitosi-Isanga

©️Disney

Experience Tokyo Disneyland's Magical Christmas Parade & Decorations

Jolly faces are all around at Tokyo Disney Resort right now as Disney Christmas kicked off last Friday. It's set to sleigh its way up to Christmas Day this year.

The editorial team at MOSHI MOSHI NIPPON jumped ahead and got to experience all of the festive fun taking place at Tokyo Disneyland parks, so we're going to showcase some of the magical events taking place this year.

Disney characters dress up for the amazing Christmas parade


If you're visiting Tokyo Disneyland this year, the one event you absolutely have to check out the Disney Christmas Stories parade, where Mickey and company, as well as characters from various Disney Pixar films like Frozen and Toy Story, all arrive on Christmas floats.

All of the floats and themed on the films they appear in. For example, Lilo and Stitch ride a Hawaii Christmas boat, while Donald and Daisy have their own boat decked out with Christmas decorations.


The floats will stop before the crowd, and that's when the dancing begins! Mickey, Minnie, Chip and Dale begin the dancing in front of Cinderella's castle. All of the Christmas-clad characters and dancers invite guests to join in with dancing.

Once the dancing stops, the floats begin to move again, and snow falls all around the guests, plunging them into a White Christmas. The parade is truly magical at this point as the snow dances through the air. What could be better than celebrating Christmas than with your favourite Disney character at Tokyo Disneyland?

Gaze up at the 15-meter tall Christmas tree

The first thing to catch your eye if you walk towards the World Bazaar from the entrance is the towering Christmas tree which stands 15 meters high. At night, they turn the Christmas lights on, glow beautifully with the other visuals shining in the area. Here you'll truly feel like you've been transported to a Christmas land as you're wrapped in the warm lights of the illuminations and lulled by the music.

Photo opportunities with your favourite characters

In front of the Cinderella castle you'll find multiple photo spots with statues of Disney characters. There are photographers there ready to take guests' photos for them, so be sure to dress in your Christmas best to snap a memorable picture with the Disney cast. If you buy the photo, you'll also receive a Christmas illustration and other goodies.

You can really feel the Christmas spirit at Tokyo Disneyland simply by walking through the park. Don't miss this year's Disney Christmas, and be sure to invite friends, family and loved ones along for the ride.

Writer: Sayuri Mizuno (MOSHI MOSHI NIPPON)

Translator: Joshua Kitosi-Isanga

Sleigh Bells Ring at Tokyo Disneyland This Year With Plenty Of Food & Merchandise to Go Around

Jolly faces are all around at Tokyo Disney Resort right now as Disney Christmas kicked off last Friday. It's set to sleigh its way up to Christmas Day this year.

The editorial team at MOSHI MOSHI NIPPON jumped ahead and got a taste of the festive fun at the parks recently, so we're going to showcase some more of the seasonal food and merry merchandise you can get your hands on this Christmas at Tokyo Disneyland.

Food that makes you want to kick back and enjoy a nice break

 

Special Set – ¥1,500 @ Grandma Sara's Kitchen

Grandma Sara's has created the perfect hot lunch for warming up cold guests this year, adorned with a clam and seafood tomato cream, cheese and white sauce. Dip your bread into the rich sauce and tuck in! For dessert, you get a cranberry cake inspired by the look of a snow-tipped Christmas tree.

Hot drinks of all kinds

'Tis the season to stay warm, and so Tokyo Disneyland has devised a line-up of tasty drinks to warm the cockles of your heart, with flavours ranging from ruby chocolate to matcha and tapioca cheese teaーa unique flavour that's all the rage right now.

We actually covered these drinks in detail last Monday, so check out our report here.



Deck the halls with these dessert & souvenir sets

Cranberry & Tea Cake With Souvenir Cup – ¥800 @ Sweetheart Cafe and elsewhere

Strawberry Dessert With Souvenir Cup – ¥800 @ Sweetheart Cafe and elsewhere

Head to the Sweetheart Cafe to enjoy some desserts which come with cute take-home souvenirs, like cups and plates. The cranberry and tea cake is a subtly sweet cake with a fragrant tea flavour and filled with sweet and sour cranberries.

The strawberry dessert is like strawberry shortcake with ascending layers of cake batter, cream, and strawberries. It's topped with holly to give it that Christmas-y finish.

Chocolate Doughnut – ¥380 @ Cleo's and elsewhere

The chocolate doughnuts at Cleo's are completely lathered in a chocolate danish-like dough and custard cream.

The doughnuts even come in this cute Mickey and Minnie packaging, who are dressed ready and for giving gifts to guests.

If you pay an extra ¥700 you can get this adorable pouch featuring Mickey, Minnie, Donald and Daisy as snowmen.

Have a merry little Christmas with these holiday season goodies

Headband – ¥1,800

Fun Cap – ¥3,000 / Plush Toy Wristband – ¥1,700

Feel happy simply by placing these Mickey & Minnie headband ears and getting into party mode. The park has also developed a Christmas version of the Pluto fun cap so he has reindeer antlers and holly attached. Both items were previously available in a pre-sale on the park app, so depending on the shop you visit, they may have none left in stock. But if you see one, be sure to grab it quick!

There's also a Mickey version of the Minnie Mouse plush toy wristband. Wear one and have your friend or loved one wear the other!

Popcorn Basket – ¥2,400 @ The Gazebo (Popcorn Wagon)

Pick up some popcorn served in a Christmas present basket decorated with cute illustrations of Mickey and company celebrating Christmas.

It comes strung with a ribbon decorated with green, red and white colouring like a candy cane.

Spend a Disney Christmas this winter at Tokyo Disneyland where you can stay warm with some comfort food and dress up!

Model: Yuna Yabe

Writer: Sayuri Mizuno (MOSHI MOSHI NIPPON)

Translator: Joshua Kitosi-Isanga

Tokyo DisneySea® Celebrates Jolly Christmas With Duffy & Friends

From holiday season merchandise to hot drinks, clothing and more, there's plenty to look forward to this Christmas at Tokyo Disney Resort. But the fun is only just beginning, as Tokyo DisneySea® announces yet another program for Disney Christmas.

Jolly Winter Holiday will see the park promote Christmas-themed Duffy & Friends merchandiseーaround 50 winter-exclusives to be exactーas well as a seasonal menu and merchandise. Let's take a look!

Special Merchandise

Plush Toy Costumes – ¥4,900 Each (*Small plush toys sold separately)

Now your soft Duffy plushies can stay toasty in the cold winter weather too with their winter coats. They can keep their ears nice and warm too with the hoods. The skirts and trousers are also reversible too, so you can change up their looks.

Plush Toy Straps – ¥1,800 Each

Keychain Set (Includes 4) – ¥3,200

Duffy and his friends are thoroughly enjoying winter too with their cute snowmen, featured in this adorable plush straps and keychain set, which they built to give everyone strength and courage this Christmas.

Sweaters (Small/Medium/Large) – ¥6,200 Each

You can stay warm this year too with this new Duffy sweater featuring a big print of the huggable bear. Wear it at Tokyo DisneySea®, to a Christmas get-together, at homeーanywhere. It would be cute to wear matching ones with friends or your special-someone too!

Special Menu

There will also be five themed dishes too inspired by Duffy & Friends playing in the snow. Pay a bit extra to receive a little souvenir gift.

Cape Cod Cook-Off First Price Set – ¥1,080 (+¥1,200 for souvenir lunch case) @ Cape Cod Cook-Off

Munch on a delicious sandwich filled with rich teriyaki sauce and branded with Duffy's cute paw print. The set comes with a soft drink of your choice and French fries. For an extra ¥1,200, you can get the cute lunch case too.

Caramel Milk Tea – ¥400 (+¥600 for souvenir sleeve/+¥1,600 for souvenir tumbler) @ Cape Cod Confections

This milk tea has a sweet and fragrant caramel scent and comes with a cute Duffy sleeve or tumbler featuring Duffy & Friends if you so wish. A perfect accompaniment for warming your body and soul this winter.

Special Christmas Themed Merchandise

Christmas Tree – ¥5,000

Plush Toys – ¥13,500

Decorate your house this Christmas with an official Duffy & Friends Christmas tree, large plush toys of Duffy and StellaLou.

Plush Toy – ¥4,900

This year also welcomes the first ever ShellieMay plush toy which comes packaged in a gift boxーperfect to put under the tree this year as a Christmas present.

Make some wonderful memories this Christmas with Duffy & Friends at Tokyo DisneySea®.

*Special merchandise and menu subject to change without notice. Items available while supplies last.

*Photos are for illustrative purposes only.

©Disney

Information

"Jolly Winter Holiday" Special Merchandise & Menu

Release Date: November 6, 2019

Special merchandise sold at McDuck's Department Store in Tokyo DisneySea.

Tokyo DisneySea Official Website: https://www.tokyodisneyresort.jp/en/index.html

Dress Up For Disney Christmas at Tokyo Disneyland & Tokyo DisneySea With These Official Items

This year heralds another heart-warming Christmas celebration at Tokyo Disney Resort®. Disney Christmas kicks off at Tokyo Disneyland and Tokyo DisneySea on November 8 where it will run up to Christmas Day.

If you'll be at either of the parks for the event, and have been wondering what to wear for the celebrations this holiday season, then don't worry: Tokyo Disney Resort® has you covered in that department.

Sweaters – ¥5,900 Each / Left: Reindeer Eat Hat – ¥2,100 / Right: Headband – ¥1,800

The parks' first ever Christmas sweaters will be available to buy this year, decorated with Christmas trees, wreaths, and other holiday season motifs. There are two designs: one with Mickey Mouse and the other with Pluto, so you can dress up in different ones together with family and friends. They are perfect for Christmas parties and Disney get-togethers too.

Fun Cap – ¥3,000

Fun Cap – ¥2,500 / Scarf – ¥2,900

Keep your head and ears warm with the adorable Pluto fun cap which has his cute floppy ears.

Illumination Lights – ¥1,900

Other items include a candy cane scarf, a headband made to look like Christmas wrapping paper, illuminating lights to wear around your neck, and more. There's plenty to pick from to put you in that Christmas spirit.

Plush Toy Wristbands – ¥1,700 Each (Tokyo Disneyland only)

Plush Toys – ¥2,200 (Tokyo DisneySea only)

We recommend waving the plush toys and wristbands during one of the shows at the parks, or to just carry around with you and be merry!

If you're stuck on what to wear this Christmas, and love Disney, then be sure to take a look at what Tokyo Disney Resort has in stock.

*Photos are for illustrative purposes only

©Disney

Warm Up With Tokyo Disney Resort's New Hot DrinksーRuby Chocolate, Matcha & More

Are you feeling the cold yet? Don't worry if you're in Tokyo this year, because Tokyo Disney Resort has you covered with its new batch of hot drinks which they began serving on November 1.

 

Left: Ruby Chocolate & Raspberry Milk – ¥500 / Right: Cheese Caramel Milk Tea

The Ruby Chocolate & Raspberry Milk drink is sold at Squeezer's Tropical Juice Bar and Ice Cream Cones at Tokyo Disneyland. It is made with the elusive ruby chocolate and retains its characteristic sour taste which melds temptingly with the sweet and sour raspberry syrup to create a luxurious hot beverage. Enjoy the gentle sweet notes of the chocolate and fruitiness of the cacao tickle your nose.

You'll find the Cheese Caramel Milk Tea at either Cafe Orleans or Rackety's Raccoon Saloon at Tokyo Disneyland, or Sultan's Oasis at Tokyo DisneySea®. The drink is a caramel-lined milk tea topped with a rich cream cheese. The subtle sweetness of the caramel milk tea coupled with the salty cream cheese is a flavour you're sure to become addicted to.

Hot Matcha Milk (Tapioca & Strawberry) – ¥450

Roll up to Hudson River Harvest in Tokyo DisneySea for a cup of this Hot Matcha Milk which has been filled with chewy matcha flavoured tapioca pearls, a texture that's deliciously enjoyable when fused with the faint fragrance of the strawberry.

Hazelnut Milk Hot Cocktail – ¥760

And if you head to Ristorante di Canaletto, also at Tokyo DisneySea, you can enjoy this cocktail served hot with a hazelnut liqueur and foamy milk. The added chocolate only makes the milk more delicious.

The drinks are a part of the Sweets & Sips campaign now running around Tokyo Disney Resort.

There are plenty of other drinks as well as churros, doughnuts, crepes and more to enjoy too, so be sure to check out the official websiteーor better yet, head to Tokyo Disneyland and DisneySea!

Tokyo Disney Resort Christmas 2019: Kawaii Holiday Season Merchandise Sleighed In

Disney Christmas is set to fall on Tokyo Disney Resort® from November 8 to December 25. In anticipation of Christmastime at both parks, a stocking of Disney-themed holidays goods are set to go on sale at Tokyo Disneyland and Tokyo DisneySea® on November 1, with each park having its own unique sleigh of items.

*Select items available to purchase on the Tokyo Disney Resort app only between November 1 to 6, after which they will go on sale at the parks

At Tokyo Disneyland, guests can look forward to finding 65 pieces of merchandise under the Christmas tree this year featuring designs of Mickey Mouse and the rest of the Disney gang aboard Santa's sleigh. Perfect for setting the Christmas mood in your house this year!

Mugs – ¥750

Tray – ¥1,400

Both the designs and materials used for the mugs, tray and other items elicit a retro kind of vibe.

Chocolate Covered Baumkuchen – ¥1,300

After you eat all of the baumkuchen in this tin you can reuse it for things like accessories. Give your bedroom that joyous appearance.

Tissue Box Cover – ¥2,400 / Plush Toy Badges – ¥1,900 Each / Reindeer Plush Toy Badge – ¥1,600 (*All available at both parks)

Another item to adorn your room or house with is this tissue box cover which will make your tissue box look like a sleigh. It can also be used for putting plush toys in as pictured above to create a Disney Christmas scene.

Tapestry – ¥2,300

For the first time ever, a tapestry featuring an illustration of the Christmas Tree at World Bazaar in Tokyo Disneyland will be available for guests to purchase. The plush toy badges mentioned earlier can be used as decorative ornaments on the tapestry.

From Left: Pouch ¥2,000 / Soft Candy ¥600 / Ballpoint Pen Set (of 4) ¥1,600 / Smartphone Case ¥3,600 / Photo Frame ¥2,800

Tokyo DisneySea also has 65 items to pick from, this time with designs inspired by revue shows.

From Left: Mini Notepad Set (of 4) ¥1,000 / Ballpoint Pen Set (of 4) ¥1,600 / Notebook ¥1,200

Each piece of this merchandise gives that show feel, like the mini notepads looking like tickets to musicals.

If you're in Tokyo for the holiday season, be sure to visit both parks to fill your stockings and collect presents to wrap up and put under the tree.

*Photos are for illustrative purposes only

©Disney

Tokyo Disney Resort® Kicks Off Christmas Celebrations on November 8

Another year heralds another heart-warming Christmas celebration at Tokyo Disney Resort®. From November 8 to December 25, Tokyo Disneyland will be filled with the fantastical magic of the holiday season and Tokyo DisneySea® will filled with gorgeous lights. 

A special menu will be released on November 1 ahead of the official celebration period to whet our appetites. 

Special Set: ¥2,900

Special Set: ¥2,900, available at Ristorante di Canaletto Tokyo DisneySea 

Special Set: ¥1,980

Available at : Disnseyland The Plaza Inn Restaurant

If you are looking to go full on festive spirit mode then you absolutely must feast on the Christmas-limited special set, which is full of the luxurious flavours of Christmas and a healthy sprinkle of Christmas spirit. How about some luxurious Sea Urchin Spaghetti or a Jack Skellington-themed Hamburger Set? Make sure to check out this limited period Christmas menu. 

Apple and Cinnamon Hot Drink: ¥400 per cup

Available at: Tokyo DisneySea (Gondolier Snacks, etc), Tokyo DisneySea (Boiler Room Bites, etc)

Christmas Cake: ¥1,480

Available at: Tokyo DisneySea (Horizon Bay Restaurant), Tokyo Disneyland (Queen of Hearts Banquet Hall)

For those of you who are prioritising the attractions and shows, the small takeout meals are best for you. Warm up your body with a hot drink or buy a cake to share with your friends. There are many meals and drinks perfect to satisfy your Christmassy cravings. 

Fried Chicken Set: ¥1,180, Salty Lychee Bubble Tea: ¥700

* Taste of Christmas menu sold at: Tokyo DisneySea (Dockside Diner)

Tokyo DisneySea will be bringing back its Taste of Christmas event that was held last year which will see the return of Tokyo Disney Resort's alcoholic beverages and snacks you can devour with just one hand. This is the perfect place to indulge on Japan's traditional Christmas food: fried chicken. Munch on your fried chicken along with a very merry alcoholic lychee bubble tea. Enjoy the flavor of spice wrapped in the gentle sweet flavour of your drink. 

 

Don't miss out on this special Disney menu this Christmas. 

*The images in this article are representations. ©Disney

Star Wars: The Rise of Skywalker Film Scenes to Feature on Tokyo Disneyland's Star Tours Attraction

Tokyo Disneyland's popular attraction Star Tours: The Adventures Continue is set to incorporate scenes from the upcoming film Star Wars: The Rise of Skywalker which is set for release on December 19, 2019, serving as the final film to wrap up the Skywalker Saga. The scenes will feature on the attraction for a limited time from December 20, 2019 to March 19, 2020.

Guests can look forward to flying through the world of the filmーwhich is set to wrap up the Skywalker Saga.

Additionally, if you head to the Star Wars-themed merchandise shop Cosmic Encounter in Tomorrowland from December 2 onward, there is a photo spot to get your photo taken with D-O, the new droid set to appear in the upcoming film.

Case – ¥2,000 / Pouch Set – ¥2,800 / Luggage Tag – ¥1,000 / Blanket – ¥4,300

Rucksack – ¥3,900 / Hoodie – ¥5,900 / Drink Bottle – ¥2,700

The shop will also release 20 new pieces of merchandise on the same day, including items related to the new film as well as across the whole Star Wars franchise. This includes stylish clothing to travel goods and more.

Commemorate the release of the final film in the Skywalker Saga with a trip to Tokyo Disneyland.

©Disney

©Disney ©&™Lucasfilm Ltd.

Duffy the Disney Bear's Friend Cookie Ann Arrives at Tokyo DisneySea®

Cookie Ann is a friend of Duffy the Disney Bear who is set to show her face at Tokyo DisneySea for the very first time. She is a female dog with floppy ears and a cute nose. She loves to cook and enjoys experimenting mixing together different ingredients. She always brings excitement to Duffy.

Starting on December 26 this year, guests at Tokyo DisneySea can look forward to tucking into a Cookie Ann-themed menu as well as getting their hands on official merchandise. There will also be a photo spot with a Cookie Ann plush toy there for guests to snap a photo with.

And from January 10 next year, Cookie Ann will appear alongside Duffy & Friends at various programs. On March 27, too, there will be a chance to see Cookie Ann alongside Duffy and Mickey Mouse at Big City Vehicles in American Waterfront, one of the areas at Tokyo DisneySea.

Plush Toy – ¥4,000 (Costume Set – ¥3,600)

Pass Case – ¥1,800

10 very special pieces of Cookie Ann merchandise will drop at the park on December 26, including a plush toy, costume set and more.

Chef's Recommendation Set w/ Souvenir Lunch Case – ¥2,340

Head to the park's restaurant Dockside Diner to enjoy a tasty waffle set inspired by the story of Cookie and Duffy. It even comes with a souvenir lunch case for you to take home. The Cookie Ann food will also begin rolling out on December 26.

La France Mousse & Milk Pudding w/ Souvenir Cup – ¥950

Don't forget dessert: a delicious mousse and pudding combination topped with a waffle, chocolate, and marshmallow wit Cookie on it. There will also be a popcorn baguette amongst other surprise treats.

Meet Cookie Ann, Duffy and the rest of the gang at Tokyo DisneySea this year.

©️Disney

*Photos are for illustrative purposes only

Tokyo Disneyland & DisneySea Release Winter Clothing Collection

Tokyo Disney Resort dropped its new "White x White" collection of warm and fluffy clothing for the winter season yesterday (October 18). The 16 item line-up incorporates different materials perfect for the cold weather, like sheep boa, corduroy, knitwear, and more.

Mittens – ¥2,500

These cute mittens are fitted with bonbons inspired by Mickey Mouse's ears.

Since these are mittens, you can take your fingers out if you need them to check your phone!

Hat – ¥2,900

The hat is made from sheep boa and corduroy and the ear parts can be worn up or down. When worn up, both sides reveal a Mickey Mouse hand design.

Earmuffs – ¥2,400

The collection also includes earmuffs and a tote bag made from fur, a corduroy Minnie Mouse headband, and other snow-white items fitting for wintertime.

Women's Coat – ¥11,800 (Medium/Large)

Women's Jacket – ¥9,800 (Medium/Large)

Both the coat and jacket will go on sale on November 1. They are both made from sheep boa and have cute Mickey Mouse quilting on the front.

Stay warm this winter with Tokyo Disney Resort's White x White collection.

*Product designs and prices subject to change without notice

*Available while supplies last

©️Disney

Tokyo Disney Resort to Release Frozen 2 Goods that Will Melt Your Heart

Disney's Frozen is thawing back to life with the release of Frozen 2 which will premiere on November 22, 2019. To celebrate, Tokyo Disneyland and DisneySea are gearing up with the release of approximately 30 kinds of exclusive merchandise which will be released on October 18. These are definitely worth melting for. 

Plush Toy Hand Warmer: ¥2,900

Kid's Cape: ¥3,900

The cold bothering you? Now you can let it go. Your kids will be prepared to embark on any winter adventure while staying stylish and warm with this magnificent Elsa and Anna-themed cape. Your sidekick Olaf has also come to life in the form of a Plush Toy Hand Warmer and is the perfect companion to keep your hands warm this season.

Drink Bottle: ¥2,700

Lip Balm: ¥900

There is also a big lineup of goods aimed at adults. The lineup consists of drink bottles, lip balms and much more. These items are perfect for everyday use no matter what season it is.  

Pancake Sandwich (Potato Salad and Corned Beef) with a souvenir pouch: ¥1,300 

Disneyland will also be serving up a delicious pancake fit for a princess which comes with a souvenir pouch. This Olaf Pancake Sandwich will be sold from October 18, 2019 to January 8, 2020. Two fluffy and sweet pancakes sandwich a potato salad and corned beef filling. The sweet and salty flavour will leave you and your friends finishing each other's sandwiches!

There will also be a photo spot located on the wall of the Cinderella Castle (Tomorrowland) where you can get a photo with your favourite Frozen characters. Make sure you plunge into the world of the film and join Elsa, Anna, Olaf, Kristoff and Sven for a special photo.

*Please check the special edition website to find out more about the availability dates of the photo spot. 

Special Cake Set: ¥2,000 

The Disney Ambassador Hotel's Hyperion Lounge will be selling a Special Cake Set and Special Drink from November 1 to December 19. The Special Cake Set consists of a lemon and cherry cheese tart. Can you spot the sugar paper Anna and Elsa on the plate? Eat the tart together with the lemon meringue for a refreshing flavour. 

Special Drink: ¥1,300

The Special Drink is an autumn-themed Maple Syrup Iced Tea which perfectly depicts the autumn scenes of the film.

Tokyo Disney Resort® is giving you a first-time-in-forever-opportunity to experience the world of the film and is definitely worth checking out.

©Disney