Tokyo Disney Resort® Kicks Off Christmas Celebrations on November 8
Another year heralds another heart-warming Christmas celebration at Tokyo Disney Resort®. From November 8 to December 25, Tokyo Disneyland will be filled with the fantastical magic of the holiday season and Tokyo DisneySea® will filled with gorgeous lights. 
A special menu will be released on November 1 ahead of the official celebration period to whet our appetites.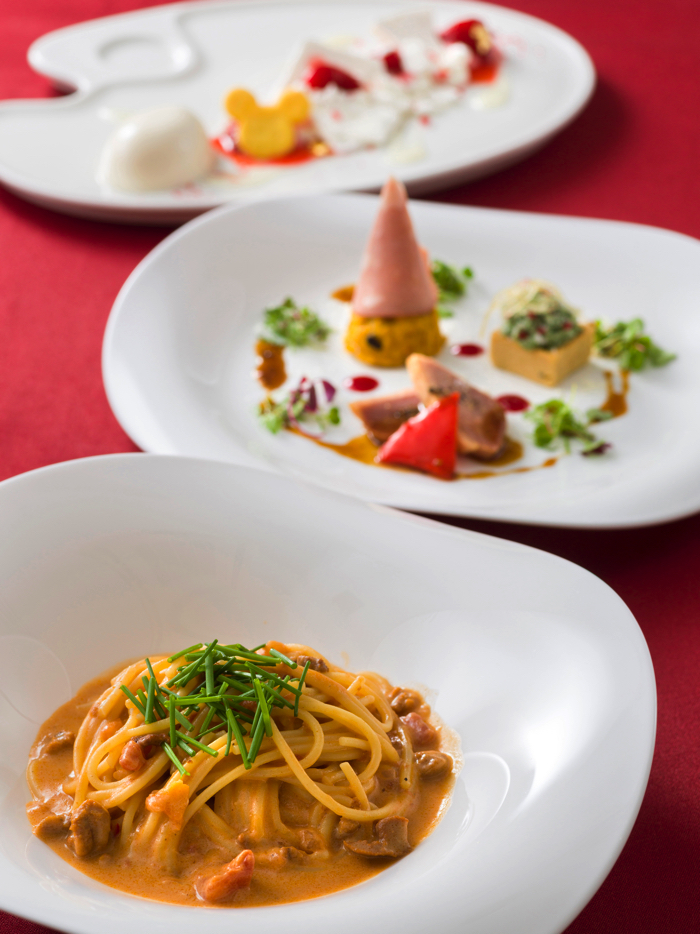 Special Set: ¥2,900
Special Set: ¥2,900, available at Ristorante di Canaletto Tokyo DisneySea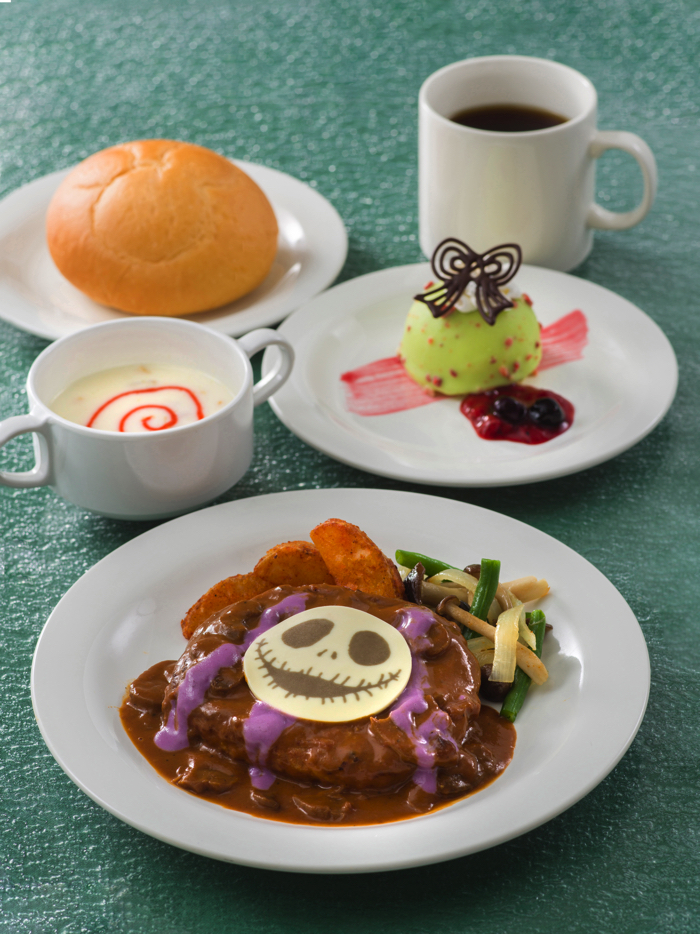 Special Set: ¥1,980
Available at : Disnseyland The Plaza Inn Restaurant
If you are looking to go full on festive spirit mode then you absolutely must feast on the Christmas-limited special set, which is full of the luxurious flavours of Christmas and a healthy sprinkle of Christmas spirit. How about some luxurious Sea Urchin Spaghetti or a Jack Skellington-themed Hamburger Set? Make sure to check out this limited period Christmas menu. 
Apple and Cinnamon Hot Drink: ¥400 per cup
Available at: Tokyo DisneySea (Gondolier Snacks, etc), Tokyo DisneySea (Boiler Room Bites, etc)
Christmas Cake: ¥1,480
Available at: Tokyo DisneySea (Horizon Bay Restaurant), Tokyo Disneyland (Queen of Hearts Banquet Hall)
For those of you who are prioritising the attractions and shows, the small takeout meals are best for you. Warm up your body with a hot drink or buy a cake to share with your friends. There are many meals and drinks perfect to satisfy your Christmassy cravings.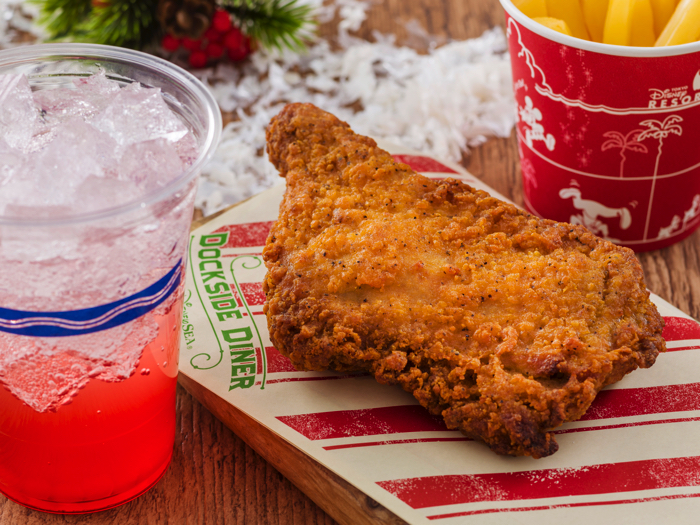 Fried Chicken Set: ¥1,180, Salty Lychee Bubble Tea: ¥700
* Taste of Christmas menu sold at: Tokyo DisneySea (Dockside Diner)
Tokyo DisneySea will be bringing back its Taste of Christmas event that was held last year which will see the return of Tokyo Disney Resort's alcoholic beverages and snacks you can devour with just one hand. This is the perfect place to indulge on Japan's traditional Christmas food: fried chicken. Munch on your fried chicken along with a very merry alcoholic lychee bubble tea. Enjoy the flavor of spice wrapped in the gentle sweet flavour of your drink. 
Don't miss out on this special Disney menu this Christmas. 
*The images in this article are representations. ©Disney
RECOMMENDED ENTRIES
Eat & Drink in Harajuku at MOSHI MOSHI ROOMS' Rooftop BBQ

Since opening in Harajuku last year, MOSHI MOSHI NIPPON's ultra-kawaii hotel MOSHI MOSHI ROOMS has been the talk of the town. We are here to announce a new BBQ plan for guests which is held on the hotel rooftop and which you can attend empty-handed.

MOSHI MOSHI ROOMS is only an 8-minute walk from Harajuku Station. You'll know you've arrived when you spot our neon sign pictured above. It's on the roof of this building you can look forward to getting your teeth into a delicious BBQ and chugging down drinks.

The rooftop design takes on a pop appearance, mixing blue with yellow. This cute design alone is enough to get you excited for what's to come. And since there are no tall buildings around us, you get a great view of Harajuku from below.

The BBQ plan comes equipped with everything you need: a fire, plates, cups, ingredients, and alcohol. We have a great option of drinks, including beer, wine, whisky, and soft drinks. There's also a beer server so you can enjoy your beer nice and frosty. If we don't have a drink you'd like, you can bring your own too. There's a FamilyMart and other shops nearby, so head there to stock up.

BBQ Set – ¥6,000 Per Person (Before Tax) *Photo is a select portion example for 5 people

For grub, our lineup includes meat, fish, egetables, fried onigiri, and sweets. There's Japanese beef too, as well as Japanese chicken, pork, lamb, sausage, and more. We prepare the most delicious ingredients for the current season. There's a lot of different meats to choose from, so rest assured you won't go hungry.

All the food is seasoned for you, so you can drop it all on straight away and get straight to eating.

Make a toast with your drinks and tuck in! The wagyu beef is nice and plump once it comes off the fire. One bite of the soft meat will treat your taste buds to a luxurious sweetness and the meat's delightful juices.

The chicken is seasoned sweet and spicy. It has a crunchy exterior and soft inside. The lamb is seasoned well too and has that distinct deep flavour lamb has.

Our fish and vegetables are all in season too. The fish pictured above is salmon cooked in foil and seared skipback tuna. The salmon is seasoned with butter and soy sauce. All of the delicious flavour of the skipback tuna is intensified while prepared on the fire, and the inside is sumptuously tender. It's seasoned with citrus soy sauce.

This here is giant okra which I tried for the first time. Giant okra is in season right now too. It's a lot more elastic than your regular size okra and has a juiciness when you bite into it.

I was so full already… until dessert arrived! These is a dessert sweet potato roasted on the fire.

I topped it with vanilla ice cream and tea flavoured ice cream before sprinkling on cornflakes to finish.

The mix of the hot potato and cold ice cream is a match made in heaven inside your mouth. The roasted sweet potato has a subtle sweetness which mixes perfectly with the creamy ice cream. I originally thought I was full but there's always room for dessert.

There are parasols too in case it rains. You can even rent out tents from the hotel if you like.

If you're looking to stay in Harajuku, come and see us at MOSHI MOSHI ROOMS and enjoy a BBQ with a rooftop view of Harajuku.

Writer: Sayuri Mizuno (MOSHI MOSHI NIPPON)

Translator: Joshua Kitosi-Isanga

Information

MOSHI MOSHI ROOMS BBQ Plan

Address: 2-18-7 Jingumae, Shibuya, Tokyo

Price: From ¥6,000 Per Person (Reservations Available)

Set Ingredients:

・Meat: Wagyu beef and other meats in season

・Fish: In season fish

・Vegetables: In season vegetables

・Other: Fried Onigiri, Satsuma Sweet Potato Dessert

・Drinks: 1 Beer Server, White Wine, Red Wine, Whisky, Shochu, Tea, Water, Orange Juice, Cola (soft drinks are served in 2ltr bottles)

Set Equipment:

・Grill, BBQ, Tongs, Plates, Cutlery, Cups

Reservation/Enquiries: info@moshimoshi-nippon.jp

*Prepared ingredients will differ from season to season

Natural Ice Area to Open at KERA-IKE Ice Rink in Karuizawa Hoshino Forest Area

The "Natural Ice" area is set to return to KERA-IKE Ice Rink, an outdoor ice skating area managed by Hoshino Resorts, again this winter, something made possible only by the cold winter weather and without cooling devices.

KERA-IKE Ice Rink is connected to the Karuizawa Wild Bird Sanctuary where countless wild birds and animals roam free. The ice rink opened for the winter season last Friday (October 18) and will run until March 8 next year.

The rink is formed of two areas: the "Man-made Area" which is made together with the cold air and the help of cooling devices, and the "Natural Area," which appears only during the coldest time of winter and sees the water freeze up naturally, allowing people to skate across 1,080 square meters of land. This Natural Area will open on December 20 and run until February 20, 2020.

Stroll across the forest's icy landscape

The freedom of skating across the natural ice is like taking a stroll through the forest. Enjoy skating around the little islands in the middle of the lake and finding the fallen leaves from the forest trees locked inside the ice.

Enjoy hot drinks with the sound of the wild birds as your soundtrack

Enjoy a coffee or hot chocolate at the neighbouring cafe. We recommend getting the Wild Bird Cafe Latte which comes with four different latte art designs of the wild birds you'll often spot around the ice rink. The drink can be enjoyed in the cafe or can be taken out so you can enjoy sipping it on the benches on top of the ice.

Wild Bird Cafe Latte – ¥600 (Tax Included)

 Coffee/Hot Chocolate – ¥500 (Tax Included)

Couples can enjoy the "Starry Sky Nighter Skate" Valentine's event

For Valentine's season, the ice rink has a special event in store for couples: the first ever "Starry Sky Nighter Skate." Not only do they get the luxury of skating after-hours, they can also bask under the radiance of Karuizawa's incredible star-filled sky. There will also be a guide providing commentary on the stars. After the event, all lights will be turned off to allow everyone to enjoy the pure light of the stars.

There will also be hot chocolate with heart-shaped marshmallows for the Valentine's event.

Starry Sky Nighter Skate

Running: February 10, 2020 – February 16, 2020

Time: 17:30-19:00 (Reception open 17:00)

Price: ¥3,500 per person (Includes skating fee, skate rental fee, drink, binoculars, and consumption tax)

Age: 18+ years

Reservations: By 17:00 the same day by telephone or online. Reservations are mandatory.

Capacity: 20 per day (Must book for at least 2 people)

Information

Kera-Ike Ice Rink Natural Area

Running: December 20, 2019 – February 20, 2020

*Man-made area running October 18, 2019 – March 8, 2020 (Except November 20, 2019, and January 7-9, 2020)

Time: 10:00-16:00

Price: General (Junior High Schol students and older) – ¥1,900 / Elementary School Students and younger – ¥1,300

Official Website: http://www.hoshino-area.jp/archives/area/skate

GINZA SIX Christmas 2019: Christmas Cake, New Art by Klaus Haapaniemi & More

Ginza's biggest shopping complex GINZA SIX is celebrating Christmas this year with an upcoming event entitled "Celebration of Life: Hoshi no Umi no Shukusai" (A Festival Under a Sea of Stars) which will take place from November 5, 2019 to December 25, 2019.

Celebration of Life: Hoshi no Umi no Shukusai

The visuals for "Celebration of Life: Hoshi no Umi no Shukusai" were created by Finnish artist Klaus Haapaniemi. The work is titled "Astral Sea" and Haapaniemi arranged the art specifically for the event. It features animals and living beings floating through space amongst the stars, each moving to the rhythm of the stars' revolution. With this grand work, Haapaniemi has created a new myth that makes one think of space and how it connections to the lives of humans.

The space and time-transcending "Lightning Whales" which appear in the Astral Sea will be suspended from the shopping centre's atrium, and tapestries of Haapaniemi will also be draped down the centre, turning GINZA SIX itself into its own Astral Sea. The 10-meter long Lightning Whales floats have been designed in such a way that it looks like they are flying through space. Additional artwork can also be found in the front entrance, show window on floor B2F, and elsewhere.

Klaus Haapaniemi x GINZA SIX Christmas Collaboration Items

Several stores inside GINZA SIX are also releasing items in collaboration with Haapaniemi.

Mimuro Sugi Junmai Daiginjo Imadeya Ginza Limited Edition Model – ¥3,000 @ Imadeya Ginza

This Junmai Daiginjo is part of the Mimuro Sugi Roman Series developed by a sake brewery in Nara. This transparent drink retains the delicate flavour of the rice and leaves a beautiful lingering aftertaste. It's best enjoyed with some tasty food.

Available: November 5, 2019 – February 29, 2020 (While supplies last)

Lightning Whales Frozen Fruit Bar – ¥600 @ PALETAS

These new frozen fruit bars from PALETAS are inspired by Haapaniemi's Lightning Whales. The bar's fantastic colouring is taken from the Astral Sea, while its flavour is blueberry gelato with salt. It's decorated with gold leaf and silver leaf.

Available: November 5, 2019 – January 31, 2020

Gloves – Whale Embroidery ¥9,000 / Swan Embroidery ¥10,000 @ Ginza Tsutaya Book Store

Gloves are a must-have during winter, and these ones come with whale and swan embroidery. You're sure to grab people's attention with these gorgeous fits.

Available: November 8, 2019 – December 25, 2019

*Listed prices don't include tax. Items subject to change without notice.

Christmas Cake & Party Food

Ginza is known for its long list of gourmet restaurants, serving food from around the world. This holiday season, GINZA SIX has plenty of Christmas delights lined up.

Noel Neige – ¥4,630 @ Pavlov Pâtisserie

This gorgeous, light cake uses cream for its snowy landscape, topped with bright-red strawberries.

Panettone Babbo Natale – ¥7,407 @ Café Cova Milano

Cova's panettone is made with a secret recipe that has been handed down since the beginning of the 19th century.

Assorted Mini Sandwiches – ¥3,704

This assortment of mini sandwiches are the perfect choice for Christmas parties, filled with a variety of delicious ingredients like smoked salmon, caviar, pastrami, and more.

*Listed prices don't include tax.

This is just a small look at what GINZA SIX has in store for this Christmas. If you're spending the holiday season in Tokyo, be sure to stop by.

Information

GINZA SIX

Address: 6-10-1 Ginza, Chuo Ward, Tokyo

Opening Hours: Shops/Cafes (B2F-5F) 10:30-20:30 / Restaurants (6F, 13F) 11:00-23:00

*Business hours differ from shop to shop.

No Fixed Holidays (But shops and restaurants will be closed on August 26, 2019)

Access: Directly connected to Ginza Station via the Tokyo Metro Ginza Line, Marunouchi Line and Hibiya Line.

TEL: 03-6891-3390
Website: http://ginza6.tokyo/
RELATED ENTRIES
Akiyoshido Cave in Yamaguchi to be Illuminated for Christmas & Valentine Theater Event

The Mine City Tourism Association has announced a Christmas & Valentine's Day event at Akiyoshido Cave, one of the largest limestone caves in Japan. The event will see the natural wonder illuminated by a number of colorful lights. The Christmas event will run from December 21 to 25, 2022, while the Valentine's Day event will run from February 10 to 14, 2023.

Akiyoshido Cave is one of Yamaguchi Prefecture's most popular tourist attractions. The interior will be decorated with colorful lights and unique soundscapes, creating a once-in-a-lifetime setting for visitors. These illuminations and sounds were directed by world-renowned lighting designer Motoko Ishii, known for her work on Tokyo Tower and the Akashi-Kaikyo Bridge.

Information

Christmas & Valentine Theater ~ Akiyoshido Cave 'Fantasy of Light and Echoes'

Dates:
Christmas Theater: December 21 – December 25, 2022
Valentine Theater: February 10 – February 14, 2023
Times: (1) 10:00-11:00 (2) 12:00-13:00 (3) 14:00-15:00
3 events per day

Venue:
Akiyoshido Cave, Shuhocho Akiyoshi, Mine, Yamaguchi

Tickets/Details:  https://karusuto.com/event/christmas-valentine-theater-2022/

Eve to Hold YouTube LIVE on Christmas Eve with Afterparty for Premium Members

Eve has announced a special YouTube LIVE scheduled to take place on December 24 at 19:00. The stream will take place on the artist's official YouTube channel and those with YouTube Premium memberships will be able to take place in an Afterparty starting at 19:30. 

Starting at 19:00 on Christmas Eve, fans can enjoy a rare live studio performance complete with a full band. The Afterparty will include a special chat with Eve in which the artist reflects on the past year and gives hints on what's to come. Fans won't want to miss this exclusive opportunity!

British Beauty Brand Elemis Sponsors Christmas Afternoon Tea Bus Tour Through Tokyo

There are plenty of events going on in Tokyo to celebrate the holiday season, but this one might be the most peculiar. Elemis, a skincare brand from England, has teamed up with bus operator Upstar for Japan's first bus tour featuring afternoon tea! This extremely limited event will drive guests around the city to see some of the most impressive Christmas lights in Shibuya, Roppongi, Omotesando, and other spots. Only 60 seats are available each day and the bus will run from December 1 until December 25, 2022.

 

5 Unique Features of the Elemis Special Christmas Afternoon Tea Bus Tour

① Enjoy a Special Christmas Afternoon Tea Menu by Elemis

A special Christmas menu will be available on board, including a Santa Claus shortcake and a party popper-inspired sandwich. 

② Travel on a Bus Filled with Elemis Christmas Decorations

Inside the bus, guests can enjoy fir trees and original decorations inspired by the Elemis holiday collection!

③ Best-Selling Elemis Goods will be Gifted to Guests!

Guests will receive a trial size of Elemis' best-selling Pro-Collagen Cleansing Balm as a Christmas present!

④ A Special Gift Campaign will run from November 15 until December 25

Prior to the start of the bus tour, a campaign will be held on Instagram and Twitter. Winners will snag tickets for the bus tour and an Elemis makeup set worth over $12,000!

⑤ Travel on a Special Route to Enjoy Tokyo's Christmas Lights!

The bus tour will take visitors to some of Tokyo's best Christmas locales, from Shibuya and Omotesando to Keyakizaka and Roppongi. The 90-minute journey starts and ends in Omotesando.

How would you like to enjoy Tokyo's Christmas lights on a British bus enjoying some of the best beauty products on Earth? Get into the holiday spirit with this unusual and unique tour!

Information

Elemis Christmas Afternoon Tea

Running: December 1 – December 25, 2022 *Not running December 12, 13

Times:
1st Service / 15:00~16:30
2nd Service / 17:00-18:30
3rd Service / 19:00-20:30

Length: 90 minutes

Departure Point: In front of the Shioda Building (5-10 Minamiaoyama, Minato-ku, Tokyo)

Price: ¥6,800 (Adults, Tax Included) / ¥3,000 (Children, Tax Included)

Reservations: https://www.upstar-londonbus-travellingnewtokyo.com/booking

Eve to Sing Theme Song for Christmas Comedy Film 'Black Night Parade'

Popular singer Eve will sing the theme song for the film Black Night Parade, coming to theaters nationwide on December 23, 2022. A new trailer featuring the track has also been released alongside the announcement.

Eve's YouTube channel has over 4.2 million subscribers with video views of over 1.9 billion. The new song, Shirayuki, was written by the singer himself, who has become incredibly popular with overseas music fans as well. The track manages to be both gentle and powerful in equal measure, combining an orchestra with Eve's unique vocals. In conjunction with the release of the trailer, an exclusive pre-release version of the song has been posted to TikTok.

Black Night Parade Trailer: https://youtu.be/57CkdVMky4o

Black Night Parade was originally manga series by Hikaru Nakamura, the creator of Arakawa Under the Bridge and Saint Young Men. The live-action film will be directed by Yuichi Fukuda, who has worked on a number of live-action film adaptations of manga series including Gintama and Kyo Kara Ore Wa! Fukuda also wrote the screenplay along with Tetsuo Kamata. The protagonist Miharu Hino will be played by Ryo Yoshizawa, while Shino Hojo will be played by Kanna Hashimoto. Taishi Nakagawa will play Kaizer Tanaka and Keisuke Watanabe will play Teppei Kohira.  

The story follows Miharu Hino, a man who is completely hopeless at everything he does. He failed his entrance exam, failed at job hunting, and has no love life to speak of. After working at a convenience store for three years, he meets a man in a black Santa suit who kidnaps him, offering him a job. Miharu then begins working at Santa Claus House, a mysterious company at the North Pole that delivers gifts to children around the world.

Comment from Eve

"I'm incredibly honored because I loved both the original manga and Fukuda's past works. I wrote this song Shirayuki with the hope that Christmas could be an important day for everyone. I would be so glad if this song makes you nostalgic for winter, making you imagine the cold air that stings your nose and the stars in the clear night sky. I love Kunehito, so I am looking forward to seeing him in the film."

©︎2022「ブラックナイトパレード」製作委員会 ©︎中村光/集英社

Sailor Moon Museum Releases New Christmas Menu

The Sailor Moon franchise's 30th-anniversary museum is open from July 1 to December 30 at Tokyo's Roppongi Museum. The series became a global phenomenon in the 1990s and remains incredibly popular with audiences around the world to this day. The museum itself is located near Azabu-Juban, where Sailor Moon took place.


 
Volume 3 of the museum, the final installment, will take place from November 12 until the museum closes on December 30. During this period, fans can see over 100 pieces of rare Sailor Moon goods from its run in Nakayoshi magazine.

 

All of the original color drawings currently on display will be replaced, with over 60 new pieces being added including previously unreleased works. Fans will also get a glimpse of the original drawing that appeared on the cover of Nakayoshi when the final chapter of Sailor Moon was published!

Christmas Menu

Sailor Moon Museum Christmas Pancake

Sailor Moon Museum Cheese Melt Muffin

Latte Art featuring Famous Quotes

THE ALLEY Collaboration Drinks

Christmas Tapioca Banana Pumpkin

Princess Serenity Cream Cheese Yogurt

New Christmas menu items will also be available during Vol.3. Guests can enjoy the cafe's original Christmas tree-inspired pancakes and collaboration drinks with THE ALLEY. The main menu has also been overhauled and now includes plenty of dishes perfect for the cold winter months. The drink menu will also feature original coasters and straw tags only available at the museum.




Will you be visiting the museum during its last few weeks?

(c) Naoko Takeuchi

Information

Sailor Moon Museum

Running: July 1 – December 30, 2022

Vol. 3: November 12 – December 30, 2022

Hours: 

Weekdays: 10:00-18:00 (Last entry at 17:30)
Weekends/Holidays: 10:00-20:00 (Last entry at 19:30)
*Open from 10:00-20:00 from December 26 – December 30
Venue: Roppongi Museum (5-6-20 Roppongi, Minato-ku, Tokyo)
Official Site: www.sailormoon-museum.com


Mister Donut Reveals Limited-Time Pokemon Christmas Collection

Mister Donut has revealed its annual Pokemon Christmas collaboration. This marks the 5th year that the popular sweets chain is teaming up with the legendary franchise, and starting on November 9, fans can find themed sweets and merchandise for a limited time. 

Pikachu Snowman Donut

Christmas Collection Donut Set

New to the lineup in 2022 is the Pikachu Snowman Donut. This will be sold alongside the always-popular standard Pikachu Donut which will be sold in a cute Christmas sleeve. Customers can also look forward to the sleepy Pikachu Donut and the fluffy Jigglypuff Donut this holiday season.

Mister Donut Blanket (White)

Mister Donut Glasses (Set of 2)

The Christmas Set will include the Mister Donut Pokemon Blanket, which is available in two patterns, as well as a pair of Pokemon glasses. Fans are sure to enjoy these new illustrations of Pikachu and Jigglypuff made exclusively for the collaboration. 

Pikachu Donut

 

The popular Pikachu Donut is back! The fluffy yeast pastry is filled with whipped cream with a pudding flavor and chocolate coating. 

Pikachu Snowman Donut

 

Also filled with whipped cream, the Pikachu Snowman Donut is coated with white chocolate.

Be sure to check out this exclusive collection of sweets and goods before they're gone!

©2022 Pokémon. ©1995-2022 Nintendo/Creatures Inc. /GAME FREAK inc.

ポケットモンスター・ポケモン・Pokémonは任天堂・クリーチャーズ・ゲームフリークの登録商標です。
Nintendo Switchのロゴ・Nintendo Switchは任天堂の商標です。

Information

Mister Donut Pokemon Christmas Collection

On Sale:

Donuts: November 9 – late December 2022 (While supplies last)

Goods: November 9 (While supplies last)


Official Site: https://www.misterdonut.jp

The World of Peanuts to Take Over Grandberry Park this Winter

The limited-time Christmas event 'SNOOPY Merry Colorful Christmas' will be held at the Grandberry Park shopping mall from November 12 until December 25, 2022. The complex is directly connected to Manami-Machida Grandberry Park Station on the Den-en-toshi Line. 

This year's event is the most colorful one yet, focusing on diversity and individuality. Fans of Snoopy and friends are in for a treat, as the area around Grandberry Park will be illuminated in beautiful colors and decorated with unique Christmas decorations that will excite the whole family. 

Colorful Sculpture

Colorful Illuminations

Snoopy Ice Rink

Snoopy Happiness Float 2022

During the event period, a giant 8-meter-tall Christmas tree decorated with Peanuts-inspired ornaments will be set up for guests to enjoy. A huge and very colorful sculpture measuring 6 meters across and over 2 meters tall will also welcome visitors to this Christmas wonderland. In addition, colorful lights will be scattered around the entirety of Grandberry Park, and a special Christmas menu filled with cakes and hors d'oeuvres is sure to delight.

On December 10, the Snoopy Ice Rink will open at Oasis Plaza, and the Snoopy Happiness Float 2022, a giant Snoopy that has traveled across Japan, will return for another year of fun.

Come have a fun time this holiday season with Snoopy and friends! A series of events will be held over the next year to market the Colors of Peanuts marketing campaign throughout the country, so keep an eye out for more news!

*Sample images only.

Grand Front Osaka to Hold Harry Potter Christmas Event

The Grand Front Osaka mall has announced an incredible Christmas celebration in collaboration with the magical world of Harry Potter! Fans will want to visit the massive shopping center between November 10 and December 25 to take part in the festivities.

Standard Decorations

Showtime Decorations

Harry Potter-Inspired Decorations

The highlight of the event is the 13-meter-tall Christmas Tree, which will be set up on the first floor of the mall's North Building. The tree will be decorated with Harry Potter-inspired ornaments like moving staircases and window frames, which will look as though they are floating in the air. At night, a light show will take place around the tree, complete with projections inspired by the four houses of Hogwarts. 

Decorated Ted E. Bear

Stamp Rally Card

House Flag Decorations

Tully's Coffee and Harry Potter Collaboration Goods and Menu

Special Harry Potter-themed decorations will be attached to many trees in the area around the nearby Umekita Plaza, and fans can also find a Harry Potter panel exhibition. An Instagram photo campaign will be held in which visitors can enter to win collab merch, so don't miss out!

Come make some magical memories at this Harry Potter event in Osaka this winter.

Information

Grand Wish Christmas 2022

Harry Potter: An Invitation to the Wizarding World of Christmas

Running: November 10 – December 25, 2022 *Excluding certain contents
Venue: Grand Front Osaka North & South Wings, Umekita Plaza, etc.
Details: https://www.grandfront-osaka.jp/xmas2022/ 

Q-pot CAFE to Release Colorful and Creative Christmas Cake

Q-pot is known for incredible Christmas cakes, and this year's dessert might be their most glorious yet. This year's motif is the 'Christmas Wreath,' meant to symbolize peace, eternity, and happiness. Featuring a massive Morello cherry, this is the perfect way to celebrate the season with friends and family.

The cake features a pistachio ganache and cheese ganache transformed to look like powdery snow, with each dessert decorated with chocolate candy canes, teddy bears, stars, and ribbon cookies.

The beautiful cross-section shows four luxurious layers: Morello cherry mousse, caramel mousse, crepe dough filled with hazelnuts and chocolate, and rich chocolate genoise. Cakes are available to order from anywhere in the country and are delivered in a beautiful box.

Orders will be accepted in-store and at the Q-pot. Online Shop starting November 1, 2022. Why not enjoy a decedent and heartwarming Christmas this year?

Information

Q-pot CAFE. 2022 Christmas Cake

Order Period: November 1 – December 11, 2022

Delivery Period: December 22 – December 25, 2022

Price: ¥3,240 (Tax Included)

Details/Orders: http://www.q-pot.jp/news/2022/10/1765.html

Midtown Christmas 2022 to Bring Gorgeous Lights and Sounds to Tokyo

From November 17 until December 25, Tokyo Midtown will hold the popular Midtown Christmas event for 2022!

Adults and children are sure to love this massive Christmas event. Each year, a massive Christmas tree appears in Tokyo Midtown, but this year's festivities will also throw some more unique pieces of art into the mix.

This year, visitors will see golden lights on the city's trees, as well as a pop-up Christmas tree inspired by party poppers. Lights and music will join together to make guests feel as though they've walked into an outdoor theater, and the popular ice skating rink will once again be open for everyone to enjoy. Why not enjoy the Christmas season in Tokyo's shimmering midtown?

Bubbles Fill the Air for a Limited Time at the Christmas Story Lights

A Massive Dome Filled with 300 Lights Invites Visitors to Celebrate the Season

Hands-on Experiences at the Party Popper Tree

Information

Midtown Winter Lights

Running: November 17 – December 25, 2022

Venue: Midtown Garden, Plaza 1F

Light Hours: 17:00-23:00

*Some event times and details are subject to change.

Admission: Free

Sponsored by Netflix

Keyakizaka Lights, a Tokyo Winter Tradition, to be Held Again in 2022

From November 11 until December 25, 2022, Roppongi Hills Christmas will cover Tokyo in glittering lights once again. The Keyakizaka Lights, one of Tokyo's most popular winter attractions, will also take place in 2022, with the 400-meter-long Keyakizaka street covered in over 800,000 blue and white LED lights.

For the first time in three years, the Mohri Garden will be covered in lights as well. The annual Christmas market will invite guests to experience an authentic German Christmas, and Christmas cakes and gourmet food unique to Roppongi Hills will be for sale. 

The Roppongi Hills Christmas event utilizes LED lights and has done so since the first event was held in 2003. Clean power will be used again this year, and the lights will be switched on from 5 PM until 11 PM each night. 

Information

Roppongi Hills Keyakizaka Lights

Running: November 10 – December 25, 2022 *Daily from 5:00 – 11:00 PM

*Lights may begin at a different time on November 10 only.

Location: Roppongi Keyakizaka Street

Official Site: https://www.roppongihills.com

Universal Studios Japan Announces NO LIMIT! Christmas Event

From November 11, 2022 until January 9, 2023, Universal Studios will hold its NO LIMIT! Christmas event!

Christmas is associated with romance for many in Japan, but this year, USJ wants to give visitors a new way to celebrate this special winter holiday. Under the theme of a 'Red Hot Christmas,' this super-energetic event is sure to be the most exciting Christmas event on the scene this year.

This year, the Crystal Christmas tree will make its return this year after a 3-year hiatus. The tree broke the Guinness World Record for nine consecutive years from 2011 to 2019 for the World's Most Illuminated Tree. In 2019, the tree had 591,850 lights and also received Guinness certification for the World's Largest Christmas Snowflake Ornament.

The Super Nintendo World area will be decorated for winter for the first time in 2022, while Minions and other popular characters will appear in special Christmas costumes. Limited-time food and merchandise will be available as well. 

 

An Exciting Christmas Experience for All Five Senses! The NO LIMIT! Crystal Tree

NO LIMIT! Crystal Tree

This year, the Crystal Christmas tree will make its return after a 3-year hiatus with a totally new look! Guests will be bathed in colorful lights and visitors won't want to miss taking a photo with this magnificent sight. 

*On October 28, 2019, the tree won the Guinness World Record for Most Lights on an Artificial Christmas Tree with 591,840. 

The Spectacle of Lights, Complete with Heart-Pounding Music

NO LIMIT ! Christmas

During the event period, the Spectacle of Lights will be held in Gramercy Park. 

The entire area around the Crystal Tree will be completely transformed, and the space will feature projection mapping and countless lights. The blend of Christmas music fused with the magical lights will create a moment you'll never forget.

Super Nintendo World to be Decorated for Winter!

Super Nintendo World's Winter Decorations

Super Nintendo World, the newest area in the park, will feature winter decorations for the first time in 2022. At the entrance to the area, Super Star Plaza, guests will be greeted with a giant gift box and Mario and Luigi-themed snowmen. 

Guests will find wreaths and garland decorating Peach's Castle, along with another Christmas tree decorated with iconic Nintendo characters and items. 

Limited Time Greetings and Stage Shows

Limited-Time Special Greeting & Stage Shows

Guests won't want to miss meeting their favorite characters while they're dressed in holiday outfits! A special meet and greet will be held for children and adults to join the Minions for a special winter celebration. 

Hello Kitty's Christmas Happiness with the Happiness Brass Band

Hello Kitty's Christmas Happiness with the Happiness Brass Band

Hello Kitty and the Happiness Brass Band will perform Christmas music multiple times a day, so families are invited to sing and dance along while getting into the Christmas spirit! You won't want to miss Hello Kitty in her special winter wardrobe.

The Peacock Theater's Popular Universal Party–Reimagined for Christmas!

In 2022, Universal Studios Japan will introduce Universal Party ~ The Showtime & Taste of Christmas. This dinner show requires a separate ticket and will offer some incredible entertainment and menu items. The experience will be held at the Peacock Theater on select days during December 2022.

*A Studio Pass or Annual Pass is required to enter the park. 

WIZARDING WORLD and all related trademarks, characters, names, and indicia are © & ™ Warner Bros. Entertainment Inc. Publishing Rights © JKR. (s22)

Minions and all related elements and indicia TM & © 2022 Universal Studios. All rights reserved.

© Nintendo

TM & © 2022 Sesame Workshop

© 2022 Peanuts Worldwide LLC 

© 2022 SANRIO CO., LTD. APPROVAL NO. EJ2091601

TM & © Universal Studios & Amblin Entertainment

TM & © Universal Studios. All rights reserved.