Limited Booking For Sebastian Masuda's Artistic Kawaii Room Opens Soon
Booking.com is one of the world's largest accommodation booking websites that connects people from all over the world with many unique places to stay. For the first time ever, Booking.com has announced a very special stay at 'KAWAII Japanese Room – Addicted to Tokyo.' Designed in collaboration with no other than art director and icon of Japan's kawaii pop culture Sebastian Masuda. The stay is available exclusively through Booking.com with only a handful of  booking dates available which are: November 13-14, 14-15 and 15-16. 
One significant pattern which can be seen in the room is that of a traditional jūnihitoe, which is a set of formal kimono garments worn by court-ladies in Japan. The designs and patterns have been fused with a vivid pop colour scheme and created in a modern graphics style for a new form of experimental art. The main concept of the room is "Addicted to TOKYO". Once you step into the room, you will be immersed in a world of vivid colours and patterns where abstract wonder is fused with traditional features. A stay here is bound to be stay you will never forget. The room is located at the MIMARU TOKYO AKASAKA apartment hotel and was remodeled specifically for this purpose. Reservations will open worldwide at 7pm JST (11am in Amsterdam). Only three reservations – one for each night – will be accepted and it is first-come, first-served.  

The room is filled with Japanese-style room features such as tatami flooring, sliding doors, zabuton floor cushions, and a raised tatami-floored seating area. There are two beds and a large open space in the room. Once you enter, you will be immersed in a world of patterns.  Using Japanese celebratory culture as a starting point, Masuda has created a space which reflects the atmosphere of an exciting Japanese celebration. Although there are many traditional features to the room, there are also animal patterns and patterns that make the word "TOKYO", creating a room full of impact. One of the most iconic decorations in the room is the bear which rests on the pink tatami flooring. The bear's unique design resembles origami, reflecting the cute yet edgy culture of Tokyo fashion. 

In the room you'll find KAWAII Japanese Room-limited design yukata. These unisex yukata are designed with a range of patterns and colours that can be seen around the room. You can use them as pyjamas and can even take them back home with you.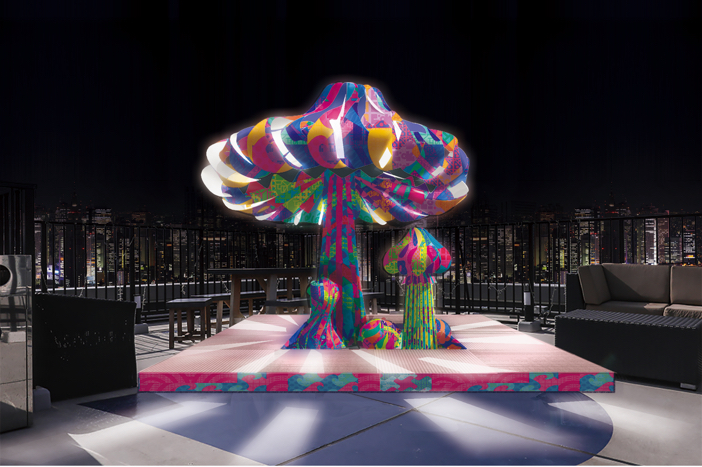 You cannot leave the accommodation without checking out the giant mushroom display located on the MIMARU TOKYO AKASAKA roof. Those staying in any room at MIMARU TOKYO AKASAKA during the limited period as well as those staying in the KAWAII Japanese room both have access to see this glorious masterpiece
If you are not one of the lucky few who get a chance to stay at the KAWAII Japanese Room- Addicted to TOKYO, you could book another room in the hotel during the same period to witness Masuda's iconic mushroom masterpiece. This is the perfect place to experience a full-on kawaii experience right in the centre of Tokyo. The first 100 people to visit the rooftop between 3pm and 9pm on each day between November 13 and 15 will receive an original hand towel. 
Be sure to check it out.
Information
KAWAII Japanese Room- Addicted to TOKYO
¥2,200 per night (Tax Included)
Address: 7 Chome-9-6 Akasaka, Minato City, Tokyo
RECOMMENDED ENTRIES
MOSHI MOSHI ROOMS Opens Origami Themed Accommodation 'ORIGAMI' in Harajuku

The second room of the ASOBISYSTEM-produced home sharing facility MOSHI MOSHI ROOMS has finally opened. Named "ORIGAMI," the room is available via Airbnb, and is a joint-effort between ASOBISYSTEM, which promotes Harajuku culture to the rest of the world, and Rokuyon, which manages unique accommodations in Shibuya.

MOSHI MOSHI ROOMS SAKURA 

MOSHI MOSHI ROOMS is an accommodation service that offers concept rooms brimming with originality which you won't find at any other hotel, hostel or home sharing facilities. The first room, SAKURA, opened in December last year, proving popular with travellers around the world with its cherry blossom theme.

Joining as the second room in the series is 'ORIGAMI,' a room based entirely on the Japanese art of paper folding which covers the entire room at every turn.

Living Room

The cosy living room is decked out with benches and stools, furnished in the style of a Japanese tea house. Dangling overhead are lights which brighten the room with their warm colour. The light shades are in fact traditional Japanese umbrellas which help bring that quaint Japanese atmosphere alongside the colourful folding fans, matcha-making tea set, and more.

Bedroom

The picturesque room is floored with tatami where you can sit and relax on a zaisu―a traditional chair with no legs used for sitting on tatami mats. The paper lanterns and sliding doors elevate an exciting air in the room. The stairs leading upstairs are made up of chests of drawers which you can use to store your luggage.

Both the upstairs and downstairs are fitted with mattresses spreading 2.6 meters wide which can accommodate up to 6 people in total. The mattresses are by Nishikawa which offer dreamy comfort and a high quality sleep. The mattresses can also be switched out for a different type depending on what kind of feel you are looking for.

Powder Room

The Powder Room is equipped with amenities including cotton swabs, cotton pads, and hairbands. Seat yourself comfortably at the wide table and get ready for your day or night out.

Shower Room

The Shower Room also has everything you need including shampoo, conditioner, and body soap. As well as a shower, there is also a Japanese-style Washlet toilet.

Everything Else & The Amenities

ORIGAMI has all of the living essentials. If you're looking to cook while staying here, the kitchen has a microwave, refrigerator, plates, pans and more. There is even a washing machine.

Guests can also rent a kimono haori. Be sure to take lots of pictures!

4F Entrance – Staircase

The ORIGAMI room begins from the staircase leading from the third floor to the fourth floor. The door is actually made of tatami mats.

Building Entrance

Our building is very easy to spot at the ground floor entrance with the giant neon sign that reads "MOSHI MOSHI NIPPON" in Japanese as well as the MOSHI MOSHI ROOMS logo on the wall.

Rooftop

Guests are free to use the rooftop which offers a panoramic view of Harajuku.

Like SAKURA, ORIGAMI is available to book on Airbnb only. Whether you're coming from overseas and in need of a room, are doing a staycation, or just want a place to get together with the girls, then book now with MOSHI MOSHI ROOMS.

Information

MOSHI MOSHI ROOMS -SAKURA-

Address: 2-18-7 Jingumae, Shibuya, Tokyo

Access: 8-minutes on foot from Meiji-Jingumae (Harajuku) Station via the Chiyoda and Fukutoshin lines

Occupancy: 1-6 people

Price: ¥40,000 (does not include handling and service charges) *1 room 1 night

*Accommodation prices are subject to change depending on the period. For full details please check the Airbnb website

Official Website: https://rooms.moshimoshi-nippon.jp

ORIGAMI Bookings: https://bit.ly/2Ug3nVv

SAKURA Bookings: https://bit.ly/2NwrA8x

Eat & Drink in Harajuku at MOSHI MOSHI ROOMS' Rooftop BBQ

Since opening in Harajuku last year, MOSHI MOSHI NIPPON's ultra-kawaii hotel MOSHI MOSHI ROOMS has been the talk of the town. We are here to announce a new BBQ plan for guests which is held on the hotel rooftop and which you can attend empty-handed.

MOSHI MOSHI ROOMS is only an 8-minute walk from Harajuku Station. You'll know you've arrived when you spot our neon sign pictured above. It's on the roof of this building you can look forward to getting your teeth into a delicious BBQ and chugging down drinks.

The rooftop design takes on a pop appearance, mixing blue with yellow. This cute design alone is enough to get you excited for what's to come. And since there are no tall buildings around us, you get a great view of Harajuku from below.

The BBQ plan comes equipped with everything you need: a fire, plates, cups, ingredients, and alcohol. We have a great option of drinks, including beer, wine, whisky, and soft drinks. There's also a beer server so you can enjoy your beer nice and frosty. If we don't have a drink you'd like, you can bring your own too. There's a FamilyMart and other shops nearby, so head there to stock up.

BBQ Set – ¥6,000 Per Person (Before Tax) *Photo is a select portion example for 5 people

For grub, our lineup includes meat, fish, egetables, fried onigiri, and sweets. There's Japanese beef too, as well as Japanese chicken, pork, lamb, sausage, and more. We prepare the most delicious ingredients for the current season. There's a lot of different meats to choose from, so rest assured you won't go hungry.

All the food is seasoned for you, so you can drop it all on straight away and get straight to eating.

Make a toast with your drinks and tuck in! The wagyu beef is nice and plump once it comes off the fire. One bite of the soft meat will treat your taste buds to a luxurious sweetness and the meat's delightful juices.

The chicken is seasoned sweet and spicy. It has a crunchy exterior and soft inside. The lamb is seasoned well too and has that distinct deep flavour lamb has.

Our fish and vegetables are all in season too. The fish pictured above is salmon cooked in foil and seared skipback tuna. The salmon is seasoned with butter and soy sauce. All of the delicious flavour of the skipback tuna is intensified while prepared on the fire, and the inside is sumptuously tender. It's seasoned with citrus soy sauce.

This here is giant okra which I tried for the first time. Giant okra is in season right now too. It's a lot more elastic than your regular size okra and has a juiciness when you bite into it.

I was so full already… until dessert arrived! These is a dessert sweet potato roasted on the fire.

I topped it with vanilla ice cream and tea flavoured ice cream before sprinkling on cornflakes to finish.

The mix of the hot potato and cold ice cream is a match made in heaven inside your mouth. The roasted sweet potato has a subtle sweetness which mixes perfectly with the creamy ice cream. I originally thought I was full but there's always room for dessert.

There are parasols too in case it rains. You can even rent out tents from the hotel if you like.

If you're looking to stay in Harajuku, come and see us at MOSHI MOSHI ROOMS and enjoy a BBQ with a rooftop view of Harajuku.

Writer: Sayuri Mizuno (MOSHI MOSHI NIPPON)

Translator: Joshua Kitosi-Isanga

Information

MOSHI MOSHI ROOMS BBQ Plan

Address: 2-18-7 Jingumae, Shibuya, Tokyo

Price: From ¥6,000 Per Person (Reservations Available)

Set Ingredients:

・Meat: Wagyu beef and other meats in season

・Fish: In season fish

・Vegetables: In season vegetables

・Other: Fried Onigiri, Satsuma Sweet Potato Dessert

・Drinks: 1 Beer Server, White Wine, Red Wine, Whisky, Shochu, Tea, Water, Orange Juice, Cola (soft drinks are served in 2ltr bottles)

Set Equipment:

・Grill, BBQ, Tongs, Plates, Cutlery, Cups

Reservation/Enquiries: info@moshimoshi-nippon.jp

*Prepared ingredients will differ from season to season

10 Things You Can Do at the MOSHI MOSHI ROOMS Hotel in Harajuku | Birthday Party Edition

MOSHI MOSHI ROOMS is a hotel accommodation service run by MOSHI MOSHI NIPPON located in Harajuku and bookable via Airbnb. Our hotel isn't just popular for sleep, however: it has become a hot spot with stylish girls who get together and use it as a party space.

This is the Birthday Edition of our Top 10 list of things you can do at MOSHI MOSHI ROOMS. Enjoy a very special birthday in Harajuku you'll never forget!

Girls' Night In Edition: https://www.moshimoshi-nippon.jp/262308

⑤Get your hair and eyelashes done at Harajuku's popular salon L by HOME for your special day

L by Home is a popular salon in Harajuku that's just a 2-minute walk from MOSHI MOSHI ROOMS. The salon offers a special plan in collaboration with MOSHI MOSHI ROOMS.

If you book a room at MOSHI MOSHI ROOMS you can receive a special price at L by HOME. Celebrate your special hair by getting a cute hair arrangement and eyelash extensions. The extensions come in different colours depending on which room you book at the hotel, be it SAKURA or ORIGAMI. You will receive a message about it after booking on Airbnb.

▶︎Hair Arrangement

Price: ¥3,000 per 30 minutes

*Shampoo is available at an extra cost

▶︎Eyelashes

Price: ¥10,000 per hour

Service: The base colour is brown and you can pick an additional colour of your choice

SAKURA Colours (brown×cotton, aqua, pink, magenta)

ORIGAMI Colours (brown×burg, lite brown, purple, gold)

▶︎L by HOME

Address: 2F, 3-27-15 Jingumae, Shibuya, Tokyo

TEL: 03-5411-0366

Opening Hours: Hair Salon 11:00-21:00 (10:00-19:00 on Sundays & holidays) / Eyelash Lason 11:00-20:00 (10:00-19:00 on weekends & holidays)

URL:http://l.home-harajuku.com/

⑥Adorn your hotel room with cute decorations

Guests are free to use rooms as they please, so be sure to decorate it for the big day with cute decorations, so long as you use tape that doesn't damage the walls or furniture. There are lots of shops in the Harajuku and Omotesando area that sell birthday goods: FLYING TIGER COPENHAGEN, ASOKO, AWESOME STORE, and DAISO to name a few.

⑦Experience a kawaii birthday like no other at MOSHI MOSHI ROOMS

Enjoy an unforgettable birthday in one of our special rooms, like SAKURA which is completely pink throughout. There are a limited number of beds in the rooms but there is no limit to how many people stay in a single room, so invite all your friends over for a huge party! And if you tell us in advance that you're bringing a cake in, you can borrow a cake stand from us so you can make the cake even cuter. The stand is 18cm in diameter so it should hold a whole cake, but be sure to check the size of yours in advance.

There's no doubt you'll enjoy your birthday party even more if you spend it in our pink haven. There is a kitchen with plates, cutlery and everything you need to cook up more snacks and food for your party too.

We will continue the Top 10 list in the next article entitled Food Edition. Remember, if you're looking to stay in Harajuku, be sure to book with MOSHI MOSHI ROOMS for a hotel stay like no other.

Models: Aiko / Ringo
Photographer: Haruka Yamamoto
Writer: Sayoko Ishii

Translator: Joshua Kitosi-Isanga
RELATED ENTRIES
Hirosaki and Hakodate to Begin Winter Tourism Campaign with Snow Miku Starting December 2022

The cities of Hirosaki and Hakodate in Hokkaido have announced that they will team up with Hatsune Miku's popular iteration Snow Miku to promote tourism in the area this winter. A number of activities will begin in December 2022.

[Snow Miku x Hirohako] Collaboration Project

■Hirohako Winter Tourism Campaign Poster Featuring Snow Miku

・Period: Mid-November~February 28, 2023

・Locations: Facilities in both cities, tourist facilities, hotels, shopping areas

■Snow Miku Illustration Contest Exhibition Event

Over 50 illustrations have been submitted under the theme of Snow Miku and Hakodate / Snow Miku and Hirosaki. These will be on display through the winter!

・Running: December 1, 2022 – February 28, 2022

・Venues: Hirosaki Municipal Tourist Center (Hirosaki)
                    Kanemori Red Brick Warehouse (Hakodate)

■Snow Miku Photo Spot

Snow Miku panels featuring shamisen and apples from Hirosaki will be on display, while the Hakodate version will include references to squid fishing and footbaths. 

・On Display: December 1, 2022 – February 28, 2022

・Locations: JR Hirosaki Station, Chuohirosaki Station (Hirosaki)
                        JR Hakodate Station, Hakodate Airport (Hakodate)

■Digital Stamp Rally Using the Mikunavi App

A number of panels will be installed at five checkpoints in Hirosaki and Hakodate. A total of 1,000 people–500 in each city–will win original merch including a Snow Miku mask case and decorated masking tape. All you need to do is check in!

・Available: December 1, 2022 – February 28, 2022

・Locations: (Hirosaki) Hirosaki Municipal Tourist Center, Hirosaki City Machinaka  Information Center,

                         Hirosaki Tourist Information Center, Hirosaki Castle Information Center, Tsugaru-han Neputa Village

      (Hakodate) Kanemori Red Brick Warehouse, Yunokawa Hot Spring Footbath, Goryōkaku Tower,

Hakodate Green Plaza C Block (Hakodate Lumi-Pop), Old Public Hall of Hakodate Ward

■Hirohako Winter Tourism Campaign Theme Song and Music Video 

The tourism theme song will get a new music video that will be broadcast on YouTube, at local tourist facilities, and on TV and radio!

・On Air: December 1, 2022~

・Theme Song: Mahou no Keshiki (Lyrics/Composition: ryuryu)

■Snow Miku Welcome Announcements to be Broadcast at Tourism Facilities, etc. 

A one-minute welcome announcement by Snow Miku will air at tourist facilities!

・Running: December 1, 2022 – February 28, 2022

・Locations: Tourist areas in both cities

■Snow Miku Filters Using AR

When each barcode is scanned with a smartphone, Snow Miku will appear on the screen! Visitors can take pictures with Snow Miku to commemorate their winter trip to Hirosaki and Hakodate.

・Available: December 1, 2022 – February 28, 2022

Sebastian Masuda to Unveil Hands-On Live Performance Work

From September 30 until October 2, 2022, artist Sebastian Masuda will present a hands-on live performance work titled Polychromatic Skin – Minitsukeru, nugisuteru at kagoo in Kitakagaya, Osaka. 

Masuda, who currently resides in New York, is returning to Japan temporarily to prevent this colorful and experimental participatory live performance, inspired by the street style of the 90s. The title of the artwork is pulled from the artist's intention to break through and liberate people's unconscious stereotypes that stand in the way of gender freedom. This work is the second in a series following Polychromatic Skin -Gender Tower- and Polychromatic Skin -Gender Wall- to be exhibited at Roppongi Art Night 2022.

The theme of this art piece is 'wearing something by taking it off.' Audience members will participate in the live performance by wearing masks, tops, and bottoms based on the idea of androgyny, or the body of a human before it is divided into male or female. 

Upon entering the art space, guests will be surrounded by live music consisting of drums and violins and visuals, while being invited to act accordingly to create their own art. Each session lasts 60 minutes, and participation in the live performance must be reserved in advance. Tickets to view the works without participating in the performance will be sold at the venue on the day of the event.

The performance will take place at kagoo, a former warehouse space in Kitakagaya, an artistic area of Osaka. A free area at the entrance will feature a pop-up store filled with Sebastian Masuda's art, along with items from 6%DOKIDOKI, a popular Harajuku apparel brand celebrating its 27th anniversary in 2022.

<Comment from Sebastian Masuda>

"In Brooklyn, New York in 2018, I wandered off to go to the restroom at a club. The male and female signs on the restroom doors had been smashed together, and the sign only said 'non-gender.' Bewildered by the unexpected instructions, I opened the door with the usual color and found a completely different sight than I was expecting. Shocked to realize that there were stereotypes hiding unconsciously within me, I returned to the club floor to find the space is as fun as ever. Since then, I've wondered if there is a way to break the stereotypes I have. I can't stop thinking about it. 

Is breaking down the walls the only shortcut?
The right answer is inside all of us.
Sometimes, to see the truth, you just need to put something on.
Cast off the self by taking it off."

Kawaii King Sebastian Masuda to Hold 'COLORS FOR PEACE' Charity Art Exhibition in New York City

Sebastian Masuda, known as the "father of kawaii," moved to New York City in 2022 to be more active in the Big Apple while continuing his activities in Tokyo.

 

His first event since moving to the city will be the COLORS FOR PEACE charity art exhibition, which will be held at the Mizuma & Kips gallery on Manhattan's Lower East Side from July 29 until July 31. A portion of all proceeds from the sale of artwork and donations collected will be donated to the Ukrainian National Women's League of America, a human rights organization supporting those whose lives have been impacted by war.

Masuda wanted people to think about peace, which is the theme for the COLORS FOR PEACE exhibition. The showing will feature artwork in four primary colors–blue, yellow, green, and pink.

Along with original paintings and lithographs, the exhibition will also feature a bed installation where guests can freely relax. Visitors will be able to think about the people whose peaceful daily lives are threatened by the ongoing war, and will be able to support them through art.

An opening reception for the event will be held on the evening of July 29, and reservations are open now. More information will be announced on Masuda's social media accounts, including when the artist himself will appear.

Comment from Sebastian Masuda

"COLORS FOR PEACE is an event with a very straightforward theme, and that is for guests to think about peace. Close your eyes. Imagine it. Understand it. Understand how wonderful it is that you can sleep in your own bed at home tonight. We all know how comfortable it is to be able to sleep in our own bed, with our own sheets that have our own scent.

Through my activities over the years, I've come to realize that the 'kawaii' movement is one of the best ways to inspire peace. It helps us to understand each other, and the bright and vibrant colors make people happy, both in Japan and around the world. I hope that the COLORS FOR PEACE venue will be filled with many smiling faces and that it will transcend race, religion, age, gender, and all other borders."

Private Jet Package Now Available in Toyama Offering Spectacular View of Tateyama Mountains

Mizu to Takumi, a company associated with the Toyama West Tourism Promotion Association, has teamed up with SKYTREK to offer guests a once-in-a-lifetime chance to visit the area via private jet. Reservations for the incredible experience began on June 17, 2022.

Offering an entirely new tourism experience in Toyama Prefecture, visitors can see the area's natural wonders from miles above the Earth. The program also aims to share local culture and more about traditional craftsmanship and cuisine.

Toyama Prefecture boasts dramatic topography, from the massive peaks of the Northern Alps and the Tateyama Mountains to the deep waters of Toyama Bay. To better allow visitors to see the sights, these private jet tours will be chartered on special courses different from standard airlines.

After the flights, guests will be welcomed to explore Takaoka's deep history and culture. Kane no Sanzun, a restored and preserved inn, will welcome visitors, offering a relaxing and rejuvenating time.

Visitors can also book optional excursions to further explore the area, such as a Zen meditation experience at a famous temple in Takaoka, a traditional crafting workshop, and a tour and tasting of the only whiskey distillery in the Hokuriku region.

Come enjoy a trip to Toyama with a whole new perspective!

Airbnb Reveals Top 10 Most Popular Summer Destinations in Japan

Airbnb boasts one of the largest travel communities in the world, filled with users offering up lodging and those eager to visit somewhere new. The Japanese subsidiary of the company has revealed the top spots added to Japanese users 'Favorites (Wish Lists)' from May 1 to May 17, 2022. Where will travelers in the country be headed this summer?

Golden Week is long gone and users are starting to think about where to visit during the hottest part of the year. This national 'Wish List' might make it easier to pick a spot, with many locations highlighting lesser-known areas!

Gujo Hachiman Villa, Limited to 1 Couple Per Day (Gifu)

This completely private rental villa was made for sauna enthusiasts. One lucky pair per day can book this suite along the Yoshida River flowing through Gujo Hachiman, known as the "City of Water and Dance." Currently booked through the end of August, reservations for September and beyond will be available in early June. Book a stay to enjoy the gorgeous autumn foliage!

A House Surrounded by Lush Greenery in the Countryside (Tottori)

Hosted by a family of musicians and architects, this guesthouse invites guests to enjoy gorgeous Nordic-inspired interiors and the serene quiet of the countryside. For those looking to escape the hustle and bustle of the city, this is the perfect spot.

Hoshina Satomachi, Limited to 1 Couple Per Day (Nagano)

There's nothing like spending the summer in a traditional Japanese home. Enjoy a barbeque on the terrace and relax on the massive lawn. This is the perfect spot for families with children or pets!

Coastal Cabin (Chiba)

You can't have summer without a pool. This luxurious coastal retreat boasts a 15-meter pool, outdoor Jacuzzi, bonfire space, and a barbeque. Relax by the pool while listening to your favorite songs or soak in the outdoor bath as you watch the waves crash along the shore.

An Elegant and Peaceful Log Cabin (Nagano)

Located at 1,300 meters above sea level on the Iizuna plateau, this log cabin is situated in the midst of a dense forest. A perfect space for couples, families, or small groups of friends, guests are welcome to enjoy hiking through this gorgeous landscape in the center of Japan!

Izu, the Setting for Laid-Back Camp, Now Offering Travel Plans

JR Tokai Tours has released a new travel plan for fans of Laid-Back Camp Season 2, which aired from January to March 2021. The tour will take place in the Izu area, which was heavily featured in episodes 10, 11, and 12. Guests can enjoy a travel plan with single lodging and original goods starting May 23 until June 29, 2022.

Original Stickers

 

The slice-of-life series Laid-Back Camp is currently serialized in COMIC FUZ.

 

Set in Yamanashi and Shizuoka Prefectures, Laid-Back Camp is a relaxing series following a group of high school girls going camping and enjoying their daily lives. The series is based on the author Afro's personal experiences and interviews, and since serialization in 2015, the series has attracted fans from around the world. The original comic has sold over 7 million copies. In 2018, the first anime series premiered, inspiring a spin-off Room Camp in 2020 and a second season in 2021.


Four years after it was announced in 2018, a Laid-Back Camp animated film will arrive in theaters this summer.

EMOCAL, a Project to Support Japanese Regions, Releases Music Using Local Sound Samples

The EMOCAL project aims to support small-town areas of Japan. As a new initiative in the project, specific soundscapes only found in certain areas of the country have been combined with music to create some unique tracks. A selection of musical artists have collaborated with the project to bring these songs to life!


EMOCAL was created by ZOWA's original label, CatchyStuck. The project supports local regions and communities by using ASMR soundscape videos recorded in each region to convey their particular charms to all of Japan. The sounds recorded in each place are considered to be very valuable and are intended to serve two purposes: to bring tourism back after the pandemic and to provide fans of ASMR a way to experience these areas from afar.



Check out each of these unique ambient tracks created by four up-and-coming musicians! Each song is available on viviON's ASMR platform ZOWA and on Spotify.

Ube, Yamaguchi Prefecture / Ikkyuu x Hige Driver, I Love Ikkyuu

Beard Driver created this ambient track with sounds recorded inside of Ikkyuu, a ramen shop.

ZOWA: https://zowa.app/play/20019
Spotify: https://open.spotify.com/track/1RP4RcpJwMrFzoYQbnfDYm?si=f1f1e816adb14db0


Odawara, Kanagawa Prefecture / Miyuki no Hama x Powerless, Seiren

Powerless created this track, inspired by the sounds of waves crashing at Miyuki no Hama, a seaside recreation area 20 minutes from Odawara Station.

ZOWA: https://zowa.app/play/20016
Spotify: https://open.spotify.com/track/5DkQ9FeM7jQBacUf7Nbuxc?si=c7d771e73ddd44b6

Shizuoka, Shizuoka Prefecture / Wasabi Field x baker, On the silent hill

Utogi in Shizuoka city is surrounded by incredible nature. Known as the birthplace of wasabi cultivation, baker used sounds recorded in the area to create this ambient track.

ZOWA: https://zowa.app/play/20017
Spotify: https://open.spotify.com/track/0oIU4x7MjVKmpouRwEPaXZ?si=04dcb805cea540b7

Ibusuki, Kagoshima Prefecture / Cape Tara x SeA0, Akushu

Cape Tara is a popular spot featuring an 800-meter-long sandbar at low tide. The sounds captured here were used by artist SeA0, and this track is sure to make you miss the water.

ZOWA: https://zowa.app/play/20018
Spotify: https://open.spotify.com/track/1Utz5j0oB4GmSDOMVdUcXU?si=eafa1949b3ea44d0

Banyan Tree Rooftop Bar Opens on Japan's Southernmost Island

The Banyan Tree Rooftop Bar, located at Hoshino Resort Risonare Kohamajima on Japan's southernmost island, is holding a special stargazing event until April 20, 2022. Visitors can enjoy a cocktail as they gaze at the countless twinkling stars overhead.

Kohama Island is located within the Yaeyama Islands. With a warm climate, it's comfortable to spend long hours outside, even at night. Kohamajima was also the first island in Japan to be protected by the IDA (International Darkness Association), meaning that no bright manmade lights can interfere with stargazing. Visitors can see 84 of 88 constellations! 

Enjoy a Boundless Starry Sky

The Banyan Tree Terrace will bring guests together to feel the sea breeze and taste colorful mojitos as they enjoy the pleasant weather. Why not spend a relaxing time in a fantastic space lit with faintly glowing candles as you stargaze?

Taste Colorful Mojitos

A limited number of colorful mojitos will be available at a bar counter set up on the terrace for this event only. You can also enjoy Okinawan original mojitos with made with Okinawa lime, brown sugar instead of sugar, non-alcoholic mojitos for children, and tropical fruit mojitos with pineapple and passion fruit.

Munch on Snacks Perfect to Pair with Cocktails

Guests can also enjoy a snack set with salty nuts perfect for enjoying with alcohol!

Information

Banyan Tree Rooftop Bar

Open: March 1 – April 20, 2022
Hours: 19:00-20:00
Location: Banyan Tree Terrace

Official Site: https://risonare.com/kohamajima/

Kyary Pamyu Pamyu Collaborates with Popular Shimane Manju for LOCAL POWER JAPAN Project

Celebrating the 10th anniversary of her major label debut, Kyary Pamyu Pamyu is staying active in 2022. In conjunction with the nationwide tour, the "LOCAL POWER JAPAN Project" was launched to energize Japan through the appeal of regional towns and cities, and has been attracting major attention. Kyary's tour made it to Shimane on March 12, and the details of her next collaboration have been revealed!


Kyary will be teaming up with Nakaura Foods and their delicious local delicacy Dojou Sukui Manju. Known as the representative treat of the San'in region, the name is a reference to the mask worn during local performances of the Yasugibushi folk song. The steamed buns were developed by Nakaura Foods in 1967 and have been loved by locals ever since. In the 2000s, the company began experimenting with new flavors by teaming up with other local creators.

 

The company's logo is being reimagined for the project, inspired by Kyary Pamyu Pamyu's 2013 Furisodeshon music video. 

The name of the popular product has also been changed to Kyary Sukui Manju! Each box has a pop design and would make a perfect souvenir for Kyary fans.

A collaborative T-shirt is also on sale featuring the new logo and the singer's 10th-anniversary logo. A special LINE collaboration is also underway, and 50 people who order the new Kyary-themed treats from the official Nakaura Foods online store will be entered to win a shirt!

Information

Dojou Sukui Manju (Shimane) x LOCAL POWER JAPAN Project
Sales Period: March 12 – April 8, 2022
Where to Buy:
Nakaura Foods Official Online Store
https://www.sanin-nakaura.jp/products/detail/1269
Nakaura Foods Stores in Matsue, Shimane Prefecture and Sakaiminato, Tottori Prefecture 


Collaboration T-shirt
Where to Purchase: LOCAL POWER JAPAN Project Online Shop
Available until March 25 at 23:59
https://store-localpowerjapan.com/




Commemorative Kyary Sukui Manju T-shirt Gift Campaign
Application Period: April 8, 2022
How to Enter: 

Add Nakaura Foods as a friend on LINE and get the campaign keyword. 

Enter the keyword when purchasing Kyary Sukui Manju from the Nakaura Foods online store.

50 winners will be selected by drawing to receive a special collaborative T-shirt!




 

Official Site:https://localpowerjapan.com

Booking.com Reveals 4 Best Lodgings with Outdoor Baths for Snow Viewing

Booking.com Japan has revealed its top four picks for the Japanese accommodations with the best outdoor baths and snow views! 

Zao Kokusai Hotel (Zao Onsen, Yamagata Prefecture)


Located 900 meters above sea level and surrounded by the gorgeous natural beauty of the Zao mountains, this resort has long been renowned for its spectacular view of seasonal scenery. During winter, guests can enjoy a fully spring-fed open-air bath while gazing at the snow-capped mountains. The milky white waters of the Zao Hot Springs have high sulfur content which will improve the texture of your skin. The resort also has a bath large enough to accommodate up to seven people at a time and a private bath for families or lovers. 

Midorinokaze Resort Kitayuzawa (Date, Hokkaido)

The Midorinokaze Resort Kitayuzawa is surrounded by nature and contains one of the largest open-air baths in Japan, along with 20 unique fragrant baths for guests to enjoy. In winter, the surrounding trees seem to glisten with snow, and visitors are sure to find plenty of peace and relaxation while lounging beneath the grey skies. 

Akakura Kanko Hotel (Myoko, Niigata Prefecture)

This highland resort sits on a 1,000-meter peak, offering unmatched views of Niigata Prefecture. The natural hot spring flows from the inside of Mt. Myoko, with healing waters perfect for soaking in during the cold winter months. The large baths are also equipped with a sauna and deck, and those wanting to view the scenery from their room can enjoy guest accommodations with private baths as well!

Satoyama Jujo (Minamiuonuma, Niigata Prefecture)

Winning a design award for its facilities, Satoyama Jujo has a different feel when compared to most hotels and ryokan. Booking.com recommends it for travelers looking for new experiences! In the open-air bath, visitors can relax while enjoying a panoramic view of Mt. Makihata, one of Japan's 100 most famous peaks. Guests can also enjoy the starry skies at night. This is a perfect location for couples!

Each season in Japan offers uniquely beautiful scenery. How would you like to enjoy winter in one of these luxurious baths?

Three Japanese Tourism Instagram Accounts to Follow for Travel Inspiration

The pandemic has changed our lives forever. People have spent the last two years missing travel as they spend more and more time at home, and while many are ready to travel again, it can be difficult to know if it's the right time to return to normalcy. To make the situation a little easier, many local tourism associations in Japan are posting images on Instagram to inspire people to give traveling another try. These three Instagram accounts are our personal favorites, and once Japan opens to tourists again, you won't want to miss visiting these areas!

[Official Kumamoto Tourism Association] Motto, motto, Kumamoto!

Discover the charms of Kumamoto on this local Instagram account featuring photos from four unique local photographers. Many will know the area as the home of the character Kumamon. The images capture the daily lives of Kumamoto residents and include local food and gorgeous scenery. The postings also include the location of the photo and comments from the photographers, making things feel more personal. 

[Official Hokkaido Tourism Association] GoodDay Hokkaido

Hokkaido is an area rich in gourmet seafood and dairy, but its spectacular landscapes are reason enough to visit. GoodDay Hokkaido shows off both the common and uncommon elements of Hokkaido life, often introducing little-known areas. Each photo is vividly colored, and followers can see different seasons at every time of day as they scroll through the feed. See the best images from Japan's northernmost island each and every day on your smartphone!

[Ome / Okutama] Umetama

Umetama is an account that introduces places of interest in Ome and Okutama, two of Tokyo's most scenic towns. Each can be reached in about an hour by train from Shinjuku Station. Visitors can enjoy a gorgeous day trip from the Tokyo center, with the area featuring plenty of campsites and hiking trails. There are tons of stargazing spots, and visitors are often surprised that such incredible nature is so close to Japan's hectic capital. Those with kids will find plenty to do here, so start taking notes while you scroll through the Umetama page!

More and more young people are finding the appeal of Ome and Okutama, and the area has become the perfect relaxation spot for those seeking refuge from their busy lives. In addition, the craft beer bar Ome Beer, located near Ome Station, sells local alcohol, including Okutama's popular craft beer 'Vertere.' See the lesser-known side of Tokyo on this picturesque account. 

Remember how wonderful it is to travel? Hopefully, Japan opens for tourism again soon, and you can visit all of these gorgeous locales.

Kyary Pamyu Pamyu Announces 'LOCAL POWER JAPAN Project' to Support Rural Areas

Celebrating the 10th anniversary of her major label debut, Kyary Pamyu Pamyu is back in the news. The artist will perform at this year's Coachella, one of the largest music festivals in the United States, and recently released her first full-length album in three years 'Candy Racer' in October 2021.  On January 16, Kyary embarked on the largest tour of her career, 'Kyary Pamyu Pamyu 10th ANNIVERSARY JAPAN TOUR 2022 CANDY WAVE,' which will see the singer performing 30 shows across Japan.

In conjunction with the nationwide tour, the "LOCAL POWER JAPAN Project" was launched to energize Japan through the appeal of regional towns and cities.  The 30 stops on the new tour include many that Kyary has not visited before, and were chosen based on the singer's desire to perform for fans who may not typically be able to attend one of her shows. 

This initiative aims to bring attention and support to local industries and to inspire more tourism to rural areas.

This project is a new attempt to enliven local communities by collaborating with companies that have roots in the rural locations where these concerts will be held. These company's logos have been reimagined, paying homage to the artwork associated with Kyary's previous song releases. T-shirts designed with each of these collaborative logos will be on sale for a limited time, and a portion of the proceeds will be donated to the local community for development and social contributions.

For the encore of the first live show, Kyary wore a collaboration logo T-shirt inspired by Suzuhiro Kamaboko, a company in Kanagawa Prefecture. The artist also introduced the project and its aim to the excited audience. More collaborations will be announced through July 2021.

Check out the 'LOCAL POWER JAPAN Project' website for more details!

Comment from Kyary Pamyu Pamyu

"This tour is to commemorate my tenth anniversary, and as I travel all over Japan to express my gratitude to those who have supported me over the past decade, I also want to do something for everyone else. I'm happy to support these local companies and I'd like to work with them to revitalize the entire country. We'll be engaging in all sorts of collaborations around Japan, so look forward to it!"


 

January 16, Kanagawa Performance: Suzuhiro Kamaboko

Suzuhiro Kamaboko, a long-established fish paste store in Odawara that has been in business for 156 years, has agreed to take part in the project. Their normally navy blue brand logo has received a major makeover in colorful pink, green, and purple hues. 

The T-shirts featuring the new collaboration logo on the front and the Kyary Pamyu Pamyu 10th anniversary logo and 'LOCAL POWER JAPAN Project' logo on the back are now available for purchase!

*Otono Kuni (From 4th Album 'Japamyu,' 2018)
Streaming Links: https://lnk.to/otonokuni

January 29, Gunma Performance: Oginoya Kamameshi


Oginoya, the largest Ekiben shop in Japan, was established 136 years ago in Yokokawa, Gunma Prefecture. 

Their main dish, Touge no Kamameshi,' has been sold for over 60 years and often makes appearances at events all over Japan. The company's logo has been reborn through the lens of Kyary's popular song Tsukematsukeru. A special kamameshi dish will also be prepared for the project, and will be sold in limited quantities at the Gunma concert venue on January 29, Kyary's birthday!

*Tsukematsukeru (1st Single, 2012)
Streaming Links: https://lnk.to/tsukematsukeru

May 20, Fukushima Performance: Kourakuen

Kyary will appear in commercials for Kourakuen as part of the project. The company started as a small diner in Aizuwakamatsu and is now is a national chain of ramen restaurants serving over 54 million people a year! The new logo and collaboration details will be revealed at a later date, so keep an eye out!