Kyoto Sightseeing | 4 Spots to Visit Before Autumn 2019 Ends
Autumn is a popular season in Japan, especially amongst tourists and travellers. While in spring you have the bright pink cherry blossoms, when autumntime rolls around, the trees turn into enchanting reds and yellows. People from around the world flock to see this incredible sight, with Kyoto being a very popular location.
Of course, viewing the beautiful colours of the trees and their leaves is a must during the daytime, but seeing them in the evening has become popular in recent years too. It offers you an entirely different experience and atmosphere. So if you're in the ancient capital for autumn this year, why not experience the season in an entirely new lightーat night?
Jitokuin Temple
Jitokuin Temple is located in the town of Yosano in Yosa District. Maple trees were planted almost 11 years ago with the help of locals and the chief priest to create local ties. Every autumn, the trees behind the mountain bloom in vivid hues, leading the temple to be nicknamed "Koyo-ji," or "Temple of Autumn." The locals work hard in the surrounding gardens day by day, so the sights change a little bit every year.
The maple trees are planted in a way that it looks like they take an entire side of the mountain. They are a sight to be hold during the day, but for one week in November there will be illuminations in the evenings, creating a magical scene under the night sky.
▼Jitokuin Temple
Light-Up Period: November 9, 2019 – November 16, 2019
Light-Up Time: 17:00-20:00 (Temple is open 09:00-20:00)
Autumn Foliage Peak Period: Early-Mid November
Address: 2250 Akeshi, Yosano, Yoza-gun, Kyoto
Support Fund: ¥300
Official Website: http://jitokuin.com
Nariaiji Temple
Nariaiji Temple, located in Kyoto Prefecture's city of Miyazu, is an ancient temple betwixt mountains overlooking Amanohashidate, one of Japan's "Three Scenic Views." It's home to a grand 5-storey pagoda which is surrounded by hundreds of maple trees, offering an incredible, quintessentially Japanese view during autumn.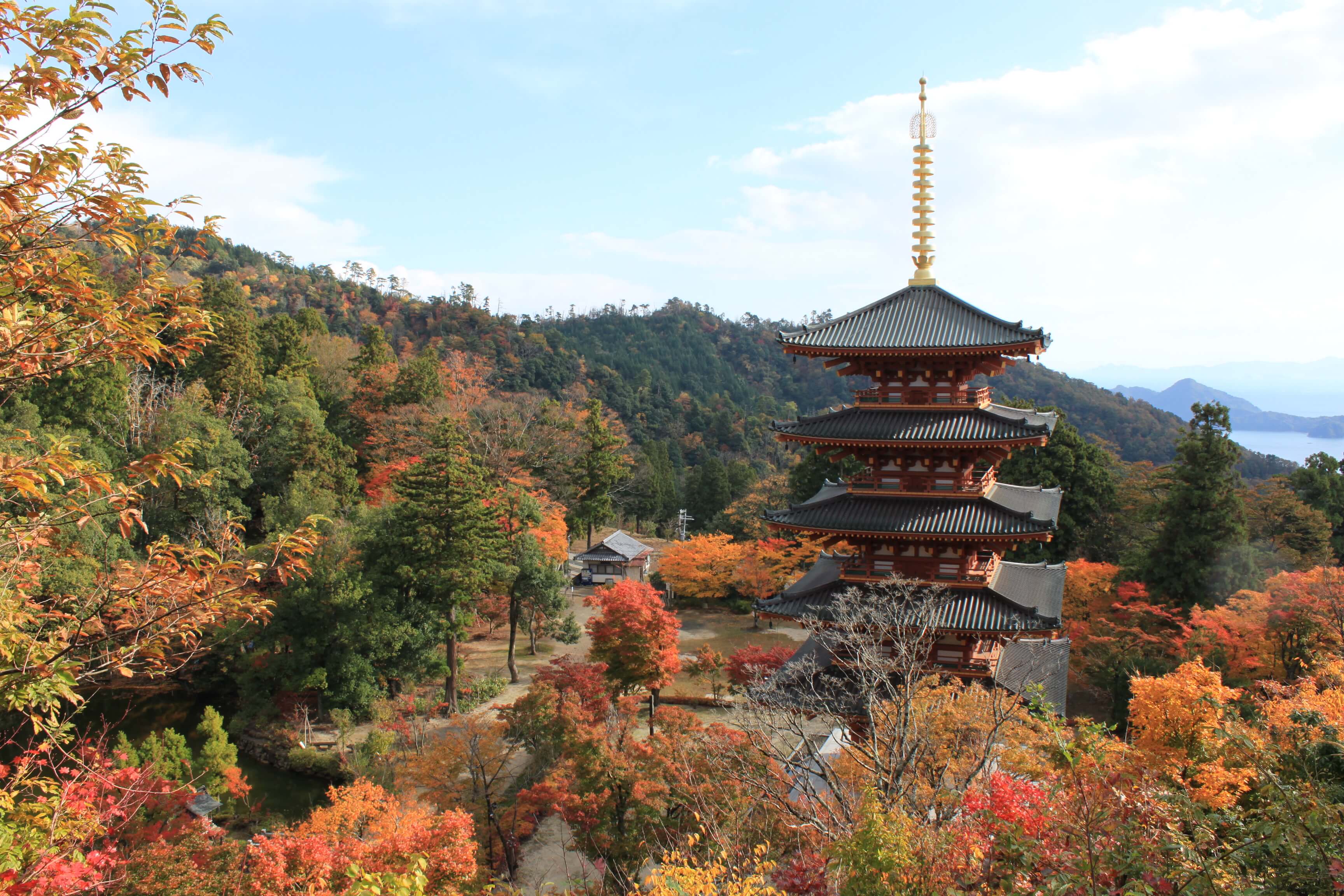 During the day, you can snap some gorgeous photos with the Sea of Japan and Amanohashidate in the back. For two nights only, on Saturday November 9 and Sunday November 10, the entire area will be beautifully lit up with warm illuminations.
▼Nariaiji Temple
Light-Up Period: November 9, 2019 – November 10, 2019
Light-Up Time: Sunset – 21:00 (Temple is open 08:00-16:30)
Autumn Foliage Peak Period: Early-Late November
Address: 339 Nariaiji, Miyazu, Kyoto
Price: ¥500
Official Website: http://www.nariaiji.jp/
Kasagiyama Prefectural Natural Park
Kasagiyama Prefectural Natural Park: is located atop Mt. Kasagi and is also home to Kasagi-dera, a temple with a 1,300-year history. During autumn, one entire side of the park is dyed in autumnal colours.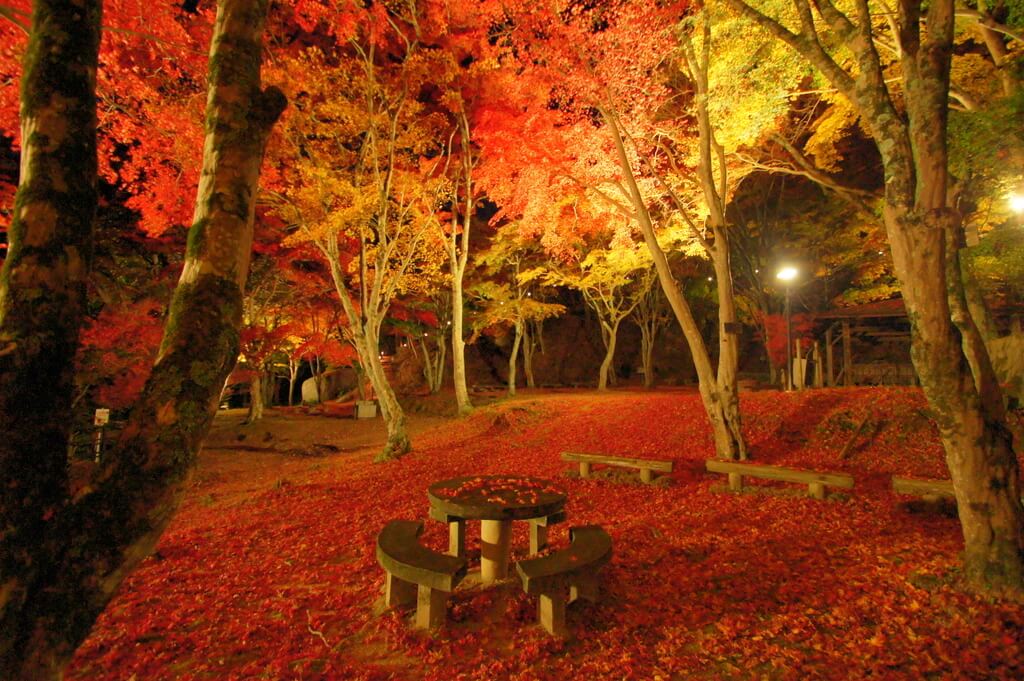 This November, the area will be lit up for a limited period, offering a gorgeous view from the mountain peak of the trees below as well as the flowing Kizugawa river.
▼Kasagiyama Prefectural Natural Park
Light-Up Period: November 1, 2019 – November 30, 2019
Light-Up Time: 17:00-21:00 (Temple is open 09:00-16:00)
Autumn Foliage Peak Period: Early-Mid November
Address: Mt. Kasagi, Kasagi, Soraku District, Kyoto
Price: Illuminations – Free / Temple – Adults ¥300, Children ¥100
Official Website: https://www.kasagidera.or.jp
Yokokuji Temple
Normally, the Joshoin at Yokokuji Templeーalso known as Yanagidani Kannonーonly opens on the 17th of every month. But for a special autumn event, it is now open every day up until December 1. The beauty of its autumn colours have come to be enjoyed by VIPs, dating back to the pre-war period when it was designated as a place of scenic beauty. For more details on this event, click here.
▼Yanagidani Kannon Autumn Colours Week
Running: November 2, 2019 – December 1, 2019
Time: 9:00-16:00 (Joshoin open 10:00-15:00)
Location: Yanagidani Kannon, Yokokuji Temple (Dōnotani-2 Jōdodani, Nagaokakyo, Kyoto)
Entry Price: ¥300
Full Ticket: ¥1,100→¥1,100 (Includes entry to multiple areas)
Official Website: http://yanagidani.jp/
Take the time to enjoy an autumnal Kyoto this year at one of the city's seasonal events.
RELATED ENTRIES
Bunjee Jump From the Top of Kyoto Tower With Their New VR Experience

Have you ever wondered what the thrill of bungee jumping would be like, but are too afraid of heights to even consider putting it on your bucket list? Have no fear, because Kyoto Tower is bringing a new VR bungee jumping experience to the top of the building which will be available to experience from February 1 for a limited time.

This VR experience was first brought to the tower in the fall of 2018, and this year it is making its grand return. After the event originally ended, there was huge demand for it to be held again.

Those brave enough to have a go at this VR bungee jump (or bungy, depending where you are from), will go above and beyond the 100 meter observation deck to the highest accessible point of Kyoto Towerーup 120.9 metersーwhich is normally closed off to the public, to the special VR deck which has been prepared.

The experience will offer you not only the thrill of jumping from Kyoto's tallest structure, but the chance to gaze upon a panoramic view of the beautiful city too.

Information

Kyoto Tower VR Bungy Jump

Running: February 1, 2020 – March 31, 2020

Time: 12:00-21:00 (Last Entries 20:45)

Location: Kyoto Tower Observation Deck – Floor 1F (the 11th floor of Kyoto Tower)

Price:

・VR Bungy Ticket: ¥800 (Tax Included)

・Observation Deck & Bungy Set Ticket (Tax Included): Adults: ¥1,400 (Individual Purchase: ¥1,600)/High School Students: ¥1,300 (Individual Purchase: ¥1,450)/Elementary & Junior High Students: ¥1,100 (Individual Purchase: ¥1,350)

*Ages 7+ only

*Set tickets are available to purchase on floor 1F of Kyoto Tower

*Run times subject to change

*Ticket charges applied for ages 7+; those aged below 7-years-old are not permitted to use the VR system

*An entry ticket to the Kyoto Tower observation deck is not necessary to experience the VR system

Official Website: https://vr-bungee.com/

Top Matcha Desserts in Kyoto Perfect for Your Next Instagram Post

 When you think of Kyoto, matcha immediately comes to mind. Today with the help of the Kansai region's expert dessert Instagrammer Tiara, we'll be introducing you to the top matcha dessert shops of the Kansai region. 

Kawatomo, Fushimi 

Matcha Ganache Cake

This matcha ganache cake looks just as good as it tastes. The beautiful smooth matcha coating is delicious and rich. The cake is best enjoyed with a cup of coffee and is the perfect sophisticated treat. 

▼Kawatomo

Address: 792 Nishishujakuchō, Fushimi Ward, Kyoto,

Opening Hours: 11:30-18:00

Closed: Mondays, Tuesdays and Wednesdays

Official Instagram: https://www.instagram.com/chika_ara/

Chasho Shimizu Ippoen Kyoto

A delicious spun sugar decoration rests on top of the melt-in-the-mouth matcha tiramisu parfait. The mascarpone and matcha ice cream is made completely from Hokkaido milk. The balance of flavours and moderate sweetness makes this parfait irresistible. 

▼Chasho Shimizu Ippoen 

Address: 665 Honkawaracho, Higashiyama Ward, Kyoto

Entry:11:00-16:00

Closed: Mondays*

*Open on National Holiday Mondays but closed the following day. Closed during the New Year Period.

Official Website: https://ippoen.co.jp

MATCHA REPUBLIC, Shimogyō Ward

Rock Salt Cheese Bubble Matcha Latte/ Bubble Matcha Latte

This unique drink belongs on Instagram. A cute ink bottle is filled with a mildly sweet matcha drink accented with a hint of salt. You've never tried anything quite like this before.

▼MATCHA REPUBLIC

Address: Floor 1, 721-1 Higashishiokojicho, Shimogyo Ward, Kyoto

Opening Hours: 9:00-21:00

Official Website: https://www.matcha-republic.com

JTRRD cafe KYOTO, Nakagyō 

Uji Matcha Smoothie (Kyoto-Limited)

Pink, red, orange, yellow, purple, green – this Uji matcha smoothie is a rainbow of colours. There are four different designs and you can choose from three varieties of fruit to decorate the inside of your cup. Each smoothie is made of fruit and vegetables, making this a healthy way to indulge in matcha. It is so beautiful you won't want to drink it.

If you're looking for a shop to satisfy your matcha cravings, you can't go wrong with Tiara's recommendations.

Tiara's Instagram never fails to keep us updated on the most delicious and beautiful desserts in the Kansai region so check it out.  

Article Contents and Photos by @happy_pinkrose_tiara

5 Must-Eat Succulent Strawberry Desserts in Kyoto That Are Simply Kawaii

Winter is here, which means that the season of strawberries has finally fallen upon Japan. Today we are joined by Instagrammer Tiara, who enjoys posting their adventures around Japan's Kansai region to try out all of the sweets and desserts. We are taking a look at must-visit locations in Kyoto for a taste of their tempting strawberry delights.

LITT UP.KYOTO in Gion-Shijō

At LITT UP.KYOTO, their "ichigoame" lets you enjoy strawberries in their original cute form.

They are coated in sweet strawberry candy and served on sticks in cups reminiscent of something from a Japanese festival. Part of their allure is how perfect they are as a tasty treat for walking around with. There's even popping candy attached to the strawberries for an even sweeter textural treat.

▼LITT UP.KYOTO Gion

Address: 533 Gionmachi Minamigawa, Higashiyama Ward, Kyoto

Opening Hours: 10:00-18:00

Official Instagram: https://www.instagram.com/litt_up_kyoto/

Kissa Zou in Imadegawa

The "Kisetsu no Babaroa" (Seasonal Baravois) at Kissa Zou has an springy texture and sits in a sweet and sour strawberry sauce.

I recommend ordering one of the separate elephant cookies to place on top too to make this an even cuter dessert.

▼Kissa Zou

Address: 440-3 Santeicho, Kamigyo, Kyoto

Opening Hours: 9:00-18:00 (Last Orders 17:00)

No Fixed Holidays

Official Instagram: https://www.instagram.com/kissa_zou/

Chounohane in Fushimi

At Chounohane they are serving strawberry barquettes as well as mini versions of them. The dessert itself is of course beautiful, but is made even more so by the antique plate♡

▼Chounohane

Address: 791 Nishishujakucho, Fushimi Ward, Kyoto, Kyoto Prefecture

Opening Hours: [Tues/Sat/Sun] Shop & Cafe 11:00-17:00 / [Fri] Shop Only 11:00-17:00

Official Instagram: https://www.instagram.com/chounohane/

Utanekodo in Kyoto Shiyakusho-mae

Utanekodo was renovated from a 100+ year old building and has its own cat cafe. The cafe space is located on the first floor.

Their "Nyanko Strawberry Milk" speaks for itself, topped with adorable kitty ice cream and delicious with its subtly sweet taste.

▼Utanekodo

Address: 155-4 Tachibanayanagicho, Nakagyo Ward, Kyoto, Kyoto Prefecture

Opening Hours: 13:00-20:00 (Last Orders 19:00)

No Fixed Holidays

Official Website: http://utanekodo.com/

MASHOLA in Kyoto Shiyakusho-mae

Finally we have the "Strawberry Tiramisu Cube Cake" served at MASHOLA, a Korean-style cafe. This cake is made with refreshing homemade tiramisu cream, delightful sponge, and is packed full of sweet and sour strawberries which complement the entire thing.

▼MASHOLA

Address: 1-A MOVIX, 406 Sakuranocho, Nakagyo Ward, Kyoto, Kyoto Prefecture

Opening Hours: 10:00-20:00

Official Website: https://mashola.business.site/

All of these cafes are wonderful, so if you're in Kyoto for the strawberry season, be sure to visit as many as you can.

Tiara has plenty of other recommendations over on their Instagram page, so if you're a sweet tooth looking for something sweet to indulge in around the Kansai area, be sure to give them a follow.

Text & Photos: @happy_pinkrose_tiara

Translation: Joshua Kitosi-Isanga

Kiyomizu Cheese Kobo: Kyoto's Dessert House Releases Matcha Tiramisu and New Cheese Products

Kiyomizu Cheese Kobo opened in Kiyomizu Gojozaka, Kyoto in July this year as the first place in Kyoto to specialise in "bottled cheesecakes." This month, they are releasing four new products to continue the cheese craze right to the end of 2019.

The first is a revamp of their number one most popular soft serve cheese ice cream: the "Chocolate Mont Blanc Cheese Soft." The soft serve ice cream is a mix of refreshingly sweet milk and rich cheese topped with a full-bodied mont blanc-style chocolate—a welcome addition during the winter months when you want to stay in and indulge in some chocolate. The ice cream is finished with crushed chocolate pieces and a crowning raspberry to create a chocolate cake in a cone. You're sure to become a frequent customer after a bite of this.

And for the Christmas season only, between December 18th-25th the shop is also selling another special soft serve that's made to look like a Christmas tree. The cheese soft serve is covered with a sprinkling of Uji matcha powder and adorned with chocolate pearls and stars.

Kiyomizu Cheese Kobo is also releasing hot versions of its "Kiyomizu Cheese Drink" and "Matcha Cheese Tea," the iced versions of which were greatly enjoyed in summer. The Matcha Cheese Tea can also now be ordered with tapioca topping, creating a delicious combination between the expertly crafted rich matcha cheese tea and the chewy and sugary tapioca pearls.

Also released this month is the "Homemade Matcha Tiramisu" when is served in a traditional masu box and served only on the second floor eat-in section. This irresistible delight is made with flavourful mascarpone cheese and bitter Uji matcha from Kyoto to create a dessert that's perfect during a trip or day out in Kyoto. Because of the hard labour that goes into creating this dessert, only 5-10 are served per day, so be sure to arrive early to not miss the opportunity.

Information

Chocolate Mont Blanc Cheese Soft – ¥550 (Before Tax)

Christmas Cheese Soft – ¥400 (Before Tax) *Available December 18-25, 2019 only

Matcha Tapioca Cheese Tea – ¥550 (Before Tax)

Homemade Matcha Tiramisu – ¥540 (Before Tax)

Kiyomizu Cheese Kobo

Address: 569-10 Shiraitochō, Higashiyama Ward, Kyoto, Kyoto Prefecture

Official Website: http://kiyomizu-cheese.com/

Furoshiki-Wrapped Matcha and Strawberry Sandwich Biscuits Released at PRESS BUTTER SAND

PRESS BUTTER SAND released two new sandwich biscuit products on December 13. PRESS BUTTER SAND Kyoto Station will release the Tsutsumi Uji Matcha and PRESS BUTTER SAND Hakata Station the Tsutsumi Amaou Strawberry. Both are limited in stock.

Both boxes of these delicious treats contain five of the store's famous "PRESS BUTTER SAND" sandwich biscuits, and they come gift-wrapped in an original furoshikiーa type of Japanese wrapping cloth. The appearance of both products in their packaging maintain an artisanal aesthetic and capture the vibe of their respective cities.

The furoshiki were designed by Yumiko Kakizaki (BAKE Inc.), the creative director at PRESS BUTTER SAND, and several creators active around Kyoto and Fukuoka. Each design was made to represent the characteristics of Kyoto and Hakata.

Also available is the Tsutsumi Black, a set each of 5 original and black flavoured butter biscuit sandwiches.

PRESS BUTTER SAND boasts over 2.5 million sales a year on average. If you've get to try their scrumptious biscuit sandwiches then don't pass up the opportunity to try these new flavours.

Information

Tsutsumi Uji Matcha (Includes 5 Uji Matcha and 5 Original Biscuit Sandwiches)

Price: ¥3,240

Available: PRESS BUTTER SAND Kyoto Station

Running: December 13, 2019 until stock sells out

Tsutsumi Amaou Strawberry (Includes 5 Amaou Strawberry and 5 Original Biscuit Sandwiches)

Price: ¥3,240

Available: PRESS BUTTER SAND Hakata Station

Running: December 13, 2019 until stock sells out

Official Website: https://buttersand.com

Handmade Christmas Chocolate Santa and Snowman Released at ATELIER de GODIVA in Kyoto

GODIVA Japan released two new chocolate products at the Daimaru Kyoto branch of ATELIER de GODIVA, a chocolate shop which combines GODIVA's skilful craftsmanship with chocolate artistry. Named "ATELIER Christmas Showpiece Santa Claus" and "ATELIER Christmas Showpiece Snowman," the two chocolate artworks were released on Wednesday and are available until December 25.

Each and every one of these chocolate sculptures are handmade in-store by the shop's chefs. They are exclusive to ATELIER de GODIVA Daimaru Kyoto and the perfect Christmas treat to adorn any Christmas party this holiday season.

These cute Christmas-exclusives not only taste delicious, but are fun to look at. Santa is sat in a chimney ready to deliver the presents while the snowman is sat next to a Christmas tree looking warm with its scarf.

Both of these are limited in stock and won't be available ever again after they sell out, so don't miss out.

Information

ATELIER Christmas Showpieces

Running: December 11, 2019 – December 25, 2019

Price: ¥1,500 Each (Before Tax) *Takeout only

Available: ATELIER de GODIVA Daimaru Kyoto (Daimaru Kyoto B1F, 79 Tachiuri Nishimachi, Shimogyo Ward, Kyoto, Kyoto Prefecture)

Opening Hours: 10:00-20:00

GODIVA Japan Official Website: https://www.godiva.co.jp

Kabuki Cat Mascot Claws Its Way into koe donuts kyoto Collaboration Set

From old shrines and temples to cuisine, Kyoto enjoys a rich arts and culture scene. The former capital is also famed for preserving Japan's traditional stage drama known as Kabuki. Every year, Minamiza Theatre located on Shijō Street in Kyoto holds a grand Kabuki performance called THE FESTIVE KAOMISE PRODUCTION to commemorate its debut. This year, the performance will run from November 30 – December 26.

To celebrate, koe donuts kyoto will be selling collaboration doughnuts themed around the official Kabuki character "Kabuki Nyantaro" during the same period.

Kabuki Nyantaro's adorable face decorates some of the doughnuts and can even be seen on the packaging too. This set is exclusive to koe donuts Kyoto.

Enjoy a traditional Kabuki performance with some delicious Kabuki Nyantaro doughnuts to complete your Kyoto experience.

©2017, 2019 SANRIO/SHOCHIKU APPROVAL NO. G603142  著作(株)サンリオ

Information

koe donuts kyoto × Kabuki Nyantaro Collaboration Doughnuts

Selling: November 30 – December 26, 2019

Selling Times: 10:00 – 21:40 (During performance intervals only)

Shop Location: Minamiza Theatre Floor 2, Shijō Street, Kyoto

Box of 6 Doughnuts: ¥1,800 (After Tax)

 

Information and updates will be posted on koe donuts' official social media websites.

koe donuts Official Instagram: (@koe_donuts) https://www.instagram.com/koe_donuts/

Top 4 Places to Visit in Kyoto This Winter: Snow, Gourmet Food, Hot Springs & More

Kyoto is known as the ancient capital of Japan. It is said to be the place where quintessential Japanese culture started, and has charmed the world over with its incredibly rich 1,200-year history. Today, we take a look at some of the best places to visit in Kyoto this winter as covered by the November 2019 issue of Japanese magazine Mou Hitotsu no Kyoto ("The Other Kyoto").

From gourmet food to sightseeing spots, the arts and moreーif you're in Kyoto this year, you have plenty of reasons to leave your hotel room or house.

Yuki Tourou: See the snowy thatched-roof huts

Miyama Kayabuki no Sato is located in Miyamachokita, Nantan. It is home to 39 houses with thatched roofs and is a popular sightseeing spot due to its gorgeous natural scenery throughout the entire year. It was listed in Japan's Groups of Traditional Buildings in 1993.

In the New Year, snow falls on the huts, which looks beautiful when they light up the "Yuki Tourou"ーor snow lanternsーin late January every year. There are stalls that serve hot food in this little town, and they also host an event where you can make your own snow lantern.

Running: January 25, 2020 – February 1, 2020

Official Website: http://www.yukitouro.jp/

Amanohashidate: One of Japan's "Three Scenic Views"

Amanohashidate is a sandbank located in Miyazu Bay that separates the north and south inlet of the Asoumi Sea. It formed as a result of pebbles being carried by the ocean current for thousands of years. Its name comes from the way it looks like a bridge spanning across the sky. It is known as one of Japan's "Three Scenic Views"

Amanohashidate is a sight to behold at any point throughout the year, but if you can travel there in the winter, you're in for a surprise, as the entire sandbank is littered with pure white snow. On very cold days in the morning the snow even covers the tops of the pine trees, but when the sun rises and the temperature warms up the snow on the frost-tipped trees melts. This has led to it being called an "illusionary sight" due to its rarity. Make a point of getting up super early so you don't miss it!

Address: Tango-Amanohashidate-Ōeyama Quasi-National Park, Miyazu, Kyoto

Official Website: https://www.amanohashidate.jp/lang/en/

Fukuchiyama Castle: The magnificent castle of snow

Fukuchiyama Castle sits atop a tall hill in the city of Fukuchiyama. The castle was established as the new Tanba province by Akechi Mitsuhide in 1579 following the province's capture in 1576. The castle was demolished once during the Meiji Period but was restored again in 1986. It is now the only castle that remains today built by Mitsuhide.

The castle architecture has a lot of personality, and during the winter months takes on a gorgeous white as a result of the snow. Gazing across the castle land from the watchtower is an absolute must when visiting. Also, if you're visiting next year, the new Fukuchiyama Mitsuhide Museum is set to open on January 11, so be sure to check that out too.

Address: 5 Chome Naiki, Fukuchiyama, Kyoto

Opening Hours: 9:00-17:00 (Last Entries 16:30)

Closed: December 28-31, 2019 / January 4-6, 2020

Entry Price: General ¥330 / Elementary & Junior High School Students ¥110
Official Website: https://dokkoise.com/en/temple_shrine/index.html

Monjusou Shourotei: Feast on crab fondue while gazing at Amanohashidate

Monjusou Shourotei is a ryokanーa Japanese-style innーlocated along Amanohashidate, one of Japan's Three Scenic Views which we mentioned earlier on this list. All guests staying at the inn are given a window view of Amanohashidate from their rooms.

The inn offers an original salted snow crab fondue. Snow crab is particularly enjoyed for its degree of freshness. It's served with vegetables and the boiled crab itself, making for a delicious combination of flavours.

The hot springs at Amanohashidate are famous and praised as "the baths of the gods." They are also said to leave your skin looking beautiful after a dip. The inn also offers open-air baths lined with stones from Shikoku and wild grass from the mountains, offering a truly indulging experience.

Address: Amanohashidate Monjudomisaki, Miyazu, Kyoto

Official Website: https://shourotei.com/

These are just some of the incredible places you can enjoy in wintertime Kyoto. You can find more information on Kyoto Side or from one of our many articles on Kyoto.

Andy Warhol Exhibition in Kyoto: Select Major Artworks Revealed

An exhibition centred around Andy Warhol, the American artist who was at the forefront of the pop art movement, is set to roll up to the Kyocera Museum of Art in Kyoto from September 19, 2020. Around 200 pieces of art will be showcasedーover 100 of which have never been displayed in Japan beforeーas well as 15 video art pieces.

Three Marilyns (1962), Andy Warhol. The Andy Warhol Museum. *First showcasing in Japan

All of the pieces to be shown at the exhibition are the property of The Andy Warhol Museum, which is located in Pittsburgh, Pennsylvania in the US, where Warhol was born.

The Last Supper (1986), Andy Warhol. *First showcasing in Japan

Tunafish Disaster (1963), Andy Warhol. *First showcasing in Japan

Peacock (1957), Andy Warhol. *First showcasing in Japan

The line-up displays Warhol's diverse works, including his highly treasured Three Marilyns, as well as Tunafish Disaster from his Death and Disaster series, the enormous The Last Supper piece, Peacock which makes use of the Japanese style of gold leaf art, and more.

Kyoto (Kiyomizu-dera) (1956), Andy Warhol.

The exhibition will also turn its attention to Warhol's connections to Kyoto which haven't been discussed before. It will feature Warhol's sketch of Kiyomizu-dera in Kyoto which he drew during his trip around the world.

*All pieces are property of The Andy Warhol Museum

© The Andy Warhol Foundation for the Visual Arts, Inc. / Artists Rights Society (ARS), New York

The Perfect Souvenir: Kyoto's Famous OTABE Confections in Velvety Matcha Chocolate

If you're in Kyoto looking for a delicious elegant souvenir for your people back home then BijuuCo.,ltd. is your port of call. Their irresistible desserts vary from their well known sweet bean paste-filled Yatsuhashi to their Kyo-Baum. They will be releasing the mouthwatering Matcha Chocolate OTABE from November 20, 2019.

The rich aroma of the matcha chocolate will be the first thing to entice you. The matcha Yatsuhashi is made from specially selected water and Koshihikari rice, which is famed as Japan's best rice. The soft and chewy texture of the Yatsuhashi dough gently embraces a velvety, melt-in-the-mouth matcha chocolate ganache filling. These OTABE confections are bursting with the flavours of Kyoto and are only available to purchase for a limited period.

OTABE combined with Kyoto's famous matcha chocolate is matcha match made in heaven. If you're ever in Kyoto, you must try it.

Information

Matcha Chocolate OTABE

Selling: November 20, 2019 to the start of May, 2020

Price: Box of 10 (2 packs of 5): ¥660 Before Tax

Eat within 11 days of production.

Purchasable from souvenir shops in Kyoto and Kyoto Station. 

Official Website: http://www.otabe.kyoto.jp/

Autumn in Aichi: Cherry Blossoms and Maples at Obara Shikizakura Matsuri & Korankei Maple Festival

Early November marks the opening of the autumn cherry blossoms in Obaracho, Toyota. By the time mid-November rolls around, close to 10,000 shikizakura cherry blossoms bloom a pale pink until the end of the month.

The Yoshino cherry bears its pink petals in springtime, but the shikizakura blossoms twice a year: first in spring, then in autumn. They are considered one of the most beautiful flowers of autumn, especially when they bloom against the gorgeous and vibrant red maple leaves. The Obara Shikizakura Matsuri began on November 1, and right now, you can witness this spectacle for yourself.

The shikizakura trees planted in Obara have been there since Kansei era (1789-1801). With the helping hand of locals, the trees have become one of Japan's most famous shikizakura spots. They were designated as Chiku (District) Trees in 1978 and can be seen throughout the entire district. Some of the trees are over 100 years old and as such registered as Natural Monuments of Aichi prefecture.

This is a spot we highly recommend visiting when travelling to Aichi.

▼Obara Shikizakura Cherry Blossoms

Peak Blossom Time: From Mid-November

Locations:

441-1 Johei, Obaracho, Toyota, Aichi (Obara Fureai Park)

Senmichi, Toyota, Aichi (Senmi Shikizakura no Sato)

Access: Take the Toyota Oiden Bus bound for Kaminigi (上仁木行き) and get off at Obaraokusa (小原大草) or Kaminigi (上仁木)

Details:  http://www.kankou-obara.toyota.aichi.jp/

▼Obara Shikizakura Matsuri

Running: November 1, 2019 – November 30, 2019

Locations: Senmi Shikizakura no Sato, Obara Fureai Park, and elsewhere in the region

Notes: The Kururin Bus can be boarded for free on weekends and public holidays while the festival is on

Official Website: https://www.aichi-now.jp/spots/detail/132/

The Korankei Maple Festival is also taking place this month where you can witness around 40,000 maple trees bearing their gorgeous autumn foliage.

The trees are being lit up every night for the month of November. Watch the sun set before the illuminations are turned on, creating an enchanting atmosphere with the warm, radiating lights against the night sky.

▼Maple Trees

Peak Blossom Time: From Mid-November

Location:  Iimori Asukecho, Toyota, Aichi

Access: Ride the Meitetsu Mikawa Line to Toyotashi Station, change onto Meitetsu Bus, and alight at Korankei (香嵐渓)

Official Website:  http://asuke.info/korankei/

▼64th Korankei Maple Festival

Running: November 1, 2019 – November 30, 2019

Location: Around Iimori Asukecho, Toyota, Aichi

Light-Up: Sunset to 21:00

Access: 20 minutes from Sarugata Green Road Interchange / 20 minutes from Toyota-Kanpachi Interchange

Official Website: http://asuke.info/event/nov/entry-705.html

Witness two of Japan's most celebrates treesーthe cherry blossom and the mapleーflower together in one place in Aichi.

See the Breathtaking Autumn Foliage of the Former Shizutani School in Okayama

The Former Shizutani School, recognised as the oldest school existing for commoners in Japan, has reached its peak season for autumn foliage. Speficially, for the Chinese pistache tree, which is a symbol of the school.

Shizutani School first opened in 1670 during the Kambun era. In 2015, it was registered as an Educational Heritage Site from Early-Modern Japan. The majority of the site is listed as an Important Cultural Property, including the temple, Shizutani Shrine, as well as the auditorium which is considered a national treasure.

The school's surrounding natural landscape enjoys the blooming of many different flowers throughout the entire year which people flock to see. It's especially famous for autumn, a season during which the enchanting red and yellow hues boas their beautiful blossom.

The three colours reflect from the lacquered flooring of the auditorium, rippling like ocean waves.

The beautiful contrast between the reds and yellows of the pistaches can be enjoyed during autumn-time only. The best time to see them is from now until November 20, so if you're travelling to Okayama, be sure to pay the Former Shizutani School a visit.