Vote at Shinjuku Station For Meiji's Best Chocolate Snack in the 2019 National Election
The 2019 National Election for Meiji's long-selling chocolate brands Kinoko no Yama and Takenoko no Sato is running up until December 2, with Jun Matsumoto and Akihiro Miwa representing each snack respectively, where the people of Japan can vote for their favourite of the two.
The final promotional campaign for the election will take place at Shinjuku Station's Metro Promenade where there will be digital posters of both candidates and a chance for people to cast their votes. It will run for three days from November 8 to 10.
Visitors at the event are able to become part of the digitised poster to help support their favoured snack alongside the leader of the New Kinoko Party Jun Matsumoto, or Akihiro Miwa, the leader of the New Takenoko Party, as well as cast their votes.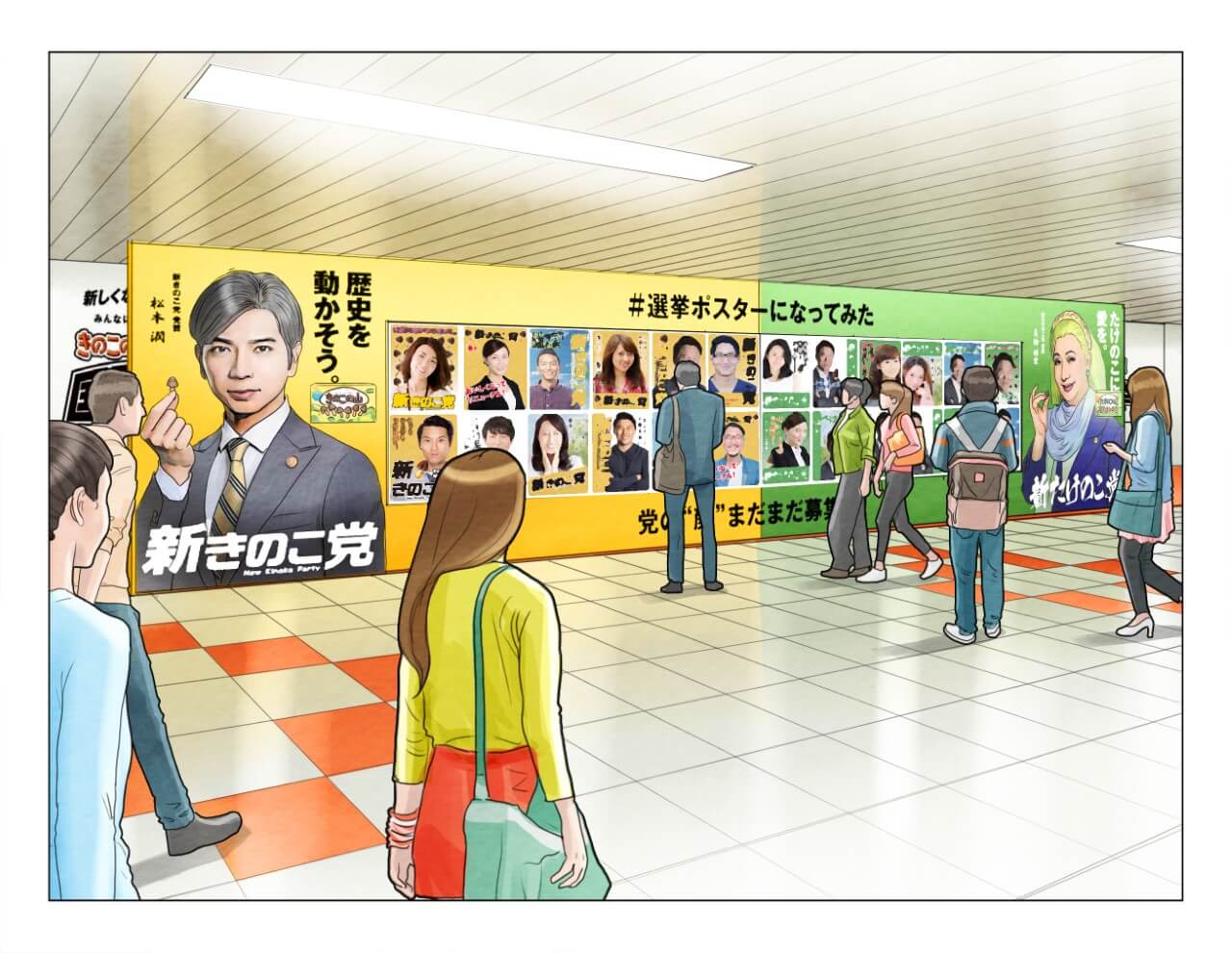 Those who participate in the poster voting will receive a box each of the snacks and stickers of the elected leaders. Only 330 will be given out per day. Those who post a picture of themselves at the event on social media will also receive the first-ever Kinoko no Yama and Takenoko no Sato packaging covers. The Kinoko no Yama cover will feature Shinjuku Alta while the Takenoko no Sato cover will feature Mode Gakuen Cocoon Tower.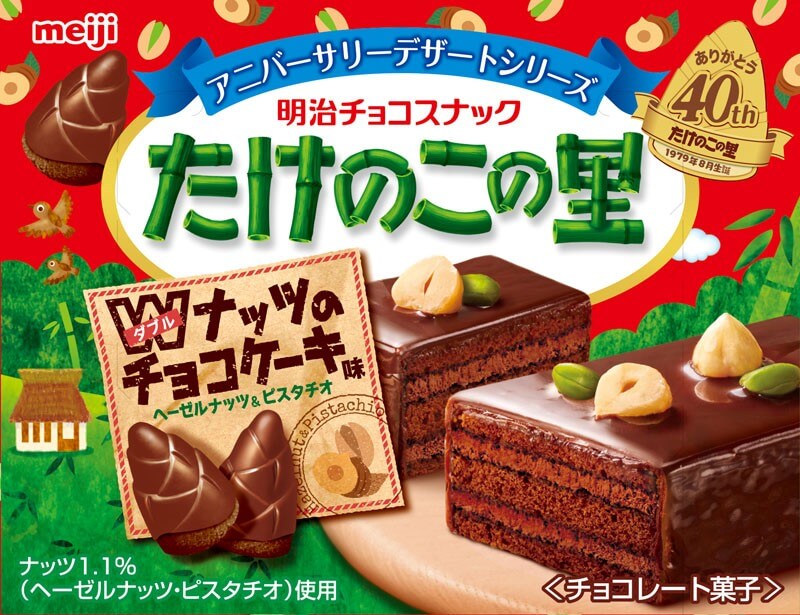 To celebrate the 40th anniversary of Takenoko no Sato, the all-new Double Nuts Cake flavour will be available for a limited time.
Information
Kinoko no Yama & Takenoko no Sato National Election 2019 – Digital Poster Voting Event
Running: November 8, 2019
Time: 10:00-17:00 (Poster exhibits only from November 4-7 at 6:00-23:00)
Location: Shinjuku Station Metro Promenade, Tokyo Metro Marunouchi Line (3-38 Shinjuku, Shinjuku Ward, Tokyo)
How to Participate:
①Choose your party
②Line up
③Choose your background and frame at the machine
④Complete your election poster photo shoot
⑤Confirm your photo
⑥Scan the QR code
⑦Download the photo
⑧Receive a novelty present – a box each of the snacks and stickers of the elected leaders (330 given per day on a first-come, first-served basis)
⑨Post on social media to receive Kinoko no Yama and Takenoko no Sato packaging covers
*Numbered tickets will be given out during crowded hours
Please check the special site for more details at: http://sousenkyo.kinotake.jp/?link=kie19071102
*In the case that numbered tickets are handed out, participants will need to line up in order. Once 330 people have participated, participating for that day will end.
*Please note that there is a possibility you will not be able to participate in your desired time slot during busy hours.
*Please refrain from asking station staff at the Tokyo Metro Line side of Shinjuku Station about the event.
*Enquiries are to be directed to the event office at the telephone number 080-4771-3588 (Available November 8-10 at 9:00-17:00)
*Anybody can join, however each person can only participate once
RELATED ENTRIES
MOUSSY Announces Third Installment of Art and Fashion Venture PROJECT U

High-casual brand MOUSSY launched a new art and fashion venture in March 2021 titled PROJECT U. The third installment of the project is launching on September 10, and has been made in collaboration with artist JUN INAGAWA.

 

PROJECT U was created to bring MOUSSY together with a variety of talented creators and artists, and to see what possibilities could open up from different collaborations. MOUSSY has fused fashion and culture together countless times in the past along with popular characters from Disney and other brands. PROJECT U focuses exclusively on art!

The third installment of PROJECT U will feature plenty of apparel, from T-shirts and hoodies to tote bags and skateboards. JUN INAGAWA helped design these limited-edition items, with some featuring imagery from his 'Otaku x Street' collection, as well as a theme he works with often: destruction and rebirth. Apparel will be available in two unisex sizes.

The SHEL'TTER TOKYO and MOUSSY FLAGSHIP SHOP will also be holding JUN INAGAWA's solo exhibition and accompanying workshop. For more info on the apparel or exhibition, head to the PROJECT U special site!

Information

PROJECT U Third Installment

 

Release Date & Location:

September 10, 2021

MOUSSY Lumine EST Shinjuku, SHEL'TTER WEB STORE

September 17, 2021

The SHEL'TTER TOKYO / MOUSSY FLAGSHIP SHOP, MOUSSY Stores

PROJECT U: https://www.moussy.ne.jp/project_u/

Official Site: http://www.moussy.ne.jp

My Teen Romantic Comedy SNAFU Pop-up Shop to Open in Shinjuku

Romantic comedy anime series My Teen Romantic Comedy SNAFU (shortened to OreGairu in Japanese), is getting a Pop-up shop at the AMNIBUS STORE inside Shinjuku Marui Annex from September 3 until September 19. 

All merchandise sold at the Pop-up shop will feature newly-drawn original illustrations of Yukino Yukinoshita, Yui Yuigahama, and Iroha Isshiki in maid attire. 

Event Pre-sale Merchandise

Pins (Random, 9 designs): ¥440 each (Tax Included) / Box of Pins: ¥3,960 (Tax Included)
*Box contains randomly selected pins.

Acrylic Keychain (Random, 9 designs): ¥715 each (Tax Included) / Box of Keychains: ¥6,435 (Tax Included) *Box contains randomly selected keychains.

1/7 scale BIG Acrylic Stand (3 designs): ¥3,300 each (Tax Included)

Mug (3 designs): ¥1,650 each (Tax Included)

Clear Folder (4 designs): ¥440 each (Tax Included)

Life-size Tapestry (3 designs): ¥10,780 each (Tax Included)

Yui Yuigahama Mug: ¥1,650 (Tax Included)

Event Box Purchase Bonus


Those who buy 1 box of Pins will receive a holographic pin as a special gift!

Those who buy 1 box of Acrylic Keychains will receive a holographic Acrylic Keychain as a special gift!

Limited-edition Event Photos (7 varieties)

For every ¥2,200 spent on event-related merchandise (including tax), customers will receive a random Limited-edition Event Photo.

©Wataru Watari、Shogakukan/My Teen Romantic Comedy SNAFU Production Committee

©渡 航、小学館/やはりこの製作委員会はまちがっている。完

Information

My Teen Romantic Comedy SNAFU Pop-up Shop

Running: September 3 – September 19, 2021

Location: Shinjuku Marui Annex 6F / AMNIBUS STORE (3-1-26 Shinjuku-ku, Tokyo)

Hours: 11:00-20:00

Admission by Lottery: To reduce the risk of transmitting COVID-19 and ease congestion in the store, guests will receive a numbered ticket and will be admitted by lottery. Tickets will be available from 10:40-10:50 from September 3-5. 

AMNIBUS STORE Twitter: https://twitter.com/AMNIBUS_STORE

Details: https://store.amnibus.com/oregairu-shinjuku0101annex/

Official Site: https://www.0101.co.jp/005/

Japanese Michelin Star Chef to Open New Restaurant Kimura Don in Shinjuku

A new restaurant by the name of Kimura Don is set to open inside Shinjuku Takashimaya's Restaurant Square on July 20, 2021.

Kimura Don is a new donburi restaurant produced by Koji Kimura, a chef whose popular sushi bar Sushi Kimura, located in Futakotamagawa, has held two Michelin stars since 2013. His new eatery continues the traditions and techniques honed at Sushi Kimura while spinning innovation into new donburi rice bowl dishes conceived from the many ideas Kimura has conceived over the years.

The donburi to be served recreates that perfect balance between vinegared rice and toppings which Kimura mastered at his sushi bar. Customers can enjoy a range of additions including donburi classics such as meat and fish as well as seasonal ingredients. The restaurant also uses locally grown and reared produce and ingredients that's also environmentally-friendly from Tokyo such as Kinuhari rice from Hachiojo and Akigawagyu beef. This will help to foster a relationship between local farmers and consumers. 

Lunchtime Dishes | ¥3,500 Each | Serving Times: 11:00-17:00 (Last Orders 16:00)

Pick from five different donburi bowls such as tuna, pilchard, and roast beef. Each season will also has its own exclusive dish made with seasonal ingredients. There's also a special option to order a set of two smaller versions of the dishes too for ¥3,800. 

Evening Courses | From ¥12,000 | Serving Times: 17:00-23:00 (Last Orders 22:00)

The evening course line-up is also made up of five different bowls as well as seven seasonal snacks.

Koji Kimura | Comment

"I've been set up in Futakotamagawa for 16 years. I studied how to prepare sushi rice for many years, since it serves as the foundation, so that I could create unique sushi. I have made sushi rice that's unique and draws a line under other restaurants, rice which when combined with toppings explodes with umami flavour. I use this same sushi rice as the basis for lots of innovative donburi dishes, and I'd love for people to enjoy a taste at the first place in Japan to do this."

Life Lessons with Uramichi Oniisan Anime Series Collaborates With Rascal the Raccoon

In promotion of the anime adaptation of Gaku Kuze's manga series Life Lessons with Uramichi Oniisan, a merchandise collection was released in collaboration with Nippon Animation's series Rascal the Raccoon on July 9 at Shinjuku Marui Annex. The items will also be released at Nanba Marui and Hakata Marui on July 24 and August 7 respectively.

A little look at some of the items

Name Badges | 5 Designs | ¥660 Each (Tax Included)

Pins | 8 Designs | ¥440 (Tax Included)

Keyrings | 8 Designs | ¥770 (Tax Included)

Keyrings | 6 Designs | ¥1,100 Each (Tax Included)

Keyrings | 8 Designs | ¥880 (Tax Included)

Acrylic Stands | 8 Designs | ¥880 (Tax Included)

Wooden Reversible Keyrings | ¥660 (Tax Included)

Hand Towel | ¥1,100 (Tax Included)

Onigiri Case | ¥1,320 (Tax Included)

Pass Case | ¥2,970 (Tax Included)

Tote Bag | ¥1,650 (Tax Included)

T-Shirts | Sizes: M, L, XL | ¥3,850 Each (Tax Included)

Exclusive artwork was illustrated for the collection featuring the characters Uramichi Omota, Tobikichi Usahara, Iketeru Daga, Utano Tadano, Kotori-san, and Rascal. The designs are featured on the merchandise sold at the pop-up shops.

©久世岳・一迅社/「うらみちお兄さん」製作委員会 © NIPPON ANIMATION CO., LTD.

Hokusai and Hiroshige Japan Blue Ukiyo-e Exhibition Opens in Shinjuku

The Adachi Foundation for the Preservation of Woodcut Printing is currently holding an exhibition centred on the Japanese ukiyo-e artists Hokusai and Hiroshige at their permanent exhibition in Shinjuku.

Shibusawa Eiichi (1840-1931) was a Japanese industrialist who is often known as the 'father of Japanese capitalism.' In Japan, people have a strong image of him as being a great man of modern history, but in actual fact one third of his life was lived during the same era as when esteemed ukiyo-e artists Hokusai and Hiroshige were alive. The Adachi Foundation's exhibition focuses on the colour blue, one which has roots during that era and has gone on to become a prominent colour in present day Japanese companies.

The immense popularity of bright blue ukiyo-e

Aizuri-e is a type of woodblock print that is printed predominanetly in blue. They were extremely popular in Edo and used Prussian blue, also nicknamed 'Japan blue.' Hokusai used this same colour when creating his famous Thirty-six Views of Mount Fuji, as did Hiroshige, bringing life to the backgrounds and environment.

Japan Blue: Ukiyo-e From Japan to Paris

Hiroshige showcased his work at the second Exposition Universelle in 1867, making it the first time for ukiyo-e to be properly shown to the world, allowing for the spread of Japonisme. Taken aback by how he used the Prussian blue, the people of Europe praised Hiroshige's work and named the colour 'Hiroshige Blue.' It was a turning point for Japan as the country began opening up to the world, enabling them to witness the skills of Japanese craft.

The Adachi Foundation is also hosting the exhibition online in VR for free which is available in both English and Japanese. Visitors can enjoy Hokusai and Hiroshige's work up close.

Information

Japan Blue in Hokusai & Hiroshige's Ukiyo-e: The Period in Which Shibusawa Eiichi Lived

Japanese Exhibition Title:「北斎・広重の浮世絵に見るジャパンブルー _~渋沢栄一の生きた時代~」

Running: June 22, 2021 — August 21, 2021

Address: 3-13-17 Shimoochiai, Shinjuku, Tokyo 161-0033, Japan

Opening Hours: [Tue-Fri] 10:00-18:00 / [Sat] 10:00-17:00

Closed: Sundays / Mondays / Public Holidays

Entry: Free

Exhibition Online(JP): https://my.matterport.com/show/?m=WJVeiudxTHg

Exhibition Online(EN):https://my.matterport.com/show/?m=4qQFG4CDSQU

Promare x Little Twin Stars Merchandise Releases in Collaboration With THE CHARA SHOP

The anime film Promare, Sanrio's Little Twin Stars, and THE CHARA SHOP teamed up to release a collaborative merchandise collection at Shinjuku Marui on July 1.

Wire Keyring Illustrated by Shigeto Koyama | 2 Designs | ¥880 Each (Tax Included)

Mirror Illustrated by Shigeto Koyama |  ¥880 Each (Tax Included)

Mini Towels Illustrated by Shigeto Koyama | 2 Designs | ¥990 Each (Tax Included)

Pin Set Illustrated by Shigeto Koyama | ¥1,320 (Tax Included)

Acrylic Stand Illustrated by Shigeto Koyama | 2 Designs | ¥1,430 Each (Tax Included)

Mug Illustrated by Shigeto Koyama | ¥1,650 (Tax Included)

Tote Bag | ¥2,200 (Tax Included)

Freebies for every ¥3,000 spent on merchandsie

The merchandise collection features adorable designs illustrated by Shigeto Koyama in the style of Sanrio's Little Twin Stars.

©TRIGGER・中島かずき/XFLAG © '21 SANRIO CO., LTD. APPR. NO. S620339

Information

Promare x Little Twin Stars x THE CHARA SHOP
Running: July 1, 2021 – July 13, 2021

Location: Shinjuku Marui Annex (Floor 6F)

Address: 3-1-26 Shinjuku, Shinjuku-ku, Tokyo, 160-0022, Japan
*Opening hours subject to change depending on COVID-19

Cute Little Bird Themed Event Opens at Odakyu Department Store in Shinjuku

The Shinjuku Bird Festival opened on the 11th floor of Odakyu Department Store in Shinjuku, Tokyo on June 30 where it's running until July 6.

Some of the cute bird products to get your beaks on

Piyo Piyo Gao Poncho-chan: ¥8,250 / Piyo Piyo Gao Goggle-chan: ¥5,500

Ikimono Cookie kurimaro collection Cookies: ¥432 Each

Kisuke Paper: Large ¥3,850 / Small ¥2,750 (Available July 3-4 only)

Hoholala Kobo Oven Glove | ¥2,200

m-pool Glass Necklace | ¥4,950

Wild Bird Paintings | ¥1,980 Each

Hoholala Kobo x Oiue-dou Pouches: ¥2,200
 

Free fan for buyers

Free postcard for buyers

Bird lovers will be able to get their talons on everything from accessories to desserts and more. Many of the items are exclusive to the event, and there's also some freebies: the first 100 people to spend over ¥3,000 each day will receive an original fan, and the first 300 people to arrive at the festival each day will get a postcard.

Information

Shinjuku Bird Festival
Running: June 30, 2021 – July 6, 2021

Opening Hours: 10:00-20:00
Location: Odakyu Department Store Shinjuku (Floor 11F)

Address: 1-1-1 Nishi-Shinjuku, Shinjuku-ku, Tokyo

Access: Outside Shinjuku Station's west exit
TEL: 0570-025-888
Official Website: http://www.odakyu-dept.co.jp/


Sanrio Character Themed Afternoon Tea and Cafe Items Arrive at EGG & SPUMA

The Shinjuku branch of EGG & SPUMA is now hosting "Sanrio Characters CAFE," a menu of food and drink themed on Sanrio's beloved characters. Running until August 31, the cafe has also been decorated in colourful and cute Sanrio designs.

Receive a free coaster with your order

The menu line-up features lots of fruits, including the Cinnamoroll crème brûlée which is served on weekdays only, fruit sandwiches which will include My Melody themed ones this month and June, Hello Kitty and Keroppi ones in July, and Little Twin Stars in August. There's also fruity jelly and more.

If you're a Sanrio fan look to indulge a little more, then there is also a two-tiered afternoon tea set. The upper plate includes Kiki & Lala sandwiches, a Keroppi tart, the Cinnamoroll crème brûlée, and more. On the bottom plate there is Hello Kitty apple jelly, My Melody strawberry caprese salad, Kuromi canapé, and so on. There will also be special pancakes and a jelly dessert arriving in June which must be booked in advance.

Which of these Instagram-worthy delights do you want to tuck into?

Information

Sanrio Characters CAFE
Address: EGG & SPUMA Shinjuku Lumine EST (Floor 8F), 3-38-1 Shinjuku, Shinjuku-ku, Tokyo,  160-0022
Running: May 15, 2021 – August 31, 2021

Opening Hours: 11:00-20:00 (Last Orders 19:00)
TEL: 03-6273-0255
Official Website: http://www.salt-inc.co.jp/egg-and-spuma/

Idol Group Tsubaki Factory Features on Tower Records Shinjuku's NO MUSIC, NO IDOL? Poster

In promotion of their upcoming album 2nd STEP, which will hit shelves on May 26, Japanese idol group Tsubaki Factory was featured in Vol.242 of Tower Record Shinjuku's idol project NO MUSIC, NO IDOL?.

Tsubaki Factory in NO MUSIC, NO IDOL Vol.242

Tsubaki Factory formed in 2015 as members of Hello Project, an all-female idol group project managed by UP-FRONT AGENCY. The eight-member group made their debut with the release of their first single Hatsukoi Sunrise/Just Try!/Uruwashi no Camellia in 2017. In the same year, they receive the Newcomer Award from the 50th Japan Cable Awards.

Their forthcoming 15-track album 2nd STEP will include six singles from their fifth to their current as well as three additional tracks and six brand new ones. Tower Records is handing out posters and postcards to fans who pre-order or buy the record at select stores.

Receive a free NO MUSIC, NO IDOL? poster and postcard

Posters and postcards will be given to fans who purchase any of the three editions of 2nd STEP at the select Tower Records branches below. Available in limited stock on a first-come, first-served basis, those who pre-order the album will be given priority of posters and postcards over those who purchase it after its release.

Participating Branches: Sapporo PIVOT/Sendai PARCO/Shinjuku/Yokohama Vivre/Niigata/Shizuoka/Nagoya PARCO/Umeda NU Chayamachi/Hiroshima/Takamatsu Marugamemachi/Fukuoka PARCO/Naha

2nd STEP will be released in 3 editions

First Press Limited-Edition A (CD+Blu-ray+48 Page Booklet) | ¥8,800 (Tax Included)

First Press Limited-Edition A includes the album, all versions of the music videos from the group's 5th single to their current release, a Blu-ray featuring a behind-the-scenes shoot of the album cover photos, and an 48-page A4-size photo book.

First Press Limited-Edition B (CD+DVD) | ¥5,500 (Tax Included)

First Press Limited-Edition B  includes a DVD featuring the footage taken from a drama event hosted by the group.

Regular Edition (CD) | ¥3,300 (Tax Included)

Get a freebie with your purchase at Tower Records 

Purchasing the new album at Tower Records, TOWERmini, or the Tower Records online store will earn fans the below-pictured A4 folder. Available in limited stock on a first-come, first-served basis, those who pre-order the album will be given priority of folders over those who purchase it after its release.

Information

Tsubaki Factory – "2nd STEP"

Release Date: May 26, 2021

Tower Records Official Website: https://tower.jp

Häagen-Dazs Dessert Buffet Whipped Up at Keio Plaza Hotel

Keio Plaza Hotel in Shinjuku, Tokyo, is welcoming Häagen-Dazs through its doors who have prepared a very special dessert buffet for the hotel's "Summer Trip with Häagen-Dazs" service. The sweet treat line-up will be served from June 1 to September 30 along with a range of savoury foods from around the world – an inviting prospect to those unable to travel during the pandemic.

Sweets Collection with Häagen-Dazs ~Ice Cream Holic~ | General ¥4,800, Children (Aged 4-12)

The first entry to the Summer Trip with Häagen-Dazs is the "Sweets Collection with Häagen-Dazs ~Ice Cream Holic~" dessert buffet. To protect customers, all desserts are ordered and served like a course rather than going to pick up the food yourself. This marks the third year of the dessert buffet, and this time it's inspired by ice cream shops in New York, the home of Häagen-Dazs. Ice cream will be served in a cool and refreshing variety of ways.

Experience that feeling of picking out a flavour from the ice cream store with a line-up of eight flavours including classics such as vanilla and strawberry as well as the new rich royal milk tea. Each serving is customisable with numerous toppings.

Other menu items include mini ice cream croissants, ice cream sodas, ice cream cake, and more. There's also a line-up of savoury food too if you want to line your belly before dessert: fried chicken, burgers, hot dogs, fries, and so on.

While the buffet is on, the hotel restaurant itself will be transformed into an ice cream theme park with summery tropical fruit colouring as well as designs and decor inspired by ice creams and cones.

Information

Sweets Collection with Häagen-Dazs ~Ice Cream Holic~

Running: June 1, 2021 – September 30, 2021

Bookings; Now Open

Location: Jurin (Keio Plaza Hotel Floor 2F)

Address: 2-2-1 Nishi-Shinjuku, Shinjuku-ku, Tokyo

Slots: 15:00-17:00 (Last Orders 16:30) / 15:30-17:30 (Last Orders 17:00)

Jurin Official Page: https://www.keioplaza.com/restaurants/coffee.html

Deliciously Luxurious Matcha Shaved Ice to be Served in Shinjuku This Summer

This summer, Southern Tower Dining and Lounge South Court—both of which are located inside Odakyu Hotel Century Southern Tower—are serving up a fluffy matcha shaved ice dessert called Wa -Nagomi- from June 1 to September 30.

Southern Tower's Famous Fluffy Light Snowfall Wa -Nagomi- Shaved Ice | Eat In ¥1,470, Takeout ¥700

The matcha-flavoured shaved ice has a texture as light and fluffy as snow. As you spoon through the dessert your taste buds are met with a range of delicious tastes and textures like the Japanese rice flour confection known as gyuhi, winter melon syrup, black soybean flour ice cream, and cream.

The dessert can also be ordered for takeout. The black soy bean flour ice cream adds a crunchy cereal-like texture to the soft shaved ice, and with the takeout option, there's also chocolate-coated wheat bran and brown sugar syrup.

Information

Wa -Nagomi-

Japanese Name: 和 -なごみ-

Serving: June 1, 2021 – September 30, 2021

Where: Southern Tower Dining / Lounge South Court (Odakyu Hotel Century Southern Tower Floor 20F)

Address: 2-2-1 Yoyogi, Shibuya, Tokyo

Opening Hours:

[Southern Tower Dining] 11:30-16:00 (Last Orders 15:00) / 17:30-22:00 (Last Orders 21:00)

[Lounge South Court] 10:00-23:30 (Last Orders 22:30)

Southern Dining Official Website: https://www.southerntower.co.jp/restaurant_lounge/st_dining/bar_lunch/

Tokyo's New Museum Cafe is a Haven For Fans of Architecture

Japanese company Banc, which specialises in setting up hotels and other sites, held the grand opening of the new Architecture Cafe Sumika, a new museum/cafe in Shinjuku, Tokyo, on April 28.

A peek inside

A recreation of Fallingwater, a house designed by the architect Frank Lloyd Wright 

Painting by chalk artist Misuzu Wakai

Architectural designs recreated at the new museum cafe

Villa Savoye (Le Corbusier)
Fallingwater (Frank Lloyd Wright)
Casa Ligornetto (Mario Botta)
Sky House (Kiyonori Kikutake)
Maison a Bordeaux (Rem Koolhaas)
Malin Residence "chemosphere" (John Lautner)
Eames House (Charles and Ray Eames)
Silver Hat (Toyo Ito)
Fisher House (Louis Kahn)
Mailam House (Paul Rudolph)
The Glass House (Lina Bo Bardi)
Steel House (Kengo Kuma)

A little look at the menu

<Miho Chef Chocolatier> Premium Gateau Chocolate: ¥1,200 / Raw Marble Chocolate: ¥1,000 / Raw Dami Chocolate ¥450

<Ten no Ya> Egg Sandwich: ¥750

Architecture Cafe Sumika aim sto be a cosy space for architecture lovers who can enjoy thinking about their ideal home, talking about their favourite architect, and thinking about how architecture changes with the times. The cafe has recreated 12 architectural marvels from 12 different renowned architects, each at which sits at a different table.

 

The cafe, which is located in Shinjuku Sanchome, employs a spacious cafe area with high ceilings that can be enjoyed by both lovers of architects and cafe enthusiasts where they can relax with a cup of tea, coffee, a soft drink, or even alcohol, the latter of which is served at bar hours from 18:00, completely changing the atmosphere into a night museum. There's also a tasty food menu to tuck into.

If you're looking to speak to someone about architecture and real estate, Architecture Cafe Sumika also houses its own resident experts. Customers can also enjoy a range of other works by architects and interior designers.

In celebration of the cafe's opening, a competition is being held to create a jungle gym for children where entrees can win cash prizes, the top being ¥300,000. More details below.

Information

Architecture Cafe Sumika

Address: 6th Sanwa Bldg Floor 4F, 3-6-7 Shinjuku, Shinjuku-ku, Tokyo
Opening Hours: Cafe 10:00-18:00 / Bar 18:00-04:00 (Last Orders 03:00)
No Fixed Holidays
TEL: 03-5315-0396
Official Website: https://sumika-shinjuku.com/

1st Architect Contest

Submission Period: June 20, 2021 – June 27, 2021
Winner Announcement: June 28, 2021
Winning Work Display Period: July 1, 2021 – August 30 2021

Submission Entry: Children's Jungle Gym

Size: Max 60cm x 60cm x 40cm

Colouring: Any

Cash Prizes: Winner ¥300,000 (1 Person) / Runner-Ups ¥100,000 (7 People)
Submissions: Must be made by June 19, 2021

How Winners Are Selected: Entrants will be posted on the cafe's official Instagram – the most popular from the votes will be selected