teamLab to Take Their Interactive Installation 'The Tree of Resonating Colors of Life' to Odaiba in Tokyo
Christmas is about to fall upon VenusFort in Odaiba, Tokyo, with a snow-pile of Christmas content set to take place at the mall from November 30 onward. This will include the exhibiting of teamLab's hugely popular "The Trees of Resonating Colors of Life" installation.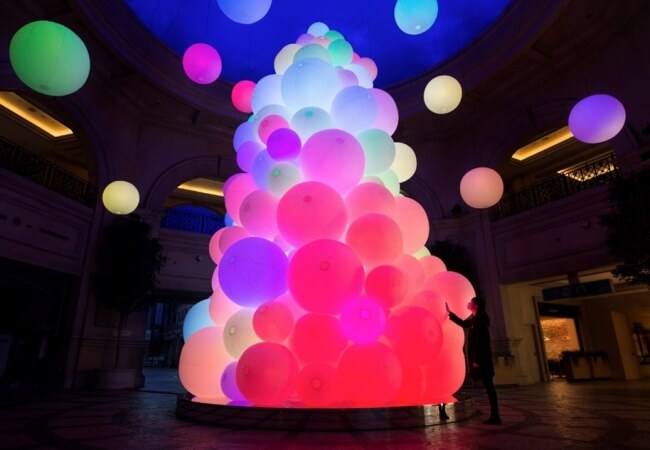 teamLab, The Tree of Resonating Colors of Life, 2018, Interactive Installation, Endless, H: 8000 mm W: 6000 mm D: 6000 mm Sound: Hideaki Takahashi© teamLab
Located in the Olive Plaza, this interactive art piece is a three-dimensional tree made up of many light spheres which change colour as people touch them.
The popular annual "SNOW WISH" event will also take place again this year, where delicate snow falls gracefully from the ceiling. This year the event is collaborating with "VenusFort Illumination 2019-2020 -Grateful Harmony-" to create a heart-warming and enchanting Christmas display that's sure to put you in the Christmas mood.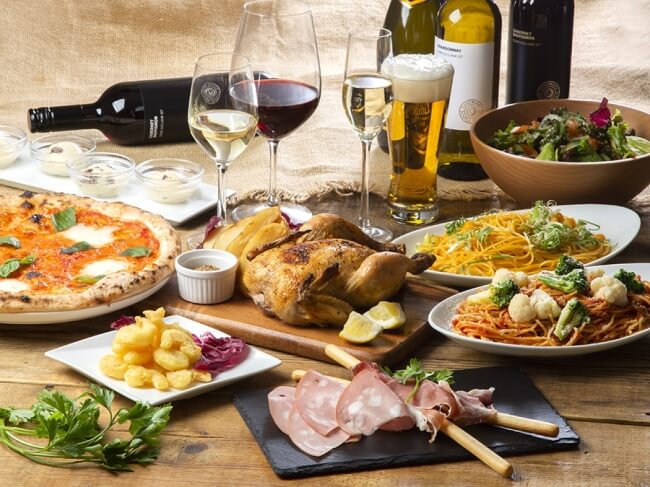 There will also be a Christmas raffle where you can win prizes, a special VenusFort Christmas party menu, as well as a Black Friday Market where you can grab some serious bargains.
Be sure to add Odaiba on your list of places to visit if you're celebrating Christmas and the holiday season in Tokyo this year.
Information
teamLab: The Tree of Resonating Colors of Life
Running: November 30, 2019 – March 1, 2020
Location: Odaiba VenusFort Floor 2F Olive Plaza (1-3-15 Aomi, Koto Ward, Tokyo)
teamLab Official Website: https://www.teamlab.art/
VenusFort Christmas 2019 Events:  http://55vf.jp
RECOMMENDED ENTRIES
Autumn in Aichi: Cherry Blossoms and Maples at Obara Shikizakura Matsuri & Korankei Maple Festival

Early November marks the opening of the autumn cherry blossoms in Obaracho, Toyota. By the time mid-November rolls around, close to 10,000 shikizakura cherry blossoms bloom a pale pink until the end of the month.

The Yoshino cherry bears its pink petals in springtime, but the shikizakura blossoms twice a year: first in spring, then in autumn. They are considered one of the most beautiful flowers of autumn, especially when they bloom against the gorgeous and vibrant red maple leaves. The Obara Shikizakura Matsuri began on November 1, and right now, you can witness this spectacle for yourself.

The shikizakura trees planted in Obara have been there since Kansei era (1789-1801). With the helping hand of locals, the trees have become one of Japan's most famous shikizakura spots. They were designated as Chiku (District) Trees in 1978 and can be seen throughout the entire district. Some of the trees are over 100 years old and as such registered as Natural Monuments of Aichi prefecture.

This is a spot we highly recommend visiting when travelling to Aichi.

▼Obara Shikizakura Cherry Blossoms

Peak Blossom Time: From Mid-November

Locations:

441-1 Johei, Obaracho, Toyota, Aichi (Obara Fureai Park)

Senmichi, Toyota, Aichi (Senmi Shikizakura no Sato)

Access: Take the Toyota Oiden Bus bound for Kaminigi (上仁木行き) and get off at Obaraokusa (小原大草) or Kaminigi (上仁木)

Details:  http://www.kankou-obara.toyota.aichi.jp/

▼Obara Shikizakura Matsuri

Running: November 1, 2019 – November 30, 2019

Locations: Senmi Shikizakura no Sato, Obara Fureai Park, and elsewhere in the region

Notes: The Kururin Bus can be boarded for free on weekends and public holidays while the festival is on

Official Website: https://www.aichi-now.jp/spots/detail/132/

The Korankei Maple Festival is also taking place this month where you can witness around 40,000 maple trees bearing their gorgeous autumn foliage.

The trees are being lit up every night for the month of November. Watch the sun set before the illuminations are turned on, creating an enchanting atmosphere with the warm, radiating lights against the night sky.

▼Maple Trees

Peak Blossom Time: From Mid-November

Location:  Iimori Asukecho, Toyota, Aichi

Access: Ride the Meitetsu Mikawa Line to Toyotashi Station, change onto Meitetsu Bus, and alight at Korankei (香嵐渓)

Official Website:  http://asuke.info/korankei/

▼64th Korankei Maple Festival

Running: November 1, 2019 – November 30, 2019

Location: Around Iimori Asukecho, Toyota, Aichi

Light-Up: Sunset to 21:00

Access: 20 minutes from Sarugata Green Road Interchange / 20 minutes from Toyota-Kanpachi Interchange

Official Website: http://asuke.info/event/nov/entry-705.html

Witness two of Japan's most celebrates treesーthe cherry blossom and the mapleーflower together in one place in Aichi.

See the Breathtaking Autumn Foliage of the Former Shizutani School in Okayama

The Former Shizutani School, recognised as the oldest school existing for commoners in Japan, has reached its peak season for autumn foliage. Speficially, for the Chinese pistache tree, which is a symbol of the school.

Shizutani School first opened in 1670 during the Kambun era. In 2015, it was registered as an Educational Heritage Site from Early-Modern Japan. The majority of the site is listed as an Important Cultural Property, including the temple, Shizutani Shrine, as well as the auditorium which is considered a national treasure.

The school's surrounding natural landscape enjoys the blooming of many different flowers throughout the entire year which people flock to see. It's especially famous for autumn, a season during which the enchanting red and yellow hues boas their beautiful blossom.

The three colours reflect from the lacquered flooring of the auditorium, rippling like ocean waves.

The beautiful contrast between the reds and yellows of the pistaches can be enjoyed during autumn-time only. The best time to see them is from now until November 20, so if you're travelling to Okayama, be sure to pay the Former Shizutani School a visit.

Roppongi Hills Christmas Market 2019: Authentic German Food, Christmas Ornaments, Desserts & More

Christmastime has fallen on Roppongi Hills as it kicked off Roppongi Hills Christmas 2019 on Monday. The event sees the return of the gorgeous Keyakizaka illuminations from last year.

Keyakizaka-dori Street runs almost 400 meters, along which "Snow & Blue" LED lights glow and glisten like frost-covered trees, turning the street into a winter wonderland. For 2019, a very special photo spot has been designed by Japanese illustrator Yu Nagaba as pictured above amongst the ocean of illuminations. Over on the West Walk, passersby will spot a draped Christmas tree.

Starting this Friday (November 15), more illuminations will light up over at Mori Garden, which will reflect enchantingly from the garden lake, and 66 Plaza will be lit up too. All of these illuminations will glow until late in the night, making them a perfect spot for a little evening date.

A Christmas market will take place starting on November 30 which will feature German food and drinks, a shop where you can buy a real fir Christmas tree, and more. And on November 15, restaurants and cafes at Roppongi Hills will adorn their menus with Christmas cakes, sweets, and dinner plans.

Christmas Market 2019

2019 marks the 13th year of the Roppongi Hills Christmas Market, and this year, many of Japan's leading shops are taking part. The market will recreate the atmosphere and decor of a German Christmas market, with gorgeous decorations lining the roof, as well as the 11 stalls which will sell German-made Christmas sundries, German mulled wine, frankfurter sausages, and more. There will be over 2,000 individual items to find.

Christmas Cakes & Merry Desserts

Top: Christmas Show Girl ¥3,672 / Bottom: Christmas Tree ¥10,800 @ LOLA'S Cupcakes Tokyo

Cafes and restaurants have cooked up various treats for the Christmas season which will be sold between November 15 to December 25, including Christmas cakes to complete your Christmas dinner, desserts so cute they almost seem a waste to eat, and little items perfect to give as gifts. There's plenty on the menu to be enjoyed with friends, family and loved ones.

Have a very special and merry little Christmas this year at Roppongi Hills.

Information

Roppongi Hills Christmas 2019 

Running: November 11, 2019 – December 25, 2019
Locations: Roppongi Hills (Roppongi Keyakizaka-dori, 66 Plaza, West Walk, Roppongi Hills Arena, Rooftop Plaza, and elsewhere)

Official Event Page: https://www.roppongihills.com/en/sp/christmas/2019/

Christmas Market 2019

Running: November 30, 2019 – December 25, 2019

Time: 11:00-21:00 (Until 22:00 on Fridays, Saturdays & Christmas Eve)

Location: Rooftop Plaza

Keyakizaka Illuminations

Running: November 11, 2019 – December 25, 2019

Time: 17:00-23:00

Location: Roppongi Keyakizaka-dori
RELATED ENTRIES
Love Live! Nijigasaki High School Idol Club x Oedo Onsen Monogatari Event Announced

The Tokyo-based bathhouse Oedo Onsen Monogatari is set to collaborate with the anime series Love Live! Nijigasaki High School Idol Club with a special event titled 'Tokimeki Onsen Monogatari' from July 30 to September 5. This will mark the site's final collaboration with an anime series as the bathhouse is closing on September 5.


For the collaboration, panels and decorations featuring original artwork of the Nijigaku members is featured around the bathhouse. There's also a special photospot featuring a backdrop of a scene taken the anime's second episode.

A lottery draw will take place where you can pay ¥550 for a chance to win a cushion, illustrated print, or bromide. There are also 10 collab drinks as well as three pasta dishes to pick from. Fans can also get their hands on exclusive merch such as keyrings, tees, tapestries, and more.

teamLab's Enchanting Ovoids Light Up Chiba Art Festival 2021

Japanese digital art collective teamLab has announced their plans to set up a public art exhibition at Chiba Art Festival 2021 which will take place at Chiba Port Park from July 31 to September 5.

Autonomous Resonating Life and Resonating Trees, teamLab, 2017.

team lab will be showcasing their interactive ovoid digital art exhibit Autonomous Resonating Life and Resonating Trees. The art group describes the work: " The resisting and resonating ovoids placed amongst the trees shine. The light of the ovoids and the light of the trees are autonomous: they shine brightly and then fade slowly, as though they are breathing. When an ovoid is pushed, the colour of the light it emits changes and the tone unique to that color echos. The light that originated from that ovoid resonates out to other ovoids and trees nearby. The tone resonates out continuously in the same way as the light, spreading throughout the ovoids and trees."


Chiba Art Festival is one of several cultural programs hosted by Chiba Prefecture. The Tokyo Olympics and Paralympics are not solely for enjoying sports; they're also an opportunity to enjoy the culture of Japan, and so the country is running many different cultural events across and around the capital. The theme of the festival is to showcase artwork that the city wishes to pass on to the next generation. Many pieces are being displayed around Chiba, including at the Chiba Prefectural Museum of Art, such as illustrations, photos, and more.

teamLab Planets Blooms Original Blue Orchids That Are the First of Their Kind in the World

teamLab Planets TOKYO revealed two brand new, original blue-coloured phalaenopsis aphrodite orchids on July 8 as part of its new Floating Flower Garden exhibit. The flowers are the first of its kind in the world and there are no plans for it to be sold, meaning the only way to see them is by visiting the Tokyo-based digital art museum.

Unique, never-before-seen orchids

teamLab has named the flowers Phal.'teamLab Sunshine Star' and Phal.'teamLab Moonlight Star' in cooperation with Haruhiko Kato of the Lama Orchids Center.

The flower enjoys a full bloom for around a month. The reason why this orchid is so special is because until recently only four types of phalaenopsis had been found to be blue. The fifth, Phal.lueddemanniana coerulea, was discovered in recent years, and this brand new version was born from it.

The teamLab: FIRE smartphone app lets you take flames home

The new app 'teamLab: FIRE' has been created for teamLab Planets TOKYO's Universe of Fire Particles – Continuity exhibit which lets you enjoy the piece on the go. When you launch the app and approach a specific artwork or a fire held by another person, your smartphone will light up with flames. When you bring the flame close to another person's teamLab: FIRE, the flame will connect. As you connect the flame you received with another person, and they connect that flame with someone else, the flame will spread all over the world.

Drawing on the Water Surface Created by the Dance of Koi and People – Infinity

The museum's Drawing on the Water Surface Created by the Dance of Koi and People – Infinity exhibit will transform into bright colours for the summer season from July 21 to August 6. The digital artwork sees koi swim on the surface of water that stretches out into infinity. Visitors can walk into the water. The movement of the koi is influenced by the presence of people in the water and also other koi. When the fish collide with people they turn into flowers and scatter.

Information

teamLab Planets TOKYO
Address: 6-1-16 Toyosu, Koto-ku, Tokyo

July 2021: [Weekdays] 10:00-20:00 / [Weekends] 9:00-20:00

*Open 9:00-20:00 from July 22-31

*Last entries one hour before closing time

Closed: July 20, 2021

Official Website: https://planets.teamlab.art/tokyo/

teamLab Forest Fukuoka's Interactive Digital Art Installations Get Summer Makeover

teamLab Forest Fukuoka is getting a makeover for the summer season from July 17. Look out for seasonal digital installations including a bed of bright yellow sunflowers, animals made of summer flowers walking around, and more.

Summer Digital Artworks

Shifting Valley, Living Creatures of Flowers, Symbiotic Lives

Animals of Flowers, Symbiotic Lives II

Soft Terrain and Granular Topography, 2020

Flutter of Butterflies, Ephemeral Life

For summertime only, teamLab's Athletics Forest presents Shifting Valley, Living Creatures of Flowers, Symbiotic Lives – A Whole Year per Year where various animals made from seasonal flowers, such as sunflowers, roam the area. There's also A Whole Year per Year / Soft Terrain and Granular Topography – A Whole Year per Year where visitors can see varying levels of three-dimensional soft terrain, and Flutter of Butterflies, Ephemeral Life – A Whole Year per Year, where butterflies flutter in summer colours.

The teamLab Athletics Forest and Catching and Collecting Forest are new museums by teamLab. In the Athletics Forest, visitors use three-dimensional thinking using the body, while in the Catching and Collecting Forest, they capture the wonder of catching and collecting things as children.

 
teamLab's artworks are not pre-recorded images that are played back; they are created by a computer program that continuously renders the artwork in real time. As a whole, they are continuously changing, and previous visual states are never replicated. The picture at this moment can never be seen again.

Information

teamLab Forest Fukuoka – Summer 2021

Start Date: July 17, 2021

Venue: BOSS E・ZO FUKUOKA (Floor 5F)

Address: 2 Chome-2-6 Jigyohama, Chuo Ward, Fukuoka

Official Website: https://www.teamlab.art/e/forest/

teamLab x KDDI Digital Art Installation Opens in Ginza

Japanese art collective teamLab is teaming up with KDDI at GINZA 456 Created by KDDI in Ginza, Tokyo this summer where they have opened their new art installation Catching and Collecting Flutter of Butterflies Beyond Borders. The installation is running until August and makes use of a dedicated smartphone app.

Catching and Collecting Flutter of Butterflies Beyond Borders | teamLab, 2021

The world brought about by 5G will be a borderless world. The boundaries between the real world and the digital world will disappear, as will the boundaries between the world and language. KDDI and teamLab started this project in order to let you experience such a future.

"Catch, Study, Release" is the theme of this interactive art experience in which people explore the world with their bodies, discovering, catching, and broadening their interests based on what they catch. Visitors explore using the app to capture various butterflies, study them, and create their very own collection book.

The art installation is the newest to arrive following Walk, Walk, Walk Home which ran until June 27.

teamLab Borderless Tokyo Celebrates 3rd Anniversary With Two New Installations

June 21 will mark three years since MORI Building DIGITAL ART MUSEUM: EPSON teamLab Borderless first opened. Located in Odaiba, Tokyo, the digital art museum is commemorating its anniversary with two new installations: Sketch Aquarium: Connected World and Sharing Rock Mass, Transcending Space. Experience digital art, which blurs the lines between reality and fantasy, change in real time as people come into contact with it.

MORI Building DIGITAL ART MUSEUM: EPSON teamLab

Sketch Aquarium: Connected World

teamLab describes this exhibit:

The fish drawn by everyone swim around in this aquarium.

Color in a fish on the paper provided. See the picture you have drawn come to life in the massive aquarium in front of you, swimming together with the fish drawn by other people. If you touch the swimming fish, they will swim away. If you touch the food bags, you can also feed the fish.

The tuna you draw will transcend the boundaries of the artwork and swim out into the Sketch Aquariums and Sketch Oceans of exhibitions around the world. And the tuna drawn in other parts of the world may appear and swim in the Sketch Aquarium right in front of you.

Sharing Rock Mass, Transcending Space

teamLab describes this exhibit:

A rock mass floats in the world of the teamLab Borderless museum in Shanghai. The rock mass floats through the hallway of teamLab Borderless Shanghai and sinks into the wall. The rock mass transcends the physical space of the museum itself, the part that sinks into the wall appears in the world of the teamLab Borderless museum in Tokyo.

When people touch the part of the rock mass emerging in Tokyo, it shines with blue light. This light flows to the rock mass sunken into the wall in Shanghai. When people touch the part of the rock mass sunken into the wall in Shanghai, it shines with a red light which flows to the rock mass here in Tokyo. When red light flows into the rock mass, it indicates that someone in Shanghai is touching the rock mass.

teamLab is represented by Pace Gallery, Martin Browne Contemporary and Ikkan Art International.

Information

MORI Building DIGITAL ART MUSEUM: EPSON teamLab Borderless

Address: Odaiba Palette Town, 1-3-8 AOmi, Koto-ku, Tokyo

teamLab Borderless Official Website: https://borderless.teamlab.art/
teamLab Official Website: https://www.teamlab.art/

*teamLab Borderless introduced a booking system on June 1, 2021 to restrict admissions in an effort to combat COVID-19

teamLab Joins Saudi Arabia's Light Upon Light: Light Art Since the 1960s Exhibition

Japanese art collective teamLab have joined Light Upon Light: Light Art Since the 1960s, an art exhibition curated by former curator of the Guggenheim Museum Susan Davidson, and Raneem Zaki Farsi, expert in Saudi Arabia's contemporary art scene, which is now taking place at the King Abdullah Financial District (KAFD) Exhibition Hall in Saudi Arabia until June 12.

© Noor Riyadh

Flowers and People − A Whole Year per Hour by teamLab, 2020.

teamLab are showcasing their immersive art piece Flowers and People − A Whole Year per Hour. The work captures a year's worth of seasonal flowers blooming over the course of an hour, continuously scattering and changing. The piece is not a pre-recorded image that is played back: it is created by a computer program that continuously renders the work in real time. The interaction between people and the installation causes continuous change in the artwork: previous visual states can never be replicated, and will never reoccur. The picture at this moment can never be seen again.


Noor Riyadh is a new citywide annual festival of light and art organized by Riyadh Art, the first national public art initiative in the Kingdom of Saudi Arabia, which transforms the city of Riyadh into a gallery without walls, and a creative powerhouse for the digital age. The Noor Riyadh festival consists of numerous public art installations across the city; "Light Upon Light: Light Art since the 1960s," a landmark exhibition of light art; and a diverse program of talks, workshops and events.

Enjoy Japanese Cherry Blossoms From Your Home With teamLab's 'Sakura Bombing Home'

Japanese art collective teamLab launched their new Sakura Bombing Home experience on March 10 which lets people enjoy Japanese cherry blossoms from the comfort of their own home using digital devices. The service is running until April 30, 2021.

Sakura Bombing Home

How to Participate

Firstly, download drawing paper at teamLab's official website. There are numerous cherry blossom designs to choose from and colour in either on your smartphone or by printing and colouring by hand.

Next, upload your completed cherry blossom illustration.

Your submitted cherry blossom art and other people's from around the world will be compiled into a single art piece to be showcased on YouTube Live.

Finally, you can download your flower art after submission. This is a great opportunity to enjoy Japanese cherry blossom without being in Japan, as well as to stay safe during the spring season if you are in Japan.

teamLab is represented by Pace Gallery, Martin Browne Contemporary and Ikkan Art International.

teamLab Reveals Sauna Art Experience in Collaboration With TikTok

Japanese art collective teamLab has announced a brand new digital art experience which fuses art with saunas. Entitled teamLab & TikTok, teamLab Reconnect: Art with Rinkan Sauna, the interactive exhibition will take place in Roppongi from March 22 to August 31. Bookings are now open.

teamLab & TikTok, teamLab Reconnect: Art with Rinkan Sauna Roppongi

"Every Life Survives in Fluctuating Space"

teamLab Reconnect is a new art and sauna exhibition where visitors experience art in their finest mental state. At the event, visitors take alternating hot and cold baths to open their minds and experience an ever-expanding physical sensation, effectively becoming one with the art.

The event will feature numerous exhibits, one which is entitled Every Life Survives in Fluctuating Space, a collaboration between TikTok and teamLab that can event be experienced at home. It makes use of the TikTok app, which is also part of the art and sauna experience at the exhibition, and so your home, or wherever you are based, can become its own art space.

Every Life Survives in Fluctuating Space captures the life cycle of a flower, which grows according to the size of the space displayed through the camera on Tiktok. The size of the flowers is not predetermined; it is instead determined by the size of the space where you are. If you're outside, the flowers can grow enormously.

If you download TikTok and sign up for a new account you can get a 500 yen discount coupon for teamLab Reconnect. Visit the official website below for more details.

Information

teamLab & TikTok 

Running: March 22, 2021 – August 31, 2021

Where: 5-10-25 Roppongi, Minato-ku, Tokyo

Bookings: Now Open

Tickets/Event Details: https://reconnect.teamlab.art/en

teamLab Serves a Forest Sauna, Ruins Art, and Tea Experience at Mifuneyama Rakuen Hotel

If you visit Mifuneyama Rakuen Hotel in Saga Prefecture, you'll discover teamLab's permanent exhibition teamLab Ruins and Heritage: Rinkan Spa & Tea Ceremony. On Friday (February 19), the exhibition began serving EN TEA, a new brand of tea grown in Hizen.

The exhibition is an art and sauna experience by teamLab and the Mifuneyama Rakuen Hotel Rakan Bath, the winner of SAUNACHELIN in 2019 and 2020. There, visitors can clear their minds, feel the ever-expanding space through their bodies, and immerse themselves in the art and the forest dotted with ruins. After their sauna experience, they can enjoy a cup of EN TEA to wind down.

EN TEA is a brand of tea made in collaboration with tea master Shunichi Matsuo and Maruwakaya, a brand that focuses on Japanese traditional culture and brings together artisans. It's brewed at a low temperature for 15 minutes which lowers the amount of caffeine inside. After enjoying the sauna, visitors can visit the EN TEA HOUSE at Mifuneyama Rakuen Hotel for their cup.

teamLab Reconnect Project Combines Art With the Sauna Experience in Roppongi

Art collective teamLab has announced the opening of teamLab Reconnect: Art with Rinkan Sauna Roppongi which will run for half a year starting this March in Roppngi, Tokyo.

Since 2019, teamLab has been combining saunas with digital art to create wholly new and unique sauna experiences never before seen.

teamLab Reconnect's aim is not to offer a luxury and high-end venue for seeing artwork, but to put visitors into a luxurious state to experience the art. Through contrast bath therapy, where visitors are placed in a hot sauna followed by cold water and then relaxation, they can open their minds and senses to a variety of artworks and in essence become part of the art itself. teamLab hopes this will enable visitors to realise their own existence―their mind, body, and environment―and in turn 'reconnect' with the world and time.

Levitation
teamLab, 2021, Digital Installation, Sound: Hideaki Takahashi

teamLab Reconnect will welcome a variety of new artworks based on teamLab's new art project 'Supernature Phenomenon' which captures different natural phenomena in nature.

Proliferating Immense Life – A Whole Year per Year
teamLab, 2020, Interactive Digital Installation, Sound: Hideaki Takahashi

This artwork captures the life cycle of flowers. It is not a pre-recorded image that is played back; it is created by a computer program that continuously renders the work in real time. The interaction between people and the installation causes continuous change in the artwork, meaning previous visual states can never be replicated, and will never reoccur.

Since opening their sauna in Mifuneyama Rakuen in Kyushu back in 2019, which won the SAUNACHELIN two years in a row in 2019 and 2020, teamLab has gone on to create new works of sauna art such as teamLab: A Forest Where Gods Live and teamLab Ruins and Heritage: Rinkan Spa & Tea Ceremony.

Information

teamLab Reconnect: Art with Rinkan Sauna Roppongi
Location: teamLab Reconnect, 5-10-25 Roppongi, Minato-ku, Tokyo
Running March 2021 – August 2021
Official Website: https://www.teamlab.art/e/reconnect/

teamLab Borderless Shanghai Opens Museum Shop Selling Eco-Friendly Folding Rice Bag

Art collective teamLab opened a shop at their Shanghai-based art museum teamLab Borderless Shanghai on Saturday (December 5). teamLab Borderless Shanghai opened its doors in Huangpu, Shanghai, in November 2019, displaying around 50 pieces of artwork by teamLab. The company's Borderless project is a 'world of artworks without boundaries, a museum without a map.'

The museum's new shop sellings a variety of items, from stickers to postcards to the official teamLab Folding Rice Bag. More items are scheduled to be added to the stock in the future.

teamLab Folding Rice Bag

The eco bag can be folded up and stored when not in use. It's a 30kg rice bag that was acquired directly from the farmer, originally used for storing rice before milling and would normally be discarded after use. It's traditionally used to store and sell rice. Still present in the Japanese countryside today, these bags are made of strong, durable materials that protect the rice inside from moisture and damage. The bag is made of paper, and it can be folded up and stored in your pocket for use at any time.

Information

teamLab Borderless Shanghai
Address: Unit C-2 No 100, Hua Yuan Gang Road, Huangpu, Shanghai

Museum hours are temporarily shortened as below:

Monday:

Closed.

Tuesday to Friday:
10:30 – 18:00 (last entry 17:00)

Saturday, Sunday and public holidays:
10:30 – 20:00 (last entry 19:00)

Official Website: https://borderless.teamlab.art/shanghai/