BURNOUT SYNDROMES Perform TV Anime Haikyu!! To The Top Opening Theme
It has been announced that 3-piece Japanese rock band will perform the opening theme PHOENIX for Haikyu!! To The Top, the fourth season to the TV anime series Haikyu!!, which is set to premiere on in Japan on MBS and TBS on January 10, 2020.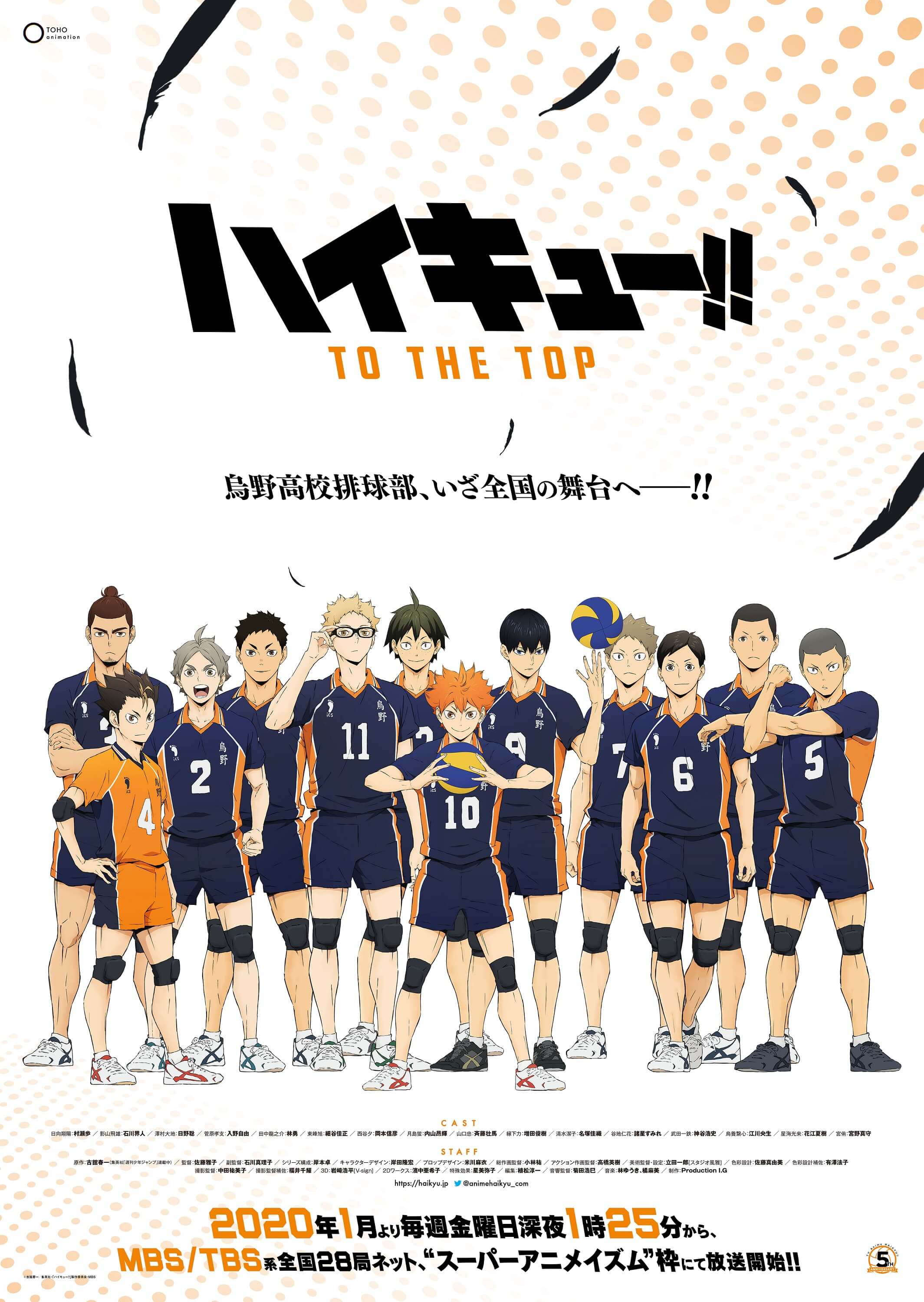 The series is an adaptation of Haruichi Furudate's shōnen manga series of the name name, serialised in Shueisha's Weekly Shonen Jump. News of the fourth season blew up on Japanese social media when it was announced in August. The new season has also been attracting attention as it is collaborating with the Japanese volleyball league V.LEAGUE which many notable Japanese players are signed to.
This marks the band's third opening theme they have performed for Haikyu!!, following the season two opening FLY HIGH!ーwhich the band made their major debut with in March 2016ーand season three opening Hikariare.
Speaking about the new opening theme PHOENIX, band vocalist and guitarist Kazuumi Kumagai commented, "We've been tasked with writing a third opening theme song. We're ecstatic!"
He continues: "We've written a song with a party feel to it to tie in with the spicy development of the story. Please look forward to hearing it!"
The band also released a video of their performance at ANI-ROCK FES. 2018 at Saitama Super Arena for the Haikyu!! live show.
PHOENIX will be released as a single on February 12, 2020, which is the day after the finale of their upcoming 7-date solo tour which is set to begin in December this year. It will be the band's biggest solo tour to date.
©Haruichi Furudate/Shueisha/・"Haikyu!!" Production Committee・MBS
RELATED ENTRIES
Volleyball Series Haikyu!! Gets Collaboration with Toei Kyoto Studio Park

Toei Kyoto Studio Park will hold a limited-time collaboration with popular volleyball anime series Haikyu!! starting September 11.

Haikyu!! x Randen Retro Train

Original Towel

Stage Set

Original Fairground Game Merchandise 

Randen Collaboration

Limited-edition Collaboration Merchandise

Purchase bonus bookmark (1 of 8 designs: 4 designs from Karasuno High School, 4 designs from Inarizaki High School)

Selected Merchandise

For each menu order, a random coaster will be presented as a gift. *8 original designs available.

In the newly drawn concept image for the event, the members of the Karasuno High and Inarizaki High volleyball teams are seen during a trip to Kyoto, where they meet at the Toei Kyoto Studio Park. Fans can see their favorite characters dressed in Shinsengumi happi coats, buying souvenirs, eating, drinking, and enjoying their hard-earned day off. There will be a Haikyu!! exhibition at the park, a footbath, special goods and food items, as well as a running collaboration train.

Look forward to this very unique event in Kyoto, coming soon!

©古舘春一/集英社・「ハイキュー!!」製作委員会・MBS

短縮形 ©HF/S,HP,M

Haikyu!! Gets New Merch Collection Drop On CharaDepa

Japanese anime and manga merchandise website released a new collection of Haikyu!! key rings, pins, and acrylic stands which are available to purchase through the site until June 27.

The Line-Up

Acrylic Key Ring | 10 Designs | ¥800 Each (Before Tax)

Pins | 10 Designs | Whole Box – ¥4,000 (Before Tax)

Acrylic Stands | 10 Designs | ¥1,300 Each (Before Tax)

©古舘春一/集英社・「ハイキュー!!」製作委員会・MBS

Haikyu!! Anime Character Shinsuke Kita Nendoroid Figure Released

Orange Rouge, a Japanese brand that focuses on merchandise of male characters, released a new Nendoroid figure of the Haikyu!! character Shinsuke Kita on Tuesday (March 9).

The figure comes with several face parts that can be swapped out to create different expressions. There's also various props like a volleyball, jersey, lunch bag, and more to create plenty of different poses. A must-add to the collection for any fan of Haikyu!!

©古舘春一/集英社・「ハイキュー!!」製作委員会・MBS

Haikyu!! To The Top Anime Figurines Released in Japan

Japanese company Realize released a new collection of figures Wednesday (January 27) based on Haikyu!! To The Top. Available until February 4, the limited-edition line-up is available to purchase via online anime and manga stores in Japan.

Acrylic Figures | ¥1,200 Each (Before Tax)

Which of these acrylic figurines do you want the most?

©古舘春一/集英社・「ハイキュー!!」製作委員会・MBS

Haikyu!! Anime Hugging Plush Toy Collection Drops

Japanese company Realize has announced that it will release a new collection of Haikyu!! plus toys on the anime merchandise website Chara Depa. Available from January 20 to February 15, the line-up are part of a collection of hugging plush toys which can open and close their arms when you squeeze their legs.

Haikyu!! Hug Character Collection Box | ¥4,800 (Before Tax)

The collection is available as a box set of six characters, all of which can hug onto a place of your choice whether it be your PC or laptop monitor or elsewhere.

©古舘春一/集英社・「ハイキュー!!」製作委員会・MBS

Information

Haikyu!! Hug Character Collection Box
Order Window: January 20, 2021 – February 15, 2021
Buy Here: https://www.charadepa.com/product/29312
Manufacturers: Takara Tomy Arts
Price: ¥4,800 (Before Tax)

Haikyu!! TO THE TOP Themed Cafe to Open at Animate Cafe in Sendai

Japanese anime and manga merchandise chain store and cafe company Animate is set to open the new Animate Cafe Gratte Sendai on August 29, 2020. There are many Animate Cafe branches around Japan, all of which serve up menus themed on various anime, manga, and game franchises.

The first series to land at the new Animate Cafe Gratte Sendai will be Haikyu!! TO THE TOP.

Animate Cafe Gratte Sendai will serve the staple "Gratte," a portemanteau of "graphic latte" where character illustrations are put on top of the cream of lattes. These beverages are currently served at the Tokyo (Shibuya and Kichijoji), Osaka, and Okayama branches of Animate Cafe.

Haikyu!! is a sports, comedy and coming-of-age manga series written and illustrated by Haruichi Furudate. Serialised in Weekly Shonen Jump, the series spanned 45 volumes, with the final volume released just last month. Season four of the series, titled Haikyu!! TO THE TOP, is still ongoing, with the second half set for release this October.

The collaboration at the cafe will run from August 29 to September 15 where fans can tuck into a range of different Haikyu!! themed goodies like grattes, icing cookies, and more.

All customers will receive one of the above-pictured exclusive coasters randomly selected from 12 designs.

©Haruichi Furudate / Shueisha・"Haikyu!!" Production Committee・MBS

Information

Haikyu!! TO THE TOP Collaboration
Running: August 29, 2020 – September 15, 2020

Animate Cafe Gratte Sendai
Address: EBeanS 7F, 4-1-1 Chuo, Aoba-ku, Sendai-shi, Miyagi Prefecture
Opening Hours: 11:00-19:30 (Last Orders 19:15)

Animate Cafe Gratte Official Website: https://www.animate.co.jp/gratte/

HAIKYU!! TO THE TOP Event to be Held in Collaboration With Tobu Zoo in Saitama

Japanese company arma bianca and Tobu Zoo have announced a special event in collaboration with HAIKYU!! TO THE TOP which will take place at Tobu Zoo from October 3 to December 27 this year.

Fans who roll up to Tobu Zoo during this time will find illustrations dotted around featuring the characters of HAIKYU!! themselves visiting the zoo. Fans will also be able to get their hands on pre-sale merchandise of the characters in superdeformed mode, enjoy food inspired by the series, and more.

Further details will be announced in the coming months in the lead up to the event, so watch this space.

©Haruichi Furudate / Shueisha・"HAIKYU!!" Production Committee・MBS

Information

HAIKYU!! TO THE TOP x Tobu Zoo
Running: October 3, 2020 – December 27, 2020

Location: Tobu Zoo

Address: 110 Suka, Miyashiro, Minamisaitama District, Saitama 345-0831, Japan

Event Website: http://www.tobuzoo.com/event/details/1678/

*Information listed is subject to change

*Event is subject to cancellation depending on the situation surrounding COVID-19

Animate's Shonen Jump Fair 2020: My Hero Academia, Demon Slayer, One Piece & More

The series of Shonen Jump are set to fall on the Japanese anime merchandise chain Animate as "Jump Fair in Animate 2020" begins on March 19 and will run until April 12.

Fans can expect exclusive merchandise from various Shonen Jump series, as well as original bonus items when they purchase items from Animate stores across Japan. More on these below.

Bonus Items – Batch ①: Jump Fair Selection (Select Items)

Those who purchase or pre-order any piece of designated merchandise at Jump Fair in Animate will receive one of the pictured cards or other item. You can also get your hands on some of the original Shonen Jump items sold at Jump Festa last year, a popular Shonen Jump festival held every year.

The bonus items will be split into two batches sold at different dates and comprised of 58 items in total. Batch 1 items will drop from March 19 to April 2 and will include merchandise from My Hero Academia, The Promised Neverlandーfor which a live-action film has been green-litーand more. Batch 2 will available commencing April 3 and will include series like One Piece, Demon Slayer: Kimetsu no Yaiba, and more.

If you're a Shonen Jump fan, and are headed to Japan this spring, then don't miss out on Animate's Shonen Jump fair.

©SHUEISHA Inc. All rights reserved.

Dr. Stone, Haikyu!!, & Gintama Theme Songs to be Featured On BURNOUT SYNDROMES Anime Concept Album

Three-piece Japanese band BURNOUT SYNDROMES announced at the finale of their solo tour at Namba Hatch in Osaka, their home city, that they will release an anime concept album of their best anime songs.

Entitled BURNOUT SYNDROMEZ, the record will be released on March 25, 2020, and will feature theme songs they have performed for various anime series, such as Dr. Stone, Haikyu!!, Gintama, and more.

The album will contain a total of 12 tracks, including their latest single PHOENIX which is used as the opening theme for the ongoing TV anime series Haikyu!! To The Top, as well all of their anime songs to date, two new songs, a remix, a rearrangement, and more.

Anime fans can expect to hear some seriously popular tracks like the second opening theme FLY HIGH!! from season two of Haikyu!!ーwhich was the band's debut singleーas well as the season three opening theme Hikari Are. It also includes their third single Hana Ichi Monme which is the first ending theme of Gintama: Shirogane no Tamashii-hen, the first Dr Stone opening theme Good Morning World, and so on.

The album is a must-have for both anime, manga and game fans as well as fans of BURNOUT SYNDROMES. First Press Edition copies of the album come with the band's first-ever Blu-ray which will feature eight music videos and live performances of six songs from their tour last year. It will also include a comic which has the BURNOUT SYNDROMES members as the protagonists of an adventure story.

BURNOUT SYNDROMES will promote BURNOUT SYNDROMEZ with a Japan tour in 2021.

Information

BURNOUT SYNDROMEZ

Release Date: March 25, 2020

First Press Limited Edition (CD+Blu-ray+Comic): ¥4,200 (Before Tax) [ESCL-5366~5367]

Regular Edition (CD): ¥2,500 (Before Tax) [ESCL-5368]

Official Website: https://burnoutsyndromes.com/

Haikyu!! TO THE TOP

Official Website: https://haikyu.jp/

©Haruichi Furudate / Shueisha・"Haikyu!!" Production Committee・MBS

BURNOUT SYNDROMES Haikyu!! Opening Theme 'PHOENIX' Music Video to Premiere On YouTube

Three-piece Japanese rock band BURNOUT SYNDROMES have announced that the music video for their new single PHOENIX will premiere on YouTube on Friday January 31 at midnight (JST).

The incredibly popular song serves as the opening theme for the ongoing TV anime series Haikyu!! TO THE TOP and blew up on Japanese social media when it was released digitally on Friday last week.

The music video was directed by Takahashi Chiba, who also directed the BURNOUT SYNDROMES music videos for FLY HIGH!! and Hikariareーwhich just so happen to be theme songs for Haikyu!! too. The new video stars Mita Ibuki of Japanese idol group CROWN POP who plays the role of a high school girl.

BURNOUT SYNDROMES – "PHOENIX" Music Video (Premiering January 31, 2020 at Midnight JST)

The BURNOUT SYNDROMES band members are scheduled to post in the chat during the premiere, so be sure to tune in to watch it in real time. PHOENIX will also be released on all major streaming services, including Spotify.

BURNOUT SYNDROMES released the following statement: "'PHOENIX' is the opening theme for the anime series Haikyu!! TO THE TOP. The song is sure to resonate emotionally with people who have devoted themselves to something. The music video uses time loops, which is a rare addition for us. It's set in a school where a girl meets the three members of BURNOUT SYNDROMES. The girl dances like a phoenix to the powerful lyrics and music. I think everything in the music video matches together wonderfully, so it's a must-watch!!"

The music video's director Takahashi Chiba said: "We went back to basics with this one, using a high school girl as the main role. The song is called 'PHOENIX.' The video centres on the idea of the phoenix which dies, resurrects, and transforms over and over again. When you're alive, you bump into walls, and no matter how many times you may come to that wall, you cannot get over it. But even if you think about that same wall, or the same situation, something is sure to change each time you come face to face with it. When your life seems to be going backwards, if you keep on endeavouring during those simple days when nothing changes, you'll suddenly arrive at a day when it feels like all your hopes have vanished. It's better to believe that you will get over that wall of life when you find yourself at the boundary of your own limits. Because nobody knows if that wall, or that scene, will be the last thing you see. I used time loops to express this idea in the music video."

©Haruichi Furudate/Shueisha・"Haikyu!!" Production Committee・MBS

Information

5th Single – "PHOENIX"

Release Date: February 12, 2020

・First Press Limited Edition (CD+DVD): ¥1,545 (Before Tax) [ESCL 5333-4]

・Regular Edition (CD): ¥1,091 (Before Tax) [ESCL 5335]

・First Press Anime Limited Edition (CD+DVD): ¥1,636 (Before Tax)

Download Links: https://erj.lnk.to/G_4dJ

CD Pre-Orders (Japan):https://erj.lnk.to/phoenix_cd

BURNOUT SYNDROMES Official Website: https://burnoutsyndromes.com/

Haikyu!! TO THE TOP

Initial Broadcast: January 10, 2020

Official Website: https://haikyu.jp/

BURNOUT SYNDROMES Haikyu!! Opening Theme Hits Number One On iTunes Japan's Anime Charts

The new single PHOENIX from Japanese rock band BURNOUT SYNDROMES topped the anime charts on iTunes in Japan yesterday morning. The song was released digitally on January 24, 2020, ahead of the CD release which is set for February 12, 2020.

The song serves as the opening theme for the ongoing TV anime series Haikyu!! TO THE TOP and blew up on Japanese social media when it was released digitally on Friday last week.

PHOENIX also topped the singles charts of multiple platforms, placing BURNOUT SYNDROMES alongside multiple big artists, coming in at No. 5 on Recochoku's Singles Charts, No. 2 on mora, and No. 5 on animelo mix, in Japan.

The track is BURNOUT SYNDROMES' third song written for the Haikyu!! series, following from FLY HIGH!! and Hikari Are.

The band will release the music video for PHOENIX in February, when the song will also hit major digital streaming platforms.

©古舘春一/集英社・「ハイキュー!!」製作委員会・MBS

Information

5th Single – "PHOENIX"

Release Date: February 12, 2020

・First Press Limited Edition (CD+DVD): ¥1,545 (Before Tax) [ESCL 5333-4]

・Regular Edition (CD): ¥1,091 (Before Tax) [ESCL 5335]

・First Press Anime Limited Edition (CD+DVD): ¥1,636 (Before Tax)

Download Links: https://erj.lnk.to/G_4dJ

CD Pre-Orders (Japan):https://erj.lnk.to/phoenix_cd

BURNOUT SYNDROMES Official Website: https://burnoutsyndromes.com/

Haikyu!! TO THE TOP

Initial Broadcast: January 10, 2020

Official Website: https://haikyu.jp/

Haikyu!! Season 4 To The Top Fair to be Held at Animate Stores Across Japan

Animateーa chain of anime and manga related merchandise storesーhas announced that it will hold a fair to promote season four of the ongoing TV anime series Haikyu!! from February 15.

Haikyu!! is a popular manga series written and illustrated by Haruichi Furudate and serialised in Weekly Shonen Jump. The series has spawned an anime series and stage adaptation. The fourth season of the anime series began airing on January 10 this year.

The event will be held at Animate stores from February 15 to March 8 where fans of the series can get their hands on exclusive merchandise. Those who purchase or pre-order items will receive one of 8 possible postcards as pictured above featuring the cast of characters.

A special pop-up shop at the Sendai and Yokohama Vivre branches of Animate will also be open from February 15 to March 1, which will include not only merchandise, but a chance for fans to deepen their love of the series even more. Those who purchase any of the items at those shops will receive one of the above-pictured postcards. Exclusive big-size badges will also be sold in Sendai and Yokohama, so don't miss out.

©Haruichi Furudate/Shueisha・"Haikyu!!" Production Committee・MBS

Information

Haikyu!! TO THE TOP Promotional Fair

Running: February 15, 2020 – March 8, 2020

Location: Animate stores in Japan

Notes: If you purchase Haikyu!! related merchandise or pre-order the season 4 DVD or Blu-ray during the fair you will receive one of 8 possible postcards. For every ¥1,000 spent on the manga, books, or character merchandise, for every CD, DVD or Blu-ray bought, and for every DVD or Blu-ray pre-ordered (collectively over ¥1,000), you'll receive a present.

Haikyu!! TO THE TOP Animate Only Shop

Running: February 15, 2020 – March 1, 2020

Location: Animate Sendai / Animate Yokohama Vivre

Notes: If you purchase Haikyu!! related merchandise you'll receive one of 12 possible postcards. For every piece of character merchandise bought, and for every CD, DVD or Blu-ray bought, you'll receive a present.

Fair Website: https://www.animate-onlineshop.jp/contents/fair_event/detail.php?id=103322

Animate Only Shop Webpage: https://www.animate.co.jp/onlyshop/302652/