McDonald's Japan to Release Pink Triangular Strawberry and Chocolate Pie
McDonald's Japan is releasing a new strawberry flavour of its popular triangular chocolate pie dessert on December 4, 2019: the Sankaku Choco Pie Amaou.
The chocolate pies have a crunchy exterior made up of layers and layers of delicious pastry. They're filled with warm, melted chocolate to complete the tempting treat.
The new flavour is made with strawberry powder made from Japanese amaou strawberries which are known for their distinct flavour and subtle sweetness and sourness. McDonald's Japan released an ordinary strawberry flavour last year, but this one promises to be even richer in flavour.
The choco pies will be released in a special pink strawberry packaging for a limited time.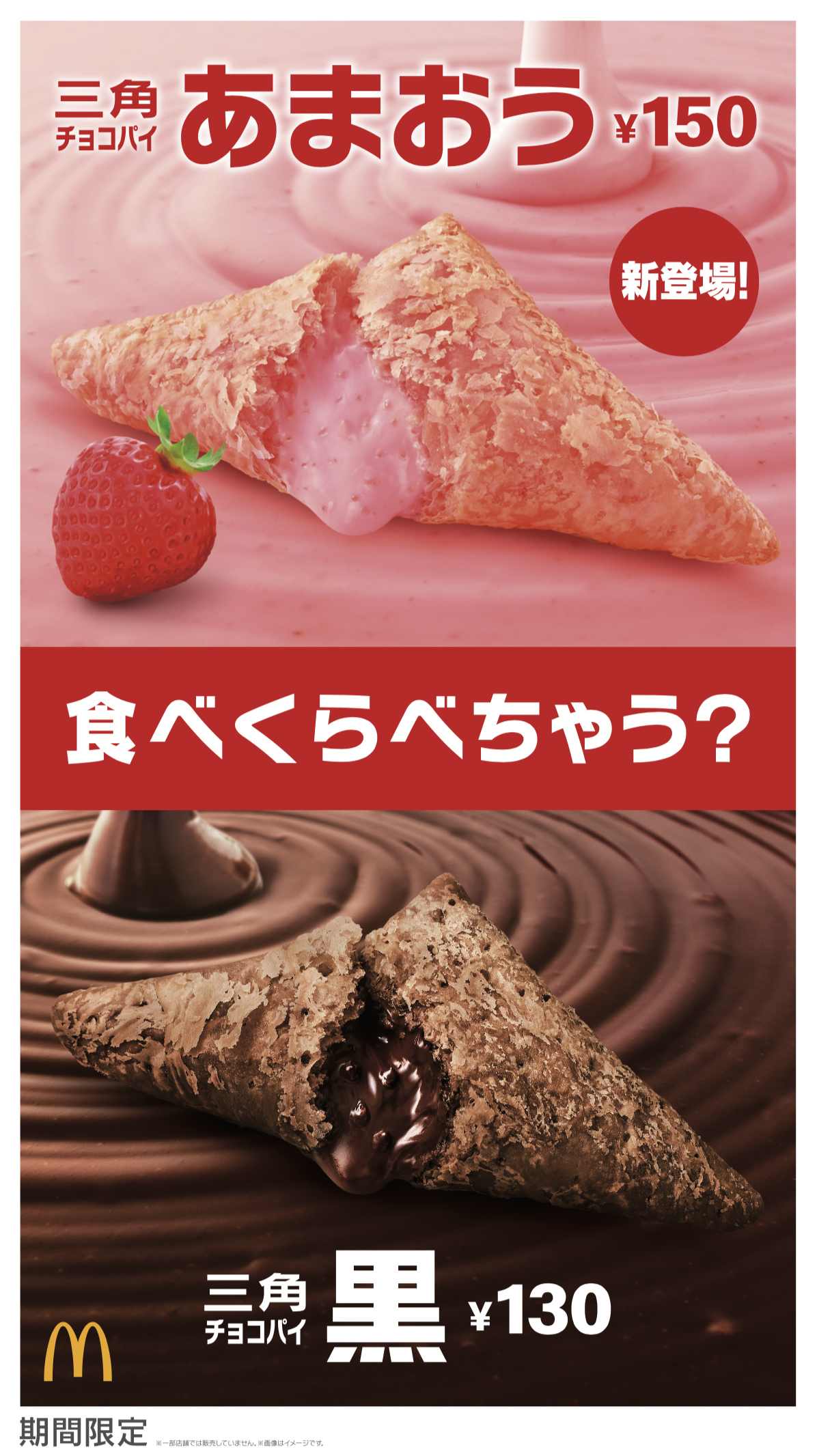 McDonald's is also still selling the Sankaku Choco Pie Black which we covered last month. It contains almonds and sweet melted chocolate cream. These are also available for a limited time onlyーuntil late Decemberーso don't miss out on these McDonald's-exclusive treats!
Information
Sankaku Choco Pie Amaou
Running: December 4, 2019 – Early January 2020 (subject to change)
Price: ¥150 (Tax Included)
Available: At most McDonald's branches around Japan
McDonald's Japan Official Website: http://www.mcdonalds.co.jp/
RECOMMENDED ENTRIES
McDonald's Japan Unveils Crunchy Cookies and Cream Triangular Chocolate Pie

McDonald's Japan's deliciously-loved triangular chocolate pie is making a return this year in an all new cookie's and cream flavour, in addition to the regular chocolate flavour, both of which will hit branches across Japan for a limited time from October 15.

The chocolate pies have a crunchy exterior made up of layers and layers of delicious pastry. They're filled with warm, melted chocolate to complete the tempting treat.

This year sees a tasty new entry to the chocolate pie series, one filled with a sweet-smelling vanilla cream containing smashed Oreo® cookies. This creates an enjoyable texture of the smooth cream and the crunchy pie.

There is of course the hugely popular original flavour known as "Black" which contains almonds and sweet melted chocolate cream. Once you order your pie of choice you'll be left wondering where to start eating from!

Each pie also comes served in their own special packaging, both of which are limited in stock.

Information

Triangular Chocolate Pie – Black

Running: October 15, 2019 – Late December 2019 (subject to change)

Price: ¥130 (Tax Included)

Available: At most McDonald's branches around Japan

Triangular Chocolate Pie – Cookies & Cream

Running: October 15, 2019 – Mid November 2019 (subject to change)

Price: ¥150 (Tax Included)

Available: At most McDonald's branches around Japan

McDonald's Japan Official Website: http://www.mcdonalds.co.jp/

McDonald's Releases Luxuriously Chocolatey Winter Drinks

McDonald's McCafé by Barista serves up delicious coffee around the clock. From November 27, a heart-warming, chocolatey lineup will be arriving in McDonald's restaurants across the country which own a McCafé by Barista. The four new drinks to spice up your winter are: the Premium White Chocolate Frappé, Premium Chocolate Frappé, Premium Hot Chocolate and the Premium Iced Chocolate.


Whether it's a frappé, hot drink or an iced drink, pick your favourite to match your mood.


The Premium White Chocolate Frappé consists of white chocolate sauce and milk mixed with smashed pieces of chocolate. The drink is topped with whipped cream and chocolate sauce made from high-quality couverture chocolate. Finally, two chocolate sticks garnish the drink.White chocolate shavings dust the drink, creating the wonderfully wintery image of snow. Take a sip of this high-quality, Instagram-worthy drink to enjoy the chocolate melt in your mouth. The pieces of chocolate floating in the drink will add a wonderful texture to your experience.

From the left: Premium Iced Chocolate, Premium White Chocolate Frappé, Premium Chocolate Frappé, Premium Hot Chocolate.

 

The Premium Chocolate Frappés, Premium Hot Chocolate and Premium Iced Chocolate drinks are just as luxurious as the Premium White Chocolate Frappé and enjoy the same beautiful toppings.

 

Get in the winter spirit with one of McCafé by Barista's luxurious, winter-limited drinks.  

*The above images are not real and are representations of what the drink will look like. 

Information

Premium White Chocolate Frappé 

Price: ¥490 (M), ¥530 (L) 

Available: November 27 – mid December 2019 (Subject to change)

Premium Chocolate Frappé 

Price: ¥490 (M), ¥530 (L)

Premium Hot Chocolate 

Price: ¥450 (M)

Premium Iced Chocolate 

Price: ¥450 (M)

Available: November 27 – mid January 2020 (Subject to change)

*All prices above are tax included.

*Available to purchase from McDonald's restaurants across Japan which have a McCafé by Barista.

*Find out more information about McDonald's restaurants on their official store locator: http://www.mcdonalds.co.jp/coffee/top.php

*The drinks can only be purchased during McCafé by Barista running times. The running times vary from restaurant to restaurant.

McDonald's Japan to Release Hot Cinnamon Melts Dessert For Wintertime

Roll up to McDonald's in Japan from November 20 to enjoy the return of the delicious Cinnamon Melts dessert, coming to all branches across the country.

McDonald's Melts series is a popular dessert in Japan. It introduced the new Double Chocolate Melts earlier this year. Customers have been waiting for the return of the elusive Cinnamon Melts since 2017, the first time the flavour made an appearance in seven long years. Well, their wish has finally come true. Look forward to tucking into soft pastry glazed with cinnamon sugar and drizzled in a sweet cream cheese syrup.

When customers open a box of these delicious delights, their noses are met with the tempting cent of cinnamon. Served warm, they are the perfect choice for tackling the harsh cold weather.

Compare their test with the Double Chocolate Melts which were released on November 6 and are still available for a limited time, or pair them with a cup of Premium Roast Coffee which the fast food chain revamped this year with a richer and more delicious flavour.

Information

Cinnamon Melts
Price: ¥300 (Tax Included)

Running: November 20, 2019 – Late January 2020 (Subject to change)

Available: At most McDonald's branches in Japan

*Price may vary from branch to branch and for McDelivery

Double Chocolate Melts

Price: ¥330 (Tax Included)

Running: Now Until Late January 2020 (Subject to change)

Available: At most McDonald's branches in Japan

*Price may vary from branch to branch and for McDelivery

McDonald's Japan Official Website: http://www.mcdonalds.co.jp/
RELATED ENTRIES
McDonald's Japan Releases Pikachu Desserts

Mc Donald's Japan released its new Sweets Trio Fruchu menu on Friday which features a line-up of three fruit-flavoured Pikachu items: the Yellow Peach McShake, Chocolate Banana McFlurry, and Hot Apple Custard Pie.


The menu items comes in limited-edition cups and packaging featuring the adorable Pikachu.




Yellow Peach McShake | Small ¥120 – Regular ¥200 (Tax Included)

A fruity and refreshing summery McShake made with sweet and sour yellow peach with that satisfying creamy McShake texture. Available in small and medium, both sizes come with three different cup designs each for a total of six.

Chocolate Banana McFlurry | ¥290 (Tax Included)

The Chocolate Banana McFlurry is served in an ice cream cup with a fresh squirt of milky rich soft serve and drizzled with banana and chocolate sauces. The ice cream is finished with a sprinkle of crunchy yellow cornflakes. Another perfect choice for cooling down in the hot summer weather. There are three possible cup designs to receive.

Hot Apple Custard Pie | ¥150 (Tax Included)

The apple custard pie is served hot with a crunchy outside and filled with custard cream made with fresh apple and vanilla beans and seasoned with caramel and cinnamon. There are three possible packaging designs to receive.



McDonald's Japan is also serving a Pikachu-style Happy Meal as part of the collaboration which come with one of six possible toys.

Kawaii Strawberry Milk by ICHIBIKO Now Stocked at 7-ELEVEN Convenience Stores

Japan's strawberry dessert specialists ICHIBIKO released their ICHIBIKO Strawberry Milk and ICHIBIKO Strawberry Milk Pudding at all 7-ELEVEN convenience stores in Japan (excluding Okinawa) on May 18.

 

ICHIBIKO's Strawberry Milk which they serve at their own cafe is made by putting sliced strawberries into a specially-made strawberry milk that has sugar in it and then finishing with frozen strawberries and a topping up of raw milk. Since its addition to the menu in 2018, ICHIBIKO has served over 150,000 cups of the sweet stuff, making it their most popular drink.

The strawberry milk and pudding now available at 7-ELEVEN is based on the flavour of this beverage. Both feature cute strawberry pink designs.

 

ICHIBIKO Strawberry Milk | ¥267 (Tax Included)


The ICHIBIKO Strawberry Milk recreates the same tasty flavour of their cafe beverage. It's made with 27% strawberry juice and fresh strawberry, and also contains raw milk, making it taste nice and fresh without being too sweet.

 

ICHIBIKO Strawberry Milk Pudding | ¥181 (Tax Included)


Like its name suggests, the ICHIBIKO Strawberry Milk Pudding is a Japanese-style pudding (purin) made with the same strawberry milk. Additions include a layer of fresh strawberry sauce and vanilla for a rich and tasty combination.

 

If you're in Japan for the spring or summer, stop by your closest 7-ELEVEN and grab yourself some of ICHIBIKO's strawberry goodness.

Information

ICHIBIKO x 7-ELEVEN

Released: May 18, 2021

Where: 7-ELEVEN (Japan, excluding Okinawa)

ICHIBIKO Official Website: https://ichibiko.jp/

These Shaman King Chocolates Are Filled With Adzuki Bean Paste and Marshmallows

TIROL-CHOCO is collaborating with the Shaman King anime series this spring with a special bag of chocolates releasing in Japan on May 17.

Shaman King (Fukuro) | ¥130

The Shaman King manga series written and illustrated by Hiroyuki Takei has over 38 million copies in circulation. This marks TIROL-CHOCO's second collaboration with its anime adaptation.

Inside each bag are individually wrapped chocolates each with a different character on the packets. There are eight designs in total, but one bag contains just seven. The chocolates are stuffed with adzuki bean paste, adzuki bean chocolate, and marshmallows.

©武井宏之・講談社/SHAMAN KING Project.・テレビ東京

Information

Shaman King (Fukuro)

Japanese Product Name: シャーマンキング〈袋〉

Release Date: May 17, 2021

TIROL-CHOCO Official Website: http://www.tirol-choco.com/

McDonald's Japan Releases Peach Smoothie and Frappe Made From Three Kinds of Peaches

McDonald's Japan is releasing two new beverages at McCafé by Barista® on April 28 each made with three varieties of peach: the Gorotto Peach Smoothie and Fuwa Fuwa Peach Creamy Frappe.

Gorotto Peach Smoothie: Regular ¥440 / Large ¥480

Fuwa Fuwa Peach Creamy Frappe: Regular ¥490 / Large ¥530

McDonald's Japan's original Peach Smoothie and Peach Frappe beverages first appeared in 2015 and have been slurped up by customers every year since. This year, they return even juicier and more delicious than ever before by being made with three kinds of peach juice: yellow peach, white peach, and for the first time, nectarine.

The Gorotto Peach Smoothie cup is topped with a sauce made from fresh white peach pieces that give an exquisite sweet kick to the richly sweet yellow peach. The nectarine adds a sweet and sour layer to the mix for the ultimate peach combination. The Fuwa Fuwa Peach Creamy Frappe has all of this plus a topping of fluffy whipped cream. And for an extra ¥60, customers can double the amount of sauce they can have on either of these drinks.

While these limited-time drinks are on offer, customers can pick up a stamp card. For every peach frappe or smoothie ordered, they'll get a stamp. Collect all four and get yourself a free regular-sized mango smoothie, green smoothie, chocolate frappe, or espresso frappe. The card is valid from April 28, 2021 to September 30, 2021.

Information

Gorotto Peach Smoothie / Fuwa Fuwa Peach Creamy Frappe

Release Date: April 28, 2021

Where: McCafé by Barista branches of McDonald's in Japan

McDonald's Japan Official Website: https://www.mcdonalds.co.jp/

KitKat Japan Releases New Mini Maple Chocolate Bars For Earth Day

In accordance with Earth Day, which is set for April 22, Nestlé released its limited-time KitKat Mini Maple on Monday to raise awareness of environmental issues and the future of the planet.

KitKat Mini Maple (3 Included)

KitKat Mini Maple (12 Included)

9 packaging designs with different messages related to the environment

'KitKat Always For Earth Day' online talk event to take place on April 30

In September 2019, Nestlé began packaging five of its major large-sized KitKat bags in paper bags rather than plastic, and since autumn 2020, most of their large sized bags are now made from paper. This has helped reduce 450 tonnes of plastic per year.

Now, Nestlé is releasing a new collection of packages for Earth Day featuring original designs by up-an-coming young artist SUGI. Each features messages from members of MIMO, a group managed by Japanese model Mila Aina, stating messages about helping to protect the environment and the future of planet earth.

Tokyo's New Vegan Dessert Shop the vegan marshmallooow Opens in Ginza

Ginza Mitsukoshi is welcoming a limited-time vegan dessert shop by the name of 'the vegan marshmallooow' which is open from April 1 to June 30. This shop is known amongst the vegan community in Japan for its vegan cakes, and due to that positive response, is now opening its first long-term promotional pop-up shop in collaboration with Mitsukoshi Isetan Group.

Online orders opened at Mitsukoshi Isetan on March 27 with a delicious line-up that includes their signature vegan chocolate cake.

A look at just some of the mouth-watering line-up

Chocolate Cake

Their number one most popular order: a gorgeously gluten-free mirror cake made with rich chocolate.

 

<NEW> Whole Fruit Cake

For those who like something a little more fruity and refreshing, this juicy cake is topped with assorted fruits like setoka orange, peach, kiwi, blueberry, strawberry, and more. The gluten-free sponge and soy cream give it a light texture that's also rich.

 

<NEW> Special Chocolate Cake Slice

An exquisite three-layered version of the shop's iconic chocolate make made with plant-based ingredients. Its triple tier is formed harmoniously of sponge, chocolate mousse, and cream. A single serving for a single sweet tooth.

Strawberry Shortcake

Two moist layers of gluten-free strawberry sponge with a soy milk base. Smooth, creamy, light, and delicious.

 

Mont Blanc

This mont blanc is specially made with Japanese chestnuts. The addition of soy cream elevates the nutty flavour throughout. A crunchy tart and fluffy sponge also makes for a textural sensation.

the vegan marshmallooow's vegan cake now available online at Mitsukoshi Isetan

Vegan Chocolate Cake Set (3 Pieces)

Cherry Blossom Chocolate and Soda Releases From MAISON CACAO

Japanese aromatic raw chocolate brand MAISON CACAO is launching a new Kamakura-based brand called Shiki to Maison ("Four Seasons & Maison") which will feature chocolates that capture the events and culture found throughout the four seasons in Japan.

The first entries to the series are cherry blossom chocolates which are available from March 26 to April 4, as well as cherry blossom drink which can be enjoyed on March 27 and 28.

 

Aroma Raw Chocolate SAKURA ¥2,200 / Cacao Vinegar Soda SAKURA ¥550 (Before Tax)

Aroma Raw Chocolate SAKURA

Indulge in a box of these luxury cherry blossom chocolates which are made with 100% cacao powder which have a refreshing white chocolate aftertaste. The chocolates are made with cherry blossom as well as a fresh cream laced with salt-pickled cherry blossom. They also include a paste made from liquid drawn from cherry blossom petals. It's a taste of Japanese spring with every bite.

Cacao Vinegar Soda SAKURA

This springtime beverage includes a cacao vinegar made from cacao pulp and is coupled with fragrant cherry blossom. This one is available at the Komachi and Cacao Hanare branches as well as at CHOCOLATE BANK.

Information

Shiki to Maison Sakura Sweets

Japanese Product Name: 四季とメゾン 桜スイーツ

Serving: March 26, 2021 – April 4, 2021

MAISON CACAO Official Website: https://onlineshop.maisoncacao.com/

Häagen-Dazs Releases Matcha Chocolate Cookie and Almond Caramel Cookie Ice Cream

Häagen-Dazs Japan released two new ice cream flavours as part of its Decorations mini cup series on March 23: the Matcha Chocolate Cookie and Almond Caramel Cookie.

The visually-striking Häagen-Dazs Decorations series is a smooth, rich-flavoured ice cream with delicious toppings to compliment the ice cream.

For the third entry to Decorations, Häagen-Dazs welcomes back the Almond Caramel Cookie from 2019 and adds the all-new matcha and chocolate combo Matcha Chocolate Cookie.

Matcha Chocolate Cookie / Almond Caramel Cookie – ¥295 Each (Before Tax)

Even more delicious after stirring

The best way to enjoy Decorations is to first spoon the ice cream as it is to taste the flavours. After that, you'll want to stir it all together to all the flavours and textures fuse, creating a delightful contrast between the soft ice cream and crunchy toppings.

Almond Caramel Cookie

Almond Caramel Cookie takes inspiration from the Florentine biscuit which is a sweet pastry topped with nuts and fruits. The cup contains delicious caramel butterscotch ice cream laced with caramel sauce, all of which is topped off with crumbly sliced almonds and crunchy butter cookie pieces.

Matcha Chocolate Cookie

The Matcha Chocolate Cookie is exactly what it says on the cup: a fragrant matcha ice cream infused with chocolate sauce and topped with sweet chocolate and matcha cookies.

Information

Decorations: Almond Caramel Cookie & Matcha Chocolate Cookie

Released: March 23, 2021

Where: Japan (Supermarkets, convenience stores, department stores, and elsewhere)

Product Page: https://www.haagen-dazs.co.jp/decorations_2021/

McDonald's Japan Releases Coffee Jelly Pudding Frappe

McDonald's Japan continues its flurry of delicious releases to its diverse menu with the addition of the new Coffee Jelly Pudding Frappe which hit McCafé by Barista® branches of McDonald's on Wednesday (March 10).

The sweet beverage takes rich-tasting Japanese custard pudding, known as purin, and turns it into a drink. It's topped with fluffy whipped cream and dunked with chewy pieces of coffee-flavoured jelly which sit temptingly at the bottom of the cup waiting to be enjoyed. Together with a drizzle of caramel sauce, the drink is a perfect balance of sweet and full-body. A must-grab for the arrival of the warm spring weather.

The Ultimate Chocolate and Confectionery Indulgence is Here With LIFE IS PÂTISSIER's White Day Gifts

Japanese chocolate and baked goods bakery LIFE IS PÂTISSIER is now selling a collection of luxurious treats for White Day, the sequel to Valentine's Day in Japan, via their online store until March 14.

 

 LIFE IS PÂTISSIER is a takeout chocolate bakery that specialises in chocolate and baked confections. Some of their signature items include their pound cake and chocolate bonbons. They also serve sable biscuits, madeleines, and much more. They are based in Jiyugaoka, a neighbourhood in Meguro, Tokyo, where they enjoy plenty of customers both local and tourists. Due to the pandemic, they are currently operating entirely online.

 

LIFE IS PÂTISSIER White Day Gifts 2021

Leaf Caramel | ¥1,800 (Before Tax)

Crunchy chocolate caramel bites drizzled in even more sweet, melty caramel.

Macarons | ¥2,300 (Before Tax)

A rainbow-coloured collection of raspberry, pistachio, caramel, lemon, and chocolate macarons.

 

Madeleines (Contains 6) | ¥2,800 (Before Tax)

Refreshing madeleines made with a mix of Japanese and Italian lemons. Refrigerating them gives the outer icing a delicious crunchy texture.

Strawberry Milk Crunch | ¥900

Smashed cookies and caramel combined with strawberry chocolate and milk chocolate.

Special Box | ¥4,500 (Before Tax)

A very special collection of raspberry chocolate treats coated in dark chocolate.

Flower Swag | ¥3,200

A fragrant flower swag composed of an assortment of fresh flowers. Perfect for decorating walls and doors and overtime become dried flowers.

White Day Cards

LIFE IS PÂTISSIER is also offering White Day cards which people can couple with their gifts.

Meiji Chocolate Announces the Results of its 2020 National Confectionery Elections

In 2018 and 2019, Japanese snack and confectionery brand Meiji held its own National Elections for its long-selling chocolate brands Kinoko no Yama and Takenoko no Sato. In 2019, Jun Matsumoto and Akihiro Miwa represented each of these chocolate snacks respectively by helming the Kinoko Party and Takenoko Party. People across Japan would listen to each side's case and vote for which party, and therefore which chocolate, they liked the most.

The 2020 elections however took a different approach, instead spreading a message of love across Japan rather than a heated debate on which snack is better. The votes opened on September 15 last year and ran for four months where data was collected for each of Japan's 47 prefectures to see where each snack was more popular in each part of the country.

The 2018 and 2019 elections saw an accumulative total of 26,518,982 votes submitted. People passionately made their cases for which snack they liked the most. For 2020, Meiji wanted to bring people together and cheer them up by holding a survey that was catered most towards understanding people's love for their snacks.

Chiba hails as the place in Japan where Kinoko and Takenoko are most popular

46 of Japan's prefectures saw more love poured for Takenoko in 2020. The remaining prefecture, Fukuoka, saw more love given to Kinoko.

The 2020 elections saw participation by 300,161 more people than previous years.

Illustrations drawn of Team Kinoko and Team Takenoko supporters

The survey ranked each prefecture by popularity, and special illustrations were drawn for four prefectures each where Kinoko and Takenoko were the most popular.

Survey Database

Meiji published the data breakdown which can be downloaded for free.

It contains a wealth of information related to what people voted for.

Have you tried either of these popular snacks? If you travel to Japan, be sure to pick them up at any convenience store near you.

McDonald's Japan Serving its Famous Limited-Time Teritama Burgers Again This Spring

Spring is almost here, which means the return of McDonald's Japan's famous "Teritama" series of burgers, a delicious combination of teriyaki sauce and egg. The customer-favourites hit the menu on Wednesday (March 3).

Teritama

Cheese Teritama

Pastrami Beef Teritama

Teritama Muffin

McFizz® Iwate Prefecture White Peach (1% Fruit Juice)

McFloat® Iwate Prefecture White Peach (1% Fruit Juice)

Shaka Shaka Potato® Chicken & Garlic Seasoning

The Teritama burger is a popular order at McDonald's in Japan. First launched in 1996, it lathers a pork patty with a sweet and sour teriyaki sauce that's made from apple and garlic and tops it with a runny egg. The series includes the standard egg and teriyaki pork burger as well as the cheddar cheese-loaded "Cheese Teriyama," and the spring season exclusive "Pastrami Beef Teriyama." This year also sees the return of the "Teriyama Muffin" which was first introduced in 2017.

Don't forget to order the black pepper-covered Shaka Shaka Potato fries that come with a chicken and garlic seasoning. As well as the savoury line-up, sweet tooths can look forward to a McFizz and McFloat made with the juice of white peaches farmed in Iwate Prefecture.

McDonald's Japan also released a series of commercials for the 2021 Spring season Teritama series. Check them out below.

McDonald's Japan Teritama 2021 | 15-Second Commercial

McDonald's Japan Teritama 2021 | 30-Second Commercial

McDonald's Japan Teritama 2021 | 60-Second Commercial

McDonald's Japan Teritama 2021 | 120-Second Commercial

Information

McDonald's Teritama 2021

Released: March 3, 2021

Where: McDonald's Japan branches

Official Website: https://www.mcdonalds.co.jp/