Garrett Popcorn's Matcha Truffle Caramel Crisp Flavour Releasing for the New Year
Garrett Popcorn has announced that it will release its popular limited-edition Matcha Truffle Caramel Crisp flavoured popcorn, as well as New Year's popcorn tins with a Year of the Rat design for 2020, from December 26, 2019 in limited quantities.
Matcha Truffle Caramel Crisp / Available: December 26, 2019 – January 9, 2020 *While supplies last
The popular Matcha Truffle Caramel Crisp returns again this year, taking Garrett Popcorn's classic Caramel Crisp™, coating it in white chocolate, and sprinkling over delicious matcha powder to create the ultimate luxury popcorn.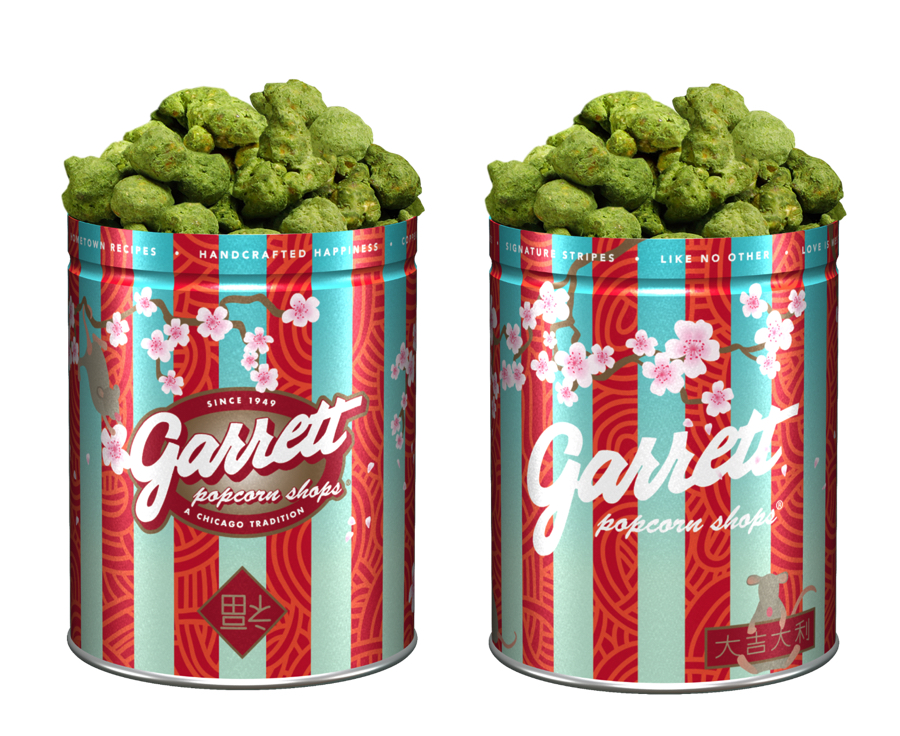 Garrett 2020 ETO Tins / Available: December 26, 2019 – January 9, 2020 *While supplies last
To get popcorn munchers in the festive mood, Garrett Popcorn has also designed these New Year's tins featuring the classic Japanese celebratory colours vermilion and light emerald green. The design is also decorated with plum blossoms and a rat to symbolise the 2020 Year of the Rat from the Chinese zodiac.
Black Truffle / Available: December 27, 2019 – January 5, 2020 *While supplies last (At Garrett Popcorn Shops® in Harajuku/Tokyo Station/Shisui Premium Outlets/Nagoya)
The company has also developed a special new recipe to chime in the New Year: "Black Truffle," a seriously luxurious indulgence. It will be sold for 10 days only when the New year rolls around.
Enjoy a Happy New Year with a bowl of these delicious popcorn flavours from Garrett Popcorn.
Information
Garrett Popcorn Official Website: http://jpgarrettpopcorn.com/
*All items listed in this article are available in limited quantities while supplies last
RELATED ENTRIES
Garrett Popcorn Reveals Cherry Blossom Pink Strawberry & White Chocolate Popcorn Flavour

American gourmet popcorn brand Garrett Popcorn Shops® has revealed its new cherry blossom pink coloured, strawberry and white chocolate flavoured popcorn "Very Berry White Chocolate," along with the new "Garrett Sakura Tin"ーboth of which will be released tomorrow on February 15 in limited quantities.

Very Berry White Chocolate: Small ¥580/Medium ¥1,030/Large ¥1,670/Jumbo ¥3,300/Quarter Tin ¥1,700/1 Gallon Tin ¥4,300/2 Gallon Tin ¥8,250

Also released for spring last year to overwhelming popularity, the "Very Berry White Chocolate" popcorn takes Garrett Popcorn's fruity, sweet and sour "Strawberry Caramel Crisp™" flavour, coats it in sweet white chocolate, and sprinkles it with strawberry flakes to create a truly succulent strawberry treat, which is made even more delicious with the milk white chocolate. Its pink colour also brings to mind images of Japan's cherry blossoms.

Garrett Sakura Tin/Quarter Tin: From ¥1,130

The Garrett Sakura Tin has been sold every spring since 2014, and makes a return once again for 2020, covered in beautiful cherry blossoms in full bloom.

The pink-on-pink combination is a great Valentine's Day present, for a springtime movie nightーwhatever takes your fancy!

Information

Garrett Sakura Tin

Running: February 15, 2020 – April 15, 2020 (Available while supplies last)

Available: At all Garrett Popcorn Shops® branches in Japan

*Limited quantities sold per day. Available while supplies last.

*Jumbo and 2 Gallon sizes available at Shisui Premium Outlets and LaLaport Expo City branches only.

Official Website: http://jpgarrettpopcorn.com/

Valentine's Day 2020 in Japan: Must-Buy Chocolate & Sweet Gifts

Christmas is over, and Easter is still on the horizon, but if you love chocolate as much as we do, never fearーas our sweet tooth cravings will soon be satisfied with the season of love.

In Japan, shop's and restaurant's are already carving their Cupid arrows to fire at customers for Valentine's Day to tempt them into one of their many tantalising treats. If you're in Japan this year, we've whipped up a list just for you of five must-buy gifts for Valentine's Day 2020.

Garrett Popcorn

Almond Chocolate Truffle | Garrett Valentine's Tin | Valentine's Mix

Garrett Popcorn is an American brand of popcorn that boasts a myriad of gourmet handcrafted popcorn flavours. You may not know that it's also a household name in Japan, where they also make the popcorn fresh every day for snack-hungry customers. For Valentine's, they serving up an exclusive series full of love which consists of the "Almond Chocolate Truffle," "Garrett Valentine's Tin," and "Valentine's Mix."

Almond Chocolate Truffle in Garrett Valentine's Tin – From ¥1,130

First up, the Almond Chocolate Truffle. If you're not already drooling at that name, let the description begin: this popcorn takes Garrett's crushed almond CaramelCrisp™️, coats it in chocolate, and sprinkles it generously with a dust storm of cocoa powder. The fragrant scent and texture of the almonds adds an incredible touch to the combination of the sweet, velvety milk chocolate and the slightly-bitter bite of the cocoa powder. Get in the Valentine's mood even more by purchasing one of the Garrett Valentine's Tin – the perfect accompaniment to your movie night in with your loved one.

Valentine's Mix (Chocolate Cocoa & Strawberry) – ¥1,200

Valentine's Mix (Chocolate Cocoa & White Chocolate Bark) – ¥1,200

Last year, Garrett Popcorn release a cute heart-shaped tin big enough to fit in the palm of your hands. 2020 will see the return of the tin, this time with two different designs: one with kissing lips and the other with hearts.

Inside the first tin is a mix of sweet chocolate cocoa flavoured CaramelCrisp™️ and sour freeze-dried strawberries. The other tin, which has a more sophisticated chocolate brown and salmon pink design, contains the same cocoa flavoured CaramelCrisp™️ but combines it with "white chocolate bark" – a white chocolate made with almonds and dried cranberries.

▶︎Garrett Popcorn Valentine's Day Products

Running: January 10, 2020 – February 14, 2020 (Mix available from January 17, 2020) *While supplies last

Prices:
・Almond Chocolate Truffle: Small ¥620/Medium ¥1,100/Large ¥1,720/Jumbo ¥3,450/Quart Tin ¥1,750/1 Gallon ¥4,400/2 Gallons ¥8,400
・Garrett Valentine's Tin/Quart Tin: From ¥1,130
・Valentine's Mix: ¥1,200
Available: Garrett Popcorn Shops®︎ branches in Japan
Official Website: http://jpgarrettpopcorn.com/

KitKat Chocolatory

Ruby 2020 Assortment

KitKat Chocolatory is releasing a new assortment of KitKat treats for the Valentine's season in Japan made with ruby chocolateーthe fourth type of chocolate alongside milk, white, and darkーwhich was developed by Belgian-Swiss chocolate makers Barry Callebaut.

KitKat Chocolatory Ruby 2020 Assortment – ¥1,200

Ruby chocolate gets its striking pink colour from the original bean and has a distinct fruity sourness to it. This is the perfect Valentine's Day giftーor even just as a treat to yourself!

▶︎KitKat Chocolatory Ruby 2020 Assortment

Price: ¥1,200
Running: from January 15, 2020
Available: KitKat Chocolatory store/Online
Official Website: https://nestle.jp/brand/kit/chocolatory/

GODIVA

Valentine's Collection

GODIVA, one of the main players in the Japanese chocolate game, has developed the "Chocolate Chronicle Sweet Collection"ーan assortment of individually unique chocolates. The "chronicle" refers to the many places the chocolates have encountered since being created, both in the past and present.

Chocolate Chronicle Sweetheart (Contains 6) – ¥3,240

Chocolate Chronicle Chic Assortment (Contains 15) – ¥6,264

The "Original Maya" considers the civilisation and mysteries of Mesoamerica. The "Cocoa Honey Delight" uses honey to sweeten the chocolate like they did in the latter half of the Middle Ages when there was no sugar. The "Modern Love"burns into your mind the image of its vivid red heart lovingly made with sweet and sour strawberries, ganache, and milk chocolate.

▶︎GODIVA Valentine's Collection 2020

Running: from January 10, 2020 (Limited Time)
Prices:
Chocolate Chronicle Sweetheart: 6 Set ¥3,240/12 Set ¥5,400
Chocolate Chronicle Chic Assortment: 4 Set ¥1,296/6 Set ¥2,160/10 Set ¥3,240/16 Set ¥5,400
Chocolate Chronicle Sweet Kare Assortment: 6 Set ¥1,080
Chocolate Chronicle Chic Collection: 4 Set ¥1,836/6 Set ¥2,700/9 Set ¥3,888/12 Set ¥5,076/15 Set ¥6,264/20 Set ¥8,208
Official Website: https://www.godiva.co.jp/

Koi Suru Chocolate

Valentine's Collection 2020

The base of these treats is chocolate by Shiroi Koibito. The collection was first released in January 2018 and is very reminiscent of Hokkaido chocolate. There are lots of chocolates in the collection made with cute pink ruby chocolate too.

Mille-feuille (Contains 3) – ¥520

These mille-feuille are layered with milk and white chocolate and coated in things like couverture chocolate and ruby chocolate.

The Heart (Contains 7) – ¥1,080

Each of these hearts has its own distinct sauce: the ruby chocolate has blackcurrant, the milk chocolate has caramel, and the white chocolate has yuzu.

▶︎Koi Suru Chocolate Valentine's Collection 2020

Release Date: January 17, 2020
Available: ISHIYA store/Online
Prices:
Mille-feuille: 3 Set ¥540/6 Set ¥1,080/12 Set ¥2,160
The Heart: 7 Set ¥1,080/14 Set ¥2,160
Official Website: http://www.ishiya.co.jp/koi_choco/

Morozoff

Valentine's Dessert Plate

Morozoff specialises in western-style sweets, and at Cafe Morozoff, they're serving up a Valentine's-only dessert.

Valentine's Dessert Plate – ¥1,200

The beautiful dessert plate is an assortment of cute heart-shaped treats. The rich chocolate mousse has an orange scent, and the fluffy chocolate sponge combines sweet and sour strawberries with smooth whipped cream which elevate the flavour of the chocolate.

▶︎Morozoff Valentine's Dessert Plate

Running: January 15, 2020 – February 14, 2020

Available: select Cafe Morozoff branches in Japan
Price: ¥1,200 (comes with tea or coffee)
Official Website: http://www.morozoff.co.jp/

Did you enjoy this list? There's plenty of Valentine's Day delights to be enjoyed while in Japan. Which on this list has you drooling the most?

4 Matcha-tastic Desserts Selling at Convenience Stores in Japan

If you love delicious Japanese desserts and are keen to discover more, you've visited the right website. Today with the help of Instagrammer Yukko, we'll be looking at matcha desserts you can purchase from Japanese convenience stores. 

Matcha Purin Cake Sandwich: ¥324/ Family Mart

Matcha Purin Cake Sandwich: ¥324

This is a fluffy sandwich with a hearty filling of sweet matcha purin, matcha cream, whipped cream and red bean paste. The fluffy cake and light cream create a wonderful balance of textures and enjoy a moderate sweetness. This dessert is sure to leave your stomach fully satisfied.

Dorayaki Pancakes Stuffed with Matcha Cream: ¥300/ 7-Eleven


Dorayaki Pancakes Stuffed with Matcha Cream: ¥300


The delicious aroma of the matcha will entice you before you have even tried it. The refined, rich matcha flavour will spread throughout your mouth and melt beautifully. 

Uji Matcha and Shiratama White Dumpling Parfait:¥300/ 7-Eleven


Uji Matcha and Shiratama White Dumpling Parfait:¥300

This is a luxurious parfait containing Shiratama dango, warabi mochi, matcha whipped cream, dorayaki pancake pieces, plain whipped cream, matcha mousse and matcha starch cakes. Enjoy a variety of textures – perfect for the matchaholic!

Matcha & Sweet Red Beans & Whipped Cream Doyayaki: ¥140/ 7-Eleven

Matcha & Sweet Red Beans & Whipped Cream Doyayaki: ¥140

Sweet red bean paste, matcha sauce, whipped cream and chewy warabi mochi are stuffed between two matcha dorayaki. The matcha sauce is rich and plentiful, creating the perfect matcha-tastic treat.

 If you're on a matcha hunt, how about starting at the convenience store? There are just so many matcha desserts to discover. Mogu Mogu Yukko's Instagram is full of delicious desserts that you can buy from Japanese convenience stores and supermarkets. If you're looking for a sweet treat, make sure to check it out.

 Original Article Contents and Photos By: Mogu Mogu Yukko

*Convenience stores are always updating their products and therefore the desserts mentioned in this article may stop selling at any time. Please check the convenience store's social media or official website for the most up-to-date information. 

CHAYA 1899 TOKYO To Open in February Serving Specially Made Tea

With a history of 120 years in managing a number of old hotels and restaurants, the Ryumeikan Group will open a new café that sells Japanese desserts, pastries, tea and coffee called CHAYA 1899 TOKYO. The new café is set to open on February 21, 2020 and will embrace the delicious flavours of matcha, hōjicha and Japanese black tea. 

The café will open on floor 1 of the boutique hotel Hotel 1899 Tokyo. The café interior is wood-themed with touches of black for a casual fusion of tradition and modernity. With a space of 120 square metres, the relaxing environment is spacious enough to seat 38.

The original restaurant opened for business in December 2018. Now, CHAYA 1899 TOKYO specialises in Japanese beverages and intends to live its days as the tea shop that customers can visit as they please for a break from everyday life.

One of the most appealing aspects of the new restaurant has to be the menu. There are 10 different drinks available. Each drink is carefully made with high-quality tea leaves that were carefully selected from all over Japan. The tea varieties include matcha, hōjicha, Japanese black tea made from Japanese tea leaves. 

Rich Matcha Latte: ¥600 (After Tax)

Each cup of tea is carefully made, one by one, by the café's Japanese tea specialist. The rich matcha tea is made using traditional tools such as a bamboo whisk. From this, soy milk or milk is added to make the rich matcha latte. From three to six grams, you can choose the strength of your tea by the gram to create a more personalised matcha latte. 

 Other drinks on the menu include the Hōjicha Latte and the brand new inventions the 'Matcha Soda and 'Japanese Black Tea Soda', which will tempt you their exquisite aromas. 

The café even has a counter especially for the tea making and pouring procedures. The water for each drink is boiled in a traditional kettle by the tea specialist, who carefully regulates the water temperature and controls the brewing time according to the tea leaf. 

Matcha Pan:  ¥600 (After Tax)

As expected, the café also sells delicious sweet treats full of matcha goodness to go with your tea. The fresh green Matcha Pan are full of matcha goodness. They are made from 100% Japanese wheat, Hokkaido butter and milk. The mixture is left to rise at a low temperature over a long period of time. Afterwards, matcha from Shizuoka is added to the mix and then baked into muffins. This original and rare bread was developed with Baba FLAT – a café which sells very popular pastries and coffee in Takadanobaba, Tokyo. 

Craving more matcha? Enjoy both matcha and hōjicha at the same time in the form of a healthy snack: the Omatcha Brownie. The brownies are made from gluten-free rice flour and enjoy a moist texture and rich flavour.

Uji matcha, a high-quality and rich matcha used in tea ceremonies, is also used to make rich matcha ice cream (Koicha Gelato) and matcha cakes called "Sakecha Cakes" which combine tea and Japanese sake or brandy with cakes. The varieties of cake include matcha and Japanese sake, hōjicha and Japanese sake and black tea and brandy.

If you're looking for a unique tea experience, look no further than CHAYA 1899 TOKYO.

Information

CHAYA 1899 TOKYO

Address: 6-4-1 Shinbashi, Minato City, Tokyo

Opening Hours: 11:30 – 21:00 (Last Orders: 20:30)

Opens: February 21, 2020

Official Website: https://1899.jp/hotels/tokyo/

Matcha Desserts in Sapporo You Just Have To Try

We've previously covered the best spots to try delicious matcha desserts in Kyoto. Now, with the help of expert dessert Instagrammer Kei, we are going to introduce you to some of the most delicious spots to try matcha desserts in Sapporo, Hokkaido.

If you want to discover more delicious cafés, desserts and drinks in Hokkaido, make sure to check out Kei's Instagram (@607keih).

 

KotoniSand, Nishi Ward

Macchan French Toast: ¥1200

 From dinners to desserts, this café serves up lots of meals based on their delicious thick-sliced bread. Bread flavours include plain, matcha and even coffee. You can order to go or enjoy the eat-in-limited menu. This fluffy french toast is soaked in matcha liqueur and is full of flavour even before trying it with the toppings. Take a bite of it with the red bean paste for a flavour adventure. A limited number of these are sold per day so if you want to try it, make sure to get there early. 

▼KotoniSand

Address: 1-1-1 Yamanote 5 Jō, Nishi-ku, Sapporo, Hokkaido

Opening Hours: 11:00-18:00
Closed: Tuesdays
Official Website: https://kotonisand.business.site

Ame no hi to yuki no hi, Minami Ward

Gelato Futatsu: ¥450

Located before Jozankei's onsen hotspot is a café called Ame no hi yuki no hi. It serves delicious pizzas and a variety of gelato flavours depending on the season. Their matcha ice cream is delicious. They even allow you to order two or three flavours at once so you can enjoy a mix and match of combinations. 

▼Ame no hi to yuki no hi

Address: 2-4-1, Jozankeionsennishi, Minami Ward, Sapporo, Hokkaido 

Opening Hours: 10:00-17:30
Closed: Thursdays
Official Website: https://www.amenohitoyukinohi.com

KANON pancakes, Shiroishi Ward

Matcha Tiramisu Pancake: ¥1500

This is a famous pancake shop in Kikusui. Tuck into a stack of fluffy pancakes inside the relaxing and soothing restaurant. The Matcha Tiramisu Pancakes are soaked with liqueur, creating a texture that is softer and moister than their standard pancakes. In addition to the matcha liqueur, the pancake is also dusted with matcha powder for a richer matcha flavour. Finally, they are drizzled with delicious brown sugar syrup and topped with walnuts.

▼KANON pancakes

Address: 5-5-18 Kikusui 3 Jo, Shiroishi Ward, Sapporo,

Opening Hours: 10:00-17:00 (Last Orders: 16:00)
No Regular Holidays
Official Website: https://kanon-pancakes.com

Any cafe, Kita Ward

Matcha Kintoki: ¥1350

This shop uses gluten-free ingredients in their food. This pancake dish is made using unpolished rice powder, three pieces of Turkish delight, red bean paste, rice flour dumplings, and cream made from Hokkaido-produced mascarpone and fresh cream. The cream is full of the bitter and delicious flavour of matcha, making the pancake sweet and very delicious. 

▼Any cafe

Address: 3-2-24 Kita 18 Jonishi, Kita Ward

Opening Hours: 11:00-18:30 (Last Orders: 18:00)
Closed: Tuesdays

Official Instagram: https://www.instagram.com/any_cafe_sapporo/

If you are looking for delicious matcha desserts in Sapporo, let this article help you decide where to go. When your food cravings kick in, make sure to visit Kei's Instagram which is full of the most delicious meals, drinks and desserts in Hokkaido. 

Original Article Contents and Photos by: Kei (@607keih )

Top Matcha Desserts in Kyoto Perfect for Your Next Instagram Post

 When you think of Kyoto, matcha immediately comes to mind. Today with the help of the Kansai region's expert dessert Instagrammer Tiara, we'll be introducing you to the top matcha dessert shops of the Kansai region. 

Kawatomo, Fushimi 

Matcha Ganache Cake

This matcha ganache cake looks just as good as it tastes. The beautiful smooth matcha coating is delicious and rich. The cake is best enjoyed with a cup of coffee and is the perfect sophisticated treat. 

▼Kawatomo

Address: 792 Nishishujakuchō, Fushimi Ward, Kyoto,

Opening Hours: 11:30-18:00

Closed: Mondays, Tuesdays and Wednesdays

Official Instagram: https://www.instagram.com/chika_ara/

Chasho Shimizu Ippoen Kyoto

A delicious spun sugar decoration rests on top of the melt-in-the-mouth matcha tiramisu parfait. The mascarpone and matcha ice cream is made completely from Hokkaido milk. The balance of flavours and moderate sweetness makes this parfait irresistible. 

▼Chasho Shimizu Ippoen 

Address: 665 Honkawaracho, Higashiyama Ward, Kyoto

Entry:11:00-16:00

Closed: Mondays*

*Open on National Holiday Mondays but closed the following day. Closed during the New Year Period.

Official Website: https://ippoen.co.jp

MATCHA REPUBLIC, Shimogyō Ward

Rock Salt Cheese Bubble Matcha Latte/ Bubble Matcha Latte

This unique drink belongs on Instagram. A cute ink bottle is filled with a mildly sweet matcha drink accented with a hint of salt. You've never tried anything quite like this before.

▼MATCHA REPUBLIC

Address: Floor 1, 721-1 Higashishiokojicho, Shimogyo Ward, Kyoto

Opening Hours: 9:00-21:00

Official Website: https://www.matcha-republic.com

JTRRD cafe KYOTO, Nakagyō 

Uji Matcha Smoothie (Kyoto-Limited)

Pink, red, orange, yellow, purple, green – this Uji matcha smoothie is a rainbow of colours. There are four different designs and you can choose from three varieties of fruit to decorate the inside of your cup. Each smoothie is made of fruit and vegetables, making this a healthy way to indulge in matcha. It is so beautiful you won't want to drink it.

If you're looking for a shop to satisfy your matcha cravings, you can't go wrong with Tiara's recommendations.

Tiara's Instagram never fails to keep us updated on the most delicious and beautiful desserts in the Kansai region so check it out.  

Article Contents and Photos by @happy_pinkrose_tiara

Kiyomizu Cheese Kobo: Kyoto's Dessert House Releases Matcha Tiramisu and New Cheese Products

Kiyomizu Cheese Kobo opened in Kiyomizu Gojozaka, Kyoto in July this year as the first place in Kyoto to specialise in "bottled cheesecakes." This month, they are releasing four new products to continue the cheese craze right to the end of 2019.

The first is a revamp of their number one most popular soft serve cheese ice cream: the "Chocolate Mont Blanc Cheese Soft." The soft serve ice cream is a mix of refreshingly sweet milk and rich cheese topped with a full-bodied mont blanc-style chocolate—a welcome addition during the winter months when you want to stay in and indulge in some chocolate. The ice cream is finished with crushed chocolate pieces and a crowning raspberry to create a chocolate cake in a cone. You're sure to become a frequent customer after a bite of this.

And for the Christmas season only, between December 18th-25th the shop is also selling another special soft serve that's made to look like a Christmas tree. The cheese soft serve is covered with a sprinkling of Uji matcha powder and adorned with chocolate pearls and stars.

Kiyomizu Cheese Kobo is also releasing hot versions of its "Kiyomizu Cheese Drink" and "Matcha Cheese Tea," the iced versions of which were greatly enjoyed in summer. The Matcha Cheese Tea can also now be ordered with tapioca topping, creating a delicious combination between the expertly crafted rich matcha cheese tea and the chewy and sugary tapioca pearls.

Also released this month is the "Homemade Matcha Tiramisu" when is served in a traditional masu box and served only on the second floor eat-in section. This irresistible delight is made with flavourful mascarpone cheese and bitter Uji matcha from Kyoto to create a dessert that's perfect during a trip or day out in Kyoto. Because of the hard labour that goes into creating this dessert, only 5-10 are served per day, so be sure to arrive early to not miss the opportunity.

Information

Chocolate Mont Blanc Cheese Soft – ¥550 (Before Tax)

Christmas Cheese Soft – ¥400 (Before Tax) *Available December 18-25, 2019 only

Matcha Tapioca Cheese Tea – ¥550 (Before Tax)

Homemade Matcha Tiramisu – ¥540 (Before Tax)

Kiyomizu Cheese Kobo

Address: 569-10 Shiraitochō, Higashiyama Ward, Kyoto, Kyoto Prefecture

Official Website: http://kiyomizu-cheese.com/

Starbucks Japan Reveals New Matcha White Chocolate Hot and Iced Drinks For Christmas

Starbucks Coffee Japan is celebrating Christmas 2019 with two new delicious beverages: the Matcha White Chocolate Frappuccino🄬 and Hot Matcha White Chocolate, both of which will be available to order between December 19 and 25 for this year only.

Both versions of this delightful holiday season drink are the perfect accompaniment to the winter days, combining richly fragrant matcha with smooth white chocolate. The Frappuccino🄬 enjoys the addition of maple syrup for a distinct sweetness which mixes gorgeously with the matcha and milkiness of the white chocolate.

The hot version is made with foamed milk which too is soaked in the full-bodied kick of the matcha. The fluffy texture of the foamed milk together with the sweet taste and velvety white chocolate is a combination sure to get you addicted.

If you're in Japan for Christmas this year, be sure to stop by Starbucks for a cup of Matcha White Chocolate.

Information

Matcha White Chocolate Frappuccino🄬

Tall: ¥570 (Tall size only)

Hot Matcha White Chocolate

Short: ¥430 / Tall: ¥470 / Grande: ¥510 / Venti®: ¥550

Running: December 19, 2019 – December 25, 2019

Available: At most Starbucks branches in Japan

Notes: Listed prices do not include tax. Both drinks contain less than 0.5% cocoa.

Starbucks Coffee Japan Official Website: https://www.starbucks.co.jp/

Furoshiki-Wrapped Matcha and Strawberry Sandwich Biscuits Released at PRESS BUTTER SAND

PRESS BUTTER SAND released two new sandwich biscuit products on December 13. PRESS BUTTER SAND Kyoto Station will release the Tsutsumi Uji Matcha and PRESS BUTTER SAND Hakata Station the Tsutsumi Amaou Strawberry. Both are limited in stock.

Both boxes of these delicious treats contain five of the store's famous "PRESS BUTTER SAND" sandwich biscuits, and they come gift-wrapped in an original furoshikiーa type of Japanese wrapping cloth. The appearance of both products in their packaging maintain an artisanal aesthetic and capture the vibe of their respective cities.

The furoshiki were designed by Yumiko Kakizaki (BAKE Inc.), the creative director at PRESS BUTTER SAND, and several creators active around Kyoto and Fukuoka. Each design was made to represent the characteristics of Kyoto and Hakata.

Also available is the Tsutsumi Black, a set each of 5 original and black flavoured butter biscuit sandwiches.

PRESS BUTTER SAND boasts over 2.5 million sales a year on average. If you've get to try their scrumptious biscuit sandwiches then don't pass up the opportunity to try these new flavours.

Information

Tsutsumi Uji Matcha (Includes 5 Uji Matcha and 5 Original Biscuit Sandwiches)

Price: ¥3,240

Available: PRESS BUTTER SAND Kyoto Station

Running: December 13, 2019 until stock sells out

Tsutsumi Amaou Strawberry (Includes 5 Amaou Strawberry and 5 Original Biscuit Sandwiches)

Price: ¥3,240

Available: PRESS BUTTER SAND Hakata Station

Running: December 13, 2019 until stock sells out

Official Website: https://buttersand.com

The Perfect Souvenir: Kyoto's Famous OTABE Confections in Velvety Matcha Chocolate

If you're in Kyoto looking for a delicious elegant souvenir for your people back home then BijuuCo.,ltd. is your port of call. Their irresistible desserts vary from their well known sweet bean paste-filled Yatsuhashi to their Kyo-Baum. They will be releasing the mouthwatering Matcha Chocolate OTABE from November 20, 2019.

The rich aroma of the matcha chocolate will be the first thing to entice you. The matcha Yatsuhashi is made from specially selected water and Koshihikari rice, which is famed as Japan's best rice. The soft and chewy texture of the Yatsuhashi dough gently embraces a velvety, melt-in-the-mouth matcha chocolate ganache filling. These OTABE confections are bursting with the flavours of Kyoto and are only available to purchase for a limited period.

OTABE combined with Kyoto's famous matcha chocolate is matcha match made in heaven. If you're ever in Kyoto, you must try it.

Information

Matcha Chocolate OTABE

Selling: November 20, 2019 to the start of May, 2020

Price: Box of 10 (2 packs of 5): ¥660 Before Tax

Eat within 11 days of production.

Purchasable from souvenir shops in Kyoto and Kyoto Station. 

Official Website: http://www.otabe.kyoto.jp/

Make Your Own Matcha Drink and Try Black Bean Butter Toast in Nakameguro, Tokyo

If you're looking for a cool café experience in Tokyo then head to Nakameguro for a goldmine of craft beer taprooms, coffee roasters and restaurants. One café to consider adding to your list of must-go places is music café and wine bar epulor. The café has added a number of exquisite and unique items to its menu this November including a matcha drink, black bean paste and butter toast and craft cola.

Take a seat and admire the walls of old records which create a soothing artistic atmosphere while sipping your cup of the café's specialty hand drip coffee or sommelier-selected wine as the music of old records fills the air. When you have finished, feel free to take a gander at the gallery corner to appreciate the cafés art. 

The November menu introduces a high-quality matcha by UK brand Matchæologist®, providing the opportunity to make and enjoy your own matcha drink. From the high-quality rich flavour to the contemporary design of the tea vessel, Matchæologist® lives up to its reputation as artisanal matcha green tea specialists.

Fans of epulor's popular Red Bean Paste and Butter Toast are in for a treat as the café is now serving up the Black Bean Paste and Butter Toast. The bread is a charcoal bread from the bakery Lotus baguette, which uses only natural yeast, Japan-produced wheat and no additives. The binchotan charcoal used to prepare the bread is a traditional charcoal which has been used since the Edo period. The appearance is just as striking as its taste. 

The café has also started to sell Japan's craft cola TOMO COLA. The cola is spiced with flavours from around the world including kola nut, nutmeg, Japanese herbs and Japanese citrus fruits. This natural cola contains no additives so you can indulge in the taste of nature and enjoy a unique flavourful experience of Japan. 

epulor is the perfect spot to enjoy a luxurious moment of relaxation during your busy day while immersing yourself in an artistic and cultural experience. 

Information

epulor

Address: ESCENARIO AOBADAI Floor 1, 1-19-10,Aobadai, Meguro, Tokyo

Opening Hours: 11:00 – 24:00

Closed: Mondays

Website: http://www.epulor.jp/

Butter Sandwich Shop PRESS BUTTER SAND Releases Uji Matcha Flavour at Tokyo Station

The butter sandwich specialists over at PRESS BUTTER SAND are bringing their famous Uji matcha flavour butter sandwiches to their Tokyo Station branch on November 13.

Known as the Uji Matcha Butter Sand, this tasty snack was developed to celebrate the grand opening of the Kyoto Station branch of PRESS BUTTER SAND. Due to high demand, they've decided to take the product to Tokyo for a limited time.

The exterior is made with butter cream and carefully selected Uji matcha. You get the full rich flavour of the matcha and delicious taste of the butter at once. The sandwich itself is filled with bitter matcha butter cream and sweet caramel butter for a sumptuously smooth combination that marries temptingly with the crunchy cookie exterior.

The sandwich biscuits come in packaging that features navy Kyoto-esque artwork inspired by the characteristic cultivation method for Uji matcha which blocks out sunlight. The sandwiches themselves are individually packaged in matcha green packets to contrast with the box.

Don't miss out on a chance to enjoy the flavours of Kyoto while in Tokyo. Available at Tokyo Station only.

Information

Uji Matcha Butter Sand

Price: Box of 5 – ¥1,150 (Tax Included) / Box of 9 – ¥2,070 (Tax Included)

Shop: PRESS BUTTER SAND Tokyo Station

Available: November 13, 2019 – November 30, 2019

Official Website: https://buttersand.com