Chat With My Melody Via Text Message Everyday With Sanrio's Official New App
My Melody's birthday was yesterday (January 18), and in the run up to it, Sanrio released a new smartphone app on Friday named "Itsudemo Issho ni My Melody" (Together Always With My Melody). Described as a "healing app," the app is My Melody's way of cheering on those who are working hard every day; it continues her support of healing people on Twitter and radio with her personality.
This app was developed together with fans, with 300 of them participating in a questionnaire for it. It has three major functions including "Text Chat," "Schedule," and "Alarm," all of which incorporate everybody's favourite bunny.
Receive texts from My Melody with Talk Chat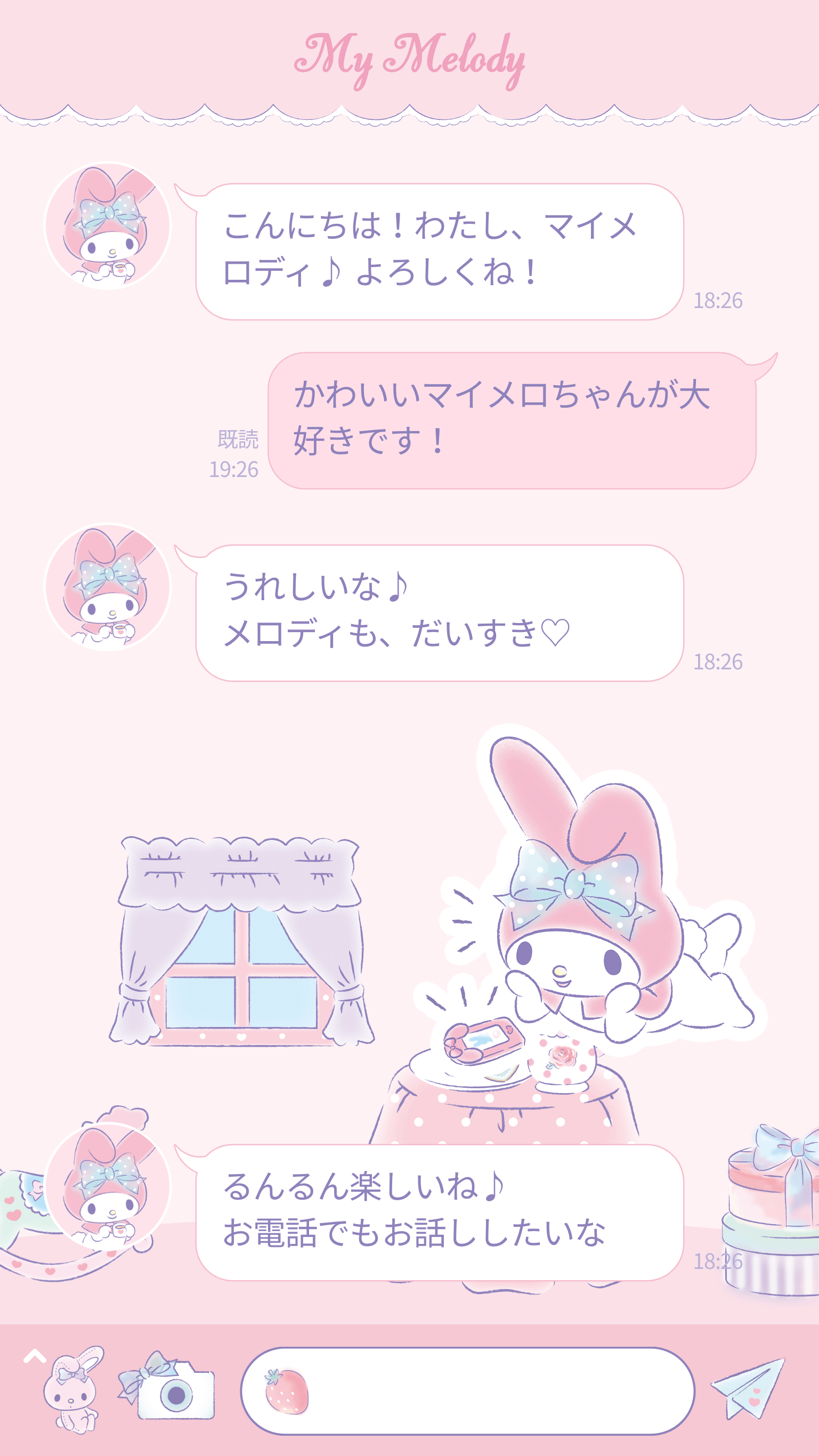 The Talk Chat function enables you to chat with My Melody via text messages. Replies are given 24 hours a day, so you can send her a text at any time, whether it's idle chit-chat or telling her a secret you can't tell anyone else. Whatever it is you want to talk to her about, her words are sure to leave you feeling warm and fluffy.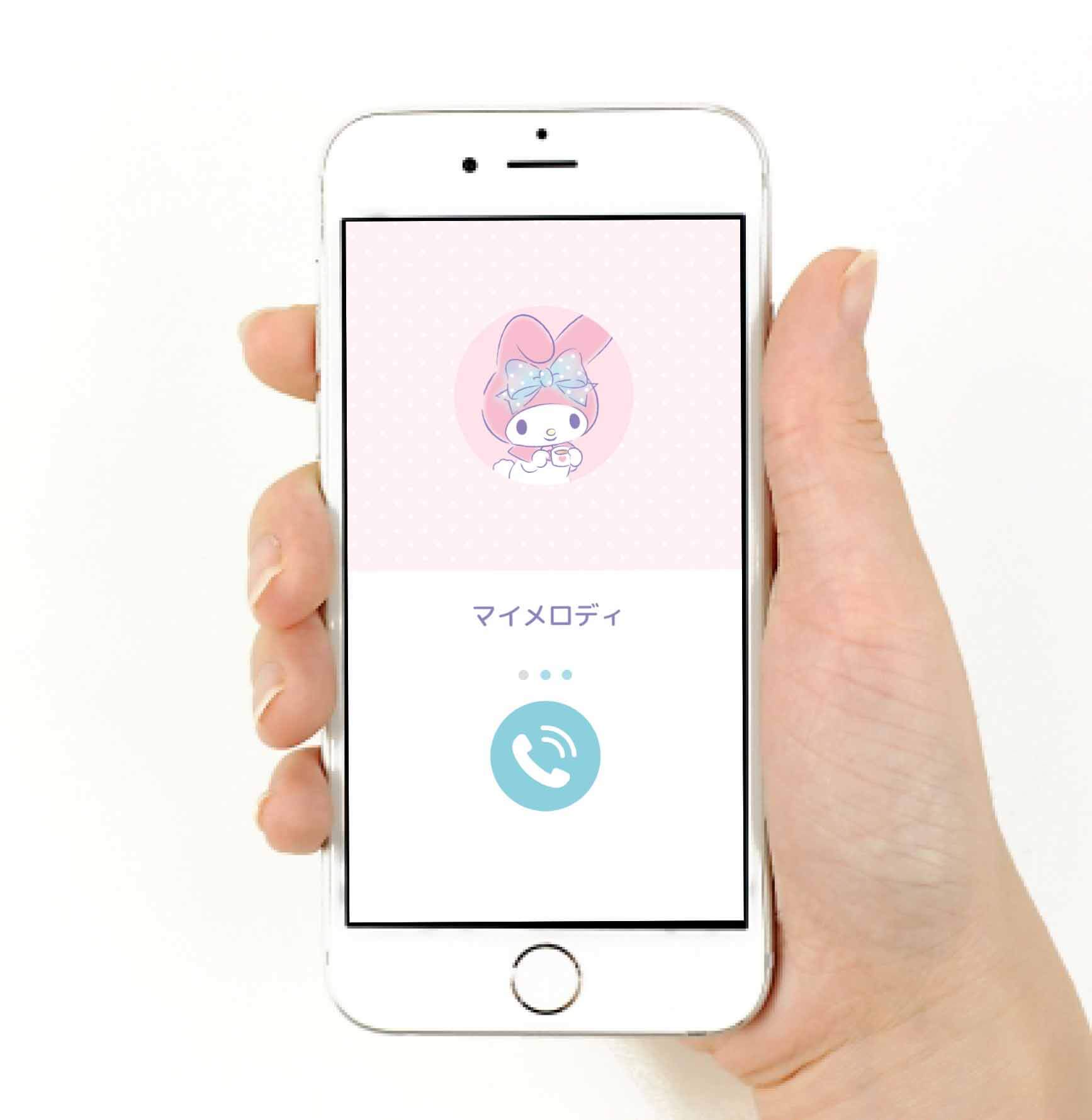 The messaging service has 12 special stamps which can only be used on the app. If you send a certain stamp, you'll even receive a call from My Melody. You can also customise the chat backgrounds as you please.
My Melody keeps your days organised with the Schedule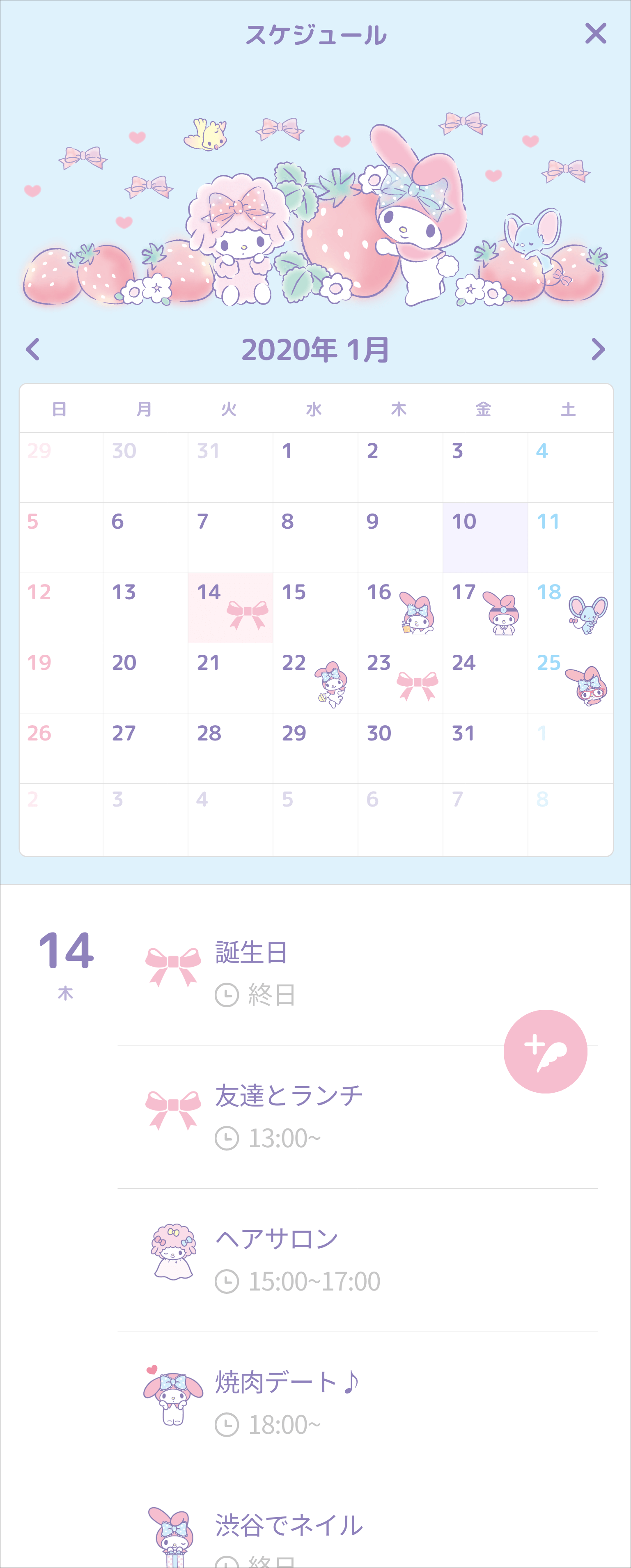 Using the app's cute calendar, you can enter your schedule for each month.
My Melody will even send you reminders of upcoming plans in the chat too, even if the app is closed, so you won't miss a thing.
There are 10 "Schedule Seals" you can use depending on what kind of reminder you are setting. Depending on which seal you use, My Melody will send you a different message. Setting a schedule has never been so much fun!
Look forward to waking up to My Melody's voice with the Alarm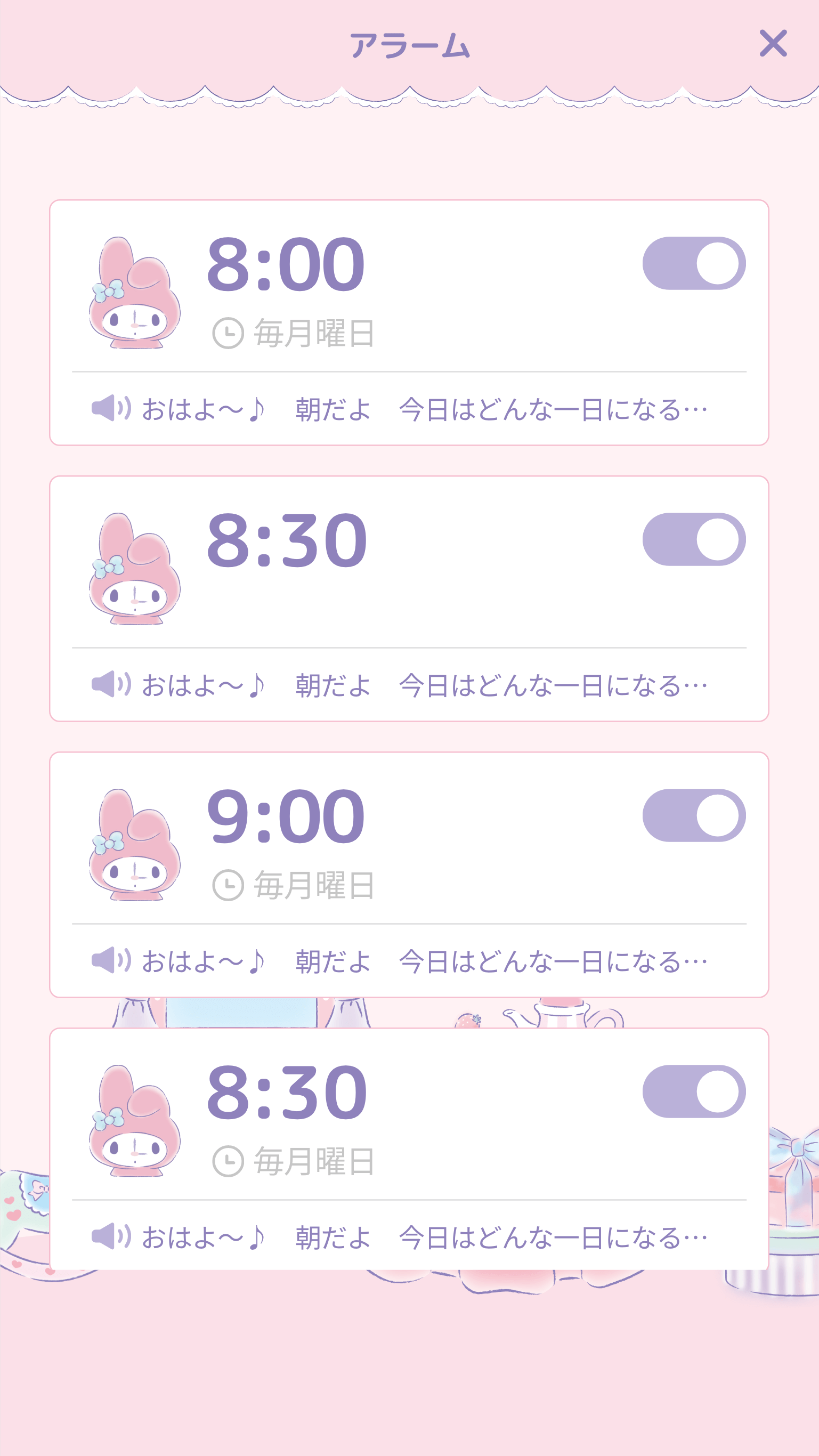 The Alarm function makes use of My Melody's voice, which is sure to support you during your busy days. There are six voice functions you can set, from waking up in the morning to break time and more.
Additional convenient functions to be released in the future
More functions are set to be released in the future, including the Weather function in March which will have My Melody informing you what the weather will be like outside. If you ask her about the weather in the chat room, she'll tell you the weather type, temperature, and more to help you prep for each day.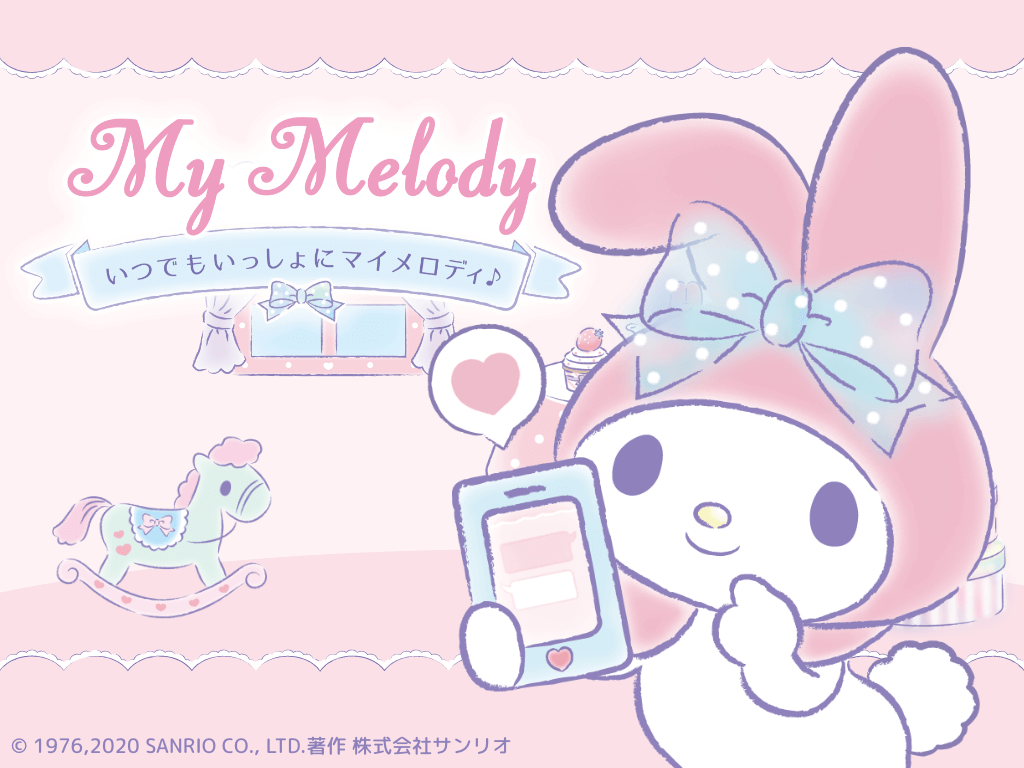 Download the My Melody app and make your days even more fun♡
©'76,'20 SANRIO
RELATED ENTRIES
Cotomono Marche Collaborates with Sanrio Characters for New Jewelry Collection

Cotomono Marche's original brand 'BUTTON&CUFFLINKS' has released a selection of earrings and brooches inspired by popular Sanrio characters! These are available online and at select Cotomono Marche stores. 

The accessories are inspired by Hello Kitty, Cinnamoroll, Pompompurin, My Melody, Kuromi, and Little Twin Stars, and are perfect for Sanrio fans of any age. 

Earrings: ¥2,750 (Tax Included) / Brooch: ¥1,650 (Tax Included)

Hello Kitty debuted in 1974 and continues to captivate fans around the world. The character peeking out from behind an apple is an original design for the collaboration. 

Pompompurin and Cinnamoroll have been transformed into adorable accessories, while My Melody and Kuromi are featured in two different color palettes: seasonal pastel or vivid. 

The Little Twin Stars accessories are perfect for wearing with a friend, with a different character on each ear!

Information

Buttons & Cufflinks Sanrio Character Mini Accessories

Release Date: February 11, 2022
Where to Buy: 26 Cotomono Marche stores nationwide, Limited-Time Shop, Online Store

Online Shop: https://cotomono.official.ec

Maison de FLEUR Announces Collaboration with Sanrio's My Melody and Nyaninyunyenyon

Japanese accessory brand Maison de FLEUR has opened orders for a new collaboration collection featuring the popular Sanrio characters My Melody and Nyaninyunyenyon! Fans can purchase the items on the STRIPE CLUB website for a limited time.

My Melody

Lace Tote Bag

Lace Ribbon Pouch

Lace Tissue Case

Shoulder Bag

Round Pouch

Nyaninyunyenyon

Square Tote Bag

Mini Pouch

Drawstring Bag

Ribbon Pouch

This project celebrates two characters who celebrated their birthdays in January. My Melody, born January 18, has been a hit in previous collaborations. The five naughty Nyaninyunyenyon kittens were born on January 17, and this is the first time they are being featured on Maison de FLEUR merchandise.

 

The My Melody collection features a number of elegant pink bags highlighted with lace. The Nyaninyunyenyon items show the energetic characters surrounded by baby bottles and ribbons, while Maison de FLEUR's iconic pearls accent each design. Which of these feminine items do you like the most?



ⓒ'22 SANRIO APPR.NO.L629830
ⓒ'22 SANRIO APPR.NO.L629825

MINISTOP Ice Cream Specialty Store 'MINI SOF' to Launch My Melody Collaboration

MINI SOF, a shop specializing in soft-serve ice cream since 1980, is now offering products in collaboration with the popular Sanrio character My Melody! A limited number of sweets and goodies will be available until January 31, 2022, with New Year grab bags containing special coupons for sale until January 9, 2022.

W Rich Soft-Serve Ice Cream

My Melody Collaboration Campaign

2022 Lucky Bag

Blanket

Desktop Calendar

Tote Bag

Soft-Serve Vanilla Ice Cream (with Strawberries and Chocolate) with Original Glass

Pink

Purple

Double Rich Strawberry Waffle Cone Soft-Serve with My Melody Collaboration Sleeve

Sleeve Design 1

Sleeve Design 2

Sleeve Design 3

Double Rich Strawberry Shortcake

My Melody Original Pouch

Design 1

Design 2

My Melody Original Keychain

Acrylic Keychain Design 1

Acrylic Keychain Design 2

Participating Characters

My Melody

Kuromi

My Sweet Piano

Information

My Melody Collaboration Campaign

Running: December 30, 2021 – January 31, 2022
*MINI SOF limited-edition pouches and acrylic keychains will also be available.

2022 Lucky Bag

*Limited to two bags per person.

Available: December 30, 2021 – January 9, 2022

Coupon Expiration Date: January 31, 2022

Official Site: https://www.ministop.co.jp/minisof/

My Melody and Kuromi Interior Gaming Goods Now on Sale

Don Quixote is now selling a new collection of interior goods perfect for gamer girls! The My Melody and Kuromi collaboration is a part of 'Don Quixote x Sanrio Characters,' and these goods can be found nationwide.

The number of girls playing video games is on the rise thanks to more interest in e-sports and more free time at home. Girls with computers love to decorate their PC space, and this new collection is perfect for those wanting some sassy Sanrio flare. Merch includes a gaming chair, neck pillows for comfort, and fuzzy rugs to liven up any space.

*Product images are examples only. The final products may differ. 

The Crayon-Shin Chan Nohara Family Get Appointed as Official Restoration Supporters of Kumamoto

In an effort to help support of the restoration efforts in Kumamoto after the 2016 earthquake devastated the prefecture, the Nohara family from the popular manga and anime series Crayon Shin-chan have been appointed official Kumamoto Restoration Supporters. This begins with a PR campaign to help promote tourism in Kumamoto's city of Aso. To celebrate, Shin-chan himself visited the Kumamoto Prefectural Government on July 15.

Shin-chan's mother, Misae, was born and raised in Aso, Kumamoto, while himself and his father Hiroshi were both born in Akira Prefecture. Shin-chan considers Aso his second home, and all of this the reason behind the family's appointment as supporters. The manga series has raised money for Kumamoto numerous times in the past, including for the Crayon Shin-chan 25th Anniversary Exhibition which saw money raised for charity products donated towards relief efforts of the earthquake disaster. This year, the series joins hands with the prefecture once more.

The 2021 summer campaign is being carried with the slogan "I'm fine! ASO." The Nohara family will serve as PR characters to spread the word about Aso. This will include a digital stamp rally that will have people travelling around the prefecture on their smartphones. The app will be released in August, followed by campaign posters, pamphlets, and other promotional material rolling out.

When Shin-chan visited the local government office for his appointment as a supporter, he played the Nintendo Switch game Crayon Shin-chan: Ora to Hakase no Natsuyasumi – Owaranai Nanokakan no Tabi with officials, which also released on the same day. In the game you can visit lots of spots around Kumamoto such as Kumamoto Station, Kusasenri Observatory, Tsujun Bridge, Aso Station, and more.


©臼井儀人/双葉社・シンエイ・テレビ朝日・ADK
©2010熊本くまモン

 ⒸNeos Corporation
Nintendo Switchのロゴ・Nintendo Switchは任天堂の商標です。

Sanrio Releases Hello Sweet Days Dress-Up App in the US, Canada, and South Korea

Digital content enterprise Cocone has made Sanrio's popular character dress-up game Hello Sweet Days available in the US, Canada, and South Korea. The app hit the overseas countries on June 10, allowing for fans outside Japan to enjoy dressing their avatars up like their favourite Sanrio characters.

Hello Sweet Days first launched in Japan back in August 2017 and has since amassed over 2 million downloads. It rolled out to Taiwan, Hong Kong, and Macao in 2020, and now an English version has finally been made available. There are plans to release the app to even more countries in the future.

Pre-registration opened early in South Korea on May 24 when it garnered 60,000 advance sign-ups. Those who registered early even received K-pop idol-style fashion items. Since releasing last Thursday, it is now being used by over 300,000 fans in South Korea.

Head on over to the App Store or Google Play and enjoy Hello Sweet Days in English now!

© 2021 SANRIO CO., LTD. TOKYO, JAPAN Ⓗ. APPROVAL NO. S620438 ©cocone corp.

2021 Sanrio Character Ranking: Cinnamoroll Takes Home the Crown For the Second Year in a Row

Sanrio announced the final results and winners of the 36th Sanrio Character Ranking, an annual event where fans vote for their favourite Sanrio character to see who is the most popular. A total of 21,346,750 votes were submitted for 2021.

2021 Sanrio Character Ranking: General Ranking

Comments from the Winners

1st Place: Cinnamoroll
"I'm going to treasure this feeling forever! Thank you all for your support!♪"



2nd Place: Pompompurin
"Thanks so much for cheering me on!♡ I'm so grateful for all the love!"



3rd Place: Pochacco
"I can't believe I got 3rd again this year! It's thanks to all your support! I'm going to try hard next year too!"

2021 Sanrio Character Ranking: Collaboration Category

This year sees Cinnamoroll take the top spot for the second year in a row. In the first round-up of announcements, Cinnamoroll was already at number one, but in the second round-up he dipped to 2nd place. That didn't stop him however as after gaining over 2.3 million votes, he grabbed that shiny crown once again. Pompompurin, who is celebrating his 25th anniversary this year, came in 2nd again, and Pochacco in 3rd again. Hello Kitty, who ranked 5th last year, came in 6th place this year – a place she kept since the second round-up. SHOW BY ROCK!! who will commemorate her 10th anniversary next year came in 8th once again. Kuromi, who received much love from overseas fans this year, climbed from last year's 7th to 5th this year, making it the first time she has clocked in the Top 5 spot in 11 years. Cogimyun came in 10th after coming in 13th last year, making it her first time in the Top 10.

The Collaboration Category, which began in 2013, saw 27 entrees from different businesses and creators. Popular creators Azuki and Hapidanbui took 1st place this year.

Sanrio Character Themed Afternoon Tea and Cafe Items Arrive at EGG & SPUMA

The Shinjuku branch of EGG & SPUMA is now hosting "Sanrio Characters CAFE," a menu of food and drink themed on Sanrio's beloved characters. Running until August 31, the cafe has also been decorated in colourful and cute Sanrio designs.

Receive a free coaster with your order

The menu line-up features lots of fruits, including the Cinnamoroll crème brûlée which is served on weekdays only, fruit sandwiches which will include My Melody themed ones this month and June, Hello Kitty and Keroppi ones in July, and Little Twin Stars in August. There's also fruity jelly and more.

If you're a Sanrio fan look to indulge a little more, then there is also a two-tiered afternoon tea set. The upper plate includes Kiki & Lala sandwiches, a Keroppi tart, the Cinnamoroll crème brûlée, and more. On the bottom plate there is Hello Kitty apple jelly, My Melody strawberry caprese salad, Kuromi canapé, and so on. There will also be special pancakes and a jelly dessert arriving in June which must be booked in advance.

Which of these Instagram-worthy delights do you want to tuck into?

Information

Sanrio Characters CAFE
Address: EGG & SPUMA Shinjuku Lumine EST (Floor 8F), 3-38-1 Shinjuku, Shinjuku-ku, Tokyo,  160-0022
Running: May 15, 2021 – August 31, 2021

Opening Hours: 11:00-20:00 (Last Orders 19:00)
TEL: 03-6273-0255
Official Website: http://www.salt-inc.co.jp/egg-and-spuma/

2021 Sanrio Character Ranking: Pompompurin Takes 1st Place in Interim Results

Votes for the 2021 Sanrio Character Ranking opened on April 9. Fans around the world have been voting for their favourite characters to win this year. The winner is set to be announced on June 8, but results of 1st place to 10th place for the second round-up have been revealed. These interim results were collected from votes placed online, in Sanrio's Ichigo Shimbun magazine, and Sanrio's online shop.

Taking the number one spot of the interim results is Pompompurin who made his debut 25 years ago. In 2nd place is Cinnamoroll, who is not far behind in the voting numbers. In 3rd is Pochacco, in 4th is My Melody, and in 5th is Kuromi. These characters are usually ones to rank high each year. Hello Kitty has moved up two places from the first round-up to 6th. Yoshikitty, the character representing music artist YOSHIKI, is in 8th.

Entering the Top 10 for the first time ever is Kogimyun in 9th place. There's still a little ways to go until votes close on May 24, so it could still be anyone's game. The winner will be announced online on June 8 at 19:30 (JST).

Comments from the Top 3 (Translated by MMN)

1st Place: Pompompurin

"Wow, 1st place! Thanks for all your support♪ I'm super happy, so lemme tell you something! I found an island that's shaped like me! The world we live in sure is exciting. My dream is to go there with you all after getting 1st place♪"

2nd Place: Cinnamoroll

"Thanks so much for your support! I love you all, and I want you to see me become an idol, stand on a big stage, and sing and dance for you♪"

3rd Place: Pochacco

"I'm still in 3rd place from the first round-up! Thank you, allll♪ It's all thanks to your support. Make a stop with me on our walk. If I'm together with you all, we're sure to see a brand new world. Keep supporting me, okay?"

Top 5 Characters Ranking Analysis

1st Place: Pompompurin

Pompompurin has been in the Top 3 for several years in a row. He last took 1st place in 2016. This year marks the 25th anniversary of his debut. He's looking to be number one after five long years.

2nd Place: Cinnamoroll

Cinnamoroll is a very busy individual, even making a CD debut. He first took 1st place in 2017 and has done three times in total. Will he take home the top spot again like last year?

3rd Place: Pochacco

Pochacco finally entered the Top 3 again last year for the first time in 23 years. This veteran character actually achieved this feat five years in a row between 1991-1995. Will 2021 be his year?

4th Place: My Melody

My Melody has been in the Top 5 for 24 years in a row. She has gone up one place since the first round-up. She has been in the Top 3 every year since 2017.

5th Place: Kuromi

Also known as My Melody's rival, Kuromi has seen a huge increase in popularity in recent years, and her place in the Sanrio Character Ranking has surged. Will she enter the Top 3 for the first time ever and beat her biggest rival, My Melody!?

Voting at the Sanrio Character Ranking is open to fans around the world. Hurry and make your vote before they close on May 24!

©'21 SANRIO S/F·G 著作(株)サンリオ

Information

2021 Sanrio Character Ranking Interim

Vote Deadline: May 24, 2021

Final Result Announcement: June 8, 2021 @ 19:30 (JST)

Vote Here: https://ranking.sanrio.co.jp/en/

Sanrio Announces 60th Anniversary Exhibition 'The Beginning of Kawaii'

From Hello Kitty to Pompompurin, Cinnamoroll, My Melody, and more – Sanrio's internationally adored cast of characters can be universally agreed to be representatives of Japan culture of 'kawaii.' In celebration of Sanrio's 60th anniversary, the company have announced an exhibition centred on the beginning of kawaii culture. The event will take place at TOKYO CITY VIEW from September 17, 2021 to January 10, 2022.

60th Anniversary Sanrio Exhibition: The Beginning of Kawaii is currently taking place at Matsuzakaya Art Gallery in Nagoya until June 12 and will move to Ōita Prefectural Art Museum where it will run from July 10 to September 5 before heading to TOKYO CITY VIEW.

 

© 2021 SANRIO CO., LTD. APPROVAL NO. SP610376

This exhibition will not only look back over Sanrio's 60-year history, but will also dive into how Japan's culture of 'kawaii' came about. Fans of Sanrio and Japan's kawaii can expect product and design showcases, in-depth explanations, and more.

Over 800 products, documents, and materials related to Sanrio will be presented, many of which will shine a spotlight on some of their most famous characters out of their roster of 400, such as Hello Kitty and My Melody, and other characters that might not be known to those outside Japan such as best friends Patty & Jimmy.

What to look out for at Sanrio's 60th anniversary exhibition

Unforgettable Tower by Sebastian Masuda

Sebastian Masuda, a pioneer of kawaii culture, will showcase his symbolic art pieces at the event at TOKYO CITY VIEW's observation deck, combining his iconic work against a breathtaking background.

 

The Beginning of Kawaii

Learn about the history of Sanrio's culture of kawaii, beginning as a service to 'move people's hearts' through gifts and products. Visitors will get a chance to see the secrets of Sanrio's iconic style which draw a line under fancy products from other companies.

There will also be a chance to see Japanese illustrators Takashi Yanase, Ado Mizumori, and Rune Naito's work with Sanrio.

The Birth of the Characters

What makes something kawaii or not kawaii? Why do characters not necessarily need to have a story to become so popular? These questions are more will be answered as the exhibition looks at the birth of Sanrio's characters.

Sanrio's Characters

How did their hit characters come to be? During the 1980's, Japan was a warzone for characters. Sanrio changed how characters became popular, moving from characters that were popular with everyone to creating characters that people wanted for themselves – their own personal characters. Discover how Sanrio's long list of characters came about, including ones that have stood the test of time and ones that have declined in popularity.

Ichigo Shimbun

Ichigo Shimbun is a magazine published by Sanrio all about Sanrio and their characters – a familiar read to all fans in Japan. The magazine will be featured at the exhibition.

Hello Kitty: The Character Who Turned Into a Global Icon

Hello Kitty is known the world over, with even Lady Gaga having worn a dress of Hello Kitty plush toys in the past. This dress will be exhibited at the event, amongst many other things related to Sanrio's global idol.

A Battle Between Artists

Artists from various artistic background will participate in the exhibition by creating a range of different Sanrio works. Participating artists and their specialities include Ryūsuke Fukahori (objects), Hajime Nakatomi (bamboo art), Takaya Mori (sculptor), Mio Hashimoto (sculptor), and Risa Fukui (paper cut-outs).

Information

60th Anniversary Sanrio Exhibition: The Beginning of Kawaii

Running: September 17, 2021 – January 10, 2022

Where: TOKYO CITY VIEW (Roppongi Hills Mori Tower Floor 52F)

Address: 6-10-1 Roppongi, Minato-ku, Toky0

Price: TBA

60th Anniversary Sanrio Exhibition: The Beginning of Kawaii Official Website: https://sanriocharactermuseum.com/

Sanrio's Pompompurin, Cinnamoroll, and My Melody Collaborate With Beauty Brand LUX

Total beauty brand LUX is set to collaborate with Sanrio on its non-silicone hair care series LUX LUMINIQUE which will launch on March 29.

LUX LUMINIQUE Damage Repair Pompompurin

LUX LUMINIQUE Happiness Blue My Melody

LUX LUMINIQUE Botanical Pure Cinnamoroll

This marks the second collaboration between LUX and Sanrio, following the success of the first back in June 2020. The collection includes the LUX LUMINIQUE Damage Repair with Pompompurin who is celebrating his 25th anniversary this year. For the LUX LUMINIQUE Happiness Blue we get My Melody wearing her super cute trademark, and for the LUX LUMINIQUE Botanical Pure, Cinnamoroll makes an appearance, the fan-favourite who won the Sanrio Character Ranking last year for the third year in a row.

The products are packaged in cute designs featuring the trio enjoying a well-deserved bath, inviting you to do the same as you enjoy the collection when it launches on March 29.

Information

LUX LUMINIQUE x Sanrio Characters

Release Date: March 29, 2021

Official Website: http://www.lux.co.jp/

2021 Sanrio Character Ranking Voting Begins in April

Sanrio has finally announced news about the 36th annual Sanrio Character Ranking. This year's award event, the 2021 Sanrio Character Ranking, will open initial votes on April 9 to May 24 when fans can vote for their favourite character from Sanrio's roster. As with previous years, the 2021 run will also welcome the "Collaboration Category" of the awards which will feature 27 character entries from those who have collaborated with other companies and businesses over the past year.

Ichigo Shimbun is a monthly magazine published by Sanrio. It not only includes information about the latest character merchandise, but is also the place where the Sanrio Character Ranking first began in 1986. From Sanrio's long list of over 450 characters, just 80 are entered into the awards each year. Cinnamoroll took first place for the 3rd year in a row at the 2020 Sanrio Character Ranking which we covered in detail, including the initial first round up of winners and second round up.

Normally, the results are announced in-person at a big event. This year's announcement gathering was originally scheduled for June 8, but was cancelled due to the COVID-19 pandemic. It will now be hosted online instead, and fans will also be able to vote using the new Sanrio members service Sanrio+.

This year's 80 entrants are now being rolled out over on the official Sanrio Character Awards Twitter page.

This Year's Award Theme: "The Witness of a New World – Your Support Will Change the Future"

Every Sanrio Character Awards has a theme, and this year's is, "The Witness of a New World – Your Support Will Change the Future." The "new world" refers to the future of Sanrio—which celebrated its 60th anniversary last year—that fans will bear witness to. The key visuals for the 2021 Sanrio Character Awards have the characters holding a magnifying glass with which they are peeking into that new world.

 

New Entrants Announce Everyday On the Official Twitter Page

The Sanrio Character Rankings' official Twitter page will post the key visuals and personal messages from all 80 entrants on its official Twitter page between February 26 to March 31. Leading this year's awards ceremony are the popular characters Kuromi, Badtz-Maru, and Hangyodon. Voting opened on February 25.

 

How to Cast Your Vote

Votes for the 2021 Sanrio Character Ranking can be cast online, at Sanrio shops, and for the first time, on the new Sanrio members service Sanrio+. Votes for the Collaboration Category however can only be placed online. Last year's vote was open to all fans worldwide. It is unconfirmed whether this year will be the same, but stay tuned as we follow the event.

Online Votes (Smartphone Only) *Cannot be cast on computers or tablets

Sanrio Shops

Sanrio Online Shop

Ichigo Shimbun (May 2021 Issue, on sale April 10 / June 2021 Issue, on sale May 10).

*Ichigo Shimbun voting open from April 10

Sanrio+ Members Smile Vote (Sanrio Shops/Online Votes)

Sanrio+ Members Ticket Vote (Online Votes) *More info TBA

Other Voting Methods (TBA)

 

Vote With Sanrio+

Sanrio+ allows members to exchange 100 Smiles (the currency on the Sanrio Shop) for two voting chips. Members can exchange a maximum of 1,000 smiles for 20 chips in one go. The chips are spent at the voting box on the Sanrio Shop. One chip counts for a total of three votes.

Additionally, when members first log in to Sanrio+ on the voting website, they can used 50 Smiles to cast one vote. Members can vote with a maximum of 500 smiles in one day. One Smile vote counts for a total of two votes.

Stay tuned for the latest news and updates on the 2021 Sanrio Character Ranking.

Information

2021 Sanrio Character Ranking

Running: April 9, 2021 – May 24, 2021 (From April 10 in Ichigo Shimbun)

First Round-Up Announcements: April 14, 2021 at Noon (JST)

Second Round-Up Announcements: May 13, 2021 at Noon (JST)

Winner Announcement: June 8, 2021 (Online event, details TBA)

News Page: https://www.sanrio.co.jp/news/mx-ranking2021-20210225/