Chat With My Melody Via Text Message Everyday With Sanrio's Official New App
My Melody's birthday was yesterday (January 18), and in the run up to it, Sanrio released a new smartphone app on Friday named "Itsudemo Issho ni My Melody" (Together Always With My Melody). Described as a "healing app," the app is My Melody's way of cheering on those who are working hard every day; it continues her support of healing people on Twitter and radio with her personality.
This app was developed together with fans, with 300 of them participating in a questionnaire for it. It has three major functions including "Text Chat," "Schedule," and "Alarm," all of which incorporate everybody's favourite bunny.
Receive texts from My Melody with Talk Chat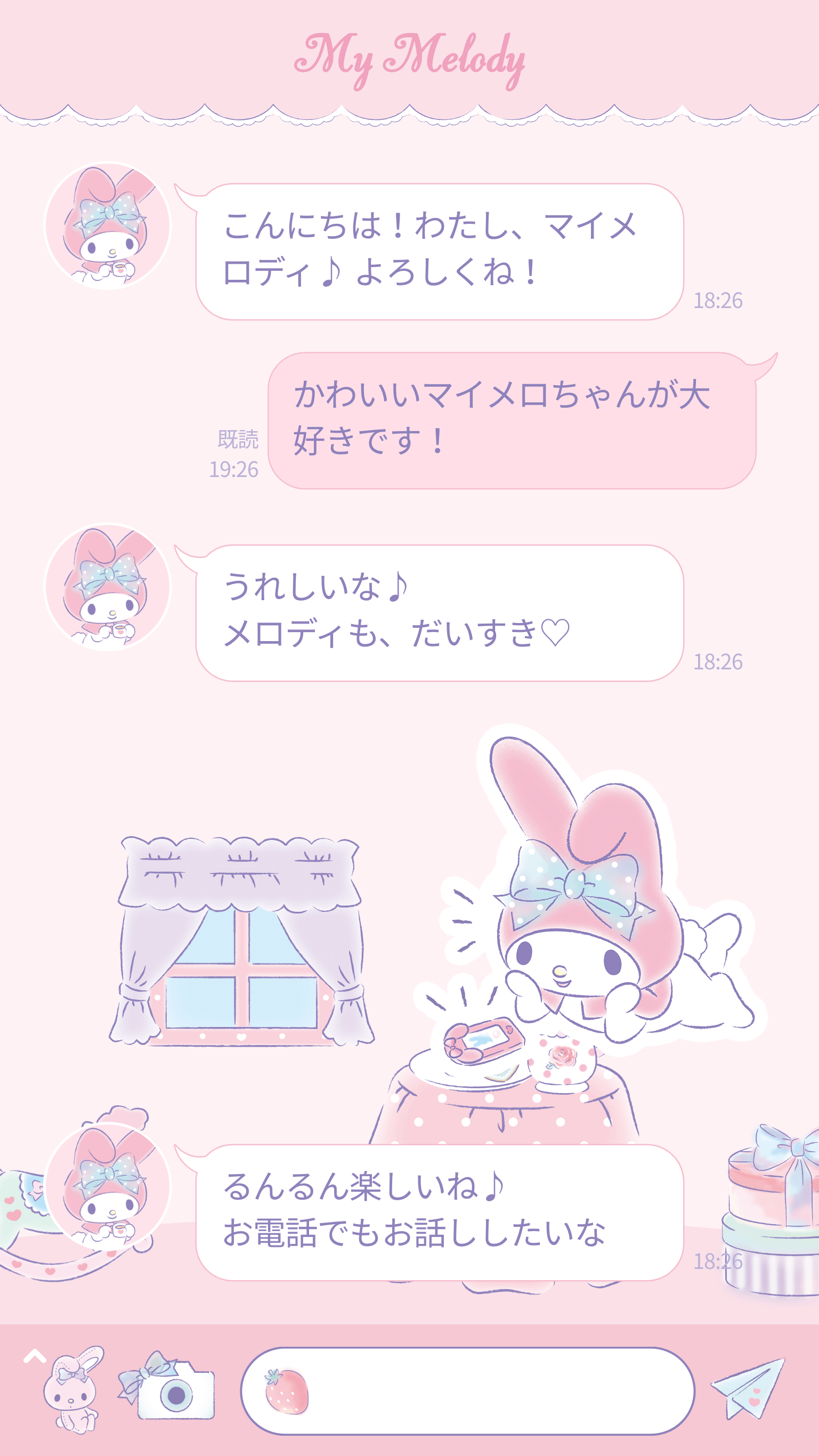 The Talk Chat function enables you to chat with My Melody via text messages. Replies are given 24 hours a day, so you can send her a text at any time, whether it's idle chit-chat or telling her a secret you can't tell anyone else. Whatever it is you want to talk to her about, her words are sure to leave you feeling warm and fluffy.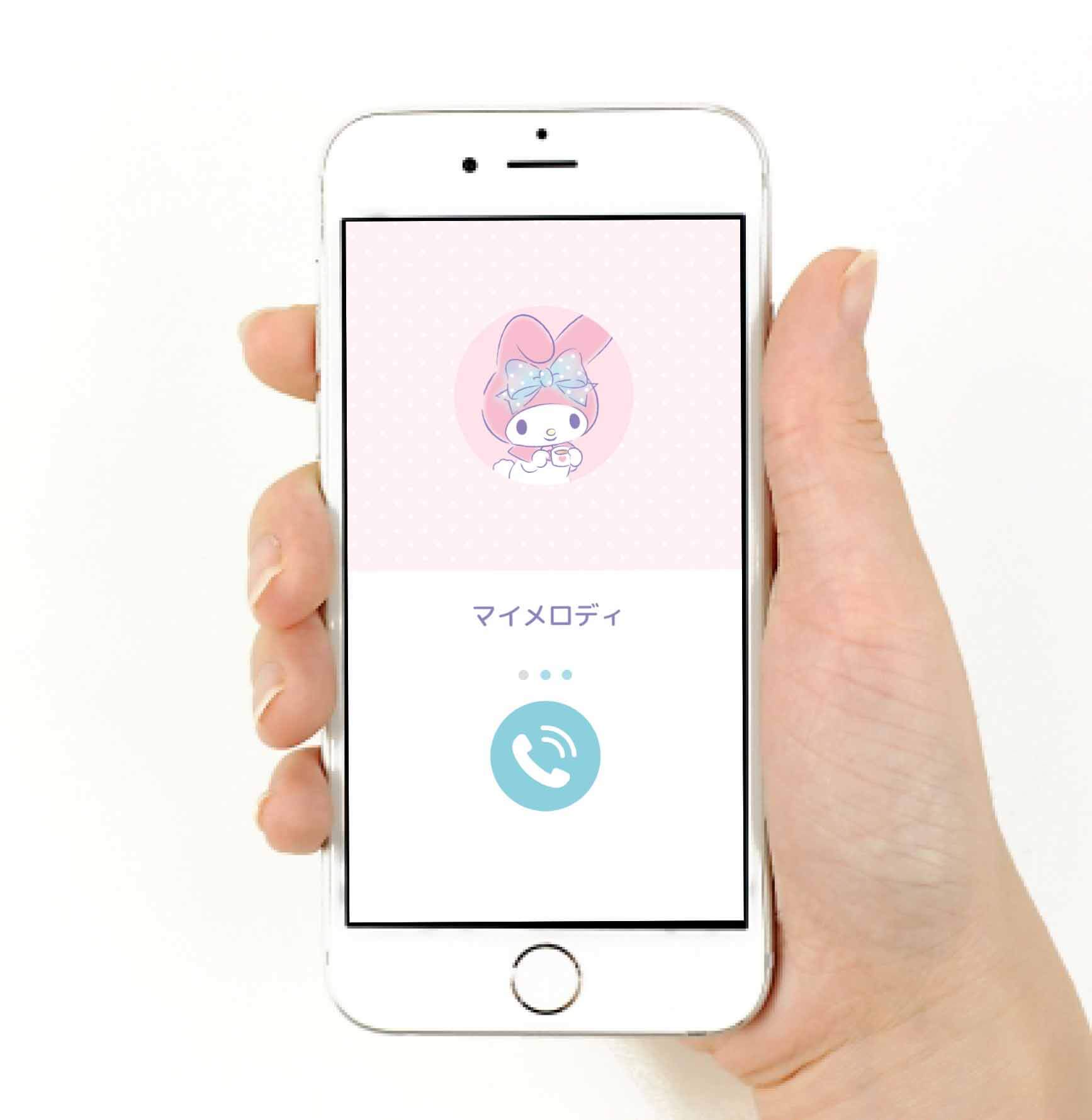 The messaging service has 12 special stamps which can only be used on the app. If you send a certain stamp, you'll even receive a call from My Melody. You can also customise the chat backgrounds as you please.
My Melody keeps your days organised with the Schedule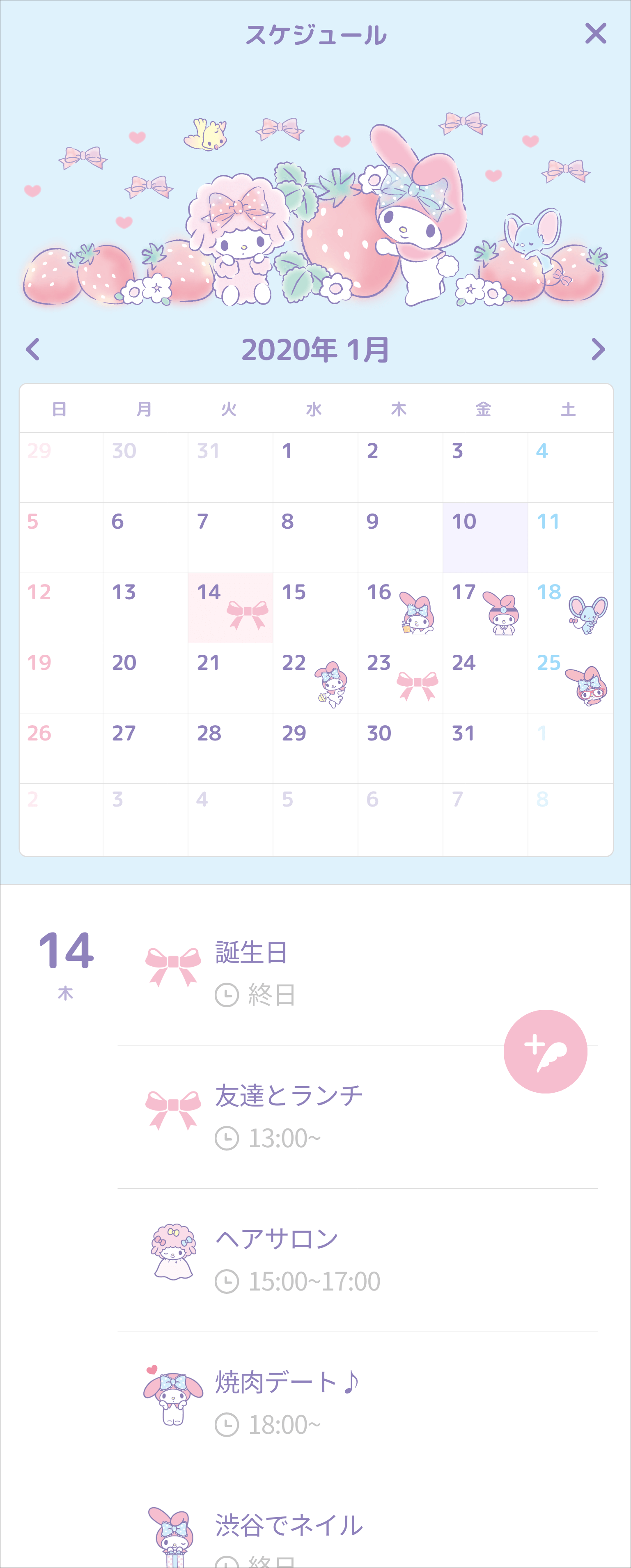 Using the app's cute calendar, you can enter your schedule for each month.
My Melody will even send you reminders of upcoming plans in the chat too, even if the app is closed, so you won't miss a thing.
There are 10 "Schedule Seals" you can use depending on what kind of reminder you are setting. Depending on which seal you use, My Melody will send you a different message. Setting a schedule has never been so much fun!
Look forward to waking up to My Melody's voice with the Alarm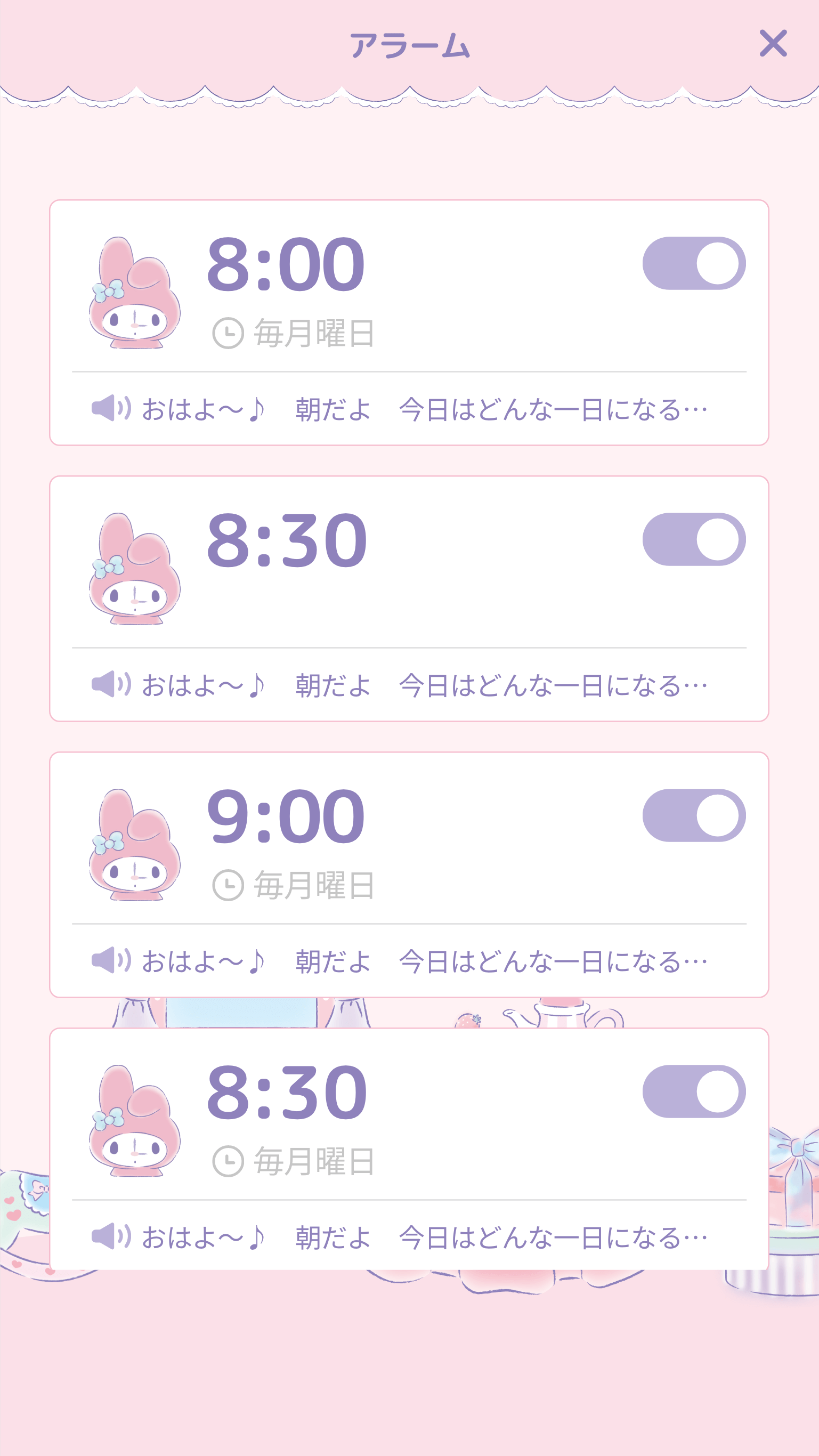 The Alarm function makes use of My Melody's voice, which is sure to support you during your busy days. There are six voice functions you can set, from waking up in the morning to break time and more.
Additional convenient functions to be released in the future
More functions are set to be released in the future, including the Weather function in March which will have My Melody informing you what the weather will be like outside. If you ask her about the weather in the chat room, she'll tell you the weather type, temperature, and more to help you prep for each day.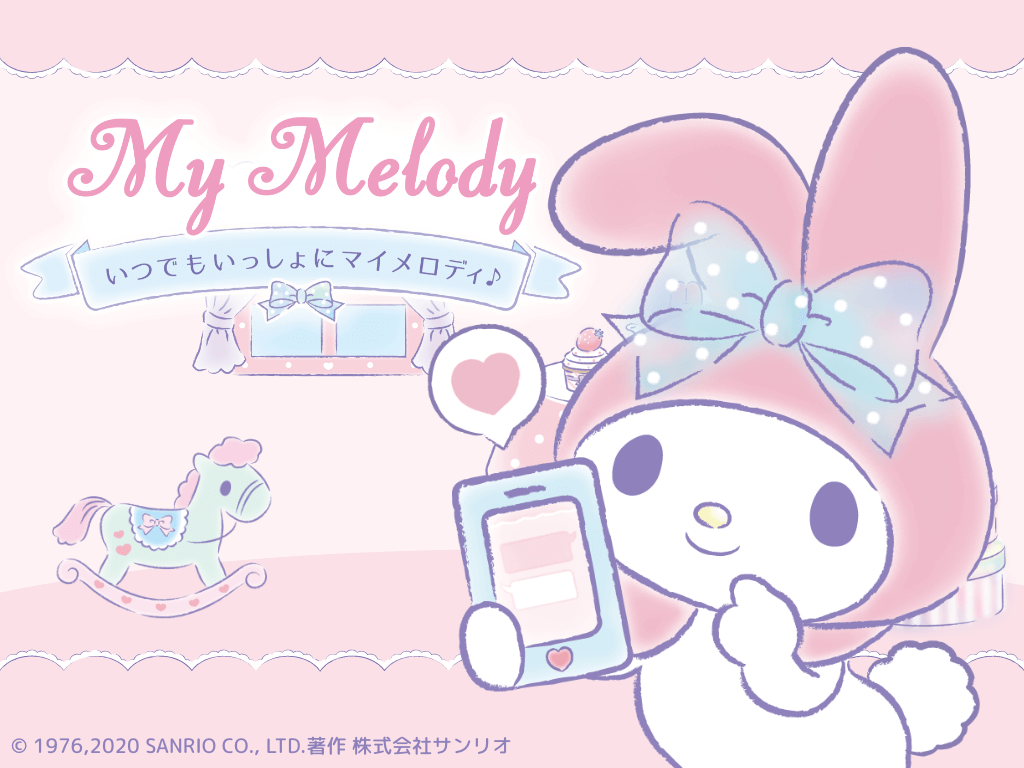 Download the My Melody app and make your days even more fun♡
©'76,'20 SANRIO
RELATED ENTRIES
Sanrio's Pompompurin, Cinnamoroll, and My Melody Collaborate With Beauty Brand LUX

Total beauty brand LUX is set to collaborate with Sanrio on its non-silicone hair care series LUX LUMINIQUE which will launch on March 29.

LUX LUMINIQUE Damage Repair Pompompurin

LUX LUMINIQUE Happiness Blue My Melody

LUX LUMINIQUE Botanical Pure Cinnamoroll

This marks the second collaboration between LUX and Sanrio, following the success of the first back in June 2020. The collection includes the LUX LUMINIQUE Damage Repair with Pompompurin who is celebrating his 25th anniversary this year. For the LUX LUMINIQUE Happiness Blue we get My Melody wearing her super cute trademark, and for the LUX LUMINIQUE Botanical Pure, Cinnamoroll makes an appearance, the fan-favourite who won the Sanrio Character Ranking last year for the third year in a row.

The products are packaged in cute designs featuring the trio enjoying a well-deserved bath, inviting you to do the same as you enjoy the collection when it launches on March 29.

Information

LUX LUMINIQUE x Sanrio Characters

Release Date: March 29, 2021

Official Website: http://www.lux.co.jp/

2021 Sanrio Character Ranking Voting Begins in April

Sanrio has finally announced news about the 36th annual Sanrio Character Ranking. This year's award event, the 2021 Sanrio Character Ranking, will open initial votes on April 9 to May 24 when fans can vote for their favourite character from Sanrio's roster. As with previous years, the 2021 run will also welcome the "Collaboration Category" of the awards which will feature 27 character entries from those who have collaborated with other companies and businesses over the past year.

Ichigo Shimbun is a monthly magazine published by Sanrio. It not only includes information about the latest character merchandise, but is also the place where the Sanrio Character Ranking first began in 1986. From Sanrio's long list of over 450 characters, just 80 are entered into the awards each year. Cinnamoroll took first place for the 3rd year in a row at the 2020 Sanrio Character Ranking which we covered in detail, including the initial first round up of winners and second round up.

Normally, the results are announced in-person at a big event. This year's announcement gathering was originally scheduled for June 8, but was cancelled due to the COVID-19 pandemic. It will now be hosted online instead, and fans will also be able to vote using the new Sanrio members service Sanrio+.

This year's 80 entrants are now being rolled out over on the official Sanrio Character Awards Twitter page.

This Year's Award Theme: "The Witness of a New World – Your Support Will Change the Future"

Every Sanrio Character Awards has a theme, and this year's is, "The Witness of a New World – Your Support Will Change the Future." The "new world" refers to the future of Sanrio—which celebrated its 60th anniversary last year—that fans will bear witness to. The key visuals for the 2021 Sanrio Character Awards have the characters holding a magnifying glass with which they are peeking into that new world.

 

New Entrants Announce Everyday On the Official Twitter Page

The Sanrio Character Rankings' official Twitter page will post the key visuals and personal messages from all 80 entrants on its official Twitter page between February 26 to March 31. Leading this year's awards ceremony are the popular characters Kuromi, Badtz-Maru, and Hangyodon. Voting opened on February 25.

 

How to Cast Your Vote

Votes for the 2021 Sanrio Character Ranking can be cast online, at Sanrio shops, and for the first time, on the new Sanrio members service Sanrio+. Votes for the Collaboration Category however can only be placed online. Last year's vote was open to all fans worldwide. It is unconfirmed whether this year will be the same, but stay tuned as we follow the event.

Online Votes (Smartphone Only) *Cannot be cast on computers or tablets

Sanrio Shops

Sanrio Online Shop

Ichigo Shimbun (May 2021 Issue, on sale April 10 / June 2021 Issue, on sale May 10).

*Ichigo Shimbun voting open from April 10

Sanrio+ Members Smile Vote (Sanrio Shops/Online Votes)

Sanrio+ Members Ticket Vote (Online Votes) *More info TBA

Other Voting Methods (TBA)

 

Vote With Sanrio+

Sanrio+ allows members to exchange 100 Smiles (the currency on the Sanrio Shop) for two voting chips. Members can exchange a maximum of 1,000 smiles for 20 chips in one go. The chips are spent at the voting box on the Sanrio Shop. One chip counts for a total of three votes.

Additionally, when members first log in to Sanrio+ on the voting website, they can used 50 Smiles to cast one vote. Members can vote with a maximum of 500 smiles in one day. One Smile vote counts for a total of two votes.

Stay tuned for the latest news and updates on the 2021 Sanrio Character Ranking.

Information

2021 Sanrio Character Ranking

Running: April 9, 2021 – May 24, 2021 (From April 10 in Ichigo Shimbun)

First Round-Up Announcements: April 14, 2021 at Noon (JST)

Second Round-Up Announcements: May 13, 2021 at Noon (JST)

Winner Announcement: June 8, 2021 (Online event, details TBA)

News Page: https://www.sanrio.co.jp/news/mx-ranking2021-20210225/

Sanrio Releases Tea Gift Set in Collaboration With World Tea Brand LUPICIA

World tea brand LUPICIA launched its 7th collaboration with Sanrio on Thursday (February 25) featuring a range of tea gift sets. Every year, LUPICIA releases a wide variety of rea-related gift sets for White Day, the spring season, Mother's Day, and more.

Four Fruit Fruity Tea With Lidded Mug

Hello Kitty LUPICIA Mug & Flavoured Tea | ¥3,300 (Tax Included)

My Melody LUPICIA Mug & Flavoured Tea | ¥3,300 (Tax Included)

Cinnamoroll LUPICIA Mug & Flavoured Tea | ¥3,300 (Tax Included)

Kuromi LUPICIA Mug & Flavoured Tea | ¥3,300 (Tax Included)

This year adds the dearly beloved Kuromi to the new collaboration which features a variety of fresh and fruity teas together with a mug that comes with a lid to keep your tea hot.

Will you be having tea with Hello Kitty, My Melody, Cinnamoroll, or Kuromi?

(c)'21 SANRIO 著作(株)サンリオ

Sanrio Design Face Masks by Maison de FLEUR Keep You Stylish and Safe

Maison de FLEUR has revealed a new collection of face masks created in collaboration with Sanrio which will be released in Japan on February 23.

Sanrio Character Collab Masks | ¥2,200 Each (Tax Included)

My Melody

     Cinnamoroll

Little Twin Stars

Pompompurin

Kuromi

The masks are designed from the popular Sanrio characters My Melody, Cinnamoroll, Little Twin Stars, Pompompurin, and Kuromi. The parts that hook over your ears are fitted with a big, cute satin ribbon, and the front of the masks feature a gold leaf print matte design.

The masks can be used both as a fashion item and for protection against COVID-19.

Information

Maison de FLEUR x Sanrio Character Collab Masks

Release Date: February 22, 2021 at 20:00 @ STRIP CLUB / February 23, 2021 @ Maison de FLEUR stores

STRIPE CLUB Official Website: https://stcl.page.link/Z3cE

ZOZOTOWN: https://zozo.jp/

Perfectly Pink Sanrio Valentine's Day Collection Heads to Maison de FLEUR

For Maison de FLEUR's annual "PINK MANIA" Valentine's season event, it is teaming up with Sanrio to release a positively-kawaii pink collection of bags at its stores in Japan on February 11. The line-up also made a pre-release on the online shop STRIPE CLUB last week.

PINK MANIA x Sanrio Characters Collection: Azato Melody / Azato My Sweet Piano / Azato Cinnamoroll / Azato Bonbonribbon / Azato Pochacco

PINK MANIA Double Ribbon Tote Bag | ¥5,290 (Before Tax)

PINK MANIA Side Pocket S Tote Bag | ¥5,290 (Before Tax)

PINK MANIA Side Pocket M Tote Bag | ¥5,990 (Before Tax)

PINK MANIA Ribbon Pouch | ¥3,590 (Before Tax)

PINK MANIA Pouch | ¥3,590 (Before Tax)

PINK MANIA Face Mask Case Pouch | ¥3,590 (Before Tax)

Interior design of each bag and pouch

PINK MANIA is an event held by Maison de FLEUR every year around Valentine's Day where select items turn all pink. This year's line-up includes some of the brand's iconic tote bags and pouches as well as some new entries. Familiar faces from Sanrio include My Melody, My Sweet Piano, Bonbonribbon, Pochacco, and Cinnamoroll.

Go pink and kawaii this Valentine's Day with this year's PINK MANIA collection.

Pokémon, My Melody, Moomin and More Valentine's Day Chocolates Arrive at Daimaru Tokyo

The Hoppe Town area of Daimaru Tokyo is currently celebrating Valentine's Day up to February 14 with the release of a selection of gift chocolates by six brands in collaboration with popular characters.

Pokémon Chocolate Set (Large Box) | ¥1,404 (Tax Included)

My Melody x Goncharoff Chocolates (Contains 21) | ¥2,160 (Tax Included)

Moomin x Merry Chocolate's Hattifatteners Chocolates (Contains 11) | ¥1,188 (Tax Included)

Dick Bruna by Morozoff: Picture Book Chocolates (Contains 15) – ¥864 (Tax Included) / Miffy Pouch Chocolates (Contains 8) – ¥1,320 (Tax Included)

Chatrois Kitten Tiny Plain Chocolates | ¥783 (Tax Included)

Katanukiya Angel Panda | ¥684 (Tax Included)

Which of these cute and tasty-looking treats has caught your eye the most?

©Nintendo・Creatures・GAME FREAK・TV Tokyo・ShoPro・JR Kikaku ©Pokémon
©1976,2021 SANRIO CO,LTD.APPROVAL NO.L613374
©Moomin Characters™

Information

Daimaru Tokyo Valentine's Sweets
Running: January 27, 2021 – February 14, 2021

Location: Hoppe Town on Floor 1F of Daimaru Tokyo
Official Website: https://www.daimaru.co.jp/

Sanrio Celebrates My Melody's Birthday With Special Merchandise and More

Sanrio has begun celebrations for My Melody's birthday, which falls on January 18, which includes the announcement of the rental My Melody House, exclusive merchandise, the fan-favourite character appearing on a popular Japanese radio show, and more.

House Mate Rental Building – "My Melody House" (Temporary Name)

My Melody Flower Service Original Design

Novelty Calendar – March 2021

Goncharoff Collab Valentine's Chocolate

MINISTOP Limited-Edition Snowman Cup Dessert | ¥489 (Tax Included)

TOKYO FM Radio Show – "Sky Rocket Company"

My Melody "Itsudemo Issho ni My Melody" app gets memo pad update

My Melody Lottery | ¥700 Per Go (Tax Included)

My Melody Acrylic Clock added to Sanrio's Point Service "Sanrio+"

This autumn, House Mate is opening My Melody-themed buildings that people can rent. As of now it's temporarily called the My Melody House. It will first open in Tokyo before rolling out across Japan, featuring wallpaper, kitchens, baths, toilets, doorknobs, all adorned with My Melody decorations.

Sanrio is also launching a flower delivery service this February which will see flowers delivered to homes in Japan twice a month. The first delivery of the month contain not only the flowers wrapped in My Melody paper but a free My Melody mask too. The second delivery of a month will be coupled with a calendar for the following month.

The character creation company is also collaborating with Goncharoff for Valentine's with cute ribbon-wrapped chocolates. MINISTOP convenience stores in Japan will also begin selling a special cup dessert featuring My Melody as a snowman from January 22.

Sanrio shops and convenience stores in Japan will also roll out a lottery at the end of this month where fans can win a variety of items like cushions, a chocolate fondue maker, coconut plate, and more.

©ʻ76,'21 SANRIO 著作(株)サンリオ

Maison de FLEUR x Sanrio Reveal Kawaii Bag Collection For Second Collaboration

Lifestyle brand Maison de FLEUR and Sanrio have announced that preorders for the second collaboration in their "Maison de FLEUR×Sanrio characters" series will launch on Sanrio's online shop on January 8, 2021.

Ribbon Tote Bags (5 Designs) | ¥6,050 Each (Tax Included)

The cute collection combines fancy frills and ribbons with items inspired by My Melody, Cinnamoroll, Kuromi, as well as two new additions for this second collaboration due to fan demand – Pompompurin and Pochacco.

Items include the Ribbon Tote Bag, Ribbon Backpack, Mobile Shoulder Bag, and Tissue Pouch. Pre-orders run in Japan from January 8 to February 7 with shipping to begin in early March. The collection will subsequently go on general sale at Sanrio stores in late May. Further information will be announced by Sanrio at the end of April.

Ribbon Backpacks (3 Designs) | ¥12,100 Each (Tax Included)


Mobile Shoulder Bags (3 Designs) | ¥5,390 (Tax Included)

The collection is inspired by a tea party which is captured in the fancy designs featured on each item with the five characters enjoying themselves a cup of tea each.

Tissue Pouches (3 Designs) | ¥3,630 (Tax Included)


Mascot Charms | ¥2,970 (Tax Included)

The mascot charms will also make a return this collaboration at select Sanrio shops and the company's online store in late May 2021.

Alternate Colour Mascot Charms (5 Designs) | ¥2,970 (Tax Included)

Sanrio fans can also get their hands on another set of mascot charms with different colours. These will be sold exclusively at Maison de FLEUR stores in Japan and their online shop STRIPE CLUB.

ⓒ'76, '89, '96, '01, '05, '20 SANRIO 著作(株)サンリオ

Sanrio's My Melody, Pompompurin, and Little Twin Stars Keep Your Face Masks Safe

Sanrio released pre-sales of its new Sanrio Characters Mask Bags for face masks via the online shop Asunarosha on Wednesday (December 9).


Following the success of the Hello Kitty and Cinnamoroll face mask bags released in September, all of which sold out, Sanrio is adding new designs into the mix. The bags are washable and allow you to carry your mask around conveniently and hygienically.

My Melody, Pompompurin, Little Twin Stars (Kiki & Lala) | ¥700 Each (Before Tax)

The new designs include the popular characters My Melody, Pompompurin, and Little Twin Stars (Kiki & Lala).


Hello Kitty, Cinnamoroll | ¥700 Each (Before Tax)

Hello Kitty and Cinnamoroll are also making a return so fans can pick from 5 different designs.

Sanrio Puroland is also releasing a cute collection of face mask and mask cases on December 18.

©1976, 1996, 2001, 2020 SANRIO CO., LTD.

Sanrio Themed Cafe Celebrates Characters' Monthly Magazine 'Ichigo Shimbun'

Sanrio is once again collaborating with the EGG & SPUMA cafe located on the 8th floor of Shinjuku Lumine EST to celebrate the 45th anniversary of Ichigo Shimbun, a monthly magazine published by Sanrio which includes information about the latest character merchandise, the Sanrio Character Awards, and more. The limited-time cafe will run from November 1, 2020 to late January 2021.

Sanrio fans can expect a very special menu line-up of food, drinks, and desserts based on their favourite characters from the Sanrio roster.

There will in fact be two different menus served on separate occasions. The first menu will welcome a soufflé omelette topped with a potato salad Pochacco while the second will see an adorably pink My Melody cream stew.

There will also be an incredibly cute two-tiered afternoon tea set with desserts and savoury items.

For drinks, there is a Hello Kitty strawberry milk, Cinnamoroll milk, and milk caramel pudding Pompompurin.

© 2020 SANRIO CO., LTD. APPROVAL NO. L613344

And everyone who orders from the collaborative menu will receive one of eight possible coasters as thanks for visiting.

Information

Ichigo Shimbun 45th Anniversary CAFE
Location: EGG & SPUMA, Shinjuku Lumine EST Floor 8F, 3-38-1 Shinjuku, Shinjuku Ward, Tokyo
Running: November 1, 2020 – Late January 2021

Opening Hours: 11:00-21:00 (Last Orders)

TEL: 03-6273-0255
Official Website: http://salt-group.jp/shop/egg-spuma/

My Melody and Kuromi Bubble Tea to be Served at Pearl Lady in Japan

Bubble tea chain Pearl Lady, which is celebrating its 17th anniversary this year, is teaming up with Sanrio for the second time to release two new drinks themed on the popular characters My Melody and Kuromi on October 16, 2020. My Melody and Kuromi are also celebrating their 45th and 15th anniversaries respectively.

Black Lemonade | Strawberry Milk Tea (w/ Novelty) – ¥500 Each (Tax Included)

The two beverages are Sweet Strawberry Milk Tea, which is inspired by the cute My Melody, and Black Lemonade, which is based on her rival Kuromi.

When ordering either of the drinks at Pearl Lady, customers will also get one of 6 possible badges as pictured above. One of the designs is a secret, so you'll need some luck if you want that one.

My Melody and Kuromi Merchandise to Release in Collaboration With Women's Fashion Magazine bis

In celebration of My Melody's 45th anniversary and Kuromi's 15th anniversary, Sanrio is collaborating with the Japanese women's fashion magazine bis, published by Kobunsha, to release a collection of new products on October 7, 2020. The items will be sold at select Sanrio stores, Sanrio's online shop, and KOBUNSHA SELECT SHOP. Merchandise made in collaboration with The Skips will also be released in early October via The Skips' online shop.

bis is a fashion magazine aimed at women in their 20's that focuses on 'sweet with a hint of poison' fashion culture. Their style is a combination of vintage and trends to express cuteness that isn't sickly sweet.

The My Melody and Kuromi collaboration incorporates bis's motifs of bees and roses, the latter of which often appears on the magazine's front covers. My Melody has been drawn in the style of how she looked when she first appeared in 1975. Likewise, though Kuromi came much later, she has been drawn in that 70's style too.

 My Melody & Kuromi Plush Toys | ¥2,420 Each


Face Mask Pouch (bis) | ¥2,530

The lineup ranges from soft plush toys to a velvet tote bag, mugs, and more.

My Melody & Kuromi T-Shirts (bis) | ¥3,080 Each


The Skips My Melody & Kuromi Heart Hairband | ¥2,640 *Launching early October 2020

There's also a mini 130ml thermal bottle, T-shirts—the list goes on, for a total of 34 items.

Celebrate My Melody and Kuromi's anniversary milestones with bis's collaboration.

© 1976, 2005, 2020 SANRIO CO.,LTD.