Experience a Cherry Blossom Burger in Kyoto's Famous Cherry Blossom Tourist Spot Arashiyama
This March, a restaurant in Arashiyama, Kyoto, that goes by the name CROSS Burger&Beer/Coffee, has announced it will release its new "Sakura Burger" (Cherry Blossom Burger) for the spring season.
CROSS Burger&Beer/Coffee is a restaurant known for its burgers made with pitch black buns – a result from combining the mixture with bamboo charcoal – which are served on afternoon tea stands. All of their patties are made with 100% domestic wagyu, specifically hiragyu from the town of Tanba in Kyoto. To ensure the meat maintains its high quality texture, it is minced together with shoulder and shank, which also creates great flavour.
The new cherry blossom burger uses a pink bun like that of the springtime flower. It has a chewy texture, and the surface is charred so that the outside is crispy and the inside soft. It also means that the meat juice permeates the bun better, and without making it go soggy. The patty is uses the same hiragyu meat, which is breaded and deep-fried to create what is known as menchi-katsu in Japanese. By doing this, it locks in the characteristic and unique flavour of the meat, as well its juice.
Drizzled over the patty is a homemade tartar sauce with Kyoto-style chopped vegetables pickled in salt as the base. The restaurant chops up the vegetables randomly to leave texture in the sauce, which has a refreshing taste thanks to them, creating a flavour you'll enjoy until the last bite. The burger is also stuffed with a sunny-side up egg and purple cabbage, the latter of which has a slightly bitter bite to it, resulting in an amalgamation of mouth-watering flavours.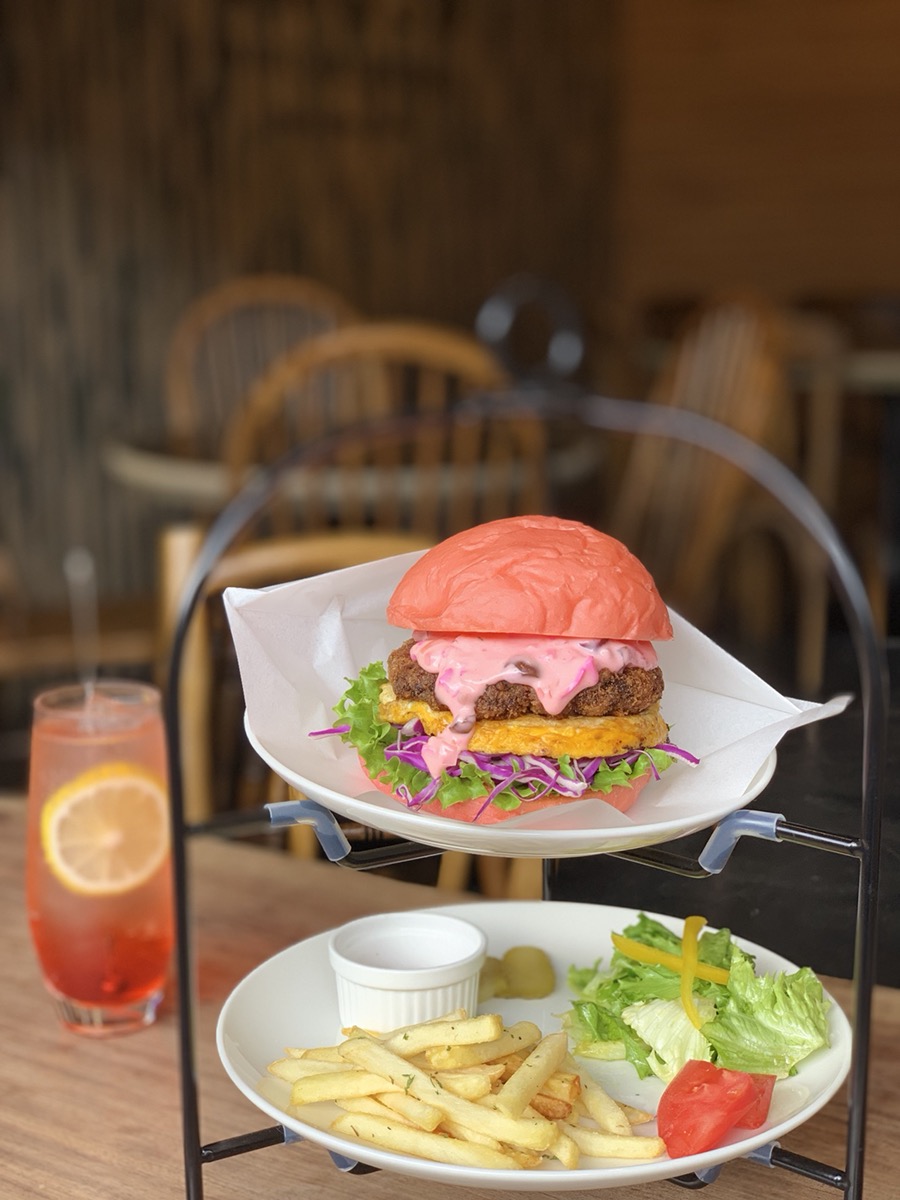 Order together with a cocktail or soda float to create an Instagrammable photo.
If you're heading to Japan to visit Kyoto this cherry blossom season, head to Arashiyama to enjoy the sights and a delicious Sakura Burger.
Information
CROSS Burger&Beer/Coffee
Address: 48 Arashiyama Kamikaidōchō, Nishikyō Ward, Kyoto, Kyoto Prefecture
Opening Hours: Lunch 11:00-16:00 / Dinner 16:00-23:00
Official Website: https://cross.grandwest.kyoto/
RELATED ENTRIES
Enjoy the Beautiful Taste of Kyoto at Isetan Shinjuku in Tokyo

Isetan Shinjuku has announced a special event dedicated to promoting the beautiful taste of Tokyo. Set to begin on December 2, the event will see both traditional and newer restaurants from Kyoto come together to serve up Kyoto-style cuisine to the people of Tokyo from oldies like sushi to dango to more modern dishes like okonomiyaki and katsu sandwiches. Visitors will also be able to watch real chefs from Kyoto at work.

Hi-Lite Shokudo's "Hi-Lite Katsu Sandwich" | ¥850

Since first opening in 1960, Hi-Lite Shokudo has continued to treasure the taste of home cooking and has continued to evolve that taste over the years to cater to each generation. Its famous katsu sandwich is made with a secret sauce that has kept it unbeaten against other popular eateries in Kyoto, and they've upped the taste for this event.

Kotoka's "Mitarashi-dango" | ¥864 (6 Sticks) 

These dango are made fresh in front of customers and are doused in a rich secret sauce. Their chewy texture is irresistible.

Izuu's Mackerel and Tilefish Assortment | ¥4,455 (3 of each per person)

Izuu is an iconic sushi restaurant in Kyoto that was first established in 1781. This assortment is made with chub mackerel from coastal waters, esumai rice from Shiga Prefecture, and kombu from Hokkaido.。

Yumeya's Fuwafuwa Okonomiyaki | ¥801 (1 portion)

Many people living outside of Kyoto search for the okonomiyaki flavour served by Yumeya. It's made fresh, fluffy, and is topped with lots of ingredients.

Daitokuji Saiki-ya's "Dashimaki Tamago" | ¥648 (1 portion)

Daitokuji Saiki-ya is a specialty store in Kyoto catered food in business for 1933 years. It serves Kyoto-style dashimaki tamago as well as lots of other delicious food that captures the taste of Kyoto.

Sailor Moon Opens Its Third Petit Store at KIDDYLAND Kyoto Shijo Kawaramachi

To celebrate the upcoming release of the two-part Sailor Moon Eternal movie, a third branch of Sailor Moon store -petit- is set to open at KIDDYLAND Kyoto Shijo Kawaramachi on December 5, 2020.


Sailor Moon fans can look forward to getting their hands on a magical menagerie of original merchandise originally only available at the Sailor Moon store in Harajuku as well as a super soft, exclusive store-original Climax Moon Compact cushion.

Other items include candy charms, acrylic Christmas 2020 stands, pins, and more. Customers who spend over ¥3,000 (tax included) will also receive a free folder. These are available on a first-come, first-served basis and feature a cute design drawn by one of the store owners.

Information

Sailor Moon store -petit-
Grand Opening: December 5, 2020

Location: KIDDYLAND Kyoto Shijo Kawaramachi

Address: 344 Takoyakushi Sagaru Shioyacho, Kawaramachidori, Nakagyo-ku, Kyoto-shi, Kyoto

Opening Hours: 11:00-21:00 (Subject to change without notice)
Official Website: http://sailormoon-official.com/store/

Sailor Moon Eternal
Animated film releasing in two parts in 2021.
Part One: January 8, 2021
Part Two: February 11, 2021
Official Website: https://sailormoon-movie.jp/ 

McDonald's Japan's Gurakoro Burger Gets New Beef Stew Flavour

The Gurakoro Burger is a seasonal item added to McDonald's Japan's winter menu every year. This year, they are releasing a new rich beef stew flavour on December 2 for a limited period.

"Gurakoro" is a portmanteau of the Japanese words for "gratin" and "korokke," the latter being the Japanese version of a French croquette. The Gurakoro burgers are crunchy on the outside and melty on the inside. They first appeared at McDonald's Japan in 1993 and have returned every winter since, popular for its combination of the Gurakoro patty which is filled with creamy ebi, cabbage, a special korokke sauce, and an egg sauce, all squished between a toasted bun.

Gurakoro Burger | ¥340

The burger was created with a new recipe in 2019 that makes the flavour richer. The number of egg yolks used for the egg sauce was also increased, as was the spiciness of the korokke sauce.

Beef Stew Gurakoro | ¥390

This year, McDonald's Japan is adding a beef stew sauce made with a combination of red wine and demiglace sauce. Added to this is mustard, creating a delicious flavour that goes hand in hand with the creamy gratin korokke.

Hotel & Rooms Kyoto Shichijo: Kyoto's New Hotel Opening in Spring 2021

Solare Hotels & Resorts has announced that the new Hotel & Rooms Kyoto Shichijo will open in Spring 2021. It will be located just a 7-minute walk from the JR side of Kyoto Station's Central Exit, making it a convenient hub for tourists looking to sightsee in the city.

The casual yet stylish hotel caters to couples, families, and groups travelling together.

"Verical Garden" in the Elevator Hall

Enjoy the open central garden at the hotel cafe

The hotel takes advantage of the building's old Kyoto-style townhouse design and incorporates a contemporary feel to its interior. The décor is a merging of traditional and contemporary Japan. Guest rooms are centred on groups 2-3 people with double and twin rooms available, allowing for comfort and relaxation.

Spacious washroom with wooden décor

A traditional and modern fusion of stylish mirrors and warm wood

The washrooms offer a relaxing respite from the day's travels, incorporating the beauty of traditional Kyoto with the modern. The hotel also has its own cafe on the first floor which serves breakfast and lunch and even turns into a bar in the evenings. It's open to both guests and non-guests to serve as a hub for travellers and locals to enjoy the fruits of Kyoto together.

If you're planning a trip to Kyoto next spring or beyond, be sure to check out

Information

Hotel & Rooms Kyoto Shichijo (Japanese: ホテル・アンドルームス京都七条)
Address: 730 Ebisunocho, Shimogyo-ku, Kyoto
Grand Opening: Spring 2021

Official Website: https://www.solarehotels.co.jp/

10 Spots in Kyoto to Fall Into the Autumn Colours

Kyoto, the ancient capital of Japan, is littered with countless leafy spots to enjoy the autumn colours. Here's a list of must-visit, little-known good spots in the city that enjoy all the visual treats of the seasonal, all of which are carrying out proper social distancing and anti-COVID-19 measures.

Forgot about the time and enjoy the scenery with few people around

Soak up autumn with a boat ride | Hozugawa River in Kameoka

Ride the Hozugawa River along the 16km valley from Kameoka to Arashiyama. The autumn spectacle in this area is a grand sight to behold. Visitors can enjoy two hours along the valley stretch with the colours of the maple trees reflected off the water's surface, allowing them to fall into nature and forget their stresses for a while.

Hozugawa River
Peak Autumn Time: Mid November – Early December
Address: Shimonakajima-2 Hozucho, Kameoka, Kyoto
Boat Times: 09:00-15:00 (Changes depending on season)
Price: Adults ¥4,100 / Children ¥2,700
TEL: 0771-22-5846 (Hozukawa River Boat Service)
Official Website: https://www.hozugawakudari.jp/

Shrouded amongst it all | Kuwayama Shrine in Kameoka

Planed on the grounds of Kuwayama Shrine are around 1,000 individual trees which give rise to vivid colours during autumn. Since the shrine is located among the mountains, the site enjoys an earlier bloom than other parts of Kyoto, with trees blossoming from early to mid November.

Kuwayama Shrine
Peak Autumn Time: Early to Mid November
Address: Kamigaichi-22-2 Kamiyadacho, Kameoka, Kyoto
Viewing Times: Any time
Price: ¥300
TEL: 0771-22-1023
Official Website: http://www.kuwayama-jinjya.jp/

Walk the autumn carpet | Komyo-ji in Nagaokakyo

Komyo-ji Temple, also known as Autumn Colour Temple (Momiji-ji), is famous for being the head temple of Seizan Pure Land Buddhism. Easily accessible from the city proper, the temple site is home to hundreds of towering trees which dye the area vibrant reds and yellows around this time. One of the main paths at the temple in particular has been nicknamed Autumn Colour Road (Momiji Sando) as the overhead trees and fallen leaves on the ground create a tunnel and carpet of brilliant colour.

Komyo-ji
Peak Autumn Time: Mid to Late November
Address: 26-1 Aosaijonai, Nagaokakyo-shi, Kyoto
Viewing Times: 9:00-16:00
Price: ¥500 (Free outside autumn season)
TEL: 075-955-0002
Official Website: http://www.komyo-ji.or.jp/

Thousands of fiery trees burn red and yellow | Kongoin in Maizuru

Kongoin is famous for its autumn scenery and is nicknamed Autumn Temple of Tango. The temple is home to thousands of maple trees all of various ages from decades to hundreds of years old. It faces Kahara Park which itself boasts incredible autumnal sights and is also home to a 3-storied pagoda which makes for a picturesque snapshot together with the trees.

Kongoin
Peak Autumn Time: Mid to Late November
Address: 595 Kawara, Maizuru, Kyoto
Viewing Times: 09:00-17:00
Price: ¥300
TEL: 0773-62-1180
Official Website: http://www.maizuru-kanko.net/spot/sightseeing/kongoin.php

Contrasting beauty of red maples and ordinary greens | Omoto Shinen in Ayabe

Omoto Shinen is a popular sightseeing spot in Ayabe, home to several must-sees including a wooden structure called "The Palace of Eternal Life," the Konohana-an building which is listed as an Important Cultural Property, and more. Its expansive grounds are also home to a garden where the autumn colours collide with the greens of ordinary trees, creating a beautiful contrast.

Omoto Shinen
Peak Autumn Time: Mid to Late November
Address: 1-1 Hongucho, Ayabe, Kyoto
Viewing Times: 09:30-16:30
Price: Free
TEL: 0773-42-0187
Official Website: https://www.ayabe-kankou.net/spot/omotoshinen/

A magical scene at an Important Cultural Property | Gansen-ji Temple in Kizugawa

Gansen-ji Temple is an ancient Buddhist temple that was built in 729. It's home to a three-storied pagoda which is is a registered Important Cultural Property which nestles amongst the trees. If you visit the temple this year by November 30, you will be treated to a very rare look at one of its treasures which is normally closed to the public.

Gasen-ji
Peak Autumn Time: Mid November – Early December
Address: Kaminomon-43 Kamocho Iwafune, Kizugawa, Kyoto
Viewing Times: 08:30-17:00 (09:00-16:00 from December to February)
Price: Adults ¥500 / Junior High School Students ¥400 / Elementary School Students ¥200
TEL: 0774-76-3390
Official Website: http://gansenji.or.jp/

The garden of special scenic beauty | Joruri-ji Temple in Kizugawa

Joruri-ji is a temple of the Shingo Ritsu school of Buddism. It's also home to a famous garden which is listed as a Place of Special Scenic Beauty. The vibrancy of the reds trees is truly an overwhelming delight to the eyes which is enhanced by the bright-red three-storied pagoda.

Joruri-ji Temple
Peak Viewing Time: Mid to Late November
Address: Futaba-40 Kamocho Nishio, Kizugawa, Kyoto
Viewing Times: 09:00-17:00 (Last Entries 16:00)
Price: Adults ¥400 / Children – Free
TEL: 0774-76-2390
Official Website: http://0774.or.jp/temple/jyoruriji.html

Red and yellow hue fusion | Choanji in Fukuchiyama

Choanji's autumn colours make for a truly staggering experience as the dazzling reds and yellows complement each other. There's a 600-year-old tree in near the temple which throws in another huge chunk of yellow to the red dye of the temple grounds.

Choanji
Peak Autumn Time: Early to Mid November
Address: 577 Okunobe, Fukuchiyama, Kyoto
Viewing Times: 09:00-16:30
Price: Adults ¥300 / Children ¥100
TEL: 0773-22-8768
Official Website: http://www.chouanji.jp

Evening illuminations for a late-night autumn experience

Breathtaking in the day or night | Nariaji Temple in Miyazu

Nariaji is an ancient temple huddle among mountains that overlook Amanohashidate, one of Japan's Three Scenic Views. The five-storied pagoda there is an example of Kamakura Period architecture and offers an unmissable view together with the hundreds of trees during autumn. On November 14 and 15, the area will be lit up in the evenings.

Nariaji
Peak Autumn Time: Early to Late November
Light Up Times: 17:20-21:00 (Regular viewing times are 08:00-16:30)
Address: 339 Nariaji, Miyazu, Kyoto
Price: Adults ¥500
TEL: 0772-27-0018
Official Website: http://www.nariaiji.jp/

Autumn reflected on the water | Keihanna Commemorative Park in Soraku

Keihanna Commemorative Park is split into several areas such as the Suikei-en (Japanese garden) and Mebuki-no-Mori (Budding Tree Forest). There's also the Momijiya, a garden designed in a valley where maple trees grow. Talking a stroll along the bridge and looking down at the 80 trees in their autumnal garbs reflecting off the water surface is a sight to not be missed. especially at night when the lights are turned on.

Keihanna Commemorative Park 

Peak Autumn Time: Mid to Late November

Light-Up Period: Fridays, weekends, and holidays from November 3, 2020 – November 29, 2020

Light-Up Time: Sunset to 21:00 (Last Entries 20:30)

Address: 6-1 Seikadai, Seika, Soraku District, Kyoto

Price: Adults ¥200 / Children ¥100
TEL: 0774-93-1200
Official Website: https://keihanna-park.net/

Demon Slayer: Kimetsu no Yaiba Collaborates With Kyoto's Famous Kabuki Theatre Minami-za

Minami-za, one of the most respected kabuki theatres in Japan, has announced a special exhibition in collaboration with the TV anime series Demon Slayer: Kimetsu no Yaiba which will run from November 6 to 23.

Minami-za is the oldest theatre in Japan and is registered as a Tangible Cultural Property of Japan. The Demon Slayer exhibition will feature displays, decorations, and a range of exclusive merchandise.

Lobby Exhibit

Fans will find a range of character boards displayed at the entrance lobby to Minami-za with the characters donning traditional kabuki attire.

Special Stage Photo Spots

Cut-outs of the main cast of characters will be displayed on stage. People will be able to stand up on stage and take photos with the characters in this unique collaboration with kabuki.

Signboard

An original signboard will be displayed at the entrance to Minami-za.

Free Bonus Items

All customers who visit the theatre will receive one of these 18 possible coasters for free.

Merchandise

Those who hold a ticket to the event will be able to purchase a selection of original merchandise at the theatre. The items will also be sold online at Shochiku Kabuki-ya Honpo.

Teabags (4 Flavours) | ¥800 (Tax Included)

Special teabags will also be sold at the Tokyo and Kobikicho Square branches of Shochiku Kabuki-ya Honpo as well as their online website between October 21 and 23.

Tickets to the event are available via Lawson in Japan.

©Koyoharu Gotouge/Shueisha・Aniplex・ufotable

Information

Demon Slayer: Kimetsu no Yaiba x Minami-za
Location: Minami-za (Hashihigashizumecho, Higashiyama-ku, Kyoto)
Running: November 6, 2020 – November 23, 2020 (Closed November 9 and 16)
[Tue-Thur] 15:00-20:00 (Last Entries 19:00)

[Fri-Sun] 10:00-20:00 (Last Entries 19:00)
Tickets: https://l-tike.com/kabukimetsu_minamiza/
Official Website: https://www.kabukimetsu.com/

Learn Japanese History at Kyoto's Nijo Castle Festival With the NAKED SAMURAI App

NAKED, INC. has announced the launch of a new project called 'NAKED SAMURAI' that will debut at Nijo Castle Festival 2020 which begins on October 14, 2020.

NAKED has fused technology with reality for many different projects, such as CITY LIGHT FANTASIA—an evening projection mapping exhibit—which has been showcased in the observation deck halls of government buildings and towers, the Night Walk event in Hokkaido and Aomori, and more.

With the effects of COVID-19 changing the way we live our lives, so too does NAKED have to change the way it blends tech with real life. And that's where NAKED SAMURAI comes in which the company is taking to Nijo Castle, one of Japan's many tourist hot spots as well as a World Heritage Site.

See historical architecture while learning Japanese history

NAKED SAMURAI is an app used for smartphones that has a samurai as your guide with fully-recoded lines. The samurai will tell users the history and stories behind the various spots at Nijo Castle from his perspective. When putting your phone up to certain places, certain sites that are normally locked at Nijo Castle will open up onto the app, giving you a rare look into what's inside.

Tokugawa Ieyasu, Toyotomi Hideyori, and other historical figures make an appearance

Your guides include Tokugawa Ieyasu, the founder and first shogun of the Tokugawa Shogunate who ordered the building of Nijo Castle, and Toyotomi Hideyori, the general responsible for uniting Japan. They can both give you different insights into Nijo Castle.

Using the app lets you see how Nijo Castle looked back in these historical figures' days during the Edo Period, as well as former castle tower before it was destroyed in 1750, and much more.

Information

Nijo Castle Festival 2020
Running: October 14, 2020 – December 7, 2020
Location: Nijo Castle

Address: 541 Nijojocho, Nakagyo Ward, Kyoto
Time: 8:45-16:00 (Castle closes at 17:00)

Price: General ¥1,030 / Junior to High School Students ¥350 / Elementary School Students ¥200
Official Website: https://nijo-jocastle.city.kyoto.lg.jp/event/nijojomatsuri/

*Certain parts of the event require a separate fee

*Schedule and details subject to change or cancellation depending on the situation of COVID-19

Enjoy Breakfast With a Feline Twist at eXcafe Gion in Kyoto Where They Serve Cat Shaped Toast

eXcafe Gion, a cafe located near Kyoto's popular tourist spot Yasaka Shrine, introduced its Mikeneko breakfast to the menu on Monday. The breakfast was first put on the menu at the Arashiyama branch of eXcafe.

Gion is one of Kyoto's biggest and most famous shopping districts. eXcafe Gion is located along Shinbashi-dori Street, which is listed as one of Japan's Important Preservation Districts of Historic Buildings, making it within walking distance of many traditional places in Kyoto such as Yasaka Shrine, Hanamikoji Street, Shirakawa, Tatsumidaimyojin Shrine, and more.

eXcafe Mikeneko Breakfast | ¥1,380 (Before Tax)

eXcafe's Mikeneko breakfast menu is made with the new thick-cut, three-coloured cat-shaped bread from the popular cafe Kyoto Neko Neko, which is made with three flavours: caramel, black cocoa, and plain. It comes with various toppings to choose from including anko red bean paste, butter, whipped cream, and fruit, so you can arrange your toast how you like it.

The toast is served with mitarashi-dango for dessert which can be cooked on top of the little stove that you get.

Enjoy a super cute breakfast meal at eXcafe and then a stroll around Gion when visiting Kyoto.

Information

eXcafe Mikeneko Breakfast
Serving: 8:00am-11:00am (Last Orders 10:00am) *Day menu available from 10:00am

Location: eXcafe Gion

Address: 57-1 Motoyoshichō, Higashiyama-ku, Kyoto
Opening Hours: 8:00am-6:00pm
TEL: 075-533-6161

Autumn Lights Set to Illuminate Kyoto's Konkai-Komyoji Temple This November

Autumn illuminations are set to shine on Konkai-Komyoji Temple in Kyoto from November 13.

Konkai-Komyoji Temple is a Buddhist temple that was founded in 1175. It is one of the eight temples of the Jodo sect of Buddhism and his home to numerous treasures including a painting by Edo period painter Itō Jakuchū, folding screen paintings by Tomioka Tessai, and more. There are many wonders to behold at the temple, such as the Tora-no-ma which has sliding doors that depending on how they are open or closed display a different number of tigers, or the Shiun Gardens which have a stream that reflects the beautiful autumnal colours of the overhead trees.

The temple is also home to the Goko Shuyui Amida Butsu statue, which has been picked up by the Japanese media on many occasions and referred to as the "Afro Buddha" due to its afro hairstyle.

There will be Japanese music performances with traditional instruments like the koto and shinobue three times an evening for the illumination event. If you're in Kyoto this autumn, this is one event to not miss.

Information

Konkai-Komyoji Temple Autumn Lights
Running: November 13, 2020 – December 6, 2020

Viewing Hours: 17:30-20:30 (Last Entries 20:00)

Price: General ¥1,000 / Elementary School Students ¥500 / Infants – Free / Groups of 20+ ¥800 each

Konkai-Komyoji Temple

Address: 121 Kurodanichō, Sakyō-ku, Kyoto
Official Website: https://www.kurodani.jp/lightup_aut/

Kyoto's Rokuo-in Temple to be Illuminated in the Autumn Evenings

Keifuku Electric Railroad is lending its strength to Rokuo-in Temple in Kyoto this autumn to light up the ancient site in the evenings from November 14 to December 6.

Shari-den (Photo taken in 2019)


Temple path (Photo taken in 2019)

This year marks the 5th run of the autumn evening light-ups. The temple, just a four minute walk from Rokuoin Station, is known for its beautiful maple trees which blossom breathtaking autumnal colours during the fall season.

Temple reception hall with fusuma images


Fusuma image example

The temple is selling new goshuin temple stamp books this year for the light-up event. Visitors will also be able to see 56 fusuma images drawn by contemporary Japanese artist Takaya Fuji.

Rokuo-in Temple will close early next year for approximately 2 years and 9 months for repairs. The temple is also currently limiting the number of people allowed at once, making this year the best time to see the autumn leaves.

Information

Rokuo-in Temple Evening Light-Up
Running: November 14, 2020 – December 6, 2020
Time: 17:30-19:30 (last Entries 19:00)

Price: ¥2,000 (Comes with matcha and Japanese confections)

Capacity: [Weekdays] 100 People / [Weekends] 150 People

Access: 4 minutes on foot from Rokuoin Station
Apply Here: 嵐電webサイト専用フォーム

Experience Old Time Kyoto in Autumn 2020 With Tea and Textiles

Kyoto, the ancient capital of Japan, is also called the birth place of Japanese culture, with a history spanning 1,200 years. Today, we're going to take a look at a number of upcoming events and seasonal items on sale in Kyoto for autumn 2020.

Celebrating 300 years of Tango Chirimen

This year marks 300 years since Tango Chirimen was established, a company located in Tango in northern Kyoto that specialises in a Japanese textile of flat woven silk known as 'chirimen.' There are many local chirimen brands around Japan, but it is the chirimen from Tango that has stood above the rest these past 300 years. The brand is now looking to the start of a new era for itself during its triple century milestone.

LIFE WITH THE QUALITY

Tango Chirimen is currently displaying a collaborative art exhibit at NEWoMan Shinjuku in Tokyo. This includes the entry display made in collaboration with Japanese artist Saki Tanaka, wall art made from woven fabrics, and more.

Running: Until September 30, 2020

Location: NEWoMan Shinjuku

Lineup: Display in collaboration with Saki Tanaka, wall art, and more

United Arrows x Tango Chirimen

United Arrows is also collaborating with the brand and incorporating their logo mark "TANGO OPEN" on a new men's t-shirt.

Product Name: BY Tango Broad Wide Form Tapered Shirt
Buy Here: https://store.united-arrows.co.jp/shop/by/goods.html?gid=52838245
Sold at: BEAUTY & YOUTH UNITED ARROWS stores and their official online store

Taste tea from Uji on Japanese Tea Day

It is generally considered that the first tea of the season in Japan is best enjoyed from the end of April and during May, but in fact Japanese tea is the perfect season to enjoy Japanese tea, specially since the country celebrates Japanese Tea Day (Nihoncha no Hi) on October 1 and 31.

Ujicha, or tea from Uji in Kyoto, boasts some of the most famous kinds of teas in Japan. This includes matcha, sencha, and gyokuro, all of which were first grown in southern Kyoto. Because of this, it is said that Ujicha marks the origins of Japanese tea. So when you visit Japan during autumn, why not celebrate Japanese Tea Day with some authentic tea from Uji?

Ujicha Tea Murie Online Course

The Ujicha Tea Murie Course has been held since 2015 in Kyoto, and this year, the course is heading online for the first time as a result of the pandemic. Learn how to make and serve Uji tea from a professional tea instructor as well as its history and more.

Running: Session 1: September 15, 2020 / Session 2: October 2, 2020 / Session 3: October 17, 2020

Book: Online
Requirements: Download and install Zoom
Official Website: https://www.pref.kyoto.jp/yamashiro/ocha/

Certified Ujicha tea cafes for an authentic experience

Tsujiri Rihei Ginza | Tsujiri Rihei Senju

Nakamura Tokichi Ginza

Tsujiri Rihei Ginza, Tsujiri Rihei Senju, and Nakamura Tokichi Ginza are all cafes in Tokyo that are officially recognised for serving authentic Ujicha tea which also includes proper preparation as well as teaching the history and culture behind the tea. These three cafes are also holding an Ujicha tea stamp rally as well as a Twitter hashtag campaign.

Kyoto's Female-Only Hotel CAFETEL Kyoto Sanjo for Ladies Reveals Halloween Room

CAFETEL Kyoto Sanjo for Ladies, a hotel in Kyoto exclusive to female guests, is offering a new Halloween room plan between October 1 and November 1. There is just one room and it can only be booked for one day between that period. This plan was offered last year and was a resounding success amongst guests.

Last year's Halloween room took on a more cute and bright theme, but they're going for something darker this time. The theme this year is "The Secret Witches-Only Get-Together," with all ideas and designs conceived and handmade by the hotel staff themselves.

Guests will find decorations all around the room, such as bats on doors and walls who will listen in on the witches' gossip to creepy crawly spiders in the bed. Candles are provided in the room to set the Halloween mood, and there's even witch and devil costumes and props for guests to dress up in.

Free goodies for the witch get-together

Guests can enjoy a gorgeous view of the Kamogawa River from their room. They are also presented with a free Halloween drink exclusive to those who stay in this room.

Information

CAFETEL Kyoto Sanjo for Ladies

Running: October 1, 2020 – November 1, 2020

Rooms: 1 (up to 3 people)

Price: From ¥10,650

Official Website: https://cafetel.jp/