Ziploc® x BEAMS COUTURE Re-Release First Collaborative Collection at BEAMS Japan
Most of the 12 items offered in the second collaboration between Ziploc and BEAMS's upcycle and handmade concept label BEAMS COUTUREーwhich dropped on January 29, 2020ーhave already sold out.
Their first collaborative collection, which was sold in the US last spring, is being restocked in limited supplies and will be available at a pop-up shop inside the Shinjuku branch of the BEAMS Japan store on February 20, 2020 at 11:00 A.M.
Cap: ¥5,400 (Before Tax)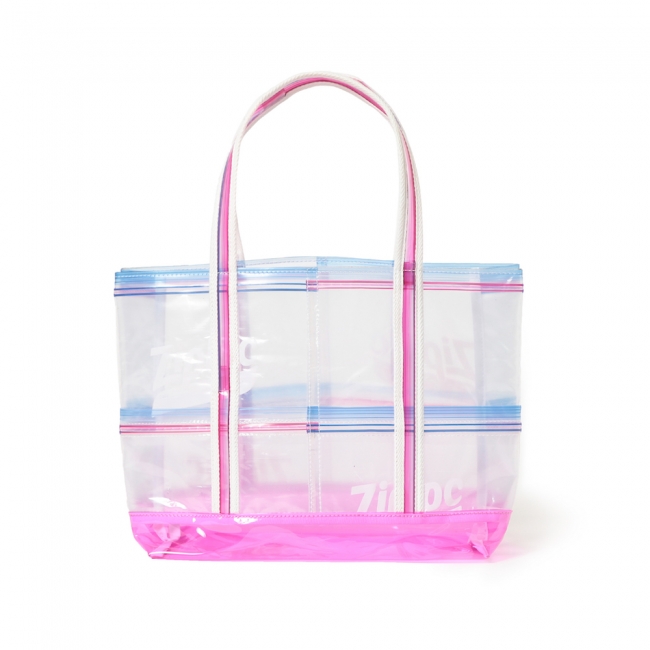 Tote Bag: ¥6,600 (Before Tax)
Backpack: ¥7,800 (Before Tax)
Sacocche: ¥1,080 (Before Tax)
The pop-up shop will run until March 4, 2020, where it will stock a range of Ziploc items with designs created by Japanese art director and graphic designer Yuni Yoshida.

As part of the collaboration, eleven original Instagram GIF stamps are available to users, with designs such as fruits flying out of Ziploc bags, a Ziploc vinyl umbrella opening and closing, and many more fun ones. Try searching for Ziploc and BEAMS.
Information
Ziploc® x BEAMS COUTURE
1st Collaboration Re-Stock
Release Date: February 20, 2020 at 11:00 A.M. (Limited Stock)
Available: BEAMS Japan Shinjuku
*Up to 3 items per person
*Available while supplies last
BEAMS Japan Shinjuku
Address: 3-32-6 Shinjuku, Shinjuku Ward, Tokyo, Japan
Official Website: https://www.beams.co.jp
RELATED ENTRIES
BEAMS Japan Kyoto finally opened on June 11, 2020 after the postponed grand opening of ShinPuhKan shopping centre in which it is located.

BEAMS Japan Kyoto comes as the first branch of BEAMS Japan in Kyoto and aims to be a hub of made-in-Japan products from BEAMS's "TEAM JAPAN" range, a project to curate content across a broad range of categories based on the keyword "Japan." The store will collaborated with Kyoto-based creators and businesses and offer a wide selection of branded products, original apparel lines, and more—through the lens of TEAM JAPAN.

The 3.5m high ceiling art of the legendary mythical bird Hou-ou catches the eye upon entry, and the shop lends a modern tinge to its traditional aesthetic. Here, BEAMS JAPAN's many different products are lined up against one another.


BEAMS JAPAN opened a brand in Shinjuku in April 2016 and subsequently in Shibuya in December 2019. BEAMS Japan Kyoto comes as the company's third branch.

Levi's® and BEAMS are teaming up once again to release a new capsule wardrobe called the 'HALF & HALF COLLECTION' which is set to drop on May 21, 2020.

Last year, Levi's® and BEAMS collaborated on their first seasonal capsule collection―called "The Inside Out Collection"―which featured shirts, jeans, and jackets flipped inside out.

Denim Jacket: ¥29,000 (Before Tax) | Sizes: XS-XL

In the new collection, we have Levi's® classic 1936 Denim jacket which represents the first informal uniform for labourers, merged together with another model to create an asymmetrical front with copper shank buttons.

Denim Pants: ¥25,000 (Before Tax) | Sizes: Women's 27, 28, 29 / Men's 29-36



T-Shirt: ¥4,800 (Before Tax) | Sizes: Women's XS / Men's S-XL


The pants also combine two models together: the 1937 501® and the 1993 501®, with an arcuate stitch back pocket. The T-shirt also fuses the corporate colours of both companies into one.

Experience Denim like never before in Levi's® and BEAMS new HALF & HALF COLLECTION.

Information

Levi's® × BEAMS "HALF & HALF COLLECTION"
Release Date: May 21, 2020
Available: Levi's®︎ Harajuku Flagship Store / Levi's®︎ Store Osaka / BEAMS Official online Shop / BEAMS Japan Shibuya / BEAMS Japan Kyoto (Opening June 11, 2020) / BEAMS Street Umeda
*Close note that some stores are closed due to lockdown measures

BEAMS Japan Official Website: https://www.beams.co.jp/

Starbucks Reserve® Roastery Tokyo Releases Merchandise in Collaboration With BEAMS

Starbucks Coffee Japan has collaborated with BEAMS Creative Lab (ビームス創造研究), which is led by Kazuyoshi Minamimagoe, Senior Creative Director at BEAMS, to release a collection of merchandise to celebrate the coming New Year. The items arrived at Starbucks Reserve® Roastery Tokyo on December 17.

Since opening on February 28, 2019, Roastery Tokyo has collaborated with BEAMS Creative Lab on three separate occasions to release collections of merchandise themed on "Play," "Travel," and "Go out!" respectively. They have proven popular with both Japanese and foreign customers. For this fourth collaboration, the theme is "Lucky Charms."

The line-up of items range from classic Japanese New Year's celebratory items like pochibukuro mini envelopes and a towel with a New Year's greeting design on it to Roastery Tokyo-exclusive Kewpie dolls coloured copper and silver like the roasters in the coffee shop.

Look over the past year and beckon the New Year with a cup of coffee at Starbucks and some festive goodies.

Information

Starbucks Reserve® Roastery Tokyo

Address: 2-19-2 Aobadai, Meguro, Tokyo

Business Hours: 7:00-23:00

No Fixed Holidays.

Access: 14-minutes on foot from Naka-Meguro Station / 14-minutes on foot from the East Exit of Ikejiri-Ōhashi Station

Official Website: https://www.starbucks.co.jp/roastery/

BEAMS JAPAN Unveils Clothing Line-Up For New Shibuya Store

Following the opening of their Shinjuku branch back in 2016, BEAMS JAPAN has announced that it will open a second branch in Shibuya on December 5, 2019. It will be found inside the new Shibuya FUKURAS which is also set to open beside Shibuya Station to this December.

The store is set to be the second hub for BEAMS "TEAM JAPAN," a project which aims to build a community around the brand and promotes products made in Japan.

In the run up to the grand opening, the store has unveiled select products that buyers can look forward to grabbing this winter.

BEAMS JAPAN SHIBUYA x TOWER RECORDS T-Shirts (Hiroshi Nagai) – ¥6,600 Each (Tax Included)

MIZUNO WAVE CREATION WAVEKNIT (Made to Order Model) – ¥23,100 (Tax Included)

BEAMS Shibuya has collaborated with Japanese illustrator Hiroshi Nagai to release various items featuring his designs, including t-shirts featuring Tower Records Shibuya, as well as souvenirs with other Shibuya motifs like Hachiko and Scramble Crossing. There is also a pair of limited-time MIZUNO x HIGHSNOBIETY x BEAMS sneakers to get your hands on.

The store will make use of Japanese-style decor with wooden beams and pillars. There will be ceiling art from Japanese artist Kads MIIDA, as well as a classic hiyoke noren entryway curtain to the store, something which has been used since ancient times.

Gold Adzuki Bar – ¥220 (Tax Included)

BEAMS JAPAN prides itself on promoting local business and culture. For the Shibuya store's opening, they have teamed up with Imuraya Confectionery so that customers can buy Gold Adzuki Bars, an ice cream bar that was created in Mie Prefecture and is considered "the nation's ice cream."

Akafuku Mochi (Includes 8) – ¥760 (Tax Included) / Akafuku Mochi Single Pack (Includes 2) – ¥240 (Tax Included)

And for the first three days of the store's opening, it will offer a rare opportunity to buy akafuku mochi, a Japanese confection consisting of a pounded rice cake topped with red sweet bean paste.

And to further promote Japanese fashion to the world, BEAMS JAPAN will simultaneously launch a new collection at both the Shibuya and Shinjuku branches.

BEAMS Shibuya will also launch its second collaboration with the upcoming Japanese film Tora-san, Welcome Back and will also hand out copies of BEAMS EYE ON SHIBUYA which includes essential information written by the BEAMS staff about what's great about Shibuya. Don't miss out.

Information

BEAMS JAPAN SHIBUYA

Grand Opening: December 5, 2019

Address: Tokyu Plaza Shibuya 2F, 1-2-3 Dogenzaka, Shibuya, Tokyo
Opening Hours: 10:00-21:00
Stocked Labels: Men's <BEAMS> / Women's <Ray BEAMS> <BEAMS BOY> / Other <BEAMS JAPAN> <TOKYO CULTUART by BEAMS>

BEAMS JAPAN Official Website: https://www.beams.co.jp/beams_japan/

Following up from the opening of their Shinjuku branch back in 2016, BEAMS JAPAN has announced that it will open a second branch in Shibuya on December 5, 2019. It will be found inside the new Shibuya FUKURAS which is also set to open beside Shibuya Station to this December.

Shibuya-Exclusive Field Watch – ¥15,000 (Before Tax)

BEAMS JAPAN Shibuya is set to be the second hub for BEAMS "TEAM JAPAN," a project which aims to build a community around the brand and promotes products made in Japan. Opening with a completely original line focused on "super basic" clothing, it is sure to be a welcome addition to the streets of Shibuya―one of Japan's leading districts when it comes to Japanese fashion and culture.

BEAMS JAPAN Hachiko Logo Long T-Shirt – ¥7,800 (Before Tax)

Scramble Crossing/Traffic Safety Caps – ¥5,800 Each (Before Tax)

The new store will stock a whole range of different clothing items, including attire exclusive to the branch such as the above-pictured caps and watch inspired by Shibuya;s tourist sites like the Scramble Crossing and Hachiko statue.

Information

BEAMS JAPAN SHIBUYA

Grand Opening: December 5, 2019

Address: Tokyu Plaza Shibuya 2F, 1-2-3 Dogenzaka, Shibuya, Tokyo
Opening Hours: 10:00-21:00
Stocked Labels: Men's <BEAMS> / Women's <Ray BEAMS> <BEAMS BOY> / Other <BEAMS JAPAN> <TOKYO CULTUART by BEAMS>

BEAMS JAPAN Official Website: https://www.beams.co.jp/beams_japan/

BEAMS fennica to Release Gorgeous Collection in Collaboration With Ainu Crafts

fennica is a fashion label associated with BEAMS that combines traditional Japanese handicraft with new and old designs collected from Northern Europe. The label has announced that it will collaborate with the Akan Tourism Association (法人阿寒観光協会まちづくり推進機構) non-profit organisation to release an all-new collection that incorporates traditional Ainu crafts.

Terry Ellisーthe London-based director of fennicaーand Keiko Kitamura observed Ainu culture in the Lake Akan area in Kushiro, Hokkaido, and have used the creative beauty of young craftsmen and craftswomen who are in charge of next-generation Ainu culture. Overtime they have worked together with the artisans to create an original collection entitled "Ainu Crafts from Lake Akan: Tradition and Innovation" which will be sold on the fifth floor of the Shinjuku branch of BEAMS Japan in the fennica studio and B Gallery from October 12.

The collection incorporates silver jewellery with Ainu patterns, wood-carved cutlery, hamper bags made with traditional materials, and many other lifestyle items familiar to Ainu culture. During the showcasing, there will be other exhibitions related to Ainu in the gallery, as well as talks, live performances, and more.

A special webpage went live on October 1 talking about this collaboration.

The collection's director Terry Ellis commented: "When I was walking around Takiguchi's store Ichigen No Mise, my attention focused on this cutlery. I felt the folklore in its simplicity. Though it's an item to be used, the craftsmanship is incredible. You can't just stop at one, you want to collect more and decorate with them." *Translated from Japanese

Keiko Kitamura, also a director for the collection, commented: "Akan is a rare kind of place, with mountains, rivers, lakes and forests. It has its own shapes and colours because of the light, colours and sounds which change intensely with time and soak into your body. And Ainu art is distinct from the traditional craftsmanship of other countries and regions because in almost all categories you can still produce it even today. There are [Ainu] people who are still continuing to make art for their family to this day. Their still being here is something valuable."

She continues: "Japan's handiwork is in danger of vanishing across all areas of the country. Even if there are no successors, there are people who have been beside them watching, and people who were once involved in the past. So we may barely just make it. Because if this handiwork comes to a stop, it will be no more. We feel a sense of duty to protect this wonderful work."

Information

Ainu Crafts from Lake Akan: Tradition and Innovation

Location: BEAMS Japan – Floor 5F (3-32-6 Shinjuku, Shinjuku Ward, Tokyo)

Running:

<fennica Studio> Product Sales: October 12, 2019 – October 20, 2019 (*AINU CRAFTS products, specially-made fennica select Lake Akan items, and more)

<B Gallery> Lake Akan Exhibitions: October 12, 2019 – October 27, 2019

①Live Event: October 13, 2019 @ 18:00-18:30

Guests: Sister music unit "kapiw & apappo" (Fukuko Gōukon/Emi Shimokura)

②Talk Show: October 20, 2019 @ 18:00-19:30

Guests: Kengo Takiguchi, Hiroyuki Shimokura, Erika Katsuya, Keiko Kitamura, Terry Ellis

*The live event and talk shows are booking-only. Please check the B Gallery website for more details and how to book.

Visit the following website for more details on the participating artisans: https://www.akanainu.jp/karpekuru

Starbucks collaborates with BEAMS to release travel-themed goods! Available for a limited time only!

Starbucks coffee Japan is collaborating with BEAMS' senior creative director Kazuyoshi Minamimagoe's Institute of Creation. The collaboration will take place at Starbucks Reserve® Roastery Tokyo (Roastery Tokyo for short). This involves the release of a variety of new products that are based on a new perspective of creation. Starbucks Reserve® Roastery Tokyo will be introducing the lineup for a limited time only starting from Wednesday 25th April 2019.

Keyring (room key) ¥3,000

The first collaboration between Roastery Tokyo and Beams Institution of Creation took place on 28th February 2019.  To celebrate Roastery Tokyo's grand opening, they collaborated with BEAMS Institution of Creation to release multiple products themed around the keyword "PLAY". The collaboration attracted a lot of attention from overseas as well as within Japan. This time, the collaboration project theme is "TRAVEL", so pop by Roastery Tokyo to see the collection of this new product range!

Holiday sunglasses ¥23,000

From Minamisanriku, Miyagi prefecture to Fukui prefecture, the lineup consists of a range of products from different areas of the country. All items are made carefully by skilled and passionate makers with earnest intentions. Each of the product brands has a special history that you could spend forever talking about. All products are both beautiful and functional and were made with careful attention to detail. Each item is worthy to represent the best of Japanese products. Once you get your hands on one, you will immediately feel travel vibes!

Travel pouch for cables ¥4,000

The only thing Roastery Tokyo can't quench is its thirst for discovery. Come enjoy a moment to yourself away from the hustle and bustle of city life in the unique and creative atmosphere of the cafe. Before your holiday travels, make sure to browse the selection of travel items which are sure to get you in the mood for adventure!

Beams Japan to Hold Collaborative Event in the City of Beppu

The Shinjuku branch of Japanese clothing brand Beams is holding an event titled BEAMS EYE on BEPPU in collaboration with the city of Beppu in Oita Prefecture.

A range of item are set to be sold including souvenirs co-developed by 10 different businesses as well as products from the Beppu New Standard project which started at the first run of this event held back in February.

Products include beverages made using the source water of hot springs in Beppu and skin care items which were developed by two buyers of Beams Japan and other businesses after sessions of exchanging ideas and tests. New and improved versions of popular local cakes developed during the event's firs run will also be sold in addition to a line-up of items made with the local region in mind.

Select products at the event will be available to buy at the Beams store, on their official website and via ZOZOTOWN.

Additionally, businesses that participated in last year's BEAMS EYE on BEPPU will set up a corner to sell Beppu New Standard products which have been locally. This is in an effort to show the many charms of the city of Beppu and that it is more than just a place to visit for the hot springs.

Information

BEAMS EYE on BEPPU
Running: November 21, 2018 – December 18, 2018
Address: Beams Japan Floor 1F (3-32-6 Shinjuku, Tokyo)

TEL: 03-5368-7300
Website: https://www.beams.co.jp/shop/j/
*Food and drink tasters of items sold at this event will be available for its duration.

BEAMS EYE on BEPPU Talk Event

Date: November 21, 2018

Time: 20:15-21:00
Location: Beams Japan Floor 1F
Speakers: Yasuhiro Nagano (Beppu City Mayor) / Shinya Kiyokawa (Sound Artist) / Yoppy (Writer) / Shuji Suzuki (Beams Japan Buyer)
*The first floor of Beams Japan will close at 21:30 on this day.

adidas & BEAMS Release Collaborative World Cup Uniforms

adidas Japan is Japan's official supplier for football uniforms. To promote the fashion culture of football wear, the company have teamed up with BEAMS to start the adidas Football for BEAMS project. Together, they will sell limited edition products, open pop-up shops and host events.

The collaborative uniforms will be sold at select BEAMS stores in white and black. For the design, the name 'beams' is written on the back, and on the left breast is an original crest.

Over at the BEAMS Harajuku pop-up shop they will also offer two limited edition colours―blue and orange―making a total of four colours for sale.

Additionally, from June 14 to 28, another pop-up shop will open at BEAMS Harajuku which takes inspiration from football locker rooms.

This pop-up shop combines football wear with street fashion. In addition to the BEAMS special uniform limited edition colours, they will also sell other uniforms representing Japanese soccer, as well as replica uniforms of each country. Look forward to the latest street footwear from adidas Football too.

To commemorate this project, a one-night-only football event will take place at the BEAMS Harajuku pop-up shop to bring excitement to football in Japan. Full details will be officially announced at a later date.

Get involved with the adidas and BEAMS collaborative project for this year's World Cup!

■Information

BEAMS Harajuku Pop-Up Shop

Address: 1F & 2F, 3-24-7 Jingumae, Shibuya, Tokyo

Open: June 14, 2018-June 28, 2018

BEAMS Harajuku Football Event

Address: 1F & 2F, 3-24-7 Jingumae, Shibuya, Tokyo

Date: June 19, 2018

BEAMS Official Homepage

Select BEAMS Casual Stores

adds GameShtSP

Price: ¥7,800 (Pre-Tax)
Colours: White / Black

BEAMS Harajuku-only
addsGameShtSP

Price: ¥7,800 (Pre-Tax)

Colours: Blue / Orange

Representing Japanese Soccer
Home Replica Uniform
Price: ¥8,990 (Pre-Tax)
Sizes: XS~4XO
Colours: Night Blue F13 / White

Representing Japanese Soccer
Home Replica Uniform
Price: ¥8,990 (Pre-Tax)
Sizes: XS~4XO
Colours: Clear Grey / White

A collaborative daruma of "Shirakawa Daruma" × "BEMAS JAPAN" will be sold

An established daruma (Japanese traditional doll which brings good luck) specialized store which has been running its business since the Edo Period called, "Shirakawa Daruma Sohonpo" and Fukushima Prefecture will sell their collaborative products (the second stage of the project called "Fukushima Mono Map which introduces Fukushima's "things, events and people") at BEAMS JAPAN (Shinjuku, Tokyo) which introduces many kinds of Japan's cultural items.

This project was started because the buyers of BEAMS JAPAN read Fukushima's information magazine "Fukushima Map" and visited Fukushima to understand the current situation of Fukushima.

The products will be sold at BEAMS JAPAN's stores and their official online shop. They are also planning to distribute "Fukushima Map" (Japanese/English) inside the stores.

Why not get your very own Japan-limited daruma.

■Information

Released date: 2018,02,01 (Thurs)~

BEAMS JAPAN 1F

Address: 3-32-6, Shinjuku, Shinjuku-ku, Tokyo

Business hours: 11:00 to 20:00

Fixed holidays: not decided

TEL:03-5368-7300

Official online shop:http://www.beams.co.jp

A cool "kendama (Japanese cup-and-ball game)" created by KENDAMA TOHOKU and KROM from Denmark was released.

BEAMS started a project called KENDAMA TOHOKU which was created under the theme of "creating business and news continuously in the devastated areas of the Tohoku Earthquake and released a collaborative kendama with KROM (a kendama brand created by the professional kendama player in Denmark" called "KROM×BEAMS O.K. Kendama for KENDAMA TOHOKU."

 

The theme which the creative director of BEAMS Magoshi Minami presented was "Okiagari Koboshi (small monk that does not fall)." Thorkild May, the founder and CCO of KROM designed the swinging face of the koboshi using the third smiley face that his creative team designed.

The spirit of Okiagari Koboshi which regains one's feet no matter how many times it falls over inspired the creative team so the words which represent the spirt of Okiari Koboshi is illustrated in the product.

The kendama is the latest high speck model of KROM and is made of hard maple wood. The ball of the kendama is lacquered with a special material. The tip of the kendama is thin and the plate of the kendama is big and has a hole so that the kendama is very easy to use.

The small Okiagari Koboshi that comes with kendama is an Aizu Hariko created by "Nozawa Mingei," a folk-art maker. KROM's design of the third smiley face which was also used in the kendama and it was depicted by the artisan Nozawa Mingei. The collaborative product with KENDAMA TOHOKU "Okiagari Koboshi" is very cute.

As a donation to the charity organization, Higashi Nihon Daishinsai Fukushima Kodomo Kifukin, $3 (US) (per kendama / from KROM) and 55 yen (per one Okiagari Koboshi / from Nozawa Mingei) will be given to the foundation.

"ASICS tiger" × "BEAMS" × "mita sneakers!" Dreamy collaborative items were released.

A sports life style brand "ASICS tiger" will release collaborative items with one of the most famous select shop in Japan "BEAMS" and a sneaker shop which sells sneakers to the world from Ueno, Tokyo "mita sneakers!"

The collaborative items include shoes and apparel items (four items in total) and all of the items are created based on the motif of "velour sukajan" (Japanese jacket with lots of stitches).

A delicately colored pair of shoes "GEL-LYTE III" is made of navy-colored velour and has stitched illustrations of dragons and the letters "Japan" in an original font, on both heel parts.

With regards to their apparel items, they are selling a long-sleeve T-shirt with an original graphic of a dragon illustrated on both sleeves and a hoody and pants made of navy velour.

Why don't you enjoy the sporty autumn season with these rare triple collaborated items!?

■Information

Triple collaboration SOUVENIR JACKET

Release date: September 16th, 2017 (Sat.)

Available stores: "ASICS TIGER Osaka Shinsaibashi" "ASICSTIGER Daikanyama Pop Up Store (Onitsuka Tiger Daikanyama Corner Space)," "ASICS Tiger Online Store," "BEAMS JAPAN," "mita sneakers."

♦Shoes "GEL-LYTE III"

Price: 17,000 yen (tax not included)

Color: navy × navy × cream

Size: 4.0 inch to 6.5 incn, 7.5 inch to 10.0 inch, 11.0 inch to 12.5 inch(size increase – every 0.5 inches), 14.0 inch

♦Apparel

・Hoody / navy / 15,800 yen (tax not included)

・Pants / navy / 14,800 yen (tax not included)

・Long sleeve T-shirt / navy, white / 6,500 yen (tax not included)

Size: S, M, L  / Asics tiger original size

Official website: asicstiger.com