Devil May Cry 3 Special Edition Drops On Nintendo Switch With New Gameplay Features
Devil May Cry 3 Special Edition was finally released on Nintendo Switch™ on February 20, 2020.
Twin brothers Dante and Vergil clash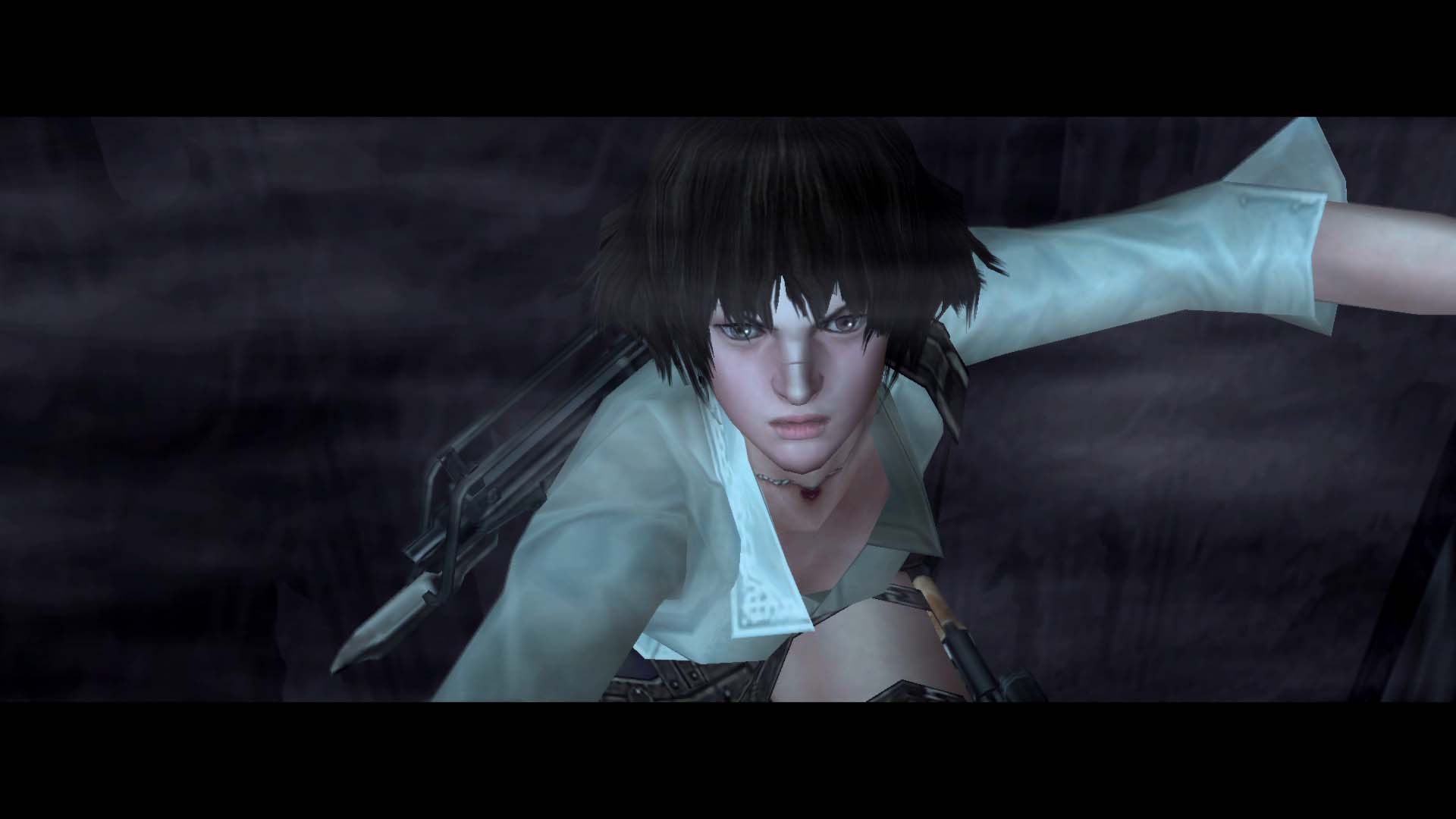 The secrets of the birth of Lady, a Devil Hunter, is important to her story
The original Devil May Cry 3, released on February 17, 2005, centres on the story between Vergil and Dante and their dysfunctional relationship. The game was an influential title in the series that showcased the possibility of subsequent games to come. Fans will now be able to enjoy it anywhere with the Nintendo Switch™ port.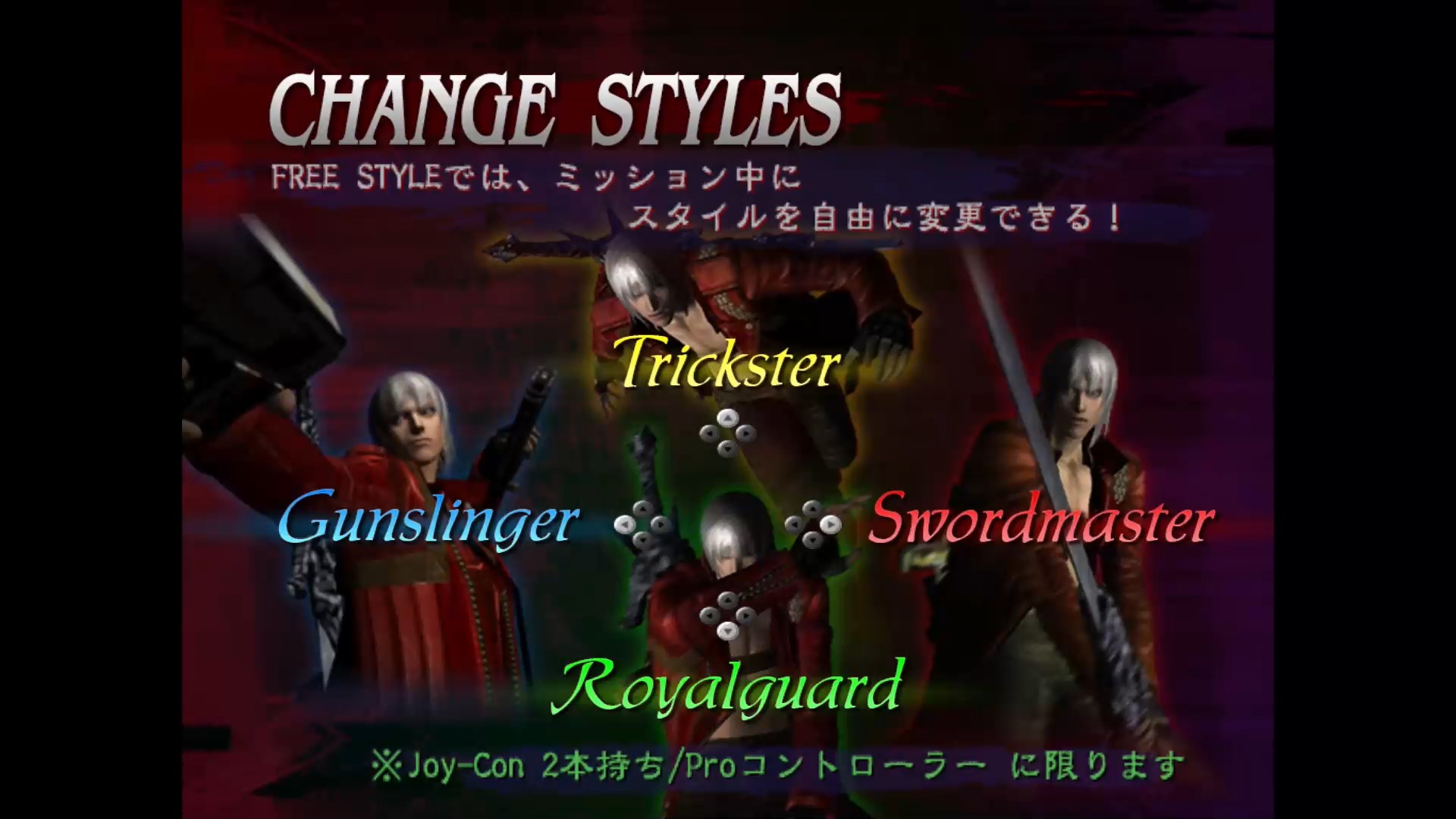 New "Style Change" system allows players to change styles without stopping gameplay
Local co-op play as Dante and Vergil in Bloody Palace
The Switch port introduces several new gameplay features, including "Style Change" which lets players change their weapons at the tap of a button, as well as co-op play in Bloody Palace.
If you've yet to play Devil May Cry 3, or are a longtime fan, then don't miss out on the most definitive experience to date.
©CAPCOM CO., LTD. 2005, 2020 ALL RIGHTS RESERVED.
ILLUSTRATIONS:Kazuma Kaneko/ATLUS
Information
Devil May Cry 3 Special Edition
Released: February 20, 2020
Genres: Action-adventure, hack and slash
Official Website: http://www.devilmaycry.com/3/
RELATED ENTRIES
Animal Crossing: New Horizons Original Soundtrack to be Released in Three Versions

Animal Crossing: New Horizons was released for the Nintendo Switch in March last year, and I'm sure many of us who have played it have the soundtrack on repeat in our heads daily. Now fans can get their hands on the game's official soundtrack which will be released in three versions: the BGM Edition which features the background music, the K.K. Slider Edition which has instrumental versions of all of the K.K.'s songs on it, and the First Press Limited Pressing Edition.

The First Press Limited Pressing Edition is a special version which includes a specially-made earphone case for storing your earphones as well as the K.K. Slider Jacket Artworks artbook featuring the CD covers of all of K.K.'s songs you can get in game.

BGM Edition | ¥4,950 (Tax Included) | 4 Discs | COCX-41434~7

Features all in-game background music including all the different tracks that play every hour during the game's 24-hour day cycle, music that plays depending on the weather, at in-game facilities on the island, event music, and more, for a total of 173 tracks. It also features a bonus track that was released back in May 2020 on Twitter.

K.K. Slider Instrumental Music Edition | ¥4,400 (Tax Included) | 3 Discs | COCX-41438~40

This edition features 95 instrumental songs from the beloved K.K. Slider spread across three discs.

BGM Edition + K.K. Slider Instrumental Music Edition | ¥11,000 (Tax Included) | 7 Discs

This version includes the earphone case, both editions, and the artbook, all packaged in a limited-edition box.

©2020 Nintendo

※Nintendo Switchは任天堂の商標です。

Nintendo Releases Hatsune Miku Logic Paint S for the Switch

Hatsune Miku Logic Paint S was released for the Nintendo Switch on March 18. The game was published by Crypton Future Media, who are known for creating VOCALOID, and comes as their first-ever puzzle game. The game is available for 25% off until March 31.

The main visual for the game was created by illustrator NEGI

The game is the expanded and complete version of Hatsune Miku Logic Paint -MIKULOGI- which was released for smartphones in March 2020. Players use the numbers in the top and left-hand sides of the screen to fill in a grid of square in order to create an image. They can also use the X marks to prevent mistakes. The images include illustrations of Piapro characters including Hatsune Miku and her familiar line-up of friends.

Players can also set their favourite songs to play in the home and puzzle screens and can unlock more songs by collecting Stars.

Hatsune Miku Logic Paint S builds on the MIKULOGI version by introducing even more puzzles – over 350, including the addition of new 20 x 20 puzzles alongside the original 5 x 5, 10 x 10, and 15 x 15. Players can now choose favourite Piapro character to solze puzzles together with, including Miku, Luka, Rin, Len, Kaito, and Meiko. There are also Missions for players to complete which will unlock artwork and 18 different songs.

MONSTER HUNTER RISE Nintendo Switch Accessory Series Includes Items Inspired by In-Game Monsters

A new collection of official MONSTER HUNTER RISE accessories for the Nintendo Switch is set to be released in Japan on March 26, 2021. It is unconfirmed whether the items will be released outside Japan.

MONSTER HUNTER RISE Magnamalo Grip Controllers for Nintendo Switch | ¥5,478 (Tax Included)

MONSTER HUNTER RISE Palico & Felyne Hand Pouch for Nintendo Switch | ¥2,178 (Tax Included)

MONSTER HUNTER RISE 64GB micoSD Card + Palico Card Case for Nintendo Switch | ¥6,578 (Tax Included)

MONSTER HUNTER RISE 64GB micoSD Card + Felyne Card Case for Nintendo Switch | ¥14,278 (Tax Included)

©CAPCOM CO., LTD. ALL RIGHTS RESERVED.

Kyary Pamyu Pamyu's New Song 'GUM GUM GIRL' Features in Nintendo Switch's Ninjala Commercial

This year marks the 10th anniversary since Japanese pop star Kyary Pamyu Pamyu made her debut, and to kick off 2021, she has announced the release of a new single titled GUM GUM GIRL which will hit music streaming and download platforms on January 29, 2021.

The GUM GUM GIRL single artwork painted by Kyary

The cover art for GUM GUM GIRL was painted by Kyary herself on a canvas using acrylic paints. Kyary painted with passion for her 10th anniversary year.

The singer also unveiled a new look which features metallic silver paper to represent the inside of gum packaging. Her magical makeup sees her face lined with rhinestones, serving stylish, futuristic vibes.

Kyary has been involved in the promotion of the Nintendo Switch title Ninjala, and in the game's latest commercial, she makes an appearance alongside Japanese comedy trio Yonsen Toshin to play the game. You can also hear a snippet of GUM GUM GIRL in the commercial. Check it out below.

Ninjala Commercial feat. Kyary Pamyu Pamyu

Ninjala is a popular title across the globe having been downloaded over 5 million times. In June 2020, a remix of Kyary Pamyu Pamyu's hit song Ninja Re Bang Bang was released by Steve Aoki in collaboration with the game. The song was also made available in-game in October.

Kyary is once again teaming up with Ninjala to feature her new single GUM GUM GIRL in-game, and a special GUM GUM GIRL T-shirt is being released for player avatars. These will be available from January 29 to February 18. Ninja Re Bang Bang Steve Aoki Remix, the clothing item, and dance emote released for that song will also be re-released during this time.

Kyary will premiere a brand new music video for GUM GUM GIRL on her YouTube channel at the stroke of midnight (JST) when January 28 turns to January 29. In the meantime, fans can check out Kyary discussing ideas for the music video with Yasutaka Nakata and her team. The can be watched in Japanese below.

The Making of "GUM GUM GIRL"

Kyary Pamyu Pamyu shows her gratitude for her 10th anniversary year with the release of GUM GUM GIRL which is sure to brighten up anyone's day who has been feeling down during the COVID-19 pandemic. Stay tuned for the official release.

Captain Tsubasa: Rise Of New Champions Releases Free Demo On PlayStation®4 and Nintendo Switch™

The official Twitter account for the association football game Captain Tsubasa: Rise Of New Champions announced the release of a free demo which hit PlayStation®4, PlayStation®5 and Nintendo Switch™ on Thursday (January 14). The demo offers a chance for players to experience the Tutorial and Versus modes.

Tutorial Mode

Versus Mode

The game is based on the popular sports anime and manga series Captain Tsubasa and features anime-style graphics. It features familiar faces and high-speed action from the series. It also comes as the series' first ever action soccer game.

Tutorial Mode teaches players the basics of the game while Versus Mode allows them to play a match with one of the four teams including a 4-player online mode. This is a great opportunity for football lovers who have yet to play the game to try it out.

©高橋陽一/集英社·2018キャプテン翼製作委員会
©BANDAI NAMCO Entertainment Inc.

Ninjala Season 4 Brings New Weapons, Stage, and More

Season 4 for the Nintendo Switch™ title Ninjala finally dropped on January 7, 2021.

In the colourful world of Ninjala, players blow bubble gum to craft different weapons and fight using the fighting style of ninjutsu. Players can also transform into nearby objects, and they must use parkour to traverse different landscapes while aiming to take down their opponents. Released on June 25 this year, the game has been downloaded over 5 million times.

Season 4 brings a new wintery theme with plenty of avatar items for players to enjoy. It also introduces two new weapons—the Scrap Saber and Chewing V—as well as a new stage called Fort Riverdale that features a gorgeous clock tower that glows beautifully against the night sky.

Adjustments have also been made to make battles smoother like shortened loading times, various UI improvements have been implemented, and new features have been added such as Ninjala Collection Cards.


A new episode of the Ninjala 2D Cartoon Anime entitled You're the Star! was released on PlayNinjala's official YouTube channel last Thursday (January 7) which can be enjoyed in English above.

© GungHo Online Entertainment, Inc.

Nintendo Switch's Ninjala Launches Sonic the Hedgehog Collaboration

The Nintendo Switch™ title Ninjala finally rolled out its collaboration with Sonic the Hedgehog on Thursday (September 24).


In the world of Ninjala, players blow bubble gum to craft different weapons and fight using the fighting style of ninjutsu. Players can also transform into nearby objects, and they must use parkour to traverse different landscapes while aiming to take down their opponents.


Players can get their hands on Sonic, Tails, and Knuckles costumes for their avatars, as well as turn into a Dr. Eggman Gum Utsusemi.


There are also IPPON decorations and stickers for players to use. All of these items are available to purchase via the in-game shop.

Enter the world of Sonic the Hedgehog in Ninjala today!

© SEGA
© GungHo Online Entertainment, Inc.

Information

Ninjala

Platform: Nintendo Switch™

Official Website: https://ninjalathegame.com/en/

*Company names, logos, product names and service names are trademarks and registered trademarks of their respective companies.

*Nintendo Switch and the Nintendo Switch logo are trademarks of Nintendo.

Ninjala's Sonic the Hedgehog Collaboration Launches September 23

It was revealed in Developer Diary #9 for the Nintendo Switch title Ninjala by both the game's director and game designer that the previously promised highly-anticipated Sega collaboration is really happening, with Sonic the Hedgehog set to speed his way into the gum world.

In the world of Ninjala, players blow bubble gum to craft different weapons and fight using the fighting style of ninjutsu. Players can also transform into nearby objects, and they must use parkour to traverse different landscapes while aiming to take down their opponents. Released on June 25, 2020, the game has been downloaded over 4 million times worldwide.

In the latest Developer Diary, the team revealed not only the Sonic collaboration—which comes in the form of costumes you can obtain in-game—but details on the upcoming "Featured Battle Mode" too

The new game mode will first bring the "Beast Attack!" limited-time event which is an 8-player game of tag where one player becomes a Beast and must defeat other Ninjas to earn points. Likewise, Ninjas must avoid being defeated for themselves to earn points.

You can check out the full details in the Developer Diary episode below.


© GungHo Online Entertainment, Inc.

©SEGA

Information

Ninjala

Platform: Nintendo Switch™

Official Website: https://ninjalathegame.com/en/

*Company names, logos, product names and service names are trademarks and registered trademarks of their respective companies.

*Nintendo Switch and the Nintendo Switch logo are trademarks of Nintendo.

Ninjala Announces Sonic the Hedgehog Collaboration

In the latest developer's diary (Dev Diary #8) for the Nintendo Switch title Ninjala, it was revealed that the game will collaborate with Sonic the Hedgehog.

In the world of Ninjala, players blow bubble gum to craft different weapons and fight using the fighting style of ninjutsu. Players can also transform into nearby objects, and they must use parkour to traverse different landscapes while aiming to take down their opponents. Released on June 25, 2020, the game has been downloaded over 4 million times worldwide.

More details about the Sonic the Hedgehog collaboration will be revealed at a later date. It will be the first in-game collaboration for the game.

© GungHo Online Entertainment, Inc.

Information

Ninjala
Official Website: https://ninjalathegame.com/en/

*Company names, logos, product names and service names are trademarks and registered trademarks of their respective companies.

*Nintendo Switch and the Nintendo Switch logo are trademarks of Nintendo.

Ninjala Version 2.0 Update Adds Worldwide Matchmaking

GungHo has rolled out a new update to its free-to-play bubblegum shooter Ninjala, available on Nintendo Switch™, which introduces worldwide matchmaking amongst several improvements.

In the world of Ninjala, players blow bubble gum to craft different weapons and fight using the fighting style of ninjutsu. Players can also transform into nearby objects, and they must use parkour to traverse different landscapes while aiming to take down their opponents.

The new update allows for world matchmaking in place of the previous regional matchmaking service. It has also improved the wait time for matchmaking, adjusted gum weapon parameters, improved UI, and more.

© GungHo Online Entertainment, Inc.

Information

Ninjala
Official Website: https://ninjalathegame.com/en/

*Company names, logos, product names and service names are trademarks and registered trademarks of their respective companies.

*Nintendo Switch and the Nintendo Switch logo are trademarks of Nintendo.

New Animal Crossing: New Horizons Outfits Released in Collaboration With Pip Elekiban

Pip Japan has created collection of items for the Nintendo Switch title Animal Crossing: New Horizons using the game's Custom Designs featured which it revealed on July 2 via the official Pip Elekiban Twitter account. Pip Elekiban is a magnetic patch used on the skin for treating muscle stiffness.

Animal Crossing: New Horizons has enjoyed successful sales during the stay-at-home measures put in place as a result of the COVID-19 pandemic. Pip Japan has released a trailer for its in-game clothing collection which consists of 3 one-piece outfits, a shirt, and more. Check it out below.

In May 2020, a survey was held in Japan for 300 men and women aged between 20-50 years old. They were asked whether they felt some form of stress during the current situation, with 60% confirming that they did. This includes mental stress as a result of not being able to visit places they wanted to visit or meet who they wanted to meet, work-related stress, physical stress brought about by a lack of exercise, and so on. Part of Animal Crossing: New Horizons' success can be attributed to these causes, with people purchasing the game during the lockdown to help alleviate stresses and as a form of escapism.

Pip Japan wanted to help bring some smiles to people's faces during the pandemic, and so have designed their own clothing collection for the game.

Pip Elekiban One Piece A (MO-YX9Y-498B-5XGT)


Pip Elekiban One Piece B (MO-11XP-HKB5-PQBQ)


Pip Elekiban One Piece C (MO-5FVD-28WC-PQ8V)

The one-piece dresses all feature super cute and stylish designs.

Pip Magneloop Shirt A (MO-YFHC-Y855-TN7V)


Pip Magneloop Shirt B (MO-LMWM-DJ2B-XWJ6)


Pip Magneloop Shirt C (MO-C12M-1561-N59T)

The shirts have simple designs but are cute in their own way too.

Pip Elekiban Tile (MO-80L5-K03Q-JKNQ)

They even made their own tile too.

Kyary Pamyu Pamyu's 'Ninja Re Bang Bang' Remixed by Steve Aoki For Nintendo Switch's Ninjala

Kyary Pamyu Pamyu's hit song Ninja Re Bang Bang was remixed by twice Grammy Award-nominated DJ Steve Aoki. Titled Ninja Re Bang Bang Steve Aoki Remix, the song was released worldwide today across digital and streaming music services.

The song was released in the US from Steve Aoki's label Dim Mak as well as the prominent label Smash the House which plays host to the Belgian dance music festival Tomorrowland. That makes Kyary for the first Japanese female artists to have a release from both of these international labels.

Steve Aoki's remix of Ninja Re Bang Bang was released as part of Kyary Pamyu Pamyu's collaboration with the new video game Ninjala which was released worldwide on Nintendo Switch™️ yesterday (June 24).

Steve commented: "I've always been a huge, huge fan of Kyary Pamyu Pamyu and her producer Yasutaka Nakata, so getting to work on this remix made me so happy. It really is an honour. It's a really great song, so working on it was a lot of fun for me."

"Ninjala" Commercial (feat. Ninja Re Bang Bang Remix)

As well as a commercial, a special Ninjala x Kyary Pamyu Pamyu mashup video was released to promote the game. The video below sees the Ninjala characters doing the famous Ninja Re Bang Bang choreography. Steve Aoki also makes an appearance.

Kyary Pamyu Pamyu x Ninjala – "Ninja Re Bang Bang Steve Aoki Remix" Mashup Video

As well as these two videos, future in-game collaborations are set to take place in Ninjala, so look forward to them.

Information

Ninja Re Bang Bang Steve Aoki Remix
Released: June 25, 2020
Distributed By: Japan: ASOBIMUSIC / USA: Dim Mak / Europe: Smash the House

Download/Stream Here: kppm.lnk.to/ninja