Baymax Themed Food Flies Into Tokyo Disneyland Ahead Of New Big Hero 6 Attraction
The world is about to get its first Big Hero 6 themed park attraction, "The Happy Ride with Baymax," at Tokyo Disneyland when it opens on April 15, 2020.
In promotion of the exciting new ride, Tokyo Disneyland has announced it will serve six different Baymax inspired menu items starting from April 8ーa week before The Happy Ride with Baymax's grand opening.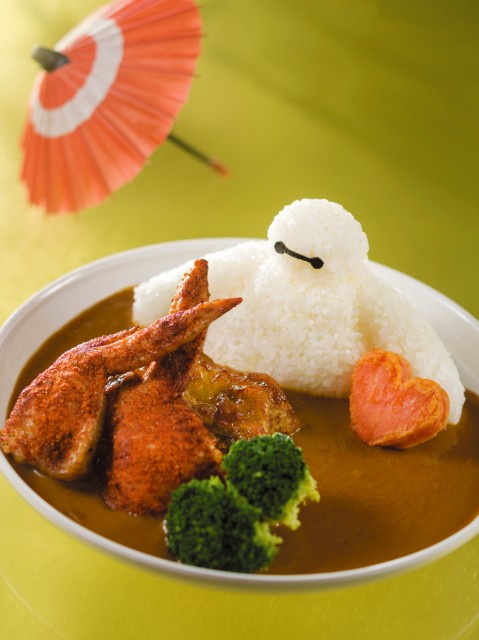 Baymax Curry – ¥1,480 @ Center Street Coffeehouse
When you think of Baymax, you think of his white, chubby round face and body. Well, that image has been brought to life in this curry dish, with Baymax's cute appearance recreated in the form of white rice. The dish takes inspiration from the spicy chicken wings made by Hiro's auntie, Cass.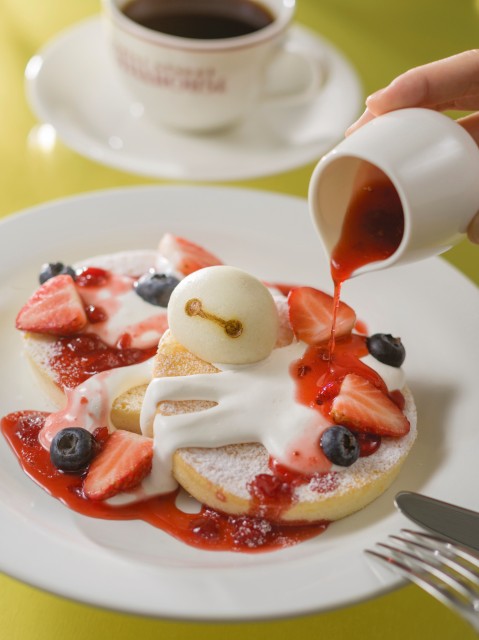 Special Pancake Set – ¥1,080 @ Center Street Coffeehouse / Time Served: 13:00-18:00 (Not serving June 1, 2020 – September 2, 2020)
Like the curry, this pancake set is also sold at Center Street Coffeehouse. It comes with two thick pancakes topped with Baymax's faceーwhich is a Japanese 'manju' steamed cakeーassorted berries, strawberry sauce, and other delicious delights, mixing together Japanese and western flavours.
Sparkling Tapioca Tea (Cheese Cream & Berries) – ¥600 @ Tomorrowland Terrace / Time Served: 14:00-17:00
BB Popcorn w/Basket – ¥2,600 @ The Big Pop
There's also a dessert-style drink at Tomorrowland Terrace which is a berry flavoured ice tea packed with dollops of cheese cream, as well as popcorn which comes with a popcorn basket of Baymax riding. This will be sold at the new popcorn shop, The Big Pop, which is opening on April 15.
Tuck into some cute and delicious Baymax food at Tokyo Disneyland before The Happy Ride with Baymax opens for business.
©Disney
RELATED ENTRIES
Mickey Mouse Exhibition 'THE TRUE ORIGINAL & BEYOND' to be Held in Roppongi

The Asahi Shimbun and Nippon TV are set to host an exhibition centred on Mickey Mouse at the MORI ARTS CENTER GALLERY in Roppongi, Tokyo, from October 30, 2020 to January 11, 2021, in celebration of 90 years since Mickey Mouse's screen debut. The exhibition will showcase works shown at the Mickey: The True Original Exhibition held in New York in 2018-2019.

 

Walt Disney's concepts and ideas are formed around innovation, creativity, imagination, and storytelling. And one character who walked that journey with him and continues to this day is none other than the iconic Mickey Mouse, who since making his first appearance in Steamboat Willie in 1928, has gone on to be a symbol of the Walt Disney Company loved by people the world over.

Mickey: The True Original Exhibition in New York

The Mickey: The True Original Exhibition held in New York looked at how Mickey Mouse has influenced art and pop culture over the years, covering everything from Steamboat Willie which hailed as Walt Disney's first black and white sound film to over 100 colour short animations, artwork, and more.

Keiichi Tanaami – "Mickey's Japan Tourism"

Javier Sanchez Medina – "Studio for Mickey's hands"

The exhibition was ran from November 2018 to February 2019 and saw installations from over 20 international artists including New York-based artist Daniel Arsham and Los Angeles-based artist and graphic designer Brian Roettinger.

Brian Roettinger – "(L)imitation of Sound"

DRx – "3000% Mickey Be@r"

The Tokyo exhibition will be a travel back through time, looking at Mickey Mouse from the past to the present. It will be split into three zones: "The Origin," "The True Original," and "Beyond."

The Beyond zone will welcome original artwork from five Japanese artists.

 

Original Merchandise – Pin Badge

Original Merchandise – Ballpoint Pen

The exhibition's museum shop will have exclusive Mickey Mouse merchandise for sale, as well as pre-sales on other items. See new official goods from works like Steamboat Willie and Fantasia as well as items designed by Japanese artists. It's a chance to see Mickey in a variety of different ways.

Free eco-bag

Visitors to the exhibition will also receive one of four original eco-bags for free upon arrival.

Information

MICKEY THE TRUE ORIGINAL & BEYOND
Running: October 30, 2020 – January 11, 2021

Time: 10:00-20:00

Venue: MORI ARTS CENTER GALLERY (Roppongi Hills Mori Tower Floor 52F)

Entry Price: General ¥2,800 / Junior & High School Students ¥2,000 / Elementary School Students ¥1,200 / Preschoolers – Free
Official Website: mtob.exhibit.jp

Tangled Inspired Disney Princess Cake Revealed by Ginza Cozy Corner

Ginza Cozy Corner has revealed its new Disney princess cake based on the 2010 animated film Tangled which will be available to order at all branches in Japan from October 1, 2020.

Tangled Dress Cake | ¥3,500 (Before Tax)

The cake is centred on the golden-lock beauty Rapunzel, with her dress as the foundation for the cake. The cake is made with cream chess, strawberry jam, and blueberries, while Rapunzel's iconic hair is lemon flavoured.

Decorate the cake yourself

The cake comes with the parts for you to decorate yourself. This adds a whole new level of fun to parties!

Exclusive Rapunzel design box

This cake was actually sold earlier this year during the Hinamatsuri festival in Japan, with all 1,000 cakes being sold out. It is now returning on October 1 and is made-to-order only.

Information

<ラプンツェル>ドレスケーキ

店頭受付

予約受付:10月1日(木)より *4日前までの予約限定
引き渡し:10月5日(月)より

Online Orders

Order Here: Ginza Cozy Corner

Order Window: From October 1, 2020
Delivery Window: From October 6, 2020

Official Website: https://www.cozycorner.co.jp/

Aladdin Inspired Jewellery Collection by Q-pot. Looks Like Real Chocolate

Q-pot. have added Jafar from the Disney film Aladdin to the "Disney Villains" collection of their "Disney Story Dreamed by Q-pot." line of jewellery and accessory products. The items are available for a limited time from September 12 to 30 at Q-pot. stores in Japan and the brand's online shop.

Aladdin is an internationally-celebrated love story about the titular street urchin and Princess Jasmine. It has many memorable characters, including Genie who Aladdin summons from a magic lamp, as well as the iconic Jafar, the film's main antagonist who adds spice to the story. It is this Disney villain that Q-pot. has taken inspiration from for their popular accessory range which is made to look like sweets.

Jafar/Snake Chocolate

Necklace ¥10,500 (Before Tax) | Bag Charm ¥9,500 (Before Tax)

Chocolate is an addictive indulgence for many people, and so it makes the perfect inspiration for the Jafar jewellery, as the villain is known for the skilful manipulation of his Snake Staff. The red jewel in the middle is like a sweetly boiled cherry. It comes as either a necklace of charm for your bag.

Jafar Snake Ring (Japanese Ring Size 12) ¥13,000 (Before Tax)

Information

Disney Villains -Jafar ‐

Available: September 12, 2020 – September 30, 2020

Delivery/Collection: From Early December 2020

Sold At: Q-pot. ONLINE SHOP / Q-pot. Omotesando / Q-pot. Tokyo Skytree Town Solamachi / Q-pot. Takashimaya Shinjuku / Q-pot. LUCUA osaka

Product Page: http://www.Q-pot.jp/news/2020/09/1306.html

Pixar Themed Shinkansen Bullet Trains Speed Through Kyushu This September

JR Kyushu has signed a promotional license agreement with Walt Disney Japan to launch the "GO! WAKU WAKU ADVENTURE with PIXAR" project, which will see the shinkansen bullet trains decorated in characters from the Pixar animated filmography starting on September 12, 2020.

The project comes at a time when Pixar celebrates the 25th anniversary of the original Toy Story film, which released back in 1995 as the first entirely computer-animated feature film.

The "GO! WAKU WAKU ADVENTURE with PIXAR" project's story

The concept behind the project is for passengers using the bullet trains to go off on a new adventure with their favourite Pixar characters to find new and exciting places around Kyushu. The trains are set to run from September 12, 2020 to mid-May 2021.

Completely unique and original Pixar character designs

The colourful designs that decorate both the inside and outside of the Kyushu shinkansen bullet trains combine Pixar characters with motifs that are a nod towards places around Kyushu.

The exterior design of the trains feature many familiar faces from Pixar movies—even the iconic Luxo Lamp Jr, or 'Pixar lamp.' The inside has colourful head covers with different Pixar characters on them.

Ride the first train

Those who ride the very first departing train will receive an original Pixar design train ticket. The Tsubame 363 train bound for Kagoshima-Chūō Station will depart from Hakata Station at 12:19 on September 12, 2020. A collection of themed merchandise is also in the works.

Disney's Zootopia Accessory Collection to be Released by Q-pot.

Q-pot. is releasing a new Zootopia themed collection on August 1, 2020 as part of its Disney-inspired accessory line "Disney Story Dreamed by Q-pot."

Zootopia is an animated film released by Disney in 2016 which takes place in the titular city where anthropomorphic animals coexist. Q-pot. has created a unique collection in the brand's style which combines the worlds of Nick Wilde and Judy Hopps, the two main characters of the film who form an unlikely duo.

Judy Carrot Cake & Carrot Recorder

Homemade Carrot Cake – Necklace: ¥11,000, Bag Charm ¥9,000 | Carrot Recorder – Piercing, Earring (1 Piece) ¥5,000 (Before Tax)

The necklace and bag charm feature a cute cut of Judy's face in the style of a frosting-loaded cake, and are attached with the carrot recorder pen from the movie which brings her and Nick together. The carrot recorder pen also comes as an earring and piercing.

Nick Carrot Cake & Pawpsicle


Homemade Carrot Cake – Necklace: ¥11,000, Bag Charm ¥9,000 | Ice Candy – Piercing, Earring (1 Piece) ¥5,000 (Before Tax)

Nick's accessories are attached with detailed recreations of the pawpsicles made by him in the movie.

Police Badge Cookie


Police Badge Cookie – Badge, Brooch – ¥6,500 (Before Tax)

Once you're fixed on your Judy and Nick carrot cake accessories, don't forget your police badge either!

The items in this collection are a must-have for any fan of Zootopia.

Information

Zootopia Collection
Release Date: August 1, 2020 at 12:00pm (JST)
Buy: Q-pot. ONLINE SHOP 
*On August 1 and 2, two items max per person

Q-pot. Stores
Order Window: August 1, 2020 – August 16, 2020
Participating Stores: Omotesando / Tokyo Skytree Town Solamachi / Takashimaya / LUCUA Osaka / Q-pot. ONLINE SHOP

Delivery Window: Early November 2020

Official Website: https://www.q-pot.jp/news/2020/07/1285.html

Tokyo Banana's New Disney Sweets Collection Looks Delicious

Japan's popular confectionery souvenir shop Tokyo Banana is collaborating with Disney for one week from July 29 to August 7 at the Hankyu Umeda branch of Tokyo Banana in Osaka.

Officially named the "Disney SWEETS COLLECTION by Tokyo Banana," the line-up brings together the iconic Disney characters and centres them around the company's brand concept which is to bring happiness to all who see and taste their products.

Mickey Mouse Pancake Sandwich: ¥1,080 for 4 / ¥1,382 for 6 (Tax Inclusive)

A box of "Mickey Mouse Pancake Sandwiches" contains baked, deliciously fluffy treats filled with soft cream. They come in two shapes: Mickey's face and the iconic Tokyo Banana. The Mickey ones contain caramel cream and roasted almonds while the Tokyo Banana designs are filled with banana milk cream and chocolate chips.

Mickey Mouse Chocolate Sandwich: ¥1,080 for 12 / ¥2,160 for 24

The "Mickey Mouse Chocolate Sandwich" are crunchy cat tongue biscuits which have Tokyo Banana's distinct milky flavour. They are made to be like a delicious banana milkshake you can eat and contain rich chocolate.

 © Disney

Information

Mickey Mouse Pancake Sandwich / Mickey Mouse Chocolate Sandwich
Running: July 29, 2020 – August 4, 2020

Available: Tokyo Banana Hankyu Umeda
Official Website: https://www.tokyobanana.jp/disney/

Minnie Mouse Design Merchandise to be Sold at Lumine EST Shinjuku's 'Positively Minnie' Event

Lumine EST Shinjuku is set to hold a campaign from July 21 to August 31 this year as part of Walt Disney Japan's "Positively Minnie" promotion.

Disney "Positively MINNIE"

Minnie Mouse is known as an independent, charming spirit as well as a fashion icon. Positively Minnie is a promotional campaign launched by Disney for the global market which has Minnie inspiring all with her positive personality. She intends to teach us to live our best lives how we want to.

No shortage of Kawaii merchandise

29 shops inside Lumine EST Shinjuku are participating in the event by stocking their own range of Minnie Mouse merchandise. Let's take a look at some of them.

Minnie Mouse Ringer Telephone T-Shirts: ¥5,490 Each (Tax Included)

Shop: GYDA (Floor B1F) *Lumine EST exclusive, limited edition

Minnie Mouse Fleece Lined Tight Skirt: ¥8,800 (Tax Included)

Shop: Merry Jenny (Floor 2F)

Minnie Socks: ¥2,750 (Tax Included)

Shop: Tabio (Floor 3F) *Limited edition item

Minnie Mouse Mobile Cases: ¥4,180 Each (Tax Included)

Shop: Lycka (Floor 4F) *Lumine EST exclusive, limited-edition

Large Rollbahn Notebooks With Pocket: ¥850 Each (Tax Included)

Shop: Smith (Floor 6F) *Lumine EST exclusive

There will also be a pop-up shop by PONEYCOMB on the first floor of Lumine EST Shinjuku where you can get your hands on limited-edition merchandise with original art. It will be open from July 31 to August 13, and the items will also be available on Lumine's online shop until August 31.

When customers buy select items from the pop-up shop, they'll receive one of the three top stickers pictured above. When they order online, they'll receive one of the bottom three.

Luminest EST Shinjuku will be decorated in all things Minnie Mouse for the event, so that fashionista Minnie can serve her positive vibes to all who visit this summer.

©DISNEY

Information

Lumine EST Shinjuku Positively Minnie Campaign
Running: July 21, 2020 – August 31, 2020

Location: Lumine EST Shinjuku (Connected to JR Shinjuku Station's East Exit) / Lumine Online Shop

Campaign Website: https://www.lumine.ne.jp/est/positivelyminnie/ *Accessible from July 14 at 18:00 (JST)

Lumine Online Shop: https://i.lumine.jp/

Toy Story 4 Inspired Cupcakes Baked Up at Ginza Cozy Corner in Japan

Ginza Cozy Corner is following up the release of its teeny tiny Disney cupcakes with a new batch of Toy Story 4 themed cupcakes which will release at all branches around Japan on June 22, 2020.

Toy Story 4 was a hit across the globe when it released last year, becoming the highest-grossing instalment of the film series and at the time, the fifth highest-grossing animated film of all time. The iconic world of Toy Story has now been recreated in the form of nine colourful cupcakes.

Toy Story Collection (9 Cupcakes): ¥2,700 (Tax Included)

Everybody's favourite cowboy Woody has his own cupcake, featuring his signature hat and shirt design. Buzz Lightyear's trademark colour of green and white is expressed with grape jam an cream cheese, while Bo Peep's cupcake is topped with an edible Giggle McDimples and ramune and cheese cream flavoured roll cake. There's also a mint and lemon flavoured Ducky & Bunny cream tart, chocolate crunch-littered chocolate cream Slinky cupcake, and more.

The cupcakes are packaged in a super cute Toy Story box too.

Information

Toy Story Collection (9 Cupcakes)
Available: June 22, 2020 – July 16, 2020

Ginza Cozy Corner Official Website: https://www.cozycorner.co.jp/

Disney's Beauty and the Beast Themed Cafes to Open in Tokyo, Osaka and Nagoya

OH MY CAFE is set to take a Beauty and the Beast theme at three of its branches in Tokyo and Osaka from June 19, and subsequently Nagoya from June 26, for a limited time.

The concept of the cafe is based on the Beast gifting Belle a library. The main visual for the collaboration sees Belle wearing a green dress which she only wears during the library scene. The cafe too will fittingly take on a library look.

<Beauty and the Beast> Night Sky Cream Curry Rice: ¥1,890

A mild curry themed on Beast and Belle's romantic ball.

<Something There> Snow Thawed Love Cream Pasta: ¥1,990

Inspired by the scene in which Belle and Beast come closer together. Mushroom cream penne served with truffle meringue.

<The Mod Song> Chip's Assistance Afternoon Tea: ¥1,090 / With Spoon: ¥1,690

A tea set with the cute chipped cup Chip, a scone, and tea jelly. The perfect after-meal conclusion.

<Enchanted Rose> Rose Water: ¥890 / With Coaster: ¥1,590

A refreshing rose water mixed with lemon. Maybe you too will be able to find true love with a sip.

Message Cards (9 Designs): ¥450


Tinned Tea (Red/Blue): ¥1,600 Each

The cafe will also sell lots of special, exclusive merchandise.

Additionally, those who book a table in advance and order from the menu will receive one of 4 possible lunch mats chosen randomly. And if you spend over ¥2,000 (tax included) on merchandise at the cafe you'll get one of 9 possible bookmarks.

Information

Beauty and the Beast OH MY CAFE
Tokyo: OH MY CAFE TOKYO / June 19, 2020 – August 16, 2020
Address: Tokyu Plaza Omotesando Harajuku (Floor 3F), 4-30-3 Jingumae, Shibuya, Tokyo

Osaka: kawara CAFE&DINER Shinsaibashi / June 19, 2020 – August 16, 2020
Address: Shinsaibashi OPA (Floor 9F), 1-4-3 Nishishinsaibashi, Chuo Ward, Osaka, Osaka Prefecture

Nagoya: kawara CAFE&KITCHEN Nagoya PARCO / June 26, 2020 – August 25, 2020
Address: Nagoya PARCO South Building (Floor 5F), 3-29-1 Sakae, Naka Ward, Nagoya, Aichi Prefecture

Beauty and the Beast OH MY CAFE Reservations: https://bandb.ohmycafe.jp

Walt Disney Japan has announced that pre-sales for its new and original Disney themed yukata will open via shopDisney in Japan from June 9, 2020. Designs range from popular picks such as the Mickey Mouse yukata from last year to new designs like Alice in Wonderland.

The Mickey Mouse yukata has a white base which combined traditional Japanese prints of hemp leaves and a checked pattern with plum blossoms and Mickey. Dressing up in this gives off grown-up yet cute vibes.

The new Alice in Wonderland yukata has a navy base and features prints from the popular Disney movie made into a Japanese style design. It also comes with an obi sash featuring characters from the film on it in a casual manner, so it blends in well and isn't too flashy. shopDisney will also sell a bag, fan and other items with this design too so you can coordinate a style with the yukata.

Several items for kids will also be sold, such as a cute Elsa-inspired yukata, a Toy Story 4 jinbei, a Bunny shoulder bag, and more.

A TSUM TSUM series of summertime yukata will also be sold from June 9, 2020 which will include Mickey & Friends designs.

©Disney
©Disney/Pixar

Big Hero 6's Baymax Turns Into Tasty Confections in Q-pot.'s Accessory Range

Q-pot is an accessory brand whose products are made to look just like delicious desserts. The brand also has its own Disney-inspired line called "Disney Story Dreamed by Q-pot." into which it has added the cute Baymax from Big Hero 6.

Baymax is a tall, round, and white healthcare-providing robot who is gentle by nature. Q-pot. has turned him into delicious confection accessories for their Disney range.

Daifuku

Necklace: ¥9,500 (Before Tax) / Ring: ¥6,000 (Before Tax) / Bag Charm: ¥7,500 (Before Tax)

 Daifuku is a Japanese confection which features a round mochi filled with some kind of sweet filling, usually anko red bean paste. The shape of a daifuku is perfect for capturing Baymax's form.

Underneath the squishy accessories is what feels like real anko.

Macaron

Necklace: ¥10,000 (Before Tax) / Ring: ¥8,000 (Before Tax)

For these accessories, Baymax has been turned into the traditional French macaron. It's like Baymax really has been filled with fluffy cream.

The necklace and ring are also topped with various decorations like the cute little heart.

Information

Baymax Collection

Order Window: May 27, 2020 – June 14, 2020

Deliveries: From Late July 2020

*Dates subject to change depending on manufacturing conditions

Available: Q-pot. ONLINE SHOP (From 12:00pm JST)

*Please note that physical Q-pot. stores are temporarily closed and so the release date of this product in-store is TBA

Tokyo Disneyland and Tokyo DisneySea Release Their Own Spotify Music Playlist

Tokyo Disneyland and Tokyo DisneySea launched their first ever music playlists on all major streaming websites on Friday, including on Spotify and Apple Music.

Music from Tokyo Disneyland features everything from famous ballads and show music from the park to Tokyo Disneyland's nostalgic anniversary theme song, a "Ride Through Mix" that has you feeling like you're on the park's attractions, and more. It's a magic-filled Tokyo Disneyland musical fantasy.

Music from Tokyo DisneySea follows the same course as the Tokyo Disneyland playlist, except it also has the theme songs of the park's seven ports. It's packed full of imagination the likes of which you can only experience at Tokyo DisneySea.

New songs are set to be added from both parks each season, so you can feel like you're at Tokyo Disneyland and Tokyo DisneySea from your own home all year round!