Isetan Shinjuku's Restaurant Floor EAT PARADISE Turns Into a Pink Paradise
To celebrate the 30th anniversary of EAT PARADISEーthe restaurant floor located on the 7th floor of Isetan Shinjuku in Tokyoーthe entire area, as well as restaurants and cafes throughout Isetan Shinjuku, are going pink from March 4 to 31.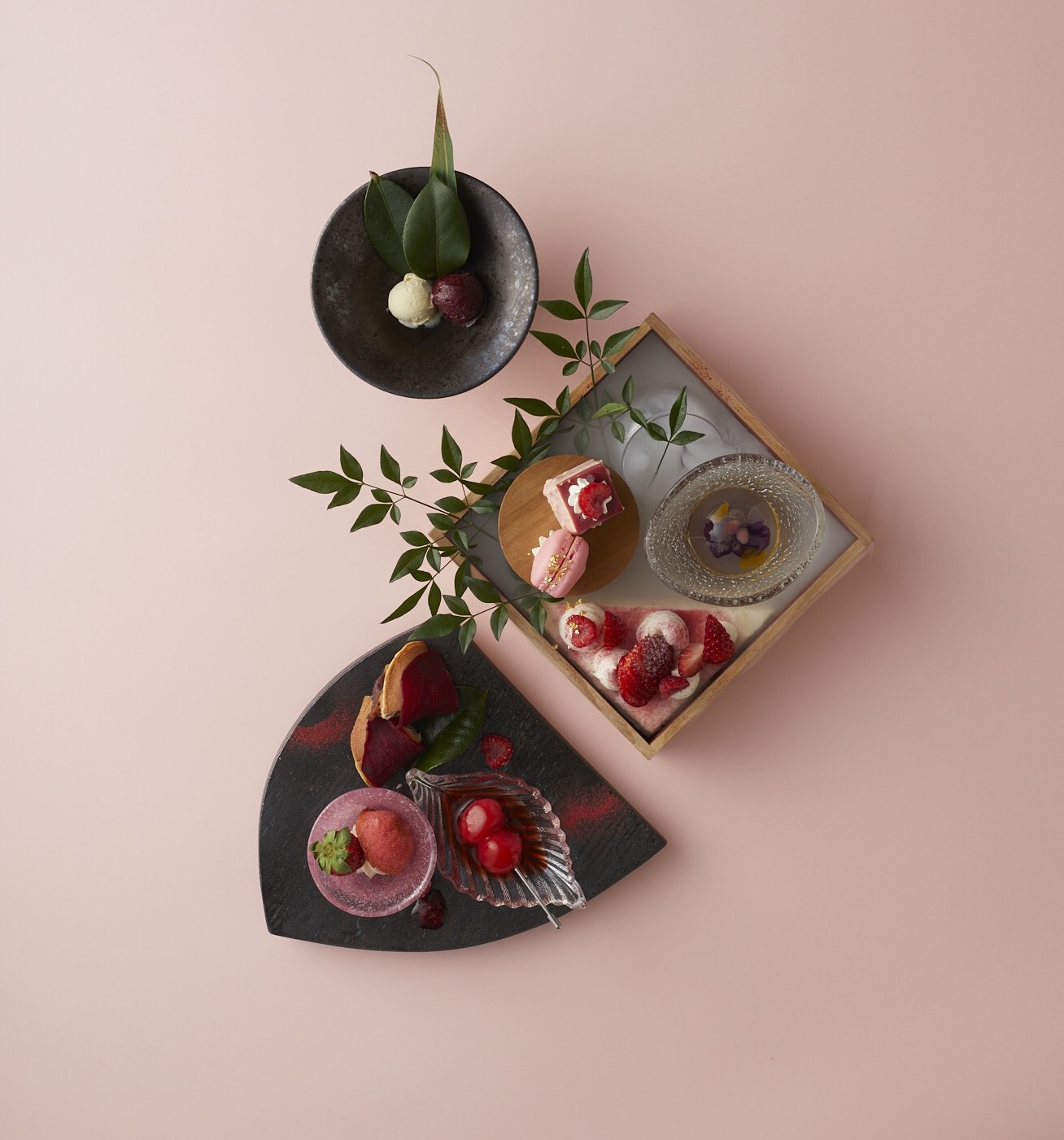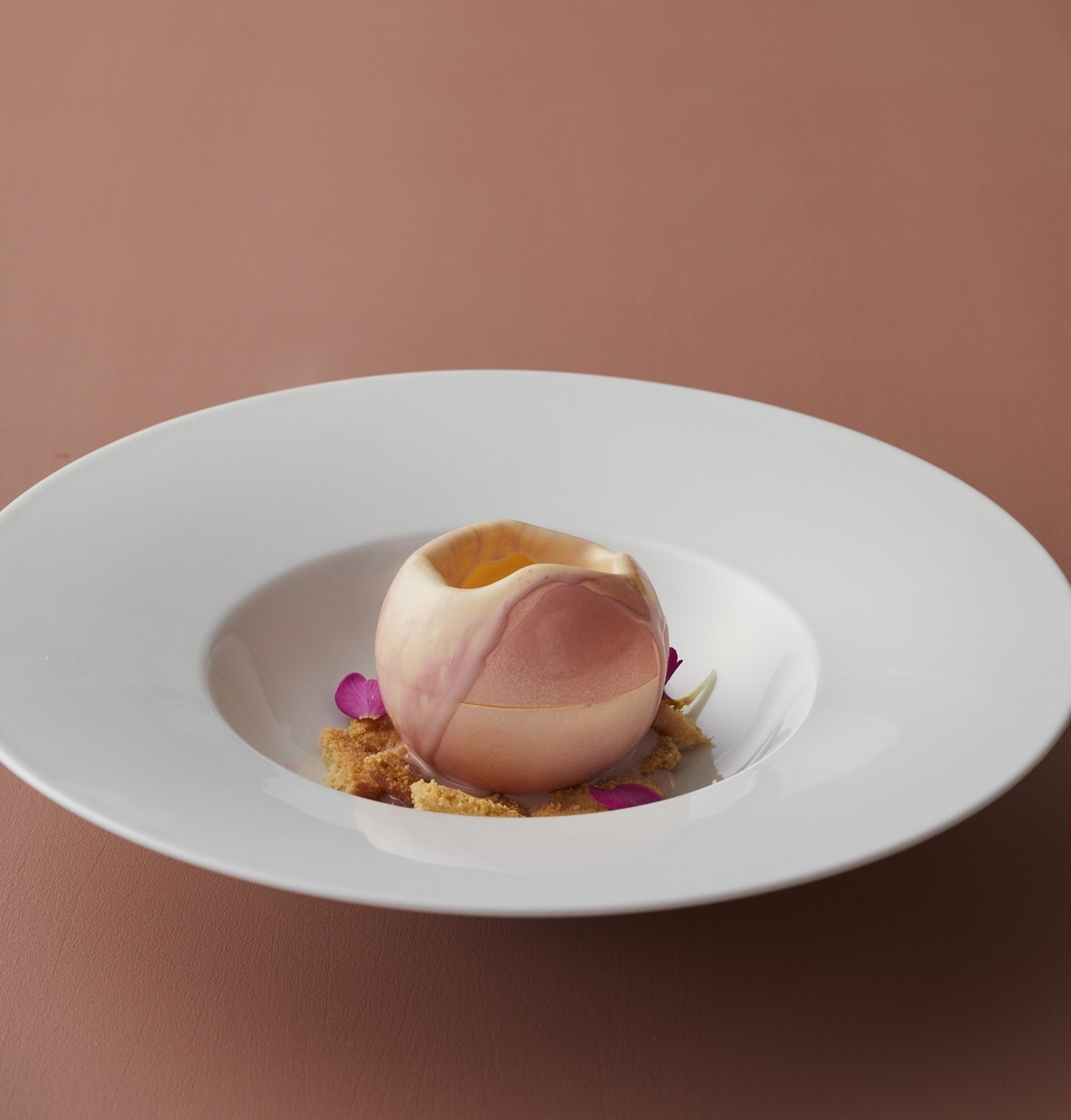 Chocolate Printanière – ¥2,860 (+Separate 10% Service Charge) @ Le Salon Jacques Borie / *5 served per day

Watch this animated chocolate dessert melt as you pour over the hot sauce and tuck in. The centre is filled with a fluffy berry cream.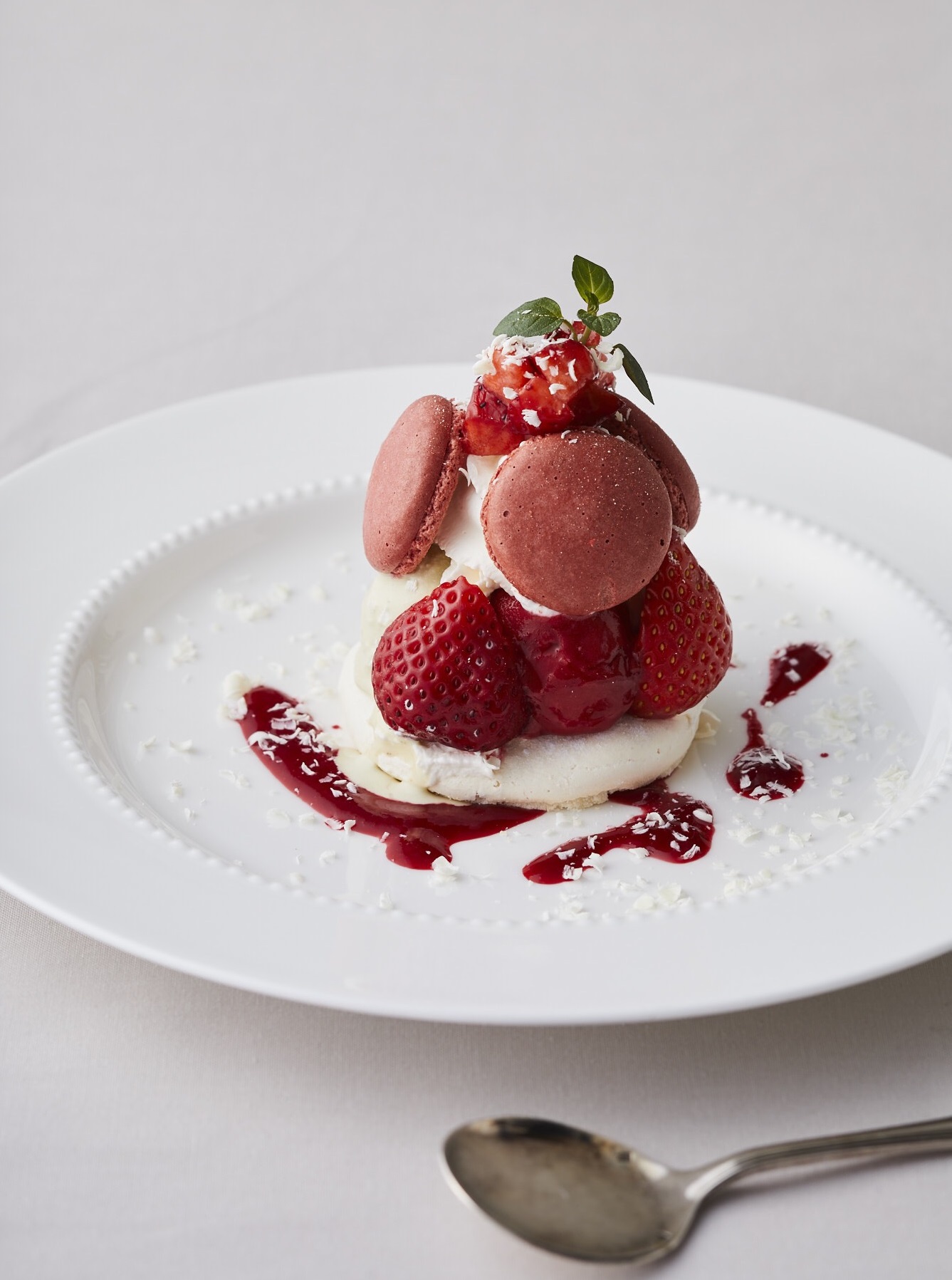 Vacherin With Japanese Strawberries – ¥1,320 @ Cafe Rejiig

Located on the 8th floor of the men's building, Cafe Rejiig is serving up a pink-coloured French dessert made up of a tower of meringue, ice cream, and various other delicious delights.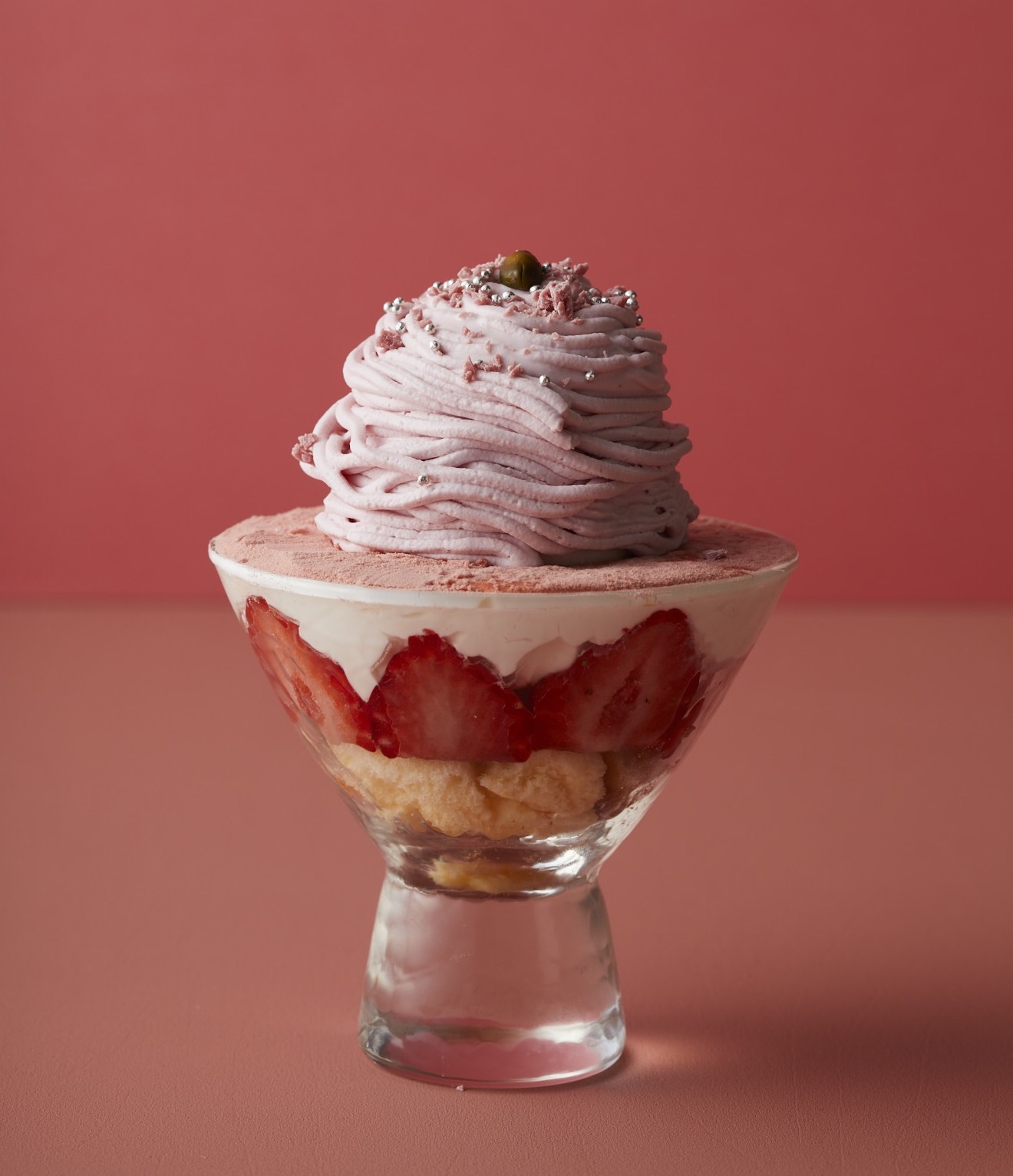 Strawberry & Cranberry Cream Mont Blanc Parfait – ¥1,211 @ latte chano-mama
latte chano-mama is a cafe popular with mothers who go there with their children. The cafe's new mont blanc parfait is made with strawberries and sponge which has cranberry sauce hidden inside.
Left: Pink Non-Alcoholic Cocktail – ¥981 / Right: Pink Champagne Cocktail – ¥1,201 @ The Stand

These two cocktails are cherry blossom-inspired. As well as all of these cute pink delights, EAT PARADISE is celebrating with a range of other dishes other than desserts and drinks too, like soba and risotto.
There's plenty of visually-striking items to tuck into at EAT PARADISE for their 30th anniversary, so be sure to pay a visit if you're visiting Tokyo this spring.
RELATED ENTRIES
Cute Pompompurin Puddings to be Released in Collaboration With Pastel

Desserts brand Pastel is collaborating with popular Sanrio character Pompompurin to release a selection of puddings at Pastel stores around Japan for the whole month of April.

Pastel prides itself on the smooth texture of its purinーa type of Japanese custard pudding. The company will celebrate Pompompurin's birthday, which falls on April 16, with a line of 4 adorable Pompompurin desserts.

Pompompurin's Mini Pudding – ¥380 (Before Tax)

The classic style of Japanese custard pudding, smooth and topped with whipped cream. It's finished with a cute sprinkled design of Pompompurin.

Soft and Fluffy Pompompurin – ¥450 (Before Tax)

Pompompurin is looking cute in this one as he pokes his head out of the caramel-drizzled and marshmallow-topped pudding.

Pompompurin's À La Mode – ¥600 (Before Tax)

Served in an original design cup branded with Pompompurin's adorable face, this à la mode includes a pudding topped with an orange slice and cherry.

Pompompurin's Chiffon – ¥2,200 (Before Tax)

This fluffy chiffon cake is about 15 meters across in size, and is made with pudding cream, glazed in caramel sauce, and topped with a Pompompurin who's just taking a little rest. *Available on weekends only

Shopper Bag Design (Available while supplies last)

When you order any of these desserts, you'll receive an exclusive Pastel x Pompompurin collaborative bag which makes for a great gift or souvenir to friends.

Don't miss out on these tasty Pompompurin treats.

Information

Pastel x Pompompurin Collaboration

Running: April 1, 2020 – April 30, 2020

Location: Pastel stores in Japan

Pastel Official Website: http://pastel-pudding.com

See 3,000 Rhododendrons in Full Bloom at the Tsutsuji Garden by Lake Ashi in Hakone

May is the most colourful time of the year at Hotel de Yama near Lake Ashi in Hakone, when a total of 3,000 rhododendronsーcomprised of 30 different typesーbloom their beautiful flowers in the large Tsutsuji Garden, where one can enjoy a great view of Mount Fuji and Lake Ashi.

Tsutsuji Garden at Hotel de Yama

"Tsutsuji" is the Japanese word for rhododendron. The Tsutsuji Garden at Hotel de Yama was once the villa of Koyata Iwasaki, "the fourth and last president of a unified Mitsubishi." During that time, numerous varieties of rhododendrons were planted in the garden, which have since been maintained. There are plants amongst them that are over 100-years-old, ones that tower over the human stature, and more; with petals that bloom pink, red, purple, and white.

A combined view of the kaleidoscopic rhododendrons and Mount Fuji

The staff who are experts on the garden have set up two photo frame stands in two of the best spots in the garden for taking picturesque photos. Snap some Instagrammable and memories with the colourful rhododendrons and Mount Fuji together.

Rhododendron Desserts: Saison a colorier – ¥1,634 / Tea Set – ¥2,360 (Before Tax)

Salon de thé Rosage, the dessert restaurant that sits in front of the hotel, is serving up a new special dessert called "Saison a colorier" in line with the full bloom of the rhododendrons. It captures the colourful pink, red, white, and purple appearance of the flowers, and looks like a mini version of the hotel's garden on your plate. The main part of the dessert is the tea mousse, which has a bright red colour as it is coated beautifully in a strawberry puree nappage. The tea used in the mouse is an original rhododendron blend exclusive to the restaurant.


The white rhododendron dessert is a macaron that's filled with raspberry sorbet. The red which contrasts with the white is a rhododendron milk tea cream and fresh raspberries. The rest of the plate is adorned with pink jelly and edible flowers. The perfect afternoon tea to finish off your time at Tsutsuji Garden.

Kawaii Tama & Friends Double Walled Glasses Releases in 10 Varieties

R&K Japan, the overseas division of Aiwa, released a new line of 10 double walled glasses based on the popular character franchise Tama & Friends. The first ever double walled glasses to be made of the series, the line-up includes the characters Tama, Pochi, Tora, Beh, Momo, Koma, Nora, Gon, Kuro, and Buru.

Tama – ¥3,900 (Before Tax)

Pochi – ¥3,900 (Before Tax)

What is Tama & Friends?

Tama & Friends is an original character franchise that was created by Sony Creative Products in 1983. The world of Tama & Friends was first inspired from an actual missing cat poster with the phrase "Have You Seen My Tama?" Since then, it has grown into a full franchise with many popular characters. It spawned its first anime series in 1993 which helped its popularity grow in Japan.  A new 11-episode series entitled Uchitama?! Have you seen my Tama? aired in January this year and ended just last Thursday.

Tora – ¥3,900 (Before Tax)

Beh – ¥3,900 (Before Tax)

Tama & Friends Double Walled Glasses

The glasses are designed by double walled glass pioneers GOODGLAS. Each one is handmade and can be used for hot and cold beverages.

Information

Tama & Friends Double Walled Glasses

Sold at: Ikebukuro LOFT, Yokohama LOFT, Chiba LOFT, Umeda LOFT, Kobe LOFT, Tenjin LOFT

Tama & Friends Official Online Shop: http://www.tamafriends-shop.jp/

Japan's 7-Eleven Stores Now Stocking Matcha Desserts by Uji Tea and Sweets Artisans Itohkyuemon

Itohkyuemon, a shop founded in 1832 which specialises in Uji tea and sweets, began rolling out four Uji matcha desserts at 7-Eleven convenience stores across Japan on March 17 as part of their "Uji Matcha Sweets Fair."

The tasty line-up includes "Uji Matcha Cream Puffs," "Uji Matcha & Sakura Japanese Parfait," "Sticky Uji Matcha Pudding," and "Matcha Honey-Stuffed Uji Matcha Warabimochi." Itohkyuemon has developed over 100 Uji matcha desserts, during which it has come up with a blend of matcha it specifically uses for its desserts which is not only rich in flavour but creates a harmonious flavour together with the particular dessert. This blend is used in all four of these convenience store desserts.

The Uji Matcha Sweets Fair is led by Takahito Yoshimoto, the head chef of Itohkyuemon's Uji confectionery workshop.

Head to the closest 7-Eleven to you in Japan for a chance to taste some authentic matcha treats.

Information

Uji Matcha Sweets Fair

①Uji Matcha Cream Puffs – ¥138 (Before Tax) / Uji Matcha & Sakura Japanese Parfait – ¥308 (Before Tax)

Release Date: Rolling out at most 7-Eleven convenience stores in Japan (except Okinawa) from March 17, 2020

②Sticky Uji Matcha Pudding – ¥230 (Before Tax) / Matcha Honey-Stuffed Uji Matcha Warabimochi – ¥168 (Before Tax)

Release Date: Rolling out at most 7-Eleven convenience stores in Japan (except Okinawa) from March 24, 2020

Official Website:  https://www.sej.co.jp/products/sweets/matcha2003.html

MUUN SEOUL: Harajuku's Korean Cafe Serving Instagrammable 'Fatcaron' Macarons

MUUN SEOUL is a cafe located along Tonchan-dori Street in Harajuku that serves Instagram-worthy South Korean food.

Photo by Nagisa Kobayashi @popo_318

Photo by Nagisa Kobayashi @popo_318

The cafe sells "fatcarons," a South Korean-style macaron which have proven very popular with young women in Japan.

Photo by Taeco @taecostagram

Fatcarons are larger than the standard macaron. They are topped with things like strawberries, given marble textures, and more to give them a cute appearance. MOON SEOUL serves many different varieties, all of which are standout compared to normal macarons.

Photo by Sara @__sar310

But the fatcaron experience at MOON SEOUL isn't complete without ordering the drink above. It's strawberry milk flavoured, but the milk is whipped until it's fluffy, giving it a taste like no other strawberry milk you've tried. It also has sliced strawberries inside and on top, so if you love strawberries, you'll love this.

Photo by Yuina @popochan726

You can order your fatcarons for takeout too in a clear takeaway box so you can go have a dessert picnic with your friends, and get a great photo of them all together too.

Tea & Chocolate Brownie Released by Dandelion Chocolate and IYEMON SALON ATELIER

Dandelion Chocolate and IYEMON SALON ATELIER have joined sticky fingers to bake up their new "Tea & Cocoa Brownie" which is now being served at IYEMON SALON ATELIER KYOTO and Dandelion Chocolate Kyoto Higashiyama Ichinenzaka.

This collaboration came about to celebrate 1 year since IYEMON SALON ATELIER KYOTO opened. The chocolates fuse IYEMON SALON's tea with Dandelion Chocolate's organic, single origin bean to bar chocolate.

Tea & Cocoa Brownie (Uji Matcha/Houjicha) – ¥1,800 (Before Tax) *Contains 2 of each flavour

The two different flavoured brownies, Uji matcha and houjicha, are filled with a ganache made from Japanese tea and carefully selected chocolate from the Dominican Republic. The chocolate has a strong, rich flavour like that of coffee and cherries, but is still easy to get without it tasting overwhelming. The brownies are also vegan-friendly and gluten-free, containing no eggs, dairy products, wheat, or white sugar. They are the perfect accompaniment to both tea and a mild-tasting sake.

The vegan lifestyle is slowly gaining recognition in Japan, so don't miss this chance to treat yourself to some melt-in-the-mouth vegan delights.

©Dandelion Chocolate Japan

Winston in Bloom: Afternoon Tea Collaboration by Harry Winston and Park Hyatt Tokyo Releasing in April

Harry Winston and Park Hyatt Tokyo are joining hands to release a special afternoon tea set titled "Winston in Bloom." It will be served at Peak Lounge on the 41st floor of Park Hyatt Tokyo from April 1 to 30 and be inspired by Harry Winston's floral jewellery.

Known as the "King of Diamonds" and "Jeweler to the Stars," Harry Winston founded his brand in New York in 1932. He was captivated by the beauty of flowers and how they produce themselves naturally, a beauty which is represented in his jewellery.

The collaborative "Winston in Bloom" afternoon tea is made in the image of a high-class flower garden adorned with diamonds and coloured stones.

This is the Harry Winston brand's first afternoon tea collaboration in Japan, and offers an elegant taste experience for anyone who wishes to munch through this garden.

Special gifts are also prepared for anyone that orders this afternoon tea. These are available while supplies last.

Information

Winston in Bloom Afternoon Tea

Running: April 1, 2020 – April 30, 2020

Time: Weekdays 14:00-17:00 / Weekends & Holidays 12:00-17:00)

Price: ¥5,000 per person (Service charge and tax not included)

Location: Peak Lounge (Park Hyatt Tokyo Floor 41F)

Reservations

TEL: 03-5323-3461

Tokyo's Robot Restaurant to Open Ticket Centre This March

Tokyo's internationally-acclaimed, located in Kabukicho, Shinjuku, is set to open a new ticket centre sometime this month.

The ticket centre will be located in the very middle of Kabukicho facing the Shinjuku Toho Building. Since it will be close to a range of luxury hotels, it means both foreign tourists and locals can easily get to it. It means to be a facility that can be used easily by anyone and everyone.

The ticket centre will also sell a range of tickets for various activities. It will also provide sightseeing and tourist services where they can recommend local restaurants, tourist sites, and more.

Information

Ticket Centre

Address: 1-18-7 Kabukicho, Shinjuku, Tokyo

No Fixed Holidays

Opening Hours: 11:00-21:00

TEL: 03-3200-5500

Access: 5-minutes on foot from Seibu Shinjuku Station, Shinjuku-sanchome Station, and JR Shinjuku Station

Official Website: https://www.shinjuku-robot.com/pc/?lng=en

Food Review: Cherry Blossom Afternoon Tea at Q-pot CAFE. in Omotesando

The MOSHI MOSHI NIPPON editorial team took a trip to Q-pot CAFE. to try out their new afternoon tea experience, the "SAKURA Romantic Tea Party," where we were treated to a pink kawaii tea party experience. This afternoon tea is available now until April 26, 2020.

The cherry blossom designed decor and decorations welcomed us to an early spring. We ate in the cafe's "SAKURA Room" for this review, which takes the Q-pot's springtime cherry blossom experience to the next level.

Romantic SAKURA Afternoon Tea Set w/ Drink – ¥2,400 (Serves 1) (Tax Included) *Photo shows tea set for two


The top plate is beautifully adorned with cherry blossom St. Honoré cakes which are filled with a sumptuous gorgeous cherry blossom cream. There is also peach bavarois, strawberry cookies, and Q-pot CAFE.-original rich, cream ganache-filled macarons. The fallen cherry blossom petals on the plate are also in fact chocolate.

Everything on the plate screams kawaii with the considerate attention that is given to all the little details.

The bottom plate is the savoury stuff. We have hearty croissants filled with duck pastrami and cucumber that has been dressed with white wine vinegar. They are served with a white asparagus cream potage soup and skewered olives, mini tomatoes and pickles.

The balance of flavours between the top and bottom plates is exquisite; the savoury food refreshes your palate after the sweet treats on top.

The set comes with a cup of pink cherry blossom tea. Floral and fruity fragrances fill your nose as you go to take a sip, after which your taste buds are treated to the notes of cherry blossom and raspberry. This subtly sweet and refreshing drink is the perfect accompaniment to your dessert and meal line-up. It even comes with a little chocolate petal.

Romantic SAKURA Mont Blanc Plate w/ Drink – ¥2,060 (Tax Included)

The pink mont blanc gives cherry tree vibes. It's made with cherry blossom bean paste cream, rich matcha chocolate, Japanese waguri chestnut, and chestnut cream. When  you fork the fluffy bean paste, you get plenty of chestnut cream and matcha chocolate with it. The sweetness of the cherry blossom bean paste and the subtle bitterness of the matcha go really well together. Q-pot. CAFE offers a selection of original macarons too which you can pick from including strawberry, chocolate, lemon, and melon. We wanted to go as pink as possible, so we went for the strawberry one!

Romantic SAKURA Parfait w/ Drink – ¥1,850 (Tax Included)

This strikingly gorgeous parfait is topped with cherry blossom cookies, cherry blossom meringue, and more. Its tall beautiful form is built up by a selection of ingredients, including Japanese flavours like cherry blossom cream and houjicha sauce. 

But what we want to draw attention to is the transparent jelly in the middle of the glass. If you look really closely, it looks like dancing cherry blossom leaves.

Q-pot CAFE. also has a range of other limited-time menu items, as well as food that looks just like real accessoriesーsomething the cafe is famous for. They also have accessories that look like real desserts, like a sugar cookie or crunchy meringue. Perfect for coordinating a spring look this year.

Make sure to pay a visit to Q-pot CAFE. if you're visiting Tokyo this spring!

Information

SAKURA Romantic Tea Party

Running: March 1, 2020 – April 26, 2020

Online Reservations: Now Open

*Afternoon tea set and hanami plan to be served until March 29, 2020

 

Q-pot. Omotesando

Address: 3-4-8 Jingumae, Shibuya, Tokyo

Opening Hours: 11:00-20:00 (Last Orders 19:30)

Closed: New Year's Holidays

Official Website: https://www.q-pot.jp/eng/

TOKYO MYSTERY CIRCUS Releases Snoopy Merchandise as Part of SCRAP x SNOOPY Puzzle Game Project

As part of the second SCRAP x SNOOPY Puzzle Game Project taking place at TOKYO MYSTERY CIRCUSーthe world's first puzzle-themed theme parkーthe Shinjuku-based theme indoor theme park has released ten pieces of original and exclusive merchandise.

What is the SCRAP x SNOOPY Puzzle Game Project?

Visitors are joining Snoopy and the Peanuts Gang for a whole bunch of puzzle-solving fun. The project begin in November 2019, and will run through three periods. The first edition has seen over 10,000 people play this first puzzle game, which is titled "Snoopy and the Clue Solving Circus" and has players helping Snoopy to retrieve his Circus Leader badge back. The second game, "Snoopy and the Secret Recipe," will begin on February 26. In the meantime, a selection of 10 pieces of merchandise have dropped.

Mugs (2 Designs) – ¥1,400 Each

Paper Napkins (Set of 10) – ¥600

Art Card Set w/ Puzzle (Set of 5) – ¥1,000

The two mugs see Snoopy wearing his chef's hat and ready to cook up some delicious pastries for the new game. There's also a paper napkin set, items that come with their own unique puzzles, and more. Available at the TOKYO MYSTERY CIRCUS shop, these items can all be purchased by non-participants of the game too.

Information

SCRAP x SNOOPY Puzzle Game Project

Event Page: https://mysterycircus.jp/snoopy/en/

TOKYO MYSTERY CIRCUS

Address: APM Bldg., 1-27-5 Kabukicho, Shinjuku, Tokyo, 160-0021

Opening Hours: Weekdays 11:30-23:00 / Weekends & Holidays 09:30-23:00

No Fixed Holidays.

Price: Free Entry (*Separate tickets required for games)

Official Website: https://mysterycircus.jp/en/

'SAKURA Romantic Tea Party' is Q-pot CAFE. Omotesando's Newest Afternoon Tea Experience

Q-pot. has revealed its new "SAKURA Romantic Tea Party" line-up which is set to be served at Q-pot CAFE. in Omotesando, Tokyo from March 1, 2020 for a limited time.

The cherry blossom pink coloured and flavoured line-up includes a glamorous afternoon tea set, limited-edition parfaits, plated goodies, drinks, and more. "Romantic" is the key word for this beautiful Japanese springtime assortment.

Romantic SAKURA Parfait w/ Drink – ¥1,850 (Tax Included)

The tall Romantic SAKURA Parfait is layered with a mix of both Japanese and Wesrern flavours, built up delicious with cherry blossom cream cherry blossom petal-laced jelly, houjicha tea sauce and more, all of which is topped off with cherry blossom cookies and meringue.

Romantic SAKURA Mont Blanc Plate w/ Drink – ¥2,060 (Tax Included)

This plate of delight features a soft mont blanc made with cherry blossom bean paste cream, rich matcha chocolate, Japanese waguri chestnut, and chestnut cream. Q-pot. CAFE offers a selection of original macarons too which you can pick from including strawberry, chocolate, lemon, and melon. Feel the call of Japanese spring with this romantic cherry blossom mont blanc.

Romantic SAKURA Afternoon Tea Set w/ Drink – ¥2,400 (Serves 1) (Tax Included) *Photo shows tea set for two

Simply put: a colourful pink and romantic afternoon tea set.

The top tier is decorated with cherry blossom St. Honoré cakes made with gorgeous cherry blossom cream, peach bavarois, strawberry cookies, and rich cream ganache-filled biscuits.

The bottom tier includes fat croissants filled with duck pastrami and cucumber that has been dressed with white wine vinegar. They're served together with a white asparagus cream potage soup and skewered olives, mini tomatoes and pickles, creating a truly gourmet addition to your afternoon tea experience.

Romantic SAKURA Berry Blossom Tea (Hot/Iced) – ¥750 Each (Tax Included)

There's also a cute pink cherry blossom tea that can be served hot or iced. It's made using Q-pot CAFE.'s popular "Flower Garden" flavour which has a refreshing after taste as well as a floral and fruity sweet scent. Added to it is cherry blossom and raspberry flavouring which mixes deliciously with the milk.

Hanami Party Plan – ¥3,000 Per Person (Tax Included) *Reservation-only

You can also book a special hanami party plan which adds a sparkling beverage to the afternoon tea set together with a a cherry blossom card and a crunchy meringue. You must reserve for 2+ people, making it perfect for enjoying together with a friend or special someone.

It's not long until March now, meaning springtime, cherry blossoms, and Hanami flower-viewing is just around the corner in Japan. Why not celebrate romantically at Q-pot CAFE.?

Information

SAKURA Romantic Tea Party

Running: March 1, 2020 – April 26, 2020

Online Reservations: Now Open

*Afternoon tea set and hanami plan to be served until March 29, 2020

Q-pot. Omotesando

Address: 3-4-8 Jingumae, Shibuya, Tokyo

Opening Hours: 11:00-20:00 (Last Orders 19:30)

Closed: New Year's Holidays

Official Website: https://www.q-pot.jp/eng/

Sanrio to Open Official My Melody Shops in Tokyo, Osaka and Nagoya to Celebrate Character's 45th Anniversary

Sanrio has announced that it is opening an official My Melody store to commemorate the popular character's 45th anniversary this year. It will open for a limited time on the first floor of Takashimaya Shinjuku in Tokyo from February 12 to 25.

The store is a must-visit for fans of Sanrio's kawaii white rabbit where they can get their hands on a huge assortment of merchandise, including exclusives, so adorable you'll want to add everything to your collection.

The line-up looks back at My Melody's 45 years in the business. The first 4,000 people to visit the store will be given a limited-edition shopping back, and the first 1,000 people who spend over ¥2,000 (tax included) will receive a free card.
*One card per person, per transaction

The store will also feature interactive projection mapping showcasing My Melody's 45-year history which when touched reacts. On February 15, the designer for the store will be drawing illustrations as well as doing signings for people.

As well as Takashimaya Shinjuku, the shop is set to hit Nagoya's Takashimaya Gate Tower Mall Nagoya and Osaka Takashiyama. Check the dates below, and help My Melody commemorate her 45th anniversary!

©'76, '20 SANRIO 著作(株)サンリオ

Information

My Melody 45th Anniversary Shop
Location: Takashimaya Shinjuku 1st Floor Main Square
Running: February 12, 2020 – February 25, 2020 (Closed February 19)
Opening Hours: [Mon-Thurs & Sun] 10:00-20:00 / [Fri-Sat] 10:00-20:30

Signings
Date: February 15, 2020 (Two Slots – ①11:30 / ②15:00)
No. of People: 20 per slot
Location: My Melody 45th Anniversary Shop
How to Participate:
・Receive a lottery draw ticket to the signing at the shop on the day (February 15) between 10:00-10:20.

・In the case that there are more people who want to join, one person may not receive two tickets for two signings. Additionally, tickets will not be handed out after 10:20.

・Winners and the order they will enter the signing will be announced at 10:20.

・Those who are chosen will receive a "Buyers Ticket." This must be exchanged for a ticket to attend the signing by spending more than ¥4,000 (tax included) at the My Melody 45th Anniversary Shop and handing over your Buyers Ticket.

*Signings and illustrations will only be done on paper and not merchandise.

*Requests for designs cannot be made

・My Melody 45th Anniversary Shop Nagoya
Running: March 25, 2020 – April 7, 2020
Location: Takashimaya Gate Tower Mall 7th Floor Rose Terrace

・My Melody 45th Anniversary Shop Osaka
Running: April 1, 2020 – April 7, 2020
Location: Takashimaya 1st Floor Good Shock Place

Sanrio Official Website: https://www.sanrio.co.jp/