Cherry Blossom Themed Sumikko Gurashi Store to Open at Ginkaku-ji Temple in Kyoto
The all-new Sumikko Gurashi Dou store is set to open permanently at Ginkaku-ji Temple in Kyoto on March 19, 2020.
Ginkaku-ji is a famous temple in Kyoto that was first built in 1490. It lives as a representation of the Higashiyama culture which flourished towards the end of the Muromachi Period. In 1994, it was designated as a World Heritage Site. The temple stands as a famous tourist spot of Kyoto.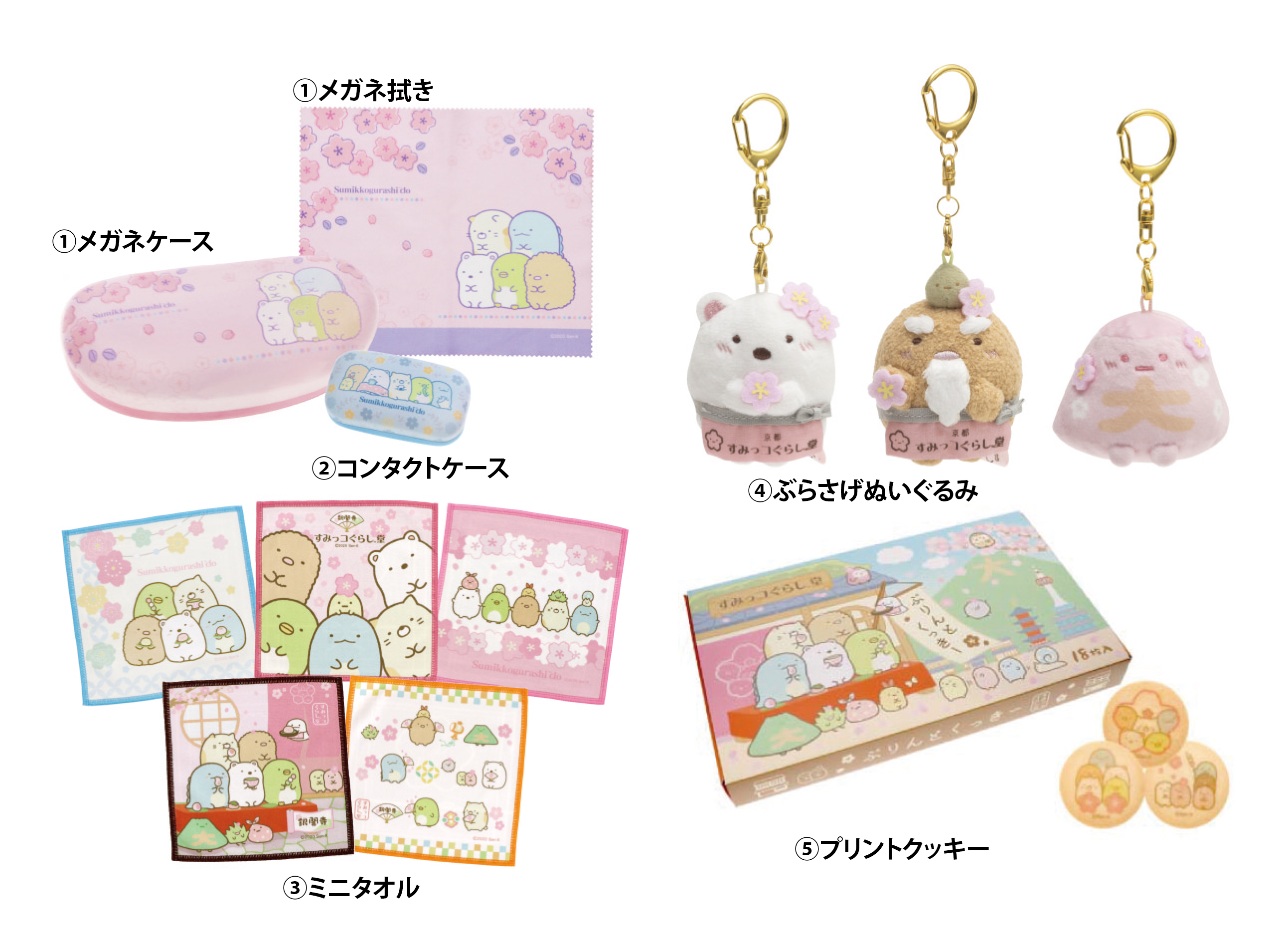 Glasses Case – ¥1,500 / Contact Lenses – ¥1,100 / Mini Towels – ¥600 / Hanging Plush Toys – ¥1,100 / Cookies – ¥1,000 (All prices are pre-tax)
The new Sumikko Gurashi Dou store will be based entirely on the Sumikko Gurashi characters created by San-X. "Sumikko Gurashi" translates roughly to "life in the corner." The shop will take on a cherry blossom theme, where you can get your hands on exclusive and licensed products.
Sumikko Gurashi Yaki Takeout Cup (Contains 6) – ¥300 / Sumikko Gurashi Yaki Omiyage Bag (Contains 12) – ¥700 / Tapioca Drinks (3 Flavours) – ¥500 / Ice Cream (3 Flavours) – ¥500 (All prices are pre-tax)
There's also takeout food and drinks, like sweet and fluffy baby castella sponge cake, tapioca drinks, soft serve ice cream, and more.
And of course, the entire store will be adorably decorated in all things Sumikko Gurashi to ease your soul. If you're travelling to Kyoto and Ginkaku-ji Temple, then make sure you pop into Sumikko Gurashi Dou.
©2020 SAN-X CO., LTD. ALL RIGHTS RESERVED.
RELATED ENTRIES
Discover 130 Years of KYOTO BENRIDO's Colourful Photo and Printmaking World

Nara TSUTAYA BOOKS is set to host the KYOTO BENRIDO's World fair from May 15 to July 9, celebrating the history of a store that was established in 1887.

Benrido has been contributing to the inheritance of Japanese culture through the photography, printmaking, and publications of cultural properties for 130 years. The The company owns is one of the world's few remaining collotype studios which provides modern day photographers the unique opportunity to produce prints of their work using this rare process. Collotype was invented in France in the 19th century. It enables one to print images in various tones without the need for halftone screens.

Benrido offers a range of different products such as postcards, folding fans, standing screens, and more, all of which feature artwork by famous artists from the Meiji era to the early Showa era, the Chōjū-jinbutsu-giga, the portfolio of Saul Leiter, and more.

At the fair, visitors can pick up a wide selection of items from collotype pieces to other artistic goods. And starting on May 28, it will also sell items related to Hokusai and ukiyo-e prints.

Sakura Miku Blossoms On Merchandise at Hirosaki Sakura Matsuri 2021 in Aomori

Japanese anime, game, and hobby merch site CharaAni released a new collection of Sakura Miku merchandise on Monday in collaboration with the Hirosaki Sakura Matsuri 2021 festival.

Hirosaki Sakura Matsuri 2021 x Sakura Miku Line-Up

Folders | ¥450 Each (Tax Included)

Tapestries | ¥3,500 Each (Tax Included)

Acrylic Stands | ¥1,500 Each (Tax Included)

Holographic Pins | ¥550 Each (Tax Included) *Blind box, designs are random

Reversible Blankets | ¥5,500 Each (Tax Included)

Scarf Towel (Art by iXima) | ¥2,000 (Tax Included)

Happi (Art by iXima) | ¥6,000 (Tax Included)

Hand Towel (Art by Mamo) | ¥1,000 (Tax Included)

Motel Key Ring (Art by iXima) | ¥1,500 (Tax Included)

Teacups | ¥1,700 Each (Tax Included)

Flat Pouch (Art by iXima & Mamo) | ¥2,500 (Tax Included)

Drum Bag (Art by iXima) | ¥6,500 (Tax Included)

Full Graphic T-Shirt (Art by Morichika) | ¥5,500 (Tax Included)

Full Graphic Zipper Hoodie (Art by Hechima) | ¥9,900 (Tax Included)

Fashion Mask (Art by iXima) | ¥2,200 (Tax Included)

Desk Mat (Art by iXima) | ¥3,300 (Tax Included)

Shitakawa Rayaki Dove Whistle | ¥2,200 (Tax Included)

Music Box: "Haru o Matsu Hito" – PolyphonicBranch feat. Hatsune Miku

The Sakura Miku x Hirosaki Sakura Matsuri 2021 collection invites on board four artists: iXima, Mamo, Hechima, and Morichika who have created original artwork for the line-up. The items can be bought both at the festival and online.

The collection also includes Sakura Miku-inspired dove whistles made by Shitakawa Rayaki Tsuchi Ningyo, a clay doll company that has been around for over 200 years. The company began in the latter half of the Edo Period when Takaya Kanegura, who had learned how to make ceramics in the town of Chikuzen in Fukuoka, was employed by the Hirosaki Domain to build a furnace.

Miku fans can also get their hands on a music box which features an original song created for the festival called Haru o Matsu Hito ("Person Waiting For Spring"). It features artwork by iXima.

Art by iXima / Mamo / へちま / もりちか © Crypton Future Media, INC. www.piapro.net

Sumikko Gurashi x Hokka Hokka Tei Palm Sized Plushie Campaign Launches

The Hokka Hokka Tei x Sumikko Gurashi campaign is returning again this year as part of a celebration to commemorate the 45th anniversary of Hokka Hokka's first store opening in Soka, Saitama.

Every month, 100 lucky people who are members of the Hokka app have the chance to win a set of five palm-sized Sumikko Gurashi plushies for every Sumikko Gurashi bento they purchase at Hokka Hokka Tei stores in Japan. Each purchase comes with a QR code that can be scanned which will reveal whether they've won or not.

Hoshino Resorts OMO3 Kyoto To-ji Opens For Business

The all-new Hoshino Resorts OMO3 Kyoto To-ji hotel opened its doors on April 15, 2021, welcoming guests to the surrounding area home to To-ji, Kyoto's famous Shingon Buddhist temple. The hotel's concept is "The Heart's Trip Through Time and Space," and aims to showcase to guests the sights and wonders of the To-ji area. The temple itself, which is listed as a UNESCO World Heritage Site, is just a 5-mintue walk from the hotel.

To-ji has a long history dating back to 796 when it was founded. Its 1,200 year or so history has spanned multiple periods of Japanese history. In 823, the Emperor Saga honoured the Japanese monk Kukai and bestowed the temple to him. Kukai made To-ji the central seminary of esoteric Buddhism and built various buildings such as the pagoda and halls. Since then, To-ji has been the headquarters of this esoteric sect of Japanese Buddhism. It is a hot spot for tourists and a sight many have most likely seen when looking up must-visit locations around Kyoto.

Inside the hotel

A delightful assortment of menu items

A stroll around To-ji

National Treasure morning walk

Two artworks: "Mandala Art" and "Hohoemi Wall"

Sand table for writing characters

Deepen your knowledge at the Shinbashira book table

OMO Hotels introduce their guests to the local area's secrets, allowing them to jump right in to all that's on offer. It acts as a resort of sorts with the hotel at the centre and the local sights within walking distance. To enjoy all there is to see, OMO offers the Go-KINJO tour guide service which comes in two forms: Go-KINJO Map and Go-KINJO Activity. Both have guests led by an OMO Ranger who are experts in the area and will take guests to see various locations while providing commentary.

On their tour, guests can learn all there is to know about the To-ji area, both past and present. That includes information about famous local stores not listed in guidebooks. It's an opportunity to discover the true To-ji area from when the temple was built to today by actually walking around seeing the sights yourself.

'hotel tou nishinotoin kyoto by withceed' is a new hotel in Kyoto managed by Withceed Hospitality Management that held its grand opening on April 20, 2021.

Located just a 10-minute walk from JR Kyoto Station, the hotel is situated between Nishi Hongan-ji and Higashi Hongan-ji, two temples and UNESCO World Heritage Sites. The hotel's concept is Oku (奥) which is Japanese for "deep," "interior," or being at the "heart" of something. Its aim is to offer guests a place to dive deep into Kyoto's traditions and culture in a space that puts great focus on its interior design.




The design is built around themes of 'light and shadow,' 'distance,' and 'gloss' which expresses the notion of depth. The lattice windows and sliding doors pour in natural light, and the single boulder makes one think of being in a garden. It's a design to tickle the senses and imagination which in turn lets guests feel the depth of culture and being deep within the space.

The hotel has its own cafe/bar fusion called 'cafe&bar oku' which serves food and drinks from a range of Kyoto restaurants and cafes such Kyoto-style meicha tea from Ippodo Chaho, a tea shop that first established back in 1717, as well as a traditional Japanese breakfast rice porridge called okaisan made using Hachidai Megihei rice, and more. Customers can also enjoy drinks from Allpress Espresso, a New Zealand speciality coffee roaster setting up shop in Japan for the first time.

Information

hotel tou nishinotoin kyoto by withceed

Grand Opening: April 20, 2021

Address: 455 Nishinotoincho Shimogyo-ku, Kyoto-shi, Kyoto-fu 600-8327 Japan
TEL: 075-744-0144
Official Website: www.hotel-tou.com

Sumikko Gurashi's Sequel Film Reveals Title and Key Visual

San-X has revealed the title and key visual for Sumikko Gurashi's upcoming second feature film. The film is titled Eiga Sumikko Gurashi: Aoi Tsukiyo no Mahou no Ko (Sumikko Gurashi The Movie: A Magical Child of the Blue Moonlit Night) and is set to released in Japan this November.

San-X created their corner-dwelling Sumikko Gurashi characters in 2012. Their first feature film, Eiga Sumikko Gurashi: Tobidasu Ehon to Himitsu no Ko (Sumikko Gurashi The Movie: A Popping Picture Book and A Secret Child), was released in Japan back in 2019.

The sequel's story is set during a blue moonlit night when a peculiar magic is cast on the town where the characters live. The film is being directed by Takahiro Omori (Natsume's Book of Friends) with screenplay by Reiko Yoshida (K-ON!, Girls und Panzer). Fanworks are returning to animate the sequel.

©2021 日本すみっコぐらし協会映画部

©2021 SAN-X CO., LTD. ALL RIGHTS RESERVED.

Information

Eiga Sumikko Gurashi: Aoi Tsukiyo no Mahou no Ko (Sumikko Gurashi The Movie: A Magical Child of the Blue Moonlit Night)

Japanese Title: 映画 すみっコぐらし「青い月夜のまほうのコ」

Release Date: November 2021 (Japan)

Official Website: https://sumikkogurashi-movie.com/

Experience a Hotel Camping Experience at Rihga Royal Hotel Kyoto

Rihga Royal Hotel Kyoto is collaborating outdoor recreation product brand Coleman to launch the Hotel Camp Buffet which will run from May 1 to August 31 at the hotel.

Guests can enjoy a fusion of the hotel and camping experiences as Coleman provides their tents, tables, chairs, and other outdoor items to be used at Rihga Royal Hotel Kyoto. The hotel chef, Honda, has also conceived a camp buffet for guests to enjoy at both lunchtime and dinnertime.

The hotel is carrying out all necessary measures against COVID-19 including providing guests with a how-to breakdown at all tables, providing alcohol spray, mouth guards with the Coleman logo so guests can enjoy dining and talking, and more.

Coleman x Rihga Royal Hotel Kyoto Hotel Camp Buffet

Individual Room Plan | Capacity: 4-6 People

Enjoy a camping buffet with tents, chairs, and other camping goods provided by Coleman. Everything will already be set up for guests to enjoy.

 

Lunch & Dinner Buffet Menus

Dinner

・Beef churrasco in black pepper

・Chicken paella

Lunch

・Frankfurt and smoked berry ham

Lunch & Dinner

・Meat and potato cottage pie

・Atlantic salmon wood plank grill

・Croque-madame style hot ham and cheese sandwich

・Spare ribs in BBQ sauce

Information

Hotel Camp Buffet

Where: ALL DAY DINING KAZA (Rihga Royal Hotel Kyoto Floor 1F)

Address: 1 Taimatsuchō, Shimogyo Ward, Kyoto

Running: May 1, 2021 – August 31, 2021

Times: [Lunch] 11:30-15:00 (Last Orders 13:00) / [Dinner] 17:30-21:00 (Last Orders 19:00)

Bookings: Must be made 3 days in advance. Slots are two hours max.

Price: ¥6,050 (Includes lunch and dinner buffet and room)

Lunch/Dinner: https://www.rihga.co.jp/kyoto/restaurant/list/kaza/menu/lunch/

Rihga Royal Hotel Kyoto Official Website: https://www.rihga.co.jp/kyoto

Demon Slayer: Kimetsu no Yaiba Holds Wisteria Event in Japan to Ward Off Demons

Keifuku Electric Railroad launched an event on Boxing Day last year in Japan in collaboration with the TV anime series Demon Slayer: Kimetsu no Yaiba. The event is still taking place and is set to end on April 11.

At Arashiyama Station on the Randen Line, there is a temporary area draped with wisteria flowers that commuters are encouraged to participate in as part of the collaboration. Built to ward off demons, fans of the anime series can write their own messages to be strung up on the flowers. They can write their thoughts and feelings on the characters and series as well as wishes and prayers for COVID to soon be over for all. It's been a popular photo spot amongst passengers. And if you head from this area up to the roof, you can gaze out at the incredible view of Arashiyama.

The New Disney Kyoto Traditional Design Series Combines Disney With Kyoto Craftsmanship

Kyoto City and Japanese company Shintsu are set to release their Disney/Kyoto Traditional Design Series after previously having to postpone the release due to the pandemic. It will be available from April 27 to May 10 and celebrates the skilled, dexterous hands of Kyoto's expert craftsman and their industry which has been passed down for thousands of years. They have innovated to create something brand-new that captures both the craft and culture of Kyoto and the contemporary wonder of Disney.

Comments from the Creators

©Disney

Okazen | Comment

"We have existed inside our town in Kyoto for 200 years. We make a variety of items from garments for maiko apprentice geisha to our own company-originals products. For this Disney/Kyoto Traditional Design Series, we wondered how we could express the world of Disney using the kyoyuzen Kyoto-style method of dyeing. We made something with detailed consideration, looking at all the intricate things in the dyeing process. Our Fantasia furisode long-sleeved kimono features a truly treasured scene which enabled use to incorporate many different methods in order to capture the expression, clothing, and all the stars as much as possible. We believe this piece will suck everyone into Fantasia's world."

©Disney

©Disney

Asahido | Comment

"For producing something for the Disney/Kyoto Traditional Design Series, we asked gave one of our craftsmen free rein to put their own individual self into the work. At the time, they were primarily an illustrator, so we were worried if the judges would overlook them, but the end result was something that looks truly complete and finished. The traditional craftwork of Kiyomizu pottery is a process of hand making and hand drawing each and every little thing. I believe it's this quality that gives the characters warmth and life. I'd love for people to take it in their hands themselves and take their time looking at it in a full 360°."

©Disney

Tsujikura | Comment

Tsujikura is Japan's oldest wagasa Japanese umbrella shop. We've been in Kyoto since 1690. In that small space underneath the washi Japanese paper and bamboo, one enters a rich world where they can feel the four seasons of Japan. Our umbrella for the Disney/Kyoto Traditional Design Series uses a very advanced technique known as kiritsugi, a type of cutting and patching. We displayed Mickey Mouse and Minnie Mouse on handmade washi paper which we dyed. You can feel an affinity with the umbrellas for their simple and minimal designs. Our aim was to incorporate Disney elements into a traditional Japanese umbrella pattern."

Other Featured Works

©Disney

aiba

©DISNEY Based on the"Winnie the Pooh" works by A.A. Milne and E.H. Shepard .

Asahido

©Disney

Kamiya

©Disney

©Disney

EIRAKUYA

©Disney

Okazen

©Disney

Katoriya

©Disney

Kanbayashi Shunsho Honten

©Disney

KYUKYODO

©Disney

Shoyeido

©Disney

Tankosha

©Disney

Tsujikura

©Disney

Nakajima Zougan

©Disney

Nakamura Rosoku

©Disney

Miyawaki Baisen-an

Poké Lid Project Lays Down New Manhole Covers in Kyoto

Five new Pokémon manhole covers were laid in Kyoto on Tuesday as part of the Poké Lid  project to place Pokémon-design manhole covers across the country.

Kyoto Original Poké Lids

The five Poké Lids are located in Arashiyama, Okazaki Park, Maruyama Park, Umekoji Park, and Nishikyogoku Athletic Park.

All of the Poké Lids placed across Japan feature completely original Pokémon designs making each individual one the only one in the world. The Pokémon Company is also working to make each one of them PokéStops for Pokémon GO.

 ©2021 Pokémon. ©1995-2021 Nintendo/Creatures Inc./GAME FREAK inc.

Godzilla vs. Kyoto Event Begins This Spring

Kyoto Tower is set to be host to the upcoming Godzilla vs. Kyoto event which is running from April 16 to June 30. 

Key visual illustrated by Yusuke Nakamura

Stamp design

Stamp design

Stamp rally postcard

Godzilla vs. Kyoto Official Merchandise

Novelty illustrated by Yusuke Nakamura – available for the first 50 people each day

Kyoto Tower will hold a stamp rally event as part of Godzilla vs. Kyoto which will have people trying to find stamps in six locations in the tower as well as at Toji Temple and elsewhere. There is also a selection of official merchandise, a Godzilla exhibition, and much more planned.

If you're in Japan this spring, don't miss Godzilla taking over Kyoto.

TM & (C) TOHO CO., LTD.

イラスト/中村 佑介 TM & (C) TOHO CO., LTD.

Matcha and Latte Cookies and Drinks Released by Yojiya

Kyoto makeup brand Yojiya is now selling its own collection of snacks and drinks which it released via its website last week.

Yojiya Matcha Sandwich Cookies | ¥1,400 (Tax Included)

Yojiya Cafe Latte Chocolate Cookies | ¥1,350 (Tax Included)

Yojiya Matcha Milk | ¥950 (Tax Included)

Yojiya's snack line-up is made with the idea of being able to enjoy high-quality food products at home. Their collection includes crunchy matcha and cafe latte cookies along with matcha milk, the latter of which is made with famous Uji matcha from Uji, Kyoto. Perfect for a tea/coffee break or as a souvenir.