Kintetsu Railway Collaborates With Magical DoReMi For the First Time
This year marks the 20th anniversary of the popular anime and manga series Magical DoReMi, and in promotion of its upcoming Ojamajo Doremi: Majo Minarai o Sagashite movie, which will release on May 15, 2020, Kintetsu Railway is holding its first collaboration with the franchiseーin a variety of ways.
The film is described as a "road movie" which follows the three main characters, Sora, Mire, and Reika, on a trip to take a new step in life. There is a scene in the film where the girls travel to Kintetsu-Nara Station from Kyoto Station aboard the Kintetsu Limited Express Vista EX train which is operated by Kintetsu Railway.
Complete the Boarding Ticket Set to Receive a Special Card
Boarding Ticket (5 Designs) – ¥160 Each (Tax Included) / Available at Kyoto Station, Yamato-Saidaiji Station, Kintetsu-Nara Station, Yamato-Yagi Station, and Kashiharajingu-Mae Station from April 24, 2020-June 30, 2020
Trading Cards With Original Designs
If you purchase all five trading card-style boarding tickets, which feature designs of the characters from Magical DoReMi, you'll receive a special trading card featuring an original design. The tickets are available at five Kintetsu Railway stations, all of which will have life-size boards of the characters at them.
Kintetsu Limited Express Vista EX Decorations
The Kintetsu Limited Express Vista EX trains will also be decked out with Magical DoReMi posters and flyers will also be. These decorations will roll out from March 10, 2020 on the 2nd and 3rd trains
Running Sections: Kintetsu Nara Line / Kintetsu Kyoto Line / Kintetsu Kashihara Line / Kintetsu Osaka Line / Kintetsu Nagoya Line / Kintetsu Yamada Line / Kintetsu Toba Line / Kintetsu Shima Line
Kintetsu Weekend Free Pass Posters & Leaflets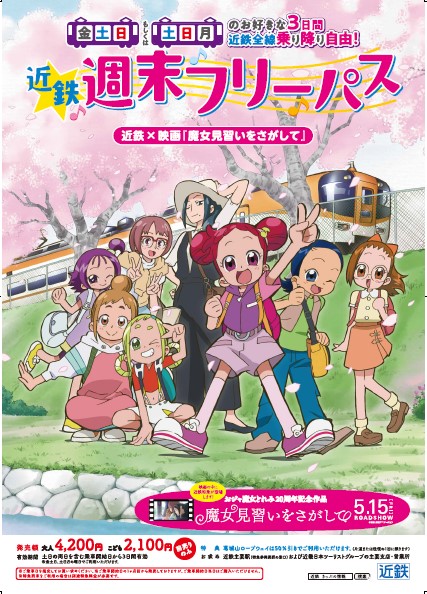 Special posters and leaflets have also been designed to promote Kintetsu Railway's "Weekend Free Pass," a ticket that helps you save money on your travels on the weekend. The original design features the main characters with the Kintetsu Limited Express Vista EX in the background. The posters and leaflets will be available from March 20 to June 30 this year.
Travel together with cute characters of Magical DoReMi aboard the Kintetsu Railway this spring.
©Toei・Toei Animation
RELATED ENTRIES
Turn Into a Magical Girl With Ojamajo Doremi's Apprentice Witch Tap Blusher Balls

CreerBeaute, a cosmetic brand managed by Bandai, launched pre-orders for their new Ojamajo Doremi themed Pirika Pirilala Apprentice Tap blusher balls via the online store Premium Bandai on Wednesday.

Pirika Pirilala Apprentice Tap Colour Ball Cheek | ¥4,620 (Tax Included)

The blusher ball set is based on the Apprentice Tap used in the Ojamajo Doremi anime series which the characters use to transform into a witch. It comes after the success of the Pirika Pirilala Magical Ball Face Powder sold in 2016 which was also inspired by the same Apprentice Witch item.

The blusher balls come in three different shades of pink to add a natural blush to your cheeks, leaving a cute and healthy impression. The balls also contain squalene, a natural organic compound that moisturises.

The case design features the same colours as well as the music note seen on the Apprentice Witch Taps, so you too can look and feel like a magical girl.

©Toei Animation

Information

Pirika Pirilala Apprentice Tap Colour Ball Cheek
Pre-Orders: October 7, 2020

Shipping: March 2021

Ojamajo Doremi Candy Released in Collaboration With Barcelona Candy Shop Papabubble

Barcelona-based art candyshop Papabubble is celebrating the upcoming release of Looking For Magical Doremi, an anime film being produced in celebrating of Ojamajo Doremi's 20th anniversary.

Ojamajo Doremi is an original magical girl created by Toei Animation that ran from February 1999 to January 2003. The series's 20th year milestone is being commemorated in many ways, such as the new themed cafes set to open in Tokyo, Osaka, and Aichi later this month. Papabubble is also getting in on the action with their collaborative candy which will be sold in Japan.

The designer for the candy is someone who grew up with Ojamajo Doremi when they were little and still adores it to this day.


BAG | ¥649

Apprentice Tap

The apprentice witch tap with its eight buttons made into a sweet and shiny candy.

Majo Rika

Majo Rika's face with a crystal ball colour. The candy craftwork is so good you forget it's all handmade!

Witch's Hat

A must-have for any witch. If you look super close you'll spot a yellow music symbol. If you're wondering what flavour it is, if you've watched the series and know Hana-chan's favourite food, then that's your answer!

OJAMAJO 20

The OJAMAJO 20 design celebrates 20 years of Ojamajo Doremi and is strawberry flavoured. There's colours representing each character including Doremi, Hazuki, Aiko, Onpu, and Momoko.

If you love magical girls, especially Doremi, and you love candy, then you won't want to miss out on this special collaboration with Papabubble.

©Toei・Toei Animation

Information

Ojamajo Mix
Released: October 6, 2020 (Early November at Papabubble branches in Fukuoka and Sapporo Stellar Place)
Available: Papaubble branches in Nakano, Daimaru Tokyo, LUCUA Osaka, Aoyama, Sotetsu JOINUS, as well as the online shop
Papabubble Japan Official Website: https://www.papabubble.jp/

Looking For Magical Doremi
Release Date: November 13, 2020
Official Website: Lookingfor-Magical-Doremi.com

Ojamajo Doremi Cafe 2020 ~FRUITS PARLOR~ to Open in Tokyo, Osaka & Aichi

Japanese company LEGS has announced the opening of the limited-time Ojamajo Doremi Cafe 2020 ~FRUITS PARLOR~. The themed cafes will open in Tokyo on October 29, Osaka on October 30, and Aichi on October 23.

Ojamajo Doremi is an original magical girl created by Toei Animation that ran from February 1999 to January 2003. To celebrate the series's 20th anniversary last year, LEGS opened a different Ojamajo Doremi limited-time themed cafe in collaboration with Cafe&Kitchen which welcomed lots of magical girl fans.

This year once again welcomes Etoile et Griotte as the art director for the fruit parlor-inspired cafe.

Ojamajo Doremi Cafe 2020 ~FRUITS PARLOR~ celebrates the 20th anniversary of Ojamajo Doremi Sharp is the second series in the Ojamajo Doremi series. Fans will be able to get their hands on a range of exclusive magical merchandise as well as tuck into pastel coloured fruity food.

FOOD

Doremi's Cheese Steak Doria in Cherry Sauce | ¥1,699


Steak is Doremi-chan's favourite food, so it was a must-have on the menu. The cream cheese is coloured like Doremi, and there's a cute musical note topping too. It comes with a cute lunch mat that looks like Doremi's skirt.

Hazuki's Omurice in Porcino & Orange Cream Sauce | ¥1,399


The omelette is made to look like Hazuki's yellow skirt. Enjoy together with the delicious porcino sauce and orange combination.

Onpu's Waffles With Crepe & Mascarpone | ¥1,299

Blueberry sauce-drizzled and mascarpone-topped waffles served with a mashed potato skirt. The sweet and sour mix is to die for.

DESSERT

Aiko's Blueberry Float | ¥999

A fresh blueberry float inspired by Ai-chan. Mix everything together to create a different flavour.

Momoko's Lemon Cheesecake Parfait | ¥1,399

A fresh lemon cheesecake packed parfait with lots of enjoyable flavours and textures.

Rhythm Tap Tart | ¥1,300


Inspired by the Rhythm Taps seen in the series, the tart imagines Doremi's transformation scene in Ojamajo Doremi Sharp.

DRINK

Onpu Melody Drink (5 Flavours) | ¥1,099


A rainbow line-up of colourful Onpu drinks available for takeout.

Movie Theater Menu

Girls Meet Sushi | ¥1,299


Inspired by the meat sushi that Sora and the gang eat in the animated film Majo Minarai wo Sagashite. Comes with an original postcard.

Exclusive Merchandise

Acrylic Keyrings (6 Designs) – ¥600 Each

Letter Set (1 Design) – ¥1,200 | Folder Set (2 Designs) – ¥700

A selection of super kawaii cafe-original merchandise is available for fans to grab.

Bonus Items


Those who book a table in advance, order a drink, or spend more than ¥2,000 at the cafe will receive one of six possible A5 folders.

Become a magical girl like Doremi at the Ojamajo Doremi Cafe 2020.

©Toei Animation


Information

Ojamajo Doremi Cafe 2020
Tokyo Cafe
Running: October 29, 2020 – December 6, 2020
Location: SHIBUYA BOX cafe&space
Address: Shibuya LOFT 2F, 21-1 Udagawacho, Shibuya, Tokyo

Osaka Cafe
Running: October 30, 2020 – November 23, 2020
Location: Abeno Q's Mall 4F
Address: Abeno Contact, 1-6-1 Abenosuji, Abeno Ward, Osaka

Aichi Cafe
Running: October 23, 2020 – November 23, 2020
Location: NAGOYA BOX cafe&space
Address: LACHIC B1F, 3-6-1 Sakae, Naka-ku, Nagoya, Aichi

Japan's KIDDYLAND Stores Announce Ojamajo Doremi Merchandise Fair

KIDDYLAND has announced a fair centred on the TV anime series Ojamajo Doremi which celebrated its 20th anniversary last year. The fair will run from July 30, 2020 to August 14, 2020 at nine branches of KIDDYLAND in Japan.

Ojamajo Doremi is a popular magical girl anime series which first aired in 1999. A new anime film, Looking For Magical Doremi, is set to release in fall this year for the 20th anniversary of the popular magical girl anime series Ojamajo Doremi. The story follows college student Sora Nagase who aspires to become a teacher, office worker Mire Yoshizuki who just returned to Japan, and freelancer Reika Kawatani who are drawn together by a magical gem which sends them onto a magical journey.

Doremi and her friends will cast their magical girl charm on nine KIDDYLAND stores. A new line of merchandise will be sold featuring the main cast riding paintbrushes—rather than your typical broom.

Ojamajo Doremi Acrylic Keyrings (5 Designs) | ¥900 Each (Before Tax)


Ojamajo Doremi Masking Tape Collection (12 Designs) | ¥450 Each (Before Tax)


Ojamajo Doremi Face Towels (2 Designs) | ¥1,500 Each (Before Tax)

Customers who spend over ¥1,500 (tax included) on this new merchandise will receive a free original postcard.

If you're in Japan this summer then don't miss out on this magical fair.

©Toei Animation

Ojamajo Dorami x Sanrio Collaborate On New Merchandise Collection

Sanrio and Toei Animation are teaming up to release a new collection of 130 items featuring the characters from both Sanrio and Ojamajo Doremi. The collection will be released on July 30 in Japan.

The sparkly and kawaii line-up includes everything from pouches to charms and more.


ⓒToei Animation

Ojamajo Doremi is a popular magical girl anime series which first aired in 1999. A new anime film, Looking For Magical Doremi, is set to release in fall this year for the 20th anniversary of the popular magical girl anime series Ojamajo Doremi. The story follows college student Sora Nagase who aspires to become a teacher, office worker Mire Yoshizuki who just returned to Japan, and freelancer Reika Kawatani who are drawn together by a magical gem which sends them onto a magical journey.


The design concept for the collaborative collection is "Everyone Gets Along For an Ojamajo Anniversary!" The illustrations have the familiar faces of Ojamajo Doremi and the Sanrio character cast together dressed in matching colourful outfits.

Mascot Holders (6 Designs): ¥3,080 Each *Except Hana x Corocorokuririn which is ¥2,860

Check out their special matching costumes – everyone looks super cute!

Flat Pouch: ¥1,760

A sparkly and colourful pouch useful for any magical girl who needs to take their little trinkets around. The pouch filled with hearts and stars which dance around when you shake it.

Secret Mascot Charms (10 Designs): ¥770 Each

These charms are inspired by the Pollon wands seen in Ojamajo Doremi and are fitted with cute illustrations of the Sanrio characters. The charm you receive in the box is totally random, adding a level of fun to the buying experience.

Don't miss out on this ultra-kawaii Sanrio x Doremi collaboration, and remember, this is just a sneak peek into what is an even bigger collection of available items.

Ojamajo Doremi Themed Food and Drinks Releasing at cookpad studio in Osaka

CookpadTV is set to collaborate with the third series of the popular TV anime series Ojamajo Doremi, entitled Motto! Ojamajo Doremi, at the live cooking studio "cookpad studio" in Osaka from June 11, 2020 with an event called "cookpad studio Mahosai" (cookpad studio Magic Festival).

cookpad studio has collaborated with many different anime series up to now and receives much praise from customers.

"cookpad studio Mahou Matsuri" brings Motto! Ojamajo Doremi to life on your plate, making it both visually appealing and delicious. Except for desserts, food and drink can be ordered for takeout so customers can enjoy their treats at home.


All food and drink comes with an original novelty. Exclusive merchandise will also be sold for the event.


When you order food or dessert, you'll get one of the above-pictured stickers, and if you order a drink one of the postcards. There are five designs for each, and the one you get is random so you can look forward to seeing which you get on the day.


cookpad studio will also have three large 65-inch displays which will show cooking videos of the food served during the event being made.

©Toei Animation

Looking for Magical Doremi Anime Film Release Promoted With Merchandise by ITS'DEMO

Japanese fashion variety store ITS'DEMO is supporting the promotion of the upcoming Ojamajo Doremi anime film Looking for Magical Doremi by releasing a collection of merchandise which will be released first on the company's online store on May 26, 2020.

Looking For Magical Doremi is an upcoming anime film set to release in fall this year for the 20th anniversary of the popular magical girl anime series Ojamajo Doremi. The story follows college student Sora Nagase who aspires to become a teacher, office worker Mire Yoshizuki who just returned to Japan, and freelancer Reika Kawatani who are drawn together by a magical gem which sends them onto a magical journey.

ITS'DEMO collaborated with Ojamajo Doremi last year with a collection of fashionable items which were a huge hit with fans. In this second collaboration, we see two different pieces of art used: a pastry chef design and a fairy design. The collection ranges from stationery to pouches, snacks to towels, and more.

The collection will be available online first. In-store sales will be announced at a later date.

©Toei Animation


Information

Release Date: May 26, 2020 (Online Pre-Sale)
*In-store release date TBA

Available: ITS'DEMO Online Store / ITS'DEMO branches
Line-Up: 94 items ranging from ¥260-¥3,400 (before tax) including stationery, pouches, towels, food, and more

ITS'DEMO Official Website: http://itsdemo.jp
Looking for Magical Doremi Official Website: https://www.lookingfor-magical-doremi.com

Looking For Magical Doremi Anime Film Promoted With Collaborative Danish Pastries and Doughnuts

Looking For Magical Doremi is an upcoming anime film set to release in fall this year for the 20th anniversary of the popular magical girl anime series Ojamajo Doremi. FIRST BAKING CO., LTD. has teamed up with the movie to release a line of Danish pastries and doughnuts.

The pastry's packaging feature the five main characters and a special and limited edition 20th anniversary design.

Danish Pastry

Maple Doughnuts (5 Included)

The Danish pastries are filled with sweet and tasty jam made from five different kinds of berries. There's also maple doughnutsーfive come in a single packーwhich come in cute packaging too.

Fans can sign up to win some exclusive merchandise too by scanning the QR code on the product packages.

©Toei・Toei Animation

Popular Anime Magical DoReMi Gets Collaboration Cafe and Shop in Tokyo Solamachi

Popular TV anime Magical DoReMi is celebrating 20 years of its broadcast and the release of its upcoming 2020 film Majo Minarai o Sagashite by opening a cafe and shop in the TV Station official shop Tree Village, which is located in Tokyo Solamachi. The cafe and shop will be open for a limited period only from November 2 to December 1. 

Head to the shop for limited merchandise featuring dessert-themed illustrations.

After browsing the merchandise, stop by the collaboration cafe to immerse yourself in the world of Magical DoReMi and treat yourself to character-themed meals and drinks.

The Magical DoReMi merchandise and meals are unique to this shop and cafe. This is the ideal place to get your anime fix for the day so don't miss out.

© Toei Animation

Information

Magical DoReMi Cafe and Shop

Open: November 2 to December 1

Location: Tokyo Solamachi West Yard, 4th Floor, 4 Banchi

Tree Village TV Station Official Shop 1 Chome-1-2 Oshiage, Sumida City, Tokyo

Opening Hours:

Shop: 9:00 – 21:00

Cafe: 10:00 – 21:00

Tree Village Official Shop: https://tree-village.jp/en/

Magical DoReMi 20th Anniversary Official Website: https://www.doremi-anniv.com/

Self-Care Like a Magical Girl With Ojamajo Doremi's 20th Anniversary Lip Balm

Bandai's official online store Premium Bandai has teamed up with Japanese makeup brand CreerBeaute to celebrate the 20th anniversary of the magical girl TV anime series Ojamajo Doremi by releasing a set of two different lip balms. Both have been made to look like the Pollon wands used by the witches in the series to cast magic: one is based on the Peperuto Pollon from the original series and the other on Pikotto Pollon from Ojamajo Doremi # (Sharp).

The former lip balm is filled with colourful balls representing the Magic Spheres from the series which a witch needs to power her Pollon to use magic. When used on the lips the balls add a natural pink colour to them along with a sweet and sour strawberry scent♡

The Pikotto Pollon lip balm on the other hand is filled with pink pearls, bringing to life the gorgeous appearance of the original wand. This lip balm adds a natural complexion to your lips with its red colour and ensures they stay hydrated and looking healthy. This one has a floral rose fragrance.

If you want to keep your lips looking and smelling as sweet as a magical girl's, then pucker up with this limited-edition set.

©Toei Animation

Information

Pirika Pirilala Ojamajo Doremi Lip Balms Set of 2 

Price: ¥4,180 (after tax)  (shipping and handling fees not included)  

Set includes: Two lip balms of different colours. 

Purchase from: Bandai's Bandai's official online store Premium Bandai https://p-bandai.jp/?rt=pr%5D

Available to purchase from other websites and stores. 

Preorder from: July 8, 2019 (1pm)

The perorder period will end once all stock has been ordered. 

Estimated delivery: December 2019 (subject to change)

 

Ojamajo Doremi Anime Themed Cafe to Open in Tokyo & Osaka

To celebrate the 20th anniversary of TV anime series Ojamajo Doremi, two themed cafes named Ojamajo Doremi Cafe&Kitchen will open in Tokyo and Osaka from July 12 and August 29 respectively.

Ojamajo Doremi is an original magical girl created by Toei Animation that ran from February 1999 to January 2003. The series was a huge hit with young girls in Japan when it was released, sending them into a magical daze and further spreading the love for magical girl series. The Cafe&Kitchen is aimed at today's young girls and the girls from back then who have now turned into women. The cafe promises to be kawaii through and through.

Doremi's Adoration! Steak Sandwich Plate: ¥1,490

Steak is Doremi's favourite so there was no way the cafe was going to leave it off the menu. This steak sandwich is served in a baguette and is served with cheese sauce to make the steak even more delicious.

Momoko's New York Memories… Meat Ball Pasta Salad: ¥1,290

This dish is inspired by Momoko's memories of how New York tasted back when she lived there as a young girl. The salad pasta bowl is colourful and filled to the brim, representing Momoko's overflowing energy and liveliness. Pour the saffron flavoured cream cheese over to make it look and taste even more American.

Ojamajo Doremi's 20th Birthday Cake: ¥1,190

The Cafe&Kitchen is a celebration of the series's 20th anniversary, so they whipped up a birthday cake fitting for a magical girl. It's a combination of roll cake and sponge cake so you're sure to never tire of the flavour. Help celebrate Doremi's 20th by tucking into this whipped cream covered birthday cake!

Magical Girl Apprentice's Rainbow Pancakes: ¥1,190

Based on the iconic colours of the magical girls, this stack of cute pancakes are shaped like hearts. Scoop up the anglaise sauce and eat together with the pancakes for an even sweeter flavour.

Onpu's Purple Tapioca Milk: ¥790

The famous idol Onpu gets her very own brown sugar bubble tea with tapioca pearls. Served in her image colour, the drink is whipped with whipped cream and showered with rainbow sprinkles♡

Aiko's Blue Lemonade Float: ¥890

You're sure to cool yourself down in the summer heat with Aiko's blue lemonade topped with deliciously refreshing ice cream, lime and mint.

Acrylic Key Ring (6 Designs): ¥600

Clear Pouch (1 Design): ¥1,500

With art director by popular creators Etoile et Griotte, who are popular with lovers of kawaii things, the Cafe&Kitchen will also sell a selection of cute and exclusive merchandise.

Customers who book a table in advance (¥500 per person, excluding tax) and order from the menu will receive one of the six above-pictured original clear stickers chosen randomly.

Those who dine at the cafe will also receive one of these two possible original lunch mats.

Finally, customers who order a drink will receive one of six possible character coasters.

Visit the Ojamajo Doremi Cafe&Kitchen this summer to celebrate 20 years since the series first aired.

*All prices listed are pre-tax prices. Photos are for illustrative purposes only

©Toei Animation

Information

Ojamajo Doremi Cafe&Kitchen

Tokyo

Location: Gourmet Stadium II, Dining Park Ikebukuro, Seibu Ikebukuro Floor 8F

Address: 1-28-1 Minami-Ikebukuro, Toshima Ward, Tokyo

Running: July 12, 2019 – August 31, 2019

Osaka

Location: Abeno contact

Address: Abeno Q's Mall Floor 4F, 1-6-1 Abenosuji, Abeno Ward, Osaka

Running: August 29, 2019 – September 29, 2019

Booking Price: ¥500 (Comes with booking present, up to 4 people per booking)

Cafe Website: https://ojamajodoremi-cafe-and-kitchen.jp