Ojamajo Dorami x Sanrio Collaborate On New Merchandise Collection
Sanrio and Toei Animation are teaming up to release a new collection of 130 items featuring the characters from both Sanrio and Ojamajo Doremi. The collection will be released on July 30 in Japan.
The sparkly and kawaii line-up includes everything from pouches to charms and more.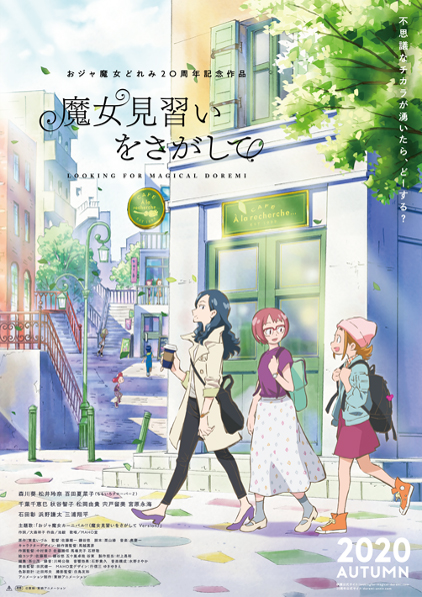 ⓒToei Animation
Ojamajo Doremi is a popular magical girl anime series which first aired in 1999. A new anime film, Looking For Magical Doremi, is set to release in fall this year for the 20th anniversary of the popular magical girl anime series Ojamajo Doremi. The story follows college student Sora Nagase who aspires to become a teacher, office worker Mire Yoshizuki who just returned to Japan, and freelancer Reika Kawatani who are drawn together by a magical gem which sends them onto a magical journey.

The design concept for the collaborative collection is "Everyone Gets Along For an Ojamajo Anniversary!" The illustrations have the familiar faces of Ojamajo Doremi and the Sanrio character cast together dressed in matching colourful outfits.
Mascot Holders (6 Designs): ¥3,080 Each *Except Hana x Corocorokuririn which is ¥2,860
Check out their special matching costumes – everyone looks super cute!
Flat Pouch: ¥1,760
A sparkly and colourful pouch useful for any magical girl who needs to take their little trinkets around. The pouch filled with hearts and stars which dance around when you shake it.
Secret Mascot Charms (10 Designs): ¥770 Each
These charms are inspired by the Pollon wands seen in Ojamajo Doremi and are fitted with cute illustrations of the Sanrio characters. The charm you receive in the box is totally random, adding a level of fun to the buying experience.
Don't miss out on this ultra-kawaii Sanrio x Doremi collaboration, and remember, this is just a sneak peek into what is an even bigger collection of available items.

RELATED ENTRIES
Laforet Harajuku's Midsummer Takeaway Desserts Include Cinnamoroll Goodies

Eight shops inside Laforet Harajuku are participating in the shopping mall's midsummer takeout dessert event which is taking place from August 1 to 31. This includes the new milk dessert shop "MILK MILK MILK" which opened as the first branch in Japan on July 17 this year. Desserts and merchandise of Sanrio's popular character Cinnamoroll, who won this year's 2020 Sanrio Character Ranking, will also be sold.

café de paris | Floor B1F


Many Many Fruits Sandwich: Mango ¥626 / Green Grape ¥561 (Tax Included) *Takeout only

Fresh fruit is packed onto these adorable looking sweet sandwiches.

CAFE CREPE | Floor 1F


Honey Summer Orange: ¥730 (Tax Included) *Takeout only

Another cute summer dessert finished with swirls of fresh cream, fresh orange, and a round dollop of ginger ice cream.

MILK MILK MILK! | Floor 2F


Milk Bottle Smoothie: ¥880 (Tax Included) *Takeout and have-in

Served in a cute milk bottle, what better way to cool down than with a cool strawberry smoothie?

Cinnamoroll Milk Pudding: ¥1,078 (Tax Included) *Takeout and have-in


Cinnamoroll Sky Beaker Parfait: ¥1,048 (Tax Included) *Have-in only

There are two tasty Cinnamoroll desserts to choose from, including the milk pudding made with Hokkaido milk and a parfait with a gradient or jelly and chocolate mint ice cream, topped with mint, and served in a beaker.

© 2001,2020 SANRIO.,CO.LTD. APPROVAL NO.S610695

Information

Laforet Harajuku Summer Takeout Menu
Running: August 1, 2020 – August 31, 2020
Official Website: https://www.laforet.ne.jp/

Enjoy Japan's Ennichi Festival At Home with These Adorable Sanrio Lanterns, Keyrings and More

Sanrio characters are celebrating Japan's Ennichi celebration this year with a series of cute Ennichi-themed merchandise. Ennichi is a day of celebration in Japan which sees festivals, performances and the streets lined with delicious food stalls across the country. The day celebrates a particular Japanese deity in Shinto and Buddhism. Although festivals up and down the country have been cancelled due to the coronavirus pandemic, there is no reason to stop the celebration completely ー thanks to Sanrio's adorable merchandise series, you can enjoy the exciting festival vibes from the comfort of your own home.

The Sanrio Character Ennichi Design Series was released on July 29, 2020 and contains a total of six different items.

Sanrio LED Lantern (8 Designs): ¥1,100 Each


Sanrio Goldfish Scooping Set: ¥1,100

The Sanrio festival lanterns can change into three different colours. You can hang it on a hook, place it on the ground or carry it around with you, giving you a total of four fun ways to interact with your new lantern. The Goldfish Scooping Set includes a drawstring bag. Choose from a variety of items to create a personalised set.

Sanrio Die Cut Uchiwa Fan (Six Designs) :¥550 Each


Sanrio Toy Keyring (7 Designs): ¥2,200 Each

From candy apples, to chocolate bananas to candyfloss, the Sanrio uchiwa fans show the adorable characters dressed as different festival foods. For the keyrings, the characters are dressed in traditional Japanese yukata.

The new line of Sanrio items are full of Japanese summer festival vibes and are a perfect way to join in on the Ennichi celebration.

©'76,'79,'85,'88,'89,'93,'96,'01,'05,'20 SANRIO
©'13,'20 SANRIO S/D・G 著作(株)サンリオ

*Names of merchandise have been translated from Japanese

Information

Sanrio Character Ennichi Design Series
Release Date: July 29, 2020
Available At: Sanrio stores, the Sanrio section of department stores, Sanrio Online Shop

Official Website: https://shop.sanrio.co.jp/ 

Japan's KIDDYLAND Stores Announce Ojamajo Doremi Merchandise Fair

KIDDYLAND has announced a fair centred on the TV anime series Ojamajo Doremi which celebrated its 20th anniversary last year. The fair will run from July 30, 2020 to August 14, 2020 at nine branches of KIDDYLAND in Japan.

Ojamajo Doremi is a popular magical girl anime series which first aired in 1999. A new anime film, Looking For Magical Doremi, is set to release in fall this year for the 20th anniversary of the popular magical girl anime series Ojamajo Doremi. The story follows college student Sora Nagase who aspires to become a teacher, office worker Mire Yoshizuki who just returned to Japan, and freelancer Reika Kawatani who are drawn together by a magical gem which sends them onto a magical journey.

Doremi and her friends will cast their magical girl charm on nine KIDDYLAND stores. A new line of merchandise will be sold featuring the main cast riding paintbrushes—rather than your typical broom.

Ojamajo Doremi Acrylic Keyrings (5 Designs) | ¥900 Each (Before Tax)


Ojamajo Doremi Masking Tape Collection (12 Designs) | ¥450 Each (Before Tax)


Ojamajo Doremi Face Towels (2 Designs) | ¥1,500 Each (Before Tax)

Customers who spend over ¥1,500 (tax included) on this new merchandise will receive a free original postcard.

If you're in Japan this summer then don't miss out on this magical fair.

©Toei Animation

Handmade Hello Kitty Double Wall Glasses to be Released in Japan

GOODGLAS Japan has revealed its cute new Hello Kitty double wall glasses which it will release in Japan on July 20, 2020.

Glass products at GOODGLAS are all handmade and use the traditional glass blowing method. When you pour either your hot or cold drink into the glass, Hello Kitty's face stands out even more—and depending on the beverage you pour inside, you can create different looks. The glasses also come in four variations with different coloured ribbons: red, pink, blue, or gold.

You can make your own glass desserts too. There are plenty of ideas you can try to bring the cafe experience into your own home.

Information

Hello Kitty Double Wall Glass

Pre-orders: July 17, 2020

Release Date: July 20, 2020

GOODGLAS Japan Official Website: https://www.r-kj.com/ 


LOFT

The glasses will also be released at select LOFT branches throughout Japan. More info can be found on GOODGLAS's website.

Ueno Marui

Available: July 18, 2020 – July 23, 2020

Location: Ueno Marui 1F Event Space

Address: 6-15-1 Ueno, Taito-ku, Tokyo

Hello Kitty Themed Sports Collection Released in Collaboration With Samantha Thavasa

Samantha Thavasa Japan Limited has released a new Hello Kitty sports themed bag collection in collaboration with Sanrio as part of the company's Samantha Thavasa Petit Choice brand. Titled "We Love Sports!!", pre-sales for the collection opened on Samantha Thavasa's online shop on July 15. In-store general sales will begin at Samantha Thavasa Petit Choice branches and its online shop in Japan on July 22.

Judo Kitty

Tennis Kitty

The collaboration series sees Hello Kitty going all-out sports with soccer, baseball, swimming, volleyball, tennis, judo, and various other sports.

Baseball Kitty 2-Way Mini Shoulder Bag: ¥12,000 (Before Tax) / Flat Pouch: ¥5,500 (Before Tax)


Hello Kitty is wearing her baseball outfit and is ready to strike a home run with this two-way shoulder bag and pouch.


The bag comes with a snap flap set so you can customise this stylish bag for any occasion

The flat pouch is a must-have piece of sports gear, whether for storing medicine, band-aids, and any other items. It's the perfect size for storing little things.


Swimming Kitty Sacoche: ¥5,500 (Before Tax) / Flat Pouch: ¥5,500 (Before Tax)

Hello Kitty wears a wardrobe of different outfits in this sports series. For this one, it's her swimming gear. The sacoche is ideal for putting your smartphone away, and inside are three compartments for storing cards. Keep your credit card or sports game tickets safe.

Fastener Charms: ¥3,800 (Before Tax)

Add some more excitement to your pouch or bag with one of these sporty fastener charms.

The collection is ideal for both popping out to the shops, going to a sporting event, or pretty much any occasion. Hello Kitty is here to share her love of sports with you.

©1976,2020 SANRIO CO., LTD. APPROVAL NO. L611478

Sanrio Characters Come Together at Tokyo's New POWDER ART CAFE HARAJUKU

The new limited-time character cafe POWDER ART CAFE HARAJUKU is set to open in Harajuku, Tokyo from July 15, 2020 to mid-January 2021.

From July 15 to mid-October, the cafe will be centred on the Top 10 characters of this year's Sanrio Character Ranking, an annual event where fans around the world can vote for their favourite Sanrio characters. The cafe will subsequently celebrate the 45th anniversaries of both My Melody and Little Twin Stars until mid-January next year.

At POWDER ART CAFE HARAJUKU, where the customers can draw their own designs on their orders, like latte art, Sanrio fans can look forward to a super cute menu line-up inspired by the adorable character roster.

My Melody Sweet & Sour Strawberry Shaved Ice


Tuxedo Sam Seafood Coquille Plate

If you're visiting Harajuku any time up to January next year, be sure to stop by POWDER ART CAFE HARAJUKU to make your own kawaii Sanrio character dishes.

Information

POWDER ART CAFE HARAJUKU

Address: IMON Bldg. B1F, 6-3-9 Jingumae, Shibuya, Tokyo

TEL: 03-6450-6037

Opening Hours: 11:00-21:00 (Last Orders 20:00)

Official Website: https://k-tanuma.com/company#04

Tell the Time With the Kawaii New Hello Kitty KAORU Wristwatches

Japanese watchmakers MARUZEKI released a new collection of Hello Kitty wristwatches as part of their KAORU model series on June 27, 2020.

KAORU x Hello Kitty Sweets Collaboration: ¥4,180 (Tax Included)

MARUZEKI's "KAORU" watches are inspired by aromatherapy, implementing a world-first concept that lets the wearer enjoy their favourite fragrances on the go. Designed and created with Japan's state-of-the-art materials and technology, the Hello Kitty collection of 3 watches come with vanilla, strawberry, and coconut scents.

The 'Vanilla White' fragrance is like a waft of sweet candy. It's a popular scent seen in products, and uses a mix of aroma oils and perfumes to create the uplifting fragrance. The watch face has an illustration of Hello Kitty enjoying a cup of tea.


'Strawberry Pink' is inspired by strawberry milk and strawberry shakes. They recommend this one if you're wanting a change of pace. This clock face has Hello Kitty enjoying some apple pie and talking on the phone.


'Coconut Mint Green' is a relaxing blend of coconut and passion fruit. Hello Kitty is dressed adorably as a mother making an apple pie for this design.


The watches are packaged in special boxes with a cute pop-up Hello Kitty inside like that of a picture book. This itself serves as kawaii decoration, and makes for a great gift to someone (or yourself!)

Little Twin Stars 45th Anniversary Celebrated at Tokyo Tower

To celebrate the 45th anniversary of Sanrio's popular characters Kiki & Lala, also known as the Little Twin Stars, Tokyo Tower is now hosting an event called "Twinkle color miracle☆" which began on July 1.

A special projection mapping display called "TOKYO TOWER CITY LIGHT FANTASIA ~Twinkle color miracle☆~" by NAKED, INC. is being shown on the second floor main deck of Tokyo Tower. This three-minute video covers the entire 30-meter long north window of the tower, showing a cluster of fireworks, the ocean, Tanabata, and other designs featuring Kiki & Lala's iconic pastel colouring. The video can be enjoyed with the gorgeous Tokyo nightscape in the background from the window.

TOKYO TOWER CITY LIGHT FANTASIA ~Twinkle color miracle☆~

Schedule
Dates: July 1, 2020 – July 31, 2020 / Time: 19:30-22:50
Dates: August 1, 2020 – August 26, 2020 / Time: 19:30-22:50
Dates: August 27, 2020 – September 22, 2020 / Time: 18:30-22:50
Location: Tokyo Tower Main Deck (150cm) Floor 2F, North Side
Price: Adults ¥1,200 / High School Students ¥1,000 / Children (Elementary & Junior High School Students) ¥700 / Aged 4+ Years ¥500

Tokyo Tower's first floor cafe "Cafe La Tour" is also serving some exclusive Little Twin Stars menu items, like ice cream and drinks. If you order one of the Kiki & Lala drinks, you'll get one of the above-pictured coasters which feature the various Little Twin Stars designs from over the years.

Cafe La Tour x Kiki & Lala Collaboration
Running: July 1, 2020 – September 30, 2020
Time: 10:00-22:00 (Last Orders 21:30)
Location: Tokyo Tower Main Deck (150cm) Floor 1F

Information

Tokyo Tower x Little Twin Stars 〜Twinkle color miracle☆〜
Running: July 1, 2020 – September 30, 2020
Location: Tokyo Tower

Tokyo Tower Official Website: https://www.tokyotower.co.jp

Hello Kitty Cafe to Open in Narita Airport's Anime Deck This July

KADOKAWA is set to open a Hello Kitty themed cafe on the Narita Anime Deck—which is located on the Main Building second floor of Narita International Airport Terminal 2—for a limited time from July 3, 2020 to October 2, 2020.

The Narita Anime Deck

The Narita Anime Deck opened inside Narita International Airport Terminal 2 in November 2019. It's an entertainment facility where travellers from around the world can experience and enjoy Japanese anime culture in various forms such as with character merchandise, food, events, and a variety of photo spots.

Hello Kitty Cafe

The facility has collaborated with numerous anime series to open up limited-time cafes since it opened. This time around it is joining paws with Hello Kitty, a face known to all across the globe. As well as themed food, drinks and merchandise, customers can take a Hello Kitty quiz, learn the history behind Hello Kitty, and more.

An Original Food Menu


Hello Kitty's Lovely♡ Pink Curry: ¥1,500


Hello Kitty's Gurakoro Burger: ¥1,500


Hello Kitty's Strawberry Pancake: ¥1,400


Hello Kitty's Strawberry Parfait: ¥1,200

An Original Drinks Menu

The incredible drinks menu is diverse, including lattes where you can get 46 different latte art designs of Hello Kitty from 1974-2019. It could be fun to pick your birth year, or a year where you have fond memories.

Hello Kitty's Colourful Tapioca Drinks (Matcha Milk/Strawberry Milk/Milk Tea): ¥720 Each

 
Hello Kitty's Marshmallow Coffee: ¥800


Hello Kitty's Latte (46 Designs): ¥720 Each

Novelties

For every item you order from the collaboration menu, you can also receive one of 46 possible original coasters once again featuring a different design of Hello Kitty between the years 1974-2019.

1st Line-Up: July 3, 2020 – August 2, 2020


2nd Line-Up: August 3, 2020 – September 2, 2020


3rd Line-Up: September 3, 2020 – October 2, 2020

If you're travelling through Narita Airport anytime this year up to October, then be sure to head on up to the Narita Anime Deck to dine at the Hello Kitty Cafe.

© 1976, 2020 SANRIO CO., LTD. APPROVAL NO. L611439

Hello Kitty Becomes Japan's Mythical Mermaid Figure Amabie in New Merchandise Collection

A new collection of merchandise is being released for Sanrio's popular character Hello Kitty this August which sees her becoming Amabie, a legendary Japanese mermaid which emerges from the sea and prophesies an epidemic.

The first alleged appearance of Amabie was in Higo Province (now Kumamoto Prefecture) during the closing years of the Edo period. Legend has it that if a disease spreads, you must draw a picture of Amabie and show it to those who fall ill to cure them.

Antibacterial Face Mask Pouch: ¥1,300 (Before Tax) *Design subject to change


Antibacterial Eco Bag: ¥1,100 (Before Tax) *Design subject to change

The item collection includes an antibacterial mask pouch, eco bag, and more—all items that are best used during the time of the COVID-19 pandemic.

Lemon Drops: ¥400 (Before Tax) *Available Late June 2020


Cream Sandwich: ¥600 (Before Tax) *Available Late June 2020

Delicious sweets will also be available from late June.

This line-up is a great way to bring some smiles about during these current turbulent times, whether as a gift to yourself or someone special to you.

©︎1976, 2020 SANRIO CO., LTD.

Yuri!!! on ICE x Sanrio Characters Come Together at a Themed Cafe in Tokyo

LEGS COMPANY has revealed that it is opening a Yuri!!! on ICE and Sanrio fusion themed cafe called "Yuri on Ice x Sanrio Characters Cafe 2020" in Shibuya, Tokyo for a limited time from August 6, 2020.

Yuri!!! on ICE is a sports anime series centred on figure skating. It was produced by MAPPA and directed and written by Sayo Yamamoto together with Mitsurō Kubo. The series received rave reviews from anime watchers and the figure skating community.

LEGS COMPANY brought this collaborative cafe to Tokyo and Osaka once before back in September and October of 2017. The collaboration is set to return this summer, with this year's theme centred on an ice cream stand. The menu is made up of themed dishes, drinks, and desserts. Let's take a look at just some of the items on offer.

A Select Look at the Menu

Food


Utopia Akatsuki Simmered Cutlet Plate: ¥1,599

A Yuri!!! on ICE classic, this katsudon dish is served in a separated style.

Borscht Plate: ¥1,599

Borscht is a Russian dish that appears in the show, and in this plate it's served as a main. Enjoy together with the sour cream.

Paella Plate: ¥1,599

A Spanish dish that appears at the end of the show, served with fish, sauce, and a side of gazpacho cold soup.

Desserts


Pancake & Ice Cream Plate: ¥1,399

Enjoy a mix of sweet and sour flavours with a fruit and whipped cream-topped pancake and ice cream. You get to pick your favourite character for your ice cream.

Tiramisu & Ice Cream Plate: ¥1,399

You can choose your favourite character with the bittersweet tiramisu too.

Drinks


Soda Float: ¥989 (Bottom Left: Strawberry / Middle: Melon / Right: Blue / Top Left: Cola / Top Right: Coffee)

Stickers (14 Designs): ¥400


Mini Towels (3 Designs): ¥850 Each

Fans can get their hands on exclusive merchandise too which is also available online in Japan.

Fans (4 Designs) *For those who book a table in advance only


Coasters (7 Designs) *For those who order a drink only

The cafe will also offer free merchandise too, including fans for those who book a table in advance, coasters for those who order a drink, and more.

©はせつ町民会/ユーリ!!! on ICE 製作委員会
©1976,1989,1992,1993,1996,1998,2020 SANRIO CO.,LTD. APPROVAL NO.610406

Information

Yuri on Ice x Sanrio Characters Cafe 2020
Running: August 6, 2020 – September 22, 2020
Location: SHIBUYA BOX cafe&space (Shibuya LOFT 2F, 21-1 Udagawacho, Shibuya, Tokyo)

Reservations: Now Open
Reservation Price: ¥650 (*4 seats per reservation)

Yuri on Ice x Sanrio Characters Cafe 2020 Official Website:
https://yuri-sanrio-characters-cafe.jp/

Hello Kitty Takes Over Osaka's Maid Cafe '@home cafe'

The Osaka branch of @home cafe—a chain of maid cafes that originated in Akihabara—is collaborating with Sanrio to serve up a Hello Kitty experience from July 1 for a limited time, with special decorations, food, and exclusive merchandise.

@home cafe Akihaabra collaborates with Sanrio characters every year. In 2018, it joined hands with My Melody and Cinnamoroll, and in 2019 with Pompompurin. In January this year, it teamed up with Hello Kitty, who is now heading to the Osaka cafe.

The cafe will be decorated with cute pictures of Hello Kitty and her twin sister Mimmy, as well as pink and yellow gingham designs for each character.

The maids at @home cafe Osaka will also wear special Hello Kitty and Mimmy maid outfits for the duration of the collaboration.

Food Menu

Hello Kitty's KAWAII♡ Pink Curry: ¥1,400 (Before Tax) *Comes with a free certificate-style card


Hello Kitty & Mimmy's Moe Moe Ribbon Pasta Plate: ¥1,300 (Before Tax)


Hello Kitty's Lovely Sweet Sandwich: ¥1,300 (Before Tax)

Dessert Menu

Hello Kitty's Moe Moe Parfait / Mimmy's Kyun Myun Parfait: ¥1,000 Each (Before Tax)


Okyumuka Cake Topped With a Bright-Red Apple: ¥1,000 (Before Tax)

All customers who dine at the cafe will receive one of two possible lunch mats for free. You get one of three free coasters too when you order a drink.

Hello Kitty x @home cafe Merchandise

Acrylic Key Rings (3 Designs): ¥600 Each (Before Tax)


Mirror: ¥800 (Before Tax)

See Hello Kitty and Mimmy transform into maids at @home cafe Osaka.

©1976,2020 SANRIO CO., LTD. APPROVAL NO.S603899

Information

Hello Kitty x @home cafe Osaka

Running: July 1, 2020 – August 31, 2020

Location: @home cafe Osaka 1F

Address: SEM Bldg. 1F, 4-19-13 Nipponbashi, Naniwa Ward, Osaka

Opening Hours: [Weekdays] 11:00-22:00 / [Weekends & Holidays] 10:00-22:00 (Last Orders 21:20)

Official Website: http://www.cafe-athome.com/