Popular Yakiniku Restaurant Futago to Open New Branch at THE JUNEI HOTEL in Kyoto
FTG Company, which operates 74 restaurants inside and outside Japan, is set to open its new restaurant Nikukappou Futago at THE JUNEI HOTEL Kyoto in Higashiyama, Kyoto on March 27, 2020 where it will serve authentic Japanese wagyu beef and full courses.
THE JUNEI HOTEL Kyoto is a small luxury tourist hotel housing eleven rooms in total, including its Bamboo Suite. Bamboo can be found throughout all the rooms as part of the hotel's concept: "A sojourn embraced by bamboo in a moonlit space." The rooms, as well as the hotel interior overall, showcases beautiful traditional handiwork using bamboo.
Inside Nikukappou Futago
Nikukappou Futago fuses traditional Japanese elements with modern ones. It features half-size eating areas as well as private areas. Customers can expect their private dining experience to include freshly-cooked full courses with high quality Japanese wagyu and seasonal ingredients.
Menu in Japanese *Menu will change monthly
Nikukappou Futago's concept is "A relaxed adult's Iki." The word iki here refers to a range of different meanings in Japanese, like "sophistication," "breath," "spirit," and "life." The restaurant will work to serve a hospitable service that enables each and every person to enjoy that iki that lives inside them.
Foie Gras & Wagyu Filet Mouthful Bowl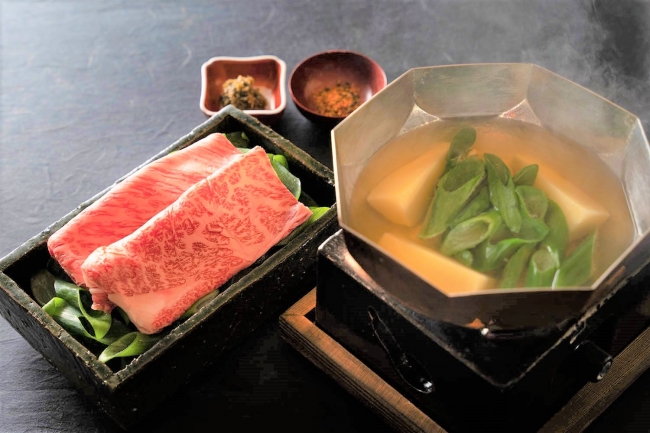 Wagyu Loin & Kyoto Vegetable Shabu-shabu
The course is made with seasonal ingredients and vegetables. Plus, in using a range of cooking methods, the original flavour meat of the meat is intensified.
Wagyu Sirloin Sumiyaki
Enjoy a selection of high-quality rare wagyu cuts like sirloin, filet, loin, and more. You can also enjoy a selection of classic Japanese dishes like yakiniku, shabu-shabu, and sukiyaki, all in one course.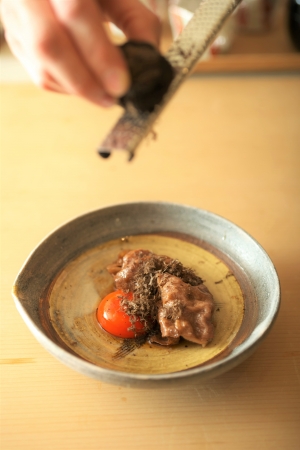 Like the changing seasons in Kyoto, the menu will be altered every month to bring something new. Discover your iki and enjoy a great meal at Nikukappou Futago.
Information
Nikukappou Futago THE JUNEI HOTEL KYOTO
Address: THE JUNEI HOTEL KYOTO Floor 1F, 4-139 Honmachi, Higashiyama Ward, Kyoto
Grand Opening: March 27, 2020
Opening Hours: 17:00-23:00  (Last Orders 22:00)
No Fixed Holidays
Seats: 32 (6 Half-Size Rooms / 2 Private Rooms
TEL: 075-525-0052
Course Price: ¥11,000 (Tax and service charge not included) *Course menu to change each month
Official Website: https://nikutei25.com/
RELATED ENTRIES
Kyoto's Shinto Shrine Iwashimizu Hachimangu Announces Light-Up Event

Iwashimizu Hachimangu, a Shinto Shrine in Yawata, Kyoto, has announced that a 5-day light-up event will take place from February 10 to 14 at the site's main shrine which is listed as a national treasure of Japan.

Following government guidelines in response to COVID-19, the event will feature LED illuminations, glowing exhibits from craftsmen, lights made by locals from materials such as bamboo, and more, all in the hopes of creating a bit of evening-time sightseeing in the area. The event will also be streamed live online for those unable to attend where viewers can also enjoy watching ceremonial dance by shrine maidens.

Information

Iwashimizu Hachimangu Inori no Tomoshibi ~Wa no Kokoro~

Event Name in Japanese: 国宝・石清水八幡宮 祈りのともしび~和の心~
Running: February 10, 2021 – February 14, 2021
Light-Up Times: 17:00-20:00
Location: Iwashimizu Hachimangu (30 Takabo, Yawata, Kyoto)
Note: Face masks and COVID-19 Contact Confirming Applications required
Event Page: https://ochanokyoto.jp/event/detail.php?eid=569
Official Website: https://newnormaltourism.jp/

Matcha and Strawberry Parfaits Whipped Up at Saryo FUKUCHA in Kyoto

Saryo FUKUCHA in Kyoto is now serving up a very special selection of succulent strawberry and matcha parfaits until May 30, 2021. These exquisite delights will see only 10 made of each per day.

Saryo FUKUCHA is a cafe that was opened by FUKUJUEN in Kyoto Station in April 2019. This year, they have brought back their extremely popular strawberry and matcha parfaits : the Konome, Konoha, and Konoka. They have also introduced a new addition to the line-up: the Strawberry & Matcha Milk Parfait. Also on the menu is a strawberry matcha latte.

Matcha & Strawberry Parfaits


Konome | ¥1,350


Konoha | ¥1,450


Konoka | ¥1,550


Strawberry Matcha Milk Parfait | ¥800


Strawberry Matcha Latte | ¥650

Discover the taste of Japanese tea in a new way with Saryo FUKUCHA's matcha and strawberry parfaits and latte.

Information

Saryo FUKUCHA
Address: 901 Higashi Shiokojicho, Karasumadori Shiokoji Sagaru,, Shimogyo-Ku Kyoto Station Bldg. 2F, Kyoto 600-8216 Kyoto Prefecture
Opening Hours: 8:30-21:00 (Last Orders 20:30)
*The cafe is currently running on reduced opening hours as of December 25, 2020 due to COVID-19. Hours are now 08:30-19:00 (Last Orders 18:30) on weekdays and 08:30-20:00 (Last Orders 19:30) on weekends. Times are subject to change.
TEL: 075-744-0552

Official Website: https://fukucha-fukujuen.com/

hotel androoms Announces Opening of New Kyoto Shijo Branch in March

Solare Hotels and Resorts has announced that a new branch of hotels androoms will open in Kyoto Shijo on March 6, 2021. In the run up to its grand opening, the company has opened a website where guests can book hotels with Solare Hotels and Resorts at the cheapest possible price. The website will begin rolling out more information about each hotel on the site through the year.

Access

hotel androoms Kyoto Shijo is located a convenient 5-minute walk from Kyoto Station's Karasuma Line section and 7 minutes from the Central Exit in the JR section, placing it within close distance to many of Kyoto's sightseeing spots.

The hotel offers seven different room types from standard to double to premium twin. One room can house a maximum of three people, accommodating groups and families. It also promises to be packed with a variety of exclusive services you won't find at other hotels.

Specialty coffee by Unir Kyoto

hotel androoms Kyoto Shijo will welcome the opening of a new branch of Unir inside the hotel which serves coffee made from specially-selected coffee beans. The coffee is hand-roasted on site with baristas pouring their love and skill into every cup.

Breakfast delivered right to your room

The morning time is your time and should be used as you please without you having to rush around, so says the hotel, and so it offers a breakfast delivery service which must be booked in advance.

Relax and unwind in the modern-style baths

Those looking for a little relaxation can look forward to pushing all their stresses aside in a modern bathing area which is inspired by a cave. It's open from 3pm-2am and again from 6am-10am.

If you're planning a trip to Kyoto and want a hotel with easy access to all the hot spots then be sure to consider hotel androoms Kyoto Shijo.

Demon Slayer: Kimetsu no Yaiba Anime Event Slashes Into Kyoto Until March

An event centred on the TV anime series Demon Slayer: Kimetsu no Yaiba is now taking place in Kyoto at Toei Kyoto Studio Park, Kyoto Railway Museum, and Shijō-Ōmiya Station and Arashiyama Station on the The Keifuku Randen Tram Line until March 14, 2021. Fans of the series can participate in a 'keyword rally' where they'll be walking around Kyoto trying to locate specific words to win prizes, enjoy unique Demon Slayer exhibits at each of the venues, gets their hands on original merch, tuck into themed food, and more.

Pins (17 Designs) | ¥440 Each (*Design chosen is random)


Long Chocolate Baumkuchen | ¥1,080

Merch includes pins of the anime series's main characters, a special baumkuchen cake based on the Infinity Train from the Demon Slayer: Kimetsu no Yaiba the Movie: Mugen Train film, and more. Online orders are also available in Japan at Chugaionline.

Fans still hyped over Demon Slayer: Kimetsu no Yaiba the Movie: Mugen Train, which broke records in Japan to become the highest-grossing film of all time in the country, can expect to stock up even more of their favourites for their collection at the event.

©吾峠呼世晴/集英社・アニプレックス・ufotable

Information

Demon Slayer: Kimetsu no Yaiba Exhibition

Event Name in Japanese: 鬼滅の刃 京ノ御仕事 弐
Running: December 26, 2020 – March 14, 2021
Locations: Toei Kyoto Studio Park / Kyoto Railway Museum / Randen (Shijō-Ōmiya Station and Arashiyama Station)
Event Page: https://www.toei-eigamura.com/kimetsu/
*Event opening hours subject to sudden change or cancellation depending on COVID-19.

Online Orders
Running: Until January 31, 2021 at 23:59

Shipping: March 2021 (Japan only)

Chugaionline: https://www.chugai-contents.jp/blog/event/eigamura_kimetsu/

ROKU: Kyoto's New Soba Ramen Shop Produced by Michelin-Star Chef

Kamo Dashi Chuka Soba ROKU is a new ramen restaurant set to open at GOOD NATURE STATION, a shopping facility in Kyoto, on December 12, 2020.

The restaurant is produced by Yuki Iwasaki, a chef at VELROSIER which acquired its first Michelin Star in Michelin Guide 2021 Kyoto, Osaka & Okayama. It will serve ramen in a variety of duck-flavoured dashi broths made with duck from Kyoto and France.

Duck Sei Tanmen | ¥1,000


Duck Shiro Tanmen | ¥1,000

ROKU will initially offer three types of ramen dishes which includes the two pictured above as well as a special served each season. The Duck Sei Tanmen uses a broth made from a blend of duck meats and has a distinctly refreshing yet rich taste. The Duck Shiro Tanmen uses the same broth but adds chicken to the base together with mayu burnt garlic oil. The restaurant also makes its own thick noodles to enjoy with the soup. No tare sauce is used, allowing for customers to enjoy the umami flavour of the dashi and the various ingredients added.

The ramen bowls used are original wares created by TOKINOHA, a Japanese crockery brand specialising in traditional Kiyomizu ware which are perfect for enjoying your ramen.

Information

Kamo Dashi Chuka Soba ROKU (Japanese Name: 鴨出汁中華そば ROKU)
Grand Opening: December 12, 2020
Address: GOOD NATURE STATION Floor 2F, 318-6 Inaricho, Shimogyo-ku, Kyoto
Opening Hours: 11:30-20:00
No Fixed Holidays
Official Website: https://goodnaturestation.com

FAUCHON HOTEL KYOTO Announces Opening Of Le Spa Fauchon in March 2021

FAUCHON HOTEL KYOTO is set to open its second branch in March 2021 which will be home to the Fauchon brand's world-first spa Le Spa Fauchon.

Le Spa Fauchon's spa experience incorporates its concept of "FAUCHON Meets Kyoto. Feel Paris" which is offered in a variety of ways. The spa of course serves a wide range of body, facial and scrub treatments with voluptuous fragrances and rich textures, while the floors of the spa rooms are dyed a stylish Fauchon pink. It's a coming-together of splendorous Paris and quaint Kyoto.

An unforgettable spa experience by Japan and Paris's beauty specialties

Le Spa Fauchon is managed by Cred International at FAUCHON HOTEL KYOTO, an industry-leading company that operates luxury hotels both inside and outside Japan.

The spa's products and menu were developed in a joint effort between premium cosmetic brand KOS PARIS, which manages numerous 5-star hotel spas and offers high-quality products in Paris, and which is coming to Japan for the very first time, and Cred International. The spa is also offering an original and exclusive range of oils in collaboration with top Paris therapist Yuki Inotsume, who has offered her knowledge of Japanese skin care and Japanese peoples' preferences, and KOS PARIS's high-grade oils.

FAUCHON HOTEL KYOTO also offers all guests a selection of amenities in their rooms with the "FAUCHON Meets Kyoto. Feel Paris." concept for guests to enjoy the ultimate spa experience.

If you're staying in Kyoto, why not treat yourself to a spa trip at Le Spa Fauchon?

Kyoto's New Cafe YOJIYA CAFE Ocha no Crepe Serves Tasty Takeout Matcha Crepes

YOJIYA CAFE opened up a new cafe called YOJIYA CAFE Ocha no Crepe in Kyoto on November 30, 2020, serving a selection of crepes made with Uji matcha and specially-selected ingredients.


YOJIYA is a Kyoto-based company that first opened 116 years ago specialising in aburatorigami blotting paper. Today, the company has expanded its range of cosmetic and beauty items, and it even operates two cafes in Kyoto. On Monday (November 30), it opened YOJIYA CAFE Ocha no Crepe in Nijo Fuyacho, Kyoto, an all-new cafe serving takeout crepes.

Ocha no Crepe Matcha | ¥750 (Tax Included)


The cafe's signature matcha crepe is filled with cream, rice flour dumplings, and matcha from Uji. The crepe pastry itself is made from an original blend of two types of wheat flour. The cream is a delicious blend of three types of cream plus matcha cream. It's also filled with crunchy pie which is cooked fresh every morning. The crepe is finished with an illustration of a matcha teacup and whisk made from matcha.

The high quality matcha crepes are made the perfect size and with the perfect combinations so they can be enjoyed even after a meal.

Be sure to pay a visit to YOJIYA CAFE Ocha no Crepe when visiting Kyoto.

Information

YOJIYA CAFE Ocha no Crepe
Grand Opening: November 30, 2020
Address: Nijo dori & Fuyacho-dori, Hoteiyachō, Nakagyo Ward, Kyoto
Opening Hours: 11:00-18:00
No Fixed Holidays
TEL: 075-255-9292

YOJIYA CAFE Official Website: http://www.yojiyacafe.com

Enjoy the Beautiful Taste of Kyoto at Isetan Shinjuku in Tokyo

Isetan Shinjuku has announced a special event dedicated to promoting the beautiful taste of Tokyo. Set to begin on December 2, the event will see both traditional and newer restaurants from Kyoto come together to serve up Kyoto-style cuisine to the people of Tokyo from oldies like sushi to dango to more modern dishes like okonomiyaki and katsu sandwiches. Visitors will also be able to watch real chefs from Kyoto at work.

Hi-Lite Shokudo's "Hi-Lite Katsu Sandwich" | ¥850

Since first opening in 1960, Hi-Lite Shokudo has continued to treasure the taste of home cooking and has continued to evolve that taste over the years to cater to each generation. Its famous katsu sandwich is made with a secret sauce that has kept it unbeaten against other popular eateries in Kyoto, and they've upped the taste for this event.

Kotoka's "Mitarashi-dango" | ¥864 (6 Sticks) 

These dango are made fresh in front of customers and are doused in a rich secret sauce. Their chewy texture is irresistible.

Izuu's Mackerel and Tilefish Assortment | ¥4,455 (3 of each per person)

Izuu is an iconic sushi restaurant in Kyoto that was first established in 1781. This assortment is made with chub mackerel from coastal waters, esumai rice from Shiga Prefecture, and kombu from Hokkaido.。

Yumeya's Fuwafuwa Okonomiyaki | ¥801 (1 portion)

Many people living outside of Kyoto search for the okonomiyaki flavour served by Yumeya. It's made fresh, fluffy, and is topped with lots of ingredients.

Daitokuji Saiki-ya's "Dashimaki Tamago" | ¥648 (1 portion)

Daitokuji Saiki-ya is a specialty store in Kyoto catered food in business for 1933 years. It serves Kyoto-style dashimaki tamago as well as lots of other delicious food that captures the taste of Kyoto.

Sailor Moon Opens Its Third Petit Store at KIDDYLAND Kyoto Shijo Kawaramachi

To celebrate the upcoming release of the two-part Sailor Moon Eternal movie, a third branch of Sailor Moon store -petit- is set to open at KIDDYLAND Kyoto Shijo Kawaramachi on December 5, 2020.


Sailor Moon fans can look forward to getting their hands on a magical menagerie of original merchandise originally only available at the Sailor Moon store in Harajuku as well as a super soft, exclusive store-original Climax Moon Compact cushion.

Other items include candy charms, acrylic Christmas 2020 stands, pins, and more. Customers who spend over ¥3,000 (tax included) will also receive a free folder. These are available on a first-come, first-served basis and feature a cute design drawn by one of the store owners.

Information

Sailor Moon store -petit-
Grand Opening: December 5, 2020

Location: KIDDYLAND Kyoto Shijo Kawaramachi

Address: 344 Takoyakushi Sagaru Shioyacho, Kawaramachidori, Nakagyo-ku, Kyoto-shi, Kyoto

Opening Hours: 11:00-21:00 (Subject to change without notice)
Official Website: http://sailormoon-official.com/store/

Sailor Moon Eternal
Animated film releasing in two parts in 2021.
Part One: January 8, 2021
Part Two: February 11, 2021
Official Website: https://sailormoon-movie.jp/ 

Hotel & Rooms Kyoto Shichijo: Kyoto's New Hotel Opening in Spring 2021

Solare Hotels & Resorts has announced that the new Hotel & Rooms Kyoto Shichijo will open in Spring 2021. It will be located just a 7-minute walk from the JR side of Kyoto Station's Central Exit, making it a convenient hub for tourists looking to sightsee in the city.

The casual yet stylish hotel caters to couples, families, and groups travelling together.

"Verical Garden" in the Elevator Hall

Enjoy the open central garden at the hotel cafe

The hotel takes advantage of the building's old Kyoto-style townhouse design and incorporates a contemporary feel to its interior. The décor is a merging of traditional and contemporary Japan. Guest rooms are centred on groups 2-3 people with double and twin rooms available, allowing for comfort and relaxation.

Spacious washroom with wooden décor

A traditional and modern fusion of stylish mirrors and warm wood

The washrooms offer a relaxing respite from the day's travels, incorporating the beauty of traditional Kyoto with the modern. The hotel also has its own cafe on the first floor which serves breakfast and lunch and even turns into a bar in the evenings. It's open to both guests and non-guests to serve as a hub for travellers and locals to enjoy the fruits of Kyoto together.

If you're planning a trip to Kyoto next spring or beyond, be sure to check out

Information

Hotel & Rooms Kyoto Shichijo (Japanese: ホテル・アンドルームス京都七条)
Address: 730 Ebisunocho, Shimogyo-ku, Kyoto
Grand Opening: Spring 2021

Official Website: https://www.solarehotels.co.jp/

10 Spots in Kyoto to Fall Into the Autumn Colours

Kyoto, the ancient capital of Japan, is littered with countless leafy spots to enjoy the autumn colours. Here's a list of must-visit, little-known good spots in the city that enjoy all the visual treats of the seasonal, all of which are carrying out proper social distancing and anti-COVID-19 measures.

Forgot about the time and enjoy the scenery with few people around

Soak up autumn with a boat ride | Hozugawa River in Kameoka

Ride the Hozugawa River along the 16km valley from Kameoka to Arashiyama. The autumn spectacle in this area is a grand sight to behold. Visitors can enjoy two hours along the valley stretch with the colours of the maple trees reflected off the water's surface, allowing them to fall into nature and forget their stresses for a while.

Hozugawa River
Peak Autumn Time: Mid November – Early December
Address: Shimonakajima-2 Hozucho, Kameoka, Kyoto
Boat Times: 09:00-15:00 (Changes depending on season)
Price: Adults ¥4,100 / Children ¥2,700
TEL: 0771-22-5846 (Hozukawa River Boat Service)
Official Website: https://www.hozugawakudari.jp/

Shrouded amongst it all | Kuwayama Shrine in Kameoka

Planed on the grounds of Kuwayama Shrine are around 1,000 individual trees which give rise to vivid colours during autumn. Since the shrine is located among the mountains, the site enjoys an earlier bloom than other parts of Kyoto, with trees blossoming from early to mid November.

Kuwayama Shrine
Peak Autumn Time: Early to Mid November
Address: Kamigaichi-22-2 Kamiyadacho, Kameoka, Kyoto
Viewing Times: Any time
Price: ¥300
TEL: 0771-22-1023
Official Website: http://www.kuwayama-jinjya.jp/

Walk the autumn carpet | Komyo-ji in Nagaokakyo

Komyo-ji Temple, also known as Autumn Colour Temple (Momiji-ji), is famous for being the head temple of Seizan Pure Land Buddhism. Easily accessible from the city proper, the temple site is home to hundreds of towering trees which dye the area vibrant reds and yellows around this time. One of the main paths at the temple in particular has been nicknamed Autumn Colour Road (Momiji Sando) as the overhead trees and fallen leaves on the ground create a tunnel and carpet of brilliant colour.

Komyo-ji
Peak Autumn Time: Mid to Late November
Address: 26-1 Aosaijonai, Nagaokakyo-shi, Kyoto
Viewing Times: 9:00-16:00
Price: ¥500 (Free outside autumn season)
TEL: 075-955-0002
Official Website: http://www.komyo-ji.or.jp/

Thousands of fiery trees burn red and yellow | Kongoin in Maizuru

Kongoin is famous for its autumn scenery and is nicknamed Autumn Temple of Tango. The temple is home to thousands of maple trees all of various ages from decades to hundreds of years old. It faces Kahara Park which itself boasts incredible autumnal sights and is also home to a 3-storied pagoda which makes for a picturesque snapshot together with the trees.

Kongoin
Peak Autumn Time: Mid to Late November
Address: 595 Kawara, Maizuru, Kyoto
Viewing Times: 09:00-17:00
Price: ¥300
TEL: 0773-62-1180
Official Website: http://www.maizuru-kanko.net/spot/sightseeing/kongoin.php

Contrasting beauty of red maples and ordinary greens | Omoto Shinen in Ayabe

Omoto Shinen is a popular sightseeing spot in Ayabe, home to several must-sees including a wooden structure called "The Palace of Eternal Life," the Konohana-an building which is listed as an Important Cultural Property, and more. Its expansive grounds are also home to a garden where the autumn colours collide with the greens of ordinary trees, creating a beautiful contrast.

Omoto Shinen
Peak Autumn Time: Mid to Late November
Address: 1-1 Hongucho, Ayabe, Kyoto
Viewing Times: 09:30-16:30
Price: Free
TEL: 0773-42-0187
Official Website: https://www.ayabe-kankou.net/spot/omotoshinen/

A magical scene at an Important Cultural Property | Gansen-ji Temple in Kizugawa

Gansen-ji Temple is an ancient Buddhist temple that was built in 729. It's home to a three-storied pagoda which is is a registered Important Cultural Property which nestles amongst the trees. If you visit the temple this year by November 30, you will be treated to a very rare look at one of its treasures which is normally closed to the public.

Gasen-ji
Peak Autumn Time: Mid November – Early December
Address: Kaminomon-43 Kamocho Iwafune, Kizugawa, Kyoto
Viewing Times: 08:30-17:00 (09:00-16:00 from December to February)
Price: Adults ¥500 / Junior High School Students ¥400 / Elementary School Students ¥200
TEL: 0774-76-3390
Official Website: http://gansenji.or.jp/

The garden of special scenic beauty | Joruri-ji Temple in Kizugawa

Joruri-ji is a temple of the Shingo Ritsu school of Buddism. It's also home to a famous garden which is listed as a Place of Special Scenic Beauty. The vibrancy of the reds trees is truly an overwhelming delight to the eyes which is enhanced by the bright-red three-storied pagoda.

Joruri-ji Temple
Peak Viewing Time: Mid to Late November
Address: Futaba-40 Kamocho Nishio, Kizugawa, Kyoto
Viewing Times: 09:00-17:00 (Last Entries 16:00)
Price: Adults ¥400 / Children – Free
TEL: 0774-76-2390
Official Website: http://0774.or.jp/temple/jyoruriji.html

Red and yellow hue fusion | Choanji in Fukuchiyama

Choanji's autumn colours make for a truly staggering experience as the dazzling reds and yellows complement each other. There's a 600-year-old tree in near the temple which throws in another huge chunk of yellow to the red dye of the temple grounds.

Choanji
Peak Autumn Time: Early to Mid November
Address: 577 Okunobe, Fukuchiyama, Kyoto
Viewing Times: 09:00-16:30
Price: Adults ¥300 / Children ¥100
TEL: 0773-22-8768
Official Website: http://www.chouanji.jp

Evening illuminations for a late-night autumn experience

Breathtaking in the day or night | Nariaji Temple in Miyazu

Nariaji is an ancient temple huddle among mountains that overlook Amanohashidate, one of Japan's Three Scenic Views. The five-storied pagoda there is an example of Kamakura Period architecture and offers an unmissable view together with the hundreds of trees during autumn. On November 14 and 15, the area will be lit up in the evenings.

Nariaji
Peak Autumn Time: Early to Late November
Light Up Times: 17:20-21:00 (Regular viewing times are 08:00-16:30)
Address: 339 Nariaji, Miyazu, Kyoto
Price: Adults ¥500
TEL: 0772-27-0018
Official Website: http://www.nariaiji.jp/

Autumn reflected on the water | Keihanna Commemorative Park in Soraku

Keihanna Commemorative Park is split into several areas such as the Suikei-en (Japanese garden) and Mebuki-no-Mori (Budding Tree Forest). There's also the Momijiya, a garden designed in a valley where maple trees grow. Talking a stroll along the bridge and looking down at the 80 trees in their autumnal garbs reflecting off the water surface is a sight to not be missed. especially at night when the lights are turned on.

Keihanna Commemorative Park 

Peak Autumn Time: Mid to Late November

Light-Up Period: Fridays, weekends, and holidays from November 3, 2020 – November 29, 2020

Light-Up Time: Sunset to 21:00 (Last Entries 20:30)

Address: 6-1 Seikadai, Seika, Soraku District, Kyoto

Price: Adults ¥200 / Children ¥100
TEL: 0774-93-1200
Official Website: https://keihanna-park.net/

Demon Slayer: Kimetsu no Yaiba Collaborates With Kyoto's Famous Kabuki Theatre Minami-za

Minami-za, one of the most respected kabuki theatres in Japan, has announced a special exhibition in collaboration with the TV anime series Demon Slayer: Kimetsu no Yaiba which will run from November 6 to 23.

Minami-za is the oldest theatre in Japan and is registered as a Tangible Cultural Property of Japan. The Demon Slayer exhibition will feature displays, decorations, and a range of exclusive merchandise.

Lobby Exhibit

Fans will find a range of character boards displayed at the entrance lobby to Minami-za with the characters donning traditional kabuki attire.

Special Stage Photo Spots

Cut-outs of the main cast of characters will be displayed on stage. People will be able to stand up on stage and take photos with the characters in this unique collaboration with kabuki.

Signboard

An original signboard will be displayed at the entrance to Minami-za.

Free Bonus Items

All customers who visit the theatre will receive one of these 18 possible coasters for free.

Merchandise

Those who hold a ticket to the event will be able to purchase a selection of original merchandise at the theatre. The items will also be sold online at Shochiku Kabuki-ya Honpo.

Teabags (4 Flavours) | ¥800 (Tax Included)

Special teabags will also be sold at the Tokyo and Kobikicho Square branches of Shochiku Kabuki-ya Honpo as well as their online website between October 21 and 23.

Tickets to the event are available via Lawson in Japan.

©Koyoharu Gotouge/Shueisha・Aniplex・ufotable

Information

Demon Slayer: Kimetsu no Yaiba x Minami-za
Location: Minami-za (Hashihigashizumecho, Higashiyama-ku, Kyoto)
Running: November 6, 2020 – November 23, 2020 (Closed November 9 and 16)
[Tue-Thur] 15:00-20:00 (Last Entries 19:00)

[Fri-Sun] 10:00-20:00 (Last Entries 19:00)
Tickets: https://l-tike.com/kabukimetsu_minamiza/
Official Website: https://www.kabukimetsu.com/