New Era, who are known for their headwear series, started developing high-quality bags and apparel in recent years. They have now developed their very first randoseru backpack. 
A randoseru is a kind of firm and sturdy backpack often used by elementary school students. Its most appealing and distinctive features are the large smooth flap and slightly rounded corners.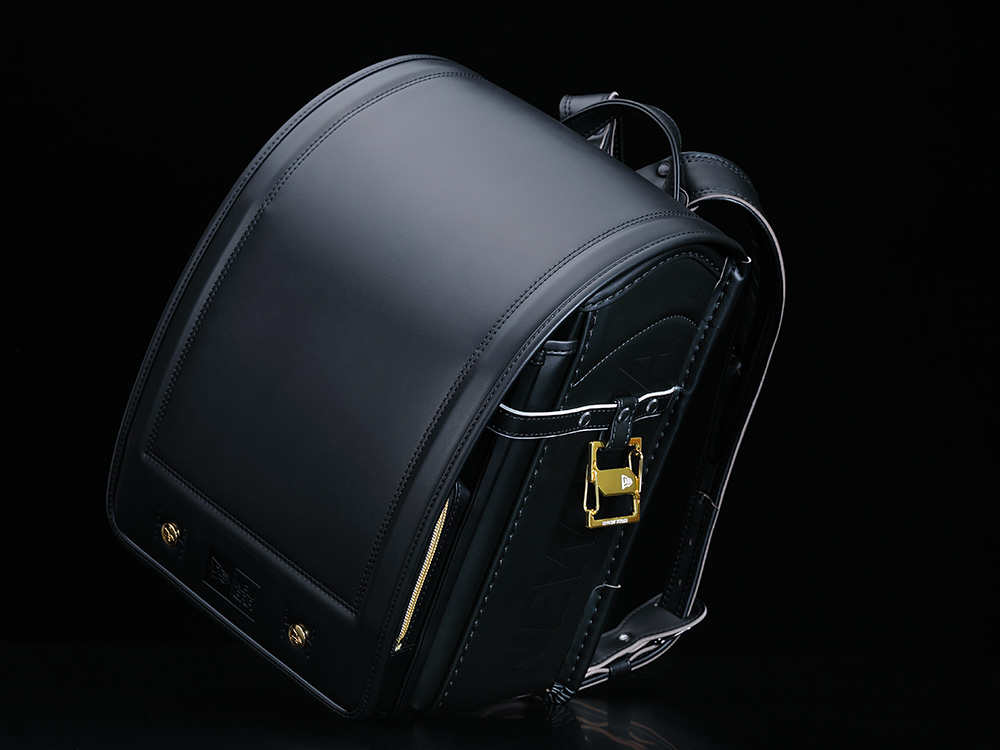 Randoseru: ¥75,000 (Before Tax)
This randoseru backpack was developed to hype up the daily lives of new students eagerly anticipating the start of the 2021 academic year.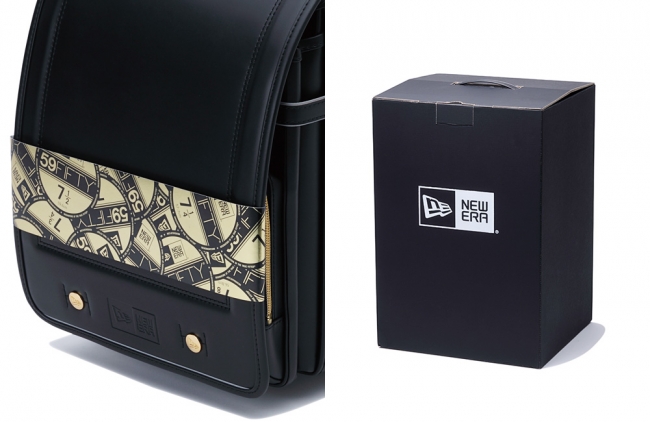 Colour samples from New Era's 59FIFTY® baseball cap visor sticker inspired the black and gold colour scheme. New Era's logo designs can be seen all over the bag. It even comes with a cap clip for you to carry your headwear. The new randoseru bags are set for release in April 2020. 
This fashionable randoseru bag is full of beautiful details and is just what you need to start your next school year. 
RELATED ENTRIES
Snoopy Design Eco Bags Release in Collaboration With 11 Brands

Fashion, beauty, and creative company MASH Holdings has announced a collaboration with the Peanuts comic strip titled "TAKE CARE WITH PEANUTS" which sees the arrival of an eco bag collection in collaboration with 11 different fashion brands. The bags were released at USAGI ONLINE, as well as other online stores and shops in Japan on April 28.

The Line-Up

SNIDEL | ¥1,980 (Tax Included)

gelato pique | ¥2,420 (Tax Included)

FRAY I.D | ¥2,200 (Tax Included)

Lily Brown | ¥2,970 (Tax Included)

Mila Owen | ¥3,300 (Tax Included)

CELFORD | ¥2,530 (Tax Included)

Emmi | ¥4,950 (Tax Included)

SNIDEL HOME | ¥3,850 (Tax Included)

Styling | ¥1,980 (Tax Included)

FURFUR | ¥4,950 (Tax Included)

UNDERSON UNDERSON | ¥3,960 (Tax Included)

The eco bags see Snoopy and the Peanuts Gang making an effort to promote sustainable alternatives to plastic bags. Fans of the comic can help the gang take care of the planet with this stylish reusable line-up.

Information

TAKE CARE WITH PEANUTS

Released: April 28, 2021

Available Online:
・USAGI ONLINE: https://usagi-online.com/
・Official online stores of each participating brand


Available In-Store:
・In-store at each participating brand (release dates different for each)

MASH Holdings Official Website: https://www.mash-holdings.com/

Madoka Magica & Magica Record Anime Merchandise Releases at EMooooN

Fans of Puella Magi Madoka Magica and Magica Record won't want to miss out on these new themed backpacks and wristwatches released by KADOKAWA at the apparel brand EMooooN. Available to order until May 23, the merch designs take inspiration from the 2011 film Puella Magi Madoka Magica: The Movie and the anime adaptation of the mobile RPG Magia Record: Puella Magi Madoka Magica Side Story.

The anime studio SHAFT, who animated both of these series, created special illustrations of Madoka, Homura, Iroha, and Yachiyo for this merch drop.

Madoka Kaname Backpack | ¥14,700 (Tax Included)

Inspired by the one and only Madoka, this backpack's outer design features her full name embroidered in the bottom right, while inside fans will discover an original design with magical circles and limitless space. There is plenty of room to store your bits and bobs with both open pockets and a zip pocket. The bag itself has a simple body design which makes it perfect for being nerdy while in a business setting as well as looking stylish when out and about.

Homura Akemi Backpack | ¥14,700 (Tax Included)

Embroidered with Homura's name, this black backpack's inner design features flowers and the starry night sky.

Madoka Kaname Wristwatch | ¥18,480 (Tax Included)

The face of this wristwatch features magical circles and its colours based on Madoka's clothes. Its stylish design also makes it wearable in any situation.

Homura Akemi Wristwatch | ¥18,480 (Tax Included)

Homura's clock face has cogs on it as well as darker colours to match her character design.

Iroha Tamaki Backpack | ¥14,700 (Tax Included)

The interior design of Iroha's bag was created by Doroinu of Gekidan Inu Curry.

Yachiyo Nanami Backpack | ¥14,700 (Tax Included)

Dorainu also designed the inside of Yachiyo's bag.

Iroha Tamaki Wristwatch | ¥18,480 (Tax Included)

Yachiyo Nanami Wristwatch | ¥18,480 (Tax Included)

Special sets featuring illustrations by SHAFT

Backpack & Acrylic Key Ring Sets

Backpack EMooooN Sets: Madoka, Homura, Iroha, Yachiyo | ¥15,200 Each

Wristwatch & Acrylic Stand Figure Sets

Backpack EMooooN Sets: Madoka, Homura, Iroha, Yachiyo | ¥19,500 Each

©Magica Quartet/Aniplex・Madoka Movie Project Rebellion

©Magica Quartet/Aniplex・Magia Record Anime Partners

Stylish Bags and Sneakers Arrive at Camper's Pop-Up Shop in Isetan Shinjuku

Shoe, boots, and sneaker brand Camper opened a pop-up shop at Isetan Shinjuku on Wednesday which is set to run until April 27. The shop is a collaboration with Japanese textile designer Masaru Suzuki who has provided his iconic designs to a collection of bags and sneakers that you can get your hands on. The shop also has a display designed by Suzuki.

Pop-Up Store Line-Up

HOP STEP LIFE | ¥19,800 (Tax Included)

ANIMAL BISCUIT | ¥22,000 (Tax Included)

CHARM POINT | ¥5,500 (Tax Included)

TWINS by MASARU SUZUKI (Women's) | ¥25,300 (Tax Included)

TWINS by MASARU SUZUKI (Men's) | ¥25,300 (Tax Included)

TWINS by MASARU SUZUKI (Kid's) | From ¥12,100 (Tax Included)

Men's Building – "CAMALEON 1975" Pop-Up Store

Men's Building Pop-Up Store Original Novelty

This marks Camper's third long-awaited collaboration with Masaru Suzuki and the first in four years, and this time the series adds shoes to the mix in addition to the popular bags. Suzuki visited Camper's main office in Majorca, Spain, for detailed discussions on the designs.

Suzuki is set to attend the pop-up event on April 17. Customers who spend over ¥5,500 (tax included) on this day will receive a fabric swatch signed by Suzuki. Additionally, the men's building of Isetan Shinjuku is also opening its CAMALEON 1975 pop-up shop once again selling shoes made from recycled materials from Camper. Those who spend over ¥14,300 (tax included) at this shop will receive a free eco-friendly bag made from 100% recycled nylon.

Information

ISETAN x CAMPER Pop-Up Store

Running: April 14, 2021 – April 27, 2021

Where: Isetan Shinjuku

ISETAN x CAMPTER/Masaru Suzuku: Main Building Floors 1F & 2F

CAMALEON 1975: Men's Building Floor B1F
Opening Hours: 10:00-20:00

Official Website: https://www.camper.com/

JIMOTOTE Tote Bag Releases Releases Tokyo Tama Collection

JIMOTO is a company in Japan whose products and concept is designed around returning to your home or a place you love. Their tote bag brand, JIMOTOTE, is now introducing Tama design bags centred on the Tama area of Tokyo on their official website and at shops around Tama on April 16. They will also be sold at a pop-up shop in as well as at Nonowa Kunitachi from April 16 to 18.

JIMOTO stands for jibun ni modoru tokoro, which is Japanese for that concept of returning to your local region – to your roots. The JIMOTOTE brand started in 2015 with bags design around Hokkaido before introducing Kyushu and Shonan. Tama comes as the fourth entry to the series and includes Kunitahci, Tachikawa, Kichijoji, Chofu, and Hachioji.

Harry Potter Design Japanese Randoseru Backpack Released by Q-pot.

Japanese accessory brand Q-pot. has created the world's first 'randoseru' Japanese schoolbag which it released at its stores and online shop on April 1.

Harry Potter x Q-pot. Chocolate Randoseru | ¥110,000 (Tax Included)

Exterior design

Logo closeup

Inside the bag

House logo closeup

Inside pocket

Back and straps

Wand holder

Cover and bag

This backpack is the perfect gift for kids around the world whose sole wish is to one day get into Hogwarts. It's also a great cosplay accessory or to use as your daily backpack. It has that Made-in-Japan quality, with each and every bag being handmade by Japan's expert craftsmen.

Yohji Yamamoto's Brand Ground Y Releases Collection in Collaboration With New Era

Yohji Yamamoto's brand "genderless and ageless" fashion brand Ground Y is releasing a new clothing collection in collaboration with New Era at Ground Y stores, THE SHOP YOHJI YAMAMOTO, and select dealers on March 22.

The Line-Up

9THIRTY™ | ¥8,800 (Tax Included)

Logo Cotton Tee | ¥12,100 (Tax Included)

Logo Cotton Hoodie | ¥17,600 (Tax Included)

The line-up takes New Era's "9THIRTY™" Spring/Summer 2021 collection and adds Ground Y's logo in a metal plate. The plate is simple yet double almost as an accessory in its stylish look.

Japanese miscellaneous brand L'AMI+ recently released a new collection of its hugely popular 'Scarf Eco Bags' online. The series has sold over 30,000 units and is enjoyed for its handy use being able to be tied up like a scarf. It not only looks stylish, but makes it convenient when out shopping.

Scarf Eco Bag Stripe Series: Ecru/Grey/Red – ¥1,700 Each (Before Tax)

How to Fold

1. Stuff the handles into the bag itself and snap the buttons closed.

2. Fold into a triangle and roll.

3. Tie around your handbag or rucksack and snap the final button closed to secure.

The new unisex designs feature striped patterns in ecru, grey, and red. They are made from a material that ensures they do not wrinkle so they stay looking fashionable. They are the perfect addition to have if you're someone who goes out and forgets to take a shopping bag – they can conveniently live on your handbag.

Studio Ghibli Fashion Brand Reveals New My Neighbor Totoro Bag Collection

Japanese company Familiar will release a new collection of bags based on the classic Studio Ghibli animated feature film My Neighbor Totoro on March 16 via their online shop. The bags will be released by Studio Ghibli no Ano Fuku ("Those Studio Ghibli Clothes"), a fashion brand created by Ano Fuku and Studio Ghibli.

The two bags feature the iconic movie scene of Mei, Satsuki, Totoro, and the little Totoros sat upon a tree branch.

Denim Bag – ¥19,800 / Sub Bag ¥16,500 (Tax Included)

This is the third and final bag collection to be released in this bag series. The first collection was inspired by the bus stop scene from My Neighbor Totoro as well as Ponyo running along the water in Ponyo. The second collection was the classic scene of Kiki flying over the town with Jiji on her broomstick from Kiki's Delivery Service. Restocks of these two collections are now available too.

1st Collection

Ponyo Denim Bag ¥19,800 / Ponyo Sub Bag ¥16,500 / Totoro Bus Stop Denim Bag ¥19,800 / Totoro Bus Stop Sub Bag ¥16,500 (Tax Included)

 

2nd Collection

Kiki's Delivery Service Denim Bag ¥19,800 / Kiki's Delivery Service Sub Bag ¥16,500 (Tax Included)

KINOKUNIYA x Barbapapa's Second Collaboration Features Cute Bag Collection

The popular French picture book series Barbapapa, which celebrated its 50th anniversary last year, has launched its second collaboration with KINOKUNIYA to release a limited-edition collection of bags at all PLAZA and MINiPLA branches as well as select KINOKUNIYA stores in Japan on March 5.

Barbapapa x KINOKUNIYA Line-Up

Barbapapa x KINOKUNIYA Canvas Tote Bags | ¥2,750 (Tax Included)

PLAZA・MINiPLA Colours / KINOKUNIYA Colours

The adorable bags come in 7 different designs from tote bags to lunch bags. The canvas tote bags in particular are a stylish standout for their casual colouring and design. The tote bags have four pockets on the inside and outside and are a big enough size to fit a 500ml bottle.

Two other collections of the bags will also be released in exclusive PLAZA/MINiPLA and KINOKUNIYA colours, each of which is only available at their respective stores.

©2021 Alice Taylor & Thomas Taylor ALL RIGHTS RESERVED

LeSportsac Reveals My Neighbor Totoro Bag Collection

A new collection of 22 bags inspired by Studio Ghibli's beloved animated feature film My Neighbor Totoro will be released on the animation studio's character merchandise website Sora no Ue and their official store Donguri Kyowakoku on March 10.

The collection is made by American handbag brand LeSportsac. The designs are inspired by children's' ability to discover things when they look at something that adults cannot and feature Totoro, Satsuki, Mei, and other familiar faces. The cute bags' vivid colourings capture the magical world of My Neighbor Totoro.

The Line-Up Excerpt

Totoro botanical DELUXE EVERYDAY BAG | ¥17,500 (Before Tax)

Totoro gray EMERALD TOTE | ¥9,000 (Before Tax)

Totoro botanical HARPER BAG | ¥18,000 (Before Tax)

Totoro gray RECTANGULAR COSMETIC | ¥3,200 (Before Tax)

 It wasn′t a dream SQUARE COSMETIC | ¥3,500 (Before Tax)

Yohji Yamamoto x PORTER Limited-Edition Bags Release From Yoshida & Company

To celebrate the 85th anniversary of Japanese bag and accessory manufacturer Yoshida & Company, Yohji Yamamoto and PORTER collaborated to release a special bag collection on Friday (March 5) in limited quantities.

2WAY HELMET BAG (Large) – ¥98,000 (Bef0re Tax) / 2WAY HELMET BAG (Small) – ¥72,000 (Before Tax) / 2WAY SHORT HELMET BAG  ¥83,000 (Before Tax) / 2WAY VANITY POUCH ¥69,000 (Before Tax)

The line-up features stylish bags equipped with unique fasteners that cater both function and design. The bags have a 'thick' and 'heavy' look to them, something that's distinctively Yohji Yamamoto.

Black is used as the main colour, one that is symbolic of both brands. A deep matte texture is fitted in three layers, while the handles are also a matte black made from steer hide. The removable chain fasteners are a handy addition to let you freely choose their length. Plus, they look super flashy.

Each of the three bags have a removable inside pocket which can be used by itself as a pouch. They are all embroidered with Yohji Yamamoto's signature logo and branded with PORTER's brand tag.

Information

Yohji Yamamoto x PORTER 

Released: March 5, 2021

Where: Yohji Yamamoto Aoyama / Yohji Yamamoto Nagoya PARCO / Yohji Yamamoto Daimaru Kobe

Online Store: https://theshopyohjiyamamoto.jp

Studio Ghibli's Kiki's Delivery Service Bag Serves Free-Flying Broom Witch Vibes

Japanese apparel company Familiar has is releasing a series of limited-edition items in collaboration with Studio Ghibli Anofuku, a fashion brand created by Anofuku and Studio Ghibli in 2018.

Kiki's Delivery Service Sub Bag ¥16,500 | Kiki's Delivery Service Denim Bag ¥19,800 (Prices Include Tax)

The second entries to the series are two bags based on the beloved Studio Ghibli anime film classic Kiki's Delivery Service. The bag designs feature Kiki on her broom with Jiji as they fly over the seaside town of Koriko where the movie is set. It's a direct reference to the same scene in the film itself.

The 1st entries were Ponyo and Totoro denim bags

Ponyo Denim Bag ¥19,800 | Ponyo Sub Bag ¥16,500 | My Neighbor Totoro Bus Stop Denim Bag ¥19,800 | My Neighbor Totoro Bus Stop Denim Sub Bag ¥16,500 (Prices Include Tax)

The first entries to the line-up were a collection of denim bags based on two other Studio Ghibli fan favourites: My Neighbor Totoro and Ponyo. The Ponyo bag is still available at the time this article was written, but the Totoro one is unfortunately sold out.

Information on a third collection is scheduled for release in March, so stay tuned.