Cat-Shaped Bread Shop Neko Neko Shokupan Re-Releases Neko Neko Packs Due to High Demand
Due to high demand from customersーselling out their previous limited stock in February in this yearーNeko Neko Shokupan re-released its popular "Neko Neko Packs" once more on March 20, again with limited stock.
What's inside the Neko Neko Pack?

Neko Neko Pack A & B – ¥1,000 Each (Before Tax) / Available: From March 20, 2020 while supplies last

Neko Neko Pack is available in two versions, A and B. Both contain one piece of cat-shaped bread, jam, and an original folder.
The texture of the jams differ between both versions: 'A' is smooth sweet bean paste while 'B' is mashed sweet bean paste. The specific bread that is included in the pack is not sold separatelyーyou need to buy yourself a full Neko Neko Pack.
Quality flavour guaranteed at Neko Neko Shokupan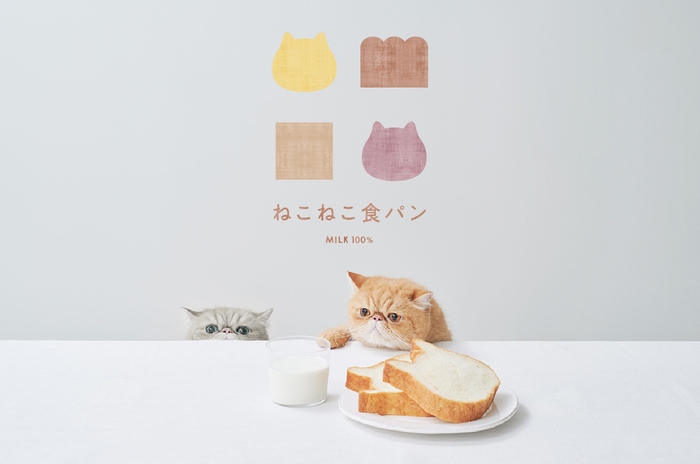 The shop's "shokupan," a style of bread loaf, is made with 100% milk, giving it rich and milky flavour and moist, chewy flavour. No water is used for baking this bread, only milk, which is sourced from Hokkaido. It also contains honey, fresh cream, and butter to give it a sweet, melt-in-the-mouth taste.
Their cute arrangements of the bread are super popular
Kids and adults alike can enjoy eating at Neko Neko Shokupan with the many variations the bread can be served in, like face decorations with a chocolate pen. You can see lots of different original arrangements on Japanese social media like Instagram.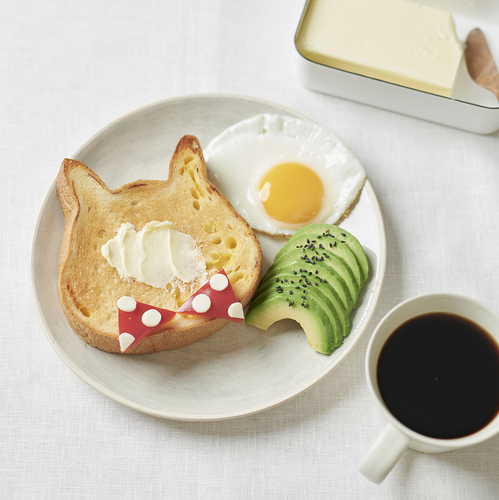 Neko Neko Shokupan's kawaii, high-quality bread is a must-try, so be sure to visit your closest branch when visiting Japan.
Information
Neko Neko Pack
Release Date: March 20, 2020 (while supplies last)
Available: Most Neko Neko Shokupan branches in Japan
Official Website: https://nekoshoku.jp/
RELATED ENTRIES
Hot-Pot Party-Themed Gorogoro Nyansuke Cafe Opens in Ikebukuro

Gorogoro Nyansuke, a popular character featured on LINE stickers, will get his own cafe in Ikebukuro for a limited time! The nabe (hot-pot) party-themed location will be open from December 2, 2021 until January 23, 2022. In Japan, it's popular to enjoy nabe with friends and family during the winter months to warm up!

Reservation Bonus

Menu

Refreshing Lemon Nabe

Tomato Nabe

Soy Milk Nabe

Black Sesame Parfait

Dorayaki Pancakes with Japanese Sweets

Red Bean Paste Covered in Snow

Warm and Cozy Kotatsu Cake

Nyansuke Float (Melon Soda)

Nyansuke Float (Anzu Soda)

Nyansuke Float (Roasted Green Tea and Milk)

Nyansuke Sake

Cafe Latte: ¥660 (Tax Included)

Original Merchandise

Acrylic Keychain (Random, 10 varieties)

A4-size Clear Folder (Set of 2)

Mug

The adorable kitty-cat has become popular on LINE and social media and was designed by Tsumugi Murasato. Her first manga was published in October 2020 with merchandise following, and she has become more and more popular since!

© MIND WAVE INC. / GORO GORO Nyansuke ®

Neko Neko Shokupan Releases Online-Only Limited Edition Halloween Set

Neko Neko Shokupan have announced that between October 1 and October 22, a limited edition "Dark Halloween" Neko Neko Shokupan Halloween and special set will be available on the official ALL HEARTS MALL webshop. The Nyanchee cheesecake from sister brand Neko Neko Cheesecake will also be included in the new set. Why not spend your Halloween with these tasty treats?

Online-Only Flavor: Neko Neko Shokupan Dark Halloween

Neko Neko Shokupan ~Halloween~

Nyanchee

Neko Neko Shokupan Dark Halloween & Nyanchee Set

Neko Neko Shokupan Galloween & Nyanchee Set

Neko Neko Shokupan Two Types & Nyanchee Halloween Set

Neko Neko Shokupan Three Types & Nyanchee Halloween Set

The Neko Neko Shokupan Dark Halloween variation is baked from a cherry flavored dough and filled with cream, raisins, and chocolate chips. The subtle cherry taste is combined with rich and creamy whole milk to create an all-new flavor. A bitter black cocoa has been mixed in to add a slightly mature taste to the recipe. This slightly dark Neko Neko Shokupan can only be enjoyed this Halloween!

 

 

The special Halloween flavored Neko Neko Shokupan ~Halloween~ will be sold for the first time in two years in stores nationwide. The catchy Halloween-inspired design is baked using a pumpkin and black cocoa flavored dough, filled with raisins and dark chocolate. While the Shokupan is made using black cocoa, bitterness is reduced by the whole milk cream used in most Neko Neko Shokupan products, resulting in a sweet and milky flavor. Don't forget, the desserts look great in photos too!

 

 

The Nyanchee is a cheesecake that has been baked at a high temperature to produce a dark brown, Basque finish. For this season, both a plain and Autumnal "Pumpkin" set will be released. The seasonal pumpkin Nyanchee has been made using a pumpkin purée for a rich, Fall flavor. The subtly sweet pumpkin and soft cheese will resonate with your tastebuds!

'Disney Cats & Dogs Exhibition' at Matsuya Ginza Reveals the Secrets of Disney's Animal Productions

While 'animals' are one of Disney's forever-themes, 'dogs and cats' are special amongst them for being like family to us humans. The upcoming 'Disney Cats & Dogs Exhibition,' held at Event Square on the 8th floor of Matsuya Ginza between December 1 and December 25, explores the charms of Disney's beloved pets.

Mickey & Friends Pluto

Lady and the Tramp

101 Dalmatians

Aristocats

The movie 'Bambi' was an opportunity for Disney to challenge the tough task of "animals expressing themselves, while maintaining a realistic drawing style." The crew invited animals into the studio, studying their anatomy and muscles to ensure a sense of realism. The characters were successfully drawn in an expressive way which captivated audiences, leading Disney to produce a large number of animal animations throughout its history. The exhibition will introduce visitors to the evolution   and innovation of Disney's animal animation, along with the trial and error that it took to successfully draw animals expressing their feelings. The event is full of iconic Disney animals such as Pluto, the 101 Dalmations, Lady and the Tramp, and The Aristocats – It's almost as if you've fallen straight into a Disney movie! 

 

The exhibition will showcase a wide collection of over 300 digital and archived works, provided by the Animation Research Library, which hosts, digitizes, and archives everything related to Disney animation. Pieces that could be damaged if removed from storage, such as original watercolor paintings and pastel illustrations, are digitized and exhibited for the world to enjoy in a scale much larger than the original, allowing guests to see the details in each piece of art. This unique digital aspect is one of the highlights of the exhibition.

 

 

 

You won't want to miss out on this exhibition which features some of the most impressive dogs and cats in all of Disney works; You can laugh at Mickey's friend Pluto as he features in some of Disney's earliest gag animations, marvel at the romance of Lady and the Tramp, be thrilled by the dramatic escape from Cruella's magical hands in 101 Dalmations, and even take in both the beauty of Paris and the cuteness of kitten Marie from the Aristocats.

 

Walt Disney himself was known for being a huge dog lover, spending his childhood with his family and their dog. This 'Cats and Dogs' themed exhibition will showcase characters with expressions and gestures that reflect Disney's affection and familiarity with the animals. 

 

 

Why not go walkies around the 'Disney Cats & Dogs' exhibition?

 ©Disney

Information

Disney Cats & Dogs Exhibition

Duration: December 1 ~ December 25 2021 

Location: Matsuya Ginza 8F Event Square

Address: 3-6-1 Ginza, Chuo-ku, Tokyo

Entry Fee: Adult ¥1,100 / High School Student ¥900 (¥700), Elementary and Middle School Students: ¥500 (¥400)

*Number in brackets is the advance ticket purchase price.

Advance tickets can be purchased through Lawson Ticket between mid-October and November 30.

Official Site: https://www.matsuya.com/ginza/ 

Wildly In-Demand Neko Neko Tiramisu Returns in Limited Quantities

Neko Neko Cheesecake, a sweets shop specializing in cat-shaped treats, is adding the massively popular Neko Neko Tiramisu back to the menu for a limited time only, from September 10 until September 30, 2021.

※Until supplies last. 


Originally sold as a limited-edition release for Father's Day, 800 of these cat-shaped treats sold out instantly. Brought back as a result of constant consumer requests, the Tiramisu will only be available in very limited quantities.

The Neko Neko Tiramisu is filled with soft sponge cake soaked with coffee syrup, with a layer of mascarpone cheese mousse layered on top. Finished with cocoa and coffee powder, it's the perfect mix of bittersweet and rich flavors.

The Tiramisu will also be available at the online store All Hearts Mall, making it easy to send to friends and family. As the pandemic continues to keep people apart, this adorable sweet is a great way to surprise loved ones far away.

What do you think about this Neko Neko Tiramisu? It might be too cute to eat.

Kyoto Sweets Cafe eXcafe Gion-Shinbashi Restarts Popular Breakfast Menu for Weekends

The calm Machiya sweet shop eXcafe Gion-Shinbashi will be restarting the popular eXcafe Breakfast (Calico) menu on weekends from September 4 2021. This is the perfect spot to start your Gion adventure, packed full of ancient city charm and history. 

 

eXcafe currently has three store locations in Kyoto: Kyoto-Arashiyama, Gion-Shinbashi, and the newly opened Gion Yasaka.

eXcafe Gion Shinbashi is located in an area where you can appreciate the beauty of Gion, with the ever changing scenery fully reflecting the four seasons. Even on sunny weekends, the area isn't overly busy and the sky is beautifully clear, making it the perfect spot for commemorative photos.

 

The returning breakfast menu is the eXcafe Breakfast (Calico), made up of charcoal-grilled toast with a calico cat motif. The fluffy bread is thickly cut and can be completed with your favorite topping: Bean paste, butter, whipped cream, or fruits. The breakfast set also includes a drink and Mitarashi dango dessert, making it the perfect way to spend a relaxing moment at the beginning of your trip, or as a break from your early-morning sightseeing.

Morning walks in Gion are particularly refreshing at this time of year, making a perfect break from the intense Summer heat. It is also ideal for visiting the Yasaka Shrine.

You'll feel even cooler as you listen to the flowing Shira River, the water gently bubbling under the cobblestones of the famous Tatsumi Bridge. Although it is located in a trendy area, the eXcafe Gion-Shinbashi is a welcome break from the bustle of the city, surrounded by cobblestone alleys and wooden townhouses.

 

Cat Cafe and Shelter Necorepublic Opens Massive Complex in Osaka

Necorepublic, which operates a shelter cat cafe and accompanying apparel brand 'NECOREPA/', held the grand opening of NecorepaLand in Kumatori, Osaka on July 22, 2021. This is the first 'NECOREPA/' flagship store in Kansai.

All 'NECOREPA/' Items

Adorable socks and cat-shaped masks


Restaurant specializing in Japanese Spiced Curry.


Spiced Keema Curry with Bonito stock.


Green Curry.

Lemonade and fragrant Tsujimoto Coffee.


The cat cafe, where guests can relax with 9 shelter cats.


Cats enjoy playing with the hammock hanging from the ceiling.


NecorepaLand is one of the largest Necorepublic complexes, and was created to support the brand's shelter activities, with proceeds from dining and shopping being used to help cats in need. The 'NECOREPA/' store is heaven for cat lovers, featuring cat-themed goods, including bags, wallets, socks, and other accessories. 

The complex also houses a specialty Japanese spiced curry restaurant, with three unique flavors available. Guests can wash it down with some lemonade or Tsujimoto coffee, and gaze out the large windows overlooking the terrace. A separate cat cafe located in the back of the building houses 9 shelter cats ready to play with visitors, and each cat is adoptable!

With all sales going to a good cause, NecorepaLand is sure to bring some positive change to the Kansai area. 

eXcafe Gion, a cafe in Gion, Kyoto is now open for business on weekdays again.

eXcafe Gion

Cat-shaped bread by Neko Neko Shokupan

The cafe is located near Tatsumihashi

eXcafe's famous Hoku Hoku Dango Set

eXcafe Gion opened in November 2019 following the opening of the popular eXcafe Arashiyama. Gion is a major sightseeing spot of Kyoto for its fusion of traditional and contemporary Kyoto culture. One of its longest and most quintessential traditions of that of Chayamachi, also called Hanamachi, where maiko and geisha live and work.

eXcafe Gion is situated near Tatsumihashi where the relaxing sounds of the Shirakawa River can be heard. The cafe incorporates elements of a traditional Japanese teahouse with tatami flooring and wooden structures, ready to welcome guests with open arms who have been strolling around to see the historical architecture of the local area.

The summer season sees locals and sightseers dressed in yukata, the sound of geta shoes clacking on the floor. Summertime is also when the cafe serves their famous Hoku Hoku Dango, a must-try if visiting Gion.

Kumamon Promotes Strawberry and Whipped Cream Pastry For Pasco Kumamoto Project

The Pasco Kumamoto Prefecture Project is a collaboration between the Japanese pastry company Pasco and Kumamoto Prefecture which has appointed Kumamon, the mascot of Kumamoto, as its head to promote local foods.

The project was started as a reconstruction and restoration effort to help support Kumamoto after the devastating earthquake that struck in 2016 and the 2018 Japan floods. For every select product sold, 0.5 yen is donated to the relief effort to aid victims of the disasters.

The Pasco Kumamoto Prefecture Project is set to run until end end of September this year. It released two items on April 1 as part of the project. It is now releasing two new products: the "Strawberry Jam & Milk Whipped Cream" pastry and "Pancake Omelette Custard & Milk Whipped Cream." The milk, strawberries, and eggs used for these confections are all sourced from Kumamoto

The pastry recipe creates whipped cream from milk and layers it with a strawberry jam made from yuubeni, a popular brand of strawberry grown in Kumamoto, before baking. The pancake omelette is a combination of Jersey milk, eggs, and custard cream to create a fluffy dessert.

Pasco carefully selects ingredients as part of Kumamon's promotional products

The ingredients used in the recipes for these food products are all carefully selected to go deliciously well with Pasco's bread. This includes milk, eggs, and yuubeni strawberries. Pasco plans to used Kumamoto-grown rice for a new product in August.

 

Scan the code on the packaging and meet Kumamon!

A special Kumamon AR service has also been created as part of the project. If you scan the code on the packaging of these products using a smart device, you can take a photo together with Kumamon as pictured above. He has the same design as on the packets.

Information

Pasco Kumamoto Prefecture Project – 2nd Release

Running: June 1, 2021 – July 31, 2021

Available: Supermarkets and shops in Japan

Pasco Official Website: https://www.pasconet.co.jp/

Cute Cat-Shaped Mango Cheesecake Arrives at Neko Neko Cheesecake

Neko Neko Cheesecake released its new seasonal 'Neko Neko W Cheesecake Mango' on Tuesday. Neko Neko Cheesecake is a sister brand of Neko Neko Shokupan by the same company, ALL HEARTS COMPANY, which serves cat-shaped bread.

Neko Neko W Cheesecake Mango | ¥2,430 (Tax Included)


The cute cheesecake is packed full of seasonal mango in the form of a mango and passion fruit sauce layered on top of the biscuit base. The cake is topped with fresh mango, lending a juicy and refreshing flavour to the sweet and tangy cake.

This tropical mango delight is one of many delicious cakes by Neko Neko Cheesecake. Be sure to check out our other coverages on the shop.

Tokyo Mew Mew New Anime Cast Music Group Smewthie Performs Live

In promotion of the upcoming new anime series adaptation of Tokyo Mew Mew New, which is releasing in 2022, the cast hosted an event titled '2nd MEW♡ting' on Saturday May 22 where they read their lines aloud to fans.

The event was held on the same date as Masaya Aoyama's birthday – the male love interest of the series protagonist Ichigo Momomiya. There was a section of the event where Ichigo spoke about the cake she made for Aoyama the day before.

This was Smewthie's first event with a live audience. They performed full versions of bitter sweet darling and Resolution of colors for the first time, amongst other fun things such as a segment similar to a Japanese variety show.

'bitter sweet darling' was the group's first single

Smewthie「bitter sweet darling」Music Video


Smewthie「bitter sweet darling」Dance Performance Video


bitter sweet darling: Track Download ¥250 / Full Single Download ¥1,350 / His-Res Track Download ¥400 / Hi-Res Full Single Download ¥1,800

bitter sweet darling is available on music streaming and download services.

Will you be watching Tokyo Mew Mew New when it airs next year?

©征海美亜・吉田玲子・講談社/「東京ミュウミュウにゅ~」製作委員会
©征海美亜・吉田玲子/講談社

Neko Neko Shokupan x Samansa Mos2 Clothing Collaboration Released

Fashion brand Samansa Mos2 joined paws with the cat-themed bread and pastry store Neko Neko Shokupan to release their first collection together at Samansa Mos2 stores and the online store CAN ONLINE SHOP on May 14.

The Line-Up

Half-Sleeve Photo Print T-Shirts
Colours: Off-White/Unbleached/Beige
Price: ¥3,190 (Tax Included)

Half-Sleeve Monogram Print T-Shirts
Colours: Off-White/Yellow/Brown
Price: ¥3,190 (Tax Included)

Half-Sleeve Back Print T-Shirts
Colours: Off-White/Yellow/Brown
Price: ¥3,190 (Tax Included)

Back print tee design

Shokupan Print Hoodie
Colours: Beige/Khaki
Price: ¥4,290 (Tax Included)


Kid's Line

Photo Print T-Shirt
Colours: Off-White/Yellow
Price: ¥2,530 (Tax Included)

French Flare T-Shirts
Colours: Beige/Khaki
Price: ¥2,530 (Tax Included)

Miscellaneous

Embroidered Canvas Tote Bag
Colours: Unbleached/Beige
Price: ¥3,850 (Tax Included)

Handkerchief
Colours: Beige/Purple
Price: ¥660 (Tax Included)

Reversible Shoulder Pouch
Colours: Beige/Khaki
Price: ¥3,190 (Tax Included)

Bottle Holder
Colours: Beige/Khaki
Price: ¥2,750 (Tax Included)

Mobile Ring Holder
Colours: Beige/Grey
Price: ¥1,650 (Tax Included)

Neko Neko Shokupan are known for their rich and milky cat-shaped bread which uses milk and zero water. They're a hugely popular bakery brand who often find themselves across social media pages including Instagram. This marks their first collaboration with Samansa Mos2 who celebrate their 35th anniversary this year.





The collection features key visuals taken from the Neko Neko Shokupan brand. Items include a variety of tees and hoodies as well as other miscellaneous must-grabs like tote bags, handkerchiefs, bottle holders, and more. There's even a children's line-up as part of Samansa Mos2's kid brand Samansa Mos2 Lagom so parents and their children can coordinate cute matching outfits.





Look felinely-fashionable this summer with the Samana Mos2 x Neko Neko Shokupan collection.

 

Neko Neko Shokupan, a Japanese company that makes cat-shaped bread, is releasing a new limited-time blueberry flavour for the entire month of June at all branches.

Neko Neko Shokupan Blueberry | Single Slice ¥842 (Tax Included)

Their bread arrangements are super popular

The June-exclusive blueberry bread uses blueberry jam in the dough. One bite fills your taste buds with sweet and fruity ecstasy. It can be enjoyed as it is, or made even more delicious by toasting and adding a spread of butter which elevates the sweetness of the blueberry even more.

The cat-shaped bread, which is made with milk, can be decorated with chocolate pens and other decorations to create a unique and original design. Their bread arrangements are super popular on social media. Perfect as a sweet treat to yourself or a gift to someone.

If you're in Japan this June, don't miss out!

Information

Neko Neko Shokupan Blueberry

Price: Single Slice ¥842 (Tax Included)

Available: At all Neko Neko Shokupan branches

Official Website: https://nekoshoku.allhearts.company