Sanrio's Adorable Pompompurin and Cinnamoroll Characters Turn Into Tasty Desserts at Convenience Stores in Japan
Confectionery company Domremy has baked Sanrio's popular characters Pompompurin and Cinnamoroll into delicious desserts which released at supermarkets and select convenience stores in Japan on April 1. The desserts include "Pompompurin Tart," "Pompompurin Crepe," and "Cinnamoroll Parfait."
The desserts are also wrapped in cute packaging with designs of the characters, making it look like Pompompurin and Cinnamoroll really have been turned into tasty treats!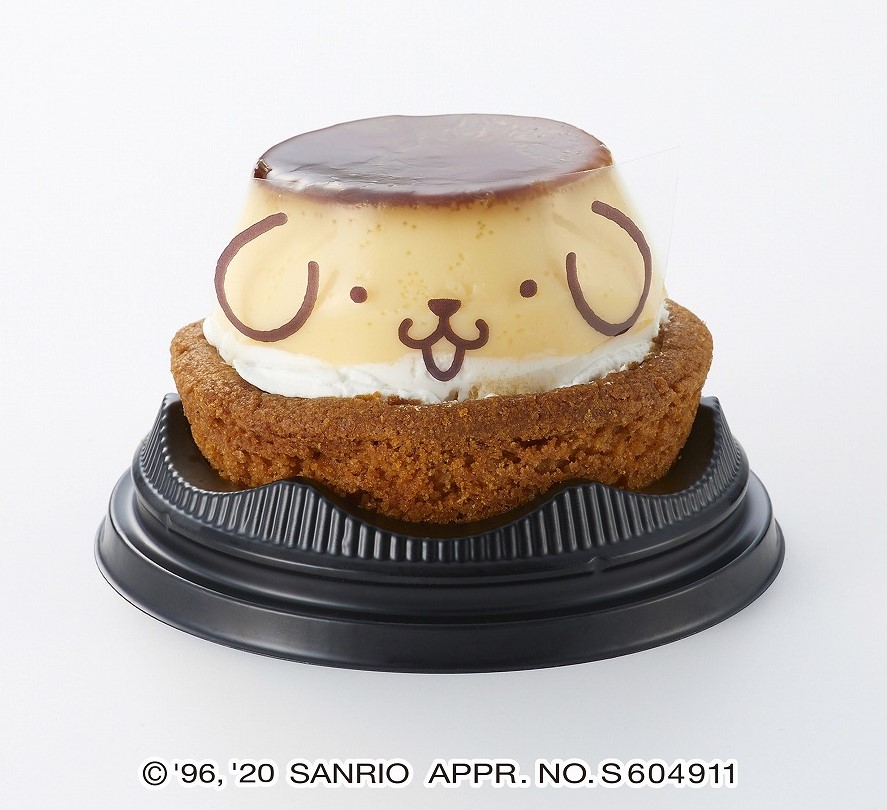 Pompompurin Tart
This homemade tart has an eggy flavour to it, with Purin's cute face and butt plastered on both the front and back. There are four possible facial expressions you can get your hands on.
Cinnamoroll Parfait
The custard mousse in this parfait is laced with strawberry whipped cream, and our little snug Cinnamoroll is made from milk pudding and more whipped cream. There are three possible facial expressions to find.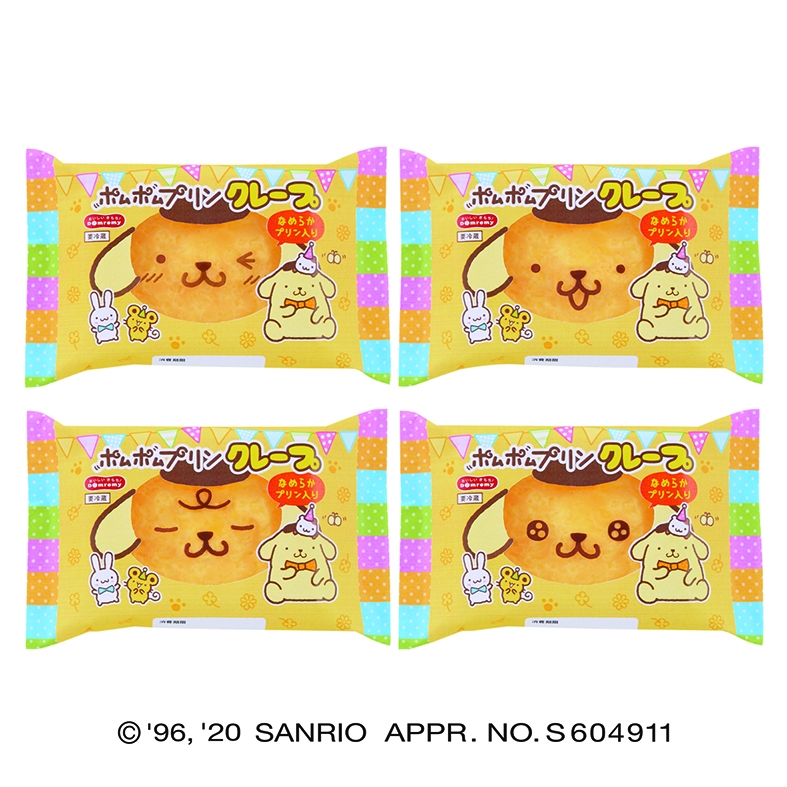 Pompompurin Crepe
The Pompompurin crepes are filled with whipped cream, Japanese custard pudding, and caramel sauce. There are four different packaging prints to find, all showcasing just how kawaii Pompompurin can be.
Information
Pompompurin Tart / Pompompurin Crepe / Cinnamoroll Parfait
Released: April 1, 2020
Available: Supermarkets and select convenience stores in Japan
Domremy Official Website: http://www.domremy.com/
RELATED ENTRIES
Natural Donut Shop Floresta Collaborates with Sanrio's Kiki and Lala for New Treats

From July 2 until July 24, the handmade donut shop Floresta will be offering donuts inspired by the Sanrio characters Kiki and Lala! These treats, made from all-natural ingredients, will be available at Floresta shops and at the online store.


The Little Twin Stars, Kiki and Lala, were born on the Omoiyari Star in the Dream-Star Cloud.

 

The older sister Lala and younger brother Kiki appear on these healthy donuts along with a shooting star. Floresta's special white chocolate is kneaded with purple sweet potato powder and strawberry powder to create a donut that isn't too sweet.

Little Twin Stars Collaboration Donuts

Part 1: July 2 – July 12
Ring Donuts (2 varieties)

Kiki / Lala

Part 2: July 13 – July 24
Kiki & Lala Shooting Star Donut Holes




During the second half of the event, guests will be able to grab donut holes based on the beloved characters. Although these sweet treats may be colorful, they were made with all-natural ingredients and are free of synthetic colors, fragrances, and preservatives. 

Enjoy these donuts yourself, buy them for a friend, or bring them to a family get-together.


© 2022 SANRIO CO., LTD. APPROVAL NO. L631150

Sanrio Puroland Opens New Sensory Show Fusing Real and Virtual Worlds

Starting July 15, Sanrio Puroland will premiere a new show, Nakayoku Connect. The unique hands-on experience will blend both the real and virtual worlds.

The interactive show Nakayoku Connect is set to introduce a new type of entertainment that combines a real live show filled with twinkling lights and lasers set to pop dance music with a virtual world. This is the first new show to be performed at Puro Village in three years, since Wish me mell's Chance for You began in September 2019. This will also be the first time in about two years–since the temporary closure in 2020–that regular shows will be held in Puro Village during business hours.

 

For the first time ever, this show will be presented not only in Puroland, but virtually as well. Visitors are welcome to enjoy this unprecedented experimental show incorporating the world around us and the world inside the computer.

In Japanese, Nakayoku means 'to care about friends' and 'to get along happily.' The creators of the show believe that this is an important value to think about today, and visitors will enjoy seeing their favorite characters, from Hello Kitty and Dear Daniel to Bad Badtz-Maru and Kogimyun. The live and virtual shows will be performed simultaneously, and the characters will wear new costumes inspired by the concept of retro-futurism.





For a more immersive experience, the show will utilize a 'fiber beam' for the first time ever. Harmless to the body, the entirety of Puro Village will be illuminated, with the lights and animations linked to the show's music. Come enjoy this brand-new experience!

FamilyMart Starts Pokemon Campaign, Pikachu Pineapple Frappe Now Available

FamilyMart stores nationwide have started a campaign in collaboration with the free-to-play mobile game Pokemon Cafe ReMix! From June 21 until July 18, visitors will be able to pick up some special treats and exclusive merchandise.

Pikachu Frappes

A new addition to the Frappe series, customers will be able to enjoy Pikachu's Pineapple Frappe starting June 21, featuring Pikachu in a cute cafe uniform. Made with golden pineapple pulp, the drink is perfect for summer, offering a refreshing sweet and sour taste. There are three cup designs available–one with Pikachu in red, one in blue, and another in green.

Original Merchandise Campaign

Part I: June 21, 10:00~ / Original PP Coaster (4 varieties)

Part 2: July 5, 10:00~ / Cafe Menu Design Original Memo Pad (4 varieties)

*Sample Images

A goods campaign is also underway. Customers purchasing three qualifying products will receive exclusive merchandise–while supplies last, of course! The event will run from June 21 at 10:00 through July 18.

Stamp Campaign

Left: 5 stamps, Original Lunch Bag / Right: 10 stamps, Original Plates (Set of 3)

Collecting stamps on the FamilyMart app can also net fans some special prizes! At the same time, Pokemon fans can use the app to win tickets to Pokemon GO Fest 2022 Sapporo.

© 2022 Pokémon. © 1995-2022 Nintendo/Creatures Inc./GAME FREAK inc.
Developed by Genius Sonority Inc.
ポケットモンスター・ポケモン・Pokémonは任天堂・クリーチャーズ・ゲームフリークの
登録商標です。Nintendo Switchのロゴ・Nintendo Switchは任天堂の商標です。

©2022 Niantic, Inc. ©2022 Pokémon. 
©1995-2022 Nintendo/Creatures Inc. /GAME FREAK inc. 
ポケモン・Pokémonは任天堂・クリーチャーズ・ゲームフリークの登録商標です。

Sanrio to Create Original Character Inspired by Boy Band JO1

Sanrio and LAPONE Entertainment have teamed up to launch the JO1 x Sanrio Character Development Project to create a new character inspired by the globally popular boy band JO1.

The new project combines JO1's creativity with Sanrio's beloved branding to create a character embodying the member's strengths. JO1 announced the project during the 2022 SANRIO FES at Pacifico Yokohama North on June 12. A teaser has also been posted on the official JO1 YouTube channel. A special program will closely follow the project and new episodes will be posted on YouTube in the future, so be sure to watch!

Teaser Video


JO1's marketing department has been tasked with making the group's fans feel even closer, and the new character will be a kind of 'alter ego' of JO1. It's unclear what kind of character we'll see at the end of this, but fans are excited to find out!


©'22 SANRIO 著作(株)サンリオ ©️LAPONE ENTERTAINMENT

Final Results of 2022 Sanrio Character Ranking Announced

The results are in! The annual Sanrio Character Award tallies millions of votes to discover which of the company's 450 characters is the fan favorite for the year. In 2022, nearly 26.5 million people cast their vote, totaling up to 124% of last year's turnout.

Taking the top spot for the third year in a row is Cinnamoroll, almost reaching 3 million votes. The character is celebrating his 20th anniversary this year, so it's fitting that he should take home the trophy!

Pompompurin came in second. The adorable dog has been in the top three for the past eight years and managed to rack up nearly 2.4 million votes. Surprisingly, Kuromi came in third, surpassing her rival My Melody for the first time ever. This was also the first time in the history of the competition that Kuromi has ranked in the top three.


Hangyodon ranked eighth, becoming the first new character in the top ten in 34 years. The fish character has been seeing increased popularity over the past year. 

All rankings are available to view on the official website, so be sure to take a look to find out where your favorite sits!

©'22 SANRIO  S/D·G  S/F·G  SP-M  著作 (株)サンリオ

Godiva Cafe Releases Drinks and Goods Inspired by Sanrio's Hapidanbui

Godiva Cafe first collaborated with Sanrio's Hapidanbui collective in February of this year. The second collaboration will begin on June 15, 2022!

Hapidanbui Chocolixer – White Chocolate Cacao 27% / Cacao 50%

Hapidanbui Godiva Cafe Original Pouch (with Godiva Soft Cookie)

The second collaboration will highlight the characters Pochacco and Pekkle. Godiva Cafe's iconic drink, the Chocolixer, will be available in a special sleeve, and an original sticker will be handed out with each purchase.

Pochakko and Peckle pouches designed exclusively for the collaboration will also be available in-store while supplies last!

 © 2022 SANRIO CO., LTD. APPROVAL NO. L630772

Information

Godiva Cafe x Hapidanbui – 2nd Collaboration

Hapidanbui Chocolixer

Price: ¥680 (Tax Included)

Where to Buy: Godiva Cafe locations nationwide

Available: June 15 – end of August

Hapidanbui Godiva Cafe Original Pouch

Price: ¥1,850 (Tax Included)

Where to Buy: Godiva Cafe locations nationwide

Available: June 15 while supplies last

Official Site: https://www.godiva.co.jp/

Kura Sushi Begins Exclusive Sanrio Characters Collaboration Campaign

To commemorate the 20th anniversary of the popular Sanrio character Cinnamoroll, a new campaign has begun at Kura Sushi locations around Japan! Popular Sanrio characters have gathered for a 'Sushi Party,' and guests can look forward to a new collection of original merchandise.


During the event period, customers are invited to partake in a game when they visit Kura Sushi. For every five plates, they will be entered to win a piece of original merchandise including clear folders, pins, and more!


Starting June 24, guests spending ¥2,500 or more will receive a clear folder featuring Sanrio characters (4 varieties).


Visitors to the Kura Sushi location in Harajuku will be able to grab an Apple Cinnamon W Cream crepe featuring a special Cinnamoroll illustration. Combining apple compote, cinnamon, and custard, this sweet treat not only offers the sweetness and softness of apples but is also perfect for posting on social media! The pale blue whipped cream is inspired by Cinnamoroll's coloring.

Come celebrate Cinnamoroll's 20th anniversary at Kura Sushi!

©2022 SANRIO CO., LTD. APPROVAL NO. L631475

Natural Donut Shop Floresta Collaborating with Sanrio Character Hangyodon for a Limited Time

From June 4 until June 25, the handmade donut shop Floresta will be offering donuts inspired by the Sanrio character Hangyodon! These treats, made from all-natural ingredients, will be available at Floresta shops and at the online store.

 

Hangyodon Collaboration Donuts

Part One: June 4 – June 14 / Ring Donuts, 2 varieties (Black Sesame / Strawberry)

Part 2: June 15 – June 25 / Donut Hole Cup, 1 variety (Hangyodon & Sayuri)

 

Hangyodon has become popular with men and women of all ages for his big round eyes and pouty lips. 

During the first part of the collaboration, the donuts were made with an image in mind of Hangyodon playing around on a pool float. Floresta's special white chocolate was kneaded with black sesame and strawberry powder to create two mildly-sweet donuts.

The second part of the collaboration also includes Hangyodon's friend, Sayuri the Octopus. Customers can enjoy a cup of donut holes perfect for kids and adults alike.

Although these sweet treats may be colorful, they were made with all-natural ingredients and are free of synthetic colors, fragrances, and preservatives. 

Enjoy these donuts yourself, buy them for a friend, or bring them to a family get-together. You'll make everyone very happy!

© 2022 SANRIO CO., LTD. APPROVAL NO. L631150

Gelato Pique Cafe Unveils New American Cherry Sweets Menu

Summer is fast approaching, and gelato pique cafe knows exactly how to celebrate! From May 25 until July 13, guests can enjoy a selection of four sweets featuring tons of American Cherries.

American Cherry Crepe

Made with a mildly sweet American Cherry Gelato and topped with fresh cherries, this crepe isn't just delicious–it's perfect for posting on social media.

American Cherry Gelato & Sherbet

This blend of gelato and sherbet can only be found at gelato pique cafe. Accented with a fresh American Cherry on top, it's perfect for keeping cool during the summer heat.

American Cherry Float / American Cherry Soda

*The glasses featured in the image will not be available at the cafe. All beverages will be served in take-out cups.

With a dramatic shift in color, these fizzy and refreshing cherry beverages make a huge impact before the first taste. After making a splash last year, the soda has been re-released in a big new way to welcome the beginning of summer!

Information

gelato pique cafe  – AMERICAN CHERRY ~EAT CHERRY NOW!~

Available: May 25 – July 13, 2022

Official Site: https://pique-cafe.com/

Sanrio Characters Inspire Limited Edition Sweets at Ministop Convenience Stores

Japanese convenience store chain Ministop has just released some original sweets inspired by Sanrio's most popular characters! The sweets are served up in adorable glasses and are only available while supplies last.

Sanrio Characters Black Tea Brownie

Design: Kerokerokeroppi, Hello Kitty, Tuxedo Sam, Marroncream

Sanrio Characters Chocolate Brownie

The pastel-colored glasses have a retro feel and can be reused as drinking glasses or containers for homemade sweets. Sustainable and adorable, come grab these brownies while you can!

Ⓒ 2022 SANRIO CO.,LTD

Information

Ministop x Sanrio Characters

Black Tea Brownie / Sanrio Characters Chocolate Brownie  

Price: ¥465 (Tax Included)

Available: May 19 – June 2, 2022 

Create Your Own Sanrio Character Goods at Sanrio Puroland's Fan Workshop

Ever wanted to make your own Sanrio merch featuring your favorite character? Starting May 23, the official Puroland online store will launch the Sanrio Puroland Fan Workshop, allowing users to print their favorite characters onto any merch they like!


In Japanese, the word oshi is used to refer to a person's favorite character or member of an idol group.

Fans of Sanrio characters have always come to Puroland to meet their favorites in person and to purchase goods. The Sanrio Puroland Fan Workshop can be used to create original merchandise featuring characters not often seen at Puroland. Visitors need only select an image of their favorite character and a base item to be shipped to their home at a later date.

A total of 18 different characters (some included in group images) and 96 images are available to choose from. By combining these images with the available items, over 384 combinations can be created! Customers can choose from T-shirts, tote bags, hand towels, and more.

© 2022 SANRIO CO., LTD. TOKYO, JAPAN 著作 株式会社サンリオ

Information

Sanrio Puroland Fan Workshop

Where to Buy: Sanrio Puroland Online 

Tokyo's TeNQ Space Museum to Host Cinnamoroll 20th Anniversary Exhibition

Tokyo's TeNQ Space Museum, located in Tokyo Dome City, will hold a special Cinnamoroll exhibition to celebrate the Sanrio character's 20th anniversary! The adorable white puppy won first place at the Sanrio Character Awards for two consecutive years and has been a beloved part of Sanrio's lineup for two decades. From July 7 until October 17, guests can visit this unique walk through Cinnamoroll's history. The exhibition's key visual has been unveiled ahead of the event.

Clear Folder

Face Towel

Postcard (2 varieties)


Visitors will learn tons of Cinnamoroll trivia at the exhibition and can also participate in Cinnamoroll Roulette, a fun fortune-telling event!

In addition, the first-ever Cinnamoroll Strawberry News Poster Gallery will be available to peruse. An academic exhibit unique to TeNQ where visitors can learn about the many kinds of clouds will also be opened in honor of Cinnamoroll, who was born on a fluffy cloud in the sky. Original merchandise will also make an appearance. It's sure to be fun for the whole family!

©2022 SANRIO CO., LTD. APPROVAL NO. SP630141