Evangelion: 3.0+1.0 T-Shirts Releasing by UNIQLO's UT Brand
UNIQLO's graphic T-shirt brand UT it collaborating with the forthcoming anime film Evangelion: 3.0+1.0 to release a collection of T-shirts at UNIQLO stores across Japan and their online store on April 17, 2020.
The film, which is set for release on June 27, 2020, will wrap up the Rebuild of Evangelion film series as the fourth and final entry. The T-shirts in the collection feature completely original and exclusive designs.
Designs take inspiration from memorable scenes

The collection is comprised of 8 original T-shirt designs which were drawn exclusively for UT, ranging from Evanglion Unit-01, Unit-00, and Unit-01 to popular character Kaworu, and the first-ever Unit-00 Berserk mode T-shirt design. Fans of the Evangelion world are sure to appreciate all the little details.
UT x Evangelion UNIQLO 2020 Spring/Summer

Delivered in an exclusive box with the Evangelion font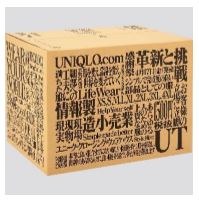 Those who purchase from the collection via UNIQLO's online store between April 10-23 will have their orders shipped in a special box bearing various words in the "Eva Font," such as the UNIQLO brand concept, the brand name's original "Unique Clothing Warehouse," and so on.
Due to the ongoing situation surrounding the novel coronavirus, select branches of UNIQLO in Japan are closed or have had their opening hours altered. Details can be found on their website.
Information
Evangelion UT
Release Date: April 17, 2020
Price: ¥1,700 (Before Tax)
Designs: 8
Available: UNIQLO stores in Japan / UNIQLO Japan online store
Product Page: https://www.uniqlo.com/jp/ja/contents/feature/ut-eva2020/
*Exclusive boxes come in one design and are available while supplies last
*Product manufacturing and distribution, as well as release date and so on are subject to extensions or change depending on the latest developments surrounding the coronavirus
RELATED ENTRIES
Billie Eilish x Takashi Murakami Collaborate Once Again For UNIQLO UT Fashion Collection

Billie Eilish and Takashi Murakami have joined hands once again to drop a new clothing collection in UNIQLO's graphic T-shirt brand UT.

Billie made her debut when she was 13, and just five years later, her music is spearheading the charts and industry. Back in January this year, at 18-years-old, Billie won five Grammy Awards and hailed as the youngest person to win all four of the main Grammy categoriesーBest New Artist, Record of the Year, Song of the Year and Album of the Year. She is also only the second person to win all four in the same year.

The collection will be available online from May 25, 2020 and in stores from May 29, 2020 as they reopen.

MEN


WOMEN


KIDS

UNIQLO USA released a trailer for the collection on their official YouTube channel which you can watch below. The colourful video combines Billie's iconic Blohsh character with Murakami's flowers.

UNIQLO Presents: Billie Eilish by Takashi Murakami For UNIQLO UT

Billie and Murakami's friendship started when they sent each other messages on Instagram. Billie performed at Summer Sonic in Japan in 2018. During her time in the country, she met with Murakami and together they completed an animated music video for her hit track you should see me in a crown which was released last April.

©️Takashi Murakami/Kaikai Kiki Co., Ltd. All Rights Reserved. Photo by RK (IG: @rkrkrk)

The music video has over 69 million views (as of May 18, 2020) and fuses together the visionary minds of Billie and Murakami.

Billie Eilish – you should see me in a crown (Official Video By Takashi Murakami)


To commemorate the new Billie Eilish x Takashi Murakami UT collection, a 3-meter tall statue of Billie created by Murakami is being erected at the Harajuku branch of UNIQLO in Tokyo this June.

*Please note that the opening day of the UNIQLO Harajuku is subject to change.

©2020 LASH Music, LLC
©2020 Takashi Murakami/Kaikai Kiki Co., Ltd. All Rights Reserved.

Information

Billie Eilish x Takashi Murakami UT Collection
Available Online 5/25 Mid Morning ET
In Stores 5/29 As They Reopen

Billie Eilish x Takashi Murakami UT Collection Website: www.uniqlo.com/billie-x-murakami/

Neon Genesis Evangelion Themed Clothing Collection Released in Collaboration With X-girl

Women's streetwear fashion brand X-girl has teamed up with Neon Genesis Evangelion to release a new collection of 15 T-shirt inspired by the internationally-celebrated anime series. T-shirts from the collection dropped on Friday last week online Calif, which has an international shipping option, as well as at various stores around Japan, and more items are set to roll out from mid-April.

Neon Genesis Evangelion is known for its deep story, memorable characters, and stylish expression. It had a huge influence on the anime industry and since its release has continued to influence countless series that have followed it.

The new collection by X-girl captures famous scenes from the anime series and its memorable characters. There are also iconic lines written in text on the T-shirts.

The short-sleeved t-shirts were released on May 27, while shirts and bags will drop around mid-April.

The new Evangelion: 3.0+1.0 animated film will be released on June 27, 2020. Get ready for it with a T-shirt from X-girl's new collection.


Ⓒカラー/Project Eva.

Information

X-girl x Neon Genesis Evangelion Collaboration

Sold At: All X-girl and XLARGE/X-girl stores in Japan, X-girl's official online store, EVANGELION STORE TOKYO-01, EVANGELION STORE SHINJUKU, EVANGELION STORE HAKATA, EVANGELION STORE OSAKA, EVANGELION STORE ONLINE

Official Website: https://x-girl.jp/en/news/202003/detail792

Hana Tajima x UNIQLO Celebrate Women's Changing Bodies in Spring/Summer 2020 Collection

UNIQLO and fashion designer Hana Tajima are joining hands once more for their "HANA TAJIMA FOR UNIQLO" collaboration which is set to go on sale from April 17, 2020. This new spring/summer collection is themed on "Changing Bodies," referring to how a woman's body continues to change subtly overtime, which is upheld with the clothing line-up's flexibility. This unique collaboration serves beauty for all woman regardless of age, ethnicity, culture, or faith.

Capturing all body images and making them shine

The attire in this line-up fit snug on their wearer, equipped with an adjuster that enables them to freely modify the item to make it fit to them, while highlighting their beautiful silhouette. The items aren't bound by sizeーthey make you feel liberated and cater for change.



Soft, botanical print designs


The floral prints designed by Hana draw out the inner beauty of the wearer. The colour palette takes inspiration from nature, giving the sheer fabric blouses and crepe one pieces a calm and tranquil image.

Hana Tajima Comment

"The body isn't a static thing; it grows while we move and is always changing. And we feel those subtle changes day by day, don't we? I wanted to design clothes that looks at these changes head on and responds accordingly. I want [women] to feel the joy and excitement of putting on clothes with how they dress each day. I want each and every piece of clothing to fit the person and be something they'll love forever. I hope that the clothes we wear each day make us feel comfortable, familiar, and beautiful in our bodies." *Translated from Japanese

Information

HANA TAJIMA FOR UNIQLO

Release Date: April 17, 2020

Available: UNIQLO Sapporo ESTA, UNIQLO Ginza, BICQLO UNIQLO Shinjuku, UNIQLO Shinsaibashi, UNIQLO Online Store

Product Page: https://www.uniqlo.com/hanatajima/jp/

Neon Genesis Evangelion Inspired Accessories to be Released by Q-pot.

Q-pot. is turning the world of Neon Genesis Evangelion into a delectable collection of dessert-themed accessories, which will go on sale at select Q-pot. shops, the Q-pot. pop-up shop in Seibu Ikebukuro, all EVANGELION STORE branches, and RADIO EVA STORE on April 2, 2020.

Let's take a look at what Q-pot. has whipped up in the accessory kitchen this time.

Macaron

Macaron (Unit-01/Unit-00/Unit-02/Unit-08/Mark.06) – Necklaces ¥9,000 Each (Before Tax), Bag Charms ¥8,000 Each  (Before Tax)

Modelled after Evangelion Units 01, 00, 02, 08, and Mark.06, and branded with the NERV logo, these macarons are coloured the same as the Plugsuits of their pilots, and are also topped with Entry Plugs.

Melty Melt

Melty Melt (Unit-01/Unit-00/Unit-02/Unit-08/Mark.06) – Necklaces ¥18,000 Each (Before Tax), Rings ¥15,000 Each  (Before Tax)

All of the necklaces and rings in the Melty Melt collection are handmade individually, and coloured beautifully like their respective Evangelions. The line-up is a loving homage to the series made into tasty and tempting-looking melted accessories.

Misato Biscuit Cross

Misato Biscuit Cross Necklace – ¥13,000 (Before Tax)

Misato Katsuragi is the operations director at NERV. This necklace is based on the cross pendant that she always carries with herーturned into a Q-pot-style biscuit. It reads 3310 (pronounced "Misato" in Japanese) on the back.

Longinus Folk

Longinus Folk Necklace – ¥16,000 (Before Tax)

Based on the Spear of Longinus, which is indispensable to the story of Evangelion, the tip reads "EVA" on one side and "Evangelion + Q-pot." on the other.

Lilith Sugar Cookie

Lilith Sugar Cookie Necklace – ¥10,000 (Before Tax) / Bag Charm – ¥9,000 (Before Tax)

Lilith was kept crucified to a giant cross in the deepest level of the NERV headquarters, Terminal Dogma. Lilith has been transformed into a cute sugar cookie necklace and bag charm, with chocolate and icing that looks so real you just want to take a bite.

Rei Capsule

Rei Capsule Necklace – ¥10,000 (Before Tax)

This necklace is inspired by Rei Ayanami, the First Child, and that includes it light purple and mint colours. The tablet reads "LINK" and "9mg."

EVANGELION x Q-pot. Special Package

01: Accessory Tin

The items in the Melty Melt series, the Misato Biscuit Cross Necklace, the Longius necklace, and the Lilith Sugar Cookie items all come in this original Evangelion x Q-pot. tin.

02: Accessory Bag

The Macaron items and Rei Capusle necklace are packaged in a special seal bag.

EVANGELION x Q-pot. (Limited Stock)

Those who spend over ¥30,000 (before tax) on these items are Q-pot. shops, the Q-pot. pop-up shop in Seibu Ikebukuro, and EVANGELION STORE branches will receive one of six possible postcards. These are limited in stock and so are a super rare collectable.

Information

EVANGELION x Q-pot. Accessory Collaboration

Release Date: April 2, 2020

*Direct sales will change to made-to-order once all in-store stock has been sold. Orders available until April 15, 2020.

*When stock sells out on the Q-pot. ONLINE SHOP, stock will change to made-to-order the following day.

*Items will be shipped from mid-June 2020. This is subject to change depending on the condition of production.

*On the first day of sales, all items will be limited to one per person.

Buy at:

①Q-pot. stores (From 10:00 A.M.)

 Omotesando/Tokyo Sky Tree Town Solamachi/LUCUA 1100/Q-pot. ONLINE SHOP/Q-pot. INTERNATIONAL ONLINE SHOP/Seibu Ikebukuro Pop-Up Shop

②EVANGELION STORE ONLINE (From 10:00 A.M.) *Made-to-order only

③EVANGELION STORE

*Sales will open at each respective branch's opening hours

④RADIO EVA STORE (Shibuya PARCO) Seibu Ikebukuro

*Stocking only April 2, 2020 – April 15, 2020

*RADIO EVA STORE sales will be announced on Twitter at a later date

*Not available at RADIO EVA ONLINE or RADIO EVA STORE e-commerce website

*This information is correct as of March 17, 2020. Subject to change without notice.

Q-pot. Official Website: http://www.q-pot.jp/news/2020/03/1199.html

EVANGELION STORE Heads to Shopee Thailand

BeeCruise, a company that supports the expansion of Japanese content overseas, has joined hands with the official Evangelion e-commerce site EVANGELION STORE, which is run by Ground Works, to make the EVANGELION STORE available in more countries around the world. The store hit the Thai branch of Shopeeーthe largest e-commerce site in Southeast Asiaーon March 4, 2020.

EVANGELION STORE first appeared on Shopee Taiwan in 2019. Since then, it expanded to Shopee Singapore and Shopee Malaysia in January this year. Shopee Thailand will be its fourth excursion, and to celebrate its opening, customers can get 10% off products on Shopee Thailand now until March 25, 2020 when they follow EVANGELION STORE.

The EVANGELION STORE release an official statement saying: "To all Evangelion fans, we are incredibly happy to be able to bring the official merchandise of EVANGELION STORE to you all. The final Evangelion film [Evangelion: 3.0+1.0] will be released on June 27, 2020. We ask for your support in getting excited about Evangelion!"

Find your favourite merchandise on the EVANGELION STORE today.

Neon Genesis Evangelion Themed Food Buffet to be Served at The Strings Hotel Nagoya

The Strings Hotel Nagoya has announced a special collaboration with the internationally-celebrated anime series Neon Genesis Evangelion. The hotel will serve up an Evangelion-themed buffet titled "Evangelion Buffet ~The Time Has Come~" which will be served at the hotel from February 15 to March 22 this year.

The Strings Hotel Nagoya sits at the doorstep of Sasashima-Raibu, making it one of the first places you will see upon arriving there. As part of the Evangelion Chukyoen Project, which aims to promote Evangelion to the world from Sasashima-Raibu, the hotel is hosting this very special themed buffet which will consist of an assortment of food, drinks, and dessertsーall serve Strings Hotel-style.

A statue of popular Evangelion character Kaworu Nagisa will be located on the first floor lobby, and there will also be a rally held to decipher a code.

The food menu is made up of 15 unique Evangelion-inspired dishes, such as the Misato Katsuragi Roast Pork, Pen Pen Penne Arrabbiata, Angel Attack, and more. Fans can also tuck into one of the 12 delicious desserts, like the Evangelion mecha coloured desserts, the "Hazelnut & Lemon Opera ~NERV~" based on the Nerv organisation, and more. For beverages, there's a selection of 9 soft drinks including 6 original non-alcoholic cocktails.

The buffet will take place at the hotel's Rooftop Garden which will  be decorated in all things Evangelion.

Information

Evangelion Buffet ~The Time Has Come~

Running: February 15, 2020 / February 22-24, 2020 / March 7-8, 2020 / March 21-22, 2020

Opening Hours:

February 22-23, 2020 / March 21, 2020

→Reception Opens: 11:30 / Dining: 12:00-13:30 (90 Minute Slot)

February 15, 2020 / February 22-24, 2020 / March 7-8, 2020 / March 21-22, 2020

→Reception Opens: 18:30 / Dining: 19:00-20:30 (90 Minute Slot)

Details

Location: The Strings Hotel Nagoya's "Rooftop Garden"

Address: 4-60-7 Hiraikecho, Nakamura Ward, Nagoya, Aichi Prefecture

Prices: Adults ¥5,000 / Children ¥2,500 / 3-6 Years Old ¥1,000 / 0-2 Years Old – Free (Tax & Service Charge Included)

Event Details (Japanese): https://www.strings-hotel.jp/nagoya/recommend/party/banquet/7188.html

渚カヲル立像特別展示

期間:2020年1月10日(金)~2020年3月31日(火)

場所:ストリングスホテル名古屋1階ロビーレストラン「ニューヨークラウンジ」前

暗号解読ラリー

期間:2020年1月10日(金)~2020年3月29日(日)の土日祝日

場所:ストリングスホテル名古屋1階レストラン「鉄板焼匠」前

*用紙配布場所:中京テレビ本社1Fロビー配布時間:10:00~17:00

詳細:https://www.ctv.co.jp/eva/areainfor.html#quizrally

The Strings Hotel Nagoya Official Website (English): https://www.strings-hotel.jp/nagoya/en/

Fortnite T-Shirts Releasing From UNIQLO's UT Brand

UNIQLO has announced that it is releasing a new line of t-shirts from its graphic t-shirt brand UT themed on the internationally-beloved video game Fortnite. They will hit UNIQLO stores and UNIQLO's online shop in Japan on December 20, 2019.

Fortnite is an online game that since releasing in 2017 from Epic Games in 2017 has gone on to become a worldwide phenomenon.

While fans wait in anticipation for Chapter 2 Season 2, they can support their favourite game with something from this collection of 13 items, which includes t-shirts and sweaters.

Men's T-Shirts

The front part of this Durr Burger t-shirt is actually embroidered. Cool, chic designs are characteristic of this collection.

The iconic Loot Llama, or Loot Pinata, was of course going to be included in the line-up.

This design features the character known as Cuddle Team Leader. The front features just the logo, which is embroidered. Simple but stylish.

This t-shirt simply says "Fortnite" on the front while the back reads "Slurp Juice."

Men's Sweaters

This white hoodie simply reads "Fornite" on the front.

Featuring the character Leviathan, this design is made in the style of a college sweater.

Another character design, and this time it's t he Black Knight. It has a characteristic metallic silver print.

Support your love of Fortnite with a choice from this collection, featuring iconic characters like Loota Llama and Cuddle Team Leader as well as the popular Slurp Juice item and more.

©2020 Epic Games

Information

FORTNITE UT

Release Date: December 20, 2019

Men's T-Shirts (8 Designs) – ¥1,500 (Before Tax)

Men's Sweaters (5 Designs) – ¥2,900 (Before Tax)

Available: At UNIQLO stores in Japan and the online shop

Special Site: https://www.uniqlo.com/jp/store/feature/uq/ut/fortnite/

SMALL WORLDS TOKYO: New Details Drop On Sailor Moon & Evangelion Areas at Tokyo's Miniature Theme Park

The date has finally been revealed for the opening of the all-new SMALL WORLDS TOKYO in Tokyo's Ariake district: April 25, 2020.

The park will cover an 8,000m2 area across its four floors: the Departure Floor where visitors arrive at the doorstep of the world of SMALL WORLDS TOKYO, the Departure Lounge where you can enjoy delicious food from around the world, SMALL WORLDS where you are thrown into multiple different worlds, and the Creators Floor where you will get to see these miniature worlds being created on a day-to-day basis.

The main floor, SMALL WORLDS, is made up of seven areas: the Kansai International Airport Area, the Space Center Area, World Streets Area, Sailor Moon Area, Neon Genesis Evangelion Tokyo-3 Area, Neon Genesis Evangelion Evangelion Cage Area, and the newly-announced Tokyo Area which for now is a tentative title as they begin preparations for rolling out details about it.

A new photo has been released, as pictured above, of the highly-anticipated Sailor Moon Area. It showcases the outside of series protagonist Usagi Tsukino's house which the park confirms is now complete.

The Neon Genesis Evangelion Tokyo-3 Area will also feature a visual attraction that makes use for AR/VR technology. It was made in collaboration with South Korean director Jae Cheol Hong. The park will also open a "Special Area" which will feature a miniature remodelling of Shurijo Castle in Okinawa, which was destroyed last month as a result of a fire. It will open sometime next year, and be subsequently moved to SMALL WORLDS OKINAWA, a new site set to open in 2021.

The Citizens Rights Figure Program, which opened in August, received such overwhelming praise a second run began on November 29. The program scans a 3D model a person and have a figure of themselves placed in the area of their choice. The areas people can place themselves in this time are the Kansai International Airport Area, Space Center Area, and World Streets Area.

Information

SMALL WORLDS TOKYO Entry Passports

Entry Passports, Entry Passports (With Backyard Tour), and Annual Passports are available via the park's official website and Lawson Tickets.

Prices (Tax Included):
Entry Passports: Adults ¥2,700 / Middle & High School Students ¥1,900 / Children (4-11 Years) ¥1,500

Entry Passports (With Backyard Tour): Adults ¥5,600 / Middle & High School Students ¥4,800 / Children (4-11 Years) ¥4,400

Annual Passports: Adults ¥9,800 / Middle & High School Students ¥7,600 / Children (4-11 Years) ¥5,900

Tickets on Park Website: https://www.smallworlds.jp/en/ticket_en/

Tickets on Lawson Tickets: http://l-tike.com/smallworlds

 

Citizens Rights Figure Program – 2nd Run (w/ Annual Passport)

Price: ¥12,630 (¥10,760 for those under the age of 18) *Subject to change

Now On Sale

Official Website: https://smallworlds-figureprogram.jp

SMALL WORLDS TOKYO

Address: Ariake Butsuryu Center, 1-3-33 Ariake, Koto Ward, Tokyo

Opening Hours: 9:00-21:30 (Subject to change on weekends, holidays, and certain periods)

Official Website: http://www.smallworlds.jp/

Evangelion Second Impact Hits Hakone Kowakien YUNESSUN Spa Resort

If you're looking for a unique onsen experience in Japan then spa resort Hakone Kowakien YUNESSUN is for you. From Japanese sake to coffee, there are a range of unique baths for you to enjoy a soak in. The resort is also home to a number of water attractions for those looking for a splash of fun. From January 10 to June 30, 2020 the resort will be doubling up the excitement by collaborating with Evangelion. The upcoming Second Impact no Yu event provides a chance for Evangelion fans to discover the exciting world of Evangelion while soaking up the spa goodness.

The Second Impact no Yu event is being held in cooperation with the Evangelion Hakone 2020 MEET EVANGELION IN HAKONE project run by the Odakyu Group. As the first step of this project, the Evangelion series' global catastrophe "Second Impact" will be invading the swimsuit area of the Yunessun spa. If you're looking to plunge straight into some thrilling action, make sure to head to the cave bath and water slide.

From the inside to the outside, the resort has been completely invaded by Evangelion-themed decoration. More details on the collaboration event contents will be released on the resort's official website so make sure to check it out if you are interested.

Information

Second Impact no Yu

Running: January 10 – March 31, 2020

Location: Yunessun Swimsuit Onsen Outside Area 

Opening Days and Times:

Weekdays:10:00 – 18:00

Weekends and National Holidays: 9:00 – 19:00 (Last Entry: 1 hour before closing time).

Prices:

Adults: ¥2,500, Children (3 y/o – Primary School-Aged): ¥1,400 (Tax Included) 

* You must be over 110cm tall to enter Rodeo Mountain.

Resort Evangelion Decorations

Running: January 10 – June 30, 2020

Location: Hakone Kowakien Yunessun

Opening Hours:

Weekdays: 10:00 – 18:00

Weekends and National Holidays: 9:00 – 19:00 (Last Entry: 1 hour before closing time)

Hakone Kowakien Yunessun

Address: 1297 Ninotaira, Hakone, Ashigarashimo District, Kanagawa

Collaboration Website: https://eva-hakone.com/

Dragon Ball T-Shirts Designed by Collage Artist Kosuke Kawamura Releasing at UNIQLO

UNIQLO's graphic t-shirt brand UT is collaborating with Dragon Ball Z once more to release a new line of t-shirts designed by Japanese collage artist Kosuke Kawamura. The clothing items will be released in late November.

The line-up features men's and kid's t-shirts and sweaters.

Men's T-Shirts

★

★

The collection features a line-up of 28 t-shirts and sweaters in both men's and kid's sizes.

Men's Sweaters

★

Designs feature Kawamura's iconic collage style, with character illustrations, names, the title logo, Goku's famous Kamehameha, and more.

Kid's T-Shirts

The collection also features two UT originals not designed by Kawamura, with illustrations of Goten and Trunks.

Kid's Sweaters

If you're a fan of the DBZ universe then you won't want to miss out on this latest collection from UT. Check out the full collection here.

*Items marked with ★ are those designed by Kosuke Kawamura

©️@Bird Studio/Shueisha, Toei Animation

©️BIRD STUDIO/SHUEISHA ©️2018 DRAGON BALL SUPER the Movie Production Committee

©︎Kosuke Kawamura

Information

Dragon Ball UT

Release Date: Late November 2019 (subject to change)

Men's T-Shirts (12 Designs) – ¥1,500 (Before Tax)

Men's Sweaters (6 Designs) – ¥2,900 (Before Tax)

Kid's T-Shirts (6 Designs) – ¥990 (Before Tax)

Kid's Sweaters (4 Designs) – ¥1,500 (Before Tax)

Available: At UNIQLO Japan stores and online site

*Select items available at select stores and online onl

Full Collection: https://www.uniqlo.com/jp/store/feature/uq/ut/dragonball/

UNIQLO's New MySize CAMERA App Introduces bodygram Which Measures Your Body

UNIQLO's new MySize CAMERA app has adopted a new deep learning AI program called "bodygram" which can measure multiple areas of your body wherever and whenever by just taking a photo, and with your clothes on too.

Once you've entered the person's height, weight, sex, and age, the snap of a picture will determine the measurements of 10 areas of a person's body including the chest, hip, and waist.

The data is broken down on an easy-to-read chart which will be indispensable when going out and buying clothes.

Obviously when it comes to vague set sizes like small and medium, the number of cm of a waist, or specifics like shoulders or even waist, measurements can vary from brand to brand. The app solves this issue by having a set measurement and enables you to customise measurements from brand to brand.

The future of clothes shopping is here with bodygram.

Miniature Theme Park SMALL WORLDS TOKYO to Open in Tokyo Next Spring

The all-new SMALL WORLDS TOKYO theme park is set to open in the Ariake district of Tokyo in spring 2020.

The park will cover an 8,000m2 area which will be split into seven different areas made up of moving miniature models: the Kansai International Airport, the Space Center, World Streets, Sailor Moon, Neon Genesis Evangelion Tokyo-3, and Neon Genesis Evangelion Evangelion Cage.


The facility hopes to bring a new level of immersion the likes of which we have not seen before. It is a joint project between Japanese creators Tatsuya Kaneko and Shōji Kawamori and a team of Japanese engineers. Using the latest cutting-edge technology and delicate artistry in Japan, the staff behind this project have built a moving miniature universe that will transport visitors to another world.

Sailor Moon fans will delight in the recreation of Azabu-Jūban, a district of Tokyo where the series protagonists reside, and Crystal Tokyo. Evangelion fans will also rejoice in witnessing Tokyo-3 as well as Evangelion Cages in which Evangelions are housed.


Not only will visitors be able to look at the miniature world, they can become part of it too with the Citizens Rights Figure Program which will scan a 3D model of the person and have a figure of themselves placed in the area of their choice. Sign-ups for this program will open on August 9 at 10:00 (JST) on the park's website.

Details on tickets and facility specifics will be announced in the near future.

©SMALL WORLDS. Inc

Information

SMALL WORLDS TOKYO

Address: Ariake Butsuryu Center, 1-3-33 Ariake, Koto Ward, Tokyo

Official Website: http://www.smallworlds.jp/