Evangelion: 3.0+1.0 T-Shirts Releasing by UNIQLO's UT Brand
UNIQLO's graphic T-shirt brand UT it collaborating with the forthcoming anime film Evangelion: 3.0+1.0 to release a collection of T-shirts at UNIQLO stores across Japan and their online store on April 17, 2020.
The film, which is set for release on June 27, 2020, will wrap up the Rebuild of Evangelion film series as the fourth and final entry. The T-shirts in the collection feature completely original and exclusive designs.
Designs take inspiration from memorable scenes

The collection is comprised of 8 original T-shirt designs which were drawn exclusively for UT, ranging from Evanglion Unit-01, Unit-00, and Unit-01 to popular character Kaworu, and the first-ever Unit-00 Berserk mode T-shirt design. Fans of the Evangelion world are sure to appreciate all the little details.
UT x Evangelion UNIQLO 2020 Spring/Summer

Delivered in an exclusive box with the Evangelion font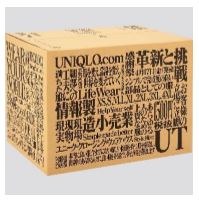 Those who purchase from the collection via UNIQLO's online store between April 10-23 will have their orders shipped in a special box bearing various words in the "Eva Font," such as the UNIQLO brand concept, the brand name's original "Unique Clothing Warehouse," and so on.
Due to the ongoing situation surrounding the novel coronavirus, select branches of UNIQLO in Japan are closed or have had their opening hours altered. Details can be found on their website.
Information
Evangelion UT
Release Date: April 17, 2020
Price: ¥1,700 (Before Tax)
Designs: 8
Available: UNIQLO stores in Japan / UNIQLO Japan online store
Product Page: https://www.uniqlo.com/jp/ja/contents/feature/ut-eva2020/
*Exclusive boxes come in one design and are available while supplies last
*Product manufacturing and distribution, as well as release date and so on are subject to extensions or change depending on the latest developments surrounding the coronavirus
RELATED ENTRIES
Evangelion Business Shirts, Ties, and Accessories Released in Japan

Haruyama Trading, a company in Japan that supports the health of businesspersons, has teamed up with the popular Evangelion anime franchise to release a collection of business dresswear at Harumaya, P.S.FA, and Foel stores in Japan.

i-Shirt (9 Designs)

Necktie (10 Designs)

Tie Clips (7 Designs)

Cuffs (3 Designs)

The i-Shirts is equipped with a stretchy material that means no ironing is required after washing it, so you can don your shirt after it's dried and head straight on out. It also fast-drying, has an antimicrobial and deodorant finishing, stain resistant, and breathable, making it a stress free experience and a shirt that can be worn in all seasons.

The collection also features a line-up of 10 different neckties that are simple to the untrained eye but a nod towards the Evangelion series for fans with their character-inspired colour palette and other designs that reference NERV, WILLE, Evangelion Unit-01, and so on. There's also tie clips and cuffs too so you can kit yourself out with a look that is nerdy on the inside while looking professional on the outside.

Evangelion x Q-pot Reveal New Accessory Collection Featuring Designs From the Anime Series

Q-pot., a Japanese accessory brand which makes jewellery that looks like real sweets and desserts, has announced a second accessory collaboration with the Evangelion series titled "2nd Melty Impact" which will hit Q-pot. stores, select Evangelion stores, and the IKSPIARI pop-up shop on January 20, 2021.

Evangelion x Q-pot. Accessory Collection

A.T. Field Gummy Candy Necklace | ¥10,500 (Before Tax)

The delicious-looking Gummy Candy Necklace inspired by the Absolute Terror Field, the protective barrier that Angels and Evangelions can create to protect themselves. The reverse side of the necklace pedestal also features an engraving of the Tree of Life.

Red Sea & Blue Sea Metal Rings | ¥9,000 Each

Two rings representing the blue sea and red sea, the former being before the Second Impact when the world was teeming with life and the latter after the Second Impact when life is destroyed.

L.C.L. Metal Rings | ¥9,000 Each

These rings are based on LCL, the amber-coloured liquid which enables the piloting of an Evangelion Unit. In the series we see the Entry Plug of an Eva Unit flooded with this translucent liquid.

Cassius's Fork Necklace | ¥16,000

Inspired by the Spear of Cassius that the mysterious boy Kaworu retrieves when he's piloting Mark.06. The spear is fitted as a necklace through a heart which is embedded between an Angel-like halo.

The 4th Angel's Macaron Necklace ¥9,000 / Bag Charm ¥8,000

A necklace and bag charm made to look like sweet macarons. The design is based on the 4th Angel with white faces and a black body. Inside is a bright-red Swarovski crystal to represent the Angel's Core.

Asuka's Puppet Sugar Cookie Necklace ¥9,500 / Bag Charm ¥8,000

A necklace and bag charm inspired b the cute hand puppet of Asuka Langley, the pilot of Unit-02. Made to look like a sugar cookie, the accessories capture the bright-red outfit and blue eyes of the adorable puppet. It looks like it's just come freshly baked out of the oven.

Each of these accessories arrives packaged in an original tin featuring the Evangelion x Q-pot. logos. The A.T. Field Gummy Candy, 4th Angel Macaron, and Asuka's Hand Puppet also feature unique serial numbers.

Other Merchandise

The collaborative collection also feature a selection of original merchandise too.

Asuka's Puppet Pop Socket | ¥2,200

Melty Impact Mug | ¥2,800

Evangelion x Q-pot. 1st Collaboration Restock

The popular macaron and Melty Melt series from Q-pots.'s first collaboration with Evangelion is also being restocked at select Q-pot. stores.

1st Collaboration Restock – Macaron Series

1st Collaboration Restock – Melty Melt Series

Evangelion x Q-pot. Novelty

Fans who spend over ¥30,000 on any of these items at Q-pot. stores or the IKSPIRIA pop-up shop will receive a set of 6 postcards featuring designs of each Eva pilot.

ANNA SUI x Evangelion Merchandise Collaboration Promotes New Anime Film

To promote the upcoming release of the new anime film Evangelion: 3.0+1.0 Thrice Upon a Time, Evangelion teamed up with fashion brand ANNA SUI to open orders for a collection of 12 new items on Wednesday (January 13) on Bandai's official shopping website Premium Bandai.

Excerpt of merch line-up

The line-up combines iconic symbols of ANNA SUI, like butterflies and roses, with motifs from Evangelion like Unit-01. It's a special, must-grab collection for fans of the anime series and brand.

(C)カラー

Uniqlo U, the brand created by Artistic Director Christophe Lemaire and his team in Paris, is giving us the warm welcome of its Spring/Summer 2021 collection which is set to drop first in Japan on January 22, 2021 and globally on January 28, 2021. The line-up features a fitting silhouette comfortable for the warmer seasons and focuses on simple and comfy threads perfect for today's modern lifestyle. The items come in earth tones that serve us season-changing vibes. This 10th season of Uniqlo U also welcomes a kids line-up to the collection.

The women's collection features light and airy items made from viscose and cotton-polyester blends as well as 3D knits to give that refreshing summery feel. The sheer shirt comes in men's stripes while the regular fit jeans have been updated with a straight silhouette. The shiny rayon tunic and dress present fluidity and soft colors while the twill skirt will come in an A-line silhouette. Coats have been cut shorter for those who are active.

The new kid's collection added to Uniqlo U features all the classic one pieces, T-shirts, and short pants made into children's sizes so that they too can enjoy the thrills of dressing well in comfortable, sophisticated styles.

Don't miss the Uniqlo U Spring/Summer 2021 Collection.

Jason Polan x UT Collection to Drop at UNIQLO

UNIQLO's T-shirt brand UT is set to collaborate with American artist Jason Polan with a special collection featuring his art that will drop on January 29, 2021.

Polan was a New York-based artist who passed away in January 2020 at the age of 37. He become a partner of UNIQLO in 2016 and has since collaborated with UNIQLO on three separate occasions with his collections being made available worldwide.

Honouring Polan's favourite iconic drawings

In 2008, Jason Polan gave himself a challenge to draw every person in New York. Each drawing in this project featured a description of what Polan saw when drawing people along with the date of when he saw them, giving people an insight into his world as he saw it. He is also known for his love of giraffes, hamburgers, and tigers, which make up some of his most iconic art pieces. He even did some drawings while in Tokyo.

Join in continuing his legacy with artists around the world.

Jason Polan's passion for bringing people together to create their own art gave birth to the World's Biggest Drawing Club. This has inspired people from across the globe to share their own sketches of everyday life. UNIQLO will commemorate Polan's death anniversary with a special online drawing event on their Instagram page on January 27, 2021.

The World's Biggest Drawing Club – Online Event

Help continue Jason Polan's mission and join the The World's Biggest Drawing Club. For more information, visit UNIQLO's website here.

Running: January 8, 2021 – February 21, 2021
How to Join: https://www.uniqlo.com/jp/en/contents/feature/jason-polan/campaign/
#worldsbiggestdrawingclub (Global hashtag)
#ドローイングクラブ (Japan hashtag)

Every Person in "UNIQLO TOKYO"

On January 27, the first anniversary of Polan's death this year, UT will host a special one-night drawing workshop hosted by prominent artists. UNIQLO TOKYO will also welcome pre-sales of the T-shirt collection on the same day.

Date: January 27, 2021

Time: 19:00 (JST)

Where: UNIQLO's official Instagram page.

Special Items

Novelty

Those who buy two or more items from the collection at select UNIQLO stores and UNIQLO's online shop will receive the uni-ball Vision Elite, a pen loved by Polan, with the artist's name inscribed on it. Limited quantities available.

Original Box

Those who order from the collection online will have their items shipped in an original box. Limited quantities available.

Leaflet Book

All UNIQLO branches in Japan are now handing out a special Jason Polan leaflet book have also have dedicated drawing spaces to encourage people to make art.

Evangelion: 3.0+1.0 Thrice Upon a Time Nail Decals Included in VOCE Magazine

Japanese beauty magazine VOCE is collaborating with the upcoming anime film Evangelion: 3.0+1.0 Thrice Upon a Time to include a selection of cute and colourful exclusive nail decals in its March 2021 issue.

Chibi Evangelion nail decals

The decals feature designs and references that are sure to be instantly recognisable to fans of the Evangelion franchise. The character decals in particular are extra adorable as they come in chibi form. And these decals don't have to be used just for nails either: you can stick them on your phone, computer or laptop, notebook – anywhere!

The collection is exclusive to the March 2021 issue of VOCE which will release in Japan on January 22, 2021.

Yu Nagaba x Snoopy Clothing Collection to Release at UNIQLO

Japanese illustrator Yu Nagaba is collaboration with the popular Peanuts comics to release a collection of T-shirts from UNIQLO's graphic T-shirt brand UT. It is a follow up to his last year's collaboration with Snoopy and the Peanuts gang and will release at UNIQLO in Japan on January 1, 2021.

A heart-warming collection filled with positivity

Yu Nagaba himself is a fan of Peanuts and has used his iconic drawing style to capture the gang's positivity to create a collection that's sure to keep you uplifted throughout the day.

T-Shirts (6 Designs) ¥1,500 Each (Before Tax)

Kids Line-Up (Excerpt)

Merchandise Line-up 

The collection also includes a line-up of merch too like caps, umbrellas, bags, and more.

Yu Nagaba Interview (Japanese):

UNIQLO Harajuku's Enormous Snoopy by Yu Nagaba

Nagaba has also illustrated an enormous 1.5-meter canvas of Snoopy which will be put into the UNIQLO Harajuku store on December 26. The illustrator will also be present on January 9, 2021 to do signings. But that's not all—customers who spend over ¥5,000 (before tax) in the store between January 1-3 next year will also receive a Yu Nagaba original sign bag along with sweets. These are available on a first-come, first-served basis. Additionally, for every two Yu Nagaba x Peanuts items bought at all UNIQLO stores in Japan, customers will receive a special sticker.

Information

PEANUTS x Yu Nagaba UT
Release Date: January 1, 2021
Available: UNIQLO Japan stores / UNIQLO Japan online store
Product Page: https://www.uniqlo.com/jp/ja/spl/ut-graphic-tees/peanuts-yu-nagaba/

Yu Nagaba Signing
Date: January 9, 2021

Time: 11:00-13:00

Location: UNIQLO Harajuku
Attending: You must buy something from this collection by January 9, 2021 at 13:00 to attend

*More details will be announced on UNIQLO Harajuku's official website at a later date

Rebuild of Evangelion Film Series Heads to Amazon Prime Video

Amazon Japan released the first entries to the Rebuild of Evangelion anime film series Evangelion: 1.0 You Are (Not) Alone, Evangelion: 2.0 You Can (Not) Advance, and Evangelion: 3.0 You Can (Not) Redo on Amazon Prime Video on Friday (December 18). These are currently only available on the Japanese website (as of the posting of this article).

Rebuild of Evangelion is an animated film series that retells the original events of the Neon Genesis Evangelion series, the latter of which is available to watch on Netflix which the platform describes as "Fifteen years after the Second Impact, Shinji Ikari joins his father's group NERV as one of several teenage mecha pilots fighting the monstrous Angels."

The fourth and final entry to the film series Evangelion: 3.0+1.0 Thrice Upon a Time will be released in Japan on January 23, 2021, concluding the story.

©カラー

Information

Amazon Prime Video Japan

Evangelion: 1.0 You Are (Not) Alone

Evangelion: 2.0 You Can (Not) Advance

Evangelion: 3.0 You Can (Not) Redo

Released on Amazon Prime Video: December 18, 2020

Neon Genesis Evangelion to Collaborate With Mt. Rainier Caffe Latte On Limited-Edition Coffee Cups

The popular chilled coffee beverage Mt.RAINIER Caffè Latte is teaming up with the popular anime series Neon Genesis Evangelion to release limited-edition coffee cup designs from December 15, 2020.。

Mt.RAINIER launched in February 1993 as a pioneering brand of chilled coffee in a cup. Since then, the company has introduced countless flavours which retain the authentic quality of a drink you would sip on in a cafè.

Neon Genesis Evangelion is a mecha anime series that was first broadcast in 1995. The latest entry to its film franchise, Evangelion: 3.0+1.0 Thrice Upon a Time, will be released on January 23, 2021. The franchise's collaboration with Mt.RAINIER serves as promotion for the highly-anticipated film.

The collaborative coffee cup designs will feature on three different beverages: the Mt.RAINIER Caffè Latte, Mt.RAINIER Caffè Latte Espresso, and Mt.RAINIER Caffè Latte Non-Sugar, all of which have two designs each for a total of six possible designs.

Mt.RAINIER is hosting a special campaign over on its Japanese website where 1,995 Evangelion fans can win some exclusive merchandise.

Information

Mt.RAINIER x Evangelion
Release Date: December 15, 2020

Available: Convenience stores in Japan
Mt.RAINIER Official Website: https://www.mtrainier.jp/

Evangelion: 3.0+1.0 Thrice Upon a Time Announces First Collaboration With SAMANTHAVEGA

In promotion of the upcoming anime film Evangelion: 3.0+1.0 Thrice Upon a Time, which is set for release in Japan on February 23, 2021, SAMANTHAVEGA has announced its first-ever collaboration with the Evangelion franchise. Full details are scheduled to be revealed in December.

SAMANTHAVEGA is a Japanese brand that promotes Tokyo-eseque Japanese pop culture with the themes "cute//mode."

The main visual released for the collaboration features singer, model, and actress Airi Suzuki who also produces bags at SAMANTHAVEGA.

Stay tuned for more information on the upcoming winter collaboration.

UNIQLO x JW ANDERSON Unveil Their First Ever Holiday Collection For 2020

London-based fashion brand JW ANDERSON is following up its Autumn/Winter collaboration with UNIQLO with the two companies' first ever holiday collection. Centring around the theme "A Cozy Countryside British Cottage," the collection captures the vibe of spending time in a cozy cottage on the outskirts of London.

Traditional and uplifting British prints for a brighter winter

The holiday collection is made up of everything you need for surviving winter: beanies, gloves, socks, and snoods, all decorated with traditional British prints like argyle and jacquard. All the colours match together perfectly so the line-up works perfectly as a set. It features an JW ANDERSON-esque twist and incorporates HEATTECH technology to get you through the cold months.

Limited-edition argyle gift boxes

Gift Box | ¥290 (Small/Medium/Large)

This collection is boxed in an argyle gift box to make for the perfect Christmas packaging.

Stay warm this winter with the soft and cozy new JW ANDERSON x UNIQLO holiday collection, rolling out December 4, 2020.

UNIQLO Announces Loungewear Collaboration With Pokémon and Sumikko Gurashi

Japanese clothing retailer UNIQLO has announced a loungewear collection for the holiday season in collaboration with Pokémon and Sumikko Gurashi—the latter being a set of fictional characters created by San-X. Set to roll out in Japan from November 19, the fleece line-up is the perfect gift for the coming winter months.

Pokémon Line-Up

Everybody's favourite Pokémon are coming together for this cosy collaboration. The fleece set's theme is "Night Explorer" which imagines the wearer exploring the night together with their Pokémon. The designs feature moon and star motifs with neon colouring.

When the collection launches, those who purchase one of the Pokémon fleece sets in Japan will receive a set of two clear-coloured Pokémon figurines. And if they order online via UNIQLO's website, their order will be shipped in a special Pokémon box.


Buyers will also receive a card with a code on it to participate in a special campaign.

Sumikko Gurashi Line-Up

The corner-dwelling Sumikko Gurashi character merchandise is themed on a sleepover with items made warm, fluffy, and cosy.


The three Sumikko Gurashi sets will launch online only on December 18.


Picking up either of the fleece sets or poncho blanket sets from December 18 will land you one of the above-pictured plush toys.




UNIQLO will also be selling limited-edition Sumikko Gurashi gift cards too both online and in-store when the sets are released.