Evangelion: 3.0+1.0 T-Shirts Releasing by UNIQLO's UT Brand
UNIQLO's graphic T-shirt brand UT it collaborating with the forthcoming anime film Evangelion: 3.0+1.0 to release a collection of T-shirts at UNIQLO stores across Japan and their online store on April 17, 2020.
The film, which is set for release on June 27, 2020, will wrap up the Rebuild of Evangelion film series as the fourth and final entry. The T-shirts in the collection feature completely original and exclusive designs.
Designs take inspiration from memorable scenes

The collection is comprised of 8 original T-shirt designs which were drawn exclusively for UT, ranging from Evanglion Unit-01, Unit-00, and Unit-01 to popular character Kaworu, and the first-ever Unit-00 Berserk mode T-shirt design. Fans of the Evangelion world are sure to appreciate all the little details.
UT x Evangelion UNIQLO 2020 Spring/Summer

Delivered in an exclusive box with the Evangelion font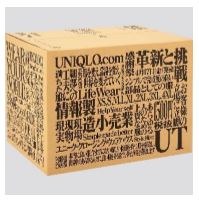 Those who purchase from the collection via UNIQLO's online store between April 10-23 will have their orders shipped in a special box bearing various words in the "Eva Font," such as the UNIQLO brand concept, the brand name's original "Unique Clothing Warehouse," and so on.
Due to the ongoing situation surrounding the novel coronavirus, select branches of UNIQLO in Japan are closed or have had their opening hours altered. Details can be found on their website.
Information
Evangelion UT
Release Date: April 17, 2020
Price: ¥1,700 (Before Tax)
Designs: 8
Available: UNIQLO stores in Japan / UNIQLO Japan online store
Product Page: https://www.uniqlo.com/jp/ja/contents/feature/ut-eva2020/
*Exclusive boxes come in one design and are available while supplies last
*Product manufacturing and distribution, as well as release date and so on are subject to extensions or change depending on the latest developments surrounding the coronavirus
RELATED ENTRIES
Evangelion: 3.0+1.0 Thrice Upon a Time Director Hideaki Anno Gives Message For International Release

Amazon is set to release the anime film Evangelion: 3.0+1.0 Thrice Upon a Time worldwide on August 13, offering it dubbed in 10 languages and subtitled in 28.


Originally released in Japan on March 8, 2021, Evangelion: 3.0+1.0 Thrice Upon a Time is the fourth and final instalment of the Rebuild of Evangelion film series. The film's theatrical run ended on July 21 where it was revealed that it had received 10.22 billion yen in total, making it the highest-grossing film in the franchise and the first film distributed by Toei to reach this mark.

An online panel titled Comic-Con@Home was streamed on July 23 which was attended by the film's director and writer Hideki Anno. The full video can be seen below.

"It's been 16 years since this movie was remade," explains Anno. "I was planning to finish it in about 8 years, but it took twice as long. So I'm relieved that it is finished."


Asked about what he thinks attracts fans to the franchise, he says: "The story of the work, the drama, and the technical quality are kept as high as possible. We work hard to maintain high quality. And this is not possible without the efforts of our staff and cast. Aside from that, maybe there was something in Evangelion that people around the world emphasized with. It might be the emotions, or the structure that could be taken as their own stories. This is something that people all over the world feel for themselves, so it is hard to say what attracts them."


Anno also discusses his enthusiasm towards seeking new goals. "Now that I've turned 61 this year, from now on, I plan on making some new live-action movies instead of Eva. For animation, it'd be great if I have a chance to do it again after I take some live-action shots." He continues: "Making a live-action video is totally different from animation. Because I can do a lot of things that I can't do with animation, that's why I'm really looking forward to it."


At the end of his talk, he comments: "Not only Evangelion, but my work basically deal with themes unique to Japan, aimed at people who grew up in Japan. I am really grateful and honoured that such works are seen and loved by people all over the world. Thank you so much for supporting Evangelion, and I hope you enjoy the film."


Amazon Prime Video is currently streaming the first three films in the film series: Evangelion: 1.0 You Are (Not) Alone, Evangelion: 2.0 You Can (Not) Advance, and Evangelion: 3.0 You Can (Not) Redo. The final film, Evangelion: 3.0+1.0 Thrice Upon a Time, will be released on the service worldwide on August 13, 2021.

©khara

Information

Evangelion: 3.0+1.0 Thrice Upon a Time

Amazon Prime Video Release Date: August 13, 2021

UNIQLO's Global Design Competition UT GRAND PRIX 2022 is Themed on the Peanuts Comics

The UT GRAND PRIX (UTGP) is a design competition that started in 2005. The contest uses the T-shirt as a creative medium and invites everyone to freely express their creativity. This year, the competition is themed on the Peanuts comic strips by Charles M. Schulz which first hit the scene in the US back in 1950, over a hundred years ago.


Create your own Peanuts tee design


Artists are invited to unleash their imagination and bring their own Peanuts creations to life using UNIQLO's UT brand as their canvas. Designs will be judged by the Charles M. Schulz Museum and a team of Charles M. Schulz creative associates.

An internship at the Peanuts studio


The Grand Prize is $20,000 and all winning designs will become products sold in UNIQLO stores worldwide in the summer of 2022. The winners of the top two prizes will be invited to the USA. There will also be an internship opportunity to be a member of the Charles M. Schulz creative associates team.

Sign up to the competition and submit your entry for the chance of your artwork being featured worldwide.

UNIQLO x Tate Modern Launch UNIQLO Tate Play

UNIQLO and British art gallery Tate Modern have signed a three-year global partnership. The two first came together for the UNIQLO Tate Lates event series which began in 2016. This new partnership brings about new free programme of playful activities for families of all ages. This summer, people are invited to transform the floor of the Turbine Hall at Tate Modern into a giant collaborative work of art at UNIQLO Tate Play: Mega Please Draw Freely. Tate will also release a t-shirt collection in collaboration with UNIQLO's UT brand in 2022.




Tadashi Yanai (Fast Retailing Chairman, President and CEO, UNIQLO) | Comment


"UNIQLO is proud to be partnering once again with the world-renowned Tate Modern especially this year, as 2021 is the year we are celebrating the 20th anniversary since launching UNIQLO in the United Kingdom. Our renewed collaboration with Tate Modern is based on a shared philosophy of Made for All, a concept echoed in LifeWear, clothing designed to help make everyone's daily life better, and in giving everyone the opportunity to enjoy art. My hope is for many families to get involved in the UNIQLO Tate Play program."

UNIQLO Tate Play invites everyone of all ages to scribble, doodle, sketch and become part of an unforgettable experience.


UT is UNIQLO's graphic print t-shirt brand which first launched in 2007. 'Wear Your World' is the brand's philosophy. It has collaborated with anime, manga, bands, films, and more, and next year, it is teaming up with Tate Modern in an exclusive collection.

YOASOBI x UNIQLO UT T-Shirt Collab Collection Releasing This July

UNIQLO's UT collection is a line of tees created in collaboration with other brands, anime, shows, and more. On July 2, UNIQLO is teaming up with the Japanese music duo YOASOBI to release an exclusive new collection.

YOASOBI, which is comprised of Ayase and ikura, made their debut in 2020 with their hit song Yoru ni Kakeru. Since then, their music has continued to top charts in JApan.

The collection is a fusion of fashion and music in women's and kids designs featuring stills taken from seven of the duo's iconic music videos including Yoru ni Kakeru, Halzion, Tabun, Gunjo, Haruka, Encore, and their new track Sangenshoku.

The Line-Up

Women's Tees | 7 Designs | ¥1,500

Kids Tees | 5 Designs | ¥990

To promote the collaboration, YOASOBI will also hold a free YouTube livestream on July 4 2021 at 6pm (JST). The online event is called "SING YOUR WORLD" and will see them perform live.

©藍にいな ©ラビットマシーン ©すばこ舎・山中琴美・村山辰徳・細矢祐輔 ©南條沙歩 ©しなの ©牧野惇
©古塔つみ ©むつき潤
©伊豆見香苗・すばこ舎・山中琴美・村山辰徳・細矢祐輔 ©文・すばこ舎・山中琴美・村山辰徳・細矢祐輔

Jujutsu Kaisen x UNIQLO T-Shirt Collection Announced

UNIQLO are set to collaborate with Jujutsu Kaisen for the first time ever in a new t-shirt collection from their UT brand on June 4. The Jujutsu Kaisen manga series written and illustrated by Gege Akutami has sold over 45 million copies, making it one of the best-selling series of all time.

The Line-Up

Men's T-Shirts (7 Designs)

Kids T-Shirts (4 Designs) 

This first collection features iconic scenes and lines taken from the main characters of the manga series. The line-up is a must-grab for fans looking to express their love of the series, which saw the first season of its anime adaptation conclude in March. A second collection is planned for release.

©芥見下々 / 集英社

Luxury Neon Genesis Evangelion Pocket Watch Released by U-TREASURE

When it comes to character-themed jewellery for adults, U-TREASURE pulls out all the stops. Fans of the Evangelion series are sure to love the Rei Ayanami-inspired design of this gorgeous new pocket watch which was released on Monday (March 29).

Ayanami Rei Pocket Watch | ¥363,000

The silver case features a 3D metal design of Rei with the second hand and clip being based on the Spear of Longinus and the chain based on the Spear of Cassius.

This luxury watch is a must-have for hardcore collectors of Evangelion merchandise.

Paul & Joe x UNIQLO to Launch UT Collection

UNIQLO has announced the worldwide release of its new "Paul & Joe UT Collection" which will hit the brand's site on March 26. The line-up features a variety of t-shirts with a fun and colourful springtime feel to them.

The Line-Up

Women's T-Shirts (2 Designs – 9 Colours) ¥1,500 | Blouses (1 Design – 3 Colours) ¥2,990

 Women's Skirts (1 Design – 4 Colours) ¥2,990 | One Piece (1 Design – 3 Colours) ¥4,990 | Scarfs (1 Design – 4 Colours) ¥990 | Bag (1 Design – 3 Colours) ¥1,500

Girls T-Shirts (2 Designs – 6 Colours) ¥990 | Girls One Piece (1 Design – 4 Colours) ¥2,990 | Baby T-Shirts (1 Design – 4 Colours) ¥990 | Baby Leggings (1 Design – 3 Colours) ¥790

Freebies

Hairbands

Customers who buy two or more of the items in this collection will receive a free hairband. These are limited in stock so are first-come, first-served. Additionally, those who use the gift service will have their items wrapped in a special gift sleeve case.

The collection features motifs that are symbolic of the Paul & Joe brand, such as chrysanthemums, and lilies, which are believed to bring happiness, in pastel colours. It also features cats, another iconic motif of the brand. The line-up includes all the wardrobe essentials such as t-shirts, dresses, blouses, scarfs, and bags for women, girls, and babies.

ALL PAUL & JOE PRINTS ARE COPYRIGHTED

Evangelion T-Shirt Collection Releases in Collaboration With OJICO

Japanese T-shirt brand OJICO released a new collection of T-shirts in collaboration with the popular anime franchise Neon Genesis Evangelion on Sunday (March 7).

Evangelion x OJICO T-Shirts | 12 Designs | ¥3,600-¥5,200 (Before Tax)

The collection features 12 designs with references to the popular anime series that fans are sure to recognise. The stylish designs make them a perfect way to express your love for the series while looking good at the same time.

(c)カラー

Information

Evangelion x OJICO Collaboration T-Shirts

Released: March 7, 2021

Evangelion Film's Tokyo Skytree Collaboration Gets Extended to May

Evangelion took over Tokyo Skytree in December last year in promotion of the new anime film Evangelion: 3.0+1.0 Thrice Upon a Time which was released on March 8, 2021. The ongoing event has been extended from March 31 to May 31.





 ©カラー ©TOKYO-SKYTREE

Special Tokyo Skytree Lighting

©カラー ©TOKYO-SKYTREE

Tokyo Skytree is being lit up in five different special illuminations on select days representing Eva Unit-01, Eva Unit-00, Eva Unit-02, Eva Mark.06, and Eva Unit-08.

 

Dates: March 8, 2021 / March 19-21, 2021

Times: 18:45-20:00

 

"Soul's Refrain" Video Added to the Screens

©カラー/Project Eva. ©TOKYO-SKYTREE

©カラー/Project Eva. ©TOKYO-SKYTREE

The SKYTREE ROUND THEATER® has been showcasing a special HD music video on the Floor 350 windows edited by the episode director for Neon Genesis Evangelion Masayuki. It features the classing opening theme A Cruel Angel's Thesis. The video and music, coupled with nighttime Tokyo in the background, makes for an unforgettable spectacle.

Now, a second music video is being added for the song Soul's Refrain which served as the main theme for the 1997 anime film Neon Genesis Evangelion: Death & Rebirth.

Where: Tokyo Skytree Tembo Deck (Floor 350F)

Price: Free

*The video runs approx. 9 mins

About the SKYTREE ROUND THEATER®

The SKYTREE ROUND THEATER surrounds and envelops you with a Panoramic screen (110m length x 2m height) screen which encircles 255 °of the Tembo Deck.
With 34 projectors, the images and visuals projected onto the night view are the pinnacle of artistry and fantasy.

©カラー/Project Eva. ©TOKYO-SKYTREE

The Spear of Longinus Pierces the Sky Arena

©カラー ©TOKYO-SKYTREE

The Sky Arena, which is located on Floor 4F of Tokyo Skytree Town, is now home to a giant recreation of the Spear of Longinus which makes for a great photo op.

Evangelion Promotes 'Thrice Upon a Time' Anime Film by Collaborating With 5 Popular Japanese Food Chains

In promotion of the new anime film Evangelion: 3.0+1.0 Thrice Upon a Time, which was released in Japan today on March 8, 2021, the Evangelion franchise has launched a collaboration with five of Japan's top food chains including Sukiya, Nakau, Hamazushi, Coco's, and Big Boy.

Key Visual

Sukiya

Evangelion Unit-01 Beef Omelette Curry w/ Onion Soup | ¥890 (Tax Included)

Onion Soup Evangelion Unit-01 Mayo Potato Salad | ¥300 (Tax Included)

Nakau

Evangelion Unit-01 Roast Beef Plate | ¥990 (Tax Included)

Evangelion Unit-00 Oyako Don | ¥890 (Tax Included)

Hamazushi

Evangelion Unit-01 Berserk Mode Roll | ¥649 (Tax Included)

Evangelion Unit-02 Beast Roll | ¥649 (Tax Included)

Coco's

Pierced Core Hamburger | ¥1,859 (Tax Included)

Big Boy

First Impact | ¥1,518 (Tax Included)

Matcha Blanc Manger Blueberry | ¥240 (Tax Included)

Matcha Blanc Manger Mango | ¥240 (Tax Included)

Matcha Blanc Manger Strawberry | ¥240 (Tax Included)

Lid Designs

36 folder designs, one for every menu item ordered excluding desserts

Original plate artwork

Eva-01 Mug (Front)

Eva-01 Mug (Back)

Acrylic Stands (10 Designs)

The collaboration is taking place at 3,700 branches of the participating restaurants across Japan.

Information

Neon Genesis Evangelion Food Collaboration Campaign

Japanese Campaign Name: 外食5チェーン共同作戦

Running: March 8, 2021 – April 20, 2021

Participating Brands: 3,743 branches of Sukiya, Nakau, Hamazushi, Coco's, and Big Boy in Japan

Merchandise: https://netstore.zensho.co.jp 

Further Details: https://eva2020cp.zensho.co.jp

Evangelion Cosmetic Collection Launching to Promote Upcoming Anime Film 'Thrice Upon a Time'

A new Evangelion cosmetic collection is set to launch from March 13 in collaboration with the lottery draw cosmetic series Coffret to celebrate the release of the upcoming anime film Evangelion: 3.0+1.0 Thrice Upon a Time.

EVANGELION coffret collection

The makeup palette features designs and colours inspired by the Evangelion pilots Asuka Langley Soryu, Rei Ayanami, and Mari Illustrious Makinami. The collection also includes loose powder based on the A.T. Field, lip gloss inspired by the characters, and a collection of two-coloured face blushes centred on Japan's Evangelion Store mascot Yurushito.

As part of the lottery draw, those lucky enough to win the "Last One" prize can win a stand mirror with special illustrations of Asuka, Rei and Mari. There is also a chance of winning 3 sets of makeup palettes by joining the "Doubles Chance" campaign that is being held – links below. An original shopper bag will also be gifted for the first 13 people who purchase 5 lottery draws at once.

Enjoy your daily make up with the Evangelion Coffret collection.

(C)カラー

Information

EVANGELION coffret collection

Launch: March 13, 2021

Collection Details:  https://bpnavi.jp/t/eva_c

Price: ¥980 (Tax Included) per game

6 prizes (19 selections) + Last One prize

Participating Shops: EVANGELION STORE TOKYO-01(Ikebukuro), EVA STORE, Evangelion store(Hakone), book stores, hobby shops, game centres, drugstores, Animate, Lawson, Mini Stop etc.

Shop Details: https://bpnavi.jp/s/kuji/pc/ssc/search_pref/3131/prize

Official Site: https://p-bandai.jp/contents/global/

UNIQLO x Haruki Murakami T-Shirt Collection Features Novelist's Book Motifs

UNIQLO is collaborating its T-shirt brand UT with the internationally-acclaimed Japanese writer Haruki Murakami to release a collection of T's featuring motifs inspired by the novelist's books and radio program. The collection will first release in Japan on March 8 and subsequently worldwide on March 15.

The collection features nods to some of Murakami's most acclaimed works including Pinball, 1973; Norwegian Wood, Dance Dance Dance; Sputnik Sweetheart; Kafka on the Shore; and 1Q84.