Stay Home: 5 Simple and Kawaii Drinks to Try Making During the Lockdown
Here at MOSHI MOSHI NIPPON, we post news and information about Japan in six languages. Our aim is to deliver a variety of content related to Japan for those who love and enjoy Japanese culture.
Right now, people across the globe are in self-isolation as a result of the coronavirus pandemic. The same goes for Japan too, so we've taken this opportunity to create a new series on the website to show how we're spending time at home here in Japan. The future is yet uncertain, and we hope for normality to return for all of us soon. We created a new articles series called Stay Home with which we hope to take your mind off the situation, even for just a little bit, to help you feel calmer. It might give you some tips on what you can do while spending time at home.
In this edition of Stay Home, we're taking a look at five simple and kawaii drinks that were featured with the trending Japanese hashtag #おうちカフェ ("Cafe at Home"). Try making one of these drinks yourself to bring the cafe experience into your home.
Related Article: Stay Home: 5 Simple and Delicious Drinks to Try Making During the Lockdown
This is a strawberry version of the dalgona coffee which is hugely popular right now. It's a super simple recipe that you can make in just 3 minutes, so give it a go yourself.
Ingredients
・3 packs of Milmake powder (strawberry flavoured) ・4-5 tbsp fresh cream ・Milk
*If you can't get your hands on Milmake, use another strawberry flavoured powder as a substitute 
Method
1: Add the Milkmake and fresh cream to a bottle.
2: Shake the bottle until the mix becomes thick.
3: Pour the mix over milk, top with a strawberry, and enjoy!
2: Colourful Cream Soda @miki__718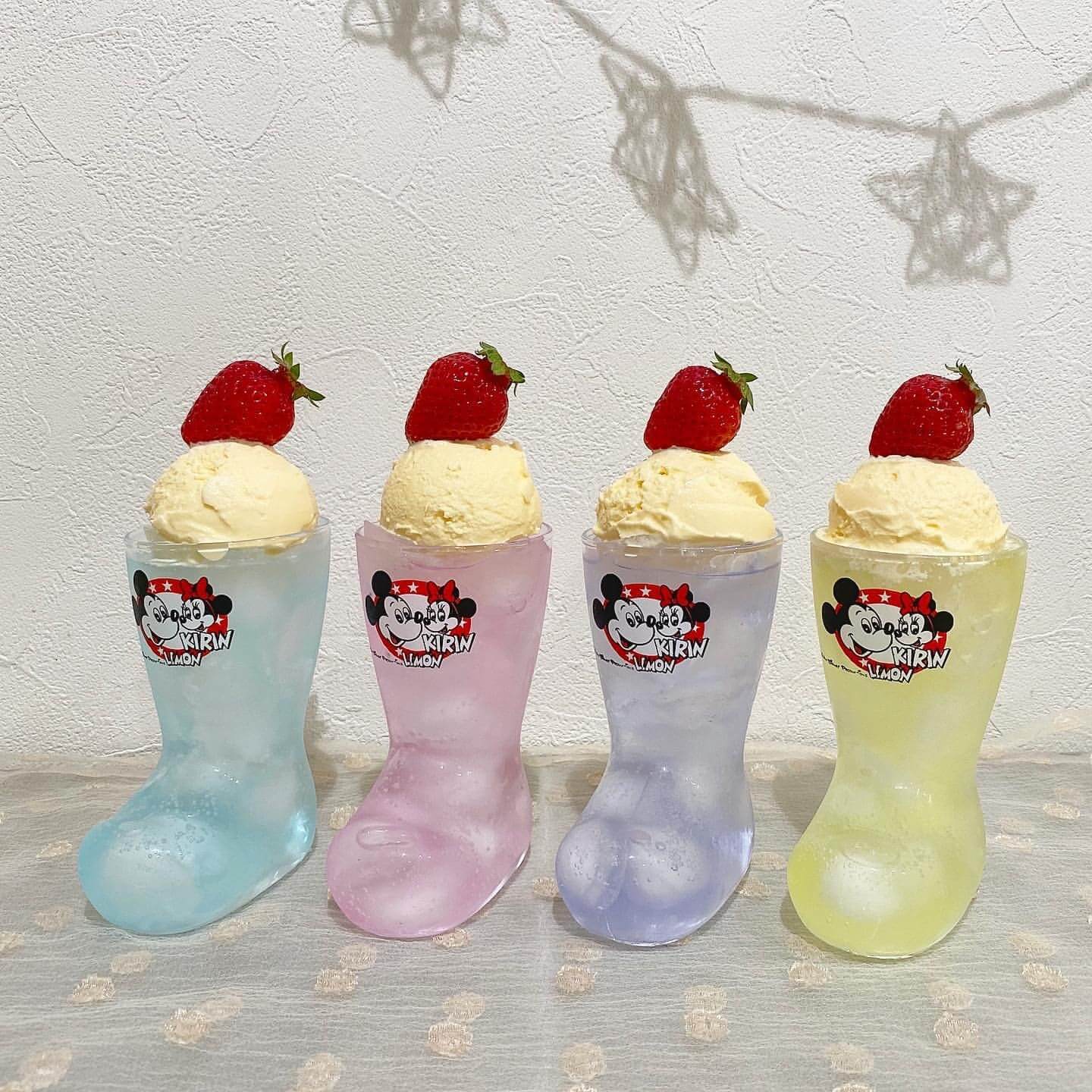 Miki's made a serving of several colour and cute cream soda drinks. This is another easy recipe where she added coloured syrup to soda poured into cute glasses.
Ingredients
・Soda ・MONIN syrup ・Ice cream ・1 strawberry
Method
1: I recommend using MONIN syrup to make your colourful soda.
2: Mix together the soda and MONIN syrup, then add a dollop of ice cream and finish with a strawberry!
3: Strawberry Cream Cider @onew_tc72
Chihiro's beverage is a cream soda with fresh fruit inside. If you're looking for a fruity drink then this one's for you.
Ingredients
・Strawberries ・Vanilla Ice Cream ・Soda ・Thyme (for decorating)
Method
1: Slice the strawberries into small pieces.
2: Add the cut strawberries into the soda and spoon in a large dollop of ice cream.
3: Adorn with the thyme and a whole strawberry and enjoy!
chii's mango soda is made using a homemade jam. The orange drink looks super stylish with the giant ice cube inside. A cool and refreshing pick for those hot days.
Ingredients
・100g mango ・15 sugar ・A squirt of lemon juice ・1 tsp rum
Method
1: Boil all of the ingredients together.
2: Mix in soda and jam.
3: Top with rosemary and drink up.
HITOMI's choice is the popular mikan latte! You can use sliced orange for the topping too if you can't get your hands on mikan.
Ingredients
・200ml milk ・Sugar to taste ・Yoghurt ti taste ・1 mikan ・Sliced mikan (for topping)
Method
1: Blend all of the ingredients together in a blender.
2. Once smooth, add to a cup a finish with a slice of mikan or orange.
RELATED ENTRIES
Starbucks Japan Unveils Candied Sweet Potato Frappuccino®

Starbucks Coffee Japan has revealed the second beverage in its Artful Autumn @ Starbucks® series of drinks. The "Candied Sweet Potato Frappuccino®" will be released at Starbucks branches in Japan on September 23, 2020.

Candied Sweet Potato Frappuccino® | Tall Size Only – ¥590

Each drink is made using a whole chopped and blended Japanese daigaku imo candied sweet potato to serve those autumn flavours, with its marbled golden colour also reminiscent of the autumn leaves. It's topped with whipped cream, black sesame seeds, and sweet potato syrup.

Truly the perfect dessert drink to sip on for the changing seasons.

Information

Candied Sweet Potato Frappuccino®
Serving: September 23, 2020 – October 31, 2020

Available: Starbucks in Japan (select branches not participating)

Starbucks Coffee Japan Official Website: https://www.starbucks.co.jp/

Sweet Potato Milk Bubble Tea Pours Into Chun Shui Tang For Autumn

Chun Shui Tang, a chain of Taiwanese bubble tea stores, is adding a new limited-time drink to the menus of all branches in Japan on September 16: the "Tapioca Sweet Potato Milk Tea."

Tapioca Sweet Potato Milk Tea | ¥650 (Before Tax)

The beverage is made with annouimo sweet potatoes grown on the island of Tanegashima in Kagoshima Prefecture. The potatoes are known for their high sugar content, adding a delicious natural sweetness to the tea. It's blended with a high grade sugar syrup and topped off with whipped cream and sweet potato chips to create a dessert drink.

Those who order the drink via the Smatapi (スマタピ) app from September 9 can get the drink early before its general release on September 16.

In Japan for the autumn season? Enjoy the tasty autumn flavour of sweet potato with the Tapioca Sweet Potato Milk Tea.

Information

Tapioca Sweet Potato Milk Tea

Release Date: September 16, 2020

*Mobile pre-sales available from September 9 to those who order using the Smatapi (スマタピ) app

Available: All Chun Shui Tang shops in Japan

Chun Shui Tang Japan Official Website: https://www.chunshuitang.jp/

J-Pop Group Perfume to Make and Eat Recipes Submitted by Fans at P.O.P Festival

Japanese food tech company Cookpad Inc. is set to co-host the "P.O.P" Fes Food Court at Japanese pop group Perfume's upcoming Perfume Online Present ("P.O.P") Festival which will be held on September 21, 2020. Cookpad has also opened applications for fans to submit the recipes that they want Perfume to eat at the festival

"P.O.P" Festival Breakdown

With concerts and music festivals forced to be cancelled or postponed as a result of COVID-19, Perfume too had to cancel their Japan dome tour. September 21, 2020 marks the 15th anniversary since Perfume made their major debut, and the 20th anniversary since they formed. Since their tour was cancelled, they still wanted to celebrate in some way, which is how the "P.O.P" Festival was conceived. The online event will feature both free and paid content with a full timetable for the day.

"P.O.P" Fes Food Court

Food is an indispensable part of music festivals, so the event will have its own interactive "P.O.P" Fes Food Court which encourages fans to submit the recipes that they want Perfume to eat. The chosen recipe will be displayed on the food court page of the event's website and Perfume will actually make and eat it in a video. Fans can prepare their own food at the same time so they can sit down and eat with Perfume. Details on submitting can be found on the official website in Japanese.

Perfume | Comment

"We're happy to announce the Perfume Online Present Festival  which will take place on the 15th anniversary of our major debut, September 21. We're starting applications for the food court, so we're waiting for your submissions. We'll pick one recipe and actually try making it ourselves! We're going to get found out that we actually did this during lockdown period, but we also think it's good for you to see our normal lives, so we will give it out all and hope you enjoy."

Japanese Chawanmushi Egg Custard Dessert Turns Into Drink in Tokyo

Japanese food company Ninben has announced that it is extending its sales period for its drinkable chawanmushi dessert at Nihonbashi Dashi Bar in Tokyo until September 30.

Chawanmushi is a refreshing Japanese egg custard dessert that's perfect for cooling down during the summer, and seeing as the summer heat isn't letting down in Japan just yet, Ninben's drinkable rendition is now available until the end of September.

Chawanmushi Drink | ¥300 (Tax Included)

The chawanmushi drink is a collaboration between the owner of Suzunari and Ninben's Nihonbashi Dashi Bar. The drink was created to get more people enjoying the delicious taste of dashi. Exclusive to Nihonbashi Dashi Bar, which is located inside Ninben in Nihonbashi, Tokyo, the drink is being served for takeout only.

Normally, chawanmushi is eaten with a spoon, so using a straw adds an entirely new experience to enjoying the dessert. It's seasoned with salt from Christmas Island which elevates the flavour of the egg and dashi.

It's still hot in Tokyo, so if you're in the city, then why not order one to cool down?

Information

Nihonbashi Dashi Bar
Address: COREDO Muromach 1 (Floor 1F), 2-2-1 Nihonbashimuromachi, Chuo-ku, Tokyo

TEL: 03-3241-0968

Official Website: www.ninben.co.jp

Autumn Flower Topped Cream Sodas Served at Floral Cafe and Bar HANABAR in Koenji

HANABAR, a floral themed cafe and bar in Koenji, Tokyo, released two breathtaking new cream sodas on Friday which capture the sentimental feeling of summer transitioning to autumn.

HANABAR opened in September 2017 as Japan's "first dried flower cafe." A sister store, gmgm, opened last year selling gorgeously gourmet doughnuts topped with dried flowers. Both stores as produced by Nana Yui, a dried flower artist.

Lavendel | ¥1,100

Coloured an eye-catching purple, this autumn-time cream soda is made with lavender, butterfly pea, and lime.

Aimatsurika | ¥1,100

A refreshing mix of jasmine, grapefruit, and lemon topped with sweet ice cream that has a citrus fruit aftertaste.

The flowers draped inside the ice are all elderflower which has high nutritional value.

Beat the Japanese heat this summer in Tokyo with one of these tantalising cream sodas.

Information

Floral Autumn Colour Cream Sodas
Serving: August 28, 2020 – Late October 2020

HANABAR
Address: 3-30-6 Nishi-Ikebukuro, Toshima-ku, Tokyo
Opening Hours: 12:00-22:00
No Fixed Holidays

Official Website: https://www.hanabar.tokyo/

Kaori's Easy Recipe: Learn to Make Hello Kitty Strawberry Ice Cream

With just a small bit of ingenuity, turn everyday food into something cute using Kaori's Easy Recipe! With a few simple ideas, an ordinary recipe magically transforms into a cute dish.

Today's recipe will show you how to make a simple ice cream made with frozen strawberries and a blender.

Ingredients


500g frozen strawberries (either store bought or self-frozen)

120ml condensed milk

Sliced white chocolate to make Hello Kitty

1.


Defrost around 3/10 of the frozen strawberries until they are more soft than frozen, allowing them to be blended more easily.

2.


Throw the defrosted strawberries into a blender along with the condensed milk and blend.

3.


Place the blended mix into a ziplock bag and place into the freezer. After about an hour, massage the mix while it's still inside the bag. Repeat this whole process 2-3 times. Doing this will make the ice cream tastier.

Once fully set, place into a serving cup of your choice, use sliced white chocolate to make your chocolate Hello Kitty, and serve!

Kaori invites you into her world of character-themed food dishes in her recipe series. Be sure to check out her Instagram where she has uploaded many pictures of her character dishes!

Kaori Kubota (@kaopan27)

I live in Hokkaido and I love to make character themed foods, desserts and pastries♡

I want to see my family smile, so I enjoy putting in a bit of effort to make character foods and changing food into something cute♡

You can see more of my character foods and character bento boxes on my Instagram page → @kaopan72

Make Your Own Mister Donut Treats at Home With These Simple Recipes

Mister Donut Japan is releasing recipes over on its official website on August 7 which will show you how to make three of their popular doughnuts. The simple recipes are twists on the "Honey Dip," "Old Fashioned," and "Pon de Ring" doughnuts.

The doughnuts can be whipped up for breakfast, as a daytime snack or an evening treat, so customers can enjoy the taste of Mister Donut from the comfort of their own home.

The "Morning Ring Toast" recipe is the perfect wake-up treat made with honey dip, eggs, and ham, all of which complement each other deliciously.

"Old Fashioned Parfait" combines the irresistible crunchiness of the Old Fashioned doughnut with ice cream to create a real summertime dessert.

Finally, "Pon de Agedashi" is an indulgence for after dinner, bringing together Pon de Ring doughnuts with grated daikon radish. It's a great snack to have with an evening drink.

Mister Donut Japan will release the recipe as well as a how-to-make video over on their official website this Friday, so be sure to try making your own at home.

Information

Recipe
Official Website: https://www.misterdonut.jp/enjoy/recipe/
*Photos are for illustrative purposes only
*Please store the doughnuts in a cool environment. Eat quickly after you have made them.
*Adjust the cooking time while keeping an eye on the microwave or toaster oven

Universal Studios Japan to Release Snoopy, Elmo and Other Cute Character Face Masks

In an effort to ensure the safety and protect the health of guests and staff, Universal Studios Japan (USJ) introduced strict measures to prevent the spread of COVID-19 on June 8, 2020, such as limiting the number of people who could enter the park each day and enforcing thorough cleaning routines. This enabled the park to reopen after its temporary closure. It has since been able to deliver its scope of fun and excitement to guests, albeit in a more structured way.

USJ wants to make wearing masks more fun too, and so it is releasing a range of character-inspired face masks, such as Snoopy, Elmo and the Cookie Monster, on August 7. Part of the money made from sales of these masks will be donated to the USJ Wonder Kids Program which helps support children in need.

Universal Studios Japan original design masks

The masks' unique designs take the mouths of each character. These can be worn together with each respective characters' headband which are also sold at USJ. Designs include Elmo, Cookie Monster, Snoopy, Tim, Jurassic Park, and Jaws.

Photos provided by Universal Studios Japan.
HARRY POTTER characters, names and related indicia are © & ™ Warner Bros. Entertainment Inc. Harry Potter Publishing Rights © JKR. (s20)
Minions and all related elements and indicia TM & © 2020 Universal Studios. All rights reserved.
TM & © 2020 Universal Studios.
© 2020 Peanuts
© '76, '20 SANRIO
© 2020 Sesame Workshop
TM & © Universal Studios & Amblin Entertainment
TM & © Universal Studios.
TM Universal Studios.

Information

Universal Studios Japan Original Design Face Masks
Release Date: August 7, 2020
Price: Single Mask – ¥900 (Tax Included) / Set of Two – ¥1,500 (Tax Included)

Universal Studios Japan Official Website: https://www.usj.co.jp/

Chawanmushi Recipe: Savoury Dessert Made With Carrots, Cream Cheese & Mirin

Together with soy sauce and miso, mirin is a fundamental condiment in the Japanese kitchen and for many recipes for Japanese food. It's a sweet rice wine that has lower alcohol content and higher sugar content when compared to sake, adding a sweet flavour to dishes.

Today, we're taking a look at a recipe that uses "Mikawa Mirin," a brand of mirin made from high quality rice, to make carrot and cream cheese chawanmushi. Chawanmushi is a savoury egg custard dessert eaten in Japan.

Carrot & Cream Cheese Chawanmushi

Chawanmushi is made using mirin and has a smooth texture to it as well as a subtly sweet flavour. It's the perfect accompaniment to a hot summer's day.

Ingredients (Serves 1)


●Chawanmushi
60g carrots
240ml dashi
20ml soy sauce
120ml Mikawa Mirin
8g sugar
18g cream cheese
1 egg

●Okra-an
Okra
30ml dashi
0.5g salt
3ml Mikawa Mirin

Method

We will start by making the chawanmushi.

1. Slice the carrots and boil them until they become soft.

2. Add the soy sauce, sugar, and lots of mirin and cook through the dashi.

3. Cook for approximately 20 minutes on a medium heat, then cool with ice. Add the cooled carrots, cream cheese, and 20ml of the dashi into a blender and bend.

4. Add the egg to the mix and steam the mix for 12 minutes on a medium heat.

While the chawanmushi is cooling, we'll make the okra-an.

5. Mix together the okra-an dashi, mirin, and salt together. Add watered potato starch and thinly sliced okra. Leave to cool in the refrigerator.

6. Add the okra-an to the cooled chawanmushi and tuck into your cute two-layered dessert.

Carrot & Cream Cheese Chawanmushi

The dessert is an enjoyable mix of the sticky texture from the okra-an and smooth chawanmushi. It's great to have not only at lunch or dinner, but at home parties with friends too.

–How's the taste?


Misa Kimura: "It works really well with the mirin. The chawanmushi is like a sweet treat. It's super easy to make too, so I think I'll be making it at home!"

Mirin is indispensable to any Japanese cupboard and can be used in many ways, whether it be a classic Japanese dish or a dessert like this one.

Mikawa Mirin 700ml: ¥1,122 (Tax Included)

This authentic brand of mirin is made using a traditional method of Japanese brewing which blends in the delicious taste of rice. It's so delicious that you just want to drink the whole bottle. A high quality mirin, it has a distinct sweetness, colour, and texture. It has a rich flavour, and the taste of the rice elevates the flavours of its ingredients.

Mikawa Mirin Official Website: http://www.mikawamirin.jp/
Official Online Store: http://mikawamirin.jp/product/product_step1.php?m=n
Official Facebook: https://www.facebook.com/mikawamirin

Recipe


This recipe was conceived by ITEMAE, a famous restaurant serving Japanese cuisine that is listed in the Michelin Guide.

Model: Misa Kimura
Photographer: Haruka Yamamoto

Information

ITEMAE
Address: 10-14 Kamiyamachō, Shibuya, Tokyo
Opening Hours: Lunch 11:30-15:00 (Weekdays Only) / Dinner 18:00-23:30
Closed: Sundays / New Year's Holiday
TEL: 050-5595-4795

4 Must-Try Colourful & Kawaii Cream Sodas in Kyoto

The rainy season in Japan, known as Tsuyu, is finally coming to a close, which means the real summer is right around the corner. And what better way to stay cool in Japan during the summertime than with a glass of coo, refreshing cream soda?

We've compiled a list of 4 must-try cream sodas in Kyoto recommended by Tiara on Instagram, who posts photos on her Instagram of drinks and desserts she tries around the Kanto region of Japan, and who has kindly provided us with photos on this occasion too.

and C Kyoto | Kita-ku

Yellow Cream Soda / White Cream Soda / Red Cream Soda / Blue Cream Soda

and C Kyoto is a stylish bar, cafe, and second hand clothes store located right by Hirano Shrine. They serve four different colours of their cream soda which look super cute when lined up in a row.

and C Kyoto
Address: 30 Hirano Kamihatchōyanagichō, Kita-ku, Kyoto
Opening Hours: 12:00-23:00
Closed: Tuesdays
Instagram: https://www.instagram.com/andc102/

BABBI GELATERIA KYOTO | Gion Shijo

Mango Passion / Classic Blue / Amaou Strawberry

BABBI GELATERIA KYOTO is located along the Kamo River and is famous for its gelato. They also sell some super refreshing cream sodas topped with their tasty gelato.

BABBI GELATERIA KYOTO
Address: 134 Saitocho, Shimogyo Ward, Kyoto
Opening Hours: 13:00-20:00 (Temporary hours due to COVID-19)
TEL: 075-585-5200
Official Website: http://www.babbi.co.jp/showcase/gelateria-kyoto/

Kissa Zou | Imadegawa

Pudding a la Mode / Lemon Squash & Elephant Cookie

This cute cream soda comes with an elephant-shaped cookie. The custard pudding has a rich eggy flavour.

Kissa Zou
Address: 440-3 Santeichō, Kamigyō-ku, Kyoto
Opening Hours: 10:00-18:00 (Last Orders 17:00)
No Fixed Holidays
Instagram: https://www.instagram.com/kissa_zou/

Bread, Espresso & Arashiyama Garden | Arashiyama

Cherry Blossom Cream Soda

This old cafe is renovated from an old family estate which was built at the end of the Edo Period and is designated as a cultural property of Kyoto. This beautiful cafe coincides with the gardens and has gorgeous thatched roofing.

Bread, Espresso & Arashiyama Garden
Address: 45-15 Sagatenryuji Susukinobabacho, Ukyo Ward, Kyoto
Opening Hours: 10:00-18:00 (Last Orders 17:00)
TEL 075-432-7940
Official Website: https://bread-espresso.jp

Tiara has lots of other delicious dessert recommendations over on her Instagram, so be sure to follow her if you're travelling in the Kansai region and are in need of a sweet treat.

Original Text & Photo: @happy_pinkrose_tiara

Translation: Joshua Kitosi-Isanga

*The information about the items on this list are correct at the time of publishing. For the latest information, please visit each cafe's official websites and social media pages.

Flower Miffy Juice Garden Asakusa Now Open and Serving Adorable Drinks

The new "Flower Miffy Juice Garden" opened as a permanent addition to Flower Miffy Asakusa on July 21, 2020. Flower Miffy is a Miffy-themed flower and merchandise shop.

Colourful Jelly Soda – Gerbera/Tulip/Sunflower/Lavender: ¥580 Each (Before Tax)

Four new Miffy drinks are being served for the opening of Flower Miffy Juice Garden. Each is a soda beverage is filled with colourful jelly, elderflower syrup made from real flowers, and a soft, bouncy kind of jelly. Each drink itself looks like a colourful bouquet.

Miffy Cream Soda: ¥680 (Before Tax)

Flower Miffy Juice Garden will also introduce the "Miffy Cream Soda" on Saturday August 1 which is a colourful jelly soda topped with ice cream, a Miffy wafer, and flower-shaped chocolate.

Lemonade: ¥480 (Before Tax)


Apple Juice: ¥480 (Before Tax)

Other available drinks include sweet and sour lemonade made using lemons grown in the Seto Inland Sea, 100% apple juice, and other cute delights.

Information

Flower Miffy Juice Garden Asakusa
Address: Aiso Bldg. 1F, 2-19-7 Kaminarimon, Taito-ku, TOkyo

Opening Hours: [Weekdays] 11:30-18:00 / [Weekends & Holidays] 10:30-18:00

Official Website: https://www.benelic-flower.com/
*Please note that the opening hours of Flower Miffy Asakusa and Juice Garden Asakusa are different

Houjicha Milk Tea and Genmaicha Milk Tea Made With Japanese Tea Leaves Serving at Gong cha

Gong cha's limited-time "Houjicha Milk Tea" and "Genmaicha Milk Tea" beverages are popular each year, and they returned once again on June 17.

Japanese Tea

Gong cha's menu item "Japanese Tea" was released in 2018 exclusively for Japan, and is enjoyed every year during its annual limited-time run. Made using tea leaves from Japan, its authentic taste and aroma has people begging for more when the year's run is up.

2 Flavours This Year

Houjicha Milk Tea (Regular Size: ¥470) / Recommended Topping: Milk Foam (+¥70) | Serving: From June 17, 2020 for a limited time

The Houjicha Milk Tea is the iconic drink of Gong cha's "Japanese Tea" series. It's a blend the best high quality houjicha and kukicha tea leaves, both of which are grown in Shizuoka Prefecture. Roasting and using them together gives a sweet and deeply rich aroma. Add milk foam as a topping and you've got yourself a rich milk tea.

Genmaicha Milk Tea (Regular Size: ¥470) / Recommended Tapioca (+¥70) | Serving: From June 17, 2020 for a limited time

The Genmaicha Milk Tea is an original blend of Japanese genmai rice and tea leaves from Shizuoka Prefecture. This milk tea keeps the original delicious flavour of the tea and wafts a fragrant rice aroma.