The park which has beautiful cherry trees and Alps of Japan in the background
There is the castle town called "Takato" located in Ina city which is in the middle of south Alps and central Alps of Japan; the southern part of Nagano prefecture. In April, Takato-kohigan-Sakura (Cerasus subhirtella) in Tokato-joshi park will be full-bloomed. It is going to be a wonderful scenery of beautiful pink flowers and alps that still has snow on the top of the mountains in the background. The festival called "Shinshu Ina Takato Sakura Matsuri in 2017" is going to be held from April 1st to 30th, which is the best season for those beautiful flowers.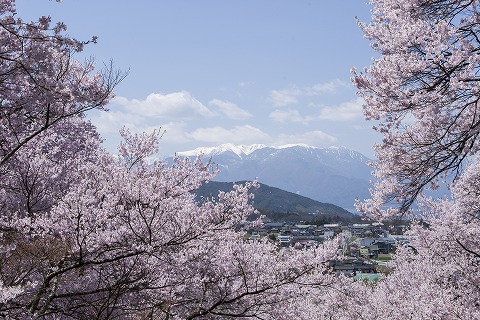 There are about 1500 numbers of trees that are from about 60 to 140 years old in Takato-Joshi Park. If it is an older tree, the colors of flowers tend to be darker. This area, called Inadani, has a high rate of sunny days during the year, and this helps to make the colors of flowers get deeper. Takato-Higan-Sakura (Cerasus subhirtella) has relatively smaller and stronger pink color than Somei Yoshino (Prunus yedoensis) which is the typical kind of cherry blossom tree's that most people think of. That's why the scenery of full-bloomed flowers in Takato-Joshi park is beautiful and different. There is the bridge called "Ouunkyo" in the park. You should compare the view from both of on top and under the bridge. I would recommend to enjoy the view close from the bridge.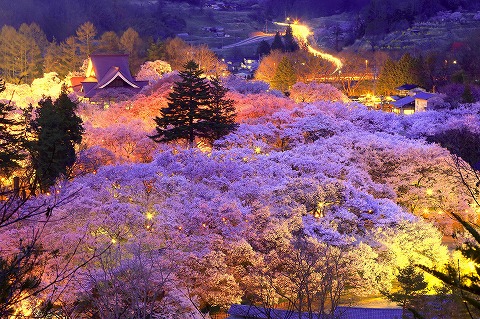 You can experience riding in an air balloon that has Arukuma's picture, which is the Nagano prefecture's local character on it for the first time this year. It is a rare chance to see cherry blossoms spreading like a rug on the ground, so you shouldn't miss it. From April 5th to 7th, and from the 10th to the 14th, you can start riding the air balloon at the parking lot in Takato-joshi Park. The ticket office is open from 8:00 to 8:30AM, and the ticket will be only sold on that day. It will be about a five hour ride. It will be 2400 yen for over 12 years old, 1800yen for 6 to 11year's old, 500yen for 2 to 5 year's old. Under 11 year's old must be accompanied by an adult. It might be canceled due to the weather.
Ina city, Nagano prefecture is full of attractions especially in spring. You should visit there to enjoy seeing the spring.
■Information
Event Schedule:From April 1st to 30th in 2017
Hours:8:00AM to 5:00PM
*The light-up event starts April 2nd till the flowers fall. The light-up start from sunset to 10:00PM.
Admission:500yen for general
250yen for elementary and middle schooler
This only charge you after an official announcement that the cherry trees are in bloom till the flower fall.
Parking ticket:700yen for general
200yen for motorcycle or scooter
Access:
25 minutes' bus ride from JR Iida line, Ina-shi station, get off the Takato station bus stop, and walk about 15 minutes to get to the Takato-Joshi Park.
About 50 minutes' drive on Route 152 from Chuo Expressway, Suwa Interchange, or about 30 minutes' drive on Route 361 from Chuo Expressway, Ina Interchange.
Call for inquiries:Ina city tourism Assosiation TEL.0265-78-4111 (Ina city Office)
−−−
■Related article:Amazing Views! 4 Sakura Viewing Spots In the Kanto Region
■Related article:Surround yourself with cherry blossoms at the digital art "Nihonbashi Sakura Festival"
RELATED ENTRIES
Hypnosis Mic -Division Rap Battle- Event Heads to Nagoya and Osaka after Successful Tokyo Run

In 2021, the Hypnosis Mic -Division Rap Battle- Hypnosis Flava event was held at Mixalive Tokyo, attracting tons of attention and making fans of the franchise extremely happy. Now, the event will travel to Nagoya and Osaka!

Hypnosis Flava -The Missing Case-

CAFÉ  Hypnosis Flava

Food

Hypnosis Flava 〜 Rap Roll Buster Bros!!! (Curry-flavored Chicken)/ MAD TRIGGER CREW(Meatball)/Fling Posse(Meat Tacos)/Matenrou(Grilled Salmon)/Dotsuitare Hompo(Yakisoba with Mayo)/Bad Ass Temple (Miso Katsu)

Dessert

Hypnosis Flava -Division Rap Battle-
Hypnosis Flava 〜 Mille Crepe Buster Bros!!! / MAD TRIGGER CREW / Fling Posse /Matenrou / Dotsuitare Hompo /Bad Ass Temple〜

Drink

Hypnosis Mic -Division Rap Battle-
Hypnosis Flava ~ Jelly Soda Drink Buster Bros!!! / MAD TRIGGER CREW / Fling Posse/ Matenrou / Dotsuitare Hompo /Bad Ass Temple

Menu Order Bonus

Coaster (36 varieties)

Cafe Merchandise Corner

Sticker Set /Clear Photo Card/Square Pin Hypnosis Flava Ver.2(6 varieties) / Acrylic Block Keychain Hypnosis Flava Ver. (18 varieties) / Candy and Magnet, Hypnosis Flava Ver. (6 varieties) / Handkerchief Hypnosis Flava Ver. (1 variety)

Store

2nd D.R.B Winner: Commemorative Acrylic Smartphone Stand (Fling Posse) / Acrylic Panel (Division Leaders) /2nd D.R.B Postcard Collection

T-Shirt /Hoodie Hypnosis Flava Ver.

The event contains three events: Hypnosis Flava -The Missing Case-, an interactive riddle-solving attraction that challenges guests to solve a mission to find the missing Division team leader, Cafe Hypnosis Flava, offering food and drinks inspired by the world of Hypnosis Mic, and Store Hypnosis Flava, a shop selling exclusive merchandise featuring newly-drawn illustrations. A merchandise corner will be set up at the cafe, where six new items will be on sale to commemorate the Nagoya and Osaka events.

©︎ヒプノシスマイク-Division Rap Battle- HypnosisFlava@Mixalive TOKYO製作委員会

Information

Hypnosis Mic -Division Rap Battle- Hypnosis Flava @ Mixalive TOKYO in NAGOYA & OSAKA

●Nagoya Event
The Missing Case

Running: April 28 – May 22, 2022 (11:00-20:00)

Venue: Nagoya PARCO South Building 9F Event Space


Cafe

Running: April 28 – June 6, 2022 (11:00-20:00) *Last food order 19:00 / Last drink order 19:30

Address: Nagoya PARCO South Building 8F THE GUEST cafe&diner

Store

Running: April 28 – May 22 (11:00-20:00)

Address: Nagoya PARCO South Building 9F Event Space

●Osaka Event
The Missing Case

Running: July 1 – July 31, 2022

Venue: Shinsaibashi Opa Main Building 6F Event Space

Admission: ¥2,100 (Tax Included)

Cafe

Running: July 1 – August 7, 2022

Venue: Shinsaibashi PARCO 6F THE GUEST cafe&diner

Reservation Deposit: ¥300 (Tax Included)


Store
Running: July 1 – July 31, 2022

Venue: Shinsaibashi Opa Main Building 6F Event Space

Admission: Free

Tickets/Official Site: https://art.parco.jp


NAKED's Popular Sakura Artwork Transformed into Company's First NFT

The NFT platform 'Adam by GMO' will offer the creative company NAKED's first piece of NFT art. Sakura Ousai has been featured in the hands-on art exhibition NAKED FLOWERS held in Nihonbashi, Nijo Castle, Hong Kong, and Korea. The NFT will be available in late March and a portion of the proceeds will be donated to support Ukraine.

Since its establishment in 1997, NAKED has constantly produced incredibly unique art installations to fit with the times. Starting with the projection mapping of Tokyo Station in 2012, the company has created unprecedented art and entertainment experiences by combining real space with virtual experiences. The current theme is 'borderless creativity,' and creating NFT art fits into this vision.


NAKED FLOWERS, one of NAKED's signature events, has been held since the New Year 2016. The NAKED FLOWERS experience has now been converted into a piece of NFT art for the first time, and buyers can enjoy these cherry blossoms no matter their location!

McDonald's Japan Offering Sakura Mochi Pie to Celebrate Springtime

McDonald's Japan will start selling the new Sakura Mochi Pie starting March 23, 2022 for a limited time only.

The new pie is inspired by sakura mochi, a traditional wagashi sweet popular during spring. 

Sakura mochi is typically made from mochi rice cakes filled with a sweet red bean paste and wrapped in a pickled cherry blossom leaf. The McDonald's pie is filled with azuki red bean paste and a chewy, sakura-flavored mochi that features bits of pickled sakura leaves.


The packaging will also feature spring designs and each pie costs just ¥150. They will be available until mid-April. 

Sanrio Puroland Opens Easter Event with Oldies Flare

Tokyo's Sanrio Puroland has begun its annual Easter celebration! The oldies-themed Puro Easter event will run until July 5, 2022.

This year marks the third Puro Easter event, and the annual stage show has been revamped for 2022! 'Egg 'n' Roll Easter! -BLAST' will be performed in the Entertainment Hall on the first floor of the park. Fans of My Melody and Kuromi won't want to miss out, as the popular characters will appear in brand new costumes.

Egg 'n' Roll Easter! -BLAST-

Limited-Time Easter Photo Spot

Easter Egg Hunt Mini-Game

Puroland Special Easter Greeting

Food & Dessert Menu

Original Easter Goods

An Easter-themed photo spot is located at the entrance to the 3rd floor with pop and retro style. Fans can participate in an Easter Egg Hunt mini-game, scavenging around Puro Village searching for eggs and collecting keywords to unlock an original video. Don't miss out on new food and merchandise during the event period, with colorful curries and pasta perfect for filling hungry tummies. 

 

The 1st-floor Event Corner will also allow guests to interact with characters dressed in Easter costumes. Staff will be dressed in Easter outfits!

© 2022 SANRIO CO., LTD. TOKYO, JAPAN  著作 株式会社サンリオ

Information

Puro Easter
Running: March 11 – July 5, 2022

Tokyo Flower Carpet 2022 to Decorate Gyoko-Dori Avenue with 50,000 Flowers

The Flower Painting Culture Association of Japan will hold the Tokyo Flower Carpet 2022 event on Gyoko-Dori Avenue in Marunouchi from March 19 until March 21, 2022. Over 50,000 carnations will cover the street like an otherworldly carpet, forming images of popular Kabuki actors from the Edo Period. Yasuhiko Fujikawa, a well-known flower artist who created this flower Kabuki concept, will supervise the event.

With help from 200 local volunteers, five giant flower paintings measuring 6m x 8m will be created for the event. The theme is 'Tokyo Restart,' with organizers hoping to inspire residents to experience new things and find new hope as we move past the effects of the pandemic. 

The flowers used in the event will be recycled and reborn as 'flower sketchbooks' made of recycled paper. These will be donated to special-needs schools in Tokyo to support art education for children with disabilities. Since 2018, 8,000 sketchbooks have been donated to 57 schools in the city. 

Her Imperial Highness Princess Tomohito of Mikasa will be in attendance. 

Information

TOKYO FLOWER CARPET 2022

Running: March 19 – March 21, 2022

*Setup running from 9:00-15:00 on March 19

Location: Gyoko-Dori Avenue (Marunouchi 1, Chiyoda-ku)

Official Site: https://www.infiorata88.com/tokyoflowercarpet

NAKED FLOWERS 2022 Cherry Blossom Event Comes to Nijo Castle, Proceeds Support Kyoto's Sister City Kiev

NAKED will open a new cherry blossom-inspired outdoor light-up event at Nijo Castle in Kyoto from March 18 until April 17, 2022!

This will be the first time that NAKED FLOWERS will come to Nijo Castle. Along with projection mapping on the Karamon Gate, the largest-ever projection mapping of cherry blossoms will cover the entire 140-meter-long stone wall on the east side of the inner moat.

The event will also invite guests to participate in the 'Your Cherry Blossom' test, which will tell you what variety of cherry blossom matches your personality. Holding the NAKED Distanced Lanterns, visitors can wander the grounds with illuminated cherry blossoms at their feet. In the garden area, when the lanterns are held over a certain spot, their colors will change!

The DANDELION PROJECT will also be a part of the event. Inspired by the idea of world peace and hopes to help transcend barriers and connect people in an increasingly divided world. This networked initiative wants to bring this change about by planting (or installing) dandelion-inspired art around the world, while it invites people visiting these dandelion exhibits to send their prayers for peace as a digital flower in real-time. 

 

A tree-planting fund will be raising money on-site, with some of the proceeds being donated to the Executive Community of the 50th Anniversary of the Kyoto-Kiev Sister City Association to help support the city of Kiev.

Information

NAKED FLOWERS 2022 Sakura Event at Nijo Castle World Heritage Site
Location: Nijo Castle Imperial Villa
Running: March 18 – April 17, 2022
Hours: 18:00-21:00 (Grounds close at 22:00)

Tickets / Official Site: https://flowers.naked.works/nijojo/

Limited Edition Flower Miffy Goods Featuring a Cherry Blossom Theme Now on Sale

Flower Miffy, a flower shop inspired by the popular Dutch picture book Miffy, has begun selling a new series of cherry blossom-inspired items! A limited number of postcard sets are also being offered as purchase bonuses. 

Flower Miffy Glass – Sakura Gradient Pink / Pearl: ¥1,595 (Tax Included)

Flower Miffy Sakura Plate: ¥2,090 (Tax Included)

Flower Miffy Mini Towel – Sakura Pink / Ivory: ¥770 each (Tax Included)

The series features original artwork, and fans of Miffy can get their hands on unique glassware, cherry blossom plates, and mini-towels. 

Those spending ¥3,300 (including tax) or more will receive a set of two limited edition postcards. The offer will end as soon as they're gone!

*Offer does not apply to flower arrangements.

Illustrations Dick Bruna Ⓒ copyright Mercis bv,1953-2022 www.miffy.com

Information

Cherry Blossom Series

Release Date: February 10, 2022

Where to Buy: Flower Miffy Shops Nationwide, Flower Miffy Online Shop

Official Site: https://benelic.com/flowermiffy/

Q-pot CAFE Introduces Cherry Blossom Inspired Seasonal Menu

To celebrate the arrival of spring, Q-pot Cafe is introducing a cherry blossom-themed menu for a limited time!

Cherry Blossom Romantic Dress Cake  Plate with Drink: ¥2,100 (Tax Included)

Enjoy this pink cherry blossom mousse and pure white whipped cream to celebrate the end of the gloomy winter season.

Rich pistachio mousse, strawberry pulp, fragrant almonds, and fluffy genoise come together in a scrumptious melt-in-your-mouth explosion of flavor.

Romantic Berry Blossom Tea: ¥850 (Tax Included) / Set Menu +¥200 (Tax Included)

A play on Q-pot Cafe's popular Flower Garden tea, the Berry Blossom Tea has a rich cherry blossom aroma with raspberries and milk added. 

Romantic Berry Blossom Tea with Bottle: ¥1,296 (Tax Included)

Take-out drinks in patterned bottles are also available! By bringing the bottle with you, the Berry Blossom Tea will be discounted to ¥750 (tax included). 

Information

2022 Q-pot Cafe Seasonal Menu

Location: Q-pot Cafe Omotesando

Available: March 1 – April 14, 2022

Online Reservations Open

Takashimaya Announces 'Amour du Chocolat' Valentine's Day Event

Takashimaya's yearly 'Amour du Chocolat' Valentine's Day event is known as the 'Festival of Chocolates.'

Bringing together chocolates from around the world, this event is a way to highlight brands being introduced to Japan for the first time along with established favorites. This year's lineup will also feature sustainable chocolates and more luxurious sweets to make 2022 feel more uplifting.

The First Chocolate Brand to Land in Japan

Luna Creation Paris Marble Collection

Yvan Chevalier Chocolate Assortment

Chocolatine Yoann Debray Snowflake & Edelweiss Assortment

Sustainable Chocolate

Toshi Yoroizuka Truffle Banane 

Sils Maria Banana & Chocolate

Bvlgari Il Cioccolato Takashimaya Original Chocolate for Sustainability

MAAHA Flower Chocolate

Ma Priere Giandujas Selection

Message de Rose TOKYO Cone Fleury 2022 

International Chocolates

Charbonnel et Walker Assortment Box for Takashimaya – England

Recchiuti Peanut Butter Confections  / Sepia Box – United States

Vincent Vallee Chocolat Amour / Valentine Selection – France

Bubo Barcelona Chocolate Heart Sculpture – Barcelona

Takashimaya Specials

Takashimaya Limited Edition Jacques Genin Valentine's Heart / Classic Selection

Takashimaya Limited Edition Julien Dechenaud Praline Etoile / Praline Nouveau

Luxury Chocolates

divan Valentine Box


The Peninsula Boutique & Cafe Bear Chocolate

Maison Mont Nord Assortment Box

Valentine's Day at Home

Cacao Sampaka / Cacao Esplette

Crayon Shin-Chan's Sengoku Period Winter Adventure Now Open at Nijigen no Mori Amusement Park

Crayon Shin-Chan's Sengoku Period Adventure, a permanent attraction at the Nijigen no Mori Amusement Park in Hyogo Prefecture, has been transformed for the cold winter months until February 27, 2022!

 

During the event, guests will have to dodge the snow-like bubbles with a 99.9% hit rate as they race towards the finish line. Do you think you could handle it?

Information

Crayon Shin-Chan's Sengoku Period Winter Adventure
Running until February 27, 2022
Location: Nijigen no Mori Amusement Park, Awaji, Hyogo Prefecture

Tickets / Official Site: https://nijigennomori.com

The Prince of Tennis 20th Anniversary Event to Open at Hakata Marui and Shinjuku Marui Annex

The second pop-up store to commemorate the 20th anniversary of The Prince of Tennis anime series will open at both Hakata Marui and Shinjuku Marui Annex!

Acrylic Figure (8 varieties): ¥1,650 (Tax Included)

Pin (Random, Holographic): ¥440 (Tax Included)

SNS-style Acrylic Keychain (8 varieties, random): ¥660 (Tax Included)



Nameplate Keychain (Rudolf & Ginka / Yamabuki): ¥660 (Tax Included)

Star Pin (Rudolf & Ginka / Yamabuki): ¥550 (Tax Included)

Acrylic Stand (Rudolf & Ginka / Yamabuki): ¥660 (Tax Included)

Fans of the series will be able to find merchandise featuring new illustrations of popular characters at both event spaces and online at the Marui Anime Online store.

© 許斐 剛/集英社・NAS・新テニスの王子様プロジェクト

Information

The Prince of Tennis 20th Anniversary OIOI POP UP SHOP

Hakata Marui
Running: January 8 – January 16, 2022
Location: Hakata Marui 5F Event Space
Hours: 10:00-21:00

Shinjuku Marui Annex
Running: January 28 – February 6, 2022
Location: Shinjuku Marui Annex 1F Event Space
Hours: 11:00-20:30 *Closing at 19:00 on February 6

Marui Anime Online
https://animeonline.0101.co.jp/
Order Period: January 8 – February 7 at 5:59
Shipping Begins in Early April 2022


Details: https://www.0101.co.jp/405/info/index.html?contents_id=0320
Official Site: http://tenipuri.jp/

'Dragon Ball Games Battle Hour 2022' Streaming Event to Tease Franchise's Future

Bandai Namco has announced an upcoming global streaming event to highlight both current and upcoming Dragon Ball titles. 'Dragon Ball Games Battle Hour 2022' will take place between February 18 and February 19 in regions around the world. Plenty of updates and announcements will be made during the stream, so you won't want to miss it!

The event was first held in February 2021 and brought together Dragon Ball fans from 23 countries around the world. This second annual event will feature even more popular content and will utilize the latest technology to bring even more excitement to fans of the series.

The world's strongest players will once again be invited to participate in an exciting battle! This year's Games Battle Hour will feature the Dragon Ball FighterZ, the Dragon Ball Super Card Game, and the smartphone title Dragon Ball Legends. Kids can also enjoy the new Super Dragon Ball Heroes digital card game!

On Dragon Ball FighterZ, the World Championship will be held to determine the world's best player among the winners of the Regional Finals, a tournament featuring the top-ranked players from Europe, Japan, and North America. In the Dragon Ball Super Card Game, the winner of the 2021 World Championship will face off against the newest top player. Dragon Ball Legends will also announce a new project. 

A Super Dragon Ball Heroes event will pit six players from Japan against each other, separated into two teams for 3v3 battles. Those who aren't interested in participating in fighting games can also enjoy a trivia competition!

The "DBXV2 Super Fashion Show" will see the top 16 fashion leaders in Dragon Ball Xenoverse 2 showcasing their most creative work. The 'Dragon Ball Art Challenge' will also invite viewers to create their favorite characters using unique mediums like balloons and Rubik's cubes.

The recently revealed multiplayer game, Dragon Ball: The Breakers, will also be part of the event with the game's producer giving an in-depth look and gameplay demonstrations for this upcoming game. 'Dokkan DATA 2022' will look back at the seven years since the launch of Dragon Ball Z Dokkan Battle and will share some data about how players have been playing the game and its exciting history.

Viewers can also take place in a workshop to learn how to best photograph their 'Dragon Stars Series' and 'S.H.Figuarts' action figures. A master of Chinese cooking will also take the stage to recreate dishes from Dragon Ball Z: Kakarot in the special program 'Kakarot Cooking.'


A master sculptor and his protegee will create figures of Goku and Vegeta live during the event as well! Will you be tuning in? 

©BIRD STUDIO/SHUEISHA, TOEI ANIMATION

©バードスタジオ/集英社・東映アニメーション ©BANDAI NAMCO Entertainment Inc.

Information

DRAGON BALL Games Battle Hour 2022
Date and Time: 

JST: February 19, 9:00-14:00 / February 20, 2:00-10:00

PST: February 18, 16:00-21:00 / February 19, 9:00-17:00

EST: February 18, 19:00-0:00 / February 19, 12:00-20:00

CET: February 19, 1:00-6:00 / February 19, 18:00-2:00
※Please note that the end time of the event is subject to change.

Japanese Site: https://dbgbh.bn-ent.net

English Site: https://dbgbh.bn-ent.net/en

*The event will be streamed worldwide (excluding some countries and regions)