The park which has beautiful cherry trees and Alps of Japan in the background
There is the castle town called "Takato" located in Ina city which is in the middle of south Alps and central Alps of Japan; the southern part of Nagano prefecture. In April, Takato-kohigan-Sakura (Cerasus subhirtella) in Tokato-joshi park will be full-bloomed. It is going to be a wonderful scenery of beautiful pink flowers and alps that still has snow on the top of the mountains in the background. The festival called "Shinshu Ina Takato Sakura Matsuri in 2017" is going to be held from April 1st to 30th, which is the best season for those beautiful flowers.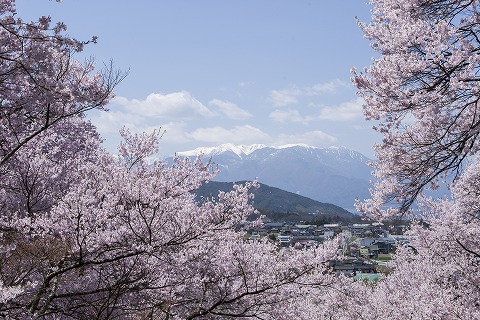 There are about 1500 numbers of trees that are from about 60 to 140 years old in Takato-Joshi Park. If it is an older tree, the colors of flowers tend to be darker. This area, called Inadani, has a high rate of sunny days during the year, and this helps to make the colors of flowers get deeper. Takato-Higan-Sakura (Cerasus subhirtella) has relatively smaller and stronger pink color than Somei Yoshino (Prunus yedoensis) which is the typical kind of cherry blossom tree's that most people think of. That's why the scenery of full-bloomed flowers in Takato-Joshi park is beautiful and different. There is the bridge called "Ouunkyo" in the park. You should compare the view from both of on top and under the bridge. I would recommend to enjoy the view close from the bridge.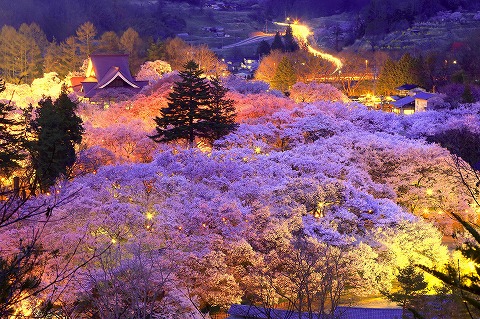 You can experience riding in an air balloon that has Arukuma's picture, which is the Nagano prefecture's local character on it for the first time this year. It is a rare chance to see cherry blossoms spreading like a rug on the ground, so you shouldn't miss it. From April 5th to 7th, and from the 10th to the 14th, you can start riding the air balloon at the parking lot in Takato-joshi Park. The ticket office is open from 8:00 to 8:30AM, and the ticket will be only sold on that day. It will be about a five hour ride. It will be 2400 yen for over 12 years old, 1800yen for 6 to 11year's old, 500yen for 2 to 5 year's old. Under 11 year's old must be accompanied by an adult. It might be canceled due to the weather.
Ina city, Nagano prefecture is full of attractions especially in spring. You should visit there to enjoy seeing the spring.
■Information
Event Schedule:From April 1st to 30th in 2017
Hours:8:00AM to 5:00PM
*The light-up event starts April 2nd till the flowers fall. The light-up start from sunset to 10:00PM.
Admission:500yen for general
250yen for elementary and middle schooler
This only charge you after an official announcement that the cherry trees are in bloom till the flower fall.
Parking ticket:700yen for general
200yen for motorcycle or scooter
Access:
25 minutes' bus ride from JR Iida line, Ina-shi station, get off the Takato station bus stop, and walk about 15 minutes to get to the Takato-Joshi Park.
About 50 minutes' drive on Route 152 from Chuo Expressway, Suwa Interchange, or about 30 minutes' drive on Route 361 from Chuo Expressway, Ina Interchange.
Call for inquiries:Ina city tourism Assosiation TEL.0265-78-4111 (Ina city Office)
−−−
■Related article:Amazing Views! 4 Sakura Viewing Spots In the Kanto Region
■Related article:Surround yourself with cherry blossoms at the digital art "Nihonbashi Sakura Festival"
RELATED ENTRIES
Karuizawa Shiraito Falls Midwinter Light Up Arrives For 2020-2021

Shiraito Highland Way has announced that this year's Karuizawa Shiraito Falls Midwinter Light Up will run from December 19, 2020 to February 14, 2021.

The illumination event will take place at Karuizawa Shiraito Falls, a 3-meter tall waterfall that spans 70-meters in length. The lights will add a warmth to the cool evening and glow under a starry night sky.

The event creates a different atmosphere from the summer light-up, allowing visitors to enjoy the enveloping nature in a way that they normally can't and see beauty they may not have noticed in the area before. The waterfall is located in Jōshin'etsu-kōgen National Park, a protected area which means the lights will be set up in a way that's considerate to the park.

If you're in Japan this winter then don't miss out on this year's Karuizawa Shiraito Falls Midwinter Light Up which will be split into three sessions: the Christmas Session, New Year Session, and St. Valentine Session. More details below.

Information

Karuizawa Shiraito Falls Midwinter Light Up
Location: Karuizawa Shiraito Falls
Running: December 19, 2020 – February 14, 2021
・Christmas Session: December 19th-20th, 24th-27th (17:00-19:00)
・New Year Session: January 2nd-3rd,  8th-11th (17:00-19:00)
・St.Valentine Session: February 11th-14th (17:30-19:30)

Access: https://karuizawa-shw.com/access/
*Please see the website for the latest information

*Entry restrictions may be made depending on the number of visitors

Official Website: https://karuizawa-shw.com/

Enjoy the Beautiful Taste of Kyoto at Isetan Shinjuku in Tokyo

Isetan Shinjuku has announced a special event dedicated to promoting the beautiful taste of Tokyo. Set to begin on December 2, the event will see both traditional and newer restaurants from Kyoto come together to serve up Kyoto-style cuisine to the people of Tokyo from oldies like sushi to dango to more modern dishes like okonomiyaki and katsu sandwiches. Visitors will also be able to watch real chefs from Kyoto at work.

Hi-Lite Shokudo's "Hi-Lite Katsu Sandwich" | ¥850

Since first opening in 1960, Hi-Lite Shokudo has continued to treasure the taste of home cooking and has continued to evolve that taste over the years to cater to each generation. Its famous katsu sandwich is made with a secret sauce that has kept it unbeaten against other popular eateries in Kyoto, and they've upped the taste for this event.

Kotoka's "Mitarashi-dango" | ¥864 (6 Sticks) 

These dango are made fresh in front of customers and are doused in a rich secret sauce. Their chewy texture is irresistible.

Izuu's Mackerel and Tilefish Assortment | ¥4,455 (3 of each per person)

Izuu is an iconic sushi restaurant in Kyoto that was first established in 1781. This assortment is made with chub mackerel from coastal waters, esumai rice from Shiga Prefecture, and kombu from Hokkaido.。

Yumeya's Fuwafuwa Okonomiyaki | ¥801 (1 portion)

Many people living outside of Kyoto search for the okonomiyaki flavour served by Yumeya. It's made fresh, fluffy, and is topped with lots of ingredients.

Daitokuji Saiki-ya's "Dashimaki Tamago" | ¥648 (1 portion)

Daitokuji Saiki-ya is a specialty store in Kyoto catered food in business for 1933 years. It serves Kyoto-style dashimaki tamago as well as lots of other delicious food that captures the taste of Kyoto.

Gifts Galore as Roppongi Hills Welcomes the Christmas Market Again For 2020

Christmas has sleighed into Roppongi Hills again this year, beginning with the Keyakizaka-dori Illuminations on November 13. The Christmas Market is also set to return to Oyane Plaza on November 28.

2020 marks the 14th run of the Roppongi Hills Christmas market which is inspired by the the famous Stuttgart Christmas Market in Germany. Visitors can sift through around 1,500 miscellaneous Christmas goods, enjoy German mulled wine and sausages, and more.

At the West Walk, visitors will also find an enormous 6.5m tall Christmas tree to complement the warm, cosy, festive atmosphere of the holiday season event.

Information

Roppongi Hills Christmas 2020
Running: November 13, 2020 – December 25, 2020
Location: Roppongi Hills (Keyakizaka-dori, West Walk Floor 2F, Oyane Plaza, and elsewhere)

Christmas Market 2020
Running: November 28, 2020 – December 25, 2020
Times: 11:00-21:00
Location: Oyane Plaza
Roppongi Hills Official Website: https://www.roppongihills.com/en/

JUMP Magazine Announces Online Festival For 2021

Shueisha has announced that JUMP magazine's annual festival JUMP Festa is heading online for 'JUMP Festa 2021 ONLINE' which will run from December 19, 2020 to December 20, 2020.

JUMP Festa is a celebration of five manga publications by Shueisha: Weekly Shonen Jump, Shonen Jump+, V Jump, Jump SQ., and Saikyo Jump. This year marks its 22nd run, but due to the COVID-19 pandemic, the event is unable to be held in real life and so will be held online for the first time. To enter, you can download the JUMP Festa app or head on over to the event's official website.

JUMP Festa Island – A Virtual Venue

JUMP Festa Island is where JUMP Festa 2021 ONLINE will take place, a virtual space where visitors can access content related to JUMP-related media from the free-to-access library to the theatre, an online shop, and more. There's also a zoo area, photo spots, and mini games.

Original characters created for JUMP Festa Island

Each of the five magazine publications have had their own original characters drawn for this online event. More details will be revealed about these characters in the coming weeks, but they can run around, pose, and more.

© SHUEISHA Inc. All rights reserved.

Information

JUMP Festa 2021 ONLINE
Running: December 19, 2020 – December 20, 2020

Time: 9:00-17:00
JUMP Festa Official Website: https://www.jumpfesta.com/

US Rapper Dumbfoundead Announces Free Online Music Event 'DOUBLE HAPPINESS Global Holiday Festival'

US rapper Dumbfoundead will spearhead the DOUBLE HAPPINESS Global Holiday Festival, a global online music festival set to stream for free via Eastern Standard Time on December 2 and 3 depending on where you live. The event will welcome performances from top Asian artists.

Over 30 artists will perform across 8 hours. Headliners include music duo NxWorries, eight-member South Korean idol group ATEEZ, K-pop artist CHUNGHA, and others. Atarashii Gakko no Leaders a.k.a. ATARASHII GAKKO! from Japan will also perform.

▼Line-Up

Ardhito Pramono、Atarashii Gakko no Leaders a.k.a. ATARASHII GAKKO!、ATEEZ、Audrey Nuna、AUGUST 08、Balming Tiger、BVNDIT、CHAI、Chi Pu、CHUNG HA、Dumbfoundead、Dvwn、Fern.、Guapdad 4000 、Jason Dhakal、Joey Alexander、Josephine Alexandra、Kiana V、Leila Alcasid、 MADDOX 、Massiah、、Milli、Numcha 、NxWorries 、Pamungkas、RIRI、Seori、Stephanie Poetri・The Resonanz Children's Choir Alumni、warrenisyellow、Wolftyla 、Year of the Ox、Ylona Garcia 、Yuna

The North Face and ANA Holiday Inn Resort Shinano-omachi Kuroyon to Co-Develop Mountain Resort

The North Face is set to collaborate with ANA Holiday Inn Resort Shinano-omachi Kuroyon, which opened in Nagano's city of Omachi in July, to develop a new mountain resort where guests can enjoy outdoor activities. The first part of the collaboration will see activities offered which have been made under the supervision of athletes contracted to The North Face. The activities will make full use of Omachi's gorgeous natural environment which is surrounded by stunning mountains.

The North Face has had a high affiliation with this region for a long time. The brand created an original uniform for the staff that work along Tateyama Kurobe Alpine Route, a 37km mountain sightseeing route. It also opened the outdoor clothing and equipment shop The North Face Gravity in Hakuba.

ANA Holiday Inn Resort Shinano-omachi Kuroyon, too, embraces the outdoors of this region as it sits embedded within the lush natural landscape of Omachi. It hails as one of Japan's best mountain resorts which offers guests the chance a sojourn amongst nature. One of the brand's concepts is cultivating real human communication which it offers through its hospitable service, aiming to increase the number of smiles to those who visit.

The North Face x ANA Holiday Inn Resort Shinano-omachi Kuroyon

The collaboration will see the two companies coming together to serve up a plethora of outdoor activities throughout the year to encourage more families to spend time outside. The hotel will offer equipment that can be used for the activities, and there'll also be workshops for people to create their own items that can also be used. They will also work to increase sustainability with local businesses and groups in Omachi in an effort to revitalise the local region.

Workation Plan

The hotel is also offering a workation plan for guests to get away from the hustle and bustle of the busy city to work somewhere more quiet and peaceful. The plan takes into account well-being and is a way for people to up their creativity and motivation. Guests can work and relax at the same time with Wi-Fi and electrical outlets available as well as off-work treats like the open-air baths, spa, gym, and more. The hotel will also offer other plans this winter which include snow biking, family skiing, and more.

Harry Potter's 20th Anniversary to be Celebrated at LAZONA Kawasaki Plaza in Japan

Harry Potter and the Philosopher's Stone will turn 20 years old next year, and to celebrate, Warner Bros. Japan is collaborating with the LAZONA Kawasaki Plaza shopping centre to hold an event called "Christmas at LAZONA of Harry Potter Magic World" from November 13, 2020 to December 25, 2020.

The event welcomes the enormous Hogwarts Express installation that was showcased in Singapore in 2018-2019 as well as a special 5-day "Snow Magic" performance and more. Visitors can prepare to be whisked away into a magical world.

The Hogwarts Express and Snow Magic

Take a photo by the 10 meter wide Hogwarts Express train, the village of Hogsmeade, and other locations at the event and feel like you're part of the Harry Potter world.

Christmas at LAZONA of Harry Potter Magic World at LAZONA

Hogwarts Express Train Installation
Running: November 13, 2020 – December 25, 2020

Location: LAZONA Kawasaki Plaza Floor 2F

Snow Magic
Running: November 13, 19-20, 24-25, 202
*Three times a day at 14:00, 16:00, 18:00
Location: LAZONA Kawasaki Plaza Floor 2F

POP UP SHOP

There will also be a pop-up shop selling lots of special Harry Potter merchandise.

Eco Bag (Harry Potter Mini Characters)

Coaster (Harry Potter Mini Characters)

Round Case (HBD HARRY)

Harry Potter Best Goods Collection
Running: November 13, 2020 – November 21, 2020
Location: LAZONA Kawasaki Plaza Floor 2F

Running: November 22, 2020 – January 17, 2021
Location: Plaza West 2F LAZONA

House of MinaLima
Running: December 17, 2020 – December 20, 2020
Location: Plaza East 2F LAZONA

LAZONA Kawasaki Plaza Collaborative Pre-Sale Merchandie

Fans can get their hands on pre-sales of exclusive LAZONA x Harry Potter merchandise.

axes femme Skirt

AZUL BY MOUSSY Top

FREDY & GLOSTER Bag

Original Eco Bag (1 per person / while supplies last)

Customers who buy any of these collaborative items will receive an original eco bag.

A variety of events will also be held at LAZONA.

Panel Exhibition
Panels from the Harry Potter franchise will be displayed to further pull fans into the wizarding world.

Running: November 13, 2020 – December 25, 2020

Location: LAZONA Kawasaki Plaza Floor 2F

HMV

Harry Potter characters, names and related indicia are trademarks of and ©Warner Bros. Entertainment Inc. Harry Potter Publishing Rights © J.K.R.​© 2020 Warner Bros. Entertainment Inc. All rights reserved.WIZARDING WORLD and all related characters and elements are trademarks of and © Warner Bros. Entertainment Inc.Wizarding WorldTM Publishing Rights © J.K. Rowling. © 2020 Warner Bros. Entertainment Inc. All rights reserved.

HMV at LAZONA will be selling all of the Harry Potter films as well as Fantastic Beasts on DVD and Blu-ray. A great opportunity for fans who have yet to complete their full collection.

Maruzen Harry Potter Fair

Maruzen will host a Harry Potter fair with reading material, Christmas presents, and more from across the Harry Potter and Fantastic Beasts franchises.

Running: From November 13, 2020

Location: Maruzen, LAZONA Kawasaki Plaza Floor 1F

The Best Place to Gaze On Japan's Night Sky: Sky Paradise Sea of Clouds Harbor in Nagano

This autumn, the Star Village Association in Achi, Nagano is hosting the special limited-time event "Sky Paradise Sea of Clouds Harbour" from October 25 to November 23 which offers one of the best views of Japan's starry sky and the sea of clouds of the far-off southern alps.

The site is located at Ropeway Heavens Sonohara in Fujimidai Highland, surrounded by the bountiful nature of Nagano Prefecture. The 15-minute gondola ride is 2,500 meters long and takes you up to the observation deck 1,600m above sea level. Your prize is a view of the sea of clouds which stretches to the distant southern alps of Japan – truly is a sky paradise.

The other prize is the starry night sky. This spot placed first in the Ministry of the Environment's list of the best places to see Japan's night sky. From here, one can watch the sky of twinkling lights change to warm morning light. During October, the trees and verdure below are dyed in the colours of autumn, and when November rolls around you can spot the snow-capped peaks of the southern alps.

Information

Sky Paradise Sea of Clouds Harbor (Japanese Name: 天空の楽園 雲海Harbor)

Running: October 25, 2020 – November 23, 2020

Gondola: Ascension 5:30-7:00 / Descent until 16:30

Observation Deck Lift Operating Times: 5:45-16:00

Location: Ropeway Heavens Sonohara in Fujimidai Highland

Address: 3731-4 Chisato, Achi, Shimoina-gun, Nagano

Price: Adults ¥3,600 / Children ¥1,800 / Infants – Free

Official Website: http://sva.jp

Ra Casta Natural Healing Garden: Heal Your Mind, Body and Soul in Nagano While Staying Safe From COVID-19

Ra Casta Natural Healing Garden in Omachi, Nagano, is open for business throughout Japan's Obon season and is taking mandatory bookings to ensure visitors' protection from COVID-19 while following precautions against the Three Cs as laid out by the World Health Organization—crowded places, close-contact settings, and confined and enclosed spaces.

Ra Casta Natural Healing Garden is exactly what it says on the tin. It's a place that embraces beauty and healing while incorporating La CASTA's brand concept of "the life force of plants and healing." Guests are invited to use all five of their senses to relish the natural wonder of the garden, with its abundance of plants and trees and natural waterfall which flows from the northern alps.

The garden has its own "Healing Cafe" too which is an open-style cafe, allowing diners to enjoy the gift of nature throughout the seasons while enjoying a drink or dessert. A must-try during summer is their "Herb Cordial Lime & Lemongrass," a refreshing herb soda that enjoy the sour citrus flavour of lime and the taste of lemongrass. There's also the "Chamomile Milk" gelato ice cream.

The garden also has its own aromatherapy workshop inside the La CASTA Factory where visitors can make their own blends of oils using different products and scents.

What better way to de-stress during these turbulent times than getting close with nature in a safe, protected environment?

Information

Ra Casta Natural Healing Garden
Address: 9729-2 Tokiwa, Omachi, Nagano
Opening Hours: 10:00-17:00 (Until 16:00 in October and November)
Closed: Wednesdays

Official site: http://www.alpenrose.co.jp/garden

Creamy Mami Ani-Art Pop Up Shop to Open in Ikebukuro and Shizuoka

Two Creamy Mami themed pop-up shops are set to open in Ikebukuro Marui on September 5 and in Shizuoka Marui on September 19. Fans can expect to get their hands on a range of exclusive and new merchandise themed on the popular anime series Creamy Mami, the Magical Angel, from pin badges and a parker hoodie to tote bags and more.

Pre-Sale Merchandise (Excerpt)

Trading Ani-Art Pin Badge (9 Designs) | Single: ¥430, Box: ¥3,870 (Before Tax)

Trading Ani-Art Acrylic Stands (9 Designs) | Single: ¥800, Box: ¥7,200 (Before Tax)

Back Print Zipper Parker (1 Design) | ¥5,980 (Before Tax)

Clear Pouch (1 Design) | ¥1,980 (Before Tax)

Fans who spend over ¥3,000 (tax included) on related merchandise and display their Epos cards will have the chance to enter a lottery to win a prize.

The pop-up shop is also currently holding a Twitter campaign in Japan until October 5, 2020. One lucky fan can receive a complete set of bromide photos by following AMNIBUS on Twitter and retweeting this tweet.

The pop-up shop is a chance for fans and newcomers to jump into the magical world of Creamy Mami.

©Pierrot

Information

Creamy Mami, the Magical Girl Ani-Art POP UP SHOP in Marui

Official Website: https://event.amnibus.com/mami-0101/

Ikebukuro Marui

Running: September 5, 2020 – September 13, 2020

Entry: Free

Opening Hours: 11:00-20:00

Address: 3-28-13 Nishi-Iekbukuro, Toshima Ward, Tokyo, 171-0021

Official Website: https://www.0101.co.jp/048/

Shizuoka Marui

Running: September 19, 2020 – October 5, 2020

Entry: Free

Opening Hours: 10:30-19:30 (until 19:00 on October 5, 2020)

Address: 6-10 Miyukicho, Aoi-ku, Shizuoka, 420-0857

Official Website: https://www.0101.co.jp/036

Pour Sake Into These Cups and Watch the Cherry Blossoms Bloom

Japanese online store Fujimaki, which sells rare luxury products, released the new "Sakura no Heihai" (Cherry Blossom Sake Cup) on July 18 which has a cherry tree design on it that blossoms when cold sake is poured over it.


The cup is manufactured by Marumo Takagi, a Japanese pottery and ceramics company based in Tajimi, Gifu, which has been running for over 130 years. Due to the effects of the COVID-19 pandemic, many people held out on the Hanami (cherry blossom flower viewing) in Japan this year. Marumo Takagi conceived the idea for their new cup as a result of this so that people can enjoy Hanami from the comfort of their own home.

Left: Blossoms in 7 minutes with liquids near 17°C / Right: Very cold liquids cause a full bloom

Each and every cup is handmade individually, including the cherry blossom designs. The flowers bloom a faint pink when the users pours in liquid which are of a temperature around 17°C. If the liquid is very cold, the cherry blossoms take on a full bloom pattern. The white porcelain serves to emphasise the pink hues of the flowers.

The secret behind how this reaction happens lies in the tools used to draw the illustration. Seiji Takagi, the 5th generation president of Marumo Takagi, conceived the idea when he simply thought how amusing it would be to have a function on one of the company's drinking vessels that changes as a result of temperature.

Takagi explained how the went through much trial and error to achieve their vision for the colour, something which they were more focused on than everything else in the manufacturing process.

Cherry Blossom Sake Cup (Japanese: 桜の平盃): ¥3,300 (Tax Included)

The western region of Gifu Prefecture is famous for its Japanese ceramics. It is the biggest pottery manufacturing location in Japan and has been firing up ceramics for over 1,300 years. The city of Tajimi in Gifu, where Marumo Takagi is based, has prospered when it comes to the creating sake cups. The cherry blossom sake cup comes as an innovative design and shows the true skill and art of Marumo Takagi's artisans.

Universal Studios Japan's 'We are One' Summer Festival Begins This July

Universal Studios Japan (USJ) reopened on June 19, 2020 after temporary closure as a result of COVID-19. The park is now running with strict measures in place to prevent the spread of the novel coronavirus, including practicing the 2m social distancing rule, making it mandatory to wear face masks, and so on. The park has posted a full video demonstration of the rules on their official website.

That means summertime is set to shine on USJ once again this year. The new 'Universal Summer Parade: We are One' event will begin on July 23 as the first parade held by the park since its reopening. Guests will be able to enjoy a fun and exciting summer at USJ with all the necessary precautions in place to ensure their safety.

Many familiar faces will gather at USJ to celebrate summer with guests, including the Minions, Elmo, Snoopy, Hello Kitty, and more. Each of them will board colourful floats for the parade during the parade, which will open with the fittingly-titled "Opening Float" followed by a flurry of unique floats like the flashy "Latin Float," cute European-inspired "Europe Float," the mysterious "Indian Float," and the finale "America Float," amongst many others. There will be music to entertain guests for laughs, smiles, and fun energy while characters and entertainers ride the floats and serve summertime vibes.

The peak moment of the parade will be when confetti rains down on guests in huge quantities. Flags can also be bought for the parade for the first time in this year. Performers and the park characters will be able to entertain guests at a distance while still connecting with them through the fun performances. A special "social distance" performance created in cooperation with the Osaka Prefectural Board of Education will also be part of the parade. This year's parade plans to have guests dancing and smiling even more than previous years to lift some of that stress away and give them the fight and energy to continue into tomorrow.

Universal Summer Parade: We Are One

Put your hands into the air as the sun beats down and the floats arrive to a lively rhythm. 'We are One' is the catchphrase, so get your boogie on and explode with excitement together with the entertainers and park characters for a heated summer parade!

Running: July 23, 2020 – August 27, 2020

Location: Parade Route

Time: One per day from 11:00am (approx 40 mins) 

Buy yourself a parade flag for ¥500 and wave it around to the beat of the festival!

Cool yourself off with some summer merch

Get your hands on some merch for cooling off, including the must-have summer "Handy Fan," a "UV Poncho" which keeps you cool in the heat of the sun, a classic "Sensu" folding fan, and more.

Feel the Japanese festivities with the Universal Market

The Universal Market will give that Japanese 'matsuri' festival vibe. Enjoy some cool desserts, spicy food, and more.

Left: Super Hot! Turkey Leg ¥1,000 / Centre: Peach Jelly Soda: ¥650 / Right: Frappe Sundae ~Strawberry & Blue Hawaii~ ¥750

Since guest safety is the number one priority this summer, the park will not be holding its famous splash performance where guests are soaked with water by water shooters.

Additionally, the parade will also not stop in any of the usual designated places and will instead keep on moving, meaning the parade can be enjoyed from anywhere along the parade route. Guests will be able to keep plenty of distance from others as they watch the parade.

The park also released a statement on its 'enhanced sanitation in park operations' on its official website so you can find out more about what USJ is doing to tackle the COVID-19 spread.

If you're in Osaka this year, you can still enjoy summer at Universal Studios Japan with all the necessary precautions in place.