CHEESE CRAFT WORKS Now Serving Shaved Ice Made With Natural Ice, Fresh Fruit & Cheese
CHEESE CRAFT WORKS, a food company run by LIFEstyle that makes food using fresh cheese, is now holding a shaved ice fair until August 31, 2020.
CHEESE CRAFT WORKS specialises in over 20 varieties of cheese which it orders from both Japan and overseas, such as good quality fresh cheese from Hokkaido, which is then used to make a different food dishes.
For their shaved ice fair, the shaved ice is made using light and fluffy natural ice which is topped with sweet, sour and refreshing fruits and syrups as well as fresh cheese.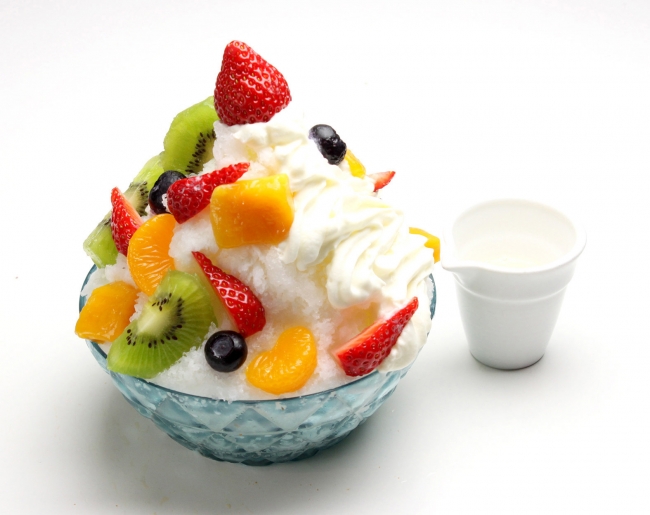 Shirokuma-kun: ¥980 (Before Tax)
Honey Lemon Shaved Ice: ¥1,080 (Before Tax)
Strawberry Mont Blanc Parfait Milk Shaved Ice: ¥1,080 (Before Tax)
Five different shaved ice flavours are being served, such as the Candied Strawberry Shirokuma-kun which is topped with candied strawberries and a foam made from milk and fresh cheese. The Honey Lemon is a combination of sweet honey and sour lemon, while the Mont Blanc has milk-soaked shaved ice topped with strawberries and cream to create a parfait-like shaved ice dessert.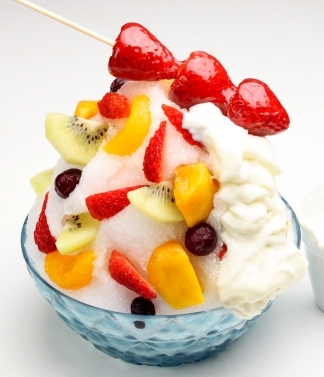 Candied Strawberry Shirokuma-kun: ¥1,260
You can pick candied apple too.
Experience the unique combination of cheese and shaved ice at CHEESE CRAFT WORKS.
Information
Fresh Cheese Topped Natural Shaved Ice
Running: Now until August 31, 2020
CHEESE CRAFT WORKS Official Website: https://www.cheese-cw.jp/
RELATED ENTRIES
Grab a Takeout Hydrangea Parfait at Itohkyuemon in Kyoto

Itohkyuemon, one of Kyoto's most famous green tea shops which established in the latter part of the Edo Period, is now serving a takeout hydrangea parfait at its main branch in Uji, Kyoto.

Uji, the city where Itohkyuemon is based, is home to Mimuroto Temple which is famous for its hydrangea. The temple bustles with sightseers and tourists during Japan's rainy season who flock to gaze upon the gorgeous flowers. The tea shop's limited-time hydrangea parfait was first released in 2013 and has gone to become their most popular seasonal parfait every year. So that lots of people can continue to enjoy the popular dessert, Itohkyuemon is offering the parfait as a takeout option so customers don't have to eat indoors.

The parfait is made with matcha and hydrangea mashed sweet potato and hydrangea-coloured crushed jelly, and is topped with leaf-shaped matcha cookies, blueberries, and other colourful treats that bring to mind Uji's rainy season.

Krispy Kreme Releases Summer Edition Doughnuts For a Limited Time Only

Krispy Kreme Doughnuts Japan is releasing two new doughnuts themed popular seals in the aquarium and a floating ring from June 23 until July 22. 

Seal Custard

Watermelon Slim Ring 

Seal Custard is a seal motif donut. The surface of the fluffy dough coated with white chocolate and filled with custard cream using Hokkaido milk and vanilla beans. The charm point is a mouth drawn with milky and rich white chocolate on the face drawn with bitter chocolate. The charm point is a mouth drawn with a bitter chocolate on a face coated with milky and rich white chocolate.

Watermelon Slim Ring is a ring donut coated with white chocolate motif a large floating ring with a red pattern drawn with a juicy watermelon glaze. The colorful contrast of red and white gives you a summer-like breeze and sweetness. 

Why don't you try the adorable donuts that are perfect for the summer?

Information

Seal Custard /Watermelon Slim Ring 

Running: June 23, 2021- July 22, 2021
Available: Krispy Kreme Doughnuts Japan

Official Site:https://krispykreme.jp/

Demon Slayer: Kimetsu no Yaiba Turns Into Confections at Japanese Convenience Stores

Bandai's character-inspired Japanese confectionery series Tabemas released a new collection of traditional Japanese wagashi confections and tarts inspired by the Demon Slayer: Kimetsu no Yaiba anime series at Lawson convenience stores across Japan on June 15.

Tabemas Demon Slayer

'Tabemas' is an abbreviation of the Japanese words taberareru masukotto, meaning 'mascots that you can eat.' It is a Japanese confectionery series that combines well-known characters and Japanese sweets made from ingredients like red bean paste, sugar and rice flour.

Their line-up of three confections are based on Tanjiro, Nezuko, and Zenitsu from the series, each of which captures their charm points in terms of colour and design. Tanjiro is chocolate flavoured, Nezuko is strawberry, and Zenitsu is custard.





Tabemas Demon Slayer: Kimetsu no Yaiba 2021 | ¥285 Each (Tax Included)

Demon Slayer Tarts

Tabemas has also baked up some no-baked cheesecake tarts featuring designs of Tanjiro, Nezuko, Zenitsu, Inosuke, Tomioka, Kyojuro, and Shinobu.


Demon Slayer: Kimetsu no Yaiba Tarts | ¥249 Each (Tax Included)

©︎ 吾峠呼世晴/集英社・アニプレックス・ufotable

Information

Tabemas Demon Slayer: Kimetsu no Yaiba 2021

Released: June 15, 2021

Available: At the chilled sweets section of Lawson convenience stores in Japan

*Natural Lawson and Lawson Store 100 stores not participating

Kokonoe Honpo Tamazawa, a wagashi Japanese traditional confectionery maker that has been around since 1675, released its new emoji-themed 'EMOCHI' collection as part of the WA!GASHI Project on Wednesday, a day which also happened to be Wagashi Day.

EMOCHI | Pick Your Own Set of 3 | ¥1,512 (Tax Included)

EMOCHI | Recommended Set of 3 – A | ¥1,512 (Tax Included)

EMOCHI | Recommended Set of B – A | ¥1,512 (Tax Included)

EMOCHI | Recommended Set of 3 – C | ¥1,512 (Tax Included)

EMOCHI | Full Set of 10 | ¥3,996 (Tax Included)

Kokonoe Honpo Tamazawa is a 346-year-old confectionery company based in Sendai, renowned for their wagashi-making skills and original techniques while they use to constantly innovate on their sweets. This new collection of sweets with a smile features emoji in three flavours: white bean paste, yuzu bean paste, and miso bean paste.


The collection links how emoji are used to communicate feelings through text in the form of texts and emails like how wagashi, or traditional Japanese sweets, are often used to express gratitude as part of Japan's culture of gift-giving.



There are 10 emoji to pick from, perfect for giving as a gift to someone to send a message or as a treat for yourself, and each comes with one of eight message cards.

Benzaiten Daifuku Opens New Fruit Confectionery Store Inside GINZA SIX

Benzaiten opened its first store in 2019 and since then has opened over 50 branches up and down Japan. The confectionery brand, which specialises in fruit-filled daifuki, has now opened a new store inside Tokyo's luxury shopping centre GINZA SIX.

Yellow Papaya | ¥950 (Tax Included)

Tayo no Tamago Red Mango | ¥1,500 (Tax Included)


Fig | ¥1,000 (Tax Included)


Kiwi | ¥650 (Tax Included)

Benzaiten has over 10 types of fresh seasonal fruits ordered in from the market every day to make their daifuku with, most of which use the entire fruit. They are very particular about the mochi used to make the daifuku to ensure the original delicious flavour of the fruit is maintained and maximises. They use two layers of high quality white bean paste and habutai to hand-prepare the daifuku every day.

Information

Benzaiten GINZA SIX
Address: GINZA SIX (Floor B2F), 6-10-1 Ginza, Chuo-ku, Tokyo
TEL: 03-6804-3382
Opening Hours: 11:00-19:00

Official Website: https://benzaiten-daifuku.jp/

Butter no Itoko x Samantha Thavasa Open Second Store Together at Tokyo Skytree

Butter no Itoko and Samantha Thavasa opened their second collaborative store branch in the desserts area of Tokyo Skytree Solamachi last Tuesday.

Butter no Itoko is a Nasa-based confectionery company co-developed by Chus and Shinrinno Bokujo, a company specialising in milk from Jersey cattle. It opened a store in collaboration with Samantha Thavasa last year at Haneda Airport Terminal 2.

Samantha Thavasa Exclusive Butter no Itoko Salted Caramel

Banana Smoothie

Solamachi Exclusive Samantha Thavasa x Butter no Itoko Eco Bag

The new store will sell a whole range of tasty treats including the salted caramel Butter no Itoko which was first released at the Haneda Airport branch, Shinrinno Bokujo's soft service ice cream, updated 90 Banana Smoothies, and more. There's also a limited-edition complete box of milk, chocolate, red bean paste butter, and salted caramel Butter no Itoko youc na get your hands on which were first released in April.

If you spend over ¥3,000 on desserts at the new store, you can also get your hands on the exclusive eco bag. These are available on a first-come, first-served purchase.

Information

Butter no Itoko x Samantha Thavasa Tokyo Skytree Town Solamachi

Grand Opening: 10:00-22:00 (currently operating on reduced hours at 10:00-20:00)
Address: Tokyo Skytree Town Solamachi Floor 1F East Yard 9, 1-1-2 Oshiage, Sumida, Tokyo, 131-0045, Japan
Samantha Global: https://samantha-global.com/

Butter no Itoko Official Website: https://butternoitoko.com/

Pompompurin's 25th Anniversary Celebrated With Limited Edition Dessert at FamilyMart

Sanrio teamed up with the convenience store chain FamilyMart to commemorate the 25th anniversary of their popular character Pompompurin with a special soufflé and macarons that hit shelves up and down Japan on June 8.

Pompompurin Soufflé Pudding | ¥276 (Before Tax)

Pompompurrin & Cinnamoroll Macarons | ¥350 (Before Tax)

Pom's Kitchen Campaign

The Japanese pudding-style soufflé is made with smooth and velvety custard and caramel. It's sold in a cup in three different original designs. Also available as part of the celebration is a set of macarons made to look like Pompompurin as well as Cinnamoroll, another one of Sanrio's most popular characters. They are wearing cute king and queen crowns respectively.

A campaign is also being held where you can win some special Pompompurin merchandise by posting a photo of a rice dish inspired by Pompompurin on social media. More details can be found on the campaign website below.

Morinaga's Milk Caramel Turns Into Delicious Desserts at MINISTOP

MINISTOP Japan released three new desserts in collaboration with Morinaga on Tuesday: the Morinaga Milk Caramel Baumkuchen, Morinaga Milk Caramel Pound Cake, and Morinaga Milk Caramel Roll Cake.

Morinaga Milk Caramel Baumkuchen

Morinaga Milk Caramel Pound Cake

Morinaga Milk Caramel Roll Cake

Morinaga's "Milk Caramel" is a long-selling product that has been sold for over 100 years. The triple dessert release coincides with Milk Caramel Day, a day by Morinaga that falls on June 10 to commemorate the flavour. The tasty caramel delights make as the perfect accompaniment during coffee breaks, when working, when studying, or just as a little treat.

The desserts are now available at all MINISTOP convenience stores in Japan.

Information

MINISTOP x Morinaga Milk Caramel
Released: June 8, 2021

Available: MINISTOP Japan

Official Website: https://www.ministop.co.jp/

McDonald's Japan Releases Pikachu Desserts

Mc Donald's Japan released its new Sweets Trio Fruchu menu on Friday which features a line-up of three fruit-flavoured Pikachu items: the Yellow Peach McShake, Chocolate Banana McFlurry, and Hot Apple Custard Pie.


The menu items comes in limited-edition cups and packaging featuring the adorable Pikachu.




Yellow Peach McShake | Small ¥120 – Regular ¥200 (Tax Included)

A fruity and refreshing summery McShake made with sweet and sour yellow peach with that satisfying creamy McShake texture. Available in small and medium, both sizes come with three different cup designs each for a total of six.

Chocolate Banana McFlurry | ¥290 (Tax Included)

The Chocolate Banana McFlurry is served in an ice cream cup with a fresh squirt of milky rich soft serve and drizzled with banana and chocolate sauces. The ice cream is finished with a sprinkle of crunchy yellow cornflakes. Another perfect choice for cooling down in the hot summer weather. There are three possible cup designs to receive.

Hot Apple Custard Pie | ¥150 (Tax Included)

The apple custard pie is served hot with a crunchy outside and filled with custard cream made with fresh apple and vanilla beans and seasoned with caramel and cinnamon. There are three possible packaging designs to receive.



McDonald's Japan is also serving a Pikachu-style Happy Meal as part of the collaboration which come with one of six possible toys.

Tokyo's Craft Chocolate Shop nel Releases Cacao Kintoki Shaved Ice Desserts

nel craft chocolate tokyo, a craft chocolate shop located in Nihonbashihamacho, Tokyo, released two chocolate shaved ice desserts last Wednesday for the hot summer season. The desserts are also being sold at Saryo Tsukikage, a restaurant inside the hot spring ryokan Yuen Bettei Daita in Setagaya.


Left: Cacao Kintoki | Right: White Cacao Kintoki

Cacao kintoki is a type of shaved ice made with specially-selected cacao beans from Vietnam. It uses a 'bean to bar' method where the shaved ice is made from scratch, roasting the beans fresh to create the dessert.

The two new treats at nel use a chocolate base and add cacao pulp to the mix, adding a natural fruity flavour derived from the bean. Each is also served with a special cacao sauce for extra flavour. The white cacao version is made by combining with in-house white chocolate. It also comes with an Okinawan passion fruit and cacao pulp sauce, resulting in a sour kick and refreshing taste.

Saryo Tsukikage

The open-air baths at Yuen Bettei Daita

A special matcha version of this shaved ice can also be enjoyed while bathing in the open-air baths at Yuen Bettei Daita. It's made with nel's homemade white chocolate as well as dark chocolate, cacao pulp, and specially-selected yame matcha from Shimokita Chaen Ōyama, a cafe in Setagaya.

Tokyo's New Strawberry Dessert Shop ICHIBIKO Opens at Shibuya's Tokyu Food Show

ICHIBIKO is a new strawberry dessert-themed cafe that opened at Tokyu Food Show in Shibuya, Tokyo, on June 1. The shop's concept is centred on letting people enjoy strawberries all year round served in a variety of sweet and succulent ways.

Migaki-Ichigo Pudding | 3 Flavours

The Migaki-Ichigo Pudding is a Japanese-style custard pudding made with a layer of custard and strawberry jam. The jam, which contains fresh juicy pieces of strawberry left over, is made from a type of high quality strawberry called Migaki-Ichigo. These puddings are available in three flavours.

Migaki-Ichigo Pudding – Strawberry Custard | ¥432 (Tax Included)

Made with fresh cream and vanilla custard and combined with strawberry jam. Rich and full of fruity flavour.

Migaki-Ichigo Pudding – Condensed Strawberry Milk | ¥486 (Tax Included)

Layered with condensed milk instead of custard, lending a refreshing milky flavour to the sweet strawberry and giving a velvety texture.

Migaki-Ichigo Pudding – Strawberry Milk Yogurt | ¥432 (Tax Included)

Made with strawberry sauce-infused yogurt and Migaki-Ichigo jam giving a cool, refreshing flavour.

  

The new ICHIBIKO store also sells the brand's most popular beverage, ICHIBIKO Milk, as well as baked confections, and fresh Migaki-Ichigo strawberries sourced directly from farmers.

Information

ICHIBIKO Shibuya Tokyu Food Show

Grand Opening: June 1, 2021

Address: SHIBUYA MARK CITY East Mall Floor 1F, 1-12-1 Dogenzaka, Shibuya, Tokyo

Opening Hours: 11:00-20:00

Access: Connected directly to the Keio-Inokashira Line at Shibuya Station

TEL: 03-3477-4676

ICHIBIKO Official Website: https://ichibiko.jp/

Disney's Mickey & Friends Teams Up With Tokyo's Souvenir Sweet Tokyo Banana

Disney SWEETS COLLECTION by Tokyo Banana, a joint confectionery shop between GRAPESTONE and Tokyo Banana, released its new Mickey & Friends collection on Thursday.

Tokyo Banana Mickey & Friends Collection | ¥1,300 (Tax Included)

Mickey, Minnie, Donald, Daisy, Goofy, and Pluto join hands in a heart-warming new collection of Tokyo Banana, a cream-filled sponge cake and the official souvenir sweet of Tokyo's official souvenir sweet: Tokyo Banana.

 

Mickey & Friends arrive in all the colours of the rainbow

The colourful packaging features the Disney group of best friends including Mickey, who loves his friends, his girlfriend Minnie, the anger-prone Donald, stylish Daisy, silly Goofy, and trusty Pluto.

Six cute patterns decorate the sponge cakes

There are six super cute Mickey & Friends designs you could get in your Tokyo Banana, and each one is random. They are filled with chocolate banana-flavoured custard cream.

Collect all the postcards

All boxes of these treats come with two of eight possible postcard designs which you can use for sending to someone or even as room decoration.

 © Disney