Pokémon Cosmetic Series: New Face Masks Keep Pokémon Trainer's Skin Moisturised
Monosense is set to release the third collection of face masks in the popular Pokémon Cosmetic Series on June 19, 2020.
The Pokemon cosmetic series has been a huge success in Japan since it launched, spanning face masks, hand cream, lip cream, lip gloss, point packs, mirrors, and body gel. The face masks however have proven the most popular, having sold over 600,000 of them. Now, Pokémon Trainers can look forward to the third collection in an all new 2020 version.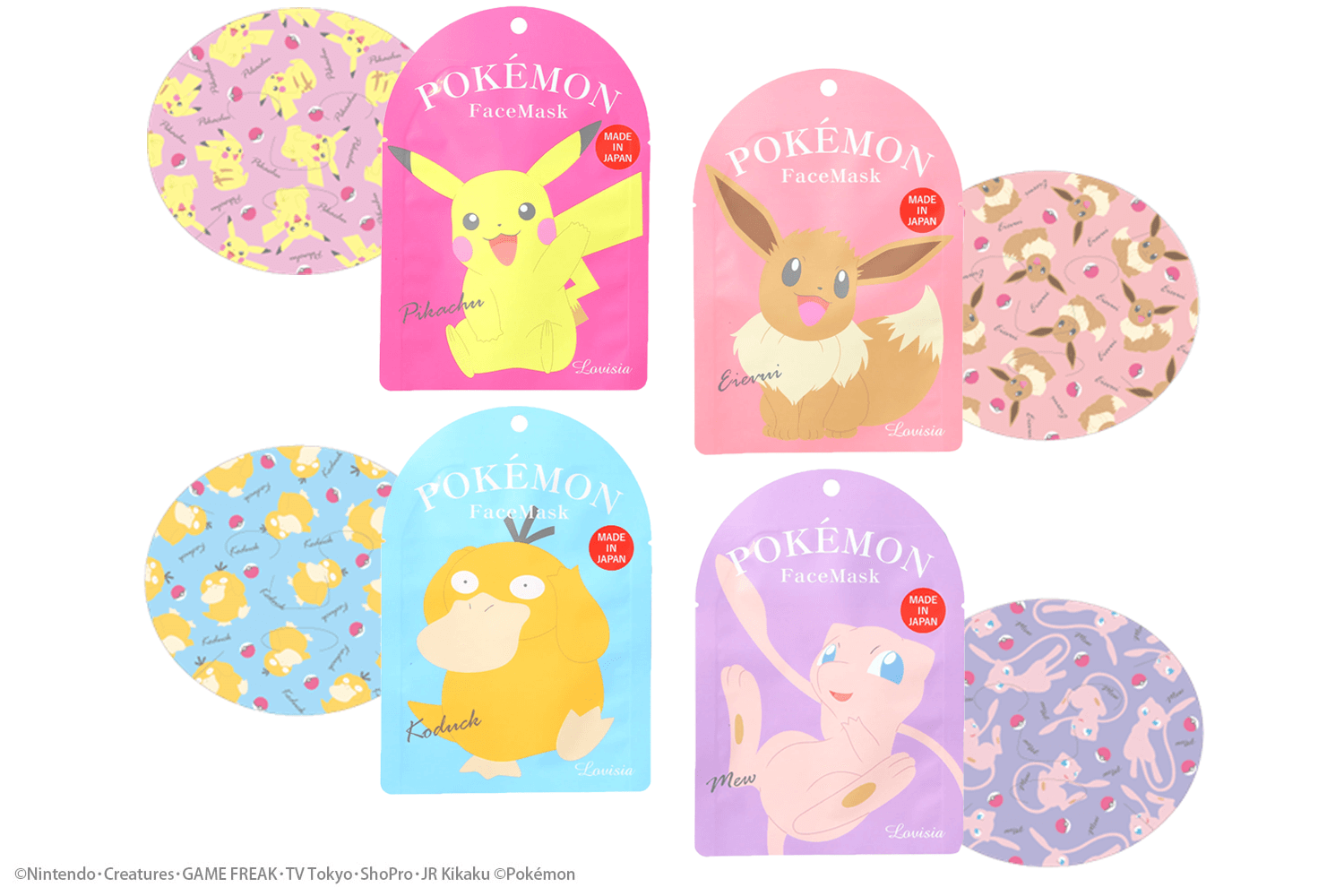 Until now, the face masks themselves have had an entire print of a single Pokémon face on them. This time, however, they have a new design with many of that Pokémon on them, along with colours that remind one of that Pokémon.
Skin can get pretty dry when summer rolls around, so these made-in-Japan face masks will keep Trainers' skin moisturised thanks to the collagen, hyaluronic acid, and shea butter in them.
There are four Pokémon to choose from: Pikachu, Eevee, Psyduck, and Mew. Who will you choose?
RELATED ENTRIES
Pokémon Cosmetic Series: Ditto Face Mask Gets Added to the Set

Monosense has announced the release of a new Pokémon Gift Set which will hit Lovisia shops and variety stores in Japan as well as online on November 26, 2020.

The Pokémon cosmetic series has been a huge success in Japan since it launched, spanning face masks, hand cream, lip cream, lip gloss, point packs, mirrors, and body gel. The face masks however have proven the most popular, having sold over 600,000 of them (as of June 2020).

Ditto gets added to the series

Pokémon Face Mask Set (Includes 5) | ¥2,150 (Before Tax)

Pokémon Trainers can keep their faces moisturised while out in the wild with this set of five face masks. The collection includes the familiar Pikachu, Mew, Eevee, and Mew masks, and adds an all-new Ditto version. Skin can get pretty dry during the cold autumn and winter months, so these made-in-Japan face masks will keep Trainers' skin moisturised thanks to the collagen, hyaluronic acid, and shea butter in them.

Pokémon Gift Set

Pokémon Gift Set (4 Versions) | ¥1,200 (Before Tax)

The Pokémon Gift Set is a single box containing hand cream as well as a hand towel which comes with an emblem of the Pokémon you decide to choose. The hand cream is made with collagen and hyaluronic acid which keeps hand soft—super effective for throwing all of those Poké Balls. The Pikachu cream is "Pure Soap" scented, Eevee is "Pink Bouquet," Psyduck is "Sweet Peony," and Mew is "Floral Shampoo."

The gift sets come in cute packaging branded in pastel colours. Who will you choose?

Select stores in Japan will bag customers' Pokémon cosmetic products in a limited-edition bag too. The perfect Pika-gift for any lover of Pokémon!

Information

Pokémon Face Mask Set / Pokémon Gift Set
Release Date: November 26, 2020
Available: Variety shops in Japan / Lovisia online website
Product Page:  https://lovisia.jp/pokemon/

SHIRO PERFUME Releases Limited-Edition Holiday 2020 Fragrances

Cosmetic brand SHIRO released two new special editions of its fragrances on November 19 for this year's holiday season.

JUST FOR YOU 50mL | ¥10,500 (Before Tax)

Smell great this holiday season with the honey floral-scented "JUST FOR YOU" and the warm and smokey, wreath and Christmas tree-inspired "HOLIDAY WREATH." Both offer completely different scents while maintaining that holiday season vibe.

HOLIDAY WREATH 50mL | ¥10,500 (Before Tax)

Whether you'll be staying at home this Christmas and still want to feel good, or will be spending it with someone people, set the mood right with a warm and welcoming fragrance.

Information

SHIRO PERFUME JUST FOR YOU
SHIRO PERFUME HOLIDAY WREATH
Released: November 19, 2020
SHIRO Official Website: https://shiro-shiro.jp/

Make Your Own Chocolate Pokémon Pies With Lotte's Confectionery DIY Kit

Japanese confectionery company Lotte is launching a new version of its popular Choco Pie dessert in collaboration with Pokémon.

Pokémon Trainers out there with sweet tooths are given an ordinary blank Choco Pie which they can decorate with the accompanying assorted chocolates, nuts, and sweets to create their favourite Pokémon. They can create their own from their mind or follow the recipe provided.

Choco Pie Art with Pokémon will be released by Lotte in Japan on November 24, 2020.

©Nintendo・Creatures・GAME FREAK・TV Tokyo・ShoPro・JR Kikaku ©Pokémon

Sanrio Puroland Announces the Release of Sanrio Character Face Masks and Cases

Sanrio Puroland has announced the release of a new Sanrio character face mask and case collection on December 18, 2020.


Original Masks & Cases – Regular Sizes (6 Designs) | ¥1,650 Each (Tax Included)

The face masks and face mask cases feature cute designs of Sanrio characters including Dear Daniel, Badtz-Maru, Kuromi, My Sweet Piano, and Mocha.


Original Masks & Cases – Kids Sizes (3 Designs) | ¥1,320 Each (Tax Included)

There are also kids sizes with My Melody, Kuromi, and a character mix designs so parents and children can look cute together.

Mask Attachments (6 Designs) | ¥1,650 Each (Before Tax)

Sanrio also has a line-up of Hello Kitty, Dear Daniel, My Melody, Kuromi, Pompompurin, and Cinnamoroll attachments for the face masks.

©1976, 2009 SANRIO CO., LTD. ©1976, 1988, 1989, 1990, 1993, 1996, 2001, 2005, 2020 SANRIO CO., LTD.

Pikachu Caramel Frappes Zap Their Way to Pikachu Sweets by Pokémon Cafe This Holiday Season

Pikachu Sweets by Pokémon Cafe in Ikebukuro, Tokyo, is adding the new "Caramel Pika Pika Frappe" to its menu this holiday season from December 5, 2020 to January 15, 2021.

Caramel Pika Pika Frappe | ¥700 (Before Tax)

The adorable beverage is based on the Japanese custard pudding known as purin. It's laced with caramel sauce, closed off with a squirt of whipped cream, and finished with a sprinkling of chocolate chips for accent.

Pikachu Sleeves

The drink also comes with one of four possible Pikachu sleeves which feature designs in promotion of the upcoming animated film Pokémon the Movie: Secrets of the Jungle (also known as Pokémon the Movie: Coco) which will be released in Japan on December 25, 2020 and in the US in 2021.

© 2020 Pokémon.©1995-2020 Nintendo/Creatures Inc./GAME FREAK inc.
Pokémon, ポケットモンスター, and ポケモン are registered trademarks of Nintendo, Creatures Inc., and GAME FREAK inc.
© Nintendo・Creatures・GAME FREAK・TV Tokyo・ShoPro・JR Kikaku
© Pokémon © 2020 Pikachu Project

Pokémon Silicone Ring Phone Straps Keep Trainers Company in the Wild

Retail company Hamee recently released a new collection of Pokémon silicone ring phone straps in Japan.


Pokémon Silicone Ring Straps | ¥990 Each (Before Tax)

 These cute straps are sure to keep Trainers out there company while their Pokémon sleep in their Poké Balls.

Designs include Pikachu and Ditto which not only look adorable but will keep your phone safe from falling while you're using it too.

The rings are made from soft silicone which won't damage the phone or its screen if it touches them and also doesn't case discomfort when worn on the finger. They weigh in at just 3g. Use them not only on your phone case but digital camera, pass case, and more as a convenient hook.

They match perfectly with the Pokémon iFace First Class phone case series too.

©2020 Pokémon.
©1995-2020 Nintendo/Creatures Inc./GAME FREAK inc.

UNIQLO Announces Loungewear Collaboration With Pokémon and Sumikko Gurashi

Japanese clothing retailer UNIQLO has announced a loungewear collection for the holiday season in collaboration with Pokémon and Sumikko Gurashi—the latter being a set of fictional characters created by San-X. Set to roll out in Japan from November 19, the fleece line-up is the perfect gift for the coming winter months.

Pokémon Line-Up

Everybody's favourite Pokémon are coming together for this cosy collaboration. The fleece set's theme is "Night Explorer" which imagines the wearer exploring the night together with their Pokémon. The designs feature moon and star motifs with neon colouring.

When the collection launches, those who purchase one of the Pokémon fleece sets in Japan will receive a set of two clear-coloured Pokémon figurines. And if they order online via UNIQLO's website, their order will be shipped in a special Pokémon box.


Buyers will also receive a card with a code on it to participate in a special campaign.

Sumikko Gurashi Line-Up

The corner-dwelling Sumikko Gurashi character merchandise is themed on a sleepover with items made warm, fluffy, and cosy.


The three Sumikko Gurashi sets will launch online only on December 18.


Picking up either of the fleece sets or poncho blanket sets from December 18 will land you one of the above-pictured plush toys.




UNIQLO will also be selling limited-edition Sumikko Gurashi gift cards too both online and in-store when the sets are released.

Online Pokémon Escape Game Launches in Promotion of Pokémon the Movie: Secrets of the Jungle Anime Film

SCRAP launched a new online escape game entitled "Escape From the Mystery Pokémon Jungle" on November 14, 2020 in promotion of the upcoming anime film Pokémon the Movie: Coco which will be released in Japan on December 25, 2020. The film will also be released in the US in 2021 under the title Pokémon the Movie: Secrets of the Jungle.


SCRAP is a Japanese company that specialises in the creation of escape games. Since the outbreak of the pandemic, SCRAP has been hosting online escape games for people around the world. It has collaborated with Pokémon every year since 2013, with 300,000 participants having played the games collectively. This new escape game has players watching a video on the game's official website while using a pen and paper to solve the puzzles and mysteries of the Mystery Pokémon Jungle.

Players can download and print the materials they will need for the game from the website. This will be their puzzle-solving kit which includes gimmicks of its own that will require assembly with tape. And since the game can be played at any time, players can choose what time works best for them when they have a free slot in the day.

The game offers a selection of different courses including two different two-person standard courses as well as a lighter family course for parents to play with their children.

The escape game is a great way to celebrate the upcoming and highly-anticipated release of Pokémon the Movie: Secrets of the Jungle.

©Nintendo・Creatures・GAME FREAK・TV Tokyo・ShoPro・JR Kikaku
©Pokémon
©2020 Pikachu Project

Animal Crossing: New Horizons Clothing & Accessories Revealed by Luxury Japanese Brand Gelato Pique

Nintendo has announced that luxury Japanese loungewear and sleepwear brand Gelato Pique is releasing a collection of clothing and accessories in collaboration with the Nintendo Switch™ title Animal Crossing: New Horizons.

The line-up includes pyjamas, hoodies, shorts, tote bags, blankets, pouches, and more, with the Animal Crossing's beloved Timmy and Tommy appearing as the main character feature on the designs.

Pre-orders for the collection will begin over on Gelato Pique's official website on November 18, but you will most likely need an address in Japan to order. They will subsequently be released at the official Nintento TOKYO store as well as select Gelato Pique stores in Japan on January 13, 2021. Before that, they will also line the shelves of a Gelato Pique pop-up store called "Gelato Pique Christmas Town" in Omotesando Hills which is set to run from December 18 to 25.

Animal Crossing: New Horizons Line-Up

Timmy & Tommy knitted jacquard tops with a simple desig


Jacquard Pullover ¥5,800 | Short Pants ¥4,200 | Cushions ¥3,400 Each (All Tax-Inclusive)

Become your favourite character with a cosy ear-topped hoodie


[Colours: Brown/Cream/Grey] Hoodies ¥6,800 | Short Pants ¥4,200 (All Tax-Include)

Cut & Sewn Series: Character designs and fruit patterns


Left: Fruit Pullover ¥5,400 | Fruit Long Pants ¥5,200

Left: Character Pullover ¥5,400 | CharacterLong Pants ¥5,200

Warm Timmy & Tommy blanket


Left: Blanket ¥5,800 | Right: Jacquard Blanket B ¥5,800 (Before Tax)

Animal Crossing x Gelato Pique Special Book


Pouch and tote bag comes with the book

Japanese publishing company Takarajimasha is also releasing a special book on December 22 entitled Animal Crossing meets GELATO PIQUE SPECIAL BOOK in two versions which come with a Timmy and Tommy design pouch and tote bag. These are limited-edition items available only with the book.

© 2020 Nintendo

Information

Gelato Pique x Animal Crossing Collection
Releasing: December 18, 2020 at 12:00pm (JST)
Gelato Pique Official Online Store: https://gelatopique.com/20201116_01
USAGI ONLINE Official Website: https://usagi-online.com/s/201116PIQ/

Gelato Pique Christmas Town
Running: December 18, 2020 – December 25, 2020
Location: Space O, Omotesando Hills Floor B3F
Products: Animal Crossing meets GELATO PIQUE

In-Store Purchasing
Release Date: January 13, 2021
Locations: Select Gelato Pique stores / Nintendo TOKYO
*Only a selection of the products will be sold, the full collection is available online

One Piece x Shu Uemura Makeup Collection is a Pirate Girl's Dream

The second instalment of the "Shu Uemura x One Piece Collection" finally launched on November 15. The collection was first announced back in September with the first instalment released on November 1.

The special collection is inspired by the brave and heroic Luffy and the Straw Hat Pirates from One Piece, one of Japan's biggest manga and anime franchises. The second instalment welcomes a new collection of highlighters, makeup brushes, and more for the holiday season.

Shu Uemura x One Piece Collection

Fearless Crew Highlighter Gold Feast / Fearless Crew Highlighter Romance Dawn (¥5,000 Each Before Tax)

Smooth, silky highlight powder to accentuate the face. Colours include shining gold which glistens like pearls and sun-basked peach. These highlighters capture the lively energy of Nami and Robin.

Fearless Crew Premium Brush Set (¥6,500 Before Tax) | Includes: Face Brush, Cheek Brush, Eyeshadow Brush, and Eyebrow Brush

The high quality mini brush set includes a face brush, cheek brush, eyeshadow brush, and eyebrow brush. Their small sizes makes them conveniently portable for the party season. They come in a marine blue bag with the Straw Hat Pirates on the front of it.

Petal 55 Foundation Brush (¥6,000 Before Tax)

A high quality Shu Uemura brush with beautiful form and functionality crafted by the brand's makeup artists. Their foundation brushes are very popular for layering the perfect base makeup.

Wanted Gold Eyelash Curler (¥2,000 Before Tax)

Add some volume to those lashes with this golden pair of curlers equipped with a One Piece skull charm.

©Eiichiro Oda/Shueisha, Toei Animation

Pokémon Themed Hotel Rooms Open in Tokyo and Kyoto at APARTMENT HOTEL MIMARU

Japanese real estate company Cosmos Initia teamed up with The Pokémon Company last year to offer Pokémon themed hotel rooms at two branches of APARTMENT HOTEL MIMARU in Tokyo and Kyoto. The rooms have received high praise from guests, and so they have decided to offer the rooms in two more branches.

The new rooms will open at MIMARU TOKYO Ginza EAST on December 1, 2020 and MIMARU Osaka Nanba NORTH on January 14, 2021. Room bookings opened at both hotels on Friday (November 13).

Each part of the Pokémon Rooms are decorated in all things instantly-recognisable to fans of the franchise including in both the dining and bedroom spaces.


Guest kitchens also come with a batch of original plates and mugs to make their Pokémon stay even more fun. Rooms also come with various themed novelties such as a small bag, welcome card, and hand towel.

Fans of Pokémon planning a trip to Tokyo or Osaka will definitely want to check out APARTMENT HOTEL MIMARU.

©2020 Pokémon. ©1995-2020 Nintendo / Creatures Inc. / GAME FREAK inc.

Pokémon, ポケットモンスター, and ポケモン are registered trademarks of Nintendo, Creatures Inc., and GAME FREAK inc.

Pokémon Illuminations to Light Up Lake Sagami Pleasure Forest This Year

Lake Sagami Pleasure Forest's annual SAGAMIKO ILLUMILLION winter event is set to run from November 14, 2020 to April 4, 2021, and this year, it has been announced that a new Pokémon area will be set up at the event with Pokémon illuminations.

About SAGAMIKO ILLUMILLION

SAGAMIKO ILLUMILLION is an annual winter event held at Lake Sagami Pleasure Forest. About an hour from the main city, the event takes place up a high slope with the 6 million lights becoming one with the surrounding natural environment. The event uses the latest in lighting technology and has gotten bigger and better every year. In 2018, it was chosen as one of Kanto's three biggest illumination events.

Pokémon Illuminations

This year marks the 12th run of SAGAMIKO ILLUMILLION, and this time around it's collaborating with the Pokémon franchise with lots of colourful illuminations set to light up forest and trees. Wild Pokémon illuminations roam everywhere and there are plenty of Pokémon photo spots to take your picture with including Pikachu sleeping in the forest, Charmander taking a nap by an open-air, and more.

Eevee Friends Rainbow Lift

The Rainbow Lift this year features nine colours inspired by Eevee and all of its evolutions. Ride up high with a carpet of colourful lights underneath.

Pokémon Gondola

The Pokémon decoration-wrapped gondola will ride visitors up 420m high. There are 36 different Pokémon gondola designs to see.

Pokémon Street

There are plenty of photo opportunities to be had at the event, from a Pikachu 100,000 volt exhibit to Pikachu napping by a fire and more. Take a picture with your favourite Pokémon.

Pikachu's Forest of Light

Visitors will definitely want to check out the forest too which is filled with Pikachu. Deep in the forest stands a giant, towering Pikachu too. Various Pikachu-related events will also take place including a Pikachu light show, a photo meeting, and more.

・Illumination Show: Tickets
・Photo Meet-Up: To attend, visitors can buy a ticket at the Pleasure Station or visit the site's official Twitter

Coaster (For illustrative purposes only)

Visitors who order from the ILLUMILLION menu at the park's Wild Dining restaurant will receive a Pokémon lunch mat, and if they order a drink one of eight possible coasters. They can also receive a Pokémon eco-bag if they spend over ¥3,000 at Pleasure Station.

©2020 Pokémon. ©1995-2020 Nintendo/Creatures Inc. /GAME FREAK inc.

Pokémon, ポケットモンスター, and ポケモン are registered trademarks of Nintendo, Creatures Inc., and GAME FREAK inc.

Information

SAGAMIKO ILLUMILLION
Address: 1634 Wakayanagi, Midori-ku, Sagamihara, Kanagawa
Running: November 14, 2020 – April 4, 2021

Illumination Times: 16:00-21:00 (Last Entries 20:30)

*Illumination times to begin from 17:00 starting in February

Official Website: https://www.sagamiko-resort.jp/illumillion/