Pokémon Cosmetic Series: New Face Masks Keep Pokémon Trainer's Skin Moisturised
Monosense is set to release the third collection of face masks in the popular Pokémon Cosmetic Series on June 19, 2020.
The Pokemon cosmetic series has been a huge success in Japan since it launched, spanning face masks, hand cream, lip cream, lip gloss, point packs, mirrors, and body gel. The face masks however have proven the most popular, having sold over 600,000 of them. Now, Pokémon Trainers can look forward to the third collection in an all new 2020 version.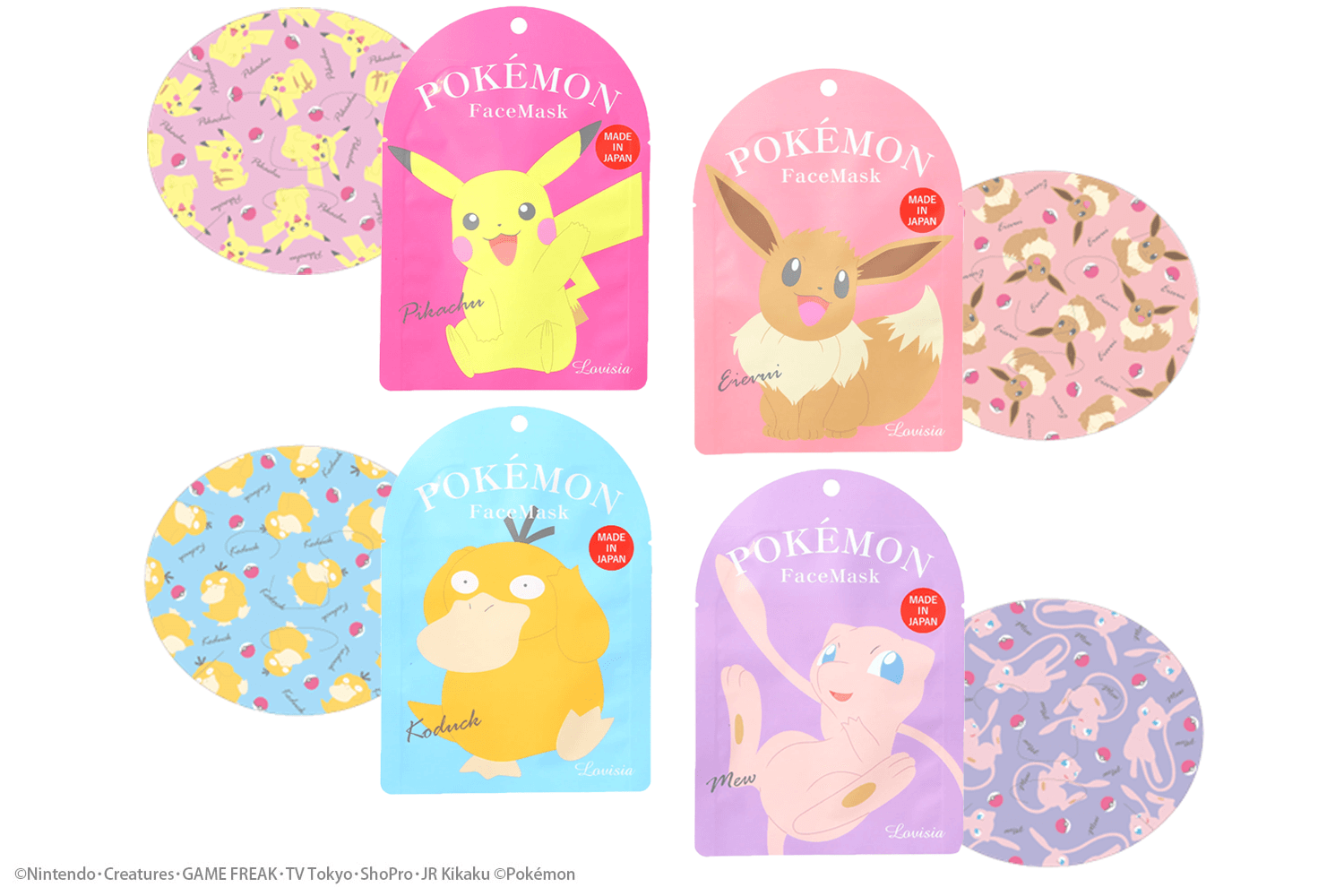 Until now, the face masks themselves have had an entire print of a single Pokémon face on them. This time, however, they have a new design with many of that Pokémon on them, along with colours that remind one of that Pokémon.
Skin can get pretty dry when summer rolls around, so these made-in-Japan face masks will keep Trainers' skin moisturised thanks to the collagen, hyaluronic acid, and shea butter in them.
There are four Pokémon to choose from: Pikachu, Eevee, Psyduck, and Mew. Who will you choose?
RELATED ENTRIES
Tokyo Revengers Anime Series to Release Exclusive Merchandise Collection

Japanese anime and manga online store CharaAni is releasing an exclusive new Tokyo Revengers anime merchandise collection this June.

Customers who purchase any of these items on the website can pick between one of five postcards that they'll receive for free. Check out the designs below.

Free postcard with every purchase

The Line-Up

Embroidered Patches | ¥770 Each or Entire Box ¥6,610 | Releasing: July 2021

A collection of embroidered patches featuring the characters from Tokyo Revengers. Each is around 10cm in size and can be used in a variety of ways.

 

Mikey and Draken T-Shirts | ¥16,500 Each | Releasing: June 2021

Two work-style tees with the initials TG embroidered on the front and featuring different designs on the back of Mikey and Draken.

A4 Folders | ¥440 Each | Releasing: June 2021

Washable Face Masks | ¥2,200 Each | Releasing: June 2021

A collection of stylish reusable face masks made from a light material that makes them perfect for the hot summer weather.

©和久井健・講談社/アニメ「東京リベンジャーズ」製作委員会

NiziU Feature in Commercial for KOSÉ's Makeup Fix Product Make Keep Mist EX

KOSÉ rolled out their new commercial in Japan on April 15 for their makeup fix mist product Make Keep Mist EX. The commercial features Japanese music group NiziU along with their new song I AM.

I AM was written specifically for this commercial, which has the NiziU members performing the "mist dance" showing how to use the product. The commercial emphasises how well the Make Keep Mist EX keeps makeup applied to one's face without worrying about it coming off.

The NiziU members released this comment with regards to the product and commercial: "Applying makeup can be a real pain when wearing a face mask, so we use this all [product]! We'd love for you to do this dance while you apply your Make Keep Mist!"

If you're wondering how the shoot went for this commercial, check out the official story released below. 

The Commercial Shoot

The NiziU members entered the studio dressed in full-pink spring suits. They rolled up to the studio's blue set where they looked super cute and readied themselves for the shoot.

 

The take-away from this commercial is the new Mist Dance which has the nine members lined up beautifully together as they spray the mist on their face simultaneously to the tune of the music. It's reported that it took them a while to get it down perfect at first, but after some practice and looking at the monitor, they were able to create something iconic.

"Do it like RIO!" instructed the shoot's director, which prompted RIO to show the other members how it's done.

 

During their break, the other members complimented MAKO's blonde hair and MAKO's blue tips, and MIIHI stroked RIKU's dango hair while saying "Looky here, ice cream! Looks delicious."

In one part of the dance, the members have to go all out and use their whole bodies. They switch up their formations several times and not once did they bump into each other. The members gave tips to each other too, like MAYUKA suggesting a better position during one formation, and RIMA asking which angle looks more beautiful for a certain move in relation to the camera. The result was an incredible display that was shot in one take, resulting in a round of applause from the studio staff.

Check out the commercial below.

Make Keep Mist EX

The new EX version of Make Keep Mist has stronger holding power to keep makeup smudge-free and looking fresh and beautiful all day. The product is available in a normal size and smaller 'trial' size. A new cool type, Make Keep Mist EX Cool, was released on April 16.

 

Make Keep Mist EX ¥1,320 / Make Keep Mist EX Trial Size ¥880 / Make Keep Mist EX Cool ¥1,320 (Tax Included)

Information

KOSÉ x NiziU Make Keep Mist EX Commercial

Initial Broadcast: April 15, 2021

Product Available: KOSÉ / Maison KOSÉ / Drugstores, online, and elsewhere in Japan

Official Website (English): https://www.kose.co.jp/makekeepmist/eng/

Japanese Organic Cosmetic Brand SABON to Open Green Pop-Up Shop in Shinjuku

Japanese natural and ethical cosmetic brand SABON is set to promote its line-up with the opening of its Blissful Green Limited Collection Pop-Up Shop at Isetan Shinjuku on April 14.

The pop-up shop serves as a promotional space and pre-sale opportunity for the brand's upcoming Blissful Green Limited Collection which incudes body scrub, body lotion, shower oil, and more. The collection invites people to a luxurious, natural self-care and shower-time experience. The brand will also hold a four-day calligraphy service for the spring season where customers can buy the items as gifts and include a special message.

Calligraphy Service

Customers who spend over ¥12,000 (tax included) can have a special sticker or gift card penned by a professional calligrapher who will write a name and gift message. Full details here in Japanese.

 

Dates/Times

April 16, 2021 @ 13:00-18:00

April 17, 2021 @ 16:00-20:00

April 24, 2021 @ 13:00-18:00

April 25, 2021 @ 13:00-18:00

Blissful Green Limited Collection

The Blissful Green Limited Collection is the embodiment of the SABON brand and offers thanks to the joy we feel being surrounded by nature. It captures the clean air inhaled in the forest, the gentle light filtering through the trees, and the coming-together of the mind, body, and nature. It includes body, face, and home items all packaged inside gorgeous bottles and tubs.

Information

SABON Blissful Green Limited Collection Pre-Release Pop-Up Shop

Running: April 14, 2021 – April 27, 2021

Where: SABON Isetan Shinjuku

Address: 3-14-1 Shinjuku, Shinjuku-ku, Tokyo

Opening Hours: 10:00-20:00

Product Page: https://www.sabon.co.jp/special_contents/Blissful_Green/

Ditto Pokémon Pink Gold Necklace Released by Japanese Luxury Jewellers U-TREASURE

Japan's luxury character jewellery brand U-TREASURE, which creates accessories for character-loving adults, welcomes its new Ditto Pokémon necklace coated in pink gold.

Ditto Necklace Silver (Pink Gold Coating) | ¥17,600 (Tax Included)

Ditto is known for its shapeshifting ability to transform into anything. This Normal-type Pokémon, first introduced in Generation I, has turned into a luxury pink gold necklace so you can take it with you on your Pokémon Trainer adventures wherever you go.

Kyary Pamyu Pamyu's Fragrance Brand Nostalgia Syndrome Releases Lily & Jasmine Series

Nostalgia Syndrome opened pre-orders for its new Lily & Jasmine series of fragrances on March 31. The products will be released on April 22.

Nostalgia Syndrome is a fragrance brand produced by Kyary Pamyu Pamyu which launched last year. The new Lily & Jasmine series will be available to purchase online and will also be sold at two brand pop-up shops in Tokyo and Osaka. Those who spend over ¥10,000 online or at either of the stores (tax included) will receive a free Nostalgia Syndrome novelty – these are available in limited supply.

Online Store Novelty: Original Thermal Bottle

Pop-Up Store Novelty: Original Big Eco-Bag

Lily & Jasmine Series

Eau de Toilette | ¥8,250 (Tax Included)

Room & Fragrance Spray | ¥3,300 (Tax Included)

Aroma Diffuser | ¥7,150 (Tax Included)

Bath Salts | ¥3,410 (Tax Included)

Hand Soap | ¥3,520 (Tax Included)

Scented Candle | ¥8,140 (Tax Included)

Eau de Toilette Two-Set (9mL)

Kyary Pamyu Pamyu | Comment

"This is Nostalgia Syndrome's second fragrance release. After mixing together various ingredients, I was finally able to catch the right scent. The theme for this one is 'travel fragrance.' Because of COVID, our time spent outdoors has gone down dramatically, but smells tied to our memories make up part of us all. And smelling them brings back those memories. This is a blend of sweet, sophisticated lily and refreshing jasmine, so it's a really easy one to use that can be enjoyed by both guys and girls. We're also opening our first pop-up shop so please be sure to drop by to try out!"

Lily and jasmine are vibrant fragrances and perfect for the spring season. Order yours today!

Information

Nostalgia Syndrome Lily & Jasmine

Pre-Orders: March 31, 2021 (Shipping from April 22)

Release Date: April 22, 2021

Pop-Up Stores

・+SPBS (SHIBUYA SCRAMBLE SQUARE 2F)

Running: April 22, 2021 – May 26, 2021

Where: +SPBS, SHIBUYA SCRAMBLE SQUARE Floor 2F, 2-24-12 Shibuya, Shibuya-ku, Tokyo

Opening Hours: 11:00-21:00

・Shinsaibashi PARCO

Running: May 13, 2021 – May 20, 2021

Where: Shinsaibashi PARCO Floor B1F, 1-8-3 Shinsaibashisuji, Chuo-ku, Osaka-shi-, Osaka

Opening Hours: 10:00-20:00

Nostalgia Syndrome Official Website: https://www.nostalgia-syndrome.com/

SHISEIDO MEN Skincare Collaborates With FC Barcelona and Captain Tsubasa

SHISEIDO MEN has teamed up with FC Barcelona and the popular soccer manga series Captain Tsubasa to launch the BARÇA x SHISEIDO FC Manga Player Generator App to promote men's skincare. This app shows men how to properly care for their skin with a quick virtual skin checkup. Users can also BARÇA x SHISEIDO FC, a virtual football team led by SHISEIDO MEN ambassador Sergi Roberto as well as Tsubasa Ozora, the main character of Captain Tsubasa.

BARÇA x SHISEIDO FC Manga Player Generator

Available for a limited time now until June 29, users can take a quick skincare check-up. The collaboration aims to encourage men to learn about their own skincare concerns as well as promote the importance of skincare amongst men in a more fun and engaging way.

Poké Lid Project Lays Down New Manhole Covers in Kyoto

Five new Pokémon manhole covers were laid in Kyoto on Tuesday as part of the Poké Lid  project to place Pokémon-design manhole covers across the country.

Kyoto Original Poké Lids

The five Poké Lids are located in Arashiyama, Okazaki Park, Maruyama Park, Umekoji Park, and Nishikyogoku Athletic Park.

All of the Poké Lids placed across Japan feature completely original Pokémon designs making each individual one the only one in the world. The Pokémon Company is also working to make each one of them PokéStops for Pokémon GO.

 ©2021 Pokémon. ©1995-2021 Nintendo/Creatures Inc./GAME FREAK inc.

NiziU Feature in Promotional Commercial for KOSÉ's Make Keep Mist EX

KOSÉ are set to roll out a new commercial in Japan on April 15 for their makeup fix mist product Make Keep Mist EX. The commercial will feature NiziU along with their new song I AM.

The commercial tie-up comes after the huge positive reception NiziU got after their appearance in another KOSÉ commercial that aired in January. The video featured their song Joyful as well as the popular 'eyelash dance.'

Stay tuned for the release of the commercial.

Sanrio's Pompompurin, Cinnamoroll, and My Melody Collaborate With Beauty Brand LUX

Total beauty brand LUX is set to collaborate with Sanrio on its non-silicone hair care series LUX LUMINIQUE which will launch on March 29.

LUX LUMINIQUE Damage Repair Pompompurin

LUX LUMINIQUE Happiness Blue My Melody

LUX LUMINIQUE Botanical Pure Cinnamoroll

This marks the second collaboration between LUX and Sanrio, following the success of the first back in June 2020. The collection includes the LUX LUMINIQUE Damage Repair with Pompompurin who is celebrating his 25th anniversary this year. For the LUX LUMINIQUE Happiness Blue we get My Melody wearing her super cute trademark, and for the LUX LUMINIQUE Botanical Pure, Cinnamoroll makes an appearance, the fan-favourite who won the Sanrio Character Ranking last year for the third year in a row.

The products are packaged in cute designs featuring the trio enjoying a well-deserved bath, inviting you to do the same as you enjoy the collection when it launches on March 29.

Information

LUX LUMINIQUE x Sanrio Characters

Release Date: March 29, 2021

Official Website: http://www.lux.co.jp/

Sanrio's Cinnamoroll Collaborates With AEON On Merchandise and Product Collection

AEON released a special collection of 18 items in collaboration with popular Sanrio character Cinnamoroll on March 19 at 420 of their AEON and AEON Style branches in Japan.

Cinnamoroll x AEON Line-Up

Cinnamoroll is Sanrio's lovable white pup who took 1st place in the annual Sanrio Character Ranking last year for the third year in a row.

About the Cinnamoroll products

The line-up of products features everyday items from body and skincare items for miscellaneous goods, all featuring AEON-exclusive Cinnamoroll designs. The items are imbued with a message from Cinnamoroll, that we must "Cherish every act of kindness and consideration!" Cinnamoroll wishes to help those people who are working hard everyday by giving them a bit of love through the collection.

A little look at the collection

Steam Cream Omoiyari Heart | ¥1,680 (Before Tax)

A moisturising cream made with organic ingredients, perfect for general skincare, as hand cream, and can even be used on hair.

Pink Hand Gel With Rubber Strap | ¥680 (Before Tax)

Something everyone has with them these days – convenient for when you're out and can't wash your hands. Now you can look cute doing it.

Acne & White Clear Mist Skin Spray | ¥1,500 (Before Tax)

This mist can be sprayed onto acne and can be used for skin whitening. It has a faint citrus smell to it and is gentle on the skin.

Mini Vanity Pouch | ¥2,500 (Before Tax)

An adorable vanity pouch for storing your makeup, skincare items, and other bits and bobs.

Hairband | ¥980 (Before Tax)

A fluffy hairband for when you get out the tub or are enjoying some relaxation time at home.

This is just a small look at a bigger collection – check the link below for the full list.

Lovisia Releases Detective Conan Cosmetic Collection

Japanese cosmetic brand Lovisia has released its New Styley collection in mid-April this year. The collection is based on the popular anime series Detective Conan, also known as Case Closed outside Japan, in promotion of the upcoming film Detective Conan: The Scarlet Bullet.

Detective Conan Eyeshadow – Conan & Kid Gold and Brown | ¥2,200 (Tax Included)

Detective Conan Eyeshadow – Conan & Kid Gold and Brown | ¥2,200 (Tax Included)

Detective Conan Lipsticks – Clear, Coral Pink, Beige Pink, Scarlet Red, Nude Beige | ¥1,320 Each (Tax Included)

Mew Pokémon Diamond Necklace With Pink Gold Coating Releases in Japan

Japanese character jewellers U-TREASURE is now taking limited-time orders for a new pink gold-coated necklace based on the beloved Pokémon Mew. It's available to buy until April 13 at the U-TREASURE Concept Store in Ikebukuro and on their official website.

Pokémon Silver Pink Gold Coated Mew & Poké Ball Necklace | ¥17,600 (Tax Included)

The gorgeous necklace features Mew sat on top of a Poké Ball with its cute tail wrapped around the necklace chain. The Poké Ball has a sparkling diamond at its centre. A stylish piece that any Pokémon lover will want to wear!