Yuri!!! on ICE x Sanrio Characters Come Together at a Themed Cafe in Tokyo
LEGS COMPANY has revealed that it is opening a Yuri!!! on ICE and Sanrio fusion themed cafe called "Yuri on Ice x Sanrio Characters Cafe 2020" in Shibuya, Tokyo for a limited time from August 6, 2020.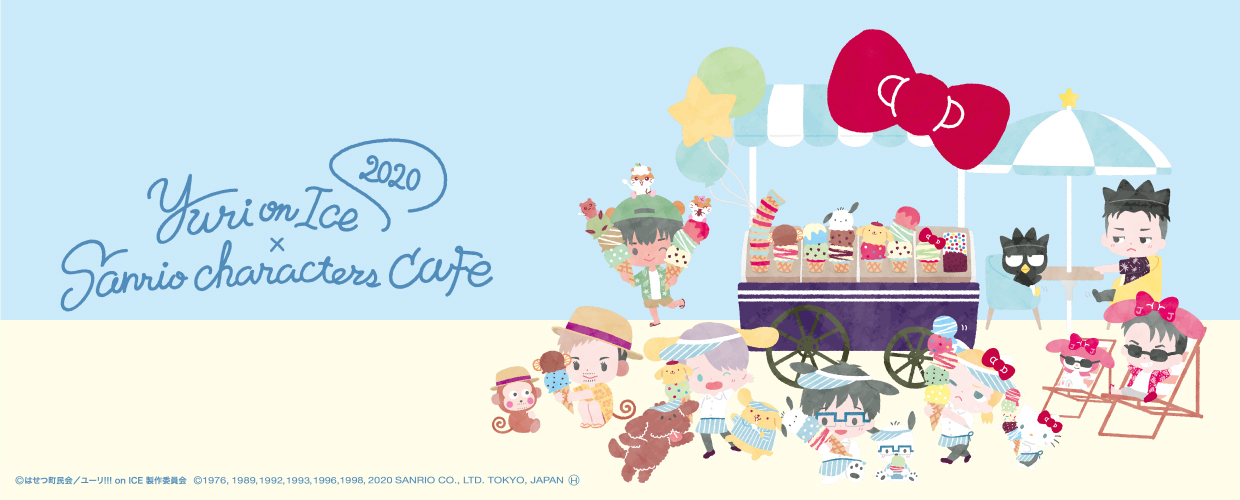 Yuri!!! on ICE is a sports anime series centred on figure skating. It was produced by MAPPA and directed and written by Sayo Yamamoto together with Mitsurō Kubo. The series received rave reviews from anime watchers and the figure skating community.
LEGS COMPANY brought this collaborative cafe to Tokyo and Osaka once before back in September and October of 2017. The collaboration is set to return this summer, with this year's theme centred on an ice cream stand. The menu is made up of themed dishes, drinks, and desserts. Let's take a look at just some of the items on offer.
A Select Look at the Menu
Food

Utopia Akatsuki Simmered Cutlet Plate: ¥1,599
A Yuri!!! on ICE classic, this katsudon dish is served in a separated style.
Borscht Plate: ¥1,599
Borscht is a Russian dish that appears in the show, and in this plate it's served as a main. Enjoy together with the sour cream.
Paella Plate: ¥1,599
A Spanish dish that appears at the end of the show, served with fish, sauce, and a side of gazpacho cold soup.
Desserts

Pancake & Ice Cream Plate: ¥1,399
Enjoy a mix of sweet and sour flavours with a fruit and whipped cream-topped pancake and ice cream. You get to pick your favourite character for your ice cream.
Tiramisu & Ice Cream Plate: ¥1,399
You can choose your favourite character with the bittersweet tiramisu too.
Drinks

Soda Float: ¥989 (Bottom Left: Strawberry / Middle: Melon / Right: Blue / Top Left: Cola / Top Right: Coffee)
Stickers (14 Designs): ¥400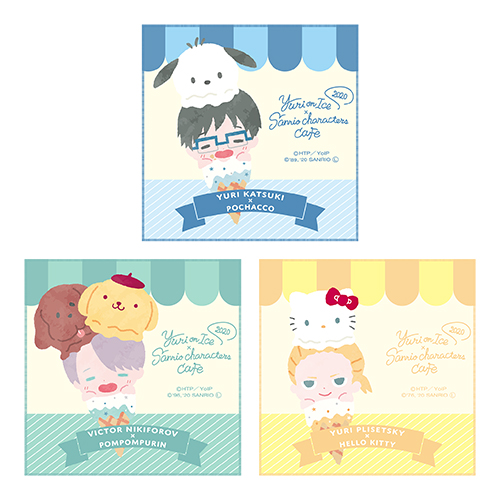 Mini Towels (3 Designs): ¥850 Each
Fans can get their hands on exclusive merchandise too which is also available online in Japan.
Fans (4 Designs) *For those who book a table in advance only

Coasters (7 Designs) *For those who order a drink only
The cafe will also offer free merchandise too, including fans for those who book a table in advance, coasters for those who order a drink, and more.
©はせつ町民会/ユーリ!!! on ICE 製作委員会
©1976,1989,1992,1993,1996,1998,2020 SANRIO CO.,LTD. APPROVAL NO.610406
Information
Yuri on Ice x Sanrio Characters Cafe 2020
Running: August 6, 2020 – September 22, 2020
Location: SHIBUYA BOX cafe&space (Shibuya LOFT 2F, 21-1 Udagawacho, Shibuya, Tokyo)
Reservations: Now Open
Reservation Price: ¥650 (*4 seats per reservation)
Yuri on Ice x Sanrio Characters Cafe 2020 Official Website:
https://yuri-sanrio-characters-cafe.jp/
RELATED ENTRIES
Laforet Harajuku Welcomes High-End Brands and Tokyo's First Femtech Store For Spring 2021

Starting this month, Laforet Harajuku is readying itself for Spring 2021 with the rollout of items by high-end brands and shops, all with an audience in mind who simply love culture regardless of their age or gender. This spring will see the opening of Lois CRAYON, a brand that emphasises individuality and will be celebrating its 50th anniversary next year, as well as "circle in circle," a new spot that will serve as a gathering place for a variety of clothing brands like l'atelier du savon, CHILD WOMAN, and more.


Laforest will also welcome LOVE PIECE CLUB to Tokyo for the first time, a shop which opened as Japan's first centring on Femtech. It offers a variety of items to help support women's health through technology.

AIR will offer a diverse wardrobe of unisex items from popular street brands such as REVENGE STORM, STARWALK, THEATER8, and more. CHOA ONNI is exhibiting South Korean culture like wearing K-pop idol clothes to take photos, and ovgo B.A.K.E.R is serving up vegan food and gluten-free cookies.


Public toilets will display photos by photography unit Toki to Yamikaya and Alexander Julian.


March 6 | New Store Opening
《Floor 1F》Lois CRAYON




4.23| New Store Opening
《Floor 3.5F》circle in circle




March 26 | New Store Opening
《Floor B0.5F》LOVE PIECE CLUB




February 11 | New Store Opening

《Floor 3F》『    』AIR




February 25 | New Store Opening
《Floor B0.5F》ME'VE the store
 

March 12 | New Store Opening
《Floor B0.5F》




February 25 | New Store Opening
《Floor 5F》SpRay/Libby&Rose




February 25 | New Store Opening
《Floor B1F》CHOA ONNI




March 6 – April 4 | New Store Opening
《Floor 2F》ovgo B.A.K.E.R





《Floor B1F》Women's & Men's Gallery Toilets

  

 Toki with Alexander Julian

Alexander Julian
Yamikaya / FLOWER PUSHER

■Laforet Harajuku 2021 SS Promo Visual

Laforet Harajuku's Spring/Summer 2021 promo visual was created by Japanese art director Uenishi Yuri. Following the Autumn/Winter 2020 theme, Uenishi has conceived a new concept: 'CHARGE.' This theme focuses on the roots of plants that spread underground, with the yellow colour used in the visual reminiscent of electricity or lightning flashes.

Sanrio Design Face Masks by Maison de FLEUR Keep You Stylish and Safe

Maison de FLEUR has revealed a new collection of face masks created in collaboration with Sanrio which will be released in Japan on February 23.

Sanrio Character Collab Masks | ¥2,200 Each (Tax Included)

My Melody

     Cinnamoroll

Little Twin Stars

Pompompurin

Kuromi

The masks are designed from the popular Sanrio characters My Melody, Cinnamoroll, Little Twin Stars, Pompompurin, and Kuromi. The parts that hook over your ears are fitted with a big, cute satin ribbon, and the front of the masks feature a gold leaf print matte design.

The masks can be used both as a fashion item and for protection against COVID-19.

Information

Maison de FLEUR x Sanrio Character Collab Masks

Release Date: February 22, 2021 at 20:00 @ STRIP CLUB / February 23, 2021 @ Maison de FLEUR stores

STRIPE CLUB Official Website: https://stcl.page.link/Z3cE

ZOZOTOWN: https://zozo.jp/

Disney Japan Celebrates Minnie's Day With Exclusive Minnie Mouse Merchandise

Minnie's Day is set to fall in Japan on March 2, so to celebrate, Walt Disney Japan is getting in on the festivities nice and early by announcing the release of a new Minnie Mouse merchandise collection, called the "Disney ARTIST COLLECTION by Kelly Park," which will be officially released at Disney stores in Japan on February 23. Pre-sales will also roll out at select stores and Disney Japan's online store shopDisney from February 19.

©Disney

©Disney

Plushie ¥3,300 / Makeup Brush Set ¥2,640 / Tote Bag ¥2,090 / Room Fragrance ¥4,180 / iPhone Case (iPhone 11) ¥3,520 / Mirror ¥2,420 / Ballpoint Pen & Notebook Set ¥1,980 – (Prices Include Tax)

©Disney

nuiMOs Plushie ¥2,750 (Tax Included)


Kelly Park is an artist that is enjoying immense popularity in South Korea right now. Their new "Disney ARTIST COLLECTION by Kelly Park" is an exclusive release in collaboration with Disney Store.

The line-up is a celebration of all things Minnie Mouse for her big day, aptly named "Minnie's Day," on March 2. Vibrant blue is the main colour for the collection which Kelly Park has created to support fellow dreamers out there – those who have big hopes and aspirations in their everyday lives. The designs are bright, beautiful, and full of positivity, making them a perfect pick for the coming spring season. Minnie fans can feel fresh this spring season with fahsion items, accessories, stationery, a variety of lifestyle goods, and more.

Disney's popular nuiMOs plushie range will welcome an exclusive new Minnie Mouse plushie on February 26 which features the date "March 2, 2021" on it for Minnie's Day. It also comes with a pin. These plushies are limited-edition and only 320 will be sold – a number that of course aligns with March 2.

Celebrate the day of the original Disney Princess with the new Disney ARTIST COLLECTION by Kelly Park.

Little Twin Stars Doughnuts at Floresta Celebrate White Day

Floresta Nature Doughnuts, a doughnut cafe in Japan that hand-makes doughnuts using organic ingredients, is celebrating White Day this year by releasing two doughnuts based on the Little Twin Stars which will be served from March 1 to 14.

The Little Twin Stars, also known as Kiki & Lala, are two of the most popular characters by Sanrio, the company known for such iconic faces as Hello Kitty.

Kiki & Lala Doughnuts | ¥450 (Before Tax)

Kiki & Lala are twins who were born on the Star of Compassion. The doughnuts capture the cute duo atop fluffy pink clouds made from strawberry and white chocolate.

The doughnuts are made without any additives or colouring. The ring part of the doughnut is coated in a strawberry chocolate made from organic strawberry powder for a sweet and sour kick.

 

Celebrate White Day this year, the sequel to Valentine's Day in Japan, with the Little Twin Stars.

©'21 SANRIO CO., LTD. APPROVAL NO. L615092

Tokyo Nightlife Beckons With Tokyo Tower's NAKED SAUNA & SPA

It's time to strip down and relax as Japanese company NAKED announces that its 'NAKED NIGHT SAUNA' event, which is being held as part of its 'NAKED SAUNA & SPA' project, will take place atop Tokyo Tower from March 12 to 14. Visitors will also receive a relaxation drink called 'CHILL OUT' in collaboration with Endian.

NAKED SAUNA & SPA is a sauna project launched by NAKED in November 2020 to promote equilibrium of the senses. The first event was held in the village of Achi in Nagano Prefecture which is known for being Japan's best location for enjoying the starry night sky. The second event was themed around the concept 'Art of Meditation.' It was held in Ariake and had visitors becoming one with nature as they sat under the expanse of Tokyo's night sky to enjoy every gleaming speck that twinkled above them. It was an opportunity for busy city workers to reset and recalibrate.

Now, the project is set to host its third event in collaboration with Tokyo Tower. Visitors can enjoy towering above the capital's city streets as they enjoy a sauna experience inside exclusive tents. It will be a fusion of analogue and technology as people enjoy sitting by the fire, smoking shisha, and gazing at mist that will be pumped and illuminations that will be lit to create atmosphere. Of course, this entire event will be held in accordance with government guidelines to prevent the spread of COVID-19. Social distancing will be enforced which will include a drive-through system so you don't come into contact with people, and all visitors will have their own tents (groups of 4 max), and all tent saunas will be separated with partitions.

The tent saunas that will be used are MORZH SKY, a type of tent with a transparent roof made by the Russian tent company MORZH. They are provided by Sauna Camp.Inc. The tents are fitted with a stove and chimney so visitors can adjust the temperature to their liking.

To attend the event, you must register to the Facebook online community NAKED SAUNA CLUB and fill out the form that will be made available there on March 1 and 2. A select number of visitors will be chosen at random on March 3 and winners will be contacted directly on March 4 with further instructions.

If you're in Tokyo this March, then don't miss out on a chance to kick back and unwind up Tokyo Tower with a sauna treat.

Information

NAKED NIGHT SAUNA at Tokyo Tower

Running: March 12, 2021 – March 14, 2021

Location: Tokyo Tower

Address: 4-2-8 Shibakoen, Minato-ku, Tokyo

Opening Hours: 17:00-20:00

Price: ¥20,000 (tax included) for 1-day tent rental (max 4 people)

Tickets: Will be posted on NAKED SAUNA CLUB Facebook Group

NAKED Official Website: https://naked.co.jp

Shibuya PARCO Reveals Fashion Campaign Key Visual For Spring 2021

Shibuya PARCO has unveiled its key visual for its Spring 2021 fashion campaign "SHIBUYA PARCO S/S NEW LOOK" which features Japanese model Lala Takahashi.

SHIBUYA PARCO S/S NEW LOOK Key Visual

In the visual, Lala Takahashi is donning the 'Pablo' series by UNDERCOVER which is inspired by Picasso's 'Blue Period.' It's been transferred onto a print of an abstract oil painting by Jun Takahashi. The photo was taken by visual artist Takako Noel, while the conceptual headpiece, which is made from recycled plastic, was created by hair stylist Haruka Tazaki.

The campaign brings with it a wave of new fashion and cosmetic items from stores inside Shibuya PARCO. A special coupon that can be used on the PARCO online store from February 9 to 28 is also available. It comes in response to stay-at-home measures raised in Japan due to the pandemic.

Japan's Snoopy Themed PEANUTS Cafe Reveals Charlie Brown Inspired Dessert

Six branches of the hugely-popular PEANUTS Cafe in Japan are welcoming a collection of tasty new seasonal menu items this Saturday which are set to be served until March 14.

The Limited-Time Line-Up

Brownie Charles's Brownie Chocolat | ¥950 (Before Tax)

Strawberry Whipped Hot Chocolate | Eat In ¥750 – Takeout ¥700 (Before Tax)

The collection includes a chocolate brownie inspired by the scene when Charlie Brown meets Peggy Jean for the first time. He is very nervous and mistakenly introduces himself as "Brownie Charlies." There's also a sweet strawberry hot chocolate topped with a squirt of whipped cream and drizzle of strawberry sauce.

(C) 2021 Peanuts Worldwide LLC

Information

PEANUTS Cafe Limited-Time Menu
Running: February 13, 2021 – March 14, 2021
Participating Branches: PEANUTS Cafe Nakameguro, PEANUTS DINER Yokohama, PEANUTS DINER Kobe, PEANUTS Cafe Kobe, PEANUTS Cafe Snoopy Museum, PEANUTS Cafe Nagoya
PEANUTS Cafe: http://www.peanutscafe.jp/
PEANUTS DINER: http://www.peanutsdiner.jp/
Snoopy Japan Official Website: http://www.snoopy.co.jp/

Baumkuchen Served Hot at Your Home Baked Up by Nenrinya

Japanese bakery and confectionery company Nenrinya is releasing a takeout baumkuchen dessert which can be warmed up at home. The baumkuchen was released at Nenrinya's JR Shinagawa Station branch on Monday (February 1) and will be released at their Daimaru Tokyo and Sogo Yokohama branches on February 16.

Hot Baum Shikkarime | ¥432 (Tax Included)

To heat up, you simply microwave it for 30 seconds at 500W. This leaves the inside moist and adds a crunch to the outside, all while helping to emit the sumptuous smell of that butter. It goes perfect with a cup of coffee, tea, or milk. Customise by adding some whipped cream or pour some melted chocolate over.

Information

Hot Baum Shikkarime

Japanese Product Name: ホットバーム しっかり芽

Nenrinya JR Shinagawa Station

Running: February 1, 2021 – April 30, 2021

*Serving from 12:00pm at this branch

Nenrinya Daimaru Tokyo & Nenrinya Sogo Yokohama

Running: February 26, 2021 – February 28, 2021

Nenrinya Official Website: https://www.nenrinya.jp/

Cute Milk Bottle Pudding Releases at Milk Bakers in Tokyo

Tokyo-based bakery Milk has released an adorable new milk pudding at two of its branches, both of which are served in cute milk bottles.

Smooth Pudding / Milk Pudding – ¥380 Each (Tax Included)

Box of 4

Box of 8

Pudding Soft

Carefully-selected and fresh milk of high quality is used to make these Japanese-style puddings, known as purin. Each and every one is handmade individually, and they can be bought separately or in boxes of 4 and 8. No preservatives, additives, of any nasty stuff is added to the dessert either.

Also on the menu is a milk-loaded soft serve ice cream. The cup it's served in has a cute retro design to it.

Information

Milk Pudding
Available: Milk Sano / Milk Shibuya
Address: 2-7-1 Sano, Adachi-ku, Tokyo
TEL: 03-5613-5550
Opening Hours: 10:00-18:00
Closed: Wednesdays
Official Website: https://tokyo-milk.jp/

Love Me Pom Poko! Manga Gets Themed Cafe at NewType Shinjuku in Tokyo

NewType Shinjuku, a subculture cafe and bar in Tokyo, is collaborating with Modomu Akagawara's manga series Love Me Pom Poko! from February 6 to 28. The cute and charming world of the series arrives not only on the food and drinks menu but in the form of merchandise and decorations too. As is the case with collaboration cafes in Japan, there's some free novelties for customers to enjoy when they purchase something from the menu too.

The Menu

©Modomu Akagawara/Hakusensha

©Modomu Akagawara/Hakusensha

Merchandise Line-Up

©Modomu Akagawara/Hakusensha

Novelty Coasters

©Modomu Akagawara/Hakusensha

Love Me Pom Poko! is not that known in the West yet, but if you happen to be in Tokyo this month, be sure to stop on by to experience the art of the series yourself.

Information

Love Me Pom Poko! Collab Cafe
Running: February 6, 2021 – February 28, 2021
Location: NewType Shinjuku
Address: Dash Bldg. 1F, 5-12-16 Shinjuku, Shinjuku-ku, Tokyo
Opening Hours: [Weekdays] 16:00-20:00 / [Weekends & Holidays] 11:00-20:00
TEL: 03-5315-4799
Official Website: http://ntsnjk.tokyo/

Taiwanese Melon Bread Heads to Harajuku Food Factory

The hugely popular Taiwan Melon Pan bread, which sells 10,000 units a month in Osaka, Kichijoji, and Nishiogikita, is now being served at Harajuku Food Factory until February 20.

Taiwan Melon Pan | ¥380 (Before Tax)

Taiwan Cheese Melon Pan | ¥450 (Before Tax)

The Taiwan Melon Pan bread is a combination of sweetness, rich butter, and salt for an irresistible flavour experience.

Information

Harajuku Food Factory – "Taiwan Melon Pan"
Serving: February 3, 2021 – February 20, 2021
Where: Harajuku Food Factory
Address: THE SHARE Floor 1F, 3-25-18 Jingumae, Shibuya, Tokyo
Opening Hours: 11:00-20:00
TEL: 03-5772-8858
Official Website: http://www.opefac.com/

Enjoy a Valentine's Day Bath at Ofuro Cafe no Yu Hakuju in Saitama

Ofuro Cafe Hakuju no Yu is holding a special Valentine's Day event for lovers which will run from February 6 to 14.

Though the bath house is split between male and female, couples can write messages of love to their special someone on a heart-shaped plaque made from Japanese cypress wood. The plaques were made in collaboration with the local business Kanezawa.

Choko Sweet Sake Shake | ¥630 (Before Tax)

For the Valentine's event, the bath house is also serving up a special shake beverage made with chocolate and sweet sake. The polyphenol in chocolate is said to be good for health and beauty, making it a perfect choice for a day of luxury at Ofuro Cafe Hakuju no Yu.

Guys who visit the bath house on Valentine's Day itself will also receive free Valentine's chocolate.

Information

Valentine's Bath
Running: February 6, 2021 – February 14, 2021
Venue: Ofuro Cafe Hakuju no Yu
Address: 337-1 Wataruse, Kamikawa, Kodama District, Saitama
TEL: 0274-52-3771
Official Website: https://ofurocafe-hakujyu.com/

■About Ofuro Cafe

Ofuro Cafe is a chain of hot spring brands made for long stay periods. It offers a variety of free services such as coffee, magazines, comics, massage chairs, PC rental, and more. The experience created is like being invited to a friend's house to kick bck and relax. There are three branches in Saitama including Ofuro Cafe Utatane, Ofuro Cafe Hakuju no Yu, and Ofuro Cafe Bivouac, as well as one branch in Mie, Ofuro Cafe Yumoriza. It also has three franchise branches: Ofuro Cafe Bijinyu in Shizuoka, Ofuro Cafe Biwakoza in Shiga, and Ofuro CafeSeiyukan in Hokkaido. "おふろcafe(R)" is a registered trademark of ONSENDOJO INC.

■ONSENDOJO INC.
Founded in March 2011. Manages hot spring facilities including the Ofuro Cafe brand as well as resort facilities, consultation services, and supporting regional businesses.
http://onsendojo.com/