Did you know about the art exhibition currently going on down in Kayabachō? This fun and exciting happening in Nihonbashi is the talk of the town, combining the latest digital technology with a theme of springtime flowers. Add into the equation gourmet restaurants and cafés and you have yourself a jam-packed, exciting day!
yurippa and Ema & Eri headed on over to Kayabachō in Nihonbashi to experience this 1-day plan!
But before setting to work, they went and had a good meal.
SPOT① WA CAFÉ AIM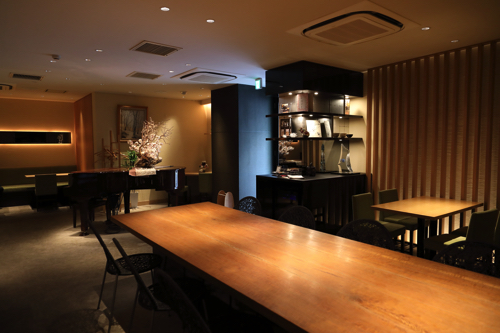 WA CAFÉ AIM is a short 2-minute walk from Kayabachō Station. The café is stylish, comfortable and a feeling of maturity to it – a place for adults to mingle – with the colourful sound of a piano chiming through. They have an all-day lunch menu, so if it's night-time and you fancy yourself a bit of lunch, then do not worry, they have you sorted.
Their pork curry is special in that it is sweet, sour and spicy all at once. The nicely cooked meat and spicy roux are exquisite together. Legend has it that there are some dedicated fans out there who go there every day to eat it for lunch!
There's also a superb selected of desserts to choose from – ranging from puddings to cakes – perfect for a girls' day out where everyone can share♡
<Shop Information>
Address: 1 Chome-6-17 Kayabachō, Nihonbashi, Chūō-ku
Open: 11:00-23:00 (Last orders for food at 22:00)
Closed: Weekends and National Holidays
SPOT② "Super Ukiyo-e: The Edo Code"
– Japan's traditional art of ukiyo-e fuses with cutting edge technology
"Super Ukiyo-e: The Edo Code" transforms ukiyo-e into something you've never seen before. See traditional ukiyo-e paintings created by famous painters enlarged into a high-definition digital format. Each piece is blown up and animated to create a 3D effect. This is something that could never have been experienced before; thanks to today's technology, you can experience the true appeal of ukiyo-e in an all new way!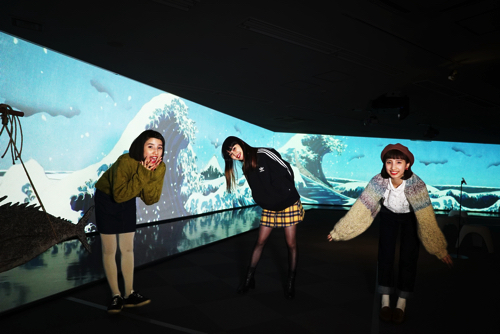 A collaborative piece between legendary ukiyo-e artists Hokusai and Hiroshige is also on display over in the fish market of Edo Bay. Of course, you can expect to see their artwork in motion too. I bet you never even dreamed you'd see this day!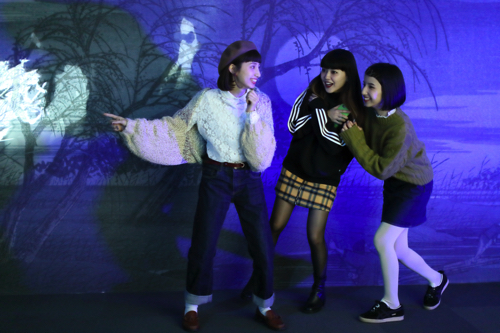 You'll also be spooked by the ghost ukiyo-e paintings in the "Obake Area" (Ghost Area). Try and catch the ghosts!
Super Ukiyo-e: The Edo Code
Official Website: https://superukiyoe.com/
SPOT③"The Mysterious Restaurant of the Food God"
– Dive deep into the world of traditional Japanese food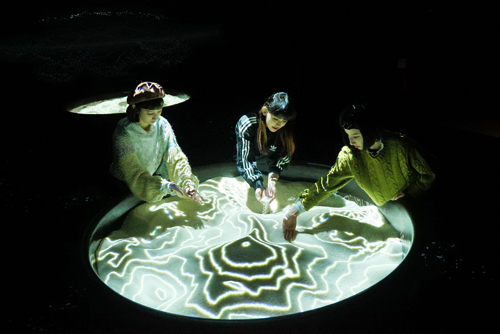 We headed into a mysterious and fantastical world of "washoku" (traditional Japanese cuisine) which combines food with state of the art digital technology. Washoku is indispensable for the Japanese people. And now you can experience the food in an entirely new way.
It's a place filled with interactive technology. We touched the screens and instantly became one with the seasons. The essence of spring, summer, autumn and winter can all be found in them.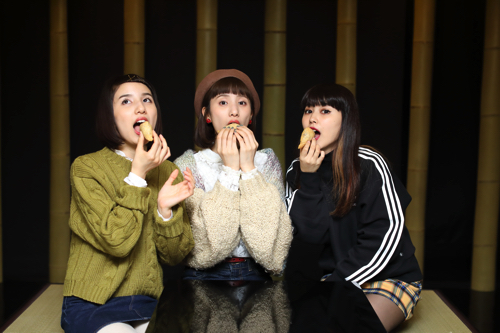 As we continued through the exhibition, we came to a restaurant where we found cooks holding the god's hand. The food was especially delicious ♡
The Mysterious Restaurant of the Food God
Official Website: https://tabegamisama.com/
There are a number of campaigns currently running for the two art exhibitions we mentioned today. Full details regarding the campaigns can be found on the official homepages.
We got our fill of food and cafés at both exhibitions! Seeing, touching and tasting – the day out in Nihonbashi was even more fun than I had imagined.
Because it is old-time Edo, the combination of both the traditional and modern was wonderful. Be sure you don't miss your only chance to see this exhibition ♡
Writer:Miiki Sugita
Photo:Takuya Ikawa
Model:Yuri Suganuma @yurippa93
               Ema Tanioku @ematanioku
               Eri Tanioku @eritanitani
RELATED ENTRIES
Halo at Yojohan's New Album 'ANATOMIES' Releasing Next Year

It has been announced that Halo at Yojohan's new album ANATOMIES will be released on January 29, 2020. This will be their second studio album since going major.

The 12-track album will include Nakura which serves as the opening theme song for season two of the anime series Radiant, as well as the ending theme Hana Kazari no Uta for season two of the anime series Edomae no Shun.

Japanese composer and arranger Yoshiaki Dewa, who has produced music for amazarashi, was involved in producing the album's lead track Innocent Play as well as Sosei. This mark's Dewa's second collaboration with Halo at Yojohan, following his work on the track Living Dead Swimmer taken from Halo's mini album from NOVEL LAND which was released back in June.

Those who pre-order the album early will be able to download Halo's live footage taken from their "NOVEL LAND LANDING" held solo concert back in July. Additionally, fans can receive exclusive store bonus items depending on where they purchase the album from. More details below.

Information

Halo at Yojohan – 2nd Album "ANATOMIES"

Release Date: January 29, 2020

Price: ¥3,300 (Tax Included) [COCP-41004]

Tracks: 12

■CD Early Pre-Order Bonus
Those who pre-order the album before December 25, 2019 will receive a "Music Connecting Card" to download Halo's live footage taken from their "NOVEL LAND LANDING" solo concert which was held on July 19, 2019 at Zepp DiverCity Tokyo
More Details: https://columbia.jp/artist-info/haloat4johan/info/68428.html

■CD Store Bonus Items
TOWER RECORDS: Postcard w/ serial code (TOWER RECORDS ver)
HMV: Self liner notes w/ postcard (HMV ver)
TSUTAYA RECORDS: Self liner notes w/ postcard: TSUTAYA RECORDS ver)
Other Supporting Stores: Self liner notes w/ postcard (Supporting Store ver)
More Details: https://columbia.jp/artist-info/haloat4johan/info/68503.html
*Please note that select branches will not stock these bonus items

*Available while supplies last

Halo at Yojohan Official Website: http://haloat4johan.com/

amazarashi's New Music Video Features Multiple Famous Japanese Actors

Aomori-based Japanese rock band amazarashi, which is centred around its vocalist and guitarist Hiromu Akita, has released the music video for their song Mirai ni Narenakatta Ano Yoru ni taken from their upcoming live DVD/Blu-ray Mirai ni Narenakatta Subete no Yoru ni which is set for release on November 27, 2019.

amazarashi – "Mirai ni Narenakatta Ano Yoru ni" Music Video

The music video features a cast of notable Japanese actors. When it was revealed that the likes of Ryusei Yokohama, Yosuke Sugino, Yuki Izumisawa, and Tokio Emoto, the news blew up on Japanese television and trended across social media. amazarashi became close with Japanese film director Michihito Fujii as they wrote the song Tarareba as the main theme song for his movie Ao no Kaerimichi. This led to Fujii writing the story for the music video, which is centred on past stories of amazarashi member Hiromu Akita.

The video was shot over a three-day period in 21 different locations. Some of the scenes were difficult and took a lot of effort to get right too, like the part when Ryusei Yokohama cries and screams into the falling rain along the train track at the exact same moment the train passes by.

The video also sees additional casting from actors Yurika Nakamura and Shodai Fukuyama, both of whom have starred in leading film roles, as well as young up-and-coming actor Keisuke Tomita, Takayuki Hamatsu who played the leading role in One Cut of the Dead, a cameo of music Youtuber Kobasolo who has over 2.2 million subscribers, and more.

Comments from Ryusei Yokohama, Yosuke Sugino, Yuki Izumisawa, and Tokio Emoto were published on the special site for amazarashi's forthcoming DVD/Blu-ray release. Below are their comments translated into English.

Ryusei Yokohama: "I am overwhelmed that I could be a part of such a great cast alongside director [Michihito] Fujii and the wonderful staff for amazarashi's music video. I saw that they were filming it on such an emotional and grand scale like a movie, and how beautiful of a music video it was to be, so I knew I had to be involved with this team and make that movie with them. I met amazarashi during [the shoot for] Ao no Kaerimichi and began listening to them from then onward. Their music feels close to me at any time. It's indispensable for me. Their song Mirai ni Narenakatta Ano Yoru ni is full of their extraordinary thoughts. It's a song I can relate to. It hits home. I think it's one a lot of people will be able to relate to. I hope amazarashi's appeal attracts a lot of people."

Yosuke Sugino: "Akita from amazarashi made me feel what it's like to step into his shoes for a bit with this song and music video. It was a unique music video shoot. I was looking forward to seeing how they were going to do everything, and after I did, I ended up even more attracted to the idea than I had imagined. It moved me. I hope you all get on board too. This was my first time acting alongside Izumisawa and Emoto, but we had the band members too, so thanks to them I was able to get close to them early on into the shoot. I felt there was a good air for the session. It had also been a while since I co-starred with Ryusei Yokohama, so I was just beaming."

Yuki Izumisawa: "I had the opportunity to be in amazarashi's music video. It's the same in Mirai ni Narenakatta Ano Yoru ni, but amazarashi's messages in their music is so powerful. Each and every word leave a delicate impression on you. Plus, Michihito Fujii was the director, and was able to make [the music video] pull you in like a movie. I hope it reaches a lot of people, even one. Please look forward to seeing it."

Tokio Emoto: "I wasn't too familiar with amazarashi's music, so I came to learn more about them with this music video. One thing that I thought when shooting the music video was how difficult and scary it is for something to come to an end. But it also means the start of something new. I felt that the end of this song was the start of another. I'm not sure if that's what they were going for. I had fun being involved. Thank you to everyone."

Information

Mirai ni Narenakatta Ano Yoru ni

Released: November 20, 2019

Download/Stream: https://smar.lnk.to/ZOdy4

amazarashi LIVE TOUR 2019 "Mirai ni Narenakatta Subete no Yoru ni"

Release Date: November 27, 2019

Limited Pressing Edition (Blu-ray)

Includes: Blu-ray, 2 Discs, Original Sweatshirt, LP CD Cover, Zip Lock Packaging

Price: ¥8,000 (Before Tax) / Stock No.: AIXL-127〜130

Pre-Orders: https://smar.lnk.to/zt_5l

Limited Pressing Edition (DVD)

Includes: DVD, 2 Discs, Original Sweatshirt, LP CD Cover, Zip Lock Packaging

Price: ¥7,000 (Before Tax) / Stock No.: AIBL-9439〜9442

Pre-Orders: https://smar.lnk.to/baEIk

Regular Edition (Blu-ray)

Includes: Blu-ray

Price: ¥5,300 (Before Tax) / Stock No.: AIXL-126

Pre-Orders: https://smar.lnk.to/ZN8Ex

Regular Edition (DVD)

Includes: DVD

Price: ¥4,300 (Before Tax) / Stock No.: AIBL-9438

Pre-Orders: https://smar.lnk.to/gl4T3

Blu-ray/DVD Special Site: https://www.amazarashi.com/miraininarenakatta

amazarashi Official Website: http://www.amazarashi.com/

The Fairy Godmother Waves her Wand to Transform Tokyo Disney Resort for Christmas

Disney magic flows through the veins of Disney Resort throughout the year. However, when the clock strikes Christmas time, the entire resort transforms for Disney Christmas: the annual event where the streets sparkle the most compared to any other yearly event.

With Christmas just over the horizon, the Fairy Godmother waved her magic wand over all areas of the park ー including the hotels. This year, a whole load of delicious Christmassy afternoon tea dishes have poofed onto the menu at Disney Ambassador Hotel's Hyperion Lounge. Today, we'll be looking at a few.

Disney Christmas Cake Set: ¥1,800

The Hyperion Lounge's Disney Christmas Cake Set is shaped like a wreath and is garnished with your favourite Disney characters. 

The wreath, which is sat on a bed of chocolate mousse, is woven from pistachio dough that is full of flavour and soft mousse. The sweet tanginess of the raspberry and cherries mixes with the sweet chocolate for a refreshing flavour that will fill your mouth. It is just too cute to eat. 

Disney Christmas Special Drink: ¥1,300 *with Drink Coaster

The Christmas Special Drink is an iced tea coloured with a raspberry and strawberry syrup. Above the syrup is a mixture of milk tea and peach juice which will send a fruity scent floating to your nose. Mix the syrup with the milk tea thoroughly for a magical flavour adventure. Mixing the drink will turn it a cute light pink colour, too.

Two yellow chocolate stars shine in the middle of the drink. Can you spot them?

This drink was created to look just like Santa Claus and the two stars represent the buttons on his clothes.

This drink comes with a free original coaster, however, the coasters are in limited supply. Many restaurants around the resort are serving up special drinks which come with a free Disney Christmas coaster. The design available at Hyperion Lounge is Mini Mouse. Try collecting them for an extra special Disney Christmas. 

Collect all the drink coasters and put them together for a Disney Christmas masterpiece!

Whether inside the park or not, Tokyo Disney Resort never fails to make our hearts race with excitement. If you're staying at the resort, don't miss out on the restaurant's irresistible Christmas drinks and desserts.

Original Text Author: Sayuri Mizuno (MOSHI MOSHI NIPPON)

Watch the Stars and Snow Glow at the Shiraito Falls Midwinter Light Up in Karuizawa

Throughout the year, Japanese people escape their busy city life to Karuizawa: a popular resort town hidden in the mountains near Nagano. From December 21, 2019 – February 15, 2020, Shiraito Falls located in Jōshin'etsu-kōgen National Park, Karuizawa will be holding the Shiraito Falls Midwinter Light Up, providing the perfect excuse for a soothing getaway.

The 3-metre-tall and 70-metre-wide Shiraito Falls does not freeze below freezing temperature as the water flows from a subterranean river of Mount Asama. The winter lighting will make the water glisten and the falling snow and starry night sky glow with the charm of winter. 

This light up event is a follow up from last year's illumination event. The Midwinter Light Up aims to make Shiraito Falls a beautiful tourist spot which can be enjoyed even on a winter night.

The Midwinter Light Up is one step ahead of the summer light up event which previously took place. To emphasise the beauty of nature, the illumination this time round will allows visitors to appreciate the starry night sky on a fine day and reveal the stunning natural scenery which is not visible during the daytime. 

As the Shiraito Falls light up event will take place in Jōshin'etsu-kōgen National Park, the event contents were created strictly abiding the guidelines and regulations from the Ministry of the Environment​. The quantity of light produced, its hues and even the way it is produced has been carefully considered, creating a light display that does not disrupt the natural environment. 

This breathtaking light display will give you an entirely new perspective on the breathtaking winter scenery of Shiraito Falls and would be the perfect experience to share with your family or friends. 

Information

Karuizawa Shiraito Falls Midwinter Light Up

Location: Shiraito Falls, Karuizawa

Running on 18 days between December 21, 2019 and February 15, 2020

The running period is split into the following sessions:

・Christmas Session December 21 – 24, 2019

・New Year Session January 4 – 5, 2020

・Spring Festival Session February 1 – 2, 2020, February 7 – 11, 2020, February 14 – 15, 2020

* There will be no light up event on days other than those stated above.

* The light up event on February 15 is a Valentine's Day special. This includes the display of an ice sculpture and the chance to meet Ruiza: Kauizawa's mascot. Visitors will also be given a gift.   

Openining Hours

・Christmas Session    17:00 – 19:00

・New Year Session     17:00 – 19:00

・Spring Festival Session   17:30 – 19:30

Price: There is no entry fee. However, there is a fee to cross the toll road. (The price is subject to change)

Foorin and Foorin team E Energise the World with Debut Performance of Paprika

Foorin is a music unit made up of elementary school children with music and lyrics produced entirely by Kenshi Yonezu. Their song Paprika aims to cheer everybody on in the runup to 2020 and beyond. Foorin teamed up with Yonezu's English native children group Foorin team E for the debut of a 10-children version of Paprika which was performed at ABU TV Song Festival in Tokyo.

Foorin team E was recently formed on November 14 from Yonezu's intention to expand Paprika's cheerful message to children all over the world. Together with Foorin, the team of 10 delivered a power-packed performance of Paprika before a sea of broadcasters from Korea, Turkey, Vietnam, India and other asian countries and an audience of 3000 at the ABU TV Song Festival in Tokyo, which sets the stage for artists to represent Japan to the world.

In an interview with Foorin team E before the performance, main vocalist Jasmine stated her excitement for sharing Paprika with people all over the world.

Paprika has already become such a big sensation in Japan that children naturally dance when the song is played.  The performance kicked off with the Japanese version of Paprika by Foorin, who were buzzing all over the stage in excitement and singing and dancing energetically. Upon hearing the hook of the song on the word "Paprika", even the audience joined in on the blooming flower hand motions which are in the dance. The entire performance proved just how popular Paprika has become and how much it is loved all over Japan. 

Led by Foorin onto the stage, Foorin team E looked ready. The two groups danced and sung together, performing the English version of Paprika. The dazzling performance was bursting with the fun and uplifting atmosphere of the song. As smiles spread from cheek to cheek onstage, smiles in the audience were also in full bloom, energised by the children's performance. 

As Paprika cheers us on into 2020 and beyond, the day when Paprika becomes a song to which children all over the world happily sing and dance to is getting closer. 

 Foorin and Foorin team E will also perform for the first time at the 70th NHK Kōhaku Uta Gassen, making this New Year an extra special one for your family. 

Photographer: Yusuke Yamatani

McDonald's Releases Luxuriously Chocolatey Winter Drinks

McDonald's McCafé by Barista serves up delicious coffee around the clock. From November 27, a heart-warming, chocolatey lineup will be arriving in McDonald's restaurants across the country which own a McCafé by Barista. The four new drinks to spice up your winter are: the Premium White Chocolate Frappé, Premium Chocolate Frappé, Premium Hot Chocolate and the Premium Iced Chocolate.


Whether it's a frappé, hot drink or an iced drink, pick your favourite to match your mood.


The Premium White Chocolate Frappé consists of white chocolate sauce and milk mixed with smashed pieces of chocolate. The drink is topped with whipped cream and chocolate sauce made from high-quality couverture chocolate. Finally, two chocolate sticks garnish the drink.White chocolate shavings dust the drink, creating the wonderfully wintery image of snow. Take a sip of this high-quality, Instagram-worthy drink to enjoy the chocolate melt in your mouth. The pieces of chocolate floating in the drink will add a wonderful texture to your experience.

From the left: Premium Iced Chocolate, Premium White Chocolate Frappé, Premium Chocolate Frappé, Premium Hot Chocolate.

 

The Premium Chocolate Frappés, Premium Hot Chocolate and Premium Iced Chocolate drinks are just as luxurious as the Premium White Chocolate Frappé and enjoy the same beautiful toppings.

 

Get in the winter spirit with one of McCafé by Barista's luxurious, winter-limited drinks.  

*The above images are not real and are representations of what the drink will look like. 

Information

Premium White Chocolate Frappé 

Price: ¥490 (M), ¥530 (L) 

Available: November 27 – mid December 2019 (Subject to change)

Premium Chocolate Frappé 

Price: ¥490 (M), ¥530 (L)

Premium Hot Chocolate 

Price: ¥450 (M)

Premium Iced Chocolate 

Price: ¥450 (M)

Available: November 27 – mid January 2020 (Subject to change)

*All prices above are tax included.

*Available to purchase from McDonald's restaurants across Japan which have a McCafé by Barista.

*Find out more information about McDonald's restaurants on their official store locator: http://www.mcdonalds.co.jp/coffee/top.php

*The drinks can only be purchased during McCafé by Barista running times. The running times vary from restaurant to restaurant.

Andy Warhol Exhibition in Kyoto: Select Major Artworks Revealed

An exhibition centred around Andy Warhol, the American artist who was at the forefront of the pop art movement, is set to roll up to the Kyocera Museum of Art in Kyoto from September 19, 2020. Around 200 pieces of art will be showcasedーover 100 of which have never been displayed in Japan beforeーas well as 15 video art pieces.

Three Marilyns (1962), Andy Warhol. The Andy Warhol Museum. *First showcasing in Japan

All of the pieces to be shown at the exhibition are the property of The Andy Warhol Museum, which is located in Pittsburgh, Pennsylvania in the US, where Warhol was born.

The Last Supper (1986), Andy Warhol. *First showcasing in Japan

Tunafish Disaster (1963), Andy Warhol. *First showcasing in Japan

Peacock (1957), Andy Warhol. *First showcasing in Japan

The line-up displays Warhol's diverse works, including his highly treasured Three Marilyns, as well as Tunafish Disaster from his Death and Disaster series, the enormous The Last Supper piece, Peacock which makes use of the Japanese style of gold leaf art, and more.

Kyoto (Kiyomizu-dera) (1956), Andy Warhol.

The exhibition will also turn its attention to Warhol's connections to Kyoto which haven't been discussed before. It will feature Warhol's sketch of Kiyomizu-dera in Kyoto which he drew during his trip around the world.

*All pieces are property of The Andy Warhol Museum

© The Andy Warhol Foundation for the Visual Arts, Inc. / Artists Rights Society (ARS), New York

Get Advanced Tickets to Watch the new Shin-chan movie: Crash! Rakuga Kingdom and Almost Four Heroes

Since 1990, Crayon Shin-chan has been published in Manga Action and made its debut as an anime series in 1992. Shin-chan has wooed the hearts of the entire country and even overseas. Every Crayon Shin-chan movie has become a big hit, capturing the hearts of the young and elderly, boys and girls. 

Following in the footsteps of its predecessors, next year will see the release of the 28th Crayon Shin-chan movie: Crash! Rakuga Kingdom and Almost Four Heroes on April 24, 2020. Advanced tickets with an unmissable bonus as well as movie teasers have been unveiled.

For many years, a giant kingdom fuelled by doodles created by humans has been peacefully floating in the sky. As time has gone by, less and less people have been doodling, resulting in fuel supplies running critically low. As the kingdom crumbles, doodles have been falling from the sky.  As the kingdom starts to face the threat of complete collapse, the kingdom's forces soon get on the case, forcing the innocent people of earth to produce more doodles to save the kingdom. The kingdom just happens to be floating above the city of Shin-chan's residence: Kasukabe.

Knowing that the lives of many are at stake, the princess of the Rakuga Kingdom entrusts the Kingdom's sacred Miracle Crayon to a hero – the five-year-old, mischievous and carefree Shin-chan. Shin-chan harnesses the power of the miracle crayon, drawing up a superhero team to save the world. The first hero: some briefs that haven't been changed in two days. He then attempts to draw up the love of his life: Nanako Ohara. Unfortunately, she doesn't quite look the same. Shin-chan then draws his hero Brave Pig, who Shin-chan fans will recognise from the series as the shy pig who is defeated by his shyness every time he has to save anyone. Shin-chan's three drawings jump right out of the sketch book and right into action in an attempt to save the day. 

In the film, the princess proclaims Shin-chan to be the only hero able to use the Miracle Crayon in the entire world. She hands the sacred tool to Shin-chan, entrusting him with the critical duty of serving the royal family as the court painter. The Rakuga Kingdom's Minister of Defense also makes a strong impression in the film with his masterplan to save the kingdom. As chaos unfolds on earth, it is up to Shin-chan to restore peace and order. Shin-chan joins forces with his three drawings and as troubles get knee-deep, some Shin-chan fans will be betting on the odds that Brave Pig ditches the scene like he usually does, in which case Shin-chan's odds of saving the world will be looking slimmer and slimmer.

The teaser trailer presents our favourite childhood anime in a colourful way. Crayons and coloured pencils are both the theme of the movie and the style in which the movie was made, adding a sweet finishing touch. As the Rakuga Kingdom is on the brink of destruction, Shin-chan gets to work, freely doodling away destruction with his superhero team consisting of smelly briefs, a badly-drawn dream girl, and the shy Brave Pig. 

Illustrator and manga artist Yoko Kuno, who was in charge of the character design for the Crayon Shin-chan movie Invasion!! Alien Shiriri and Burst Serving! and the animation for the ending scenes for Kung Fu Boys ~Ramen Rebellion~, is on the concept design team for this movie. 

Shin-chan joining forces with a group of doodles is an unexpected dream team collaboration that has got everyone excited. Those who purchase advanced tickets have the chance to get a limited edition Shin-chan crayon themed around the Crash! Rakuga Kingdom and Almost Four Heroes film. Look closely and you will realize that his hat is a red crayon. Just by looking at this bonus gift keyring will leave you with the sudden urge to start doodling. 

©Yoshito Usui/Futabasha Publishers Ltd./ SHIN-EI Animation・TV Asahi・ADK 20120.

Information

Crayon Shin-chan movie: Crash! Rakuga Kingdom and Almost Four Heroes 

Release Date: April 24, 2020 

Premiering at TOHO Cinemas across Japan. 

Official Website: http://www.shinchan-movie.com/

★Advanced Ticket Bonus Keyring

Promotion Event: Uki uki kaki kaki ♪ Ora ga Crayon Shin-chan!

There are a total of 75,000 Shin-chan keyrings to be given to those who purchase advanced tickets. Advanced tickets will be sold at cinemas across Japan from November 22. Only one Shin-chan keyring will be given per advanced ticket. The keyrings are limited to purchases made from movie theatres and cannot be purchased separately or resold. There are a limited number of Shin-chan keyrings available.

Advanced tickets are not available at all cinemas. Please visit the cinema's official website to find out whether it is selling advanced tickets.

Saint Young Men III Live-Action Series Release Date Revealed

Hikaru Nakamura's comedy slice-of-life manga series Saint Young Men has shipped over 16 million copies. The live-action adaptation stars Ken'ichi Matsuyama as Jesus and Shōta Sometani as Buddha, with writing and direction from Yuichi Fukuda, and Takayuki Yamada as the producer.

The release date for the highly-anticipated Saint Young Men III has finally been unveiled. It will be shown on NHK General TV on January 11 and 18 next year at 23:30 (JST).

The third season sees the antics between Jesus and Buddha continue, as the two of them enter a comedy act contest as a comedy duo where they must come up with their own routine. We also see them enter a family restaurant to escape the hot weather where they must wait forever in a long line to get to the drinks bar, show off their individual singing styles at karaoke, and more.

To promote Saint Young Men III, a video was posted featuring Ken'ichi Matsuyama (Jesus) as well as the original manga's author Hikaru Nakamura.

We look forward to seeing what Buddha and Jesus get up to next in their everyday lives together.

Information

Saint Young Men III

Broadcast Dates: January 11, 2020 / January 18, 2020 (NHK General TV)

*The second episode of Saint Young Men II will also be shown on January 25, 2020 at 23:30 (JST) due to the previous broadcast having been stopped due to the typhoon

Official Website: st023.com

Ringo Sheena's Greatest Hits Album Tops Japanese Charts at No. 1

Ringo Sheena's greatest hits album Newton no Ringo ~Hajimete no Best Ban~ finally dropped last Wednesday, and has made it to No. 1 on Oricon's Weekly Album Charts and Weekly Digital Album Charts. This makes it her first release where both the CD and digital version have peaked at number one simultaneously.

It is also her third digital album to hit No. 1 since Gyakuyunyū: Kōkūkyoku hit shelves back on December 18, 2017.

Her first ever greatest hits album in her 22 year career, Newton no Ringo ~Hajimete no Best Ban~ also made it to No. 1 for real time sales on major e-commerce websites including Amazon and Rakuten. It also shot up to No. 1 on eleven digital music charts including iTunes, Recochoku and LINE MUSIC.

Regular Edition copies include 28 tracks while First Press Limited Edition copies have 30 tracks. Both also feature two new tracks. Featured songs include a mix of singles and songs often performed live like Kabukicho no Joou, Honnou, and Nagaku Mijikai Matsur, as well as Kouzen no Himitsu, which is used as the main theme for the TV Asahi Friday night drama Jikou Keisatsu (Time Limit Investigator), and Roman to Soroban LDN ver. featuring Hikaru Utada.

The album is produced by recording engineer Uni Inoue, with updated mixes of select songs that retain their familiar sound while making them sound seamless alongside her Sheena's more recent hits.

BAND-MAID's Song 'The Dragon Cries' Was Produced by the Legendary Tony Visconti

It has been revealed that BAND-MAID's song The Dragon Cries, which is featured on their upcoming third studio album CONQUERORーset for release on December 11, 2019ーwas produced by none other American veteran record producer Tony Visconti. The song was released digitally worldwide on all major music platforms today.

Visconti is known for having worked with a plethora of some of the biggest names in music history, including David Bowie and T-Rex. He himself sent an enthusiastic offer to the band to work with them. He even saw the band live in September.

In a Japanese interview speaking about working with BAND-MAID, Visconti said he liked the band's originality, and that getting to meet them in real life was like a dream come true. He explained how Saiki and Miku sang for almost 8 hours, which he revealed is longer than any other artist he has known. He commended their professionalism, and that they greatly met his expectations.

BAND-MAID vocalist and guitarist Miku Kobato also commented: "Tony is so kind, he really likes BAND-MAID. He's a really sociable, friendly and wonderful person."

She continues: "We also got to record vocals in the same studio in New York where David Bowie recorded. He listened to our wishes and opinions while producing for us. We are truly grateful. We'd like to work hard so that the next time we meet Tony, we can show him we've grown even more."

BAND-MAID are set to perform the song live for the first time on NHK General TV's Shibuya no Oto on December 1, 2019.

BAND-MAID recently played 5 shows in the US, all of which sold out. As BAND-MAID continue conquering forward, the success of their quest for world domination is inevitable.

Information

CONQUEROR

Release Date: December 11, 2019

Tracks: 15

First Press Limited Edition A (CD+Blu-ray): ¥4,545 (Before Tax) [CRCP-40590]

First Press Limited Edition B (CD+DVD): ¥3,636 (Before Tax) [CRCP-40591]

Regular Edition (CD-Only): ¥2,727 (Before Tax) [CRCP-40592]

Streaming/Download Link: https://maid.lnk.to/conqueror

NHK General TV – "Shibuya no Oto"
Broadcasting: December 1, 2019 (12:05am)
Line-Up: DEAN FUJIOKA/Shuka Saitō/eill/BAND-MAID

BAND-MAID Official Website: https://bandmaid.tokyo/

'Pet' Anime Opening Theme to be Performed by TK from Ling Tosite Sigure

It has been announced that TK from Ling Tosite Sigure will perform the opening theme song for the upcoming anime adaptation of the Remaster Edition of Ranjō Miyake's Pet manga series. The song is titled Chō no Tobu Suisō (The Water Tank the Butterfly Flies in).

A new promotional video for the anime was also released which features the song.


Pet will premiere on TOKYO MX on January 6, 2020. Amazon will exclusively stream the series on Amazon Prime Video in Japan and overseas, with the first two episodes hitting the service on January 5, 2020 at 24:00 (January 6, 2020 at 12:00am).

Speaking about being involved with the series, TK commented: "I have read [the manga] countless times. The story takes me somewhere else. It makes me feel like I'm in a dream. If you asked me how this song came about, it seems like my memory of it has been plucked from me."

©Ranjō Miyake・KADOKAWA/ Twin Engine Inc.

Information

TK from Ling Tosite Sigure – "Chō no Tobu Suisō"

Release Date: January 22, 2020

Limited Pressing Edition A (CD): ¥1,500 (Before Tax) [AICL-3800]

Limited Pressing Edition B (CD+DVD): ¥2,200 (Before Tax) [AICL 3801-3802]

*Includes illustration by Ranjō Miyake and tall-size packaging

TK from Ling Tosite Sigure Official Website: http://tkofficial.jp/

"Pet" Anime

Initial Broadcast: January 6, 2020

Official Website: http://pet-anime.com