TV Anime Adachi and Shimamura Opening Theme Performed by Akari Kito and Miku Ito
Adachi and Shimamura is a yuri light novel series written by Hitoma Iruma and illustrated by Non. The story centres on Adachi and Shimamura, who meet by chance on the second floor of the school gymnasium.  The two have a tendency to skip class and hang out with each other. The story follows the blossoming of their friendship. An anime adaptation is set to air this October.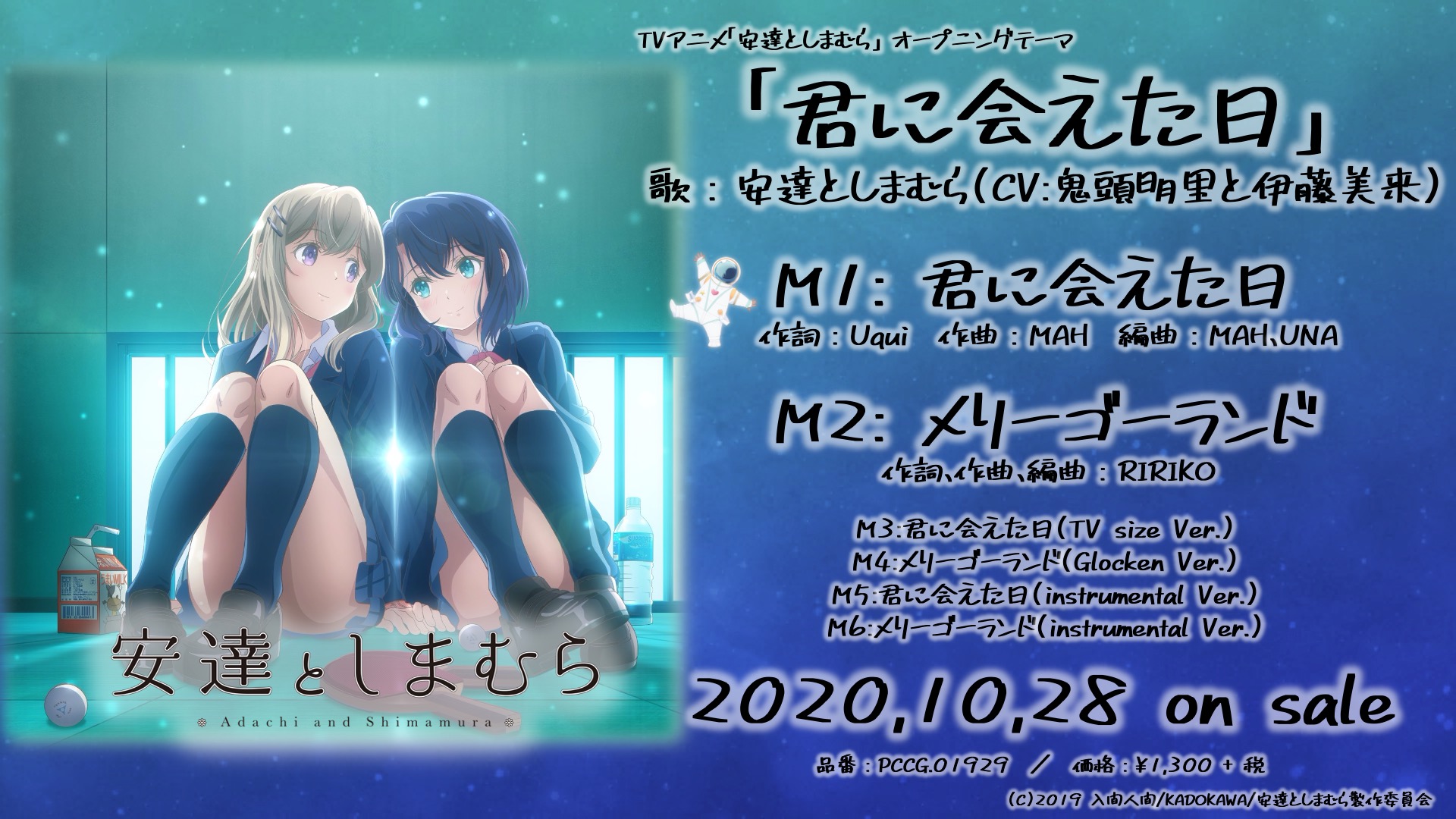 The CD for the opening theme Kimi ni Aeta Hi ("The Day I Got To Meet You"), performed by Adachi and Shimamura's voice actresses Akari Kito and Miku Ito respectively, will hit shelves in Japan on October 28, 2020.
The lyrics for the opening theme, which paint a picture of the titular characters' relationship are written by Uqui while the song is composed by MAH, who is a former member of SHAKALABBITS (now Muvidat).
The CD is coupled with the song Merry Go Round, which like the title track is performed by the voice actresses from the perspective of the characters. The song is written and composed by singer-songwriter RIRIKO who has written songs for many an artist.
©2019 Hitoma Iruma/KADOKAWA/Adachi and Shimamura Production Committee
RELATED ENTRIES
English Version of Akari Kito's Track 'No Continue' Now Streaming, Music Video Released

An English version of 'No Continue,' the opening theme song for the Battle Game in 5 Seconds anime series, is now available on streaming services as part of singer Akari Kito's first mini-album 'Kaleidoscope.' The music video has also been released on her official YouTube channel. The track proved a challenge to the 26-year-old, as it was her first time singing in English. 

Akari Kito has started to find new popularity overseas, with her track 'Tiny Light,' the ending theme for Toilet-Bound Hanako-kun, amassing over 6 million plays on Spotify since its release last February. Battle Game in 5 Seconds, currently airing on Crunchyroll, has also found popularity with a large overseas audience, and this English release was the perfect challenge for the up-and-coming singer. 

The fast-paced track is also packed with English lyrics, and while it may not have been easy, the end result is an incredible treat for international fans. 

Akari Kito 'No Continue' Music Video English Version

The mini-album 'Kaleidoscope' also includes a special priority ticket for entry into Akari Kito's 2nd live show 'MIRRORS,' set to be held at Pacifico Yokohama on December 4, 2021. The performance will also be live-streamed internationally on the electronic ticketing platform ZAIKO. Be sure to check it out!

 

Akari Kito 1st LIVE TOUR 'Colorful Closet' Full-Length Live Video Release!

To celebrate the release of 'Kaleidoscope,' footage from Akari Kito's 1st LIVE TOUR 'Colorful Closet' will be released in its entirety on August 4, 2021 on her official YouTube channel! This video won't be archived, so be sure to watch live, and get pumped for her 2nd concert 'MIRRORS!' 

Information

Kaleidoscope

Release Date: August 4, 2021

Limited First Edition Version (CD+BD+PHOTOBOOK): PCCG.2045 / ¥4,180 (Tax Included)
Regular Version (CD): PCCG.2046 / ¥2,750 (Tax Included)

Anime Version (CD): PCCG.2047 / ¥2,750 (Tax Included)

Limited Edition Fan Club Version (CD+2BD+PHOTOBOOK): SCCG.79 / ¥6,380 (Tax Included)
(Limited Edition Fan Club Version only available to members of the Akari Kito Official Fan Club 'Smiley Light Village.')

(Limited Edition Fan Club Version bonus Blu-ray will be sent separately.) 

Streaming Link: https://kitoakari.lnk.to/Kaleidoscope
Akari Kito Official Site: https://kitoakari.com

TV Anime Adachi and Shimamura's Ending Theme to be Performed by Akari Kito

It has been announced that Akari Kito's 3rd single Kimi no Tonari de (By Your Side), which will hit shelves on October 28, will be used as the ending theme for the upcoming yuri TV anime series Adachi and Shimamura which is set to begin airing this October.

The song's lyrics are written by singer-songwriter Saori Kodama while the track is composed and arranged by composer Tsubasa Itō. The song is described as a 'refreshing' rock tune and sees Akari Kito stepping into new music territory.

Kimi no Tonari de will be released in three versions: the First Press Limited Edition, Regular Edition, and Anime Edition. All editions contain three songs, while First Press Limited Edition copies come with an additional photo booklet and a Blu-ray featuring the title track's music video and its behind the scenes.

Akari Kito is also performing the anime's opening theme Kimi ni Aeta Hi ("The Day I Got To Meet You") alongside Miku Ito. Both singers will also voice the upcoming anime series's main characters Adachi and Shimamura respectively.

Akari Kito released her first album in June this year which made it to No. 7 on Oricon's Weekly Charts.

Adachi and Shimamura is a yuri light novel series written by Hitoma Iruma and illustrated by Non. The story centres on Adachi and Shimamura, who meet by chance on the second floor of the school gymnasium.  The two have a tendency to skip class and hang out with each other. The story follows the blossoming of their friendship

Information

Kimi no Tonari de
First Press Limited Edition (CD+Blu-ray+Booklet): ¥2,000 (Before Tax) [PCCG.1939]
Anime Edition (CD): ¥1,300 (Before Tax) [PCCG.1940]
Regular Edition (CD): ¥1,300 (Before Tax) [PCCG.1941]

Akari Kito Official Website: https://kitoakari.com

Miku Ito's Plunderer Anime Opening Theme CD Covers Unveiled

The official CD covers have been revealed for Miku Ito's upcoming 7th single Kokou no Hikari Lonely Dark which is being used as the second opening theme for the ongoing TV anime series Plunderer.

Limited Edition copies of the single are coupled with a DVD featuring the full music video for Kokou no Hikari Lonely Dark. The CD cover for this edition shines the spotlight on Miku Ito. Its concept imagines Ito in the middle of a journey searching for a ray of light.

Regular Edition copies of the single features characters from the Plunderer anime series.

The single was originally scheduled for release on May 27, 2020. However, due to the effects of the COVID-19 pandemic, the release has been postponed to June 17, 2020.2020

©2020 Suu Minazuki / KADOKAWA / Plunderer Production Committee

Information

Kokou no Hikari Lonely Dark

Release Date: June 17, 2020
Limited Edition (CD+DVD): ¥1,800 (Before Tax) [COZC-1659~60]
Regular Edition (CD Only): ¥1,200 (Before Tax) [COCC-17769]

Miku Ito Official Website: http://columbia.jp/itomiku/

Miku Ito Releases Plunderer Anime's Opening Theme 'Kokou no Hikari Lonely Dark' Music Video

A short version of Miko Ito's music video for Kokou no Hikari Lonely Dark was posted on the official Columbia Music Japan YouTube channel. The song is used as the second opening theme to the ongoing TV anime series Plunderer.

Miko Ito – "Kokou no Hikari Lonely Dark" (Short Size)

The full version of the music video, as well as the making-of, will be included with the DVD version of Miku Ito's upcoming 7th single of the same name, Kokou no Hikari Lonely Dark, which will be released on May 27, 2020.

The single will include the song Sweet Bitter Sweet Days, as well as the instrumental versions of both this and the title track..

Information

Kokou no Hikari Lonely Dark

Release Date: May 27, 2020
Limited Edition (CD+DVD): ¥1,800 (Before Tax) [COZC-1659~60]
Regular Edition (CD Only): ¥1,200 (Before Tax) [COCC-17769]

Miku Ito Official Website: http://columbia.jp/itomiku/

Plunderer Anime's Second Opening & Ending Theme Artists Announced

The popular ongoing TV anime series Plunderer is set to get a new opening theme by Miku Itō and ending theme by Rina Honnizumi, Ari Ozawa, and Shizuka Itoーwho voice Hina, Lynn and Nana in the anime series respectivelyーfrom April 1, 2020.

Plunderer is a manga series written and illustrated by Suu Minazuki. Serialised in Monthly Shōnen Ace, the series put out its 14th volume in December last year. The action fantasy series is set in a post-apocalyptic world ruled by "Counts" (i.e. numbers) which determine a person's existenceーwhether they are strong or weak. Hina sets off to find a certain person at the behest of her mother, and on her journey she meets Rihito. The mysteries of this world then begin to unravel and make themselves known.

The new opening theme is entitled Kokou no Hikari Lonely Dark, and it will be performed by Miku Itō who also sang the first opening theme Plunderer. The new ending theme is Reasons of Life which is being performed by three of the voice actors from the series. Both songs will be released on CD on May 27, 2020.

ⓒ2020 Suu Minazuki/KADOKAWA/Plunderer Production Committee

Miku Itō Releases Music Video for TV Anime 'Ueno-san wa Bukiyou' OP Theme

Miku Itō is a voice actress and singer who made her solo debut as an artist at 20-years-old in October 2016. Since then she has put out a constant string of albums and singles.

Her fifth single Hirameki Heartbeat will be used as the opening theme for the TV anime series Ueno-san wa Bukiyou which is set to begin airing in January 2019. A music video for the song was just released on December 19.

Fans of tugeneko's manga series as well as newcomers who will watch the anime adaptation can also check out the new promotional video for the anime over on the official website.

The music video was shot in Kyoto where we get to see the city's beautiful streets. The theme of the video is "manufacturing" which we see as Itō challenges herself to a range of different activities.

Q-TARO of Dengeki Qomolangma Tai choreographed the dance moves in the video, following his work on Itō's previous release Koi wa Movie.

Miku Itō – "Hirameki Heartbeat" Music Video

Miku Itō will appear on FRESH LIVE at 9pm (JST) every other week for her new regular show Fresh Hajimemashita.

Information

Hirameki Heartbeat

Release Date: January 16, 2019

Limited Edition (CD+DVD): ¥1,800 (+Tax) [COZC-1497/8]

Regular Edition (CD-Only): ¥1,200 (+Tax) [COCC-17542]

Miku Itō Official Website: http://columbia.jp/itomiku/

Ueno-san wa Bukiyou will air in January 2019 on TOKYO MX, BS11 and J:COM.

Official Website: http://www.miss-ueno.com

© tugeneko・Hakusensha / Ueno-san wa Bukiyou Production Committee

TV Anime Series 'Ueno-san wa Bukiyou' OP Theme to be Performed by Miku Itō

Voice actress and singer Miku Itō has announced details for her upcoming fifth single.

The title song Hirameki Heartbeat is set to be used as the opening theme song for the forthcoming anime adaptation of tugeneko's manga series Ueno-san wa Bukiyou which will air in January 2019.

The track is described as having a jaunty rhythm with lyrics that are both cute and a little melancholic.

Itō will also provide the voice for Yomogi Tanaka in the anime who is the younger sister of the main character Tanaka.

Information

Hirameki Heartbeat

Release Date: January 16, 2019

Limited Edition (CD+DVD): ¥1,800 (+Tax) [COZC-1497/8]

Regular Edition (CD-Only): ¥1,200 (+Tax) [COCC-17542]

Miku Itō Official Website: http://columbia.jp/itomiku/

Ueno-san wa Bukiyou will air in January 2019 on TOKYO MX, BS11 and J:COM.

Official Website: http://www.miss-ueno.com

© tugeneko・Hakusensha / Ueno-san wa Bukiyou Production Committee