Airbnb recommends 3 kinds of overnight stays and 4 experiences to take in this cherry blossom season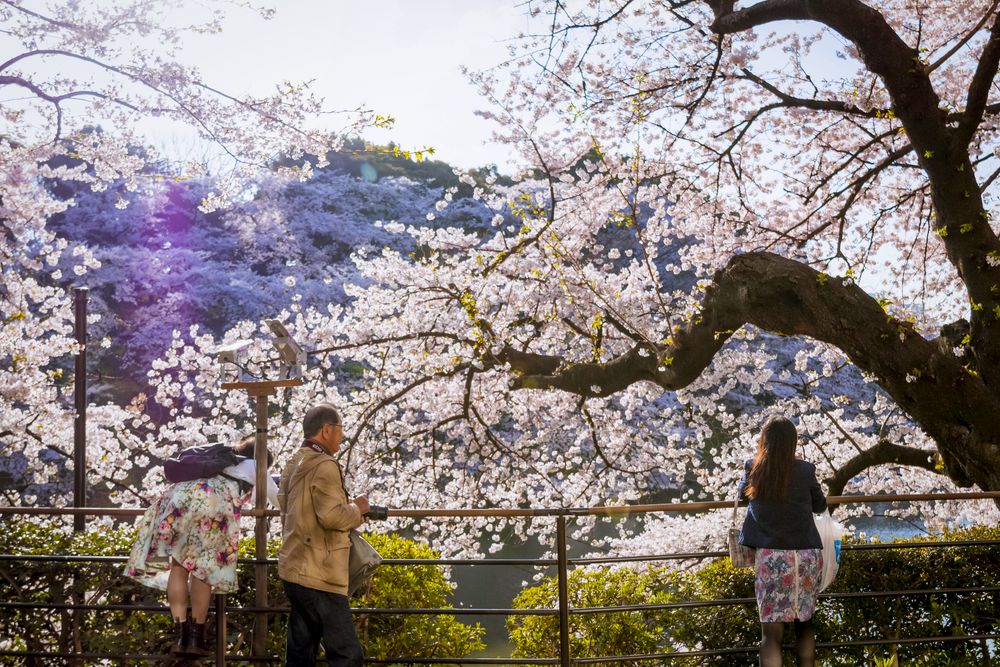 With the arrival of Japan's cherry blossom season, it is predicted that this year foreign tourists visiting Japan will increase by 18% and domestic travel will increase by 28% over last year.
Airbnb recommends 3 kinds of overnight stays and 4 experiences for this cherry blossom viewing season.
Three popular overnight stays for the cherry blossom viewing season
This house is located in the town of Yoshino in Nara Prefecture, a town known as one of Japan's most famous places for cherry blossom viewing.  The room is made of Yoshino cedar and white cedar so you can enjoy viewing cherry blossoms enveloped in the nice tree smell. One overnight stay is approximately 9900 yen ~
■An overnight stay near West Park in Fukuoka Prefecture
There are about 1300 cherry trees in Nishi Park and it has been chosen as one of the 100 best cherry blossom viewing sites in Japan. You can walk to this park in 5 minutes. One overnight stay is approximately 7900 yen~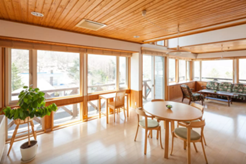 You can walk to Maruyama Park in 5 minutes from this cabin. Murayama Park is famous for its cherry blossoms. You can enjoy drinks and cakes in an old Japanese-style house café near here. One overnight stay is approximately 7000 yen~
■A flower arranging experience "Ikebana"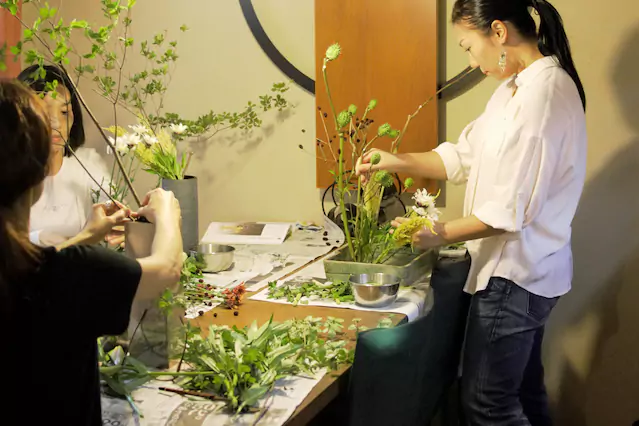 Not only will you learn how to do floral arrangement, but also you can learn floral arrangement philosophy by visiting a shrine and participating in a tea party for 3 days. Mika who has a 30 year career in flower arranging will help you to enjoy this experience!
■A "Furoshiki" parcel wrapping experience / Wrap Artist
This experience will be taught by Kyoko who runs a Furoshiki (Japanese wrapping cloth) online shop. You will learn how to wrap different things using a Furoshiki on this 3 day-trip. Using your newly learned technique you can wrap your lunch box and go on a cherry blossom-viewing picnic.
■An AMAZAKE (sweet fermented rice drink)making experience
An Amazake making experience and a tasting of different kinds of Amazake over a 3 day-period. The host will be Mayu who is a sommelier and the owner of a SAKE BAR.
■A Japanese-style painting experience / Pigment & Inc
The host of this event, Maria has experienced teaching Japanese-style painting in Japan and in New York. She will guide the program both in Japanese and in English. You will learn about the history, and about pigmented ink by visiting an art store. You can enjoy Japanese-style painting over a 3 day-period.
It's getting warmer everyday and the cherry blossoms will be at their best very soon. Have some wonderful spring experiences!
■Information
−−−
Related article:Hoshinoya Kyoto chosen for Condé Nast Traveler's "Gold List 2017" as their favourite hotel for 3rd year in a row
Related article:Let's visit the cultural properties that were not open to public in Kyoto
RELATED ENTRIES
Kirby Star Allies Original Art Book Releases September 24

The all new Kirby Star Allies: The Original Art Book will be released on March 16, 2021—the third anniversary since the release of Kirby Star Allies on the Nintendo Switch. Pre-orders opened on Thursday (September 24).

Kirby's first official art book

Kirby Star Allies: The Original Art Book | ¥2,700 (Before Tax)

In the 28 years since Kirby has been announced, this comes as the first ever official art book in the Kirby's Dream Land series.

The book will feature over 500 pieces of art beginning from the launch of Kirby Star Allies to its free patches, from character art to backgrounds, rough sketches, key visuals, and more.


The book will also include comments and interviews with the game's creators. Fans in Japan who pre-order the book from Value Mall by October 3, 2020 will also receive a free gift.

©2018-2020 HAL Laboratory, Inc. / Nintendo
© ambit 2020

7 Best Spots to Visit During Autumn in Ishikawa Prefecture's City of Kaga

Ishikawa Prefecture is generally split into two areas—Kaga and Noto—and these areas are home to six cities dubbed Kaga no Kuni, or "Kaga Country." The cities include Kaga, Komatsu, Nomi, Kawakita, Hakusan, and Nonoichi. Today, we'll be looking at some of the must-visit spots in these cities to visit during the autumn season.

Kaga Country's Autumn Colours

Natadera Temple in Komatsu

The beautiful Natadera Temple is a symbol of southern Kaga and even has a Michelin star in Michelin Green Guide Japan. It's home to a large number of important cultural properties such as the picturesque Kigan Yusenkyo Rock Formations. Visitors can ross the Fugetsukyo Bridge to reach the observation deck from which their eyes are treated to all the fiery colours of autumn.

Address: Yu-122 Natamachi, Komatsu, Ishikawa
TEL: 0761-65-2111
Natadera Temple Official Website: http://www.natadera.com/

Kakusenkei Gorges in Kaga

The Kakusenkei Gorges are located in a valley where the Daishoji River runs. Its autumnal beauty is said to be the most beautiful in all of Japan's Hokuriku region. The 1.3km stretch of the valley has a public footpath which is perfect during autumn as you gaze at the red and yellow leaves overlooking the river below.

Address: Kakusenkei Gorges, Yamanakaonsen Kajikamachi, Ho, Kaga, Ishikawa
TEL: 0761-78-0330
Information: https://www.yamanaka-spa.or.jp/global/eng/view2.html

Matsusaki in Nomi

Matsusaki is an onsen ryokan (hot spring Japanese inn) that was built during the Edo Period. It's enjoyed greatly for its open-air baths which boast their own water source as well as their kaiseki-ryori traditional Japanese multi-course dinner made using local ingredients. It's also the setting for the Japanese novel Umi no Naru Toki. It boasts a gorgeous garden with an area that overlooks trees which blossom beautifully in autumn.

Address: 3-1 Tatsunokuchimachi, Nomi, Ishikawa
TEL: 0761-51-3111
Matsusaki Official Website: https://www.matsusaki.jp/

Jumoku Park in Hakusan

The park located by the Ringyoshiken Center in Ishikawa Prefecture is home to a variety of towering regional trees. There are 900 trees of 130 different species, which give rise to beautiful cherry blossoms in the spring. It also enjoy incredible autumn scenery and is home to rolling fields and a Japanese-style garden too. It offers must-see views throughout all four seasons.

Address: Ho-1 Sannomiyamachi, Hakusan, Ishikawa
TEL: 076-272-0673
Information: https://www.pref.ishikawa.lg.jp/ringyo/about/park.html

Aramata Gorge in Komatsu

Aramata Gorge is known as one of the Eight Views of Kano. The Osugidani River flows through this year, and there's huge strangely shaped rocks and rolling trees which create an incredible sight to see. There's a 400m path which bustles with people during the autumn months who flock to see the verdure.

Address: Akazemachi, Komatsu, Ishikawa

Bettou Suspension Bridge in Hakusan

Bettou Suspension Bridge is the entryway to the highset peak of Hakusan. The discharge of rocks to the area in 2004 meant that the bridge had to be rebuilt. The towering bridge offers a panoramic view of autumnal trees and bushes.

Address: Shiramine, Hakusan-shi, Ishikawa

Tedori Gorge in Hakusan

The beautiful Tedori Gorge was created as a result of the flow of Tedori River. Along the 8km path, which runs from Komon Bridge to Taizan Bridge, is a 20m-30m precipitous cliff. The surroundings along the bridge are a must-see, bringing people together every year to see the autumn environment.

Address: Kamashimizumachi, Hakusan, Ishikawa

Review: Tokyo Disneyland's New Beauty and the Beast Area

Tokyo Disneyland® is set to open its all-new Beauty and the Beast area of the park tomorrow on September 28, 2020. It's opening in line with the new Big Hero 6 attraction, Minnie Mouse area where guests can meet Minnie, and the park's new popcorn shop.

MOSHI MOSHI NIPPON was granted early access to the Beauty and the Beast area – here's our review!

Check out our review of the new Big Hero 6 attraction and Minnie's Style Studio too here: https://www.moshimoshi-nippon.jp/362221

The world of Beauty and the Beast brought to life

The area connects Belle's village to Beast's castle by way of the forest. At the entrance to the village, guests will immediately spot the cottage of Maurine, Belle's father and the vilage inventor. Beyond that is Gaston's water fountain as well as a restaurant inspired by Gaston's bar. There are also other shops that Belle visits in the film, such as the bookshop. It's like stepping into the magical world itself.

When you leave the village and head through the forest, you are met by the spectacle that is Beast's castle, coloured in a cute pink. There's a large-scale attraction inside called "Enchanted Tale of Beauty and the Beast."

The Tokyo Disneyland-original attraction "Enchanted Tale of Beauty and the Beast"

The attraction, located inside the towering 30m-tall castle, features magical cups that guests board. The cups dance in rhythm to music from the film as they take guests through iconic moments seen in the Disney classic.

There are many surprises and discoveries to be found inside the castle.

The park is limiting the number of people allowed on the attraction at once due to the pandemic. To board the attraction, guests need to download the app after entering the park.

Village shops based on the movie

The Village Shops area features a line of shops inspired by those seen in Belle's town, each of which sells various items from clothing to accessories and souvenirs.

There are around 100 pieces of merchandise for fans to sift through.

The shops are also carrying out measures against COVID-19, showcasing the items in a display only so they cannot be touched when entering the store. Guests must use the sign-up system on the app beforehand if they want to enter the shop.

La Taverne de Gaston

All the little details have been captured to recreate Gaston's bar, making it like a snippet right out of the film.

Big Bite Croissant

 

Very Cheers

Sweet Gaston

The menu features a line-up dishes, drinks, and desserts, like sausage croissants with, French toasted cheese sandwiches, soft drinks made to look like beer, and more. The bar also requires booking on the app prior to visiting.

Le Fou's Churros (Apple Caramel)

Le Fou's is located next to La Taverne de Gaston where you can get your fingers on snacks like apple caramel churros.

And don't miss up on visiting the new popcorn wagon either which serves popcorn in a Beauty and the Beast bucket.

The new Beauty and the Beast area is a must-visit for any fan of the film, or for people who want to feel like a Disney princess.

©Disney

Sanrio Releases 2020 Autumn and Winter Cosmetic Series

Sanrio has released a colourful new line-up of heart-focused cosmetic items—lip cream, hand cream, and lip tint—for the autumn and winter season. The packaging features everyone's favourite Sanrio characters such as Hello Kitty, My Melody, Little Twin Stars, and many more. Additionally, they have released cute heart marks for people to put on their face.

Heart Marks (3 Designs) | ¥1,430 Each (Tax Included)

Use the heart-shaped sponge to dip into the cheek cream and stamp a cute heart on your face.

Hand Cream (10 Designs) | ¥605 Each (Tax Included)

Keep your hands moist during the colder seasons. There are five different scents to choose from.

Lipstick (9 Designs) | |715 Each (Tax Included)

Heart-shaped scented lipstick, each capped off with an adorable character from Sanrio's roster.

Lip Tint (6 Designs) | ¥770 (Tax Included)

Tint your lips and keep them moisturised at the same time. Pick from red, coral pink, or pink.

Other items in the line-up include hand cream and mini towel sets, lip cream and hand cream sets, and more. Autumn and winter's chilly months can be beaten with a little self-care, so be sure to check this collection out.

©'76, '85, '89, '93, '96, '01, '05, '20 SANRIO
©'15,'20 SANRIO S/F・G

Information

Available: Sanrio stores in Japan and select department stores stocking Sanrio Products

Sanrio Online Shop: https://shop.sanrio.co.jp/

Slam Dunk Manga's Second Art Book Collection to be Published in 6 Countries Worldwide

Japanese magazine and newspaper company Kosaido has been confirmed as being in charge of the printing, binding, and publishing of the second Slam Dunk manga art book PLUS/SLAM DUNK ILLUSTRATIONS 2 which will launch in France, Italty, Thailand, South Korea, Taiwan, and Hong Kong.

The art book was originally released by Kosaido in Japan in April of this year and will launch in six countries overseas.

Kashimi (Kosaido Salesperson) | Comment

"Following the Japanese release, I am in charge of helping to publish the overseas edition of PLUS/SLAM DUNK ILLUSTRATIONS in six countries and regions around the world, something which has been made possible by Shueisha and [Slam Dunk creator] Takehiko Inoue. It has been a lot of work to ensure that the content of the book lives up to the same standards as the Japanese edition, including the quality of Shueisha's work, the quality of the Slam Dunk content, and the zeal that Takehiki Inoue has towards the quality and the book. It has been a fantastic experience and a lot of fun working on it."

Ando (Kosaido Printer) | Comment

"Being in charge of printing has shown me just how much Shueisha puts into their art books, and when I think about Kosaido's print work being seen overseas, I get even more excited. We're using a printing technique for this book that no other company is using called concentric screening which allows for detailed expression in the print. To make the dots in the print even tidier this time around, we've also been carrying out maintanence on the rollers, cleaning the machines, and other things which will allow for a greater level of quality. The finish of the book will also be taken to the next level by choosing a powder that has much less rough deposits. The printing team has put all of their efforts into creating this book."

The first Slam Dunk art collection, INOUE TAKEHIKO ILLUSTRATIONS, was first published in 1997. This new book will feature 130 illustrations specially selected by the manga's author and illustrator Takehiko Inoue as well as sketches, never before seen drafts, and more. Inoue has also drawn 14 new illustrations for the book including the cover.

Information

PLUS/SLAM DUNK ILLUSTRATIONS 2
Overseas Publishers
South Korea: Daewon Culture Industry Inc.
Taiwan: Cite Publishing Limited
Hong Kong: Jonesky Limited
Thailand: NATION INTERNATIONAL EDUTAINMENT PUBLIC CO., LTD.
France: Dargaud-Lombard s.a. Kana
Italy: Panini SpA

YUEN BETTEI DAITA: Tokyo's New Onsen Ryokan Opening in Shimokitazawa

UDS HOTELS is set to open YUEN BETTEI DAITA, a new onsen ryokan (hot spring Japanese inn), in Shimokitazawa, Tokyo, on September 28, 2020. The hotel is just a 1-minute walk from Setagaya-Daita Station and an 8-minute walk from Shimokitazawa Station.

YUEN BETTEI DAITA sits in a quiet location surrounded by old, historical Japanese houses and is basked in nature. It houses 300 guest rooms and has open-air baths, a spa, and offers traditional Japanese food the tea ceremony.

The inn is equipped with considerate facilities and has a relaxed atmosphere. It caters to modern day needs while still promising a traditional Japanese inn experience. And it doesn't have to be just used as a hotel either – guests can just spend the day there in the hot springs if they like, allowing locals to get away from the hustle and bustle of the big city and their busy Tokyo lives.

The Design

YUEN BETTEI DAITA bases itself on the appearance of residences seen back in Tokyo back in the day. The hotel has taken in furniture and materials that were inherited in a thatched-roof residence in Setagaya which has over a 100 year history, which gives a nod to the history and culture of traditional Japanese architecture, while still incorporating more modern techniques in the wooden roofing and other areas. All of this combines to create a sophisticated Japanese culture-imbued space.

Guest Rooms

There are 35 guest rooms in total, each coming in one of seven types ranging from 19㎡-32㎡. The rooms open up into a tatami and seating area. Guests are provided with yukata and leather-soled geta shoes, and are treated to Japanese tea and confections from local shops.。

Open-air onsen baths (1st Floor)

The large open-air baths receive water from Odakyu Hotel de Yama's own water source in Hakone. Guests can enjoy looking at a traditional Japanese garden while they bathe and listen to the sound of the water from Mount Fuji. The female baths also have scented mist saunas while the male baths have dry saunas.

Cooking & Tea Ceremony (1st Floor)

Kappou Tsukikage

Enjoy seasonal vegetables harvested from the local farms in Setagaya as well as Japanese sake and wine chosen to pair perfectly with the dishes.

Saryou Tsukikage

Guests can also experience the Japanese ceremony with local tea. Daita was once rich with tea farms, and so guests can look forward to enjoying delicious and authentic tea.

SOJYU spa

If guests want to relax the hotel's SOJYU spa offers full body massage, original essential oil treatments, and much more. The spa will also be open to non-guests from spring next year.

Information

YUEN BETTEI DAITA
Grand Opening: September 28, 2020

*Baths and eating facilities are open to non-guests from October 12, 2020

Address: 2-31-26 Daita, Setagaya-ku, Tokyo

Access: 1-minute on foot from Setagaya-Daita Station / 8-minute on foot from Shimokitazawa Station
TEL: 03-5431-3101

Official Website: https://www.uds-hotels.com/yuenbettei/daita

Kirby Café Launches Autumn Menu in Tokyo and Fukuoka

The Kirby Café in Tokyo and Fukuoka released three new dishes for autumn last Friday (September 18).

The menu items are made with seasonal flavours like pumpkin, sweet potato, and chestnut.

Filling Autumn Plate – Salmon Cream Pasta & Pumpkin Salad Sandwich | ¥1,480 (Before Tax)

One plate packed with fall flavours including a rich salmon cream pasta and pumpkin salad sandwich. If you look closely, you'll spot cute pieces of Waddle Dee cheese.

Fallen Leaf Waterfall☆Mont Blanc and Baumkuchen With Friends | ¥1,280 (Before Tax)

Rick, Kine, and Coo feature on this tasty-looking dessert plate which is a baumkuchen piled with a chestnut mont blanc cream.

Kirby's Hot Sweet Potato Sticks | ¥1,080 (Before Tax)

Crunchy on the outside, hot in the middle, and seasoned with fresh rosemary. Kirby is a pro at inhaling food, but don't burn yourself with these!


Information

Kirby Café TOKYO
Address: Tokyo Skytree Town Solamachi Floor 4F (1-1-2 Oshiage, Sumida, Tokyo)
Opening Hours: 10:00-22:00 (Last Orders 21:00)

Kirby Café HAKATA

Address: Canal City Hakata North Bldg. B1F, 1-2-1 Sumiyoshi, Hakata, Fukuoka, Fukuoka Prefecture

Opening Hours: 11:00-23:00 (Last Orders 22:00)

Book Here: https://kirbycafe.jp

Kirby Café Official Twitter: https://twitter.com/kirbycafe.jp

Review: Miffy Café at Tokyo Solamachi®

In commemoration of Miffy's 65th anniversary, the new Miffy Café opened on the first floor of Tokyo Solamachi on September 11, 2020 and will remain open for a limited time. The café is also collaborating with Japanese illustrator Shogo Sekine.

We visited the café to check out the themed menu, merchandise, and other fun things on show to see.

Stepping into the café is like stepping into a picture book world. It's really colourful in there. My mother read Miffy to me when I was a child, so I was hit with a real sense of nostalgia when I entered the café. No matter your age, you're sure to enjoy your time there – that's the kind of fun atmosphere they have created.

Terrine-Style Open Miffy Sandwich | ¥1,499

I ordered the terrine-style open Miffy sandwich and Miffy orange float from the themed menu.

The open sandwich arrives in the shape of Miffy, so it almost seems a waste to eat, but it was really cute and delicious. Simply the best. It's filled with potato salad, an avocado sauce, and salmon.

Miffy Orange Float | ¥899

The ice cream that tops the orange float is made to look like Miffy too!

Snapping a photo while drinking the float is pretty Instagrammable, so it's a must when visiting.

All of the items on the menu have Miffy somewhere on them, meaning anything you order is guaranteed to be kawaii. They have takeout too, which is great if you don't have much time to hang around or just don't want to dine inside.

Speaking of which, each table in the café is separated with an acrylic board to protect customers during the pandemic, and all of them have super cute designs. Another photo opportunity for sure!

The café sells original merchandise too. The fashion items and illustrations with English on them were designed by popular Japanese illustrator Shogo Sekine. There's a whole range of different goodies, from plush toys to fashion and more.

Don't you feel happy just looking at all these colours? You'll find yourself spoilt for choice on what to buy.

The Miffy Café is open until October 18. You can book a table too, so if you're in Japan during this time, be sure to visit the café website below.

Illustrations Dick Bruna © copyright Mercis bv, 1953-2020  www.miffy.com

Model & Writer:Eri Tanioku

Photo: Haruka Yamamoto

Translator: Joshua Kitosi-Isanga

Information

Miffy Café

Address: TOKYO BOX cafe&space, Tokyo Solamachi 1F, 1-1-2 Oshiage, Sumida-ku, Tokyo

Running: September 11, 2020 – October 18, 2020

Reservation Fee: ¥500

Official Website:  https://miffy-skn-65.cafe.jp/

Kyoto's Rokuo-in Temple to be Illuminated in the Autumn Evenings

Keifuku Electric Railroad is lending its strength to Rokuo-in Temple in Kyoto this autumn to light up the ancient site in the evenings from November 14 to December 6.

Shari-den (Photo taken in 2019)


Temple path (Photo taken in 2019)

This year marks the 5th run of the autumn evening light-ups. The temple, just a four minute walk from Rokuoin Station, is known for its beautiful maple trees which blossom breathtaking autumnal colours during the fall season.

Temple reception hall with fusuma images


Fusuma image example

The temple is selling new goshuin temple stamp books this year for the light-up event. Visitors will also be able to see 56 fusuma images drawn by contemporary Japanese artist Takaya Fuji.

Rokuo-in Temple will close early next year for approximately 2 years and 9 months for repairs. The temple is also currently limiting the number of people allowed at once, making this year the best time to see the autumn leaves.

Information

Rokuo-in Temple Evening Light-Up
Running: November 14, 2020 – December 6, 2020
Time: 17:30-19:30 (last Entries 19:00)

Price: ¥2,000 (Comes with matcha and Japanese confections)

Capacity: [Weekdays] 100 People / [Weekends] 150 People

Access: 4 minutes on foot from Rokuoin Station
Apply Here: 嵐電webサイト専用フォーム

New Natsume's Book of Friends Anime Film to Released in Spring 2021

An official new website opened last week confirming the release of the new anime film Natsume's Book of Friends: The Waking Rock and the Strange Visitor. It has now been revealed that the film will be released in Japan next spring.

Natsume's Book of Friends is a manga series by Yuki Midorikawa. It has sold over 14 million copies. The new film will come two and a half years after the release of the first film, Natsume's Book of Friends the Movie, which dropped in 2018.

A special live stream on the new will air on Aniplex's official YouTube page here on September 26 at 12:00 (JST).

Natsume's Book of Friends: The Waking Rock and the Strange Visitor teaser visual

Price: ¥1,500 (Ticket ¥1,000 + Bag ¥500)

Theatergoers who buy a ticket to the film in Japan will receive the following Nyanko-sensei eco bag. They can be bought as a set online here.

©Yuki Midorikawa・Hakusensha / Natsume's Book of Friends Production Committee

Attack on Titan The Final Season Reveals New Key Visual Reveals December Release

A second key visual for the upcoming fourth and final season of Attack on Titan was revealed. It has also been confirmed that the new season will be released on December 6, 2020.

PV:

Fans' excitement only continues to surge as they can now mark a date in their calendars. Stay tuned for any further updates.

©Hajime Isayama・Kodansha / Attack on Titan The Final Season Production Committee


Information

TV Anime "Attack on Titan The Final Season"
Initial Broadcast: December 6, 2020 (Subject to change)

Official Website: https://shingeki.tv/final/

Nintendo Switch's Ninjala Launches Sonic the Hedgehog Collaboration

The Nintendo Switch™ title Ninjala finally rolled out its collaboration with Sonic the Hedgehog on Thursday (September 24).


In the world of Ninjala, players blow bubble gum to craft different weapons and fight using the fighting style of ninjutsu. Players can also transform into nearby objects, and they must use parkour to traverse different landscapes while aiming to take down their opponents.


Players can get their hands on Sonic, Tails, and Knuckles costumes for their avatars, as well as turn into a Dr. Eggman Gum Utsusemi.


There are also IPPON decorations and stickers for players to use. All of these items are available to purchase via the in-game shop.

Enter the world of Sonic the Hedgehog in Ninjala today!

© SEGA
© GungHo Online Entertainment, Inc.

Information

Ninjala

Platform: Nintendo Switch™

Official Website: https://ninjalathegame.com/en/

*Company names, logos, product names and service names are trademarks and registered trademarks of their respective companies.

*Nintendo Switch and the Nintendo Switch logo are trademarks of Nintendo.