Kyoto Aquarium Begins Special Opening Service For After 3 o'clock
Kyoto Aquarium is now holding a special "off-peak" opening service after 3:00pm where visitors can receive free novelties amongst other things. The service began on July 23 and will run until September 30 this year.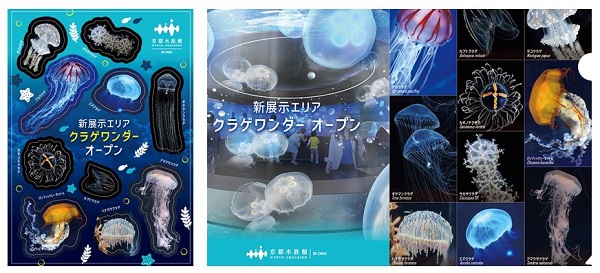 The service comes as a measure against the spread of COVID-19. Normally, the aquarium can become crowded during the day, and to spread the number of visitors out, they are offering a special service for those visiting after 3:00pm. This means that visitors can enjoy the aquarium at a more relaxed pace and take their time.
But that's not all. On days when the aquarium closes at 6:00pm, visitors will receive a free original Kyoto Aquarium seal made to promote the new jellyfish exhibition area which opened on July 16, 2020. And on days when it closes at 8:00pm, visitors will not only receive a free folder, but can get a serving of the aquarium's mini soft serve ice cream at three times the amount as usual, or  a free mini drink.
Information
Kyoto Aquarium After 3 o'clock Special Service
Running: July 23, 2020 – September 30, 2020
[Closing Hours: 18:00] ①Jellyfish Seal
[Closing Hours: 20:00] Arriving between 15:00-17:00 = ①Jellyfish Seal / ①Jellyfish Folder, ②Mini Ice Cream or Mini Drink
*One novelty per person
*Aimed at visitors aged 3-years old and above who hold a valid ticket
*Harvest Cafe is open until 19:15
Official Website: https://www.kyoto-aquarium.com/
RELATED ENTRIES
Italian Pop Trio Il Volo to Perform for Charity at Kiyomizu-dera in Kyoto, Film to be Released

Il Volo, an Italian operatic pop trio known for its incredible tenors, will be the first foreign artist to be filmed at Kiyomizu-dera in Kyoto. The concert will be held without an audience and will be filmed, with proceeds going to charity.



The musical trio is known around the world for its mesmerizing harmonies. Their music manages to sound modern while still channeling tradition, making them an excellent choice to perform at the center of Japanese cultural traditions in Kyoto. The group will also perform in Tokyo, Osaka, and Nagoya.

The music video for the group's song Grande Amore, released in 2015, has racked up over 200 million views on YouTube. Loved by fans around the world, Il Volo's music transcends language barriers, and the group is sure to impress on their Japan tour.

Information

Il Volo Japan Tour 2022 Live in Concert

Planning/Invite/Organization: Tate Corporation

In Cooperation with Sony Music Labels Inc., M.T. Studio

UWS AQUARIUM GA☆KYO, Inspired by Japanese Traditions and Legends, Open in Odaiba

UWS AQUARIUM GA☆KYO, an aquarium inspired by Japanese traditions and legends, opened at Aqua City Odaiba on July 13, 2022. The curious aquarium and art facility is split into five spaces, each based on a particular Japanese legend or tradition. 

Area 1 – WABISABI

Area 2 – OIRAN

Area 3 – MANGEKYO

Area 4 – YURAKU

Area 5 – RYUGU

Virtual Goldfish Scooping

This mixture of aquarium and entertainment venue was produced by GA☆KYO. Each of the five spaces invites guests to understand and appreciate a particular part of Japanese traditional culture, as well as to experience the beauty of living things. Come enjoy this unique installation the next time you're in Tokyo!

Information

UWS AQUARIUM GA☆KYO
Venue: Aqua City Odaiba 3F (1-7-1 Daiba, Minato-ku, Tokyo)
Official Site: https://uws-gakyo.com

Aquarium Inspired by Japanese Traditions to Open at Aqua City Odaiba

On July 13, UWS AQUARIUM GA☆KYO, an aquarium inspired by Japanese traditions and legends, will open at Aqua City Odaiba. Separated into five unique sections, this curious aquarium is located in a shopping complex popular with locals and tourists alike. 

UWS AQUARIUM GA☆KYO will depict five aspects of traditional Japanese life and history: Wabi-sabi, Oiran, Mangekyo (Kaleidoscope), Yuraku, and Ryuugu. These will be explained below if you aren't familiar.

Area

WABISABI
Wabi-sabi is a Japanese aesthetic in Japanese art centered on the acceptance of transience and imperfection. In the aquarium, this is shown by using delicate driftwood, bonsai, and crystal. Characteristics of wabi-sabi include asymmetry, simplicity, and roughness.


OIRAN
An Oiran was a high-ranking courtesan in Japanese history. In this work, goldfish are surrounded by beautiful and enchanting features inspired by these gorgeous women.



MANGEKYO


Mangekyo is the Japanese word for kaleidoscope. This collaborative work invites viewers into a unique space filled with paintings by Tsuyoshi Nigamushi along with disco balls. You'll want to snap some trippy pictures!



YURAKU
This special exhibition invites guests to experience virtual goldfish scooping and fortune-telling. Made using modern technology in a space inspired by Japan's four seasons, yuraku means pleasure in Japanese.



RYUGU


Ryuugu refers to the Palace of the Dragon King found in the ancient tale of Urashima Taro. 

This spatial work will utilize the sea around Odaiba and transport visitors to another place and time.


Come enjoy these five unique spaces with your five senses and become more acquainted with traditional Japanese beauty.

Information

UWS AQUARIUM GA☆KYO

Grand Opening on July 13, 2022

Hours: 11:00-21:00

Venue: Aqua City Odaiba 3F (1-7-1 Daiba, Minato-ku, Tokyo)
Official Site: https://uws-gakyo.com

Banyan Tree Group Opens Garrya Nijo Castle Kyoto Hotel

Banyan Tree Group, one of the world's leading independent hospitality groups, held the grand opening of Galleria Nijo Castle Kyoto, on Friday, June 17, 2022. This is the first of the group's hotels to open in Japan.

Hotel Exterior

Located south of Nijo Castle, a World Heritage Site, and named after the beautiful winter flower, Galleria Nijo Castle Kyoto is a small, modern, and minimalist luxury hotel that offers simple guests a chance to recharge themselves.

Wellbeing Room


For the grand opening, a new Wellbeing Room has been opened where visitors can experience quiet meditation.

Visitors can stroll through nearby gardens, temples, and shrines, take a tour of Kyoto's many historical sites, or spend time in the Wellbeing Room meditating or practicing yoga to recharge their batteries away from the hustle and bustle of everyday life.

The French Restaurant Singular will also offer up healthy and tasty meals with a focus on local ingredients and producers.


Enjoy a visit to Kyoto in this peaceful space perfect for resting both body and soul.

Next-Generation Town-Walking Project NAKED GARDEN -ONE KYOTO- to Begin this Fall

The creative team at NAKED is teaming up with Kyoto City, Uji City, and Otsu City in Shiga Prefecture for a one-of-a-kind project. This fall, guests will be able to experience NAKED GARDEN -ONE KYOTO, a next-generation town-walking project blending the real world and the Metaverse together. Visitors will be able to experience Kyoto's shrines, temples, and history in a whole new way.

NAKED has been working with the city of Kyoto since 2017, creating new cultural outreach and tourism programs. A number of nighttime events have taken place at Nijo Castle, including 'virtual flower viewing' in the midst of the pandemic. Last year, the DANDELION PROJECT began at Kamigamo Shrine, a World Heritage Site. The project brings guests around the world together virtually to pray for peace. Events have also taken place at Kiyomizu-dera, Heian Shrine, and Ninna-ji.

In 2022, NAKED will collaborate with Kyoto City, Uji City, Otsu City, and their respective tourism associations to create a Metaverse where visitors can enjoy Kyoto not only in the real world but also virtually. Art being experienced by visitors in real life can be reflected in the Metaverse, and experiences in the Metaverse can be enjoyed in a way that is unique to real events. As hard to describe as it may be, more details will be available on the NAKED GARDEN website when it opens this summer. 

Information

NAKED GARDEN -ONE KYOTO-

Coming Fall 2022

NAKED, INC. Official Site: https://naked.co.jp

Kyary Pamyu Pamyu Collaborates with Kochi Prefecture's Katsurahama Aquarium for LOCAL POWER JAPAN Project

Kyary Pamyu Pamyu concluded her tour stop in Kochi on May 29, and as expected, the singer has announced another collaboration with a local business as part of the LOCAL POWER JAPAN Project! Launched to energize Japan through the appeal of regional towns and cities, the project has received both domestic and global attention. 

In Kochi Prefecture, Kyary is collaborating with the Katsurahama Aquarium! Located on the water at Kochi's famous Katsurahama Beach park, the location is filled with Kochi flare and remains a valuable and beloved place to local residents. The building has long been popular as a museum and has been both a tourist attraction and a local hangout for decades. Known affectionately by locals as 'Hamasui,' the 99-year-old structure has often been a hot topic for its unique advertising strategy, with Hamasui Twitter posts going viral and making their way to late-night TV programs.

For the collaboration, the aquarium's cute creepy-crawly mascot Otodo-chan has been transformed as an homage to Kyary's music video for PONPONPON released in 2011. 

A collaborative T-shirt is also on sale featuring the new logo and the singer's 10th-anniversary logo. The shirt is available on the LOCAL POWER JAPAN Project website for two weeks only starting May 27!

Information

Katsurahama Aquarium (Kochi) x LOCAL POWER JAPAN Project

Collaboration T-shirt
Price: ¥3,300 (Tax Included)  
Where to Buy: Katsurahama Aquarium
Details: https://katurahama-aq.jp/ 


LOCAL POWER JAPAN Project Online Shop
Available: May 27 – June 9 at 23:59
https://store-localpowerjapan.com/


*Please allow two weeks to one month from order completion to product shipment.
*A portion of T-shirt sales will be donated to local projects and social programs.
*Please check the online shop for details.

Rhythm Game BlackStar ~Theater Starless~ Gets Collaborative Event at Toei Kyoto Studio Park

Toei Kyoto Studio Park will be holding a special collaboration with the rhythm game BlackStar ~Theater Starless~ for a limited time, from June 4 until July 10, 2022.

Goods Lineup

Newly-drawn Illustrations

Mini Characters

The Theater Starless Uzumaki Branch will be open inside the park during the event period. 26 themed cast members will even be greeting guests! 


A stamp rally will be taking place along the Keifuku Randen Tram Line and during the event, a special train featuring a newly-drawn illustration of the five main characters and 26 mini-characters will be running through the streets of Kyoto!

Limited tickets will be sold for a number of collaborative events being held in the park, so be sure to grab yours while you can!

©DOUNUTS

Information

BlackStar ~Theater Starless~ in Uzumaki

Running: June 4 – July 10, 2022

Venues: Toei Kyoto Studio Park, Arashiyama Station, etc.
Official Site: https://blackstar-uzumasa.jp/
Official Twitter: @Blackstar_uzms

Sumida Aquarium to Introduce New Baby Penguins in Late June

Tokyo's Sumida Aquarium welcomed three new baby Magellanic penguins on April 14! This marks the 10th year in a row that the location has seen new baby penguins born. 

Magellanic penguins start their breeding season in March each year, finishing in May. The first baby born this year, Daifuku, hatched on April 14, becoming Sumida Aquarium's first second-generation penguin. Komari hatched on April 20 and Shiratama hatched on April 30.

The penguins were given names signifying good luck and joy. Komari and Shiratama both evoke images of 'circles' in Japanese, with the aquarium hoping that the penguins will sever as a link to guests.

All three babies will make their public debut towards the end of June in the designated penguin pool. The Sumida Aquarium Twitter feed will provide updates about how the babies are progressing, so be sure to keep an eye out!

Kyoto Sweets Shop Otabe Rereleases Demon Slayer: Kimetsu no Yaiba Snacks with New Designs

Otabe, one of the most popular sweets souvenir shops in Kyoto, Otabe, is known for its delicious matcha and mini-desserts. Starting May 12, the company has released nine uniquely packaged sweets inspired by Demon Slayer: Kimetsu no Yaiba. The limited-edition packaging will feature popular characters from the series. Previously, the company released matcha cakes for the crossover–this time, fans can enjoy choco-an flavor!

Demon Slayer: Kimetsu no Yaiba Choco-an

Demon Slayer: Kimetsu no Yaiba Matcha

Demon Slayer: Kimetsu no Yaiba Otabe (with Original Sticker)

Original Sticker: 15 varieties, 1 given at random

Focusing on the hashira from the series, fans will want to be on the lookout for their favorite character. These sweets can be bought at select stations in the Kyoto and Osaka area, major Kyoto tourist attractions, and online. In addition, matcha flavored treats will also be on sale featuring Tanjiro Kamado, Nezuko Kamado, Zenitsu Agatsuma, Hashibira Inosuke, Kagaya Ubuyashiki, and Muzan Kibutsuji.



©吾峠呼世晴/集英社・アニプレックス・ufotable

Information

Demon Slayer: Kimetsu no Yaiba Choco-an
Release Date: May 12, 2022
Price: ¥432 (Tax Included)
Where to Buy: Train station in Kyoto & Osaka area, Major Kyoto tourist attractions, online.
Details: http://www.otabe.kyoto.jp/kimetsunoyaiba/

Hydrangea Parfait Featuring Local Matcha Available at Itohkyuemon in Kyoto

Located in Uji, Kyoto, matcha shop Itohkyuemon was founded in the late Edo period. Three cozy locations have just launched a Hydrangea Parfait, perfect for spring.

Hydrangea Parfait

Hydrangea Coaster

The shop's main location is headquartered in Uji, which is also home to Mimuroto Temple, known for its hydrangeas. The flowery location attracts thousands of tourists during the rainy season. 

The Hydrangea Parfait has been offered since 2013, now celebrating its 10th year. The popular seasonal treat features matcha hydrangea mashed sweet potatoes, hydrangea-colored jelly, leaf-shaped matcha cookies, and blueberries. Those ordering a parfait will also receive a hydrangea coaster as a gift, so why not enjoy the rainy season with something sweet to lift your spirits?

Yunohana Onsen Resort Reveals Contemporary Art-Inspired Guest Rooms

Sumiya Kihoan, a cozy inn at Yunohana Onsen in Kameoka City in Kyoto, opened a unique new guest room on April 28, 2022. The room's concept is "where guests can stay in the middle of contemporary art," and was inspired by the works of internationally-acclaimed contemporary artist Yukinori Yanagi. The new room, created as part of the Art Room Project, has been named 'Kofuu.'

The Icarus Corridor Connecting Heaven and Earth

Heavenly Bath Welcoming a Rainbow at Dusk

In-Ground Bath Featuring Oribe Glazed Ceramic

Concept Drawing of the Art Room Project by Yukinori Yanagi


The new room includes an open-air bath where guests can be transported into the world of Yanagi's contemporary art while gazing at the gorgeous Kyoto landscape. Upon entering the inn, guests are greeted by a long corridor leading to the bedrooms, dining room, and two creative open-air baths. The space was created in collaboration with Yanagi and local artists and craftsmen, such as potter Ishii Naoto, obi craftsman Yamaguchi Genbei X, plasterer Kusumi Akira, and Japanese paper craftsman Hatano Wakaru. A delicious menu is prepared by chef Hosoi Kunihiko.

Kyoto's Garden Museum Hiei Opens Limited-Time Collaboration Event with Violet Evergarden Anime Series

Kyoto's Garden Museum Hiei has announced that it will host a collaboration event with Kyoto Animation's Violet Evergarden anime franchise, entitled 'A Story of Flowers and Letters,' from May 3 to July 10, 2022.

The Garden Museum Hiei, an outdoor facility inspired by French Impressionism, sits near Mt. Hiei and is known for its incredible floral displays which change colors each season. "This scenery matches the image of the landscape depicted in the Violet Evergarden anime series, which led to the decision to hold this collaborative event," the press release reads.

Visitors can enjoy collaboration visuals and standees that will only be available to see at the gardens. The event will also feature original merchandise, collaboration drinks, and a voice-recorded introduction to the facilities by Violet herself, voiced by Yui Ishikawa.

Violet Evergarden

Violet Evergarden premiered in 2018. The main character, Violet, was trained to be a soldier and therefore has trouble expressing her emotions. In order to learn the meaning behind her commander's final words, "I love you," she embarks on a new path in life, writing letters on others' behalf. A spin-off film was released in Japan in 2019, and a second film premiered in September 2020.

Information

Violet Evergarden x Garden Museum Hiei ~A Story of Flowers and Letters~

Venue: Garden Museum Hiei

Running: May 3 – July 10, 2022