Dine at Harajuku's New Tarako Spaghetti Restaurant Tokyo Tarako Spaghetti
Tokyo Tarako Spaghetti opened its all-new, second branch in Harajuku Omotesando on July 31, 2020. The restaurant opened its first branch back in January this year.
To commemorate the opening of the new restaurant, it is serving up two brand new tarako (cod roe) spaghetti dishes made with Japanese dashi.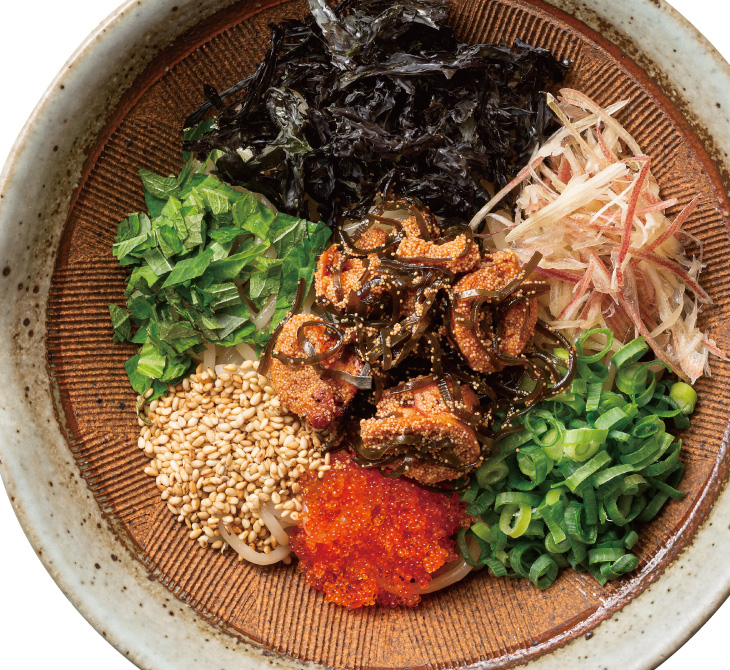 Tarako & Kombu Umami With Dashi Spaghetti | ¥990 (Before Tax)
The first new dish is a combination of tarako, kombu, and dashi spaghetti. This dish adds a Japanese flair to it by combining tarako spaghetti with tarako boiled in soy. The full flavour of the kombu is extracted when the dashi is poured over, creating an irresistible flavour.
Three Fish Egg Tarako Spaghetti | ¥1,390 (Before Tax)
The second new dish on the menu is the "Three Fish Egg Tarako Spaghetti" which combines lots of tarako with toppings of salted salmon roe and flying fish roe. There's a whopping 100g of fish eggs on there, so you won't be going hungry with this filling, colourful serving of spaghetti.
Discover new kinds of tarako spaghetti dishes at Tokyo Tarako Spaghetti Harajuku Omotesando.
Information
Tokyo Tarako Spaghetti Harajuku Omotesando
Address: MS Bldg. 2F, 6-7-16 Jingumae, Shibuya, Tokyo
Opening Hours: 11:00-23:00 (Last Orders 22:00)
TEL 03-6803-8688
Official Website: https://www.tokyotarako.com
RELATED ENTRIES
Exquisite Afternoon Tea to be Served in Tokyo in Collaboration With Pierre Hermé

InterContinental Tokyo Bay is set to serve up a special afternoon tea by French pastry chef Pierre Hermé at five of its restaurants including New York Lounge from June 1 to August 31.

A colourful, fruit-filled line-up

From the left: Mosaic Cheesecake, Macarons, Ispahan, Emotion Satine

From the left: Jardin de Misole, Jardin de L'atlas, Infiniment Cassis

Chocolate gateaux line-up

Two jam scones, one with raspberry and one with lemon

The savoury items are made by the French restaurant next door

The full afternoon tea at New York Lounge

The full afternoon tea at Hudson Lounge

The full afternoon tea at Manhattan

The full afternoon tea at La Provence

The full afternoon tea at Italian Dining Zillion

The afternoon tea line-ups are a collaboration between French pastry chef Pierre Hermé, who has been called the pastry industry's Picasso, and award-winning executive chef Junji Tokunaga. Their first time working together, the duo have created an afternoon tea service packed with fruits like passion fruit, raspberry, orange, lychee, lemon, and more. Tokunaga also baked up chocolate gateaux as an homage to Hermé.


Items on the menu include Pierre Hermé's signature Ispahan which is a rose-flavoured macaron stuffed with rose cream, fresh lychee, and raspberry; Mosaic Cheesecake which harmoniously combines griotte cherries and pistachio; the refreshing Emotion Satine in all its passion fruit, orange, cream cheese, and mascarpone richness; four original gateaux chocolate oranges by Tokunaga; scones, and more.

The afternoon tea served at French Dining Manhattan, a restaurant which has a terrace overlooking Tokyo Bay, also comes with its own original savoury line-up, while Fine Dining La Provence and Italian Dining Zillion serve up lunch plates with theirs.


Information

Pierre Hermé x Junji Tokunaga

Running: June 1, 2021 – August 31, 2021

Venues

<Pierre Hermé x Junji Tokunaga Summer Sparkle Afternoon Tea>
New York Lounge/Hudson Lounge/Rainbow Bridge View Dining & Champagne Manhattan


<Pierre Hermé x Junji Tokunaga Summer Sparkle Afternoon Tea-Style Dessert w/Lunch Plan>
La Provence/Italian Dining Zillion

Mineko Orisaku Exhibition Combines Gold Leaf With Photography

FUJIFILM SQUARE in Minato, Tokyo, has announced the HAKU graphy Hommage to Hokusai exhibition by Mineko Orisaku which will run from July 21 to August 19 this year.

Hommage to Hokusai ©Mineko Orisaku

Following sunset (Tanuki-ko Lake) ©Mineko Orisaku

Pine and Mt.Fuji (Kawaguchi-ko Lake) ©Mineko Orisaku

Since announcing her "HAKU graphy" project in 2017, Mineko Orisaku has been experimenting with combining gold leaf and photography. This is different from the usual method of printing photos onto printing paper or washi paper, instead using FUJIFILM's Acuity UV inkjet printer to print delicate gold leaf. This technology allows a wider use of printing materials and colours.

Mineko Orisaku's exhibition is an homage to Hokusai, one of Japan's most celebrated ukiyo-e painters and artists. She has used FUJIFILM's large-format GFX digital camera for her works on Hokusai's Thirty-six Views of Mount Fuji to create something unique to her vision. Her work can be enjoyed alongside another Hokusai exhibition taking place at FUJIFILM Photo Salon Tokyo's Space 1 and 2.

Information

HAKU graphy Hommage to Hokusai
Running: July 21, 2021 – August 19, 2021

Times: 10:00-19:00 (Until 16:00 on August 19)

Entry: Free

Venue: FUJIFILM Photo Salon Tokyo Space 3 inside FUJIFILM Square
Address: Tokyo Midtown West, 9-7-3 Akasaka, Minato-ku, Tokyo, 107-0052
TEL: 03-6271-3350 

Official Website: https://fujifilmsquare.jp/

Explore Harajuku Virtually as Virtual Shibuya Announces New Harajuku Area

Virtual Shibuya has announced that its new Harajuku area will open on May 25, 2021. The virtual experience is hosted on Cluster, a virtual social media platform.

Shibuya 5G Entertainment Project launched the "Virtual Shibuya" back in May of last year in collaboration with KDDI, Shibuya Future Design, and the Shibuya Tourism Association. Officially recognised by Shibuya City, Virtual Shibuya comes in response to the effects of the COVID-19 pandemic which has brought tight restrictions to the economy and people's way of life. It enables people to continue enjoying entertainment from the comfort of their homes by participating in a whole host of virtual events and activities. The project aims to deliver content from Shibuya with live performances from artists, art exhibitions, talks, and more. The use of 5G and the latest cutting edge technology connects the real Shibuya to a virtual space, combining the realms of the digital and real world.

Virtual Harajuku is the second area to open in the service and brings together the iconic locations surrounding Jingumae Crossing such as Laforet Harajuku and Tokyu Plaza. As part of the new area's launch, Japanese pop icon Kyary Pamyu Pamyu has been announced as a Special Supporter of the service. The singer and model made her debut on the streets of Harajuku with her unique fashion. Ten years since her debut, she will continue promoting Harajuku from the service.

Information

Virtual Harajuku au 5G POP DAY OUT 2021
Running: May 25, 2021 – May 31, 2021

Location: Virtual Harajuku (The URL will be revealed in the coming weeks)
Virtual Harajuku Details: https://vcity.au5g.jp/harajuku

Cluster Official Website: https://corp.cluster.mu/

MUFG to Open MUFG Park in West Tokyo in 2023

MUFG has announced that decided its Tokyo-based Musashino Sports Ground will is transforming into the new MUFG Park (tentative name) as part of its efforts toward the realisation of a sustainable environment and society. Set to open in 2023, MUFG Park will consist of three concept areas: a precious green environment in the city center (nature); environments for sports and to promote health (sports); and an environment for social exchange and activities (communication).

Tennis courts and grounds for soccer, rugby, and other sports

A community library stocked with reading material catering to cultural needs

Hosting lots of programs together with users of MUFG Park

"Committed to empowering a brighter future" is MUFG's slogan which it is branding to help achieve a more sustainable environment and society. MUFG Park aims to resolve a wide variety of local and social issues that must be faced now and in the future, such as the conservation and passing-down of values related to precious natural spaces in urban areas, support for community-building in response to the post-COVID-19 era, and the creation of a resilient society. It also hopes to help empower a brighter future by communicating the various experiences and values cultivated there to society.


Häagen-Dazs Dessert Buffet Whipped Up at Keio Plaza Hotel

Keio Plaza Hotel in Shinjuku, Tokyo, is welcoming Häagen-Dazs through its doors who have prepared a very special dessert buffet for the hotel's "Summer Trip with Häagen-Dazs" service. The sweet treat line-up will be served from June 1 to September 30 along with a range of savoury foods from around the world – an inviting prospect to those unable to travel during the pandemic.

Sweets Collection with Häagen-Dazs ~Ice Cream Holic~ | General ¥4,800, Children (Aged 4-12)

The first entry to the Summer Trip with Häagen-Dazs is the "Sweets Collection with Häagen-Dazs ~Ice Cream Holic~" dessert buffet. To protect customers, all desserts are ordered and served like a course rather than going to pick up the food yourself. This marks the third year of the dessert buffet, and this time it's inspired by ice cream shops in New York, the home of Häagen-Dazs. Ice cream will be served in a cool and refreshing variety of ways.

Experience that feeling of picking out a flavour from the ice cream store with a line-up of eight flavours including classics such as vanilla and strawberry as well as the new rich royal milk tea. Each serving is customisable with numerous toppings.

Other menu items include mini ice cream croissants, ice cream sodas, ice cream cake, and more. There's also a line-up of savoury food too if you want to line your belly before dessert: fried chicken, burgers, hot dogs, fries, and so on.

While the buffet is on, the hotel restaurant itself will be transformed into an ice cream theme park with summery tropical fruit colouring as well as designs and decor inspired by ice creams and cones.

Information

Sweets Collection with Häagen-Dazs ~Ice Cream Holic~

Running: June 1, 2021 – September 30, 2021

Bookings; Now Open

Location: Jurin (Keio Plaza Hotel Floor 2F)

Address: 2-2-1 Nishi-Shinjuku, Shinjuku-ku, Tokyo

Slots: 15:00-17:00 (Last Orders 16:30) / 15:30-17:30 (Last Orders 17:00)

Jurin Official Page: https://www.keioplaza.com/restaurants/coffee.html

Deliciously Luxurious Matcha Shaved Ice to be Served in Shinjuku This Summer

This summer, Southern Tower Dining and Lounge South Court—both of which are located inside Odakyu Hotel Century Southern Tower—are serving up a fluffy matcha shaved ice dessert called Wa -Nagomi- from June 1 to September 30.

Southern Tower's Famous Fluffy Light Snowfall Wa -Nagomi- Shaved Ice | Eat In ¥1,470, Takeout ¥700

The matcha-flavoured shaved ice has a texture as light and fluffy as snow. As you spoon through the dessert your taste buds are met with a range of delicious tastes and textures like the Japanese rice flour confection known as gyuhi, winter melon syrup, black soybean flour ice cream, and cream.

The dessert can also be ordered for takeout. The black soy bean flour ice cream adds a crunchy cereal-like texture to the soft shaved ice, and with the takeout option, there's also chocolate-coated wheat bran and brown sugar syrup.

Information

Wa -Nagomi-

Japanese Name: 和 -なごみ-

Serving: June 1, 2021 – September 30, 2021

Where: Southern Tower Dining / Lounge South Court (Odakyu Hotel Century Southern Tower Floor 20F)

Address: 2-2-1 Yoyogi, Shibuya, Tokyo

Opening Hours:

[Southern Tower Dining] 11:30-16:00 (Last Orders 15:00) / 17:30-22:00 (Last Orders 21:00)

[Lounge South Court] 10:00-23:30 (Last Orders 22:30)

Southern Dining Official Website: https://www.southerntower.co.jp/restaurant_lounge/st_dining/bar_lunch/

Disney Princesses Help You to Answer the Question 'What is Love?' at This Tokyo Event

As part of Disney's Ultimate Princess Celebration, a worldwide festival themed on courage and kindness that began in April, an event titled "What is Love? ~The Secret to Shining Bright Lies in the Princess World~" will take place at Shibuya Marui in Tokyo from June 23 to July 29 this year. It will subsequently move to JR Nagoya Takashimaya from August 4 to 23 and finally conclude next year in Shizuoka where it will run from January to March.

This event tries to answer the question "What is Love?" through a range of content that encourages the use of all five senses: visually, digitally, musically, through scent, and more.

 

What is Love? ~The Secret to Shining Bright Lies in the Princess World~

Visitors are guided by 12 Disney princesses who will take them on a journey of their 'love' in six different areas.

 

A Look at the Event

1. Introduction: 12 Shining Princesses

At the event, you will meet the 12 princesses and learn their story, what their personality is like, and more.

2. Opening Theater: Discover the Secrets to Shining Bright

Attend the theatre and watch the stories of the princesses with your own eyes.

3. 7 Keywords Unravelled From Their Stories

Seven keywords that appear in the princesses' stories will be explored, each of which are tied back to love. This will include exhibits of scenes from the Disney animated movies, an AR experience using smartphones, and more.

From Beauty and the Beast

Using their smartphones, visitors can hold up their phones and utilise AR technology to see various scenes from Beauty and the Beast in an area inspired by the library that Beast bestowed upon Belle.

From Tangled

In Tangled, the King and Queen release lots of sky lanterns on Rapunzel's birthday each year in hopes that she will see them and return. Let your own lanterns fly like in the movie and witness a beautiful spectacle.

4. Music and Fragrance: Clad in Radiance Unseen to the Eye

A unique experience combining music and fragrances inspired by the princesses, who radiate from love, will let visitors feel closer to them.

5. Glowing Lines: Words That Make the World Shine

At the Closing Theater, words and lines said by the princesses will be displayed, offering another way of enjoying their world that radiates from love.

6. Prologue: Your Own Unique Story Begins

Pick up a range of merchandise featuring designs of the exhibition's main visual, the seven key words, and more.

 

Services and Content Offered by Disney at the Exhibition

Disney+

Disney+ is a streaming service that brings together all Disney, Pixar, Marvel, Star Wars, and National Geographic content in one place, as well as exclusives. Those at the exhibition can watch the content offered by Disney+ at the Opening Theater.

 

Disney DX App

The Disney DX is an app exclusive to Japan that comes as a set with Disney+. It offers the chance to see cut scenes from movies, behind-the-scenes content, and more. The exhibition utilises this app through AR experiences, so if downloaded, you're sure to have an even more fun time.

A curated list of Disney Princess music is played at the exhibition. If you head to the shop, you can pick up movie soundtracks and other albums. Disney even created a playlist themed on the princesses that's now available on music streaming services.

Information

What is Love? ~The Secret to Shining Bright Lies in the Princess World~

Japanese Event Title: WHAT IS LOVE? ~輝くヒミツは、プリンセスの世界に。~

Running: June 23, 2021 – July 29, 2021

Where: Shibuya Marui (Floors 7F & 8F) *Reception is on floor 7F

Address: Shibuya Marui, 1-22-6 Jinnan, Shibuya-ku, Tokyo

Opening Hours: 11:00-20:00

Official Website: https://PrincessExhibition.jp

*Exhibition will subsequently move to JR Nagoya Takashimaya (August 4, 2021 – August 23, 2021) and Shizuoka (January 2022 – March 2022)w

HOSHINOYA Tokyo's New Hotel Plan Lets Guests Cool Down in the Summer With an Edo Period Stay

HOSHINOYA Tokyo is shining the spotlight on Japan's Edo period culture once again this summer with a new hotel stay experience, Edo Suzumi ("Edo Cooling Down"), which will run from June 1 to August 31.

Air cons are common in Japan, but they didn't exist during the Edo Period. The people of Edo therefore had to find alternatives for cooling down during the hot Japanese summer heat. HOSHINOYA Tokyo's new hotel plan will showcase just this by preparing special guest rooms for cooling off, making tsuri shinobu ornamental plans, making tea with both Japanese and Chinese ingredients, and more. Desserts made with sweet sake, something which townsfolk enjoyed drinking during the cool summer evenings, will also be served when the sun sets.

Edo Suzumi: 3 Things to Look Forward to

1. Guest rooms specially prepared with the Edo Period in mind

Guest rooms will be decorated with cool indigo-dyed cloth. They will also feature a number of things that the people of Edo observed to cool down during the summer blaze, such as goldfish, tsuri shinobu, seasonal flower prints, and more. The colour blue reminds one of water and so when seen it is said to make one feel cooler by reducing the pulse, number of breaths, and blood pressure.

Guests will be able to make their very own tsuri shinobu, a decorate hanging fern made from moss and bamboo which is suspended like a wind chime to create the same refreshing sensation during summer.

2. HOSHINOYA Tokyo's new Suzumi Seats cool you off in the evenings

In the evenings, water will be sprayed on the hotel plaza floor, in the same area as where the new Suzumi Seats are. During the Edo Period, people would lay out suzumidai seats and sit outdoors in the evenings when the temperature drops. At HOSHINOYA Tokyo, guests can do the same while enjoying a sweet sake parfait made with seasonal peach compote and edamame mousse. Sweet sake has a good balance of glucose and amino acid, and so people during Edo times would drink it to replenish nutrients and cool down their body.

3. New tea blends with Japanese and Chinese ingredients

Ice was a valuable resource during the Edo Period, and so it's said that many people would drink hot drinks during the summer and cool off by sweating. Various ingredients were sold for making tea in the towns, such as loquat, liquorice, cinnamon, and more, which would be mixed together. Guests will be able to try making their own original tea blends.

Summer cooling was a big part of Edo culture and a way of life that was experienced using all of the senses, such as hanging chimes and ferns, observing goldfish, and more. This unique life can now be experienced at HOSHINOYA Tokyo this summer.

Information

Edo Suzumi

Japanese Plan Title: 江戸涼み滞在

Running: June 1, 2021 – August 31, 2021

Where: HOSHINOYA Tokyo
Bookings: https://hoshinoya.com/tokyo/ (Must be made 14 days in advance)

Price: From ¥59,000 (1 room for 2 people. Tax, service charge, and accommodation not included)

Capacity: 1 group of up to 2 people per day

Notes: For guests of HOSHINOYA Tokyo staying in the Kiku (菊) rooms
Official Website: https://hoshinoya.com/en/

3D Phantom®: Experience 3D With the Naked Eye at Media Ambition Tokyo 2021

Life is Style, a company that develops 3D holographic advertising signs, is set to showcase its new 3D Phantom® at Media Ambition Tokyo (MAT) which is taking place at Tokyo City View from May 12 to 23.

3D Phantom® is a 3D holographic display that uses LED lights on fast-spinning blades to create eye-popping 3D effects. At the event, the technology is set to transform the horizon that can be seen from the Roppongi Hills observations deck by forming light and images at the boundary between the land and sky.

Yoichi Ochiai (New Media Artist) | Comment

"My works are themed on change and transformation, visuals and materials, calculated nature and mass. I continue to attend MAT every year as I'm creating expression using media equipment. This time, I've endeavoured to create something that takes advantage of MAT's location behind high above the city. I wondered what it would look like if I created something on the horizon that can be seen from the 52nd floor of Roppongi Hills, how I could change the horizon digitally to make it something more material. After searching to see if there was some kind of transparent display that would build on top of the horizon that not damage the beauty of the location, I came across 3D Phantom. With this technology, I believe I've been able to transform the view beautifully into one long line. Please see it for yourself." (Translated from Japanese by MMN)

(C)Ninagawa Mika

Stay in Harajuku's Yados Jingumae Hotel if You Love Art

Japanese company Rokuyon, which is responsible for creating a variety of hotel plans in Shibuya including at our own MOSHI MOSHI ROOMS, has launched a new project for guests of various hotels who are fans of brands and artists.

For their first endeavour, Rokuyon has teamed up with Yados Jingumae which has undergone major renovations. Guests staying in Room 202 this spring can enjoy a range of artworks as part of the room's exclusive Harajuku Night Owl Art Exhibition, while in summertime Room 301 will incorporate furniture by Sekai Class.

Yados Jingumae Room 202: Harajuku Night Owl Art Exhibition

Living room

Bedroom

Artist room

Participating Artists

CHiNPAN | April 23, 2021 – May 30, 2021

CHiNPAN began their career as an oil painter after getting selected at the 2008 Asia Creative Art Exhibition at The National Art Center in Tokyo. They explore the possibilities of oil painting by not limiting themselves to just paper. "Fusion" is the theme of their work which has taken them to creating visuals for shops, fashion, music, and more.

BANBU | June 10, 2021 – July 19, 2021

BANBU is a 24-y-ear-old artist who studied art abroad in Canada and New York after graduating at a vocational school in Japan. Currently based in Tokyo, they create colourful and eye-catching graphics with their three-eyed character.

Hotel Stay x Artists Come Together

"Harajuku Night Owl Art Exhibition" is the theme of Room 202 which will collaborate with different illustrators, video makers, photographers, and other artists every 1-2 months, shining the spotlight on each of their unique visions.

Yados Jingumae Room 301: Sekai Class

Hotel Stay x Furniture

Vintage furniture and artwork from around the world will be brought together in Room 301 so guests can experience a 'world living' experience. What's more is that all of the furniture, art, and items on display will be purchasable, and will change on a fixed schedule.

Blue Lock Manga Series Announces Exhibition in Shibuya to Promote 14th Volume

In promotion of the 14th volume of Muneyuki Kaneshiro's manga series Blue Lock, an exhibition will take place at SpaceHACHIKAI inside Tower Records Shibuya in Tokyo from May 15 to June 6.

Buy merch and receive these items free

Character illustrated cards


Vinyl-style panels

This will be Blue Lock's first-ever exhibition since it began serialisation in 2018. It will feature displays of manga drafts, uncoloured illustrations, and more. There will also be a special spot for taking photos. A collection of exclusive merchandise will be available for fans to buy, as well as free bonus items when a purchase it made.

© 金城宗幸・ノ村優介/講談社

Tokyo's New Museum Cafe is a Haven For Fans of Architecture

Japanese company Banc, which specialises in setting up hotels and other sites, held the grand opening of the new Architecture Cafe Sumika, a new museum/cafe in Shinjuku, Tokyo, on April 28.

A peek inside

A recreation of Fallingwater, a house designed by the architect Frank Lloyd Wright 

Painting by chalk artist Misuzu Wakai

Architectural designs recreated at the new museum cafe

Villa Savoye (Le Corbusier)
Fallingwater (Frank Lloyd Wright)
Casa Ligornetto (Mario Botta)
Sky House (Kiyonori Kikutake)
Maison a Bordeaux (Rem Koolhaas)
Malin Residence "chemosphere" (John Lautner)
Eames House (Charles and Ray Eames)
Silver Hat (Toyo Ito)
Fisher House (Louis Kahn)
Mailam House (Paul Rudolph)
The Glass House (Lina Bo Bardi)
Steel House (Kengo Kuma)

A little look at the menu

<Miho Chef Chocolatier> Premium Gateau Chocolate: ¥1,200 / Raw Marble Chocolate: ¥1,000 / Raw Dami Chocolate ¥450

<Ten no Ya> Egg Sandwich: ¥750

Architecture Cafe Sumika aim sto be a cosy space for architecture lovers who can enjoy thinking about their ideal home, talking about their favourite architect, and thinking about how architecture changes with the times. The cafe has recreated 12 architectural marvels from 12 different renowned architects, each at which sits at a different table.

 

The cafe, which is located in Shinjuku Sanchome, employs a spacious cafe area with high ceilings that can be enjoyed by both lovers of architects and cafe enthusiasts where they can relax with a cup of tea, coffee, a soft drink, or even alcohol, the latter of which is served at bar hours from 18:00, completely changing the atmosphere into a night museum. There's also a tasty food menu to tuck into.

If you're looking to speak to someone about architecture and real estate, Architecture Cafe Sumika also houses its own resident experts. Customers can also enjoy a range of other works by architects and interior designers.

In celebration of the cafe's opening, a competition is being held to create a jungle gym for children where entrees can win cash prizes, the top being ¥300,000. More details below.

Information

Architecture Cafe Sumika

Address: 6th Sanwa Bldg Floor 4F, 3-6-7 Shinjuku, Shinjuku-ku, Tokyo
Opening Hours: Cafe 10:00-18:00 / Bar 18:00-04:00 (Last Orders 03:00)
No Fixed Holidays
TEL: 03-5315-0396
Official Website: https://sumika-shinjuku.com/

1st Architect Contest

Submission Period: June 20, 2021 – June 27, 2021
Winner Announcement: June 28, 2021
Winning Work Display Period: July 1, 2021 – August 30 2021

Submission Entry: Children's Jungle Gym

Size: Max 60cm x 60cm x 40cm

Colouring: Any

Cash Prizes: Winner ¥300,000 (1 Person) / Runner-Ups ¥100,000 (7 People)
Submissions: Must be made by June 19, 2021

How Winners Are Selected: Entrants will be posted on the cafe's official Instagram – the most popular from the votes will be selected