Hello Kitty, My Melody and Kuromi Themed Dessert Buffet Whipped Up at Hilton Osaka
Hilton Osaka has revealed a special dessert buffet called "Mysterious Sweets Forest ~Hello Kitty, My Melody & Kuromi's Collaboration Tea Party~" which will be served at the hotel's Folk Kitchen restaurant from September 18 to December 20 this year.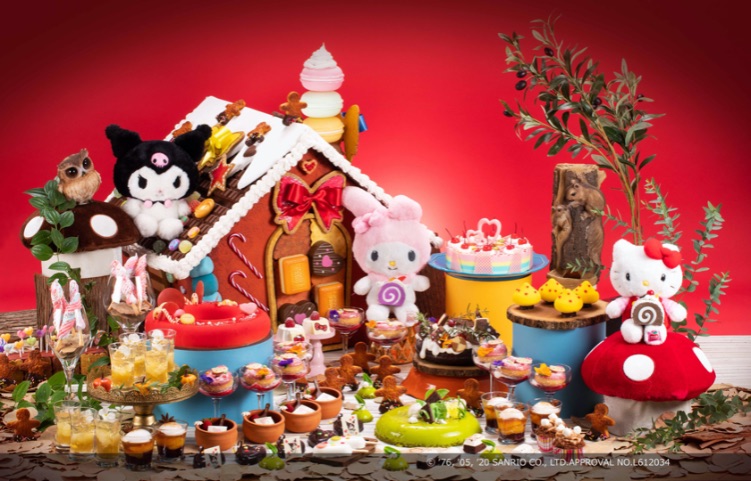 Themed on a mysterious magic forest, the dessert line-up is a tantalising buffet of 25 sweet treats made with chestnuts, sweet potatoes, apples, pear and other tasty bites. The buffet will also have several photo spots for people to take cute photos, including one with a giant Hello Kitty ribbon and one with My Melody and Kuromi.
Following the success of the "Summer Sweets Buffet Festival ~Hello Kitty & My Melody Collaboration Tea Party~" held at Hilton Osaka this summer which we also covered, the Sanrio characters return, this time with the cute and mischievous Kuromi joining the party.
Mochi Mochi Doughnuts Parfait
The "Mochi Mochi Doughnuts Parfait" is a sweet mix of Japanese gyuhi and raspberry jam topped with a doughnut that has a cute Hello Kitty chocolate on it.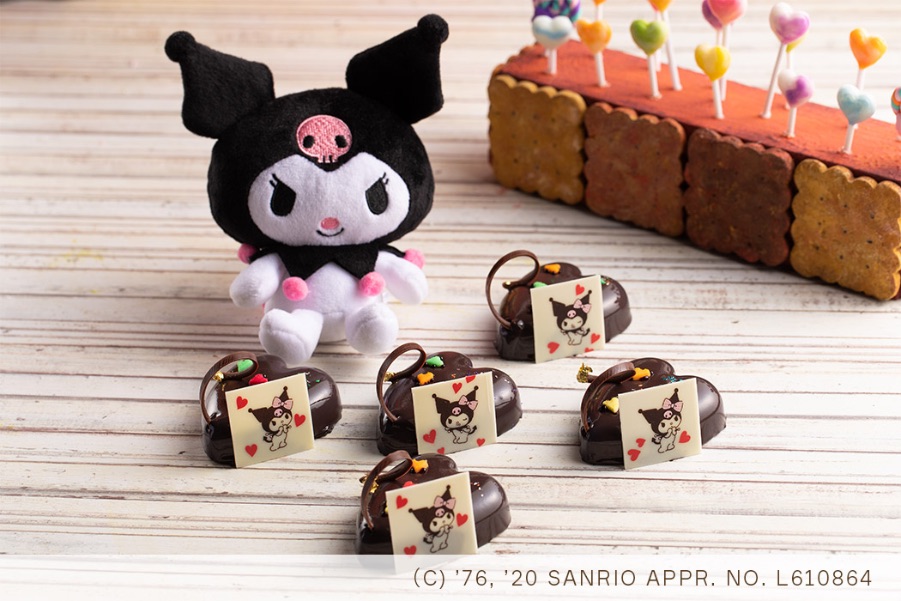 Kuromi's Jet Black Heart Chocolate Mousse
Kuromi's chocolate mousse is made with fruity organic chocolate from Dominica and is topped with fruity chocolate crunch pieces for added texture.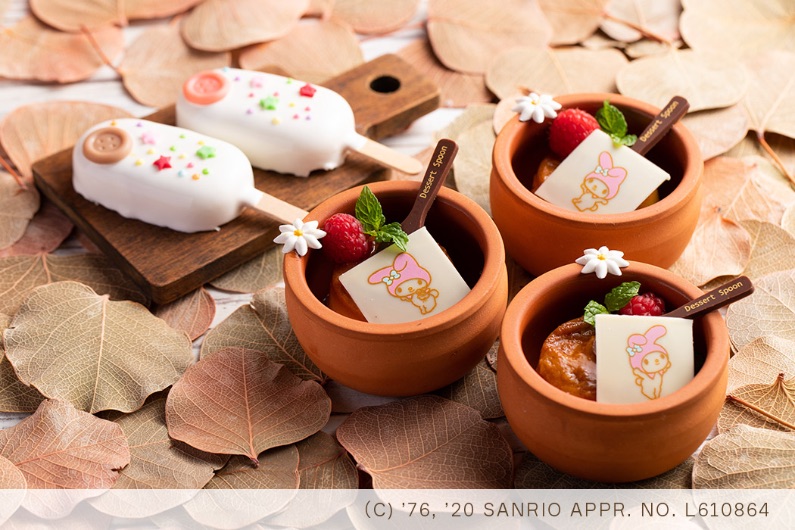 Magic Pudding
The Magic Pudding is made using sweet potato and is served with a square-shaped chocolate that has different My Melody illustrations on it.
There's also the "White Candle Cake" which is made to look like a candle you would light at home, made from moist almond sponge and filled with berries and vanilla Bavarian cream. It's finished with a chocolate Hello Kitty ribbon.
Forest Mushroom Cinnamon Bavaria
The hotel's pastry chefs recommend the Forest Mushroom Cinnamon Bavaria. Their yellow colour and red dots will catch your eye, and one bite will have you hooked as sweet and sour redcurrant jelly and cinnamon Bavarian cream create a harmony of flavours on your taste buds.
Snow Covered Gateau Chocolate
This snow-covered chocolate cake is filled with various spices like cloves and ginger and a coating of snowy cream. This one's really giving those winter vibes.
Children of the Forest
The "Children of the Forest" which are actually lemon cakes dipped in chocolate. Other desserts include the "Vegan Chestnut Cream Cupcakes" which are generously topped with mont blanc cream, "Apple Pie" made luxuriously with apples, "Mysterious Forest Mousse" which combines sour yuzu citrus with bitter matcha, and lots of others.
There's also savoury options too like curry, mushroom soup, pumpkin and mushroom salad, and more.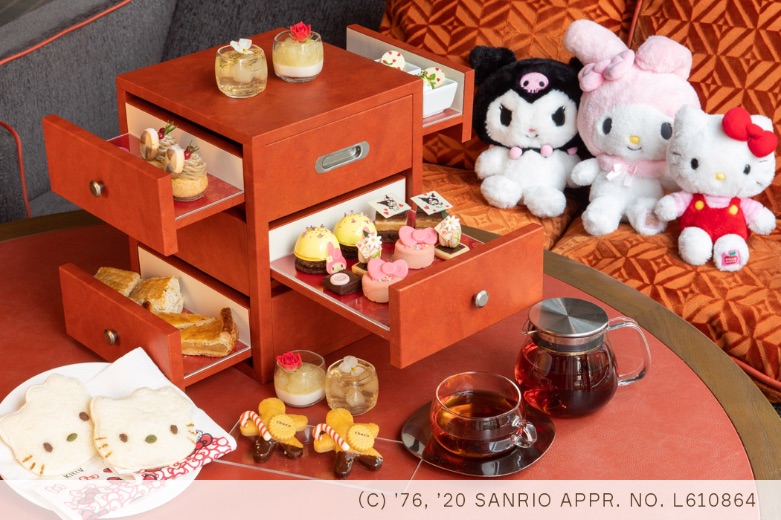 Finally, Hilton Osaka's cafe and bar "MYPLACE" is also getting in on the tea party by serving up a special Hello Kitty, My Melody, and Kuromi afternoon tea, all served in a beautiful jewellery box.
Information
Mysterious Sweets Forest ~Hello Kitty, My Melody & Kuromi's Collaboration Tea Party~
Location: Hilton Osaka – Folk Kitchen (Floor 2F)
Running: September 18, 2020 – December 20, 2020 (Everyday except November 15)
Time: 15:00-16:30
Prices
[Weekdays] ¥3,950 per person / ¥1,950 for those ages 4-11 years
[Weekends/Holidays] ¥4,250 per person / ¥2,100 for those ages 4-11 years
*Comes with drink of choice from tea, coffee, hot chocolate, and others
*Listed prices do not include 10% consumption tax or service charge
Mysterious Sweets Forest ~Hello Kitty, My Melody & Kuromi's Afternoon Tea Set~
Location: MYPLACE (Hilton Osaka Floor 1F)
Running: September 18, 2020 – December 20, 2020
Time: From 12:00 until it sells out (limited quantity per day)
Price: ¥3,500 per person
*Comes with drink of choice from tea or coffee
*Listed prices do not include 10% consumption tax or service charge
Official Website: https://www.hiltonosaka.com/plans/restaurants/sweets/folkkitchen_2009
RELATED ENTRIES
Mr. Osomatsu Themed Hotel Rooms Open Across Japan

KADOKAWA has announced that it's taking the Mr. Osomatsu themed hotel room from EJ Anime Hotel at Tokorozawa Sakura Town in Saitama, which ran from December 3, 2020 to March 31, 2021, to six hotels in Sapporo, Nagoya, Osaka, and Hakata starting on April 28.

Mr. Osomatsu anime freebies for guests

Design of the free mask case

Free coaster

The 'EJ' of EJ Anime Hotel stands for 'Entertainment Japan.' The hotel aims to have guests living inside the stories they love from a wide range of Japanese media from anime to manga, movies, tokusatsu SFX movies, idol culture, and more. As well as room decorations and the exclusive merch that will be on sale, the hotel is also offering a new kind of accommodation experience by incorporating videos, sounds, lighting, and more. Its restaurant will also offer a selection of food and drink in collaboration with various series including all-out full course dinners.

Due to its popularity with guests, the Mr. Osomatsu themed anime room is heading to six locations across Japan which are listed below.

©赤塚不二夫/おそ松さん製作委員会

Gintama @ Dash Store to Open in Ikebukuro and Osaka This April

The Gintama @ Dash Store pop-up shop is returning to Ikebukuro P'PARCO and Animate Osaka Nipponbashi where fans can get their hands on lots of merchandise of Hideaki Sorachi's manga series Gintama.

Gintama's characters wear blue for the store

Dash Store will sell a range of exclusive items as well as offer pre-sales on upcoming merchandise. The illustration pictured above of the characters in blue hoodies was also drawn exclusively for the store and will feature on a range of items.

For every ¥2,000 (tax included) spent by fans at the store they will receive one of nine possible bromide pictures. And for an extra ¥500, those who buy one or more items can get a special tote bag too.

A look at some of the merch line-up

Acrylic Stands | ¥1,650 Each (Tax Included)

Folders | ¥440 Each (Tax Included)

Acrylic Key Rings | ¥715 Each (Tax Included)

Hoodies | ¥5,500 Each (Tax Included)

©空知英秋/集英社・テレビ東京・電通・BNP・アニプレックス

HOSHINOYA Tokyo Recreates an Edo Period Festival For Summer 2021

This summer, the Japanese ryokan inn HOSHINOYA Tokyo is once again hosting its "Tokyo Midsummer Night's Banquet" event which brings Edo period culture to the modern day in the form of a traditional festival with entertainment and food.

Tokyo Midsummer Night's Banquet: 4 Things to Enjoy

1. The new HOSHINOYA Tokyo Sake Bar

For a limited time only, the new HOSHINOYA Tokyo Sake Bar is opening on the first floor of the inn which will serve an izakaya-style experience to guests who can expect to enjoy Japanese sake together with various otsumami foods to enjoy with alcohol provided by restaurants nearby in Kanda, Nihonbashi, and Ningyocho. There will be old-timey noren entry curtains, lanterns, and other little decorations to give it that Japanese summer festival vibe. Staff will also be clad in traditional happi coats.

2. HOSHINOYA Ennichi

At the inn lobby and entrance, guests will be welcomed straight into the heart of the summer festival experience coupled with Edo culture. When evening settles in, the calm atmosphere will be transformed with the sound of lively music reminiscent of a Japanese matsuri orchestra. Guests can enjoy a range of activities from Edo times, such as 'fishing' for a flower as pictured above.


Location: HOSHINOYA Tokyo lobby and plaza

Times: 17:00-21:00

Price: Free

3. A very special menu for guests staying at the inn

Enjoy a range of Edo period foods like conger eel, refreshing cold sea bream chazuke perfect for the summer weather, and more. Food is served in guest rooms so they can enjoy a private dining experience.

Location: Guest Rooms

Times: 17:00-21:00

 4. Rental yukata service for that real Japanese summer vibe

Use the inn's rental kimono service to pick out a summery yukata and obi sash to look beautiful and get into Japanese summer festival mode. Guests can walk in and around the inn as well as around the local district of Otemachi.

Time: 10:00-18:00
Price: ¥5,000 per person

Bookings: Mandatory
Book Here: https://hoshinoya.com/tokyo/

Information

Tokyo Midsummer Night's Banquet

Running: July 1, 2021 – August 31, 2021

Where: HOSHINOYA Tokyo

Conditions: Guests only

Official Website/Yukata Rentals: https://hoshinoya.com/tokyo/

Alice in Wonderland Themed Afternoon Tea Buffet 'Lost in Europe' Heads to Nagoya

This spring, Hilton Nagoya is set to serve up a special afternoon tea set and buffet plan at its first floor all-dining restaurant IN PLACE 3-3. The theme of the afternoon tea line-up, which will be served either as a set-only plan or the set plus a buffet, is 'Lost in Europe.' Fans of Lewis Carroll's beloved novel Alice's Adventures in Wonderland can look forward to jumping in the rabbit hole as they indulge in a colourful and delicious line-up that sends them straight to wonderland.

The plans will run for three months during which three different menu line-ups will be served, each with a European feel to them as Alice finds her curiosity tending away from Japanese cuisine to the delectable assortments of overseas.

Spain will serve as the first menu. Travelling to Spain, Alice finds the country one overflowing with creativity in the arts, so says the story of this fun afternoon tea. Dishes will be plated with desserts fusing together Spain's food culture with that of Wonderland, traditional Spanish desserts, sweet treats inspired by Spanish art, and more. Many of the irresistible items will also be made with almonds – Spain being the second largest producer of almonds in the world.

Inside the restaurant, diners will feel like they have travelled to a Spanish rendition of Wonderland with a mix of styles from both locations, such as Spanish sunflowers, mosaic tiles, stained glass windows, and more.

A little look at the menu (some of it)

1. Afternoon Tea Set Menu: ¥4,600 (Tax Included)

Cubism Cheshire Cat Arroz Con Leche

A coconut-flavoured Spanish rice pudding made with coconut lavender jelly. Its design, from the stripes to the grinning teeth, are references to the Cheshire Cat.

Blue Caterpillar Siesta Cake

A cake covered in striking blue chocolate, made with pistachio mousse, and filled with a mixed berry jelly.

Butterfly Windmills Mousse

An artistic delight made with smooth chestnut mousse and colourful butterfly wings attached.

Plate Menu

Pistachio Crema Catalana in Berry Sauce

A traditional dessert of Catalonia, this crema catalana features a rich pistachio-flavoured custard cream and is served with a berry sauce.

Savoury Items

Salted churros that are crunchy on the outside and fluffy in the inside, and a checked bocadillo filled with Spanish omelette.

Lost in Europe Afternoon Tea Set Summary

10 desserts, two savoury items, and a choice of a soft drink, coffee, or tea.

2. Afternoon Tea Set & Dessert Buffet: Adults ¥5,000 / Children ¥2,500

Mischievous Crazy Clock Cake 

A warped, melted clock made with passion fruit cream and orange and mango mousse.

Mosaic Tile Sangria Jelly (Non-Alcoholic)

A refreshing beverage made with non-alcoholic white wine and grape, strawberry, and grapefruit jelly, all made to look like mosaic tiles.

Savoury Items

Pick from nine different savoury items like paella, sopa de ajo garlic soup, patatas bravas, tapas, and more.

There are also a range of other desserts like a coffee jelly ice cream, a melon cake, and more, as well as fruity iced candies.

Afternoon Takeout Box

Customers can also get their afternoon tea set to go with a mix of desserts and savouries.

Sanrio Designs Fate/Grand Order Subscription Box Collection

Japanese media and entertainment company Smarprise launched a new subscription box on Saturday featuring Fate/Grand Order illustrations produced by Sanrio.

The items come as part of the company's "Surprise Box" subscription service where users receive random items themed around their likes. Each delivery is a complete surprise which is all part of the fun.

Fate / Grand Order Design produced by Sanrio」サプライズボックス 9,350円/3,850円(税込)

Surprise Box: ¥9,350 (Tax Included) / ¥3,850 (Tax Included)

The new entry to the service is themed on the popular smartphone RPG Fate/Grand Order with designs produced by Sanrio, who are known for creating famous characters like Hello Kitty. The box, which ships every two months, will include acrylic stands, calendar postcards, and a set of square pins.

Information

Fate / Grand Order Design produced by Sanrio – Surprise Box

Order Window: April 10, 2021 – May 10, 2021 (Ships June 2021)

Further Orders: Rolling out August, October, and December

Official Website: https://surprisebox.jp/lineup/fgo_sanrio

Stay in a Penguin Themed Hotel Room at Hoshino Resorts OMO7 Asahikawa

Hoshino Resorts OMO7 Asahikawa opened its Penguin Room on April 6, a single new guest room themed around penguins designed in collaboration with Asahikawa Zoo.

Penguin Room Feature ①

Guests are immediately greeted with penguins galore as the enter their room, with penguin plushies by the bedside, on the ceiling, and pretty much everywhere else. It will be like staying with a family of penguins for the duration of their stay.

Penguin Room Feature ②

After a visit to Asahikawa Zoo, guests can head back to their hotel room where a variety of fun penguin-related items are stocked including games, all of which will remind them of their time at the zoo.

Penguin Room Feature ③

The room is also decorated with boards featuring photos and information of animals at Asahikawa Zoo. The boards are handwritten by the zoo staff, something they do every spring season.

Hoshino Resorts OMO7 Asahikawa previously collaborated with Asahikawa Zoo when a polar bear themed room. Now, penguin lovers can have their dream come true as they spend their time surrounded by penguin decorations in their room. The hotel is just a 30-minute car ride from Asahikawa Zoo, so why not make a plan to experience both if you're visiting Hokkaido this spring?

Neko Neko Cheesecake Releases New Cat-Shaped Mikan Orange Flavoured Cake

Neko Neko Cheesecake is set to open pre-sales for its new Nyan Cheese Mikan cheesecake at Pastel branches of Neko Neko Cheesecake on April 22 before rolling it out at all Neko Neko Cheesecake branches.

Neko Neko Cheesecake is a sister brand of Neko Neko Kuu Pan from the same company which serves cat-shaped bread.

Nyan Cheese Mikan | Single Slice: ¥237 (Tax Included)

Nyan Cheese Mikan | Box of 4: ¥1,080 (Tax Included)

The cheesecake is made with Brie de Meaux, aka the king of cheeses, and cooked at a high temperature to add a gorgeous browned surface. They contain rich juice from mandarin oranges to give them a refreshing kick perfect for the spring season. A perfect snack or post-dinner dessert.

Pompompurin Celebrates 25th Anniversary With Cute Pudding Confection at Lawson

Bandai released a new chewy and delicious custard pudding-flavoured confection at Lawson convenience stores in Japan on Tuesday in celebration of Pompompurin's 25th anniversary, the popular character by Sanrio.

Mochi Mochi Pompompurin Yaki Pudding Flavour | ¥158 (Tax Included)

The cute confection is made to look like Pompompurin laying down. The chewy delight is filled with Japanese custard pudding-flavoured cream.

The packaging also features limited-edition artwork for Purin's 25th year milestone where he is joined by his cute furry friends.

©2021 SANRIO CO.,LTD. 著作(株)サンリオ

Experience a Hotel Camping Experience at Rihga Royal Hotel Kyoto

Rihga Royal Hotel Kyoto is collaborating outdoor recreation product brand Coleman to launch the Hotel Camp Buffet which will run from May 1 to August 31 at the hotel.

Guests can enjoy a fusion of the hotel and camping experiences as Coleman provides their tents, tables, chairs, and other outdoor items to be used at Rihga Royal Hotel Kyoto. The hotel chef, Honda, has also conceived a camp buffet for guests to enjoy at both lunchtime and dinnertime.

The hotel is carrying out all necessary measures against COVID-19 including providing guests with a how-to breakdown at all tables, providing alcohol spray, mouth guards with the Coleman logo so guests can enjoy dining and talking, and more.

Coleman x Rihga Royal Hotel Kyoto Hotel Camp Buffet

Individual Room Plan | Capacity: 4-6 People

Enjoy a camping buffet with tents, chairs, and other camping goods provided by Coleman. Everything will already be set up for guests to enjoy.

 

Lunch & Dinner Buffet Menus

Dinner

・Beef churrasco in black pepper

・Chicken paella

Lunch

・Frankfurt and smoked berry ham

Lunch & Dinner

・Meat and potato cottage pie

・Atlantic salmon wood plank grill

・Croque-madame style hot ham and cheese sandwich

・Spare ribs in BBQ sauce

Information

Hotel Camp Buffet

Where: ALL DAY DINING KAZA (Rihga Royal Hotel Kyoto Floor 1F)

Address: 1 Taimatsuchō, Shimogyo Ward, Kyoto

Running: May 1, 2021 – August 31, 2021

Times: [Lunch] 11:30-15:00 (Last Orders 13:00) / [Dinner] 17:30-21:00 (Last Orders 19:00)

Bookings: Must be made 3 days in advance. Slots are two hours max.

Price: ¥6,050 (Includes lunch and dinner buffet and room)

Lunch/Dinner: https://www.rihga.co.jp/kyoto/restaurant/list/kaza/menu/lunch/

Rihga Royal Hotel Kyoto Official Website: https://www.rihga.co.jp/kyoto

TETRIS® Gummy Candy Releases in Japan

Japanese candy company UHA Mikakuto has collaborated with the video game TETRIS® to launch pre-sales on their new Tsumu Gummy TETRIS® which hit shelves on Monday (April 12) in Japan.

Tsumu Gummy TETRIS® | ¥370 (Before Tax)

The colourful gummies arrive in seven different forms, shaped and coloured like the blocks in TETRIS®, meaning you can stack them as well as eat them. They are an assortment of green grape, red grape, orange, and strawberry flavours, and one pack weighs in at 180g.

Tetris ® & © 1985~2021 Tetris Holding.

Kaori's Easy Recipe: Learn to Make Baymax Mushi-Pan Steamed Bread

With just a small bit of ingenuity, turn everyday food into something cute using Kaori's Easy Recipe! With a few simple ideas, an ordinary recipe magically transforms into a cute dish.

Today, I'll teach you how to make Baymax mushi-pan steamed bread.

Ingredients

This recipe makes 5 portions

140g strong flour

20g granulated sugar

Pinch of salt

3g dry yeast

3g baking powder

5g vegetable oil

85ml-90ml milk (room temperature)

1

Mix everything together in a food processor. If you don't have a food processor, you can also knead the ingredients well by hand.

2

Ferment at 40℃ for 40 minutes. If you don't have a fermentation machine, leave in a warm environment.

3

Once the dough has doubled in size, divide into five portions and put into separate cups. If using paper cups, rub a little bit of oil inside.

4

Bake in the oven at 40℃ for 20-25 minutes.

5

After baking, steam in a steamer for 12-13 minutes. If you don't have a steamer, put into a frying pan or large pot with a little bit of water and cover.

6

Once cooled, use some nori seaweed to make Baymax's face and you're done!

Kaori Kubota (@kaopan27)

I live in Hokkaido and I love to make character themed foods, desserts and pastries♡

I want to see my family smile, so I enjoy putting in a bit of effort to make character foods and changing food into something cute♡

You can see more of my character foods and character bento boxes on my Instagram page → @kaopan72

French chocolatier Pierre Hermè Represents Products Of Kochi Prefecture

Pierre Hermè, the French pastry chef and chocolatier, has founded a brand called "Made in Pierre Hermè" in 2018 where he represents the wonderful products of Japan that he specially selected to share with the world.

The producers and farmers of Kochi prefecture, Japan collaborated with "Made in Pierre Hermè"

Line ups of Kochi Fair organised by "Made in Pierre Hermè"

 

The Tokyo branches of "Made in Pierre Hermè" launched in 2020 followed by their Fukuoka Airport branch opening in Spring 2021. The new branches openig soon. From 2021, which marks the 3rd Anniversary of the brand, they will hold a fair every 3 months to introduce and celebrates excellent producers and products in each region in collaboration with local governments across Japan in order to deliver brand's concept more starting with Kochi prefecture where is surrounded by abundant nature and food culture. The Kochi fair is set to open from April 16 to July 31 at all branches of "Made in Pierre Hermè".  A kick-off event of the fair is happening on April 15 at COMMUNE Omotesando in Tokyo. 





The fair will be featuring the hidden gems of Kochi such as Kochi Yuzu citrus macarons, salad dressings made of vegetables locally produced, Hachi-kin, the produced poultry, canned Tuna, Tosayama ginger ale, matcha and Kochi yuzu citrus brownies, yuzu peel cookies and more. In addition, collaboration products with Kochi producers such as sun-dried salt gelato, tomato ketchup, and green tea will be on sale. Don't miss the chance to taste the flavour of Kochi proudly represents by Pierre Hermè! 

Information

Made in Pierre Hermè 

Made in Pierre Hermè Kochi Marche
Kick-off Event: April 15, 2021 from 11:00 to 18:00

Where: COMMUNE Omotesando

Made in Pierre Hermè Kochi Fair

Running:  April 16, 2021- July 31, 2021
Where: All Made in Pierre Hermè branches
Official Site:https://www.pierreherme.co.jp/ph/