4 Must-Try Kawaii Parfaits in Kyoto – MOSHI MOSHI NIPPON
Though autumn is not far off, the summertime heat of Japan has yet to let up, and so what better way to keep cool than treating oneself to a parfait? Here are 5 must-try parfaits that are popular in Kyoto, with photos and descriptions provided by Instagrammar Tiara who posts and reviews desserts around Japan's Kansai region.
CAFE YAMANEKO / Ryōan-ji, Kyoto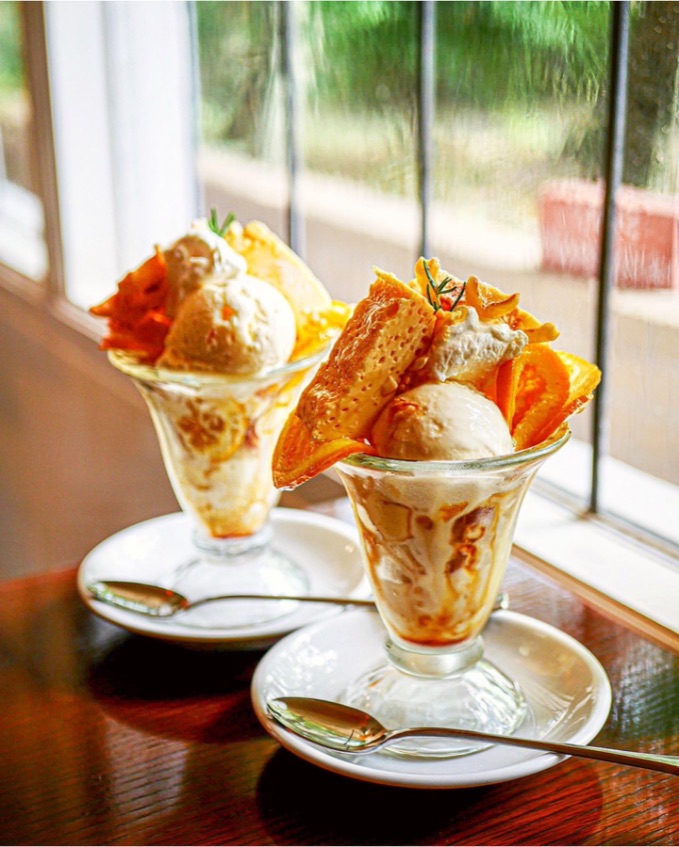 Orange Parfait
CAFE YAMANEKO is located along Kinukake-no-michi, a road that connects the Kinkaku-ji, Ryōan-ji, and Ninna-ji temples. Their Orange Parfait is made with a delicious jam that uses all of the orange right down to the peel, and is topped with a Japanese-style pudding, vanilla ice cream, and orange and caramel sauces.
▼CAFE YAMANEKO
Address: 39-6 Tōjiin Kitamachi, Kita-ku, Kyoto
Opening Hours: 11:00-17:30
Official Instagaram: https://www.instagram.com/kyoto_cafe_yamaneko/
CAFE attmos. / Shichijo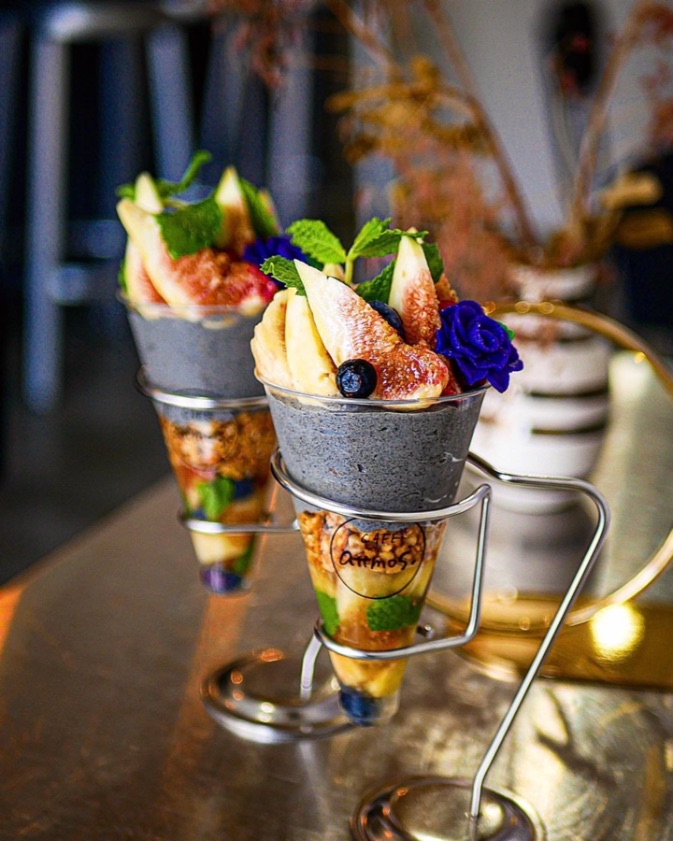 Ichijiku Parfait
CAFE attmos. serves super sweet desserts made with choice seasonal fruits. I ordered the 'Ichijiku Parfait' which is made with lots of figs harvested in Kyoto. It was really delicious.
▼CAFE attmos.
Address: ELLA490 1F, Shimoumacho, Higashiyama-ku, Kyoto
Opening Hours: 9:00-17:00
Instagram: https://www.instagram.com/cafe_attmos/
Chocolat BEL AMER Kyoto Villa / Sanjo Sakaimachi
Peach & Chocolate Parfait
This kawaii parfait has a whole mix of ingredients from peach to white chocolate ice cream, sweet white bean paste mousse, crunchy meringue, and more♡ The meringue really adds something different to the parfait.
▼BEL AMER Kyoto Villa
Address: 66 Sanjodori Sakaimachi Higashi Iru Kitagawa Masuyacho, Nakagyo-Ku, Kyoto
Opening Hours: 10:00-20:00
Official site:https://www.belamer-kyoto.jp/
La Klassique / Demachiyanagi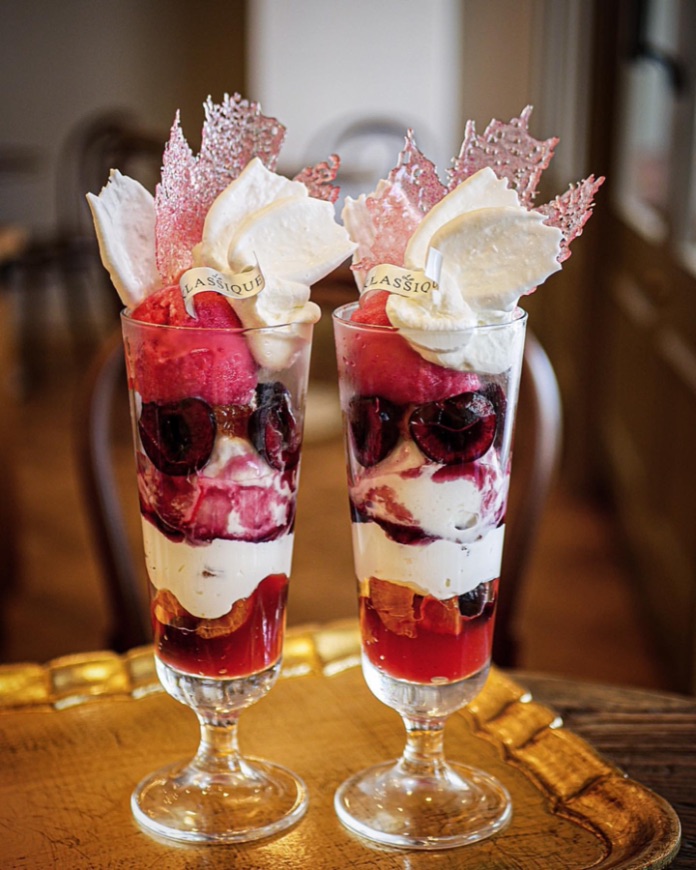 Cherry Glass Dessert
La KLASSIQUE is a cafe close to Shimogamo Shrine. Their "Cherry Glass Dessert" parfait is loaded with ingredients, including cherry sorbet, whipped cream, milk ice cream, fruity red wine sauce, cinnamon crumble, rosehip, blood orange, cherries, meringue, red bean paste, and more. The red wine sauce makes this one for the grown ups to enjoy.
▼La Klassique
Address: 13-9 Shimogamo Morimotocho, Sakyo-ku, Kyoto
Opening Hours: 10:00-18:00
Official Instagram: https://www.instagram.com/laklassique/
These parfaits are available until the end of August and are limited to 15 servings per day. Visit the cafe's official Instagram to find out about reservations.
For more recommendations on desserts to try around the Kansai region of Japan, follow Tiara over on Instagram.
Original Japanese Text & Photos: @happy_pinkrose_tiara
*The information about the items on this list are correct at the time of publishing. For the latest information, please visit each cafe's official websites and social media pages.
RECOMMENDED ENTRIES
Pretty, Palatable and Pleasant: A Purin Expert's Top 6 Purin Picks in Kyoto

Here at MOSHI MOSHI NIPPON, we have never failed to provide you with the essentials: updates on the best bubble teas around Kyoto. However, today we have a special sweet treat for you. After consulting expert Instagrammer kyoto cafe life tiara, we have compiled a list of Kyoto's top purin that will fill you with satisfaction and as well as nostalgia. Purin is a type of Japanese custard pudding loved by the Japanese for generations. When it comes to searching for the best desserts in the Kansai region, kyoto cafe life tiara leaves no stone unturned . 

Cafe Yamamoto, Higashiyama

Pudding (Set): ¥750

The bitter and fragrant caramel sauce of this purin is to die for. This purin has a rich eggy flavour and is stiffer than a traditional purin. Enjoy your purin served in a silver plate which will fill you with the nostalgia of the retro Showa Era.

▼Cafe Yamamoto (やまもと喫茶)

Address:307―2 Ishibashicho, Kyoto

Opening Hours: 7:00-17:00 (L.O.16:30)

Closed: Tuesdays

Kissa Zou, Imadegawa

The purin here is rich in flavour and garnished with a scrumptious biscuit. It is too cute to eat.

▼Kissa Zou (喫茶ゾウ)

Address: 440-3 Santeicho, Kamigyo Ward, Kyoto

Opening Hours: 9:00-18:00 (Last Orders: 17:00)

No regular holidays

BAR Tantei, Mototanaka

This fancy pudding is topped with seasonal fruit, ice cream or even cake. The retro atmosphere of the bar is the perfect place to enjoy a fancy moment to yourself.

▼BAR Tantei (喫茶探偵)

Address:

26 Tanaka Satonouchicho, Sakyo Ward, Kyoto

Opening Hours: 12:00-17:00,  19:00-02:00

Closed: Sundays, additional irregular holidays.

Takagi Coffee Takashiji Honten, Shijo Street

Homemade Purin Set: ¥ 800

Takagi Coffee is known for the unique shape of their purin, which looks very similar to a slice of cake. This purin is slightly stiffer than your usual purin and has a lovely accent of rum which adults love. This is best enjoyed with a cup of coffee.

▼Takagi Coffee Takashiji Honten, Shijo Street (高木珈琲店 高辻本店)

Address: 175 Honeyacho, Shimogyo Ward, Kyoto

Opening Hours: 7:00-19:00 (Closes at 18:00 on Sundays)

Closed: January 1-3

Salon de thé François, Gion Shijo

This purin is bigger than you expect it to be. Although the flavour is simple, it will send you on a trip to old traditional Kyoto. This purin is stiffer than usual and sweet with a gentle touch of bitter caramel sauce. This is topped with ice cream and garnished with tangy yet sweet strawberries. This purin is on a slightly more luxurious level which makes it perfect for adults.

▼Salon de thé François (フランソワ喫茶室)

Address: 184 Nishikiyamachi-dori-Shijo-kudaru; Shimogyo-ku, Kyoto.

Opening Hours: 11:00-22:30(L.O 22:0)

No regular holidays

NOTTA CAFE, Saiin

This deceiving purin may appear to look like a cake and avoid jiggling like a true purin would, however, once you take a bite, the rich custard flavour will flood your mouth. The flavour is perfect for those of you who cannot handle very sweet flavours and are looking for something more refined. To fully enjoy your experience, order this purin with the oiri sweets cream soda.

▼NOTTA CAFE (ノッタカフェ)

Address: 37 Saiinkitayakakecho, Ukyo Ward, Kyoto
Opening Hours:

Tuesdays-Sundays: 11:30-20:00

Wednesdays: 11:30-21:00
Closed: Mondays

So, how about it? For those of you who are in desperate need of a sweet fix in the Kansai region, Kyoto café life tiara's Instagram will swoop in to rescue you.

Research for article contents and photos provided by: @happy_pinkrose_tiara

Japan's New High Speed Bus Travels From Kyoto to Mount Koya

Keihan Bus and Nankai Rinkan Bus are bringing back their high-speed bus service this year which will run from September 18 to November 30. The service will incorporate a mandatory booking system, making it even more convenient than last year.

Mount Kōya is the name of the temple settlement found in Wakayama which first settled in 819. It is the centre for the Kōyasan Shingon sect of Japanese Buddhism and is designated as a World Heritage Site, one of many found in Kyoto alongside Kinkaku-ji, Kiyomizu-dera, and Shimogamo Shrine.

The new Kyoto Koya-san buses offer a smooth, direct ride to the World Heritage Site, arriving there from Kyoto in just 2 hours and 40 minutes.

Information

Kyoto Koya-san Bus (Japanese Name: 京都高野山線)
Running: September 18, 2020 – November 30, 2020

Keihan Bus Official Website: https://www.keihanbus.jp/
RELATED ENTRIES
Kirby Café Launches Autumn Menu in Tokyo and Fukuoka

The Kirby Café in Tokyo and Fukuoka released three new dishes for autumn last Friday (September 18).

The menu items are made with seasonal flavours like pumpkin, sweet potato, and chestnut.

Filling Autumn Plate – Salmon Cream Pasta & Pumpkin Salad Sandwich | ¥1,480 (Before Tax)

One plate packed with fall flavours including a rich salmon cream pasta and pumpkin salad sandwich. If you look closely, you'll spot cute pieces of Waddle Dee cheese.

Fallen Leaf Waterfall☆Mont Blanc and Baumkuchen With Friends | ¥1,280 (Before Tax)

Rick, Kine, and Coo feature on this tasty-looking dessert plate which is a baumkuchen piled with a chestnut mont blanc cream.

Kirby's Hot Sweet Potato Sticks | ¥1,080 (Before Tax)

Crunchy on the outside, hot in the middle, and seasoned with fresh rosemary. Kirby is a pro at inhaling food, but don't burn yourself with these!


Information

Kirby Café TOKYO
Address: Tokyo Skytree Town Solamachi Floor 4F (1-1-2 Oshiage, Sumida, Tokyo)
Opening Hours: 10:00-22:00 (Last Orders 21:00)

Kirby Café HAKATA

Address: Canal City Hakata North Bldg. B1F, 1-2-1 Sumiyoshi, Hakata, Fukuoka, Fukuoka Prefecture

Opening Hours: 11:00-23:00 (Last Orders 22:00)

Book Here: https://kirbycafe.jp

Kirby Café Official Twitter: https://twitter.com/kirbycafe.jp

Review: Miffy Café at Tokyo Solamachi®

In commemoration of Miffy's 65th anniversary, the new Miffy Café opened on the first floor of Tokyo Solamachi on September 11, 2020 and will remain open for a limited time. The café is also collaborating with Japanese illustrator Shogo Sekine.

We visited the café to check out the themed menu, merchandise, and other fun things on show to see.

Stepping into the café is like stepping into a picture book world. It's really colourful in there. My mother read Miffy to me when I was a child, so I was hit with a real sense of nostalgia when I entered the café. No matter your age, you're sure to enjoy your time there – that's the kind of fun atmosphere they have created.

Terrine-Style Open Miffy Sandwich | ¥1,499

I ordered the terrine-style open Miffy sandwich and Miffy orange float from the themed menu.

The open sandwich arrives in the shape of Miffy, so it almost seems a waste to eat, but it was really cute and delicious. Simply the best. It's filled with potato salad, an avocado sauce, and salmon.

Miffy Orange Float | ¥899

The ice cream that tops the orange float is made to look like Miffy too!

Snapping a photo while drinking the float is pretty Instagrammable, so it's a must when visiting.

All of the items on the menu have Miffy somewhere on them, meaning anything you order is guaranteed to be kawaii. They have takeout too, which is great if you don't have much time to hang around or just don't want to dine inside.

Speaking of which, each table in the café is separated with an acrylic board to protect customers during the pandemic, and all of them have super cute designs. Another photo opportunity for sure!

The café sells original merchandise too. The fashion items and illustrations with English on them were designed by popular Japanese illustrator Shogo Sekine. There's a whole range of different goodies, from plush toys to fashion and more.

Don't you feel happy just looking at all these colours? You'll find yourself spoilt for choice on what to buy.

The Miffy Café is open until October 18. You can book a table too, so if you're in Japan during this time, be sure to visit the café website below.

Illustrations Dick Bruna © copyright Mercis bv, 1953-2020  www.miffy.com

Model & Writer:Eri Tanioku

Photo: Haruka Yamamoto

Translator: Joshua Kitosi-Isanga

Information

Miffy Café

Address: TOKYO BOX cafe&space, Tokyo Solamachi 1F, 1-1-2 Oshiage, Sumida-ku, Tokyo

Running: September 11, 2020 – October 18, 2020

Reservation Fee: ¥500

Official Website:  https://miffy-skn-65.cafe.jp/

Kyoto's Rokuo-in Temple to be Illuminated in the Autumn Evenings

Keifuku Electric Railroad is lending its strength to Rokuo-in Temple in Kyoto this autumn to light up the ancient site in the evenings from November 14 to December 6.

Shari-den (Photo taken in 2019)


Temple path (Photo taken in 2019)

This year marks the 5th run of the autumn evening light-ups. The temple, just a four minute walk from Rokuoin Station, is known for its beautiful maple trees which blossom breathtaking autumnal colours during the fall season.

Temple reception hall with fusuma images


Fusuma image example

The temple is selling new goshuin temple stamp books this year for the light-up event. Visitors will also be able to see 56 fusuma images drawn by contemporary Japanese artist Takaya Fuji.

Rokuo-in Temple will close early next year for approximately 2 years and 9 months for repairs. The temple is also currently limiting the number of people allowed at once, making this year the best time to see the autumn leaves.

Information

Rokuo-in Temple Evening Light-Up
Running: November 14, 2020 – December 6, 2020
Time: 17:30-19:30 (last Entries 19:00)

Price: ¥2,000 (Comes with matcha and Japanese confections)

Capacity: [Weekdays] 100 People / [Weekends] 150 People

Access: 4 minutes on foot from Rokuoin Station
Apply Here: 嵐電webサイト専用フォーム

Ojamajo Doremi Cafe 2020 ~FRUITS PARLOR~ to Open in Tokyo, Osaka & Aichi

Japanese company LEGS has announced the opening of the limited-time Ojamajo Doremi Cafe 2020 ~FRUITS PARLOR~. The themed cafes will open in Tokyo on October 29, Osaka on October 30, and Aichi on October 23.

Ojamajo Doremi is an original magical girl created by Toei Animation that ran from February 1999 to January 2003. To celebrate the series's 20th anniversary last year, LEGS opened a different Ojamajo Doremi limited-time themed cafe in collaboration with Cafe&Kitchen which welcomed lots of magical girl fans.

This year once again welcomes Etoile et Griotte as the art director for the fruit parlor-inspired cafe.

Ojamajo Doremi Cafe 2020 ~FRUITS PARLOR~ celebrates the 20th anniversary of Ojamajo Doremi Sharp is the second series in the Ojamajo Doremi series. Fans will be able to get their hands on a range of exclusive magical merchandise as well as tuck into pastel coloured fruity food.

FOOD

Doremi's Cheese Steak Doria in Cherry Sauce | ¥1,699


Steak is Doremi-chan's favourite food, so it was a must-have on the menu. The cream cheese is coloured like Doremi, and there's a cute musical note topping too. It comes with a cute lunch mat that looks like Doremi's skirt.

Hazuki's Omurice in Porcino & Orange Cream Sauce | ¥1,399


The omelette is made to look like Hazuki's yellow skirt. Enjoy together with the delicious porcino sauce and orange combination.

Onpu's Waffles With Crepe & Mascarpone | ¥1,299

Blueberry sauce-drizzled and mascarpone-topped waffles served with a mashed potato skirt. The sweet and sour mix is to die for.

DESSERT

Aiko's Blueberry Float | ¥999

A fresh blueberry float inspired by Ai-chan. Mix everything together to create a different flavour.

Momoko's Lemon Cheesecake Parfait | ¥1,399

A fresh lemon cheesecake packed parfait with lots of enjoyable flavours and textures.

Rhythm Tap Tart | ¥1,300


Inspired by the Rhythm Taps seen in the series, the tart imagines Doremi's transformation scene in Ojamajo Doremi Sharp.

DRINK

Onpu Melody Drink (5 Flavours) | ¥1,099


A rainbow line-up of colourful Onpu drinks available for takeout.

Movie Theater Menu

Girls Meet Sushi | ¥1,299


Inspired by the meat sushi that Sora and the gang eat in the animated film Majo Minarai wo Sagashite. Comes with an original postcard.

Exclusive Merchandise

Acrylic Keyrings (6 Designs) – ¥600 Each

Letter Set (1 Design) – ¥1,200 | Folder Set (2 Designs) – ¥700

A selection of super kawaii cafe-original merchandise is available for fans to grab.

Bonus Items


Those who book a table in advance, order a drink, or spend more than ¥2,000 at the cafe will receive one of six possible A5 folders.

Become a magical girl like Doremi at the Ojamajo Doremi Cafe 2020.

©Toei Animation


Information

Ojamajo Doremi Cafe 2020
Tokyo Cafe
Running: October 29, 2020 – December 6, 2020
Location: SHIBUYA BOX cafe&space
Address: Shibuya LOFT 2F, 21-1 Udagawacho, Shibuya, Tokyo

Osaka Cafe
Running: October 30, 2020 – November 23, 2020
Location: Abeno Q's Mall 4F
Address: Abeno Contact, 1-6-1 Abenosuji, Abeno Ward, Osaka

Aichi Cafe
Running: October 23, 2020 – November 23, 2020
Location: NAGOYA BOX cafe&space
Address: LACHIC B1F, 3-6-1 Sakae, Naka-ku, Nagoya, Aichi

Tokyo's Pokémon Café Adds Eevee Frappe to the Menu

The Pokémon Café in Ikebukuro, Tokyo, is adding an apple flavoured Eevee frappe to its ever-growing Pikachu Sweets by Pokémon Café menu. The frappe will be available from October 2 to December 4.

Eevee Apple Pie Frappe

The sweet tang of the apple combines with the caramel to create a tasty dessert drink, topped with whipped cream, crunchy piece bits, and a cute Eevee tail cookie.

Buy the separate Eevee sleeve to put on your drink to make a fully complete and adorable Eevee frappe♡

© 2020 Pokémon.©1995-2020 Nintendo/Creatures Inc./GAME FREAK inc.
Pokémon, ポケットモンスター and ポケモン are registered trademarks of Nintendo, Creatures Inc. and GAME FREAK inc.

Review: Meeting Pixar Characters in Japan at PIXAR FEST in Omotesando

OH MY CAFE, a chain of cafes in Japan, is now running a special Pixar-themed food event called 'PIXAR FEST' which will run in Tokyo, Osaka, and Nagoya.

"Keep On Smiling" is the the concept of the event, which will serve up a whole range of different foods including a Lightning McQueen exclusive on September 5, a special drink inspired by Disney Pixar's Onward which released earlier this year, a collection of strawberry desserts centred on Lots-o'-Huggin' Bear to celebrate Toy Story's 25th anniversary, and more. There's lots to see, so we follow MIOCHIN to the Tokyo event in Omotesando.

PIXAR FEST at OH MY CAFE is packed full of exciting things for both kids and adults alike. Here's our report.

The fun begins even before you enter the cafe, as at the entrance, you are met with a wall poster of numerous popular Pixar characters.

The moment you step inside, Sully is there ready to greet you! You can even take a picture with him, so if you visit, don't miss the chance.

You'll find familiar faces scattered all around the cafe, like Woody, Buzz, Mike, Nemo. The decorations and designs are really wonderful.

The original menu has a cute lineup too, with dishes, drinks, and desserts inspired by characters from the animated movies.

The food tastes really good too, so be sure to pick out a menu item based on your favourite movie.

Until October 9, you can order the special Onward and Lightning McQueen menu items. This includes 'Ian & Barley's Pink Sunset Blue Mallow Tea' and 'Lightning McQueen's Kachow Lightning Hamburger Sandwich.' You can see the full menu lineup here. It makes you want to watch Pixar movies all day then grab some Pixar food!

Lots-o'-Huggin' Bear from Toy Story 3 will have his own special menu items too: the 'Lots-o's Strawberry Chicken Hamburger' and 'Lots-o'-s Strawberry Drink.' These will be served from October 10 to November 24.

The cafe has its own collection of PIXAR FEST merchandise in three different types: the "PIXAR FEST Series" which uses the cafe's main visual for its design, the "Vintage Series" which uses a cute purple, and the "Alien Mix" which has a pop design with the Little Green Men from Toy Story.

Customers can also receive a limited-edition OH MY CAFE sticker if they order something from the menu, buy some merchandise, and post their thoughts about the cafe and their items on Twitter with the hashtags #キャンペーン #PIXAR FESTカフェで最高の思い出を作ろう #OHMYCAFE. Be sure to get involved if you're in Japan this summer and autumn.

PIXAR FEST at OH MY CAFE is a dreamland for Pixar fans, and is best experienced in person.

©Disney/Pixar

Information

PIXAR FEST OH MY CAFE

Tokyo

OH MY CAFE TOKYO / August 28, 2020 – November 15, 2020

Address: Tokyu Plaza Omotesando Harajuku (Floor 3F), 4-30-3 Jingumae, Shibuya, Tokyo

 

Osaka

kawara CAFE&DINER Shinsaibashi / August 28, 2020 – November 17, 2020

Address: Shinsaibashi OPA (Floor 9F), 1-4-3 Nishishinsaibashi, Chuo Ward, Osaka, Osaka Prefecture

 

Nagoya

kawara CAFE&KITCHEN Nagoya PARCO / September 4, 2020 – November 24, 2020

Address: Nagoya PARCO South Building (Floor 5F), 3-29-1 Sakae, Naka Ward, Nagoya, Aichi Prefecture

Pixar Fest OH MY CAFE Official Website: https://pf2020.ohmycafe.jp/

Hotel New Otani Tokyo, Osaka & Makuhari Now Serving Rich Chestnut Pancakes For Autumn

The Tokyo, Osaka, and Makuhari branches of Hotel New Otani are now serving seasonal autumn versions of their specially made pancakes at their coffee shop and all-dining restaurant SATSUKI until November 30, 2020

Fantastically fluffy pancakes

Hotel New Otani has been serving its special pancakes for the past 10 years which have become a favourite amongst guests.

The hotel's pastry chefs have whisked up a variety of flavours in line with the changing seasons this past decade using strictly-selected ingredients including strawberry, melon, mango, chestnut, and more.

A marriage of rich chestnut and fluffy pancake

Hotel New Otani Specially Made Chestnut Pancakes 2020 | ¥2,800 (Before Tax/Service Charge)


Chestnuts are the flavourful theme for autumn 2020's pancakes, made with strictly-selected chestnut astringent skin, sweet bean jelly, and topped with a chestnut macaron.
The pancakes are served with melt-in-the-mouth Italian ricotta. There are two different doughs, one made from coffee flour which has high nutritional value, and the hotel's original "White Cereal" which is a combination of millets and amaranth.
The pancakes are cooked on a low heat for about 5 minutes on each side so they rise to a fluffy 5cm thickness and become startlingly smooth.

Strawberries for winter

For this year's winter, the hotel will be serving strawberry pancakes.

Enjoy a selection of seasonal pancakes when staying at Hotel New Otani.

Information

Hotel New Otani Tokyo
Location: SATSUKI, Hotel New Otani Tokyo Main Lobby
Address: 4-1 Kioicho, Chiyoda-ku, Tokyo
Bookings/Enquiries: 03-5275-3177 (10:00-21:00)
Official Website: https://www.newotani.co.jp/tokyo/restaurant/satsuki/

Hotel New Otani Makuhari
Location: SATSUKI, Hotel New Otani Makuhari
Address: 2-120-3 Hibino, Mihama-ku, Chiba, Chiba Prefecture
Bookings/Enquiries: 043-299-1848 (07:00-21:00)
Official Website: https://www.newotani.co.jp/makuhari/restaurant/satsuki/

Hotel New Otani Osaka
Location: SATSUKI, Hotel New Otani Osaka
Address: 1-4-1 Shiromi, Chuo-ku, Osaka, Osaka Prefecture
Bookings/Enquiries: 06-6949-3234 (07:00-20:00)
Official Website: https://www.newotani.co.jp/osaka/restaurant/satsuki/

Kaori's Easy Recipe: Learn to Make Winnie the Pooh Pumpkin Soft Cookies

With just a small bit of ingenuity, turn everyday food into something cute using Kaori's Easy Recipe! With a few simple ideas, an ordinary recipe magically transforms into a cute dish.

Halloween in closing in, so for this recipe I'll be using pumpkin to make delicious cookies—crunchy on the outside and moist in the middle. This recipe rolls the dough into a ball, so it's a great alternative for people who aren't good with shaping or cutting cookies.

Ingredients

50g pumpkin (mashed and skin removed)

20g-25g sugar (I used sanonto sugar to bring out the sweetness of the pumpkin, but white sugar is fine too)

30g unsalted butter

A pinch of salt

60g weak flour

1

Combine and mix the steamed pumpkin, room temperature butter, and sugar. Then incorporate the salt and flour and mix again.

2

Now to shape everything. For pumpkin decorations, roll the pumpkin together and create a little depression in the top. Use a toothpick or something similar to create five indents around the outside as pictured above.

To make Pooh Bear, simply roll round and add the ears.

3

Bake at 150℃ for 20-25 minutes. Leave to cool, then decorate Pooh's facial features with a chocolate pen.

Kaori invites you into her world of character-themed food dishes in her recipe series. Be sure to check out her Instagram where she has uploaded many pictures of her character dishes!

Kaori Kubota (@kaopan27)

I live in Hokkaido and I love to make character themed foods, desserts and pastries♡

I want to see my family smile, so I enjoy putting in a bit of effort to make character foods and changing food into something cute♡

You can see more of my character foods and character bento boxes on my Instagram page → @kaopan72

Review: The 30 Year Old Cafe Chatei Hatou in Shibuya

Hi, everyone. It's Banako of MOSHI MOSHI FRIENDS. Today I'm reviewing Chatei Hatou, a long-standing cafe in Shibuya, Tokyo.

Shibuya is a place that bustles with youth culture and fashion. It's also home to many eateries, but there aren't many places around that you can go to to get away from the busy streets for a quiet break.

Chatei Hatou opened in 1989 at Miyamasuzaka Shita in Shibuya, where it has gone unchanged and welcomed customers for the past 30 years. It's very easy to get to, being just a 3-minute stroll from the Hachiko Exit of Shibuya Station.

When opening the door to the cafe and stepping inside, the first thing to jump out at you are the rows of coffee cups lined up along shelves behind the counter.

The coffee cup collection features a selection of works by many different makers. There's even a cup in there valued at ¥200,000!

The antiques littered here and there around the cafe elevate the vibe of the cafe. There's a number of seating areas, including the counter seats as well as tables for two, four, or big groups.

I felt the faint tasty scent of the Japanese pudding calling to me so I went and ordered a pumpkin pudding along with a hot chocolate.


Cafe Chocolat (Hot) ¥950 / Pumpkin Pudding ¥500


The pumpkin pudding was nice and moist and rich in flavour. Nothing short of delicious. It's made even sweeter when eaten together with the fluffy whipped cream―which also elevates the flavour of the pumpkin too.


I was inspired by the cafe owner to go for the cup I chose for my hot chocolate. There is so much variety between the cups; it's fun getting to see rare ones. Be sure to check their Instagram page where they have more detailed write-ups about their coffee cups and coffee varieties.

The cafe has a selection of original coffee blends which they make fresh with the utmost care and consideration. You can buy their coffee beans, take cake away from you, and even order whole cakes, so you can enjoy their delights at home.

Chatei Hatou has stood together with Shibuya these past 30 years. According to the owner, the most important thing about running a cafe is making sure its doors are always open. It's been tough as a result of the pandemic this year, but the cafe is still there as a part of people's lives.

The next time you're in Shibuya, why not enjoy a drink and a sit down at Chatei Hatou?

Information

Chatei Hatou
Address: 1-15-19 Shibuya, Shibuya-ku, Tokyo
Opening Hours: 11:00-23:30 (Last Orders 22:30)
No Fixed Holidays (But may be closed during the New Year Holidays)
Access: 3-minutes on foot from Shibuya Station's Hachiko Exit
Official Instagram: https://instagram.com/hatou_coffee_shibuya?igshid=9ubwybwvpktb
*The cafe is cash-only and has an outdoor smoking area

Writer: Banako
Translator: Joshua Kitosi-Isanga

Starbucks Japan Unveils Candied Sweet Potato Frappuccino®

Starbucks Coffee Japan has revealed the second beverage in its Artful Autumn @ Starbucks® series of drinks. The "Candied Sweet Potato Frappuccino®" will be released at Starbucks branches in Japan on September 23, 2020.

Candied Sweet Potato Frappuccino® | Tall Size Only – ¥590

Each drink is made using a whole chopped and blended Japanese daigaku imo candied sweet potato to serve those autumn flavours, with its marbled golden colour also reminiscent of the autumn leaves. It's topped with whipped cream, black sesame seeds, and sweet potato syrup.

Truly the perfect dessert drink to sip on for the changing seasons.

Information

Candied Sweet Potato Frappuccino®
Serving: September 23, 2020 – October 31, 2020

Available: Starbucks in Japan (select branches not participating)

Starbucks Coffee Japan Official Website: https://www.starbucks.co.jp/

Halloween Doughnuts Creep Their Way Into Krispy Kreme Doughnuts in Japan

Halloween arrived at Krispy Kreme Doughnuts in Japan on September 16 with the "monster HARVEST" collection of themed doughnuts. Available until November 1, the spooky lineup incorporates a selection of Japanese autumn flavours like pumpkin and purple sweet potato.

The doughnut collection is here to put us in the Halloween spirit nice and early. Krispy Kreme Japan's popular jack-o'-lantern doughnuts are back this year, as are the new black cat doughnuts which first arrived last year. A completely new purple sweet potato flavour was also introduced to the menu on September 1.

Pumpkin Pudding Jack-o'-lantern | ¥240 (Before Tax)

The jack-o'-lantern doughnuts have been made even more delicious for Halloween 2020 by using pumpkins from Hokkaido and filling them with velvety pumpkin Japanese-style pudding. Add to that the chocolate facial features and you've got yourself a tantalising treat for the spooky season.

Black Cat Caramel | ¥250 (Before Tax)

A black cat made with big white chocolate eyes and a dark chocolate face topped with crunchy almond pieces and stuffed with caramel cream.

Muchimochi Purple Sweet Potato Mont Blanc | ¥240 (Before Tax)

The tasty, chewy, and hot purple sweet potato doughnut is made with sliced sweet potato and coated in powdered sugar. It's served hot which makes the flavour even more intense.

Halloween Dozen (12 Doughnuts) | ¥2,000 (Before Tax)

Share a dozen with friends this Halloween which includes not only two of each of the ones already shown, but Krispy Kreme's popular "Chocolate Sprinkle" and "Original Glazed®" too.

Halloween Mini Box (20 Doughnuts) | ¥2,000 (Before Tax)

There's also a colourful box of 20 mini versions of the doughnuts too.

Information

monster HARVEST
Running: September 16, 2020 – November 1, 2020

Krispy Kreme Doughnuts Official Website: https://krispykreme.jp

Experience Old Time Kyoto in Autumn 2020 With Tea and Textiles

Kyoto, the ancient capital of Japan, is also called the birth place of Japanese culture, with a history spanning 1,200 years. Today, we're going to take a look at a number of upcoming events and seasonal items on sale in Kyoto for autumn 2020.

Celebrating 300 years of Tango Chirimen

This year marks 300 years since Tango Chirimen was established, a company located in Tango in northern Kyoto that specialises in a Japanese textile of flat woven silk known as 'chirimen.' There are many local chirimen brands around Japan, but it is the chirimen from Tango that has stood above the rest these past 300 years. The brand is now looking to the start of a new era for itself during its triple century milestone.

LIFE WITH THE QUALITY

Tango Chirimen is currently displaying a collaborative art exhibit at NEWoMan Shinjuku in Tokyo. This includes the entry display made in collaboration with Japanese artist Saki Tanaka, wall art made from woven fabrics, and more.

Running: Until September 30, 2020

Location: NEWoMan Shinjuku

Lineup: Display in collaboration with Saki Tanaka, wall art, and more

United Arrows x Tango Chirimen

United Arrows is also collaborating with the brand and incorporating their logo mark "TANGO OPEN" on a new men's t-shirt.

Product Name: BY Tango Broad Wide Form Tapered Shirt
Buy Here: https://store.united-arrows.co.jp/shop/by/goods.html?gid=52838245
Sold at: BEAUTY & YOUTH UNITED ARROWS stores and their official online store

Taste tea from Uji on Japanese Tea Day

It is generally considered that the first tea of the season in Japan is best enjoyed from the end of April and during May, but in fact Japanese tea is the perfect season to enjoy Japanese tea, specially since the country celebrates Japanese Tea Day (Nihoncha no Hi) on October 1 and 31.

Ujicha, or tea from Uji in Kyoto, boasts some of the most famous kinds of teas in Japan. This includes matcha, sencha, and gyokuro, all of which were first grown in southern Kyoto. Because of this, it is said that Ujicha marks the origins of Japanese tea. So when you visit Japan during autumn, why not celebrate Japanese Tea Day with some authentic tea from Uji?

Ujicha Tea Murie Online Course

The Ujicha Tea Murie Course has been held since 2015 in Kyoto, and this year, the course is heading online for the first time as a result of the pandemic. Learn how to make and serve Uji tea from a professional tea instructor as well as its history and more.

Running: Session 1: September 15, 2020 / Session 2: October 2, 2020 / Session 3: October 17, 2020

Book: Online
Requirements: Download and install Zoom
Official Website: https://www.pref.kyoto.jp/yamashiro/ocha/

Certified Ujicha tea cafes for an authentic experience

Tsujiri Rihei Ginza | Tsujiri Rihei Senju

Nakamura Tokichi Ginza

Tsujiri Rihei Ginza, Tsujiri Rihei Senju, and Nakamura Tokichi Ginza are all cafes in Tokyo that are officially recognised for serving authentic Ujicha tea which also includes proper preparation as well as teaching the history and culture behind the tea. These three cafes are also holding an Ujicha tea stamp rally as well as a Twitter hashtag campaign.