teamLab's 'A Forest Where Gods Live' Exhibition in Saga Introduces Autumn Inspired Digital Art
teamLab's annual A Forest Where Gods Live exhibition is currently taking place at Mifuneyama Rakuen Park in Saga Prefecture until November 8, 2020. For autumn this year, the digital art team has introduced a seasonal piece entitled Forest and Spiral of Resonating Lamps in the Forest – One Stroke, Autumn Mountain.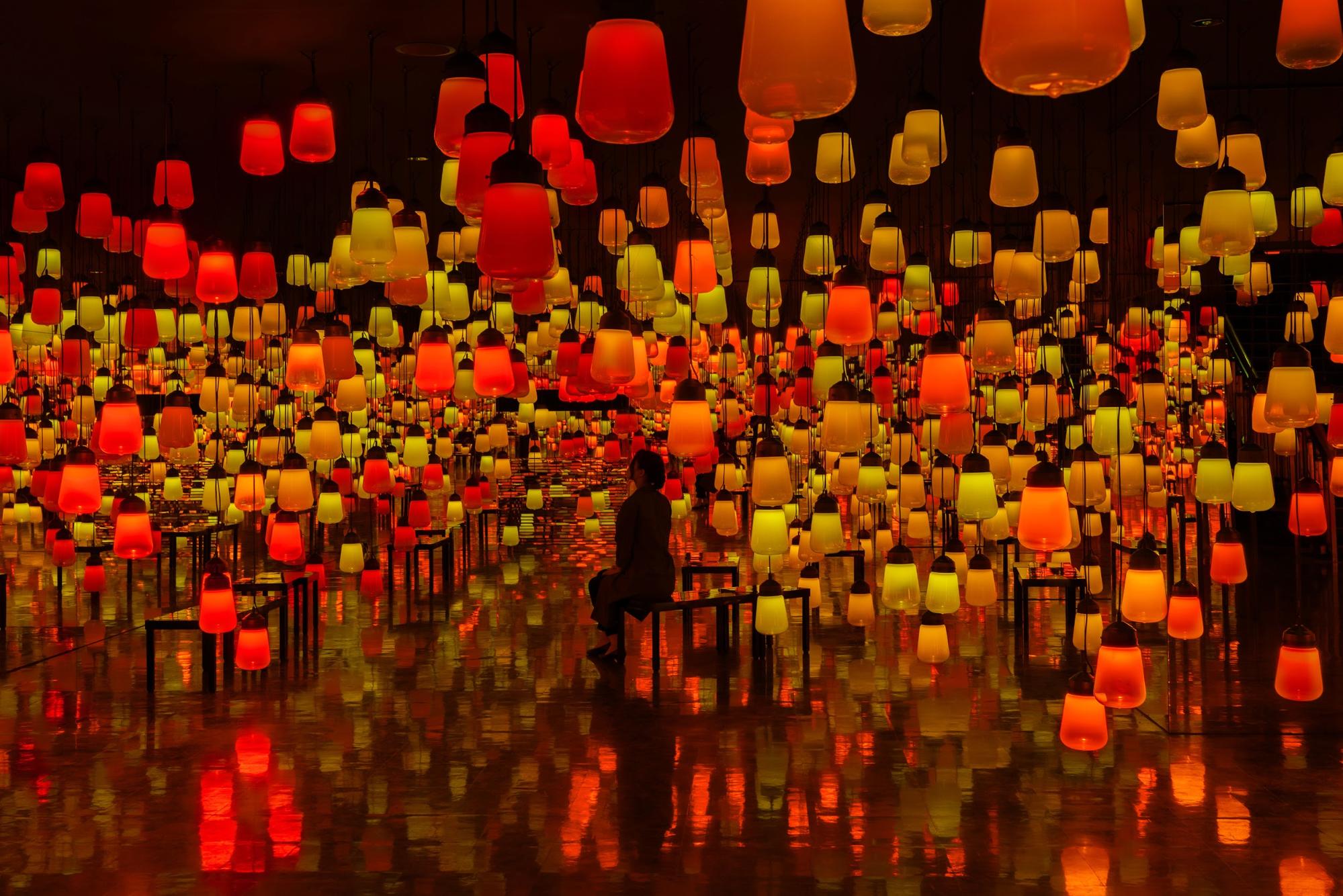 Forest and Spiral of Resonating Lamps in the Forest – One Stroke, Autumn Mountain
teamLab, 2018, Interactive Installation, Murano Glass, LED, Endless, Sound: Hideaki Takahashi
Available to see for this autumn season only, ​Forest and Spiral of Resonating Lamps in the Forest – One Stroke, Autumn Mountain showcases Kasane no Irome, which are nuances of layered colours that were seasonal colours created in silk before Japan's modern era, in the form of lit lamps.
The lamps in the exhibition shine brightly and then fade. In the light, one can see the eight autumn Kasane no Irome colours: Budding Leaves, Green Leaves, Fallen Green Leaves, Yellow Leaves, Fallen Yellow Leaves, Fallen Leaves, Fallen Red Leaves, and Autumn Leaves.
Flowers Bloom in an Infinite Universe inside a Teacup
teamLab, 2016, Interactive Digital Installation, Endless, Sound: Hideaki Takahashi
Make tea in the tea house at the exhibition. Flowers will bloom inside the teacup, which if you pick up, sends the flowers scattering and spreading to the outside of the cup. Flowers will bloom infinitely as long as there is tea. For September, there are safflowers, dianthus, and Chinese asters, while next month will introduce cosmos, osmanthus, and chrysanthemums.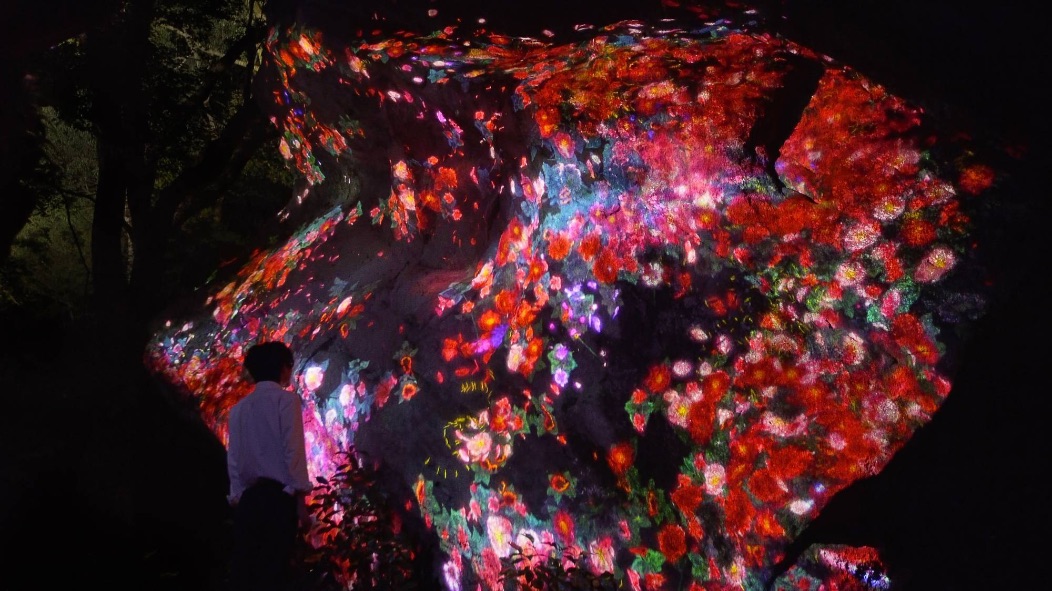 Ever Blossoming Life Rock
teamLab, 2017, Digitized Nature, Sound: Hideaki Takahashi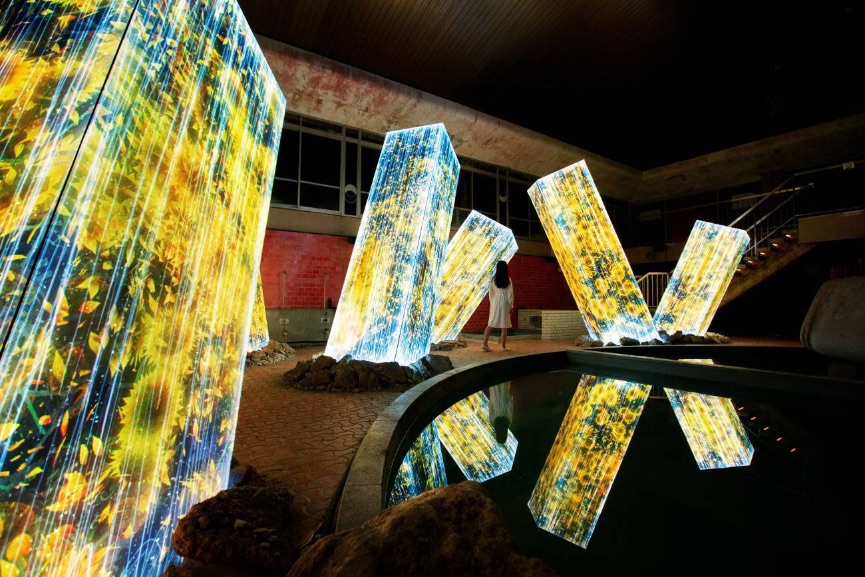 Megaliths in the Bath House Ruins
teamLab, 2019, Interactive Digital Installation
You can also see autumn flowers in the Ever Blossoming Life Rock and Megaliths in the Bath House Ruins exhibits too.
Visitors can also get set tickers which includes entry to the exhibition as well as a dip in the Rakan no Yu hot springs of Mifuneyama Rakuen Hotel. These tickets are limited to 40 people per day.
Information
teamLab: A Forest Where Gods Live
Running: July 22, 2020 – November 8, 2020
Address: Mifuneyama Rakuen, 4100 Takeo, Takeo-cho, Takeo City, Saga, Japan
Hours
Jul 22 – Sep 13, 2020 19:00 – 22:30
Sep 14 – Oct 11, 2020 18:00 – 22:30
Oct 12 – Nov 8, 2020 17:00 – 22:30
*Enter from Entrance 1. Entrance 2 is only available 60 min after the opening.
*Last entry is 22:00.
Official site:http://mifuneyamarakuen.teamlab.art/
RELATED ENTRIES
Yunohana Onsen Resort Reveals Contemporary Art-Inspired Guest Rooms

Sumiya Kihoan, a cozy inn at Yunohana Onsen in Kameoka City in Kyoto, opened a unique new guest room on April 28, 2022. The room's concept is "where guests can stay in the middle of contemporary art," and was inspired by the works of internationally-acclaimed contemporary artist Yukinori Yanagi. The new room, created as part of the Art Room Project, has been named 'Kofuu.'

The Icarus Corridor Connecting Heaven and Earth

Heavenly Bath Welcoming a Rainbow at Dusk

In-Ground Bath Featuring Oribe Glazed Ceramic

Concept Drawing of the Art Room Project by Yukinori Yanagi


The new room includes an open-air bath where guests can be transported into the world of Yanagi's contemporary art while gazing at the gorgeous Kyoto landscape. Upon entering the inn, guests are greeted by a long corridor leading to the bedrooms, dining room, and two creative open-air baths. The space was created in collaboration with Yanagi and local artists and craftsmen, such as potter Ishii Naoto, obi craftsman Yamaguchi Genbei X, plasterer Kusumi Akira, and Japanese paper craftsman Hatano Wakaru. A delicious menu is prepared by chef Hosoi Kunihiko.

teamLab Opens 8th Annual Art Exhibition at Mifuneyama Rakuen in Saga Prefecture

From July 15 until November 6, 2022, the 'teamLab: A Forest Where Gods Live' exhibition at Mifuneyama Rakuen, an ancient forest at the Takeo Hot Springs in Saga Prefecture. The massive event is held each summer and fall and was named CNN World's 'Best Outdoor Art Exhibition to Visit' in 2021 and one of the Top 10 Art Installations in the world by DesignboomMagazine in 2017.

Works on Display

Universe of Water Particles on a Sacred Rock, 2017

Drawing on the Water Surface Created by the Dance of Koi and Boats – Mifuneyama Rakuen Pond, 2015

Ever Blossoming Life Rock, 2017

 Life is Continuous Light – Azalea Valley, 2017

Rock Wall Spatial Calligraphy, Continuous Life – Five Hundred Arhats, 2017

Split Rock and Enso, 2017

Resonating Forest – Cherry Blossoms and Maple, 2017

Megaliths in the Bath House Ruins, 2019

Graffiti Nature – Living in the Ruins of a Bathhouse, Red List, 2017-

Resonating Forest in the Ravine, 2019

Abstract and Concrete – Forest Entrance, 2018

Flowers Bloom in an Infinite Universe inside a Teacup, 2016

Forest and Spiral of Resonating Lamps in the Forest – One Stroke, Summer Forest, 2018

Mifuneyama is said to have risen from the Ariake Sea 3 million years ago. The 500,000 square meter Mifuneyama Rakuen Park was created in 1845, at the end of the Edo period. The park is home to megaliths, caves, and forests that have been slowly shaped over thousands of years. teamLab believes that the shapes and textures of these objects are important, serving as traces of ancient people and natural changes over time.  The concept of the project is that non-material digital technology can turn nature into art without harming it.


The creative team will be holding a number of other high-profile exhibitions this year, including installations in Paris, Tallinn, Shanghai, and Geneva. Their sauna collaboration with TikTok for teamLab Reconnect in Roppongi made huge waves in 2021–guests would take alternating hot and cold baths to experience intense physical sensations while surrounded by digital art.

Fendi and Harajuku Omotesando Keyaki-kai Collaborate on #FendiTsunaguOmotesando Art Project

Italian luxury fashion brand Fendi has teamed up with Harajuku Omotesando Keyaki-kai on a new street art project! 'TSUNAGU – Omotesando Street Art Project' was unveiled on April 29, 2022.

 

The project, which aims to improve the city's scenery and share positive messages, is on display in Omotesando, a popular area with young people. The canvas is the formal site of the Oriental Bazaar, an iconic part of Omotesando for over four decades. Under the theme of 'hope,' three young artists will be displaying their artwork in a massive temporary enclosure on the site. Hopefully, Japan really will open tourism soon so that guests from around the world can enjoy these inspiring pieces!

The first piece of art was unveiled on April 29 and was drawn by Dai Tamura, a young Japanese artist who has attracted worldwide attention after becoming an illustrator for the NBA. The dynamic and powerful compositions vividly depict endangered animals and plants alongside delicate flowers to symbolize hope for the futures of these beautiful creatures. 



Be sure to keep an eye out for the next installation coming soon!

Information

TSUNAGU – Omotesando Street Art Project

Location: Oriental Bazaar Former Site

Address: 5-9-13 Jingumae, Shibuya-ku, Tokyo

Official Site: http://www.fendi.com

Popular illustrator and alcohol ink artist Jiji will release her first artbook in May! 

Images

Behind-the-Scenes

This is the first collection of works by Jiji to be compiled and released. 'Jiji ILLUSTRATION AND MAKING BOOK' will include around 110 illustrations, including both past creations and new images made exclusively for the book's release. The compiled illustrations were made in a variety of ways, including with alcohol ink, fountain pens, and by digital means.

HERALBONY GALLERY to Hold 8th Original Exhibition Highlighting Artists with Disabilities

HERALBONY is currently holding its 8th exhibition of original paintings featuring pieces by Kaoru Iga. The art is available to view at the HERALBONY GALLERY in Iwate Prefecture, which showcases creations made by artists with disabilities.

Kaoru Iga's colorful artwork features unique textures and an abstract worldview. The works featured will be on sale at the gallery and on the official HERALBONY online store.

Kaoru Iga

Iga's paintings don't show any specific objects or people, rather focusing on color, shape, and texture. Some pieces are rough, some pieces are gentle, and some utilize various textures or overlapping lines. Together, the works are like a single piece of music consisting of multiple movements.

 

Iga, who has played the cello for many years and honed his ability to connect with others without words, reminds viewers of the simpler aspects of life on Earth. Each day, we are met with a barrage of information and chatter–what is it like to cut all of that out? 

 

The artists featured at HERALBONY will continue creating in the hopes of finding worldwide recognition. 

Information

HERALBONY GALLERY 8th Exhibition 'The Art of Kaoru Iga'

Artist: Kaoru Iga

Exhibition Open until May 8, 2022

Hours: 12:00-19:00
Address: HOMEDLUX Building 4F (2-38 Kaiunbashidori, Morioka, Iwate Prefecture)
Admission: Free

HERALBONY Online Store: https://heralbony.com/collections/original-painting

NAKED Collaborates with Uta no Prince-sama Game for Special Art Installation

Creative company NAKED is bringing the world of Uta no Prince-sama to life! From April 16 until April 24, fans will want to come to Ikebukuro Sunshine Plaza to see MAJI LOVE KINGDOM MEMORIES, a sensory photo booth decorated with floral art.

The first Uta no Prince-sama game was released in 2010, with an anime series following in 2011. In 2019, the first Uta no Prince-sama film, Maji LOVE Kingdom, was released.

NAKED's project mapping and digital art are being used to create unique photo booths where guests can take pictures with their favorite idols as seen in the 2019 film.

Each photo booth was created using a variety of techniques, combining video, sound, scent, and even wind. The flowers included in each booth were inspired by the flowers that members of ST☆RISH, QUARTET NIGHT, and HE★VENS wear on their chests. How often do you get to experience a 3D photo booth with your favorite fictional boys?

Guests can also enjoy a unique AR experience at the venue by using NAKED INC PLAY!

©︎UTA☆PRI-MOVIE PROJECT

Information

Uta no Prince-sama on Stage: MAJI LOVE KINGDOM MEMORIES

Location: Ikebukuro Sunshine City World Import Building 4F Event Hall A

Running: April 16 – April 24, 2022
Hours: 10:00-20:00 (Last admission 60 minutes prior to closing)
*Open 10:00-17:00 on April 24

Official Site: https://ml-kingdom-memories.com/

Nostalgic and New Neo-Retro Illustrations to be Featured in New Book

Pie International will release Neo-Retro Illustrations: A Creator's Guide to Blending the New and Nostalgic on April 22, 2022.

In recent years, blending both nostalgic prints with modern sensibilities has become a popular trend in art, especially among young people. This "retro boom" has become a genre in itself, and this tome compiles some of the most incredible examples of this genre from 40 popular illustrators.

The book contains over 250 pieces of "neo-retro" art, blending past eras with futuristic colors and highlights.

 

The new book also includes interviews with the featured artists, providing a glimpse into their creative roots and personalities.  The cover illustration was done by NAKAKI PANTZ.

Featured Artists


AiLeeN / an / itousa / Inata / Inoue Noi / Oliwa / Sawako Kageyama / Kamin / Kisumi Rei / Guugorou / Kano Komori / Natsumi Sato / Michi / Sanho / Haruna Sudo / Soreeeeyu / tabi / Choo / TV♡CHANY / NAKAKI PANTZ / NANCYSNAKE / Nekopota. / noco / hachika / Hana Chatani / Hanabushi / Harawata Chanko / PHI / Catherine Hitachi / HOHOEMI / mawawiz / Mannen Mofuku / Hiro Mizuno / Monyochita Pomichi / Yoko / Rasuku / Rikku / RING / Rorurari / wacca

Art Lifestyle Brand HERALBONY to Collaborate with Clothing Shop SHIPS on New Collection

HERALBONY will start selling unique new apparel and goods in collaboration with the clothing shop SHIPS starting March 26, 2022.

Lineup

Participating Artists

Title: (Untitled) (Home)
Artist: Kiyoshi Yaegashi

Title: (Untitled) (Circles)
Artist: Sanae Sasaki

Title: Fairy
Artist: Fumie Shimaoka

Title: Numbers
Artist: Fujita Nozomi

HERALBONY continues to make a positive impact in the community by incorporating artwork created by those with disabilities into one-of-a-kind fashion items. 

The collection includes T-shirts, reusable bags, folding umbrellas, and much more. Items will be sold at SHIP stores nationwide and online. 

'Teamlab: Tea Time in the Soy Sauce Storehouse' Exhibition in Okayama Extended

The 'Tea Time in the Soy Sauce Storehouse' exhibition by teamLab has been extended! Located at the Fukuoka Soy Sauce gallery, those interested can now come and see this incredible work of art until March 31, 2023.

 Tea in Spontaneous Order – Dynamic Equilibrium Color. ©teamLab

 

The former Fukuoka Soy Sauce Building was built in the Meiji era and was once used for soy sauce production. The basement is now a tea room filled with black water with lanterns floating on top. Touching one will cause it to light, and will cause a spontaneous order phenomenon. A spontaneous order phenomenon occurs when different rhythms are influenced by each other and become aligned. Examples include when the pendulums of two clocks gradually begin to swing together when many fireflies gather in one tree and all start flashing at the same time.

The exhibition has been incredibly popular since it opened on April 15, 2021. Due to the ongoing effects of the pandemic, teamLab wants more people to be able to come to experience this unique art performance, hence why the exhibition has been extended.

Information

Teamlab: Tea Time in the Soy Sauce Storehouse

Running: April 15, 2022 – March 31, 2023
Details: https://www.teamlab.art/jp/e/teatime/
Location: Fukuoka Soy Sauce Gallery (17-35 Yuminocho, Kita-ku, Okayama)

ZOZOTOWN's ZOZOVILLA to Start First Collaboration with GALLERY TARGET

ZOZOVILLA, the luxury portion of the fashion shopping site ZOZOTOWN, will start a collaboration with the Harajuku gallery GALLERY TARGET, which exhibits and sells contemporary artwork from Japan and abroad. The collaboration will last for one year and will feature the works of four GALLERY TARGET artists as key visuals for ZOZOVILLA. Certain exclusive items will be sold exclusively on ZOZOVILLA as well.

GALLERY TARGET actively collaborates with many areas of culture and fashion that match the vibe of ZOZOVILLA. Over the next year, the two will continue to engage in unique collaborations highlighting the best parts of fashion and art.

For the first commemorative event, ZOZOVILLA will be offering 100 copies of Ayako Rokkaku's painting 'Untitled' through a lottery beginning April 19. The painting is also being used as the key visual for the project and highlights Rokkaku's incredible use of color. Each poster will be personally signed by the artist herself.

Ginza Tsutaya Books to Hold 'What is Kawaii' Exhibition Featuring Art by Three Female Artists

From April 2 until April 22, Ginza Tsutaya Books will be holding a 5th-anniversary exhibition featuring art by three young female artists! These creators specialize in drawing girls, and the event will ask one question: what is 'Kawaii?' The artists featured are Amane Ishii, Azusa Nozawa, and Yumi Nagata. 

These three artists have captured the spotlight with their unique styles. Ishii prefers oil painting, Nozawa has a style perfect for manga, and Nagata specializes in more Japanese-style paintings. Those who planned the exhibition noted that the reason these three artists have become so popular stems from how they depict cuteness–they don't try to conform to society's idea of 'cute,' but rather depict what they themselves consider to be cute.

Many motifs in Ishii's works are based on the artist's personal experiences, many stemming from childhood. Her unique characters are sure to grab your attention, and although her pieces are two-dimensional, the linework almost makes them seem 3D. 

For Nozawa, 'cute' is the most important element found in her works. She often uses pastels, and something about the way she draws her characters is nostalgic, harkening back to purikura filters and manga characters of the early 2000s. Her unique worldview and nostalgic characters amount to truly one-of-a-kind pieces.

The girls appearing in Nagata's pieces are projections of herself. She draws the clothes she would like to wear and the poses she'd love to strike! Pursuing her idea of 'cuteness' with traditional Japanese techniques and paints, she often includes polka dots in her works, which are a feminine symbol. 

The exhibition will feature two of Ishii's oil paintings and 13 drawings, the first time such a large number of drawings have been shown all at once. In addition, three of Nozawa's new portrait series will be on display, along with nine of Nagata's works. 

'Kawaii' is one of the most prominent keywords found in contemporary Japanese culture. What does it mean to you?

Artist Takashi Murakami and Swiss Luxury Watch Brand Hublot Collaborate on NFT

Swiss luxury watch brand Hublot and top Japanese artist Takashi Murakami have released two pieces of digital NFT artwork inspired by Hublot's 'Classic Fusion Takashi Murakami' watches shown at the international watch exhibition 'Watches & Wonders.'

 

These pieces of digital artwork were inspired by the Classic Fusion Takashi Murakami All Black watch and the Classic Fusion Takashi Murakami Sapphire Rainbow Watch. Both items were released in 2021 and marked the first collaboration between Hublot and a Japanese artist. These two watches were released in quantities of 200 and 100 pieces, respectively, and both sold out in only a few days.


The collaboration includes two pieces of digital artwork featuring smiling flowers, a symbolic theme of Murakami's work and the Superflat art movement. There are 216 digital art pieces inspired by the All Black watch and 108 pieces inspired by the Sapphire Rainbow watch. These NFTs are primarily intended for current owners of the two limited-edition watches. Current watch owners must apply for the NFT between April 1 and April 25.


But don't worry: these NFTs will also be available to the public in limited quantities in May 2022!