One Piece Reveals Second Collaboration With Sports Brand Kappa
Itanlian-based sports brand Kappa is set to collaborate with One Piece for the second time on September 18.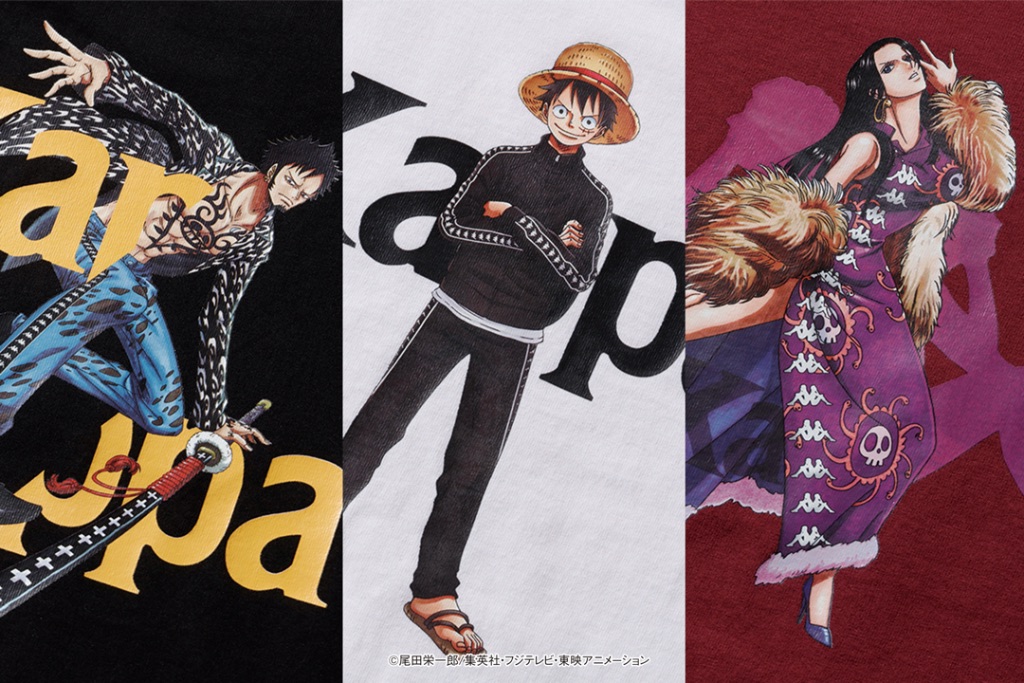 The new collection features a range of attire combining Kappa's iconic style with illustrations of familiar faces from the popular anime series.
Hoodies | ¥9,800 Each (Before Tax)
T-Shirts | ¥5,900 Each (Before Tax)
The lineup includes three hoodies and t-shirts which feature a special graphic designed exclusively for this collection which combines Kappa's logo with the illustration drawn for the "One Piece Log Collection" DVD collection that released as part of One Piece's 10th anniversary.
The Kappa x One Piece tags that come on pieces in the collection can also be used as bookmarks.
The second collaboration will roll out from September 18, 2020 at Kappa stores in Japan, Kappa's official online store, and the One Piece Mugiwara store.
RELATED ENTRIES
Upcoming One Piece Netflix Series Coming in 2023, First Live-Action Visual Revealed

Netflix has announced that it will release the live-action adaptation of One Piece worldwide in 2023.

One Piece is one of Japan's most popular and long-running manga series. Created by Eiichiro Oda, the manga has sold over 500 million copies worldwide.

The series was serialized in Weekly Shonen Jump in 1997, starting with the protagonist Monkey D. Luffy going on a journey with the Straw Hat Pirates to find the One Piece, a treasure that was left behind by the legendary "Pirate King" Gol D. Roger.

The live-action project has gained a ton of attention on social media, with the cast being revealed in 2022. As the world awaits more production news, the first live-action visuals have been released along with the news that the series is coming in 2023.

Following the hugely positive feedback for ONE PIECE FILM RED, fans are ready to see the Monkey D. Luffy once again in the first episode of the Netflix series titled ROMANCE DAWN – Dawn of Adventure-.

In the original series, Luffy, who admires the great pirate Shanks after meeting him in his hometown of Foosha as a child, decides to become the Pirate King, taking to the open seas to make his dream come true.

During his unpredictable adventures, Luffy meets a group of friends who he can always trust.

The newly-released visual shows Luffy (played by Iñaki Godoy) in his trademark straw hat, raising his right fist to the sky.

On his Instagram page, Godoy often posts pictures of his friends and fellow cast members including Mackenyu (Roronoa Zoro) and Jacob Gibson (Usopp). Fans have been largely pleased with the casting choices.

The extraordinary success of ONE PIECE FILM RED made headlines in 2022, as the film topped the yearly box office in Japan. It finally ended its theatrical run on January 29.

Will you be tuning in to the live-action Netflix series?

(C)尾田栄一郎/集英社

ONE PIECE FILM RED and Cake.jp Collaboration Vending Machine Appears in AEON MALL Locations

Cake.jp, a website specializing in cakes and sweets, is installing special vending machines in AEON MALL locations! These machines are part of a collaboration with ONE PIECE FILM RED.

The collaboration vending machines will offer canned cakes inspired by Luffy, Uta, and Shanks from the popular film. Each cake tin features original designs by Cake.jp and each character's cake has a unique flavor. 

Flavors

Luffy: A refreshing cake with orange cream, jelly, blueberry cream, and more.

Uta: A colorful cake with a variety of flavors including melon, lemon, orange, and blueberry cream.

Shanks: A chocolate-based cake with berry cream and a perfect balance of richness and acidity.

Collaboration Vending Machine

While the Cake.jp official website sells these cakes exclusively in a set of three, the collaborative vending machine allows customers to purchase them separately. Fans of all ages will love these tasty treats, so after seeing the film why not pick up some of these sweets for yourself or a friend?

 

(C)尾田栄一郎/2022「ワンピース」製作委員会

VANS and One Piece Announce First Collaboration Shoe Line

Famous sports brand VANS has announced a collaboration with the wildly popular manga and anime series One Piece! Fans can expect to find colorful shoes and apparel when the new items hit shelves next month.

Sk8-Hi Punk Hazard

The Sk8-Hi Punk Hazard sneakers were based on the original VANS Sk8-Hi silhouette. The sneakers show off the Straw Hat Crew's adventures, with a frozen landscape on one side and a fiery landscape on the other. The characters sport the brand's iconic checkerboard pattern. 

VANS Classic Old Skools with a Devil Fruit Motif

The VANS Classic Old Skools sport the Devil Fruit, something that has given many characters in the show special abilities and powers. The VANS Classic Authentic sneakers are dotted with symbols and logos from One Piece, perfect for fans who want something a bit more subtle.

Robin & Nami's Collab

The new collaboration VANS Skate Classics will feature Wanted Posters and will be available in either a Nami pattern or a Nico Robin pattern, with the One Piece logo on the outsole. 

Art from Famed Japanese Artist Cookie!

For this unique collaboration, Japanese artist Cookie! provided some new art of Tony Tony Chopper. The Authentic 44 DX One Piece Cookie! features a pink checkerboard pattern with an illustration of the adorable character blended with Cookie! himself. The collection will also feature other goods including hats, bags, hoodies, shirts, and socks. 

The Vans One Piece Collection will go on sale on November 11, 2022, at the Vans Story at APAC and VANS retailers nationwide. It's unclear whether the items will be available to purchase overseas. 

Information

VANS × ONE PIECE

On Sale: November 11, 2022

Where to Buy: VANS Stores, VANS Carriers nationwide

Official Site: https://www.vansjapan.com/

CASETiFY Collaborates with One Piece for New iPhone 14 Series

Popular phone accessory brand CASETiFY has announced a new collection inspired by One Piece. This marks the third collaboration between the two, with the new items celebrating the release of One Piece Film: Red.

Dubbed the 'Pirate Black Collection, the series was inspired by playing cards and plastic models. One highlight of the collection is the Golden Transponder Snail 3D AirPods Pro case, inspired by the communication device from the Marine's Buster Call. Both a display piece and a protective case, the outer shell features a metallic gold finish with painted eyeballs and a keychain. 

Along with the 3D AirPods Pro case, the lineup includes plenty of items perfect for every kind of One Piece fan, including the Motif case covered in icons from the series, the Thousand Sunny Ship Case featuring the Straw Hat crew's ship, and the Brotherhood Sticker Case highlighting the bond between Luffy, Sabo, and Ace.

The poker card character case uses playing cards as a motif, and features six fan-favorite duos including Luffy & Shanks and Ace & Sabo. Don't miss the movie-exclusive Uta & Shanks version!

Limited-edition 25th-anniversary accessories will also be available, including water bottles, Macbook sleeves, iPad covers, Apple Watch straps, and more.

Those who have already registered for the waitlist on the CASETiFY online store will be the first allowed access to the collection on October 5, 2022. See the official website for more details.

©E.O./S.,T.A. © O/2022 OP

PEACH JOHN Releases Lingerie Line Inspired by ONE PIECE FILM RED

Japanese lingerie line PEACH JOHN has launched a new collection inspired by ONE PIECE FILM RED! The new items went on sale starting September 21, and fans can purchase them from the official PEACH JOHN site and at PEACH JOHN stores nationwide.

The collaboration includes bra and panty sets inspired by Nami, Nico Robin, and Uta, the main character of the latest film. Pajamas inspired by Shanks will also be available in both male and female sizes. While sold out on the online shop, these are still available in stores.  

Fans can also grab a cozy one-piece dress inspired by Uta's outfit in the film, while the bra and panty set features satin ribbon reminiscent of Uta's hairstyle. The straps in the back were inspired by Uta's wings. 

The special site features an exclusive interview with Enako, the top cosplayer in Japan and the model for the collaboration. She gave her impressions of the photo shoot, so be sure to check it out!

LUSH to Release One Piece Inspired Bath Bombs in Japan, UK, Ireland

UK-based cosmetics brand LUSH has announced a new One Piece collaboration! A total of six unique products will be released on September 19, including four bath bombs, one bath bar, and one wrapping cloth known as a knot wrap. Items will be available at 76 LUSH locations nationwide and online, and will also be for sale in the UK and Ireland.

The Gum-Gum Fruit, which makes Luffy's body stretch like rubber, has been transformed into a bath bomb for the collaboration.

As the bath bomb dissolves, the water will turn a swirling purple, and your arms and legs will naturally want to stretch out as you relax with the scents of black currant and orange.

Gum-Gum Fruit (Bath Bomb): ¥980

Fans of Ace will want to grab the Flame-Flame Fruit bath bomb, containing mandarin orange peel oil, fenugreek seed extract, and carrot seed oil. Nico's Flower-Flower Fruit will fill your tub with the scent of geranium oil, rose, and jasmine, while Chopper's Human-Human Fruit blends cocoa, tonka extracts, and bergamot oil. Fans can also grab a themed One Piece wrapping cloth!

Flame-Flame Fruit (Bath Bomb): ¥980

Flower-Flower Fruit (Bath Bomb): ¥980

Human-Human Fruit (Bath Bomb): ¥980

Straw Hat Bubble Bath Bar: ¥1,400

Information

LUSH × ONE PIECE

Release Date: September 19, 2022

Official Site: https://www.lush.com/jp/ja/c/one-piece 

*Limit on the number of items

Each person may purchase up to 5 bath bombs/bubble bars and 1 Knot Wrap per person. Sales will end as soon as all items are gone.

RecoChoku Announces Winners for Best Music of August 2022

13.September.2022 | MUSIC

Japanese music streaming site RecoChoku has announced the top song and album rankings for August 2022!

Unsurprisingly, Ado tops both the single and album charts with her new tracks from the movie ONE PIECE FILM RED. The singer provided the singing voice of Uta, a main character in the film which was released nationwide on August 6, 2022.

New Genesis, the theme from ONE PIECE FILM RED, was released ahead of the movie's release on June 8, 2022. It ranked 4th in the monthly rankings for June and July, and following the film's release in August, it shot to the top of the charts for four consecutive weeks, continuing to hold the #1 spot.

Ado also took first place in August's album ranking with her collection of songs from ONE PIECE FILM RED. Released on August 19, 2022, the album features a number of tracks made for the film, with seven different artists helping to produce these now legendary songs.

For the daily ranking on August 11, the top seven singles were all from this one album. Starting at the top spot, the songs included were: New Genesis, Where the Wind Blows, Tot Musica, The World's Continuation, Binks' Sake, I'm Invincible, and Fleeting Lullaby.

In the album ranking, it was number one in the weekly ranking for three consecutive weeks since its release on August 17 and continued its momentum to take the top position in the monthly ranking for the month of August.

Ado had her first top single ranking in February 2021 with Usseewa, and her first #1 album in January and February 2022 with Kyogen.

If you haven't listened to the singer's collection of songs from the most recent ONE PIECE film, you're missing out!

RecoChoku Monthly Music Award – August 2022 (Announced September 1, 2022)

Single Ranking


1st Place: New Genesis (Uta from ONE PIECE FILM RED) – Ado (Released June 8, 2022)
2nd Place: Start Over – THE BEAT GARDEN
3rd Place: Ame Sansan – King Gnu
4th Place: Where the Wild Blows – Ado
5th Place: Mixed Nuts – Official HiGE DANdism

https://recochoku.jp/ranking/single/monthly/

Album Ranking


1st Place: Uta's Songs from ONE PIECE FILM RED – Ado (Released August 10, 2022)
2nd Place: M – INI
3rd Place: BE:1 – BE:FIRST
4th Place: Falling into your eyes Record – Aimyon
5th Place: Suki Toiunowa Rock Daze! (Special Edition) – Nogizaka46

https://recochoku.jp/ranking/album/monthly/

©尾田栄一郎/2022「ワンピース」製作委員会

Ado Releases Compilation Album of Songs from ONE PIECE FILM RED

On August 10, Ado, one of the most popular singers in Japan today, released a compilation album of songs from ONE PIECE FILM RED. 

Ado performs the singing voice for the film's character Uta and has eight songs featured in the movie. The album includes New Genesis, the film's theme song, and a number of other artists appear, including Yasutaka Nakata, Mrs. GREEN APPLE, Vaundy, FAKE TYPE., Hiroyuki Sawano, Yuta Orisaka, and Motohiro Hata. 


New Genesis – Ado (Music Video Teaser)

 

The theme song New Genesis was composed by Yasutaka Nakata, a musician, DJ, and producer who is making his debut in the One Piece world. The music video was created by hmng, an animator and illustrator who has created music videos for a number of other artists along with original art for anime. The video was inspired by Uta's colorful worldview and shows a side of her not seen in the film.

The jacket of the standard edition features a colorful illustration by Eiichiro Oda, the creator of One Piece and general producer of the film, and depicts a live performance by Uta.

The jacket illustration for the limited first edition is by ORIHARA, who also serves as Ado's image director. The illustration depicts Uta and Ado facing each other and singing, highlighting Uta's red hair.

Look forward to hearing this incredible music in ONE PIECE FILM RED, now in theaters!

ONE PIECE FILM RED Inspires Collaboration Event with Raku Spa

From August 18 until September 19, 20 Gokurakuyu and Raku Spa locations will hold a special collaboration to celebrate the release of ONE PIECE FILM RED. 

Goods

Menu

During the event, a new bath will be available each weekend. Guests can enjoy fragrant baths inspired by Luffy, Zoro, Nami, Usopp, Sanji, Shanks, and Uta. Check the website to see which baths will be available at which locations!

Those visiting can find some new merchandise featuring exclusive illustrations made for the campaign and a tasty menu inspired by One Piece characters, so don't miss it!

Netflix Reveals One Piece Live-Action Series Set Details and Concept Art

During the Netflix Geeked Week livestream, more details about the Hollywood live-action One Piece adaptation were revealed to a sea of anxious fans.

Along with six new cast members, fans caught a glimpse of the fantastic sets being used for the series and a greeting from the showrunners Steven Maeda and Matt Owens, along with the actor playing Luffy, Iñaki Godoy.


The new cast members include Alexander Maniatis as Klahadore, Steven Ward as Mihawk, Craig Fairbrass as Chef Zeff, Langley Kirkwood as Captain Morgan, Celeste Loots as Kaya, and Chioma Umeala as Nojiko.

 

A One Piece live-action project had been discussed before, finally coming to fruition after original creator Eiichiro Oda and other members of Shonen Jump staff were convinced that it could be done well. As announced by a number of cast members on social media, the project began filming recently in South Africa.

Behind-the-Scenes Time-lapse Footage

"We get to go to work every day and walk on these massive sets and see these characters come to life," Maeda said. 

"Oda's world is so unique. Seeing all of this stuff in person, being able to reach out and touch it, has just been such an experience," Owens continued.

Eiichiro Oda's manga series has become one of the best-selling manga series in history. Originally published in Weekly Shonen Jump in 1997, the series recently celebrated its 100th volume and will celebrate 1,000 anime episodes in the coming weeks. With over 490 million copies in circulation, Luffy's adventure is beloved by manga fans around the world.

On August 6, the newest One Piece film, ONE PIECE FILM RED, will be released in theaters in Japan.

This live-action adaptation is highly-anticipated by longtime fans around the world. Stay tuned for more news to come!


Netflixシリーズ「ONE PIECE」全世界独占配信
©尾田栄一郎/集英社

One Piece Summer 2022 Event to Open at Universal Studios Japan

From July 1 until October 2, 2022, fans of the long-running series One Piece won't want to miss taking a trip to Universal Studios Japan! This year's event promises to be extra special as fans celebrate the 25th anniversary of the manga series and the 15th anniversary of the One Piece Premier Show, the annual event at USJ. A special menu featuring tasty treats inspired by the series will be available alongside unique merchandise only available on-site. 

This summer's limited menu and goods lineup are each inspired by a music festival. The event itself will draw inspiration from the film One Piece Film Red, scheduled to release on August 6, 2022.

The Discovery Restaurant in the Jurassic Park-themed area of Universal Studios Japan will be transformed into the One Piece Summer Banquet Restaurant during the event period, featuring a selection of tasty dishes inspired by each main character. This year, menu items inspired by Robin and Jinbe will be available for the first time.

Plenty of original merchandise will be on sale, with one specific item serving as a highlight of the new collection: the 15th-anniversary book. This tome includes details and images from each of the past One Piece Premier Shows and is a must-have for any fan. It also includes a message from the original series author Eiichiro Oda. 

One 'music festival' themed item is the Festival Towel. Playing a major role in the 2022 version of the One Piece Premier Show, the item is decorated with a limited edition 15th-anniversary design. Guests can also grab a collectible bracelet and salted candy in a unique soda can-inspired package. Of course, it wouldn't be a One Piece event without some straw hats for sale!

This year's menu includes everything from Nami's Orange Frappe to Frankie's Super American Hot Dog. Each of these tasty dishes will be perfect for posting on social media! Next to the Lost World Restaurant, guests can enjoy some additional goodies from the One Piece Food Cart including Sanji's Pork Ribs and Sanji's Peach and Lemon Frozen Smoothie, perfect for beating the heat.

Everyone, young and old, is invited to immerse themselves in the world of One Piece during this special celebration.

© 尾田栄一郎/集英社・フジテレビ・東映アニメーション

Shueisha's Haruman!! 2022 Festival Celebrates Manga this Spring

Shueisha is currently offering a ton of manga for free as part of Haruman!! 2022. The campaign is running until May 15 at participating locations and tons of digital manga series are available for download.

©Shueisha

During Haruman!! 2022, users can read over 305 digital titles for free. This year's theme is 'Manga Festival,' and manga fans can find both recent and classic titles. Why not catch up on some manga history while you can?

A collaboration with the popular VTuber agency Hololive is also underway. One of the group's manga-loving members will be chosen each day to serve as Editor-in-Chief of an original manga magazine.

Popular authors are also commemorating the occasion with new illustrations. Eleven artists from Shueisha's manga department have drawn popular VTubers, and these awesome images are available exclusively on the Haruman!! website.

Stream Date: April 23, 2022

Participants: Shueisha x Hololive Traveling Editorial Department

Streaming Channel: https://www.youtube.com/channel/UCJFZiqLMntJufDCHc6bQixg

©Shueisha

In collaboration with puzzle game creators RIDDLER, 'The Search for the Great Manga King's Treasure' will be held. Pulling inspiration from One Piece, which is currently celebrating 25 years of serialization, fans will have to find clues to solve a massive mystery.

Find your new favorite manga series during Haruman!! 2022.

Information

Haruman!! 2022

Running: April 11 – May 15, 2022

Official Site: https://haruman.jp