RAYARD Hisaya-odori Park: The New Landmark of Nagoya Combines Shopping Experience With the Outdoors
Hisaya-odori Park is a park and shopping complex which opened on Friday (September 18, 2020) in Nagoya, Aichi. It will serve culture, experience, and products next to the newly renovated Nagoya TV Tower.
Hisaya-odori Park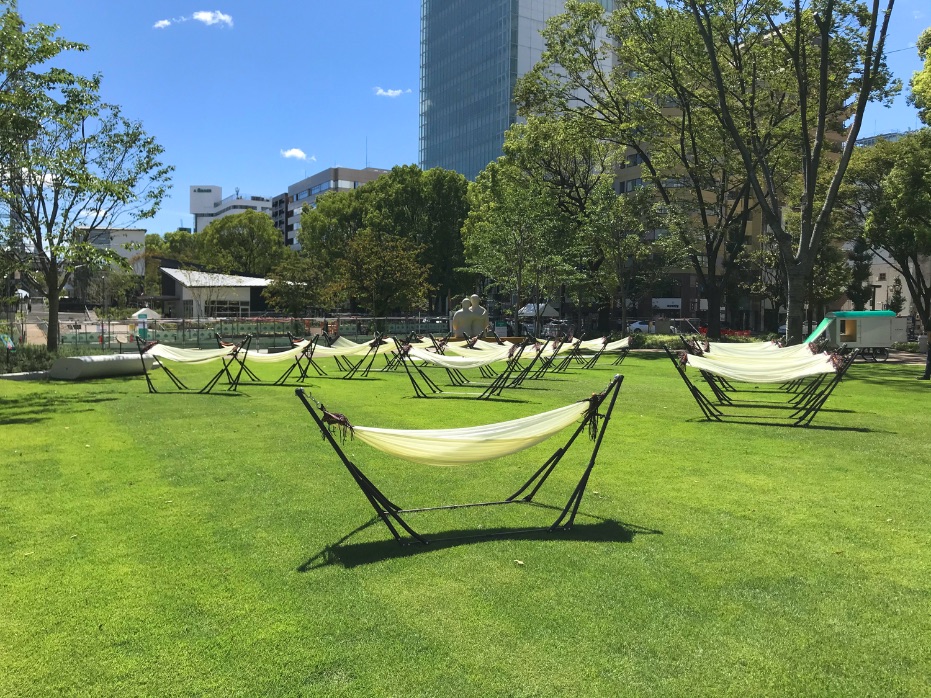 Hammock Day

Park Wagons
The park is split into five areas like Hammock Day where you can kick back in one of the hammocks while listening to music, pick up some produce at the Farmer's Market, do some morning yoga, and more. The park will also have a line of trucks and wagons selling food, drink, items, and more.
RAYARD Hisaya-odori Park
RAYARD has also opened its second shopping complex at Hisaya-odori Park following the opening of RAYARD MIYASHITA PARK in Shibuya. The complex houses 35 restaurants and shops, 22 of which have never opened a branch in Nagoya before, which will deliver fashion, sports, food, communication, and so on.
A variety of popular cafes in RAYARD are opening in Nagoya for the first time, like the Snoopy-themed PEANUTS Cafe, the the bakery and cafe ESPRESSO D WORKS which is known for its "100 one hundred" bread which is world's first made with 100% water content, and Karuizawa's very popular cafe and restaurant Eloise's Cafe.
There'll be plenty of sweet treats to tuck into too, like crepes from ROCCA&FRIENDS CREPERIE to TEA which is so popular in Osaka that people can be waiting up to 2 hours in line, matcha desserts from Kyoto-based sweet shop Shimizu-Ippoen, and bonbons from South Korea's number one cafe Cafe de paris.
If you're wanting a real meal, enjoy some casual Italian dining at Arcoba which is managed by the former head chef of Kyoto's famous restaurant IL GHIOTTONE. Or perhaps yakiniku from Yakiniku Tokugawaen which uses Japanese black wagyu from Kyushu as the main meat on its menu. Kouji MARUTANI will also be there serving up local ingredients from Mikawa, food made with koji, a variety of craft sakes, and more.
RAYARD Hisaya-odori Park will offer a wide range of interactive experiences too such as at the creative community cafe FabCafe Nagoya which makes use of 3D printing and digital fabrication, Snow Peak which provides a live view of nature, T4 NAGOYA where you can play ping pon indoors and outdoors, narifuri which sells bicycle apparel, and so on.
There is much and more to see at RAYARD Hisaya-odori Park, so if you're in Japan this year, head to Nagoya to enjoy the autumn atmosphere.
RELATED ENTRIES
Alice in Wonderland Themed Afternoon Tea Buffet 'Lost in Europe' Heads to Nagoya

This spring, Hilton Nagoya is set to serve up a special afternoon tea set and buffet plan at its first floor all-dining restaurant IN PLACE 3-3. The theme of the afternoon tea line-up, which will be served either as a set-only plan or the set plus a buffet, is 'Lost in Europe.' Fans of Lewis Carroll's beloved novel Alice's Adventures in Wonderland can look forward to jumping in the rabbit hole as they indulge in a colourful and delicious line-up that sends them straight to wonderland.

The plans will run for three months during which three different menu line-ups will be served, each with a European feel to them as Alice finds her curiosity tending away from Japanese cuisine to the delectable assortments of overseas.

Spain will serve as the first menu. Travelling to Spain, Alice finds the country one overflowing with creativity in the arts, so says the story of this fun afternoon tea. Dishes will be plated with desserts fusing together Spain's food culture with that of Wonderland, traditional Spanish desserts, sweet treats inspired by Spanish art, and more. Many of the irresistible items will also be made with almonds – Spain being the second largest producer of almonds in the world.

Inside the restaurant, diners will feel like they have travelled to a Spanish rendition of Wonderland with a mix of styles from both locations, such as Spanish sunflowers, mosaic tiles, stained glass windows, and more.

A little look at the menu (some of it)

1. Afternoon Tea Set Menu: ¥4,600 (Tax Included)

Cubism Cheshire Cat Arroz Con Leche

A coconut-flavoured Spanish rice pudding made with coconut lavender jelly. Its design, from the stripes to the grinning teeth, are references to the Cheshire Cat.

Blue Caterpillar Siesta Cake

A cake covered in striking blue chocolate, made with pistachio mousse, and filled with a mixed berry jelly.

Butterfly Windmills Mousse

An artistic delight made with smooth chestnut mousse and colourful butterfly wings attached.

Plate Menu

Pistachio Crema Catalana in Berry Sauce

A traditional dessert of Catalonia, this crema catalana features a rich pistachio-flavoured custard cream and is served with a berry sauce.

Savoury Items

Salted churros that are crunchy on the outside and fluffy in the inside, and a checked bocadillo filled with Spanish omelette.

Lost in Europe Afternoon Tea Set Summary

10 desserts, two savoury items, and a choice of a soft drink, coffee, or tea.

2. Afternoon Tea Set & Dessert Buffet: Adults ¥5,000 / Children ¥2,500

Mischievous Crazy Clock Cake 

A warped, melted clock made with passion fruit cream and orange and mango mousse.

Mosaic Tile Sangria Jelly (Non-Alcoholic)

A refreshing beverage made with non-alcoholic white wine and grape, strawberry, and grapefruit jelly, all made to look like mosaic tiles.

Savoury Items

Pick from nine different savoury items like paella, sopa de ajo garlic soup, patatas bravas, tapas, and more.

There are also a range of other desserts like a coffee jelly ice cream, a melon cake, and more, as well as fruity iced candies.

Afternoon Takeout Box

Customers can also get their afternoon tea set to go with a mix of desserts and savouries.

Stay in a Penguin Themed Hotel Room at Hoshino Resorts OMO7 Asahikawa

Hoshino Resorts OMO7 Asahikawa opened its Penguin Room on April 6, a single new guest room themed around penguins designed in collaboration with Asahikawa Zoo.

Penguin Room Feature ①

Guests are immediately greeted with penguins galore as the enter their room, with penguin plushies by the bedside, on the ceiling, and pretty much everywhere else. It will be like staying with a family of penguins for the duration of their stay.

Penguin Room Feature ②

After a visit to Asahikawa Zoo, guests can head back to their hotel room where a variety of fun penguin-related items are stocked including games, all of which will remind them of their time at the zoo.

Penguin Room Feature ③

The room is also decorated with boards featuring photos and information of animals at Asahikawa Zoo. The boards are handwritten by the zoo staff, something they do every spring season.

Hoshino Resorts OMO7 Asahikawa previously collaborated with Asahikawa Zoo when a polar bear themed room. Now, penguin lovers can have their dream come true as they spend their time surrounded by penguin decorations in their room. The hotel is just a 30-minute car ride from Asahikawa Zoo, so why not make a plan to experience both if you're visiting Hokkaido this spring?

Disney's Zootopia Themed Cafe to Open in Tokyo, Osaka, and Nagoya for Film's 5th Anniversary

The Tokyo, Osaka, and Nagoya branches of OH MY CAFE are set to pay host to cafe experiences themed on Disney's Zootopia in celebration of the movie's 5th anniversary which hit last month. The cafes will transform into a Zootopia extravaganza from April 23.

Customers who book a table in advance receive one of six possible lunch mats

The Menu

Vegetable Curry ¥1,890 (Before Tax)

Sandwich Plate ¥1,990 (Before Tax)

Corn Cream Pie ¥1,590 (Before Tax)

Salsa Burger ¥2,390 (Before Tax)

Carrot Doria ¥1,490 (Before Tax)

Acrylic Coasters +¥900 (Before Tax)

Iced Milk ¥990 (Before Tax) / With Mug +¥1,600 (Before Tax)

Iced Coffee ¥690 (Before Tax) / With Mug ¥1,600 (Before Tax)

Iced Drink ¥990 (Before Tax)

Exclusive Merchandise

Movie Stills Series

Acrylic Key Rings

Square Magnet ¥550 (Before Tax) / Acryluc Key Ring ¥650 (Before Tax) / A4 Folder ¥350 (Before Tax)

Mask Cases ¥500 (Before Tax) / Masking Tapes ¥800 (Before Tax)

Tiny Animals Series

Acrylic Charms ¥450 (Before Tax) / Mini Notebook Set ¥850 (Before Tax)

A5 Folder Set ¥800 (Before Tax) / Mini Pouch Set ¥1,800 (Before Tax)

Mini Towels ¥1,000 (Before Tax) / Eco Bag ¥1,850 (Before Tax)

Zootopia fans won't be able to resist the tasty and healthy themed menu featuring Nick Wilde and Judy Hopps, as well as getting their hands on a range of merchandise from stationery to fashion.

©Disney

Information

Zootopia OH MY CAFE

OH MY CAFE TOKYO

Running: April 23, 2021 – June 27, 2021

Address: Tokyu Plaza Omotesando, 4-30-3 Jingumae, Shibuya, Tokyo

OH MY CAFE OSAKA

Running: April 28, 2021 – July 6, 2021

Address: 1-6-1 Shinsaibashisuji, Chuo-ku, Osaka-shi, Osaka

kawara CAFE&KITCHEN

Running: June 2, 2021 – July 13, 2021
Address: Nagoya PARCO, 3-29-1 Sakae, Naka-ku, Nagoya-shi, Aichi

Official Website: https://zoo.ohmycafe.jp/

Sustainable Concept Store Opens in Nagoya PARCO

Sustainable Think. is a concept shop centred around sustainability and SDGs which first opened in Yurakucho Marui in March. The store has now moved to Nagoya PARCO where it opened on April 3.

A look at some of the participating brands

The store hopes to teach people about the importance of sustainability with a collection of products that are socially- and environmentally-friendly. Sustainable materials and methods are used to produce the items sold at the store.

The store is decorated in 17 colours to represent the 17 Sustainable Development Goals (SDGs), a series of global initiatives being taken to create a sustainable future for people around the world. It also features an installation made from hikkake Japanese washi paper with colourful pull-out boxes containing items by participating brands.

The Moomin Shop located inside Nagoya's stylish retail centre LACHIC launched an anniversary fair last Friday (March 5) to commemorate the store's 7th anniversary.

New Merchandise Launching March 2021

KAKSI Tote Bag (Medium Size) With Pass Case | ¥4,000 (Tax Included)

Jetstream Little My Tea Blue Pen/Moomin Blood Orange Pen | ¥2,420 Each (Tax Included)

Laptop Case (Greige/Pink) | ¥3,960 Each (Tax Included)

Tablet Case (Greige/Pink) | ¥2,970 Each (Tax Included)

Multi-Case (Greige/Pink) | ¥2,530 Each (Tax Included)

Flat Pouch (Greige/Pink) | ¥1,980 Each (Tax Included)

Spacious Multi-Pouch (Greige/Pink) | ¥2,200 Each (Tax Included)

Bonus Items

Original Design Cup

Anniversary Logo Shop Card

Moomin Shop Nagoya LACHIC opened back in 2014. The anniversary fair sees the arrival of new and exclusive merchandise including a tote bag with pass case as part of the shop's popular KAKSI bag series, Little My and Moomin pens, and more. And for every ¥4,180 spent including tax, customers will receive a free cup and shop card.

Information

Moomin Shop Nagoya LACHIC 7th Anniversary Fair

Start Date: March 5, 2021

Where: Moomin Shop Nagoya LACHIC

Address: LACHIC Floor 6F, 3-6-1 Sakae, Naka-ku, Nagoya, Aichi

Moomin Shop: https://benelic.com/moominshop/

Moomin Shop Merch Site: https://moomin-shop.jp/

Tokyo's Pixar Exhibition 'PIXAR! PIXAR! PIXAR!' to Open in Spring 2021

A Japan-original Pixar exhibition by the name of PIXAR! PIXAR! PIXAR! is set to run from April 8-19 at Seibu Ikebukuro in Tokyo. The exhibition is a celebration of all things Pixar Animation Studio and Walt Disney Japan where fans will have the opportunity to glimpse never-before-seen concept art, learn about the secrets of the studio's office building, hear interviews with Japanese staff who work at the animation studio, and much more.

Pixar fanatics can expect to see all their favourite characters from the filmography such as Monsters Inc., Toy Story, Wall-E, Coco, Finding Nemo, and more. There will be plenty of merchandise to add to the collection too—around 200 pieces in fact—including items with official artwork that has never been made into merch before.

New official artwork illustrated by Pixar Animation Studios for 'PIXAR! PIXAR! PIXAR!'

 

The artists at Pixar Animation Studios have created an original collection of artwork for the exhibition which will be displayed around the site itself as well as on merchandise sold there. There will also be a behind-the-scenes video showing at the exhibition where you can see the staff drawing the pieces.

                                               

A historical lookback at Pixar's filmography

The exhibition will pay homage to everything Pixar has to offer, from their roots of animation shorts to their critically acclaimed full length animated features. If you have a favourite from any of these, you're sure to find merchandise of it at the exhibition.

Feel like you've been invited to Pixar Animation Studios

The exhibition will have an area decorated with a gallery of posters, the famous Pixar lamp and ball, Woody and Buzz statues made from Lego, and more, as well as a photo gallery from pictures taken inside the studio.

Learn all there is to know about Pixar

Learn all the trivia about Pixar from what kind of Japanese people work at the studio, what characters are hidden throughout their films, and more.

Original Merchandise                                     

Fans can sift through around 200 pieces of original merchandise.

Movie Poster Collection

The posters released for each of Pixar's films have been shrunk down into a collection of postcards.

Final frame merchandise

A line-up of merchandise featuring the final frames taken from all 23 of Pixar's feature length animations.

Early concept art

The exhibition will sell an array of merchandise featuring artwork that has never been turned into merch before, such as early concept art.

Easter eggs

There will also be merchandise featuring fun Easter eggs hidden throughout Pixar's films.

 

Pixar Animation Studios

A line-up of merchandise that makes you feel like you're part of the Pixar office.

Bonus Items                              

Visitors that spend over ¥3,000 (tax included) on merchandise at the exhibition will receive one of 8 possible pins. These are available on a first-come, first-served basis. Additionally, spending over ¥6,000 will get fans an original bottle too.

The exhibition will also be moving around Japan after its Tokyo run. Check the locations below.

©DISNEY/PIXAR All rights reserved. No reproduction or republication without written permission.

Information

PIXAR! PIXAR! PIXAR!

Running: April 4, 2021 – April 19, 2021

Opening Hours: 10:00-20:00 

Where: Seibu Ikebukuro Annex Bldg. Floor 2F

Price: General ¥800 / Children ¥500

Kyoto Exhibition

Running: April 21, 2021 – May 5, 2021

Where: Daimaru Kyoto Museum Floor 6F

Entry: Free

Aichi Exhibition

Running: July 21, 2021 – August 12, 2021

Where: Matsuzakaya Nagoya Floor 7F

Entry: Free

Shizuoka Exhibition

Running: December 29, 2021 – January 16, 2021

Where: Matsuzakaya Shizuoka Floor 8F

Entry: Free

POP-UP SHOP

Where: Fukuoka PARCO Floor 5F

Running: April 17, 2021 – May 9, 2021

Entry: Free

Official Website: https://www.ntvs.co.jp/ppp-official/

Detective Conan Themed Cafes Open in Japan to Promote Upcoming 'Scarlet Bullet' Anime Film

To promote the upcoming anime film Detective Conan: The Scarlet Bullet which is set to released in Japan on April 16, 2021, seven themed cafes will open in Tokyo, Osaka, Nagoya, and Sapporo from March 24. The cafe is themed on a retro diner which will transport fans back in time to diners inspired by America in the 1950s and 60s.

Main Visual

Bonus Items

RETRO AMERICAN DINER MENU

DETECTIVE BURGER/SNIPER BURGER/ZERO BURGER/BOYISH BURGER/SHERRY BURGER/OSUSOWAKE BURGER – ¥1,599 Each (Before Tax), +¥500 For Acrylic Key Ring

DETECTIVE SUNDAE/SNIPER SUNDAE/ZERO SUNDAE/BOYISH SUNDAE/SHERRY SUNDAE/OSUSOWAKE SUNDAE – ¥1,099 Each (Before Tax), +¥500 For Acrylic Key Ring

DETECTIVE SODA/SNIPER SODA/ZERO SODA/BOYISH SODA/SHERRY SODA/OSUSOWAKE SODA – ¥899 Each (Before Tax), +¥500 For Acrylic Key Ring

CONAN CAFE CLASSIC Menu

APTX-4869 TROPICAL LAND CURRY | ¥1,400 (Before Tax)

COLUMBO MINT SAUCE PASTA ¥1,499 / DELICIOUS TO DIE FOR RAMEN ¥1,099 / POIROT CAFE SANDWICH ¥1,399 (All Prices Before Tax)

AI'S BERRY CHEESE FRENCH TOAST ¥1,200 / RAN'S LEMON PIE ¥1,499 / HIROSHI AGASA'S "SHIPPAI JA" PANCAKES VER.2 ¥1,199 (All Prices Before Tax)

CRIMINAL'S BLACK SESAME STRAWBERRY AU LAIT ¥999 / CRIMINAL'S SOUVENIR MUG +¥1,400 (All Prices Before Tax)

LEFT'S CAFE LATTE ¥899 / YOUNG DETECTIVE SHAKE ¥1,099 / RAN'S BERRY JELLY SODA ¥999 (All Prices Before Tax)

LIMITED EVENT MENU

1st Menu: Detective Conan: The Scarlet Bullet Menu | April 16, 2021 – May 31, 2021

AKAI FAMILY BANQUET ¥1,499 / UNAGI'S KABAYAKI & TARE OKAWARI RICE ¥1,699 / SHUKICHI & YUMI'S DELICIOUS SHORTCAKE ¥1,399 / SCARLET OGURA STRAWBERRY TOAST ¥1,599 (All Prices Before Tax)

2nd Menu: Phantom Thief Kid & Aoyama Sensei's Birthday Menu | June 1, 2021 – July 11, 2021

*Only available at Nagoya cafe from July 1-11

THE JEWEL GARDEN SALAD ¥1,499 / MAGIC SPICE PARFAIT ¥1,200 / AOYAMA-SENSEI BIRTHDAY CURRY ¥1,399 (All Prices Before Tax)

3rd Menu: Shuichi Akai Season 1 Menu | July 1, 2021 – August 15, 2021

4th Menu: Shuichi Akai Season 2 Menu | August 16, 2021 – September 26, 2021

*Menus 3 and 4 exclusive to Shinjuku and Umeda cafes

*Menus 3 and 4 are centred on the character Shuichi Akai

Original Merchandise

Pins (6 Designs) | ¥450 Each (Before Tax)

Acrylic Coasters (12 Designs) | ¥800 (Before Tax)

Mini Acrylic Stands (12 Designs) | ¥900 (Before Tax)

Acrylic Magnets (6 Designs) | ¥500 (Before Tax)

Folders (6 Designs) | ¥300 (Before Tax)

Bandanas (2 Designs) | ¥1,500 Each (Before Tax)

Eco Bag | ¥1,850 (Before Tax)

Chocolate Tin | ¥1,600 (Before Tax)

Fans can tuck into a Detective Conan-themed retro menu as well as get their hands on some exclusive merchandise featuring original chibi art.

Make sure you don't miss Detective Conan: The Scarlet Bullet.

©青山剛昌/小学館・読売テレビ・TMS 1996

Aromatic Kamakura Raw Chocolate Brand to Open New Branch in Nagoya

MAISON CACAO, the company behind the aromatic raw chocolate brand of the same name, will open a store on floor B1F of JR Nagoya Takashimaya on March 3, 2021. It will be the brand's first permanent shop in Japan's Tokai region.

The company held a special Valentine's event from late January to Valentine's Day where MAISON CACAO made the second most sales. They also enjoyed other sold out products, and showcased some exclusive indulgences like the gold leaf-adorned "Aroma Raw Chocolate ARMOUR" and "Aroma Raw Chocolate STRAWBERRY" as well as the all-new "Cacao Butterland."

The Nagoya Line-Up

Aroma Raw Chocolate AMOUR | ¥6,000 (Before Tax)

Exclusive to this new Nagoya branch of MAISON CACAO, these "AMOUR" chocolates are all handmade using techniques that have been passed down through the company. The dark chocolates are wrapped in luxurious gold leaf and have a fruity, sweet, and bitter combination. One box contains a generous serving of 16.

Cacao Butterland | ¥2,000 (Before Tax)

MAISON CACAO uses cacao beans from Columbia to bake its menu. These gooey treats are made with cacao butter and chocolate caramel with a double layering of dark and white chocolate. A rich and filling serving of six comes in a box.

 

Aroma Raw Chocolate STRAWBERRY | ¥2,200 (Before Tax)

Also a Nagoya-exclusive, these strawberry variants are made with intensely sweet JApanese amaou strawberries white combine with the fragrance cacao butter and white chocolate for a refreshing taste. You get 16 in a single box.

But Wait, There's More…

Raw Chocolate Butter Cake | ¥3,500

A cake made with velvety chocolate butter cream packed with roasted nuts, raisins, and caramel chips.

Rich Raw Chocolate Tart STRAWBERRY | ¥2,000

Yet another exclusive to Nagoya, these crunchy tarts are lathered in amaou strawberry chocolate and filled with runny and fruity amaou strawberry cream. A box comes with three included.

Other Popular Goodies Available While Supplies Last

Aroma Raw Chocolate MAISON (Grape) | ¥2,400 (Before Tax)

Babka | ¥2100

Raw Gateau Chocolate | ¥2500 (Before Tax) 

Information

MAISON CACAO

Grand Opening: March 3, 2021

Location: JR Nagoya Takashimaya Floor B1F

Address: 1-1-4 Meieki, Nakamura-ku, Nagoya-shi, Aichi

Opening Hours: 10:00-20:00

MAISON CACAO Official Website: https://maisoncacao.com/

Rare Snoopy Merchandise to be Sold at PEANUTS Cafe Nagoya

PEANUTS Cafe Nagoya is set to release a collection of rare merchandise on February 20 including a plush toys, bags, and a glass.

PEANUTS Cafe NGO Pelicans Snoopy Plush Toy | ¥2,700 (Before Tax)

PEANUTS Cafe NGO Pelicans Snoopy Plush Key Chain | ¥1,600 (Before Tax)

PEANUTS Cafe NGO Pelicans Musette Bag With Pins (Black/Hickory) | ¥4,800 Each (Before Tax)

PEANUTS Cafe NGO Pelicans Glass Jar | ¥1,200 (Before Tax)

PEANUTS Cafe Nagoya is a cafe themed on the popular Peanuts comic strip featuring Charlie Brown and Snoopy. It opened in autumn of last year and sells a range of crockery, apparel, and other merchandise related to the popular comic.

Information

Rare Snoopy Merchandise

Release Date: February 20, 2021

Where: PEANUTS Cafe Nagoya

Address: RAYARD Hisaya-odori Park, 3-18-15 Marunouchi, Naka-ku, Nagoya, Aichi

TEL: 052-211-9660

Official Website: https://www.peanutscafe.jp/

Japan's Snoopy Themed PEANUTS Cafe Reveals Charlie Brown Inspired Dessert

Six branches of the hugely-popular PEANUTS Cafe in Japan are welcoming a collection of tasty new seasonal menu items this Saturday which are set to be served until March 14.

The Limited-Time Line-Up

Brownie Charles's Brownie Chocolat | ¥950 (Before Tax)

Strawberry Whipped Hot Chocolate | Eat In ¥750 – Takeout ¥700 (Before Tax)

The collection includes a chocolate brownie inspired by the scene when Charlie Brown meets Peggy Jean for the first time. He is very nervous and mistakenly introduces himself as "Brownie Charlies." There's also a sweet strawberry hot chocolate topped with a squirt of whipped cream and drizzle of strawberry sauce.

(C) 2021 Peanuts Worldwide LLC

Information

PEANUTS Cafe Limited-Time Menu
Running: February 13, 2021 – March 14, 2021
Participating Branches: PEANUTS Cafe Nakameguro, PEANUTS DINER Yokohama, PEANUTS DINER Kobe, PEANUTS Cafe Kobe, PEANUTS Cafe Snoopy Museum, PEANUTS Cafe Nagoya
PEANUTS Cafe: http://www.peanutscafe.jp/
PEANUTS DINER: http://www.peanutsdiner.jp/
Snoopy Japan Official Website: http://www.snoopy.co.jp/

GUNDAM FACTORY YOKOHAMA x my route Launch Collaborative Campaign

Japanese company @YOKOHAMA is helping to promote the regional development of Yokohama by collaborating with GUNDAM FACTORY YOKOHAMA using the multimodal mobility service app "my route" with the launch of a campaign.

The campaign is taking place for residents of Yokohama, running from February 8 to 28. All people need to do is download and open the app and fill out the form. Fifty lucky people will have the chance to win a free ticket to GUNDAM FACTORY YOKOHAMA, an amusement park themed on the popular Gundam franchise.

my route is an app that lets users search for the most affordable way to travel as well as letting them book and buy tickets. @YOKOHAMA's portal site is also now linked to the app, offering information about local stores, events, and other information regarding Yokohama.

Information

GUNDAM FACTORY YOKOHAMA Collaboration Download Campaign
Running: February 8 – 28 2021

GUNDAM FACTORY YOKOHAMA
Open: December 19, 2020 – March 31, 2022
Location: Yokohama, Yamashita Futo
Address: 279-25, Yamashitacho, Naka Ward, Yokohama, Kanagawa

Access: Minato Mirai Line

7-minute walk from Motomachi-Chukagai Station (Minatomirai Line)
Yokohama BAYSIDE BLUE Bus: 3-minute walk from Yamashitafuto Bus Stop

GUNDAM FACTORY YOKOHAMA Official Website: https://gundam-factory.net/

Special Edition Website: https://www.at-yokohama.net/topics/article20210208_02.html

Gluten Free Uiro Japanese Steamed Cake Released by Osu Uiro

Nagoya-based confectionery company Osu Iro has released a new gluten-free version of its popular uiro dessert, a steamed cake similar to mochi.
​

The "Hatsu Ui"

The gluten-free confection has been named the "hatsu ui." It's made similar to the classic uiro with rice flour and sugar, but brings out the flavour of the rice even more. When it comes to their sweets, texture is one of the main aspects for Osu Iro. They ensure their uiro are chewy and have bounce to them. A lot of culinary craft and time is required to bring about this tasty result, such is their philosophy. Each uiro is also served in bite-size pieces which are sold in bunches.

Hatsu Ui Line-Up (Prices Include Tax)

Ki no Hatsu | ¥1,890

Oriori no Hatsu | ¥1,890

Koyomi no Hatsu | ¥1,890

Kizu no Hatsu | ¥1,890

Kodomo no Hatsu | ¥1,782

Information

Hatsu Ui
Available: "Hatsu" on Floor B1F of Matsuzakaya Nagoya
Address: 3-16-1 Sakae, Naka-ku, Nagoya, Aichi
Opening Hours: 10:00-20:00
TEL: 052-251-1111
Osu Uiro Official Website: http://osuuiro.co.jp