Cardcaptor Sakura Roomwear and Merchandise Collection Releasing by ITS'DEMO
Japanese fashion variety store ITS'DEMO has revealed its new collection of Cardcaptor Sakura: Clear Card merchandise which is set to drop in Japan on October 13, 2020.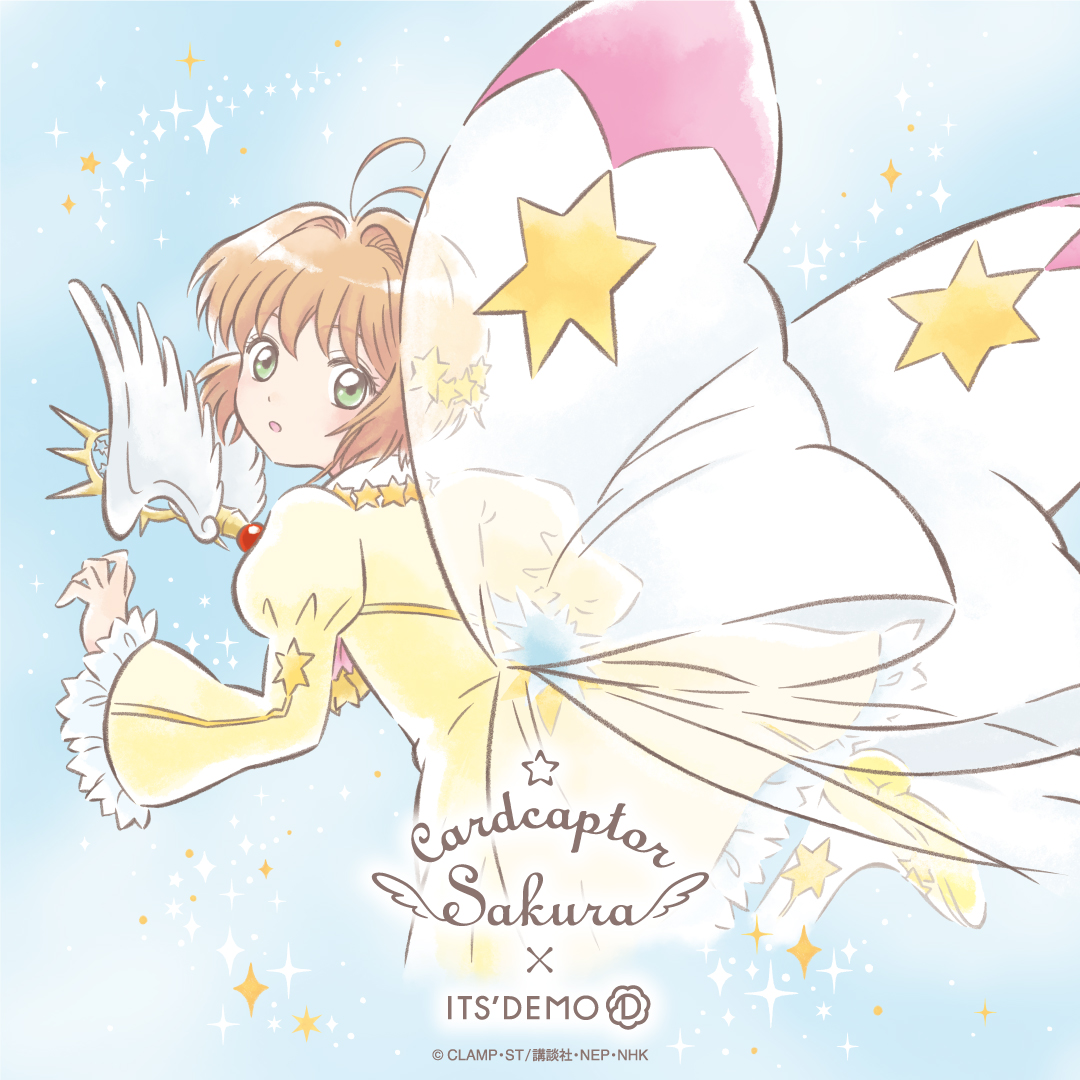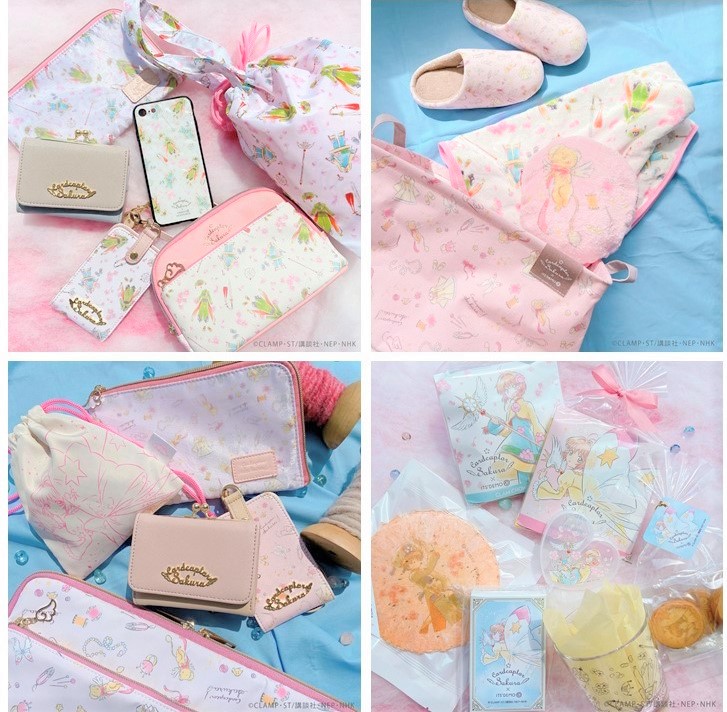 The items feature an original design and include everything from towels to pouches, stationery, confections, cosmetics like an eyeshadow palette, and more. ITS'DEMO is also releasing a range of roomwear on October 27 for those chilly autumn nights including room shoes, socks, a blanket, and other goodies.
© CLAMP・ST/Kodansha・NEP・NHK
Information
ITS'DEMO x Cardcaptor Sakura: Clear Card
Release Date: Rolling out October 13, 2020 at ITS'DEMO stores in Japan and their online store
Line-Up: Stationery, Pouch, Towel, Food, Cosmetics, and more
Items: 106 (Includes design and colour variations)
Price Range: ¥260-¥3,900 (Before Tax)
Official Website: http://itsdemo.jp
RELATED ENTRIES
Cardcaptor Sakura Inspires Four Pairs of Gorgeous Pumps

Women's fashion brand mayla classic is now accepting orders for four unique pairs of pumps inspired by Cardcaptor Sakura: Clear Card!

Original Box

Rocket Beat

Clear

Candy Lotus

Eternal Girly

Purchase Bonus

The collection features four pairs of shoes inspired by Sakura's iconic battle costumes seen in the anime series.

The elaborate finishes make it seem like the costumes have been directly transformed into shoes! These are perfect to wear for a special occasion or to simply put on display in your home.

©CLAMP・ST/講談社・NEP・NHK

Cardcaptor Sakura Anime Series 25th Anniversary Project Unveiled

Cardcaptor Sakura made its debut on Japanese television on April 7, 1998. To celebrate the series' 25th anniversary, a number of exciting events are underway!



CLAMP's Cardcaptor Sakura manga series was serialized in the monthly manga magazine Nakayoshi from June 1996 until August 2000 and remains a massive hit to this day.

The series celebrated its 20th anniversary in 2016 with the announcement of a new anime series, Cardcaptor Sakura: Clear Card Arc, which aired in 2018. The manga has sold over 19 million copies worldwide and its popularity has spread around the world to fans of all ages. 

Sanrio Collaboration Capsule Toys – Minifigure Series 2 / Cardcaptor Sakura 25th Anniversary Lunch Mat

To commemorate the 25th anniversary of the anime's original broadcast, a series of new goods, collaboration cafes, and events are planned for 2022. Those who grew up with the show should be sure to grab some cute items perfect for adults!

Collaboration Room

A collaboration room inspired by Cardcaptor Sakura: Clear Card Arc will also be available to book soon! Aside from Sakura, Kero, Syaoran, and Tomoyo voice lines that will play in the room, guests can also enjoy a full dinner course using concepts and designs from the Cardcaptor Sakura world. 

Those who stay at the hotel will also receive a number of special take-home goods featuring illustrations drawn exclusively for the collaboration. Other original goods will also be available for purchase through the room's catalog and on the official website.

Collaboration Cafe

The Cardcaptor Sakura collaboration cafe that ran until February 6, 2022 at Shibuya PARCO in Tokyo will also head to Nagoya and Osaka! Don't miss the special menu and exclusive goods. 

Cardcaptor Sakura and Sanrio Collaborate on New Collection

A new collection of goods featuring Sakura Kinomoto and popular Sanrio characters is here! The collection features everyone's favorite magical girl combined with beloved characters such as Hello Kitty, My Melody Pompompurin, Cinnamoroll, and Kuromi. 

The Cardcaptor Sakura manga series was serialized from 1996 until 2000 in the monthly girls' manga magazine Nakayoshi. In 2016, a new version of the series was released titled Cardcaptor Sakura: Clear Card and the magical girl series is celebrating its 25th anniversary in 2021. An anime series aired from 1998 to 2000, with a Clear Card adaptation airing in 2018. 

Costume Design

This is the second collaboration between Sanrio and Cardcaptor Sakura, with the first coming in 2018 with Little Twin Stars. In these collaboration designs, each Sanrio character wears costumes made by Sakura's best friend Tomoyo, and Sakura wears a special costume with Hello Kitty and My Melody ears. One of these designs is only available at official Sanrio stores. 

Sanrio Store Designs

The Sanrio Characters x Cardcaptor Sakura series will be available starting November 26 at Sanrio stores and November 25 at the Sanrio online shop. 

Drawstring Bag Set: ¥1,980

Secret Acrylic Keychains (6 varieties): ¥715 each

Acrylic keychains and charms will come in blind packaging. Five of the designs have been revealed, but there is a sixth secret one to find!

Fluffy Designs

Square Tags (5 varieties): ¥660 each / A5 Clear Folder (6 varieties): ¥385 each

Special Rubber Mascot Keychains

These keychains will be available in capsule machines nationwide, and in March 2022, Cardcaptor Sakura x Sanrio plushies will also be available!

©️C,ST/K,EP,N ©️'21 SANRIO 著作(株)サンリオ

Shibuya PARCO to Host Cardcaptor Sakura Cafe for a Limited Time

Popular magical girl series Cardcaptor Sakura is getting a brand-new collaboration cafe at Shibuya PARCO for a limited time! The event is happening from November 13, 2021, until January 10, 2022, and will feature an original menu inspired by the most recent anime adaptation Cardcaptor Sakura: Clear Card. 

Plenty of sweets and themed drinks will be available, with the main character Sakura featured in the event's key visual. How would you like to come to the 'colorful à la mode' cafe?

Collaboration Menu

Sakura and Friends Sweets Party Set: ¥3,960 (Tax Included) 

Order Bonus: Sakura Clear Lunch Mat

Sakura Doll Cake (Pink ver.): ¥1,650 (Tax Included) 

Sakura Doll Cake (Blue ver.): ¥1,650 (Tax Included) 

Sakura Doll Cake (Yellow ver.): ¥1,650 (Tax Included) 

Kero's Creamy Gnocchi -Surprise: It's Takoyaki flavored?!- : ¥1,430 (Tax Included) 

Sakura's Fruit Tea Soda: ¥990 (Tax Included, available for takeout) 

Bonuses

Paper Lunch Mat for Visitors to the Cafe (2 varieties) 

Menu Order Bonus

Original Merchandise

Acrylic Diorama Stand Part 2: ¥3,080 (Tax Included) 

Swinging Keychain: ¥880 (Tax Included) 

Heart Pin (Random, 6 varieties): ¥550 (Tax Included)

Stainless Steel Bottle feat. Kero, Suppi, and Momo: ¥2,750 (Tax Included) 

Advanced Reservation Bonus – Sakura's Invitation (3 varieties) 

 

The original art for the cafe was drawn by illustrator Etoile et Griotte, and fans of the long-running series won't want to miss out!

ⓒCLAMP・ST/講談社・NEP・NHK

Information

Shibuya TOKYO PARADE goods&cafe

Running: November 13, 2021 – January 10, 2022

Hours: 11:00-20:00

Location: Shibuya PARCO 6F 

(Last Food Order at 19:00 / Last Drink Order 19:30)

Official Site: https://cafe.parco.jp/parade/detail/?id=7203

Tokyo Revengers Loungewear Collection to be Released at Animate

Japanese anime and manga merchandise chain animate is opening pre-orders for a new collection of Tokyo Revengers loungewear on September 1 as part of their Animate Limited Selection line. The clothes will be released on November 26.

Manjiro Sano loungewear sample pictures

The collection includes 5 different loungewear sets each inspired by a different character and their outfits from the anime. They are comfortable to wear and durable, each embroidered with gold leaf kanji characters.

(C)和久井健・講談社/アニメ「東京リベンジャーズ」製作委員会

Cherry Blossom Loungewear Collection by gelato pique Arrives in Time For Spring

Japanese luxury loungewear brand gelato pique is readying itself for spring with its new pink cherry blossom-inspired 'SAKURA COLLECTION,' set to release at gelato pique stores and its online store on March 19.

The Line-Up

'Smoothie Light' Scallop Cardigan ¥6,820 (Tax Included) / 'Smoothie Light' Scallop Long Cardigan ¥7,480 (Tax Included)'

The 'Smoothie' cardigans are made of light material that's smooth to the touch and come in cute designs.

Petal Motif Satin Shirt ¥6,820 (Tax Included) / Petal Motif Satin Short Pants ¥4,620 (Tax Included)

Pink satin loungewear adorned with gorgeous petals.

Tiered Dress ¥8,140 (Tax Included)

An airy cotton dress with a beautiful feminine silhouette.

Organdy Eco Bag ¥2,640 (Tax Included) / Mask Pouch ¥2,420 (Tax Included) / Mesh Mini Pouch ¥2,640 (Tax Included) / Mesh Pouch ¥2,640 (Tax Included) / Mesh Vanity Pouch ¥3,520 (Tax Included)

Sort your cosmetics and bits 'n' bobs with this heart-filled collection of pouches, and store your face mask away safely with the mask pouch.

Hair Mist ¥1,870 (Tax Included) / Hand Soap ¥1,034 (Tax Included)

gelato pique's popular hair mist and hand soap arrive in spring season limited-edition packaging.

Japanese Unisex Loungewear Brand Arce Opens Online Store

Wanget's unisex loungewear brand Arce launched its online shop on Wednesday (February 17). The brand is hosting a campaign on its social media pages to promote the launch where customers can win some free items.

Arce was established from Makuake on November 25, 2020. The brand creates clothes made in Japan using environmentally-friendly Japanese materials. Their loungewear is versatile and can be worn not only indoors but outdoors too, and even when going to meet people. The clothes are shipped in boxes made from FSC-certified cardboard, and the vinyl bags used to protect each item are made using biodegradable saccharum officinarum.

Arce held its first exhibition in Japan on November 25 and 26 last year to resounding success, bringing in many customers.

The brand is currently holding a campaign on its Instagram page from February 17 to 28 where people can enter for a chance to win the above-pictured T-shirt and pullover. Only one of each will be given to two people respectively. To enter, you need to follow Arce on Instagram and give a like on which item you want.

Demon Slayer: Kimetsu no Yaiba Loungewear Collection Releases From Bandai

Bandai Apparel released a new collection of loungewear on its official shopping site Premium Bandai last Wednesday (February 3) based on the TV anime series Demon Slayer: Kimetsu no Yaiba.

Demon Slayer: Kimetsu no Yaiba Pyjama Sets

Tanjiro Kamado

Nezuko Kamado

Zenitsu Agatsuma

Inosuke Hashibara

Giyu Tomioka

Shinobu Kocho

Kyojuro Rengoku

Kanao Tsuyuri

Baby T-Shirts & Baby Pyjamas

The collection also includes seven T-shirts and five pyjama sets for babies.

Lounge about in the house wrapped in pyjamas of your favourite series with Bandai's new Demon Slayer: Kimetsu no Yaiba collection.

(C)吾峠呼世晴/集英社・アニプレックス・ufotable

Smell as Sweet as Cardcaptor Sakura With Her New Eau de Toilette

Pre-sales of a new Cardcaptor Sakura: Clear Card themed eau de toilette will begin at ITS'DEMO in Japan on December 11, 2020. The scented cologne is the series' second collaboration with AQUASAVON following the success of the first product design which released on January 6 this year.

Sakura Floral Scent Eau de Toilette (CCS) | 21S 80ml | ¥2,420 (Tax Included)

The packaging is inspired by Sakura's blue costume and features motifs from the series like a magic circle, Cerberus, stars, and moons. The bottle is based on Sakura's iconic Dream Staff and is a gradation of pink and white with loose glass balls at the bottom. The fragrance is a sweet mix of refreshing green apple and citrus fruits, sweet cherries, clean soap, and luxurious cherry blossom, inviting a feeling of spring.

The first collaborative design will also go on sale next year in limited quantities.

Smell as fresh as springtime Sakura with her new eau de toilette.

ⓒCLAMP・ST/講談社・NEP・NHK

Information

Sakura Floral Scent Eau de Toilette (CCS) 21S
Pre-Sales: December 11, 2020

Available: ITS'DEMO stores in Japan (Select branches not participating
Official Website: https://www.aquasavon.jp/

Stay Warm This Holiday Season With gelato pique's Cute Christmas Loungewear Collection

Luxury loungewear and sleepwear brand gelato pique dropped its cosy new "GOOD NIGHT MERRY CHRISTMAS" collection on Friday (December 4) featuring a line-up of warm and fuzzy wearables perfect for the holiday season.

Collection Line-up (Excerpt)

Women's


gelato Bear Jacquard Pullover ¥5,800 (Before Tax) | gelato Bear Long Pants ¥4,200 (Before Tax) | gelato Bear Room Shoes ¥3,400 (Before Tax)

The Bear Jacquard series is a special knitted set in sleepy Bordeaux and cosy beige.

gelato Bear Parker ¥6,800 (Before Tax)

The Christmas wine-coloured parker comes with a hood with cute bear ears.

Bear Flannel Shirt ¥6,200 (Before Tax) | Bear Flannel Long Pants ¥6,200 (Before Tax)

Fluffy flannel fabric branded with cute bear illustrations.

Kids & Babies


gelato Bear Kids Jacquard Pullover ¥4,600 (Before Tax) | Bear Flannel Kids Shirt ¥4,400 (Before Tax) | Bear Flannel Kids Long Pants ¥4,400 (Before Tax)


gelato Bear baby Jacquard Romper ¥6,600 (Before Tax)

UNIQLO Announces Loungewear Collaboration With Pokémon and Sumikko Gurashi

Japanese clothing retailer UNIQLO has announced a loungewear collection for the holiday season in collaboration with Pokémon and Sumikko Gurashi—the latter being a set of fictional characters created by San-X. Set to roll out in Japan from November 19, the fleece line-up is the perfect gift for the coming winter months.

Pokémon Line-Up

Everybody's favourite Pokémon are coming together for this cosy collaboration. The fleece set's theme is "Night Explorer" which imagines the wearer exploring the night together with their Pokémon. The designs feature moon and star motifs with neon colouring.

When the collection launches, those who purchase one of the Pokémon fleece sets in Japan will receive a set of two clear-coloured Pokémon figurines. And if they order online via UNIQLO's website, their order will be shipped in a special Pokémon box.


Buyers will also receive a card with a code on it to participate in a special campaign.

Sumikko Gurashi Line-Up

The corner-dwelling Sumikko Gurashi character merchandise is themed on a sleepover with items made warm, fluffy, and cosy.


The three Sumikko Gurashi sets will launch online only on December 18.


Picking up either of the fleece sets or poncho blanket sets from December 18 will land you one of the above-pictured plush toys.




UNIQLO will also be selling limited-edition Sumikko Gurashi gift cards too both online and in-store when the sets are released.

Animal Crossing: New Horizons Clothing & Accessories Revealed by Luxury Japanese Brand Gelato Pique

Nintendo has announced that luxury Japanese loungewear and sleepwear brand Gelato Pique is releasing a collection of clothing and accessories in collaboration with the Nintendo Switch™ title Animal Crossing: New Horizons.

The line-up includes pyjamas, hoodies, shorts, tote bags, blankets, pouches, and more, with the Animal Crossing's beloved Timmy and Tommy appearing as the main character feature on the designs.

Pre-orders for the collection will begin over on Gelato Pique's official website on November 18, but you will most likely need an address in Japan to order. They will subsequently be released at the official Nintento TOKYO store as well as select Gelato Pique stores in Japan on January 13, 2021. Before that, they will also line the shelves of a Gelato Pique pop-up store called "Gelato Pique Christmas Town" in Omotesando Hills which is set to run from December 18 to 25.

Animal Crossing: New Horizons Line-Up

Timmy & Tommy knitted jacquard tops with a simple desig


Jacquard Pullover ¥5,800 | Short Pants ¥4,200 | Cushions ¥3,400 Each (All Tax-Inclusive)

Become your favourite character with a cosy ear-topped hoodie


[Colours: Brown/Cream/Grey] Hoodies ¥6,800 | Short Pants ¥4,200 (All Tax-Include)

Cut & Sewn Series: Character designs and fruit patterns


Left: Fruit Pullover ¥5,400 | Fruit Long Pants ¥5,200

Left: Character Pullover ¥5,400 | CharacterLong Pants ¥5,200

Warm Timmy & Tommy blanket


Left: Blanket ¥5,800 | Right: Jacquard Blanket B ¥5,800 (Before Tax)

Animal Crossing x Gelato Pique Special Book


Pouch and tote bag comes with the book

Japanese publishing company Takarajimasha is also releasing a special book on December 22 entitled Animal Crossing meets GELATO PIQUE SPECIAL BOOK in two versions which come with a Timmy and Tommy design pouch and tote bag. These are limited-edition items available only with the book.

© 2020 Nintendo

Information

Gelato Pique x Animal Crossing Collection
Releasing: December 18, 2020 at 12:00pm (JST)
Gelato Pique Official Online Store: https://gelatopique.com/20201116_01
USAGI ONLINE Official Website: https://usagi-online.com/s/201116PIQ/

Gelato Pique Christmas Town
Running: December 18, 2020 – December 25, 2020
Location: Space O, Omotesando Hills Floor B3F
Products: Animal Crossing meets GELATO PIQUE

In-Store Purchasing
Release Date: January 13, 2021
Locations: Select Gelato Pique stores / Nintendo TOKYO
*Only a selection of the products will be sold, the full collection is available online